Tag Archives:
Semporna
Great food makes our tongues happy. Koling-Koling does that and it also WOWed me when I first saw it in a food exhibition of Sabah Fest 2015 last week. Koling-Koling (or Bangi-Bangi) is a traditional food of Bajau people from Semporna town. At first impression, Koling-Koling may not look so appetizing because it looks like worm, but it's the interesting shape that piqued my curiosity.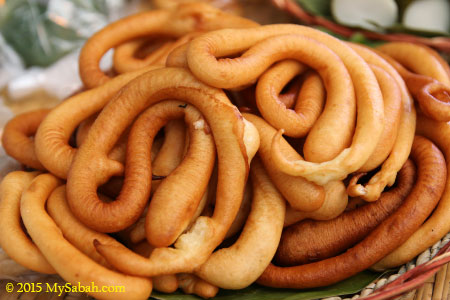 Pic: Koling-Koling, even the name sounds amusing
I was so eager to see how this curly slim bread was made. Aunty Badriah Makling, a friendly Bajau elder from Semporna was happy to demonstrate the art of making Koling-Koling (Thank You!). Below is a short video of the process if you prefer video over photos.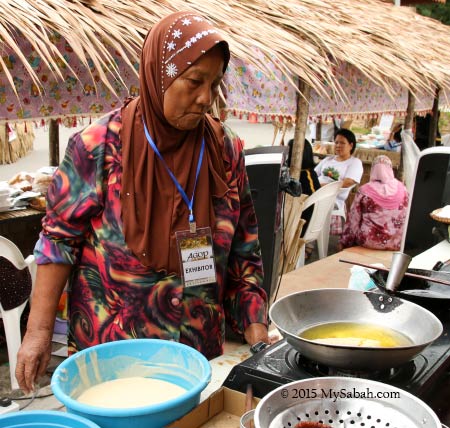 Pic: Aunty Badriah Makling waited for the oil to boil
Koling-Koling is usually served during festivals, wedding and banquets. It tastes better while it's hot, so it is not so commonly sold even in Semporna. The key ingredients for recipe of Koling-Koling are 1 Kg of rice flour mixed with 4 eggs and a bit of coconut milk, sugar and flour (too much flour will make it bloats like a donut). Stir the mixture until it becomes gooey batter.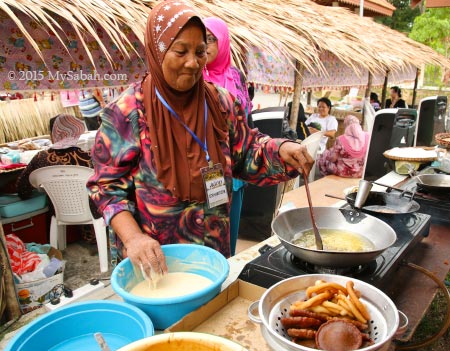 Pic: oil is hot now, getting ready to cook.
Preparing the batter may be easy to you, the challenging part is the technique to create the right shape of Koling-Koling with bare hand, which requires some practices to perfect. Let's see how she does it.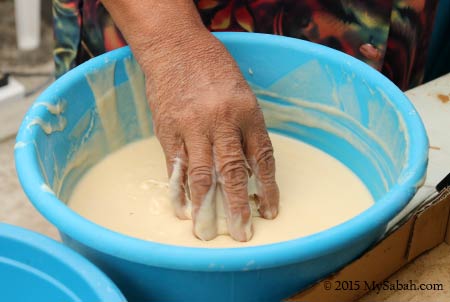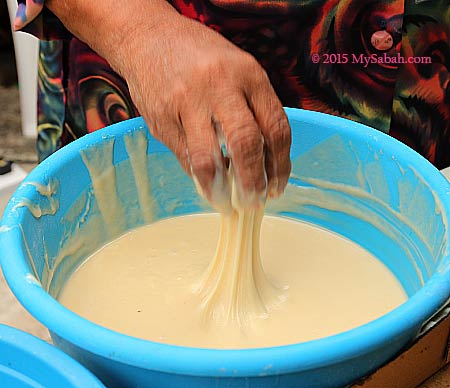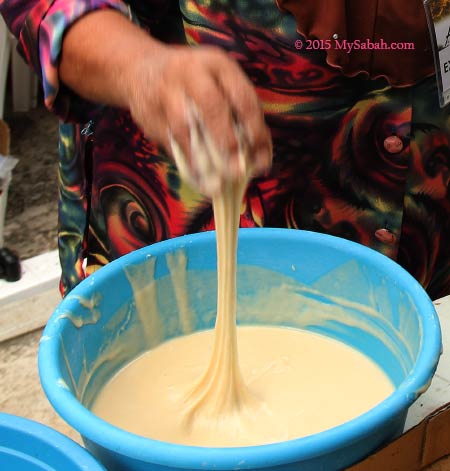 First she grasped and pulled a portion of the sticky batter to the air.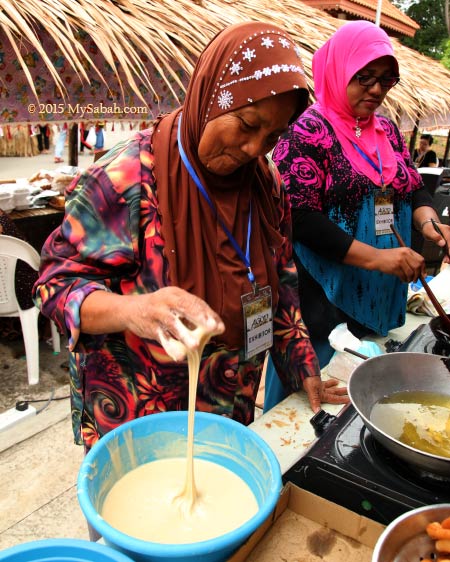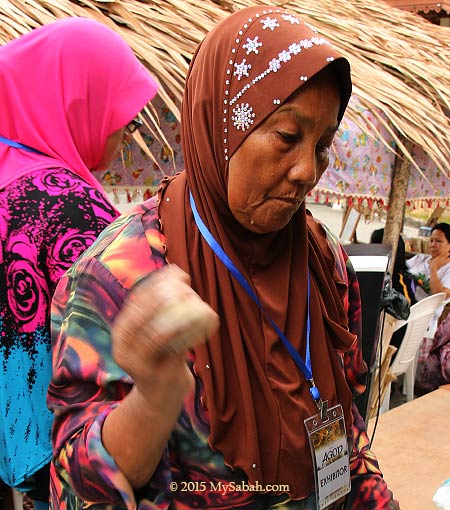 Then she quickly grabbed a half-handful of batter from the air and shaked it swiftly to turn it into a small ball in her palm. She was smiling in the photos because I said she was too fast and I had to keep retaking the shots.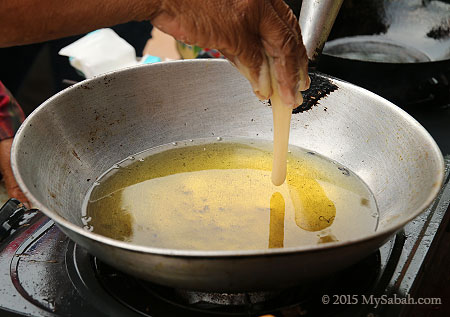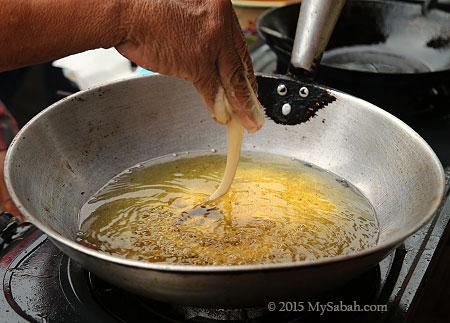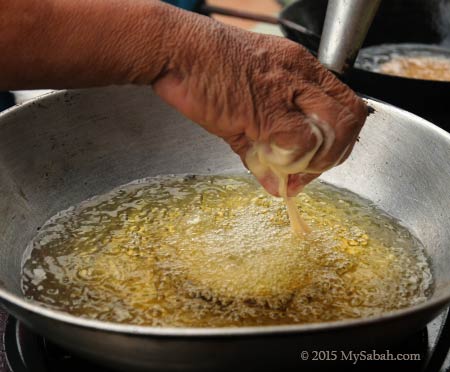 Next she held her fingers together with a small opening at the tip (like snake head) and positioned her hand over the hot oil. When the batter flowed out, she moved her hand as if she was drawing a horseshoe on the oil. It's harder than it seems. Beginners will get batter flowing out all over between the gaps of their fingers and unable to make the right shape.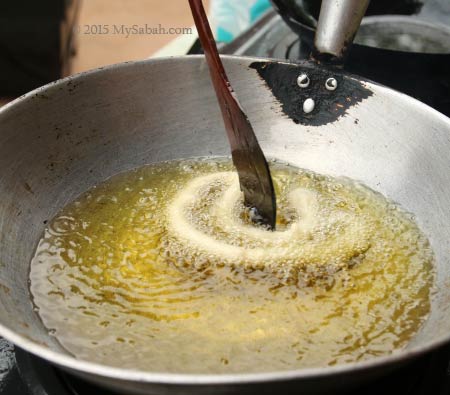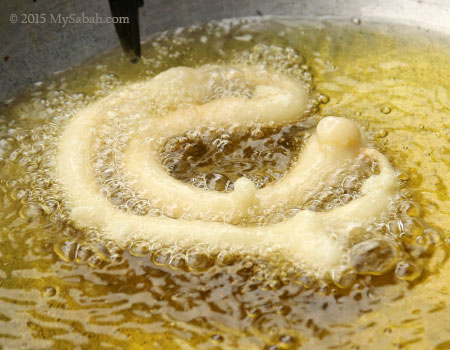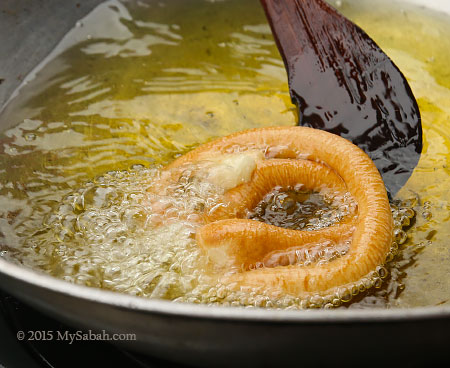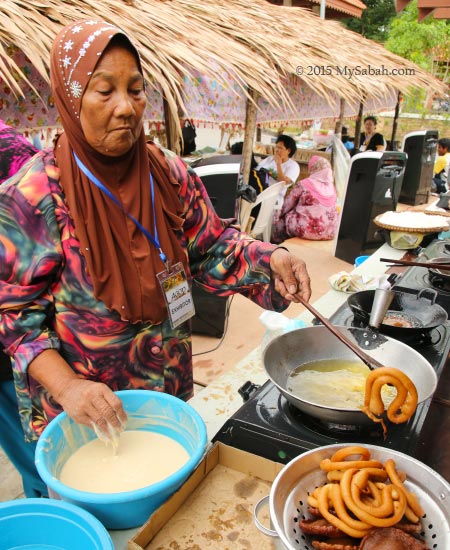 The last step is to deep-fry Koling-Koling front and back until it turns golden brown color. It takes about 20 seconds to make one Koling-Koling. The cooking process is really fun to watch.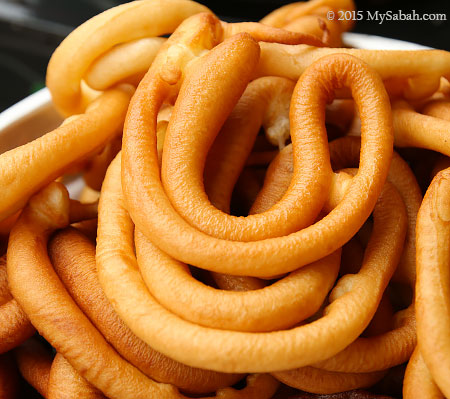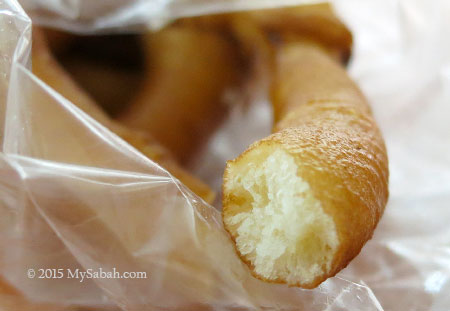 Four pieces of scrumptious Koling-Koling is only sold for RM1 (≈US$0.30). The bread has a slightly chewy skin but soft inside. It's sweet with bread-like texture, but finer and less airy. I like its nice aroma and it's not too sweet and oily.
Photos taken in Kota Kinabalu, Sabah, Malaysia
Semporna town is the transit point for tourists who visit the best islands of Sabah, so many of them may spend a day or two in this small town. However, after the tour to Skull Hill and proboscis monkey river cruise, there is nothing left to do there. But hey, why not trying out the seafood in Semporna, as the price of seafood in Semporna is probably the cheapest in Sabah?
Personally I can recommend you three seafood restaurants. All of them are in town centre and within walking distance from any Semporna hotel and lodge. Please note all price is in RM (Malaysian currency) (USD1≈RM3.2) as of Aug 2013.
1. Mabul Café & Seafood Restaurant
Chinese Name: 满布海鲜饭店
Mabul Café has a wide selection of Asian and Western food, so most foreign tourists can find anything they want, from chicken chop, fried rice, noodle soup to seafood. That's why you can always see groups of tourists there having seafood and a couple of beer. The famous dishes of Mabul Cafe are 3 Rasa Fish (Fish with 3 tastes), Black Pepper Lamb & Steak and Grilled Squid, and the signature drink is Mango Sago.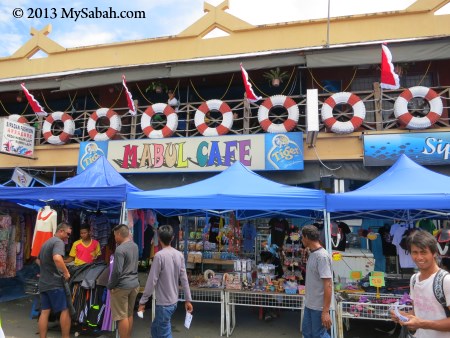 Pic: Mabul Cafe is located in Semporna town centre, easily recognised by its hanging buoys.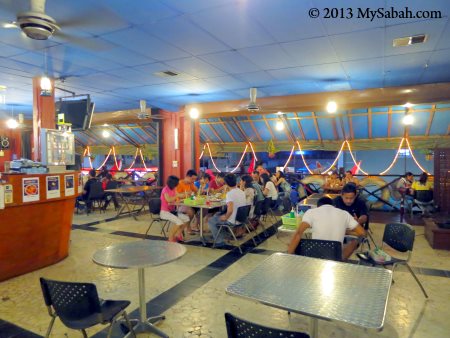 The restaurant is on first floor. During meal time, it is full of tourists.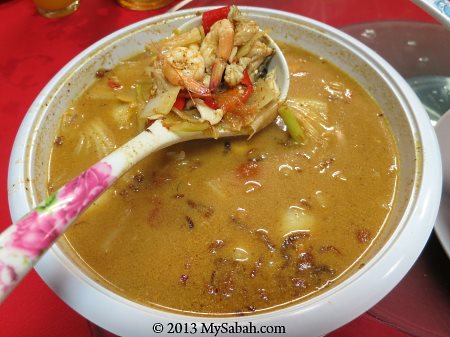 Pic: Seafood Tom Yam soup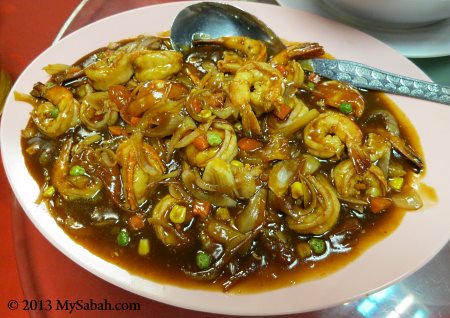 Pic: fresh prawns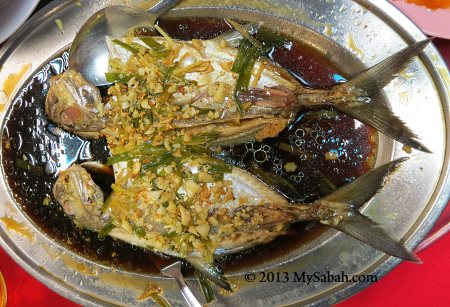 Pic: steamed fishes. We have so many fresh seafood so Sabah people seldom have frozen seafood.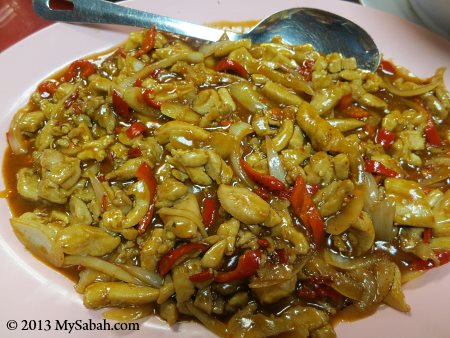 Pic: spicy chicken meat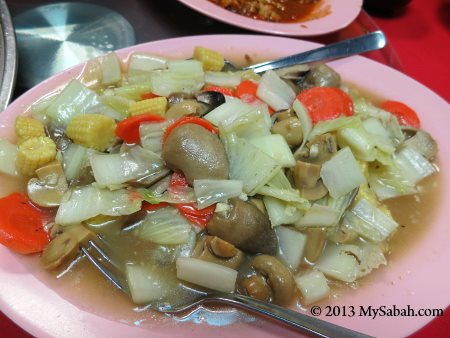 Pic: fried mixed vegetables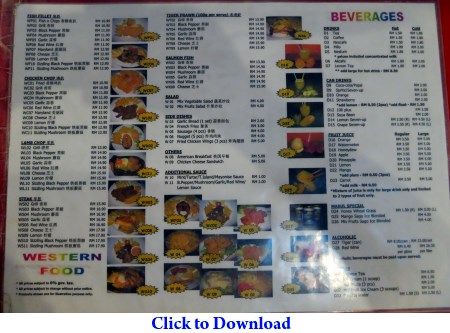 Pic: you can click the photo above to see the food menu.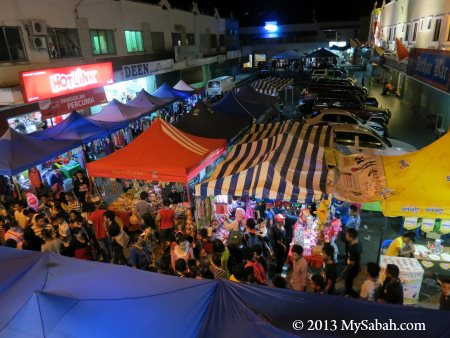 Pic: view of Semporna night market from Mabul Cafe
Below is the contact of Mabul Cafe:
Website: http://my.shop.88db.com/mabulcafe/
E-mail: mabul_cafe@yahoo.com
Facebook: Mabul-Cafe
Tel: +60 89-781785
Opening Hours: 11am – 10:30pm daily
Address (see location map): Mabul Café & Seafood Restaurant, Lot 39 & 40, Block G, 1st Floor, Semporna Seafront New Township, 91300 Semporna, Sabah, Malaysia.
2. Ocean Treasure Live Seafood Restaurant
Chinese Name: 海中宝
If you want the best seafood, just head to Ocean Treasure Live Seafood Restaurant without thinking twice. Not only they serve very rich variety of seafood, they also can cook a seafood in 10 different styles, based on your preferences. Besides lobster, fishes, seashells and prawn, they also sell exotic seafood such as stone fish, mantis shrimp and sea cucumber.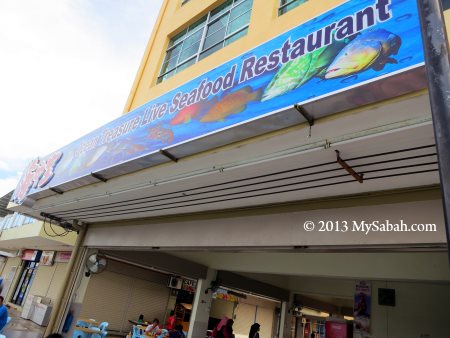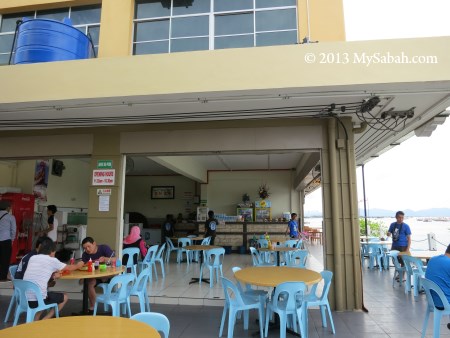 Pic: Ocean Treasure Live Seafood Restaurant
I went there once to have seafood noodle as a quick lunch, so I didn't order any seafood dish. They are quite generous in quantity and the food tastes great.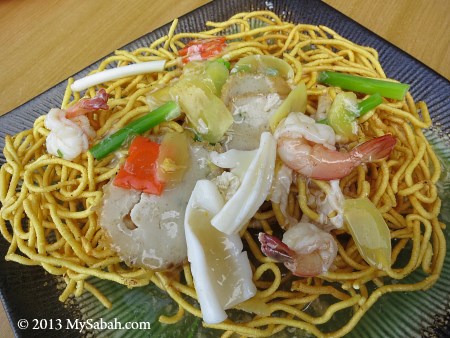 Pic: crunchy noodle with seafood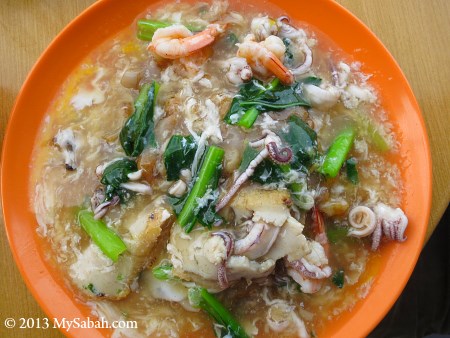 Pic: wet noodle with seafood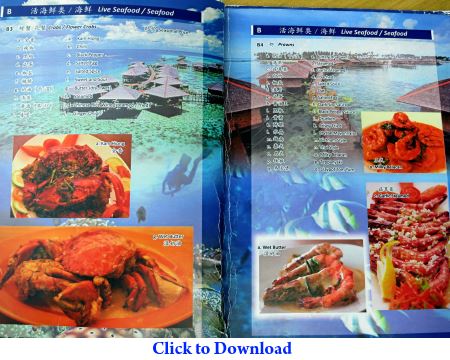 Pic: you can click the photo above to download their food menu. You will be impressed by the variety.
The following is the contact of Ocean Treasure Live Seafood Restaurant:
Website: www.oceantreasurelive.com (may not work)
E-mail: asiafoodcartel@hotmail.com
Facebook: Ocean-Treasure-Live-Seafood-Restaurant
Tel: +60 16-3239009
Opening Hours: 11:30am – 10:30pm daily
Address (see location map): Lot C1, Ground Floor, Semporna Seafront Township, Semporna, Sabah, Malaysia. (located beside Sipadan Inn II)
3. Pearl City Restaurant
Chinese Name: 珠城海鲜楼
Malay Name: Restoran Bandar Mutiara
This restaurant is inside Dragon Inn Floating Resort. It is open to guests as well as public.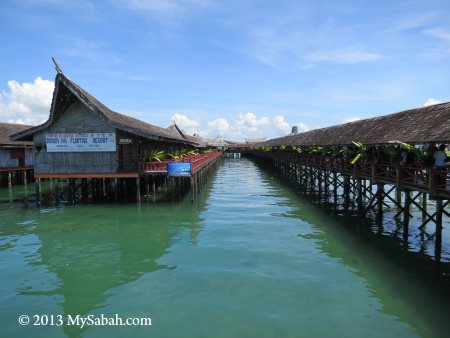 Pic: Dragon Inn Floating Resort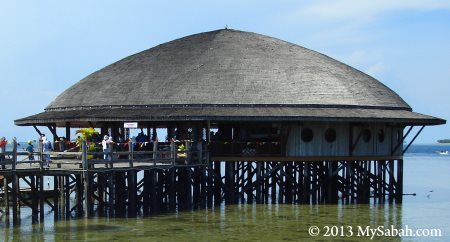 Pic: Pearl City Restaurant is built in the sea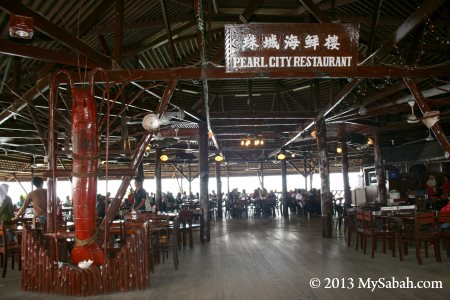 Pic: Pearl City Restaurant is the largest seafood restaurant of Semporna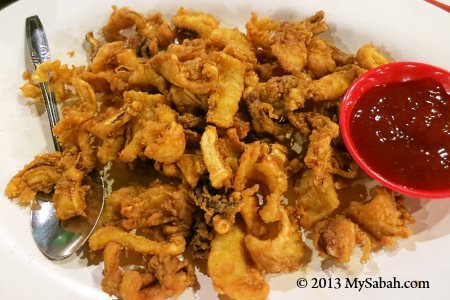 Pic: fried squid of Pearl City. Many say it's a must try.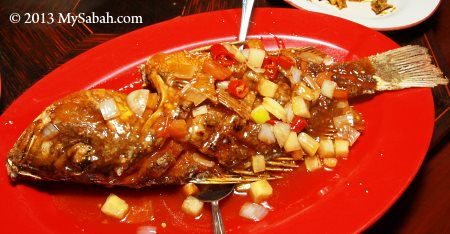 Pic: sweet and sour fish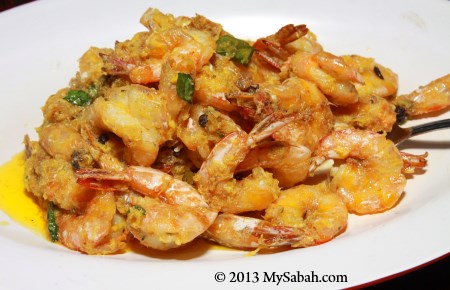 Pic: butter prawn, yum yum, my favorite..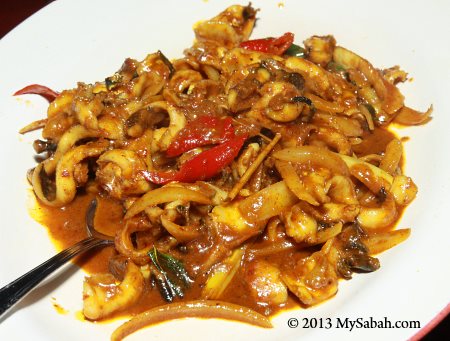 Pic: fried squid with spicy curry flavor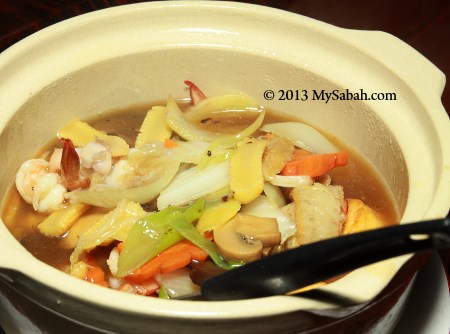 Pic: claypot seafood and vegetables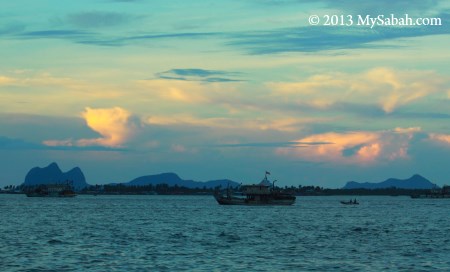 Pic: the nice sea view is a bonus for diners in this restaurant
For more info about Pearl City Restaurant, here is their contact:
Website: www.dragoninnfloating.com.my
E-mail: info@dragoninnfloating.com.my
Tel: +60 89-781099
Opening Hours: 7am – 9:30pm daily
Address (see location map): No.1, Jalan Custom, Semporna, Sabah, Malaysia.
4. Semporna Weekend Market
When you are enough with seafood, you may try the local snacks in Semporna open market, which is open in weekends in town centre (see location map).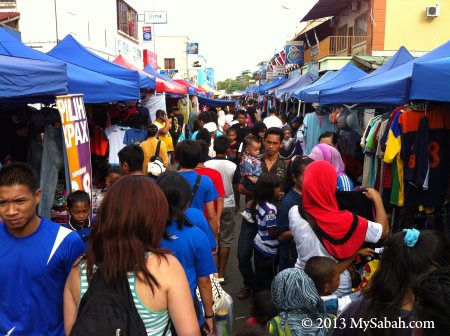 Pic: Semporna open market is crowded with people and you can buy almost anything here.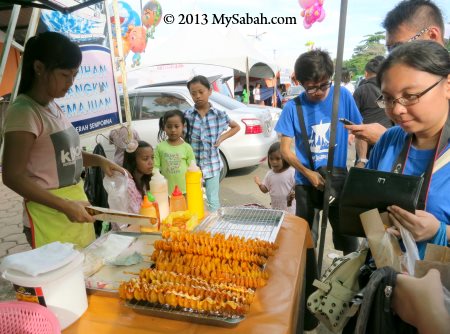 Pic: check out the food stall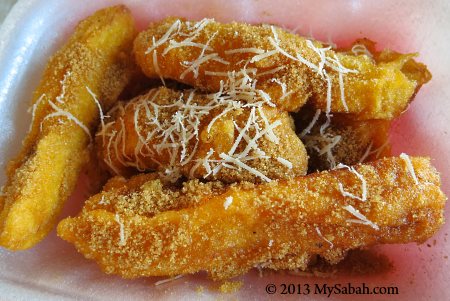 Pic: one of the snacks you must try is fried banana fritter with cheese.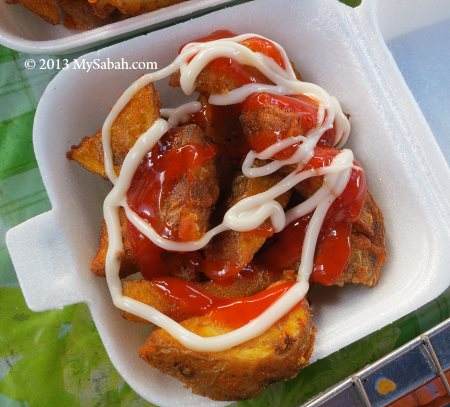 Pic: cheese potato wedges, costs only RM4 (≈USD1.25)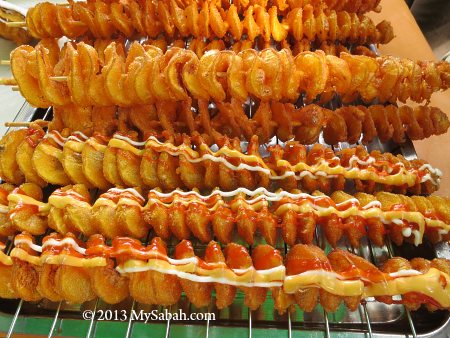 Pic: look at the cheese potato skewers, they are so tempting, also RM4 each.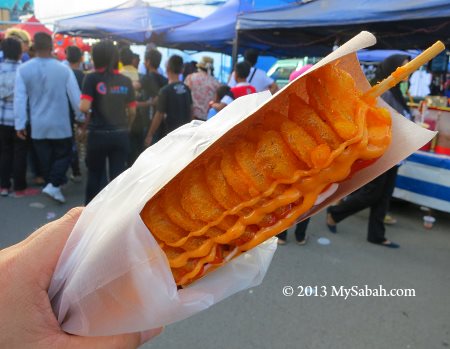 Pic: cheese potato skewer is big enough as my lunch.
I hope you know where to eat in Semporna now. Do share with me if you know any other nice places for eat out.
Photos taken in Semporna, Sabah, Malaysia Borneo