Tag Archives:
rock
When is your last time picking up a stone and have a good look at it? Cavemen from stone age probably know rocks better than us because they constantly look for the best ones to make axe and cutting tools. Nowadays the only rocks that piqued people interest are rock concert and gemstones.
Though rocks are everywhere, each rock is unique. For 20 years, Mr. Rohaimin Ariffin has been collecting special rocks in Keningau, and he is rewarded by thousand of intriguing rocks, which are beautiful, weird or ugly.
90% of his collection come from Sungai Pegalan (Pegalan River) near to his house, and the rest are from Banggi Island, Lahad Datu, Kunak, Kinabatangan, etc. His friends also give him some rocks from New Zealand and Indonesia.
In 2008, Rohaimin spent RM40,000 (≈US$10,000) to build a Rock Gallery named Galeri Batu Unik Sakag Rohaimin next to his house. From this, I can tell he must have a very nice wife who doesn't nag at his hobby (just kidding). To hobbyists, rocks are priceless. To those who don't appreciate, a rock, eh, is just a rock.
Anyway, whether you are a collector, you will be amazed by his Rock Gallery. I would say this is the biggest gallery dedicated to rocks in Sabah so far. And he doesn't sell any ticket to guest, it's free to visit. Based on how he places the rocks, I roughly categorize his rock collections in following groups.
Music Rocks
Batu Gong (Gong Music Rock) forms one of his major collection. When you hit it, the rock will produce a gong like metallic sound. I had seen Batu Gong in Tambunan, but Rohaimin has larger collection!
There are hundred of Batu Gong laying around. He labels some rocks in different tones and group them on a stage. Below is a short video of Rohaimin playing "Rock Music" with Batu Gong:

Rohaimin can play very nice Twinkle, Twinkle, Little Star and Mary had a Little Lamb song with these rocks. A guest was so impressed by the music that he wanted to buy this rock music set.
Religion
One of the most famous rocks he got is the one with the word Allah in Jawi. He also has other rocks with figures of praying muslims, Buddha, Mary, and Satan.
According to him, the best time to hunt for rocks is after flood and storm, which expose new rocks under the soil. His rocks are not for sale. He even buys rock from others if it's a nice addition to his collection.
Growing Rocks
Personally I think the most bizarre rocks in his gallery are the "growing rocks". Over time, some hair-like substance would grow on these rocks, like some kind of crystallization. The "hair" is fragile and can break into powder when touched.
According to Rohaimin, even the box that stores these rocks also has hair grown on the surface, so peculiar. He welcomes Tourism Ministry, Sabah Museum and Geoscience Department to find the answer of this odd phenomenon.
Fossils & Petrified Wood
The next eye openers are fossils and petrified wood. All the seashells, clam and coral fossils are from the center of Sabah. This proves that Sabah is under the ocean in the past.
I used to collect some fossils of Sabah, but they are not as impressive as his collection.
Petrified wood is actually fossilized wood, and its organic part is replaced by other minerals, so only the shape of wood stays. That's really cool.
Animal Heads and Shapes
Occassionally you would notice some rocks that look somewhat familiar to an animal. Rohaimin has some animal rocks that don't need much imagination for you to tell they are puppy, proboscis monkey, fish, gorilla, Flowerhorn cichlid, sheep and chicken.
Nature Art
Rohaimin started his collection with a few odd and small black stones in 1996. Beautiful stones that have special shapes, materials, colors or patterns are also his target.
Some of his most prized collections are stored in drawer or locker to prevent thievery. He would show them to you if he is around and you ask. Currently his rocks are laying around on the floor or being placed on surfaces of chair, desk and rack. He really needs adequate funding to setup showcase and display stands with proper lighting, to present his collections like art items.
Other Non-rocks
Besides rocks, Rohaimin also have other interesting items such as fossil deer horns, WW2 bombshells and old coins. The most impressive is his Bonsai that he has been nurturing for 20 years and some are award winners.
"I don't want the wives to feel bored, when their men are looking at rocks. These bonsai shall keep them busy," Rohaimin says. That's very considerate.
Rohaimin is planning to move his rock and bonsai gallery to a place near to SK Binaong school, which is more accessible by big bus. He would need to apply for another loan for the new gallery building.
At the moment he is not collecting any visitor fee, so this is totally a self-funded project. If you visit his gallery, it'll be nice if you would donate some money, no matter how small it is, that'll bring him closer to his dream.
How to get there
Galeri Batu Unik Sakag Rohaimin (Rohaimin's Rock Gallery) is about 12 KM away from Keningau town. It's located in housing area of Kampung Baginda (Baginda Village). There is no direction signage and not all villagers there know this gallery.
However, you can find his gallery easily if you read the guide here. When you drive away from Keningau using the road heading to Tambunan town, you will reach a roundabout after 9 KM (see Location Map or 3D Street View). Take the road to Kampung Baginda (the sign is just next to the big blue sign of St. Mary's Church).
You will enter a small and paved countryside road. Drive carefully to avoid the roaming cows, dungs and speed bumps along the way. Follow the main road for about 3 KM and you will reach a Y junction at the end of paved road. Turn left to the road labeled as JLN. Binaong Baginda (see Street View).
Keep driving on the gravel road. In a minute or two, turn left to a small path before a downward slope. You will enter residential area with a few houses, and Rohaimin's house is at the end (GPS Coordinate: 5.375564, 116.204871, see Location Map)
Rock is more important than we think. For example, without ultrabasic rocks that promote the growth of endemic plant, Kinabalu Park would not become an UNESCO World Heritage Site. Hope more people will find some fun in this little wonder of geotourism. For more info on the gallery, you may text (Whatsapp available) or call Rohaimin at +60-13-8730559. Please note this is a personal number and he has a daytime job, so use it discreetly and don't disturb him.
Photos taken in Keningau, Sabah, Malaysia Borneo
You might also like:
Years ago I was told by a friend about the amazing Batu Gong (Music Rock) in Kampung Solibog (Solibog Village) of Tambunan. In Malay language, Batu means Rock and Gong is an idiophones musical instrument. Gong (photo below) is made of galvanized iron sheets and a backbone traditional music instrument for indigenous tribes of Sabah. In fact, gong is also commonly found in South East Asia countries such as the Philippines, Indonesia and Brunei.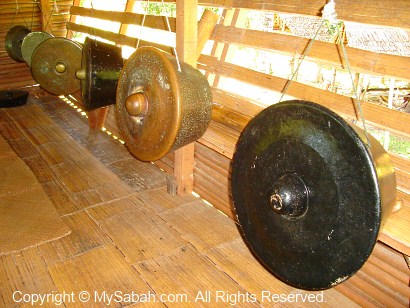 Our people play gong in important social events such as wedding, festivals and celebrations. Usually gongs in various sizes were beaten by a group of players, in different rhythm to produce a harmonious orchestra. If you hit Batu Gong, it also produces sounds resemble to gong.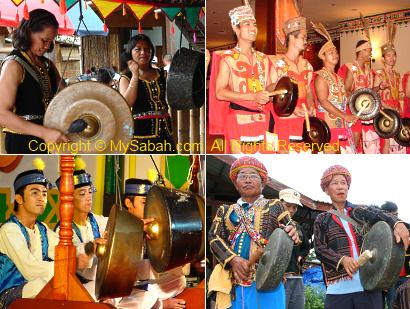 To see Batu Gong, I drove 1.5 hours to Tambunan town, which is about 81 KM away from Kota Kinabalu. I asked the Tambunan people how to get there. Though most of them know about Batu Gong, they don't know the exact location. They only gave me a vague direction and advised me to ask the villagers when I passed by a golf course.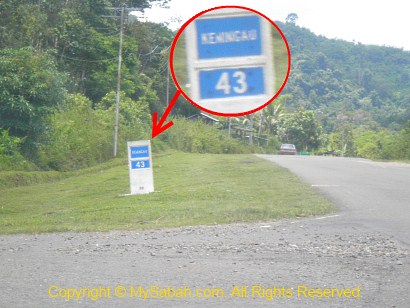 Going from the main road of Tambunan to the direction of Keningau town for about 7 KM, you will see a golf course named TNGC (Tambunan Golf & Country Club) at the left of the road within 10 minutes. Then turn left to a junction just before the milestone labeled "Keningau 43" (see photo above).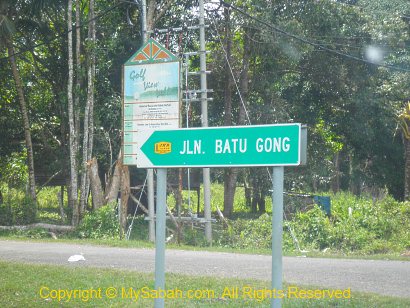 At this junction, you will also see the street sign "JLN. BATU GONG" (Batu Gong Road) with a signpost that reads "Golf View Villa" behind (see photo above). Just follow the small road.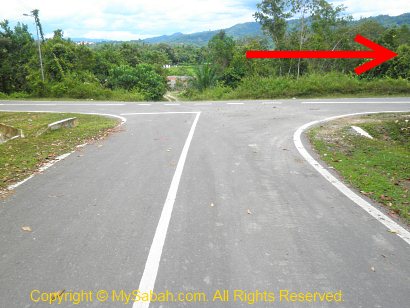 After a while, I reached a T junction. I turned to right and it is a correct way. The GPS location of Batu Gong is 5.623135, 116.339694 (see Location Map or Street View)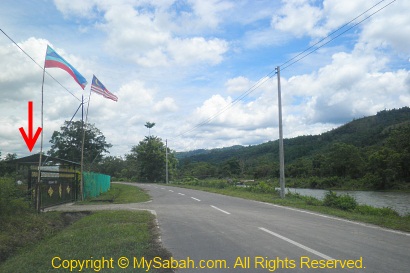 Minutes later I came to the road with river at the right. I drove slowly and saw a white sign "Batu Gong" behind a gate at my left.
Pretty sure that I found the place. I parked my car and walked to the gate. I was a bit surprised that Batu Gong is inside a private housing area.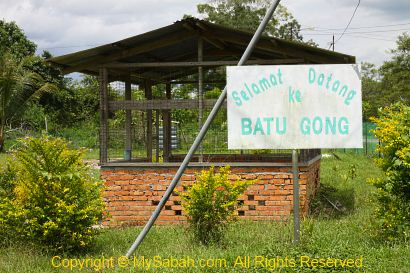 Though a bit hesitated, I opened the gate to enter. Then I saw a hut with a sign "Selamat Datang Ke Batu Gong" (Welcome to Batu Gong). Since it says Welcome, I guess it's ok to go in.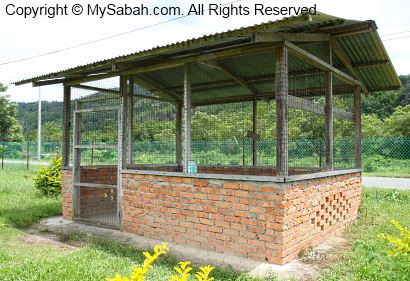 Here it is! They store Batu Gong inside a simple hut built with zinc roof, brick wall and iron fence.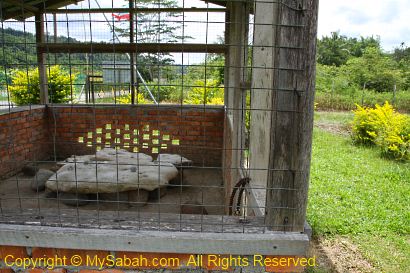 Looking into the hut, I was happy to see Batu Gong inside.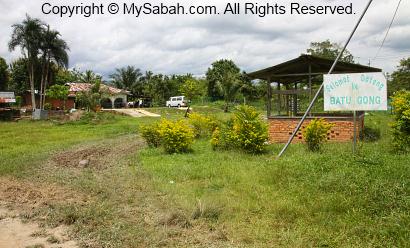 However, this place is a private property, probably I should ask for owner's approval to enter. I walked to a house nearby. I met the owner, Uncle Yaman, and introduced myself.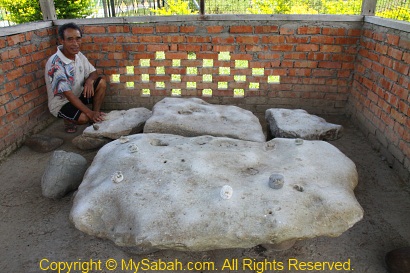 Uncle Yaman is very friendly and more than happy to show me his Batu Gong. The Batu Gong are a few boulders that look like natural ordinary rocks. Judging by their look, I can't spot anything unusual. The discovery of Batu Gong is also by accident.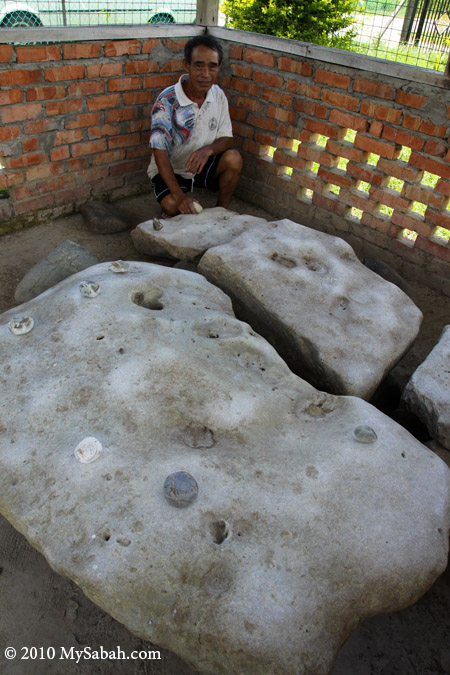 According to Yaman, there was a straightening project of Pegalan River in front of his house in year 1995. A few boulders were dug out from the river and placed at the river bank. Nobody bothered about those rocks.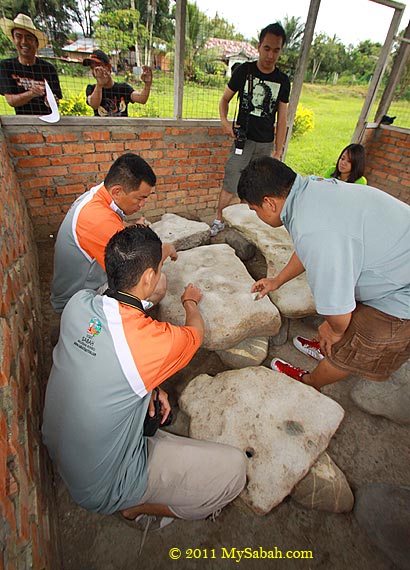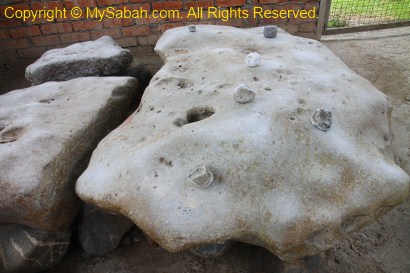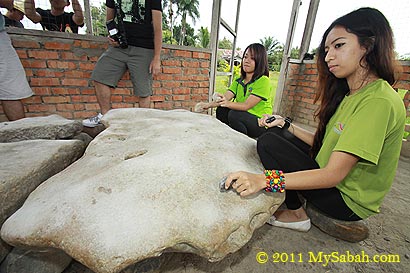 Some village kids like to bathe in this river. Then one day, the adults found that the kids playing with the boulder by hitting it with stone, to produce Gong-like sound. They were so amazed by these magic rocks, so they relocated them to his house for everyone to see.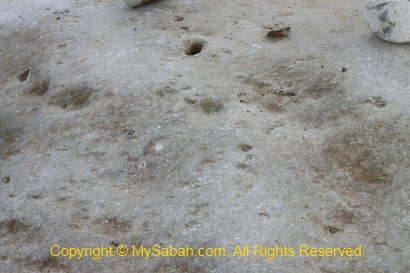 Above: a closer look of the rock. Can you see anything special? Yaman said a Japanese scientist came here before to check out Batu Gong. This scientist believes Batu Gong has high level of iron, thereby giving it a metal property.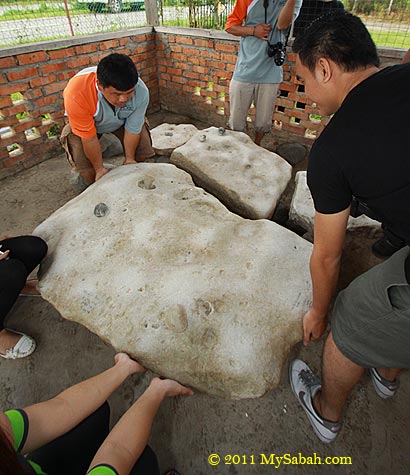 Above: so heavy, 3 men also can't lift it.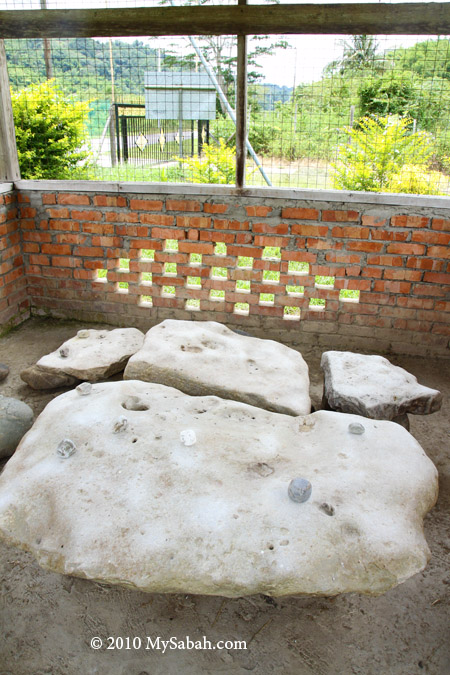 There was someone offered to buy Batu Gong, but the villagers refused, as Batu Gong is such a unique and priceless natural wonder. See 8 small stones on Batu Gong? Batu Gong can produce 8 different tones. Each stone places on the spot that has a unique tone (but a few tones sound the same to me).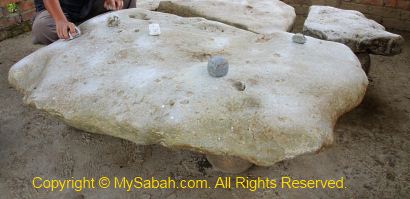 Traveling nearly 100 KM to see Batu Gong, I already couldn't wait to beat it hard.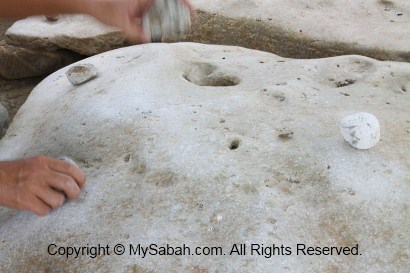 Wow, I can't believe it. When being hit, Batu Gong sounds like gong (but not very much). Its sounds are crisp and high-pitched. Just imagine you hit the iron bar with a small hammer. My sense of rhythm is poor, anyway, I had so much fun hitting different spots to hear different tones. You can watch the video below to see what I mean. Near the end of video, I also include the sound and music of real gong for you to compare.
I always wanted to see Batu Gong years ago. I only did it after I got my compact camera with HD movie recording function, because I could not show the sounds with photos.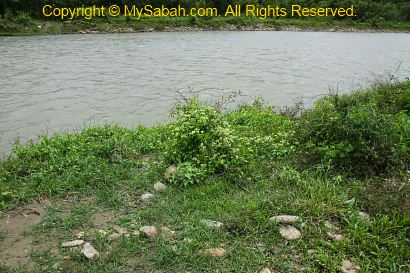 Above: the river where Batu Gong was found. This river is just in front the house of Uncle Yaman. 15 years ago, a project changed the course of this river to free up some land, which included the current housing area of Uncle Yaman. During rainy season, this overflow river still can flood the road next to it, in case you wonder why Yaman built his house so far away from the gate.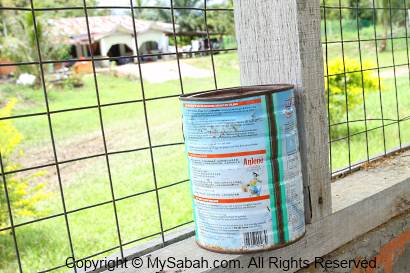 Above: to show some appreciation, you can put money in this rusted tin. Of course you can give more.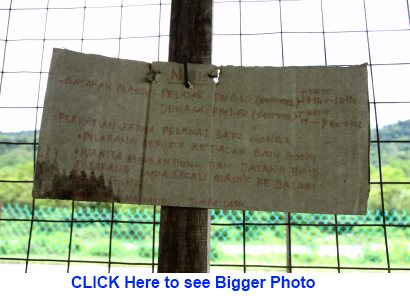 There is a notice in the hut (no longer there, as of May 2016). I didn't pay much attention to it until I opened the photos later at home. These are "visiting rules" written in Malay language. The first one says "No Smoking", which is understandable as the holes on Batu Gong look like convenient ash tray. The second rule is odd, it says "Woman in pregnancy and menstruation are prohibited to enter". Probably Batu Gong is considered as a sacred rock with spirit resides in it?
Just an extra info, music rocks like Batu Gong are also found in Kg. Baginda of Keningau, but I haven't seen it yet.
Photos taken in Tambunan, Sabah, Malaysia Borneo
You might also like: