Tag Archives:
Photography
About 30 KM from Kota Kinabalu, somewhere in Tuaran there is a "secret" paradise between a river and the sea. Some heard about this beautiful place but they can't describe it, b'coz few locals have been there. Borneo KellyBays (or Kellybays in short) is special b'coz it's probably the only Sabah nature attraction that lays between sea and river.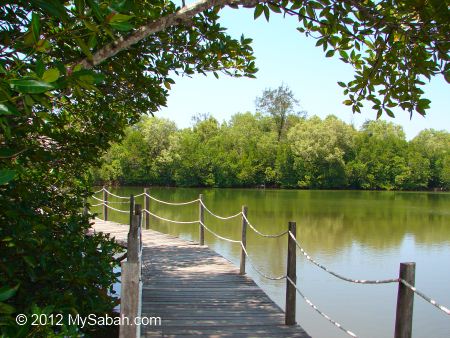 Borneo KellyBays is in Laya Laya Village (Kampung Laya Laya) of Tuaran. At the edge of the village, there is a boardwalk that leads to the jetty of Borneo KellyBays.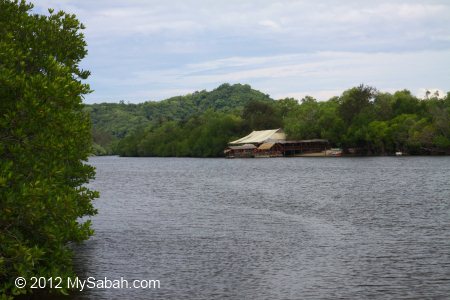 At the jetty, you will see a wide river between you and Kellybays. Even during low tide, the river is about 3 to 6 feet deep and you can't walk across it. That's why Borneo KellyBays looks so "mysterious" to uninvited guests. Normally they don't take walk-in tourist, so you need to book the tour in advance.
You can look at the map below for the location of Borneo KellyBays and its jetty. The map also clearly shows that Kellybays is between river and sea:

View My Sabah Map in a larger map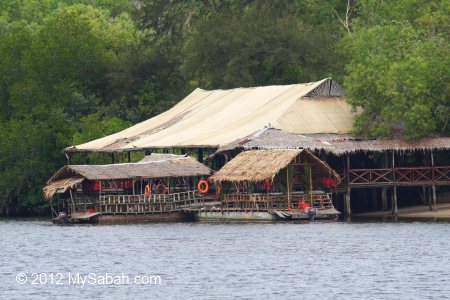 Above: the wooden rafts of Kellybays.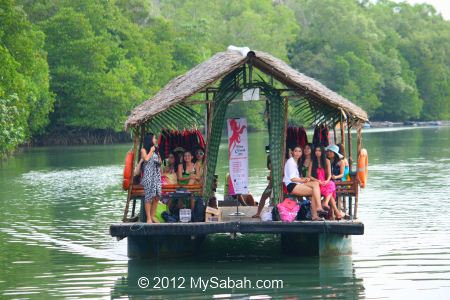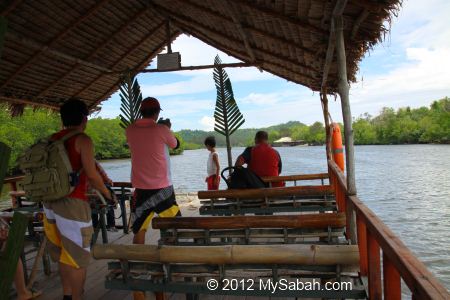 If you have booked a tour, they will send a wooden raft to pick you up at jetty. Once you are on-board, you are their VIP.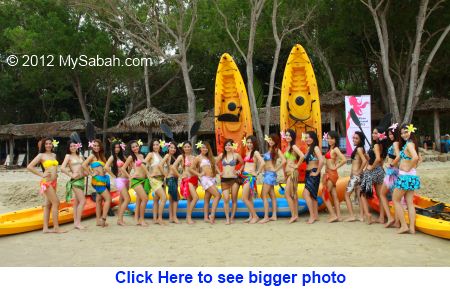 Last month I had a photography outing with 19 gorgeous ladies at Kellbays. They are the contestants of Miss Oriental Beauty Pageant, which aims to promote local modelling talent in the fashion industry on modelling run-way show and exposure in beauty pageant. It was an enjoyable experience b'coz both models and photographers have more space and privacy, as there is no Uncle Bob, busybody and weirdo around in the private beach of Kellybays.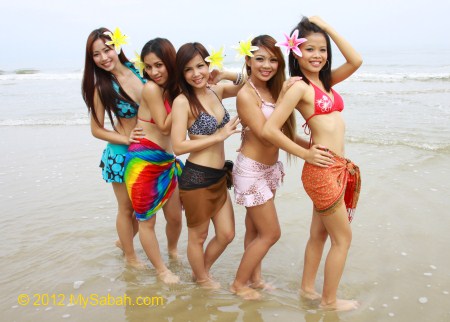 Though we didn't have blue sky that day, the overcast sky in the morning offers very pleasing soft light. And it's not too hot (except the hot models) so everyone was very relax and had lot of fun. What is better than photo-shooting sexy bikini models in beautiful beach?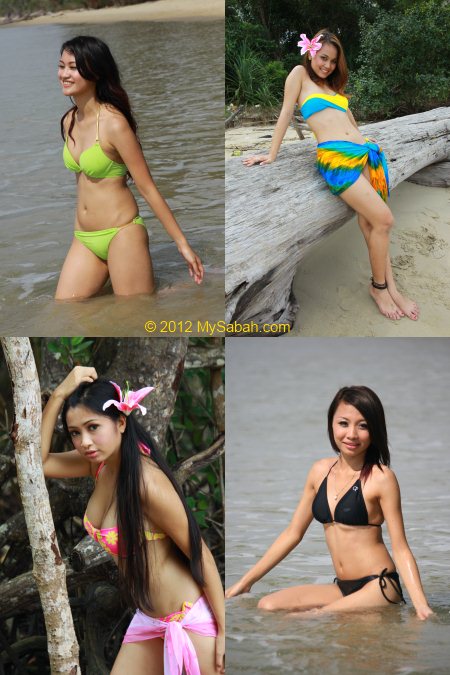 The photographers and models are divided into a few groups for photo-taking in different spots in rotation. The beach of Kellybays stretches 8 KM long overlooking the South China Sea with sandy bay and forested coastal, so there are plenty of nice background for framing the shots. In fact, many overseas models have come here for photography.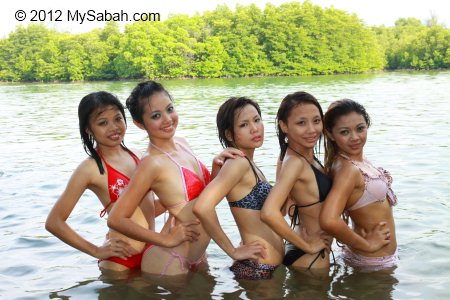 The mangrove forest and river at the other side is also great for photography. The models are experienced and know how to pose for camera. FYI, quite a distance away is an estuary where the river and sea meet. Looking afar, it is like a dragon tail, that's how Kellybays got its Chinese name 龍尾灣 / 龙尾湾, which is literally translated as "Dragon Tail Bay".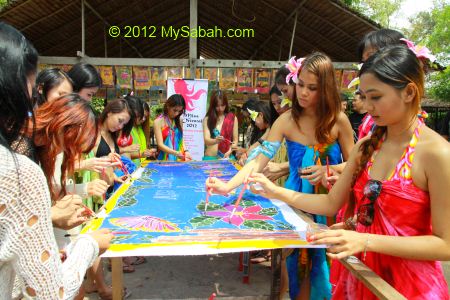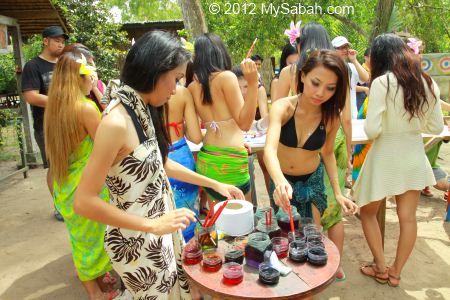 For the promotion of Kellybays, the models also tried batik painting, one of the favorite activities of tourists.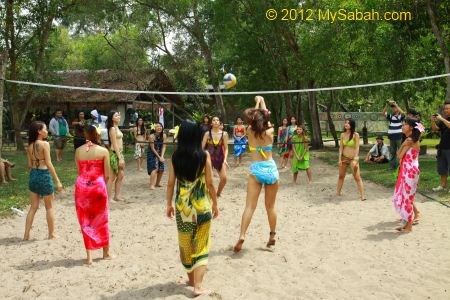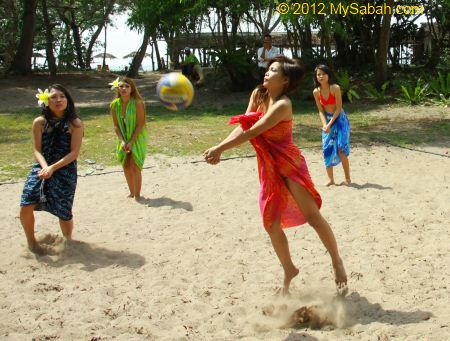 Then we photo-shoot the models playing volleyball. Everyone is happy, whatever ball they look at..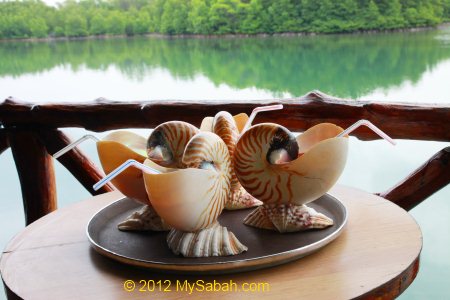 Finally we could enjoy Malay buffet lunch at the floating restaurant of Kellybays after work. I really love their seashell cups for fresh fruit juice. The owner, Stephen says these are special-made and not found anywhere else. He ordered 200 units, but the guests like it so much that they "borrow" it (without asking), so there are only 100 left.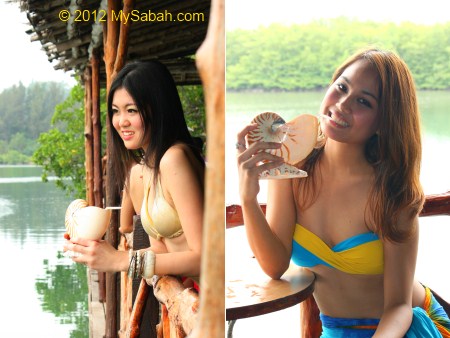 The restaurant is facing the lush mangrove forest and clam river, so you can appreciate the nice scenery while having your drink.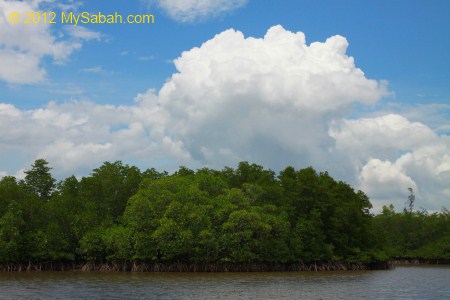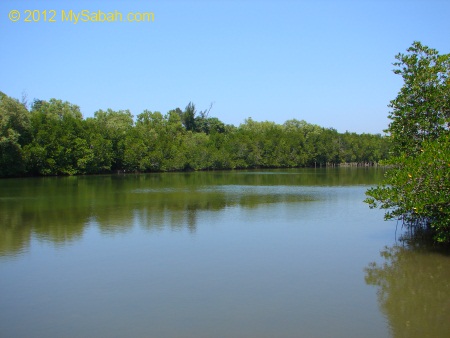 Above: the mangrove and river at Kellybays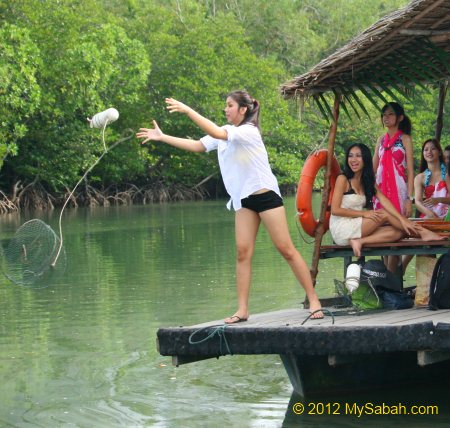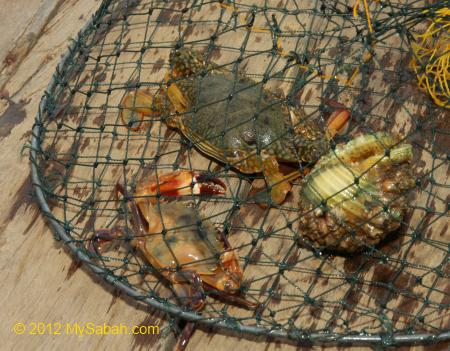 Mangrove has abundant fishes and crabs. You can try crab fishing in the river there. Just throw a net with bait in it, withdraw the net after a few hours and you would find seafood inside.
There are many things you can do at Kellybays.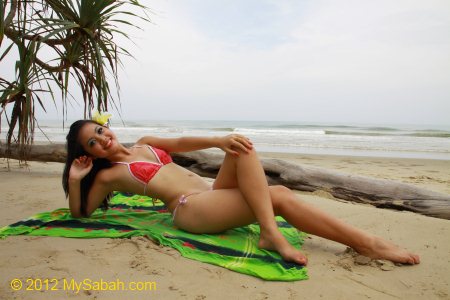 For example, you can laze on the sandy beach for a sunbathe.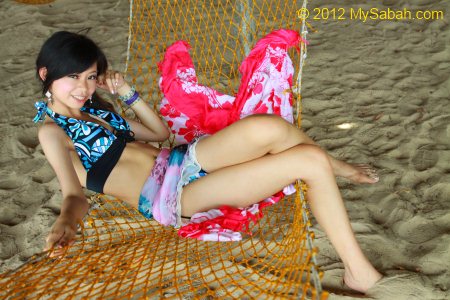 If you are drowsy after heavy lunch, you can take a nap on the hammock and enjoy the gentle sea breeze.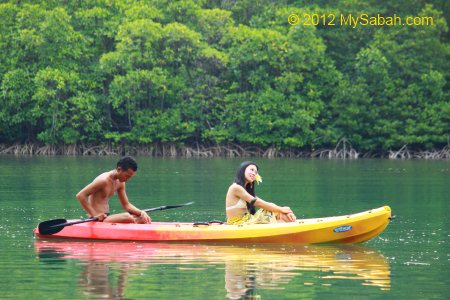 Kayaking in the river to blend yourself into the nature.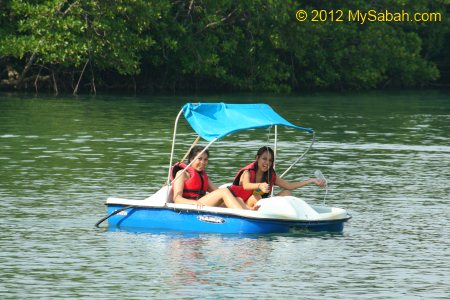 Or ride a water bicycle on the river…
Ok, ok, I know the activities above are too "slow" for you. You want something Fast and Furious right? Try their Banana Boat then! Personally I call it "Torpedo".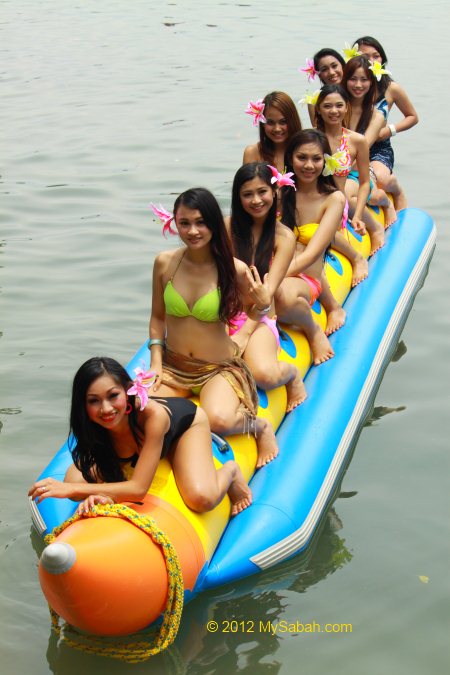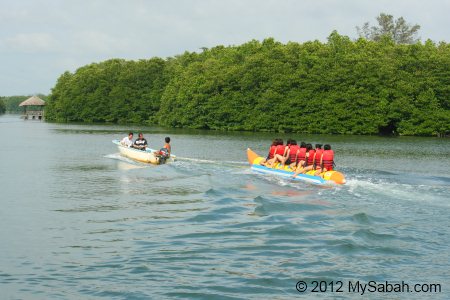 Don't look down this banana-shape rubber boat.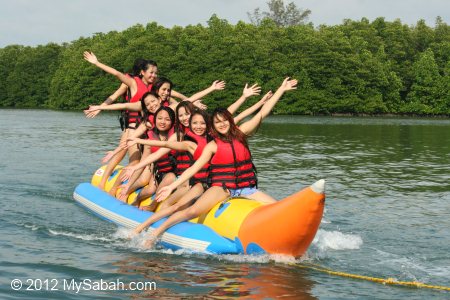 At first a speed boat will pull the banana boat for a leisure cruise. See! You can go hand-free.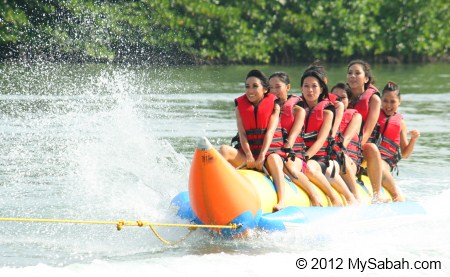 Then the boat will go faster and faster, you will feel like riding on a missile and scream your lung out.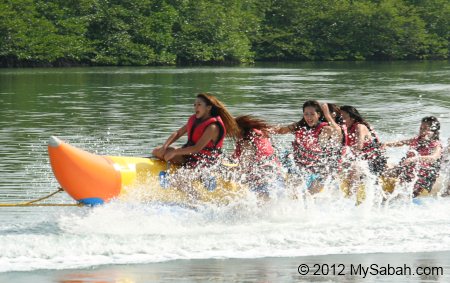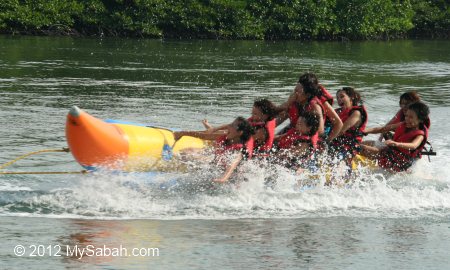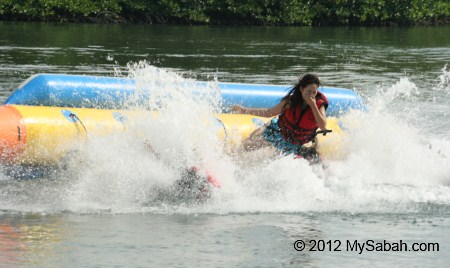 Lastly, the boat will purposely make a sharp turn in high speed. Everyone will be thrown out of the banana boat and dash into water.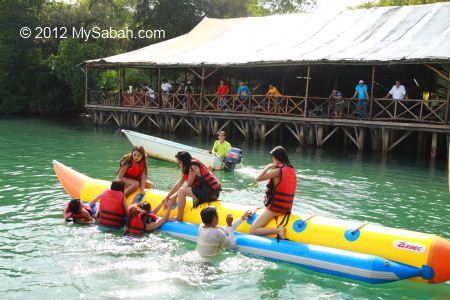 Don't worry. It's perfectly safe. The girls will survive.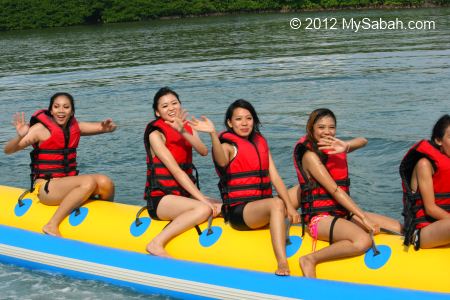 Guess what? The babes are so thrilled being dumped and they want MORE.. so bold and sporting huh. You can have as many rides as you want.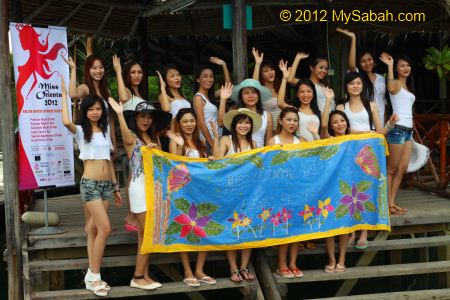 It had been a happy day but we had to say goodbye. FYI, the Miss Oriental 2012 beauty pageant is still on. If you want to see those pretty girls, you may visit D'Junction Fun Pub (Address: Batu 3, Jalan Lintas, Penampang) at 9pm on the following dates:
20 Apr 2012: Special appearance (preview night with Burlesque theme)
27 Apr 2012: Grand Final
Come and support your favorite girl! For enquiry, contact D Junction representatives at +60 88-703131.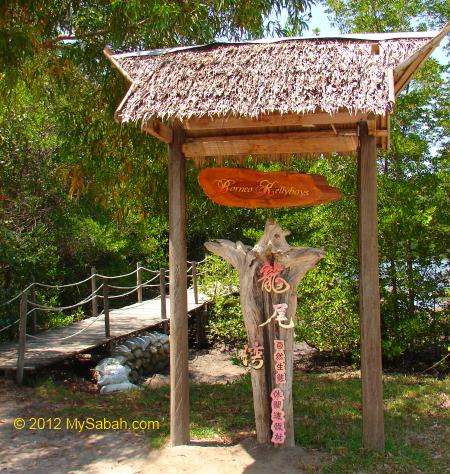 To visit Borneo KellyBays, head to Tuaran, after passing by the junction to Shangri-La's Rasa Ria Resort, drive a few more Kilometers on the main road and you will see the direction signage of KellyBays. Just follow the little signages along the way and zig-zag on the small road of Laya Laya Village to reach the jetty. You can browse their website at www.kellybays.com for more info.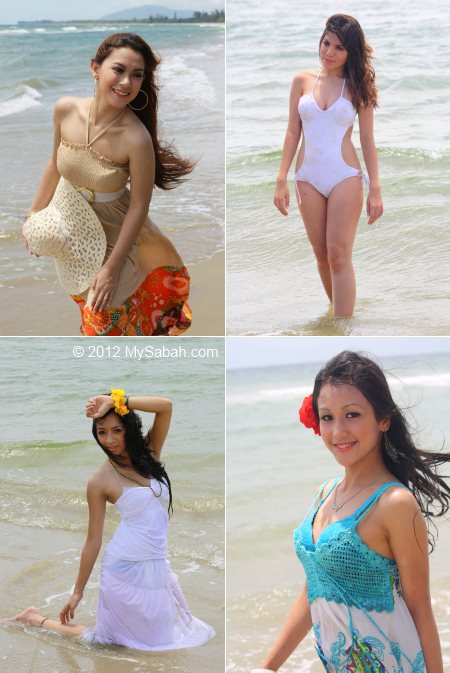 You may Click Here to see more photos of Miss Oriental at Borneo Kelly Bays. I also post some photos of Miss Sabah Photo Fest models on last page, which were taken in year 2011 at Kelly Bays.
More Photos
You may check out my photo album if you want to see more nice pictures: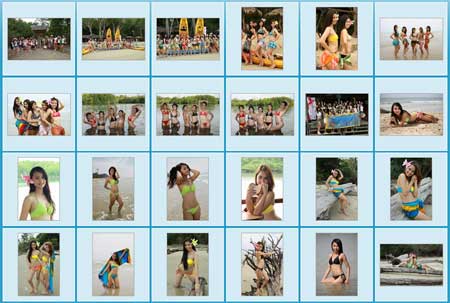 Photos taken in Tuaran, Sabah, Malaysia Borneo
You can skip this if you are not interested in visiting Maliau Basin. This is the last blog entry for my Maliau Basin trip. It is more like some post mortem records that might be useful for anyone who plans a trip to Maliau Basin.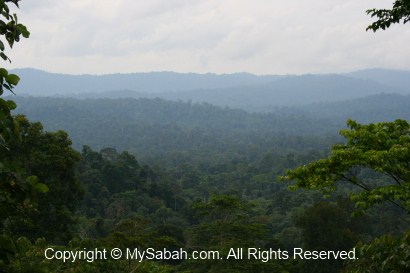 Notes for Travellers
You need to be reasonably fit to go to Maliau Basin. The terrain is rugged and trail is not tourist-friendly. If you are too exhausted, you won't be able to enjoy the view. You don't need to be as strong as a hunk. A few months of regular exercise before the trip will help a lot.
Control your water ration during jungle trekking. Sip a bit for every 500 Meters to 1 KM. If you take big quantity of water at a time and you sweat heavily, your body will ask for more water, drinking too much then you will sweat more and lose more body salt. Later you will find that no matter how much you drink, your body is getting weaker. At last, you run out of water and suffer dehydration. Bring a few packs of rehydration salt (costs only RM0.50 per pack) with you to replenish salt if necessary.
Reduce the weight that you carry. For example, I had only 2 set of clothing in 6 days. I wear the "dirty set" during daytime trekking, wash it in the evening and leave it to dry over the night, and another "clean set" is for bed time.
You can save some $ if you don't ask the travel agent to cook for you. In that case, you must have a good cook in your team, and that person should be an experienced cook who can plan the menu and ration the food quantity accordingly. It's stressful if everyone is really tired and hungry but doesn't know how to cook a proper meal.
The trip will be much more enjoyable if there is a botanist, birdwatcher or naturalist joining you, as they can point out all the unique things in Maliau Basin. It is quite a sad thing to pass by those rare flora & fauna, without knowing that they are worth a closer look. The rangers speak very limited English. I'm afraid they can't tell you much unless you can speak our local language.
Start the trekking early in the morning and walk slow. You can walk slowly if you start early. Besides, it is a bit warm in the afternoon. Even the most photogenic place will look less ideal for photography if we get there in the afternoon, due to the harsh afternoon light.
If you only want a short trip and ask me what are the "must-see" attractions in Maliau Basin, I will say (1) Maliau Falls and (2) Heath Forest (many pitcher plants).
I will go to Maliau Basin again. Next time I want to visit (1) the 12 hectares Linumunsut freshwater Lake, (2) Takob-Akob Waterfall, and (3) Garden of Eden (currently inaccessible due to land erosion. They say it looks like Japanese garden full of flower).
There are only 5 ways to get cheaper tour package to Maliau Basin:-
(1) going in big group, you can get nearly 50% discount if your group is big, say, 10 people.
(2) DIY. Try to do everything yourself, e.g., cook your own meal, use own transport, don't use porter.
(3) Write-in to Yayasan Sabah (Management of Maliau) to waive various fees such as permit, photography and guide. You can try this if you organise trip for education, tourism, government or NGO sector. But no guarantee they will approve.
(4) Malaysians get cheaper price than foreigners. For those foreigners who like to complain about the discriminating pricing, well, many Malaysians study in overseas universities and pay expensive school fees in "international rate" for a few years. I don't see any problem to charge foreigner tourists for higher price.
(5) The prices offer by different travel agents in different time can vary greatly. You need to shop around for the best deal. But cheap doesn't mean good. You have to be careful of the hidden cost.
Notes for Photographers
Below are some advices for the photographers. Even compact camera users will find the guide below contains very useful tips:
You need a permit to photograph in Maliau Basin. Mine was waived so I am not sure how much it costs. But I heard that it is very expensive. Anyway, it may sound unreasonable to stop a tourist to take photo, so I don't know how strict this is enforced. Do ask if you want to photograph Maliau.
Tripod is a must, though it adds extra weight to your back. You will really appreciate it for waterfall and landscape shots. Under the forest canopy is also a dark world. My sturdy Manfratto tripod is 2 Kg. At first I bought a mini 1Kg-tripod to replace it. Then I decided to bring the best tripod. My extra effort did pay off.
If possible, organise the trip with a group of photographers. If you go to Maliau Basin with ordinary travellers, they will not wait for you to setup tripod and spend a long time to shoot an object. Non-photographers are also lack of motivation to wake up and move earlier, so you cannot earn more time for taking photos along the trail.
Taking photos needs a lot of energy. Exercise as much as possible, to make sure you are physically fit. If you are really fit, you can afford to stop by to photograph, then catching up with the group who always leaves you behind. Do not forget you need to carry heavy camera and tripod.
Use LCD Screen Protector for the LCD of your camera. It is only RM50 (about USD$15). I am glad I did because it did stop a severe damage to my LCD. In long hours of jungle trekking and climbing in hostile terrain, bad thing can happen to your camera anytime. Just treat this RM50 as an insurance for your fragile camera.
Bring spare batteries, and a lot of them. Instead of spending a few thousands to buy too many DSLR camera batteries, you can buy a battery grip, which costs RM300 to RM500 (about USD$90 – 160), then buy many AA batteries, which can be used for your camera (and external flash). For this 6-day-5-night trip, I finished all 50 AA batteries. In Maliau Basin (except Maliau Basin Studies Center), the camps have no power point for you to recharge your batteries.
Get the best AA batteries. I was using Energizer brand AA batteries. I found that its Ultimate Lithium battery (blue & silver color) can last 3 to 4 times longer than its ordinary alkaline battery (black color). Though Ultimate Lithium battery is very expensive (RM8 each) compared to ordinary black Energizer battery (RM2 each), I recommend you to cut down your weight by using more Ultimate Lithium batteries. Though holding more power, surprisingly this Lithium battery is half the weight of ordinary alkaline battery. I was annoyed that 6 ordinary alkaline batteries (for battery grip) could not last even one day.
Bring more memory cards. Without enough memory card, extra batteries are also useless. It's better to have spare memory cards, especially if you shoot in RAW format. The less you worry about memory constraint, the more you shoot and the more likely you will get more good photos. Make sure you format the cards before the trip. Instead of buying one big memory card, it is safer to buy a few smaller cards. For example, it is better to buy two 8GB cards than one 16GB card. If your single big memory card damages, you lose all eggs in a basket.
You can hire a porter to carry your camera bag. But you should keep some spare memory cards and batteries with you. The porters understand very limited English. Even though I instructed them a few times to stay close with me, they "disappear" when I was out of memory card or battery!
Raincoat is necessary. Raining is very common in Maliau. In case of rain, the raincoat will protect your camera from the rain. And make sure your camera bag comes with a rain cover. If your porter carries your camera bag, show them the rain cover so they know how to keep your camera bag dry in rain.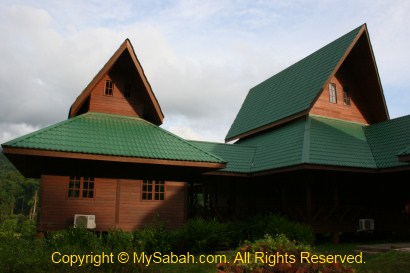 If you are interested to go to Maliau Basin, you may contact Borneo Nature Tours for more info.
Photos taken in Maliau Basin, Sabah, Malaysia Borneo
All Articles of Maliau Basin Trip:
Part 1. Introduction to Maliau Basin
Part 2. Day 1 in Maliau Basin
Part 3. Day 2 in Maliau. Trekking to the 1st camp
Part 4. Day 3 in Maliau. Maliau Waterfall
Part 5. Day 4 in Maliau. Entering the garden of pitcher plant
Part 6. Day 5 in Maliau. Skybridge & Night Safari
Part 7. Day 6 in Maliau. Leaving Maliau
Part 8. Conclusion & Notes
More Photos
You may check out my Maliau Basin photo album for more pictures: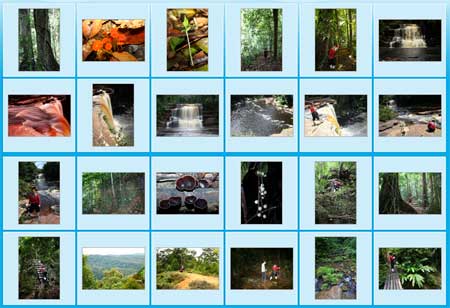 BONUS! More new photos of Maliau Basin…