Tag Archives:
park
Nearly 17 Meters tall and open to public since June 2003, Mahua Waterfall (local name: Air Terjun Mahua), which is 26 KM away from Tambunan town, is gaining popularity as one of the top destinations of Sabah interior. I visited Mahua days ago and strongly recommend this beautiful waterfall to those who drop by Tambunan. The GPS Location of Mahua Park is 5.796761, 116.408407 (see Location Map or Street View)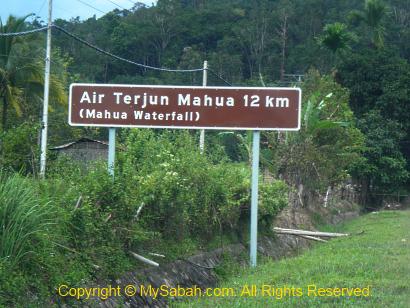 To go there, you need to drive 1.5 hours from Kota Kinabalu to Tambunan. Before Tambunan town, you will reach a roundabout with ginger and machete statue on it. Turn left to Jln. Ranau Tambunan (Ranau Tambunan Road), Mahua Waterfall is only 13 KM away. You will see a brown signpost to Mahua Waterfall shortly. Driving for about 6 KM, you will see the Mahua signpost again at a junction at the left, which leads to a 6-KM small road in Kg. Patau (Patau Village). The road is nicely paved so you don't need a 4-Wheel drive.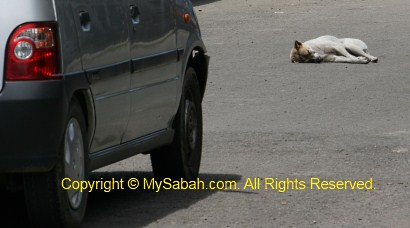 In the beginning, you will pass by the beautiful paddy fields of the village. Drive slowly and keep an eye on the roaming dogs, buffaloes and kids along the road. Very often you would find village dogs sleep on the road and don't even bother about approaching cars.
Then you will enter a hilly road with forest view of Crocker Mountain Range. I saw many Yellow Wagtail birds, the common winter visitors called "Beras Beras" (rice) in local Malay language, and some Ashy Drongo and Pacific Swallow birds perched on power lines too.
At the end of the road is the Mahua substation (of Crocker Mountain Range National Park) managed by Sabah Parks, where you buy entrance ticket. The opening hour is 8am-5pm daily. The following are the ticket rates for visitors to Mahua:
| Age | Malaysian | Non-Malaysian |
| --- | --- | --- |
| 18 years & above | RM3 | RM10 (≈US$2.50) |
| Below 18 | RM1 | RM6 (≈US$1.50) |
| Below 16 (student) | RM0.50 | RM6 |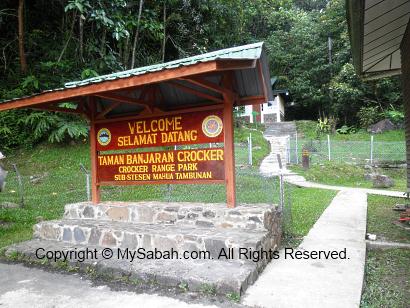 The start of 500-Meter walkway to Mahua Waterfall is just behind this building. You already can hear the sound of thundering waterfall at this spot. Mahua Waterfall receives about 1,600 visitors a month, making it the most popular attraction in Tambunan. Besides locals, it also attracts foreign tourists from Canada, USA, United Kingdom, France, Germany, Norway, Australia, Japan and Brunei.
Crocker Range is an important water catchment area. Water means life, so Mahua is a magnet for variety of fauna and flora. Like the 3-inch-big lacewing in photo above is new to me. Seeing my camera and tripod, the park janitor asked if I took photo for National Geographic. Haha.. if I answer Yes, not sure if they will charge me thousand$ for commercial filming.
Only a few Meters inside I found big mushroom to photograph. Mahua Park is more than just waterfall. I am so glad that I discover a natural eco-garden.
The walkway is under a mossy, shady and moist secondary forest, and such dim and damp environment promotes the growth of mushroom and fungus. The fungus above look like the skin of Chinese Bun (Bao) and Dim Sum. Edible?
Despite the hot day outside, the shady forest and running stream make the surrounding very cooling and refreshing. The temperature hovers around 23 degrees Celsius, as if I am in an air-conditioning room.
Normally I need to walk a long away on rugged jungle trail to see a waterfall. But the 500-Meter walkway to Mahua Waterfall is so short and easy, I didn't even sweat.
The trail is quite flat and paved with cement. Watch out for the slippery mossy surface.
There are some hut shelters, benches, trash bin and toilet along the trail, very well-facilitated for picnic. But sorry, BBQ and fishing are not allowed here, as these activities are bad for the conservation. Most visitors come here for swimming, picnic, camping and other nature-based activities.
Not only human likes waterfall, you also can spot many insects and bugs wandering among the undergrowth, ferns and shrubs along the trail.
Finally I saw the majestic Mahua Waterfall from a distance.
There is a ladder leads to a viewing platform.
Here you go, the photo of Mahua Waterfall. The force of water is so strong that it pounds the pool and create a mini storm and earthquake around it. Even though I was more than 10 Meters away, my camera and I was bathed by wind of misty spray.
Mahua Waterfall is nearly 17 Meters (55 feet) tall. But don't try to jump from the top to the pool, as the water is only about 1+ Meter in depth (I never swim there, it can be deeper during wet day so just be careful).
You can swim around the waterfall, but be cautious of the falling rock from top.
Huge Tree in Minduk Sirung Trail
If you are a tree hugger, you will thank me for telling you that there is a gigantic tree hidden in Mahua Park.
About 120 Meter before the waterfall, you will see a hanging bridge at your right, which leads you to a signage that reads, "Minduk Sirung Trail. Mahua ke Gn. Alab 12 KM".
Minduk Sirung Trail is a jungle trail that connects to Mount Alab (Gunung Alab) substation about 12 KM away, another park in Crocker Range. Some avid hikers use this trail for jungle trekking from Mt. Alab to Mahua Waterfall (mostly descending trail).
Anyway, the big tree that I mentioned is only 1.5 KM away from the starting point. However, there is no clear signage along the trail. You will see many big trees on the way and wonder which one it is. But, when you see it, you know that's the one, as it is SOOooOOoooo…. BIG!
The trail is a bit steep in first 1 KM and lurked with blood-sucking leeches, so you better wear proper hiking shoes and anti-leech sock.
Accommodation & Meals
If you want to overnight in the park, you may book a room with Mahua Rainforest Paradise (located at park entrance), which has 12 bedrooms and a restaurant. Camping and meals are also available. The accommodation fees range from RM30 to RM95 per night (≈US$7.50-24), you may Click Here to check out its rates.
Here is the contact info of the hostel next to Mahua Park:
Hostel: Mahua Rainforest Paradise
Company: Mahua Nature Holidays (S) Sdn. Bhd.
Website: mahua.blog.com
E-mail: mahuanature@yahoo.com
Phone: +60 16 8403969, +60 19-8203198, +60 19-8203198
The owner of hostel also runs a restaurant near the park, which sells common food (e.g. fried rice / noodle, noodle soup, bread) and hot & cold drinks from 9am to 5pm every day. The prices of food are about RM5 to RM10, drink is RM1.50 to RM4, and they serve no pork. If you want to picnic there, BBQ gazebo is available for rent in full-day (RM45), half-day (RM30), and quarter-day period (RM15).
Photos taken in Tambunan, Sabah, Malaysia Borneo
You might also like:
Do you know certain trees are "edible"? You may have tasted it too, for example, the tiny jello-like balls in famous Malaysian dessert, Bo-Bo Cha-Cha (or Bubur Cha-Cha) is from Sago Palm, an important crop for people living in south-west of Sabah. Sago is known as Rumbia locally and a kind of starch that is extracted from the sago palm.
In Sabah, sago palm was once planted extensively in the wetlands of the west coast like Beaufort, Kuala Penyu, Papar and Penampang. However, the scale is getting small now because rice has replaced sago as the main source of carbohydrate.
Rumbia Information Center / Sago Information Center
Sago palm is also called the "Tree of a Thousand Uses". If you are on a tour to Klias or Pulau Tiga Island, you may drop by the Rumbia Information Center (Sago Information Center, or Pusat Informasi Rumbia in Malaysian language) near Kuala Penyu town.
You can check out the 4-hectare sago plantation in the Center on a boardwalk. The signage, labels and information at the Center are displayed or presented in both Malay and English languages.
If you are lost in jungle, finding a sago palm can save your life. Sago is almost pure carbohydrate, an energy food which also contains a bit of protein, vitamins, and minerals. One palm can yield more than 50 Kg of starch, which yields 355 calories for every 100g, and its leaves and trunk are great materials to make tools and shelter! During WWII, the locals survived from starvation by eating sago.
Sago Exhibition Hall
The exhibition hall is the first highlight of the Center. Besides reading information about Sago, you also can see variety of handmade handicrafts made of sago leaves, bark and stem.
In the audio-visual room, visitors can watch a 30-min video that introduces the uses, processing and story of sago. The narrative is in Malay language but English subtitles are shown.
Over 50 handicrafts are on display. Most items are baskets, utensils, containers, mat, hats, fishing net, farming tools, etc. and some items are made of coconut leaves, bamboo and rattan. They are not so common nowadays, because plastic stuffs are more readily available.
In addition to sago, there are many information panels and photographs about the wetland ecology and wildlife in Klias Peninsular.
The hall is air-conditioned. Depending on your level of interest, a tour in Rumbia Information Center usually takes only one or two hours.
The craftsmanship is so fine that I want to buy them all (a few items are available for purchase). I think they are made by Dusun Tatana, Bisaya and Orang Brunei tribes live in Kuala Penyu district.
Sago Information Center isn't a well-known tourist spot, so you (or your group) would be the only visitor most of the time.
You may watch the 1.5-min video below about Sago Exhibition:

Click Here to see bigger video
The Legend of Sago
I heard a sad story about the origin of sago during my visit. During old days in Kuala Penyu, there was a woman who could feed her family very well. Even though food was scarce, she was able to bring home food every day. Her husband was suspicious and decided to stalk her one day. He saw his wife placed a nyiru (straw colander) on the ground and started shaking her sarong. Then many small white pellets dropped from her body to the nyiru and that's the stuff he ate. He was so furious and accused his wife of feeding him dirty food.
Knowing that her husband would kill her, the woman begged her husband to cut her body at waist level into half, and bury them in different spots. After some times, a nypa-like tree with smooth bark grew at the spot where her upper part was buried. And a similar tree, but with thorns, grew on another spot. Both are sago palms that produce sago and are scientifically known as matroxylon sagus (no thorn) and metroxylon rumphii (with thorns) respectively.
Sago Food
At this point, you would ask, "How to 'eat' sago tree then? Do you cut down the tree, chop it and bite it?"
Sago Processing
NO!!!! The starch needs to be extracted from sago stem first. After cutting down the sago palm, the farmers will remove the outer hard skin and process the spongy center of the trunk. Then they crush the stem with a wooden board (garus) full of nails in sawing movement, to break the pith into smaller pieces.
Next step they will collect the sago pieces and lay them on a mat which acts as a filter. A worker will pour water on sago pieces, continuously kneading them with feet, the starchy liquid will flow into a container. The starch powder will be collected after drying the water.
The traditional method is very labor intensive and time-consuming. Nowadays, electrical sago processing machine can grate, filter and collect the sago starch. You can see this machine demo in Sago Information Center.
The starch from sago can be used for making different kinds of delicious food such as cake, dessert, biscuit and pudding. Sago flour can be used similarly to other types of flour. It is used in baking bread and pancake too.
In Sabah, sago starch is mixed with boiling water to make the popular local cuisine called the Ambuyat, a traditional way to enjoy sago. Usually locals eat it with fishes and soup, which go well with smooth texture of ambuyat.
Sago Grubs (Butod)
Sago grub (Local Name: Butod) is a "byproduct" of sago cultivation. Beetles also know the richness of carbohydrates in sago stem, and their babies (larva) grow so fat eating sago. When farmers harvest sago, they collect these juicy worms as food too. You can even eat it raw if you dare.
You may read this article about eating sago worm as delicacy. Sago grub is not cheap though, each is sold for RM1.00 and it's a hot selling item in native market.
Sago Festival (Pesta Rumbia)
So, are you drooling? You can sample different kind of exotic sago food (include worms) and dishes during Sago Festival (known as Pesta Rumbia in local language) in Kuala Penyu for a few dollars only. This sago buffet is very popular. The tickets sold out fast, so don't miss it.
Sago is so important to the local community that Kuala Penyu celebrates Sago Festival annually (usually in July). You may find out the date of this biggest cultural event in Kuala Penyu in Sabah Tourism website.
Sago is normally sold in the shape of very tiny, colorful balls called sago pearls. When soaked and cooked, the pearls become larger, translucent, soft and spongy.
Sago palm can grow very fast (about 1.5 Meters per year) so it is ideal as an alternative staple food.
Sago palm takes 9 to 12 years to mature. You must cut it down before it starts to flower for 2 months, otherwise the fruiting will exhaust the starch and then the tree dies.
It's all about sago during Sago Festival, you can check out exhibition, sago food buffet, Sago Beauty Queen Pageant, cultural shows, handicraft making demonstration, sago processing, games, etc.
Entrance Fee & Opening Hours
Rumbia Information Center is managed by district office of Sabah Forestry Department in Beaufort. Apart from providing basic information on sago, it is also open to public as a tourist destination. The following is the ticket price to enter the Center (rates as of Mar 2016):
| | | |
| --- | --- | --- |
| | Adult | Child |
| Malaysian | RM5 | RM3 |
| Non-Malaysian | RM15 (≈US$3.75) | RM7 (≈US$1.75) |
Walk-in visitor is welcome. You also can organize a group tour with the Center. Their staff can give you an interpretation walk and education tour for better experience. You can even try eating the live Sago Grub. You are advised to inform them a few days prior to your group trip.
Below is the opening hours of Rumbia Information Center:
Mon-Thu, Sat, Sun, Public Holidays: 9am – 12pm, 2pm – 4:30pm
Fri: 9am – 11:30am, 2pm – 4:30pm
Contact
Tel: +60 87-897073
E-mail: rumbiainfocentre@gmail.com
Facebook: RumbiaInformationCentre
Address: Pusat Informasi Rumbia, Kompleks Perhutanan Kimanis, KM 61, Lebuhraya KK-Beaufort, Sabah, Malaysia
GPS Coordinates: 5.496861, 115.543920 (see Location Map or Street View)
Facilities
Besides exhibition hall and boardwalk through sago palms, Rumbia Information Center has other amenities and services such as conference room for rent, food catering and laundry.
The toilet is quite clean. Overall, this Center is quite tourist-friendly. Their staffs are very helpful and friendly too (can speak and understand simple English).
The cafes there don't sell or cook sago grubs. If you want to have a butod feast, you need to arrange with the Center at least 1 day in advance.
Accommodation is available in the Center and named as Orchid Rest House (Rumah Rehat Orkid) suitable for family or student group. The house has two rooms, each room has two double decker bunk beds to host 4 people. The rest house is complete with kitchen (with cooking gas and utensils), toilet, air-conditioning, fan, parking, dining table, and living room. The accommodation can be rented as RM400 (≈US$100) per day for whole resthouse, RM160 (≈US$40) per room per day, or RM40 (≈US$10) per person per day. You can call Mr. Hillary at +60 13-5462717 for booking (or ordering Sago Grubs).
How to get there
Rumbia Information Center is located next to Menumbok – Kuala Penyu highway at Kampung Kasugira (Kasugira village), about 114 KM away from Kota Kinabalu city (KK). When you reach the roundabout (which has turtle statues on it) about 10 KM before Kuala Penyu town, take the junction to Menumbok. After 1.5 KM, you will see Rumbia Information Center at your left (see Location Map or Street View).
If you depart from KK, the road trip will take approximately 3 hours on asphalt road in good condition. You also can take a bus that heads to Menumbok, but to return to KK, you have to take a bus to Beaufort town first, then get another bus from there, quite troublesome. Taxi is a better choice if you have more money.
Photos taken in Kuala Penyu, Sabah, Malaysia Borneo
You might also like: