Tag Archives:
Papar
In my childhood, one of the most exciting Christmas gifts I wanted was "choo-choo" steam train toy. Now I was even happier to have a fun ride on a real steam train on the oldest railway (established since 1896) of Borneo last week. Big toy man.. FYI, "North Borneo" is the name of Sabah during British colony time.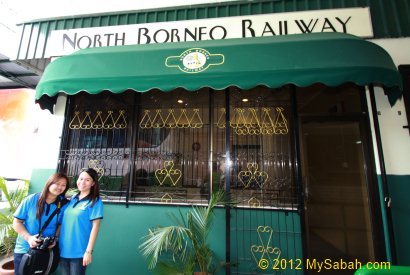 Above: the office of North Borneo Railway in Tanjung Aru Train Station
Actually it's a tour product for tourists to experience the nostalgic romance of riding on a 57-year-old antique steam train. Even though it's a train, it's not a public transportation so you MUST book a seat in advance. You may sign up a tour with the company, North Borneo Railway. The fee is MYR290 (≈USD$97) for adult, MYR185 (≈USD$62) for child (3-12 years old). The rates are as of 22 Mar 2013. The steam train runs on every Wednesday and Saturday.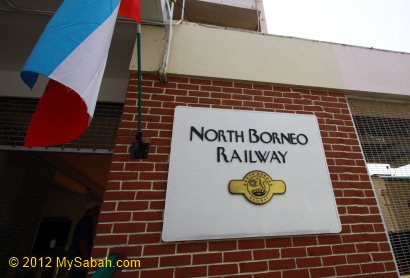 Above: entrance of North Borneo Railway
The North Borneo Railway is in Tanjung Aru Train Station, which is about 5 KM away from Kota Kinabalu, capital of Sabah.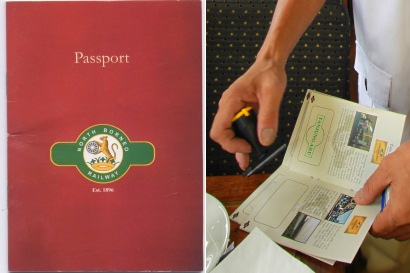 Passengers will be given a "Train Passport" before boarding at 9.30am. It's only for fun and have some brief introduction about the towns we see along the railway. The train steward will stamp the passport whenever we approach a town. At the end I have 5 stamps on the book.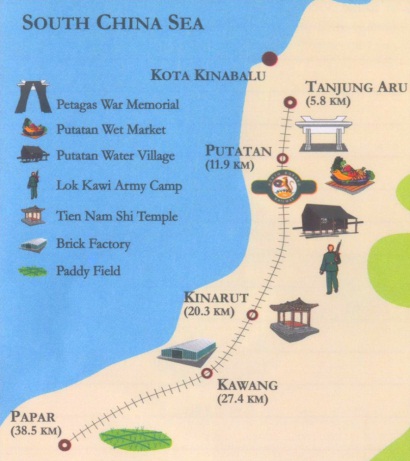 Above is the route map I copy from the Train Passport. Our steam train departs at 10am from Tanjung Aru and head to Papar town about 40 Kilometers away. Our train passes through the countryside and we see villages, rivers, mangrove, paddy fields, rainforests and plantations on the way. The part our train passing through a 450-Meter Pengalat Tunnel (built by British in early 1900) is also fun. The whole tour takes less than 5 hours.
You may watch the following 3-min video about the train ride:

Click Here for wider video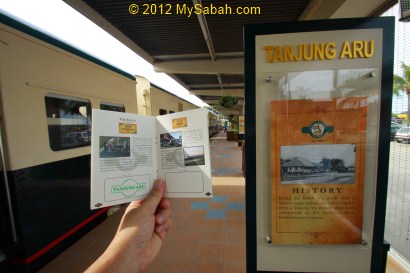 Above: this steam train is made by Vulcan Foundry Ltd in Newton-le-Willows in Lancashire, United Kingdom in 1955 for North Borneo Railway.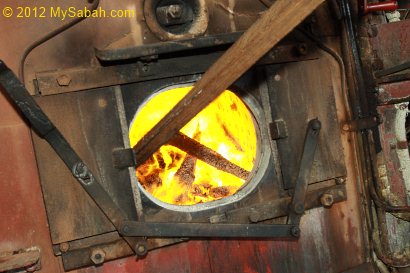 Our steam train is one of the few functional locomotive powered by burning wood. They don't use coal that produces very fine ash powder which would cause black stains on your shirt. Anyway, you better don't wear anything white on the train.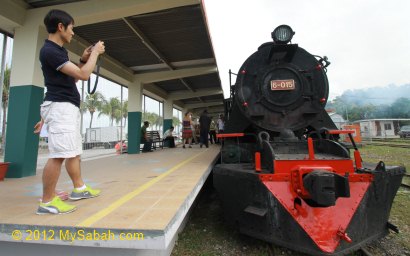 The railway service of Borneo is first started by William Clarke Cowie, Managing Director of the British North Borneo Chartered Company in 1896.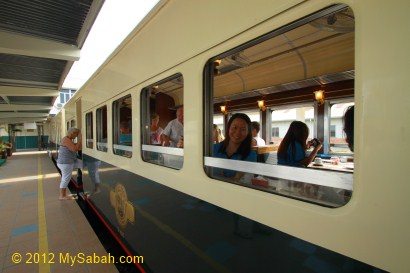 The exterior of the steam train is in deep green and cream colors, the original colors used in old days. The windows are open all the time for a more enjoyable experience. However, it's still a bit warm inside, so I advise you to wear thin T-shirt.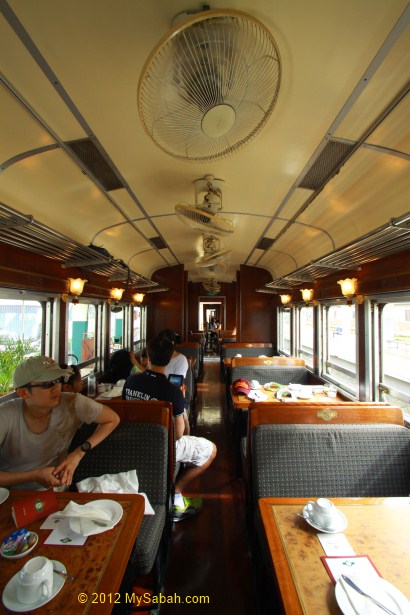 The interior is natural wooded seat and there are cooling by fans. This train has 5 Japanese-designed carriages that have been meticulously restored and renovated to reflect the era of the classical steam train. Very nice ambiance indeed.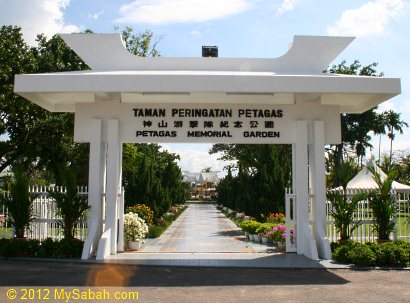 The first landmark that we pass by is Petagas War Memorial.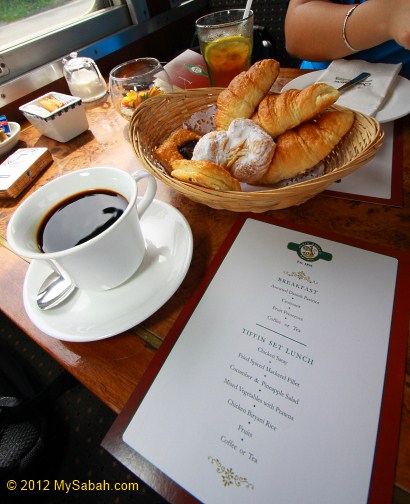 Breakfast (Danish pastries, croissant and tea/coffee) is served onboard.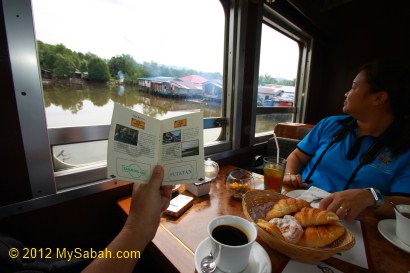 Passing by water village of Putatan.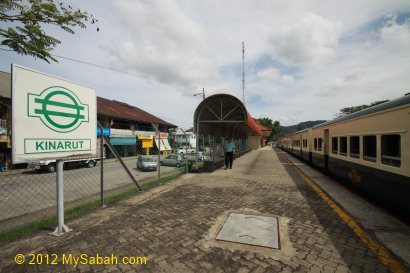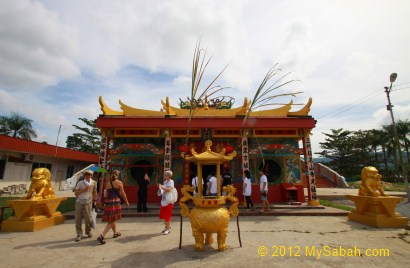 We stop at Kinarut town for 20 minutes and visit the Tien Nam Shi Buddhist Temple (镇南寺).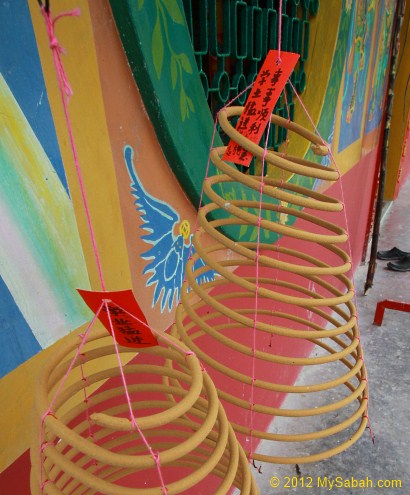 Burning incense sponsored by individual who makes wishes (written on red paper)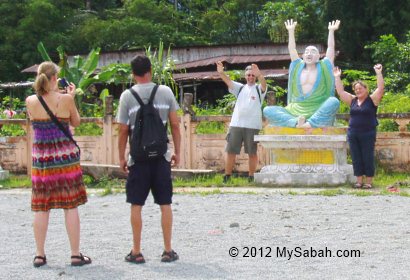 Doing tourist stuff…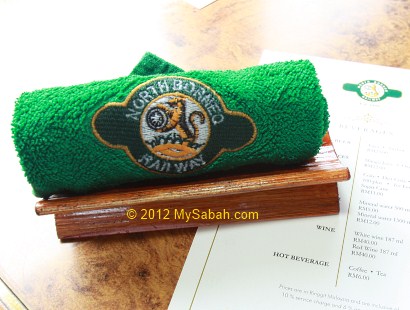 Back to train and cool ourselves with cold towel.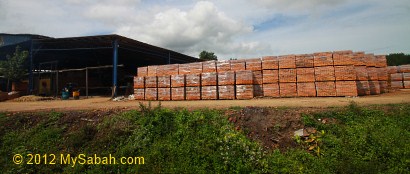 Above: brick factory in Kawang. Our train travels at a speed of 50 to 60 Kilometer per hour.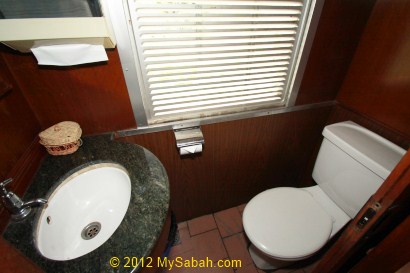 Btw, there is a unisex toilet in each carriage for your call of nature.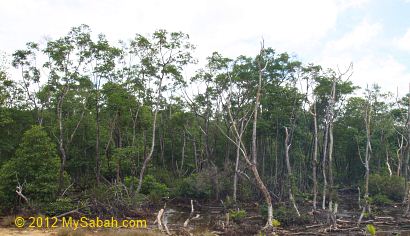 If you reach Kawang, you should check out the nice view of mangrove forest.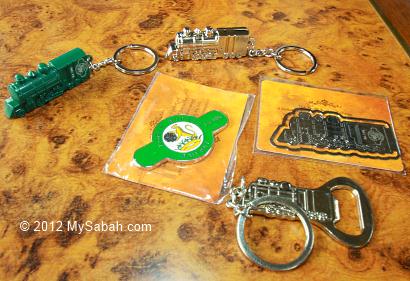 Some souvenir is available for sale on the train. I bought a bookmark.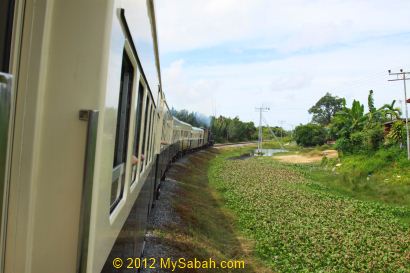 The train has 5 colonial-period carriages and each can accommodate 16 passengers, with a total train capacity of 80 passengers.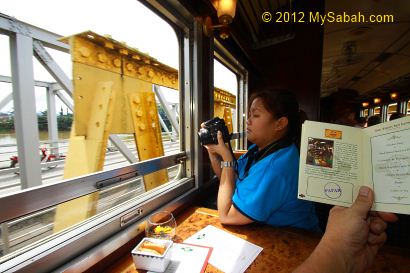 Reaching the steel trestle bridge of Papar.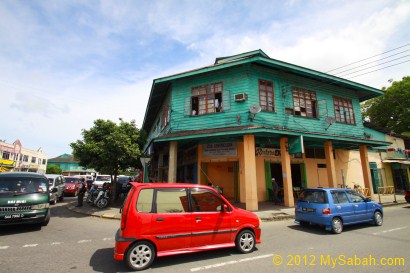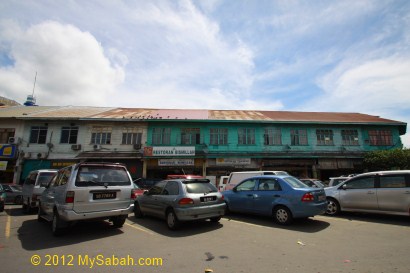 We stop at Papar town for a 30 minutes of free and easy sightseeing around town. You can check out the old wooden post-war shoplots here.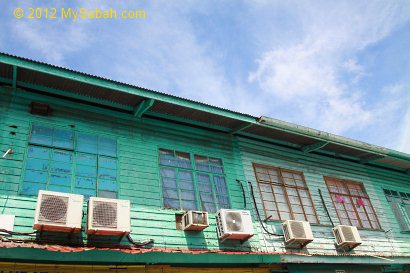 Old building with air-conditioning, haha, interesting contrast..
Papar is our last stop. Now our steam train needs to turn around so it can head back to Tanjung Aru. Some of us stick around to see how the Pullman carriage detaches and connects to the rear (now rear become front). You may watch the 1-min video below:

Click Here for wider video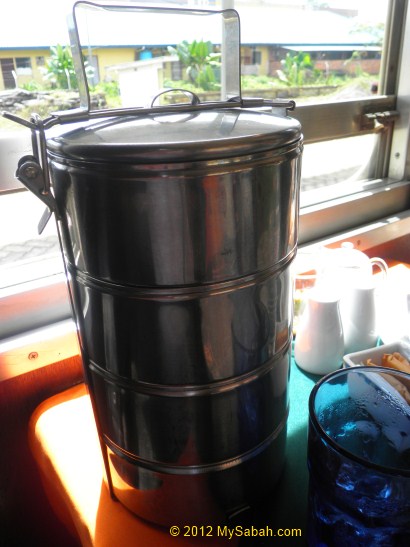 Enjoying our lunch on the way back… Guess what we had?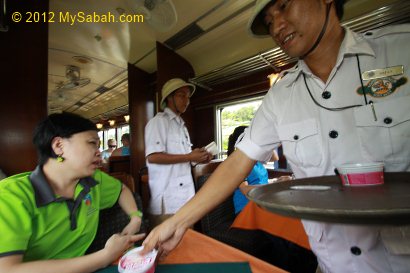 Above: strawberry ice-cream as dessert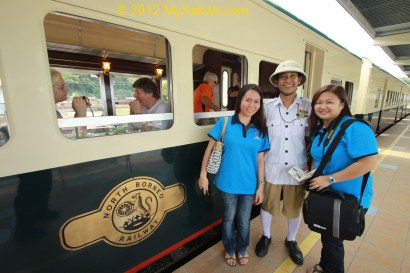 We arrived Tanjung Aru Station at 1:40pm. Overall, everything is great. The experience is really fun, the food is nice, the train steward is friendly and the ambiance is excellent. The only thing I can complain is the high price. That's probably why I didn't see many faces of locals.
More Photos
You may check out my photo album if you want to see more nice pictures: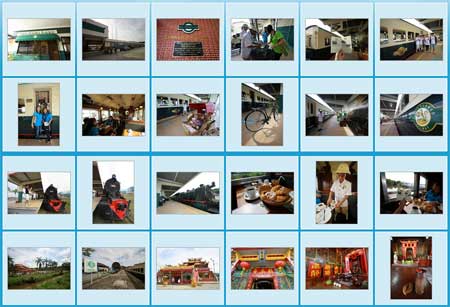 Photos taken in Sabah, Malaysia Borneo
You might also like:
Not really a forest. I just took a walk in nearby jungle of Mai Aman, a Papar homestay centre, which is located 35KM away from KK city (you can see the sign at the left when you drive from KK to Papar town). Most visitors would be attracted by the fish ponds there, but I was very curious about the strange tall trees at the far end of this centre.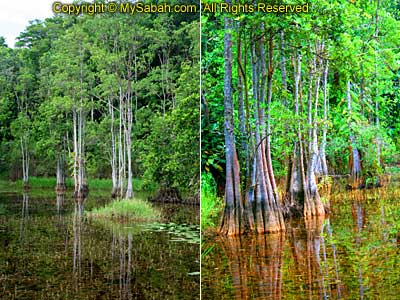 Actually those are mangrove trees. They also can grow in water or wetland, but they look very different from the mangrove trees that live in swampy area between sea and river. According to Uncle Robert, these are the more "inland" type of mangrove trees. The weird shape of their root helps them anchor firmly in the water. Odd but beautiful…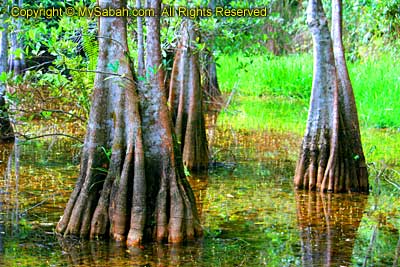 When I got closer to check them out, I found a nice pitcher plant grew next to one of the trees. I am not a botanist, so I don't know its species. It looks like Nepenthes mirabilis.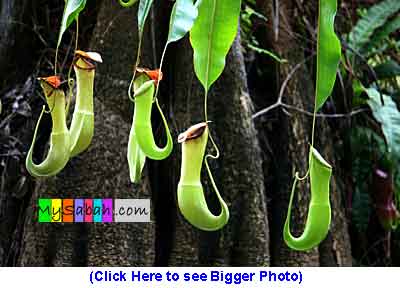 Mai Aman is also a place where we can relax and enjoy the freshwater fishes caught from the pond. I tried the Tilapia fish. Usually freshwater fishes got a bit of smell of mud, but surprisingly, I could not taste that. According to Uncle Robert, this is because the water of the fish ponds is from the fresh and clean stream from the hill nearby.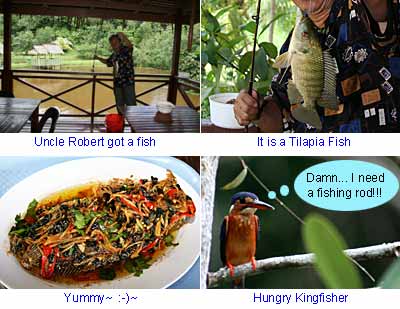 After lunch, I continued my jungle trekking at the hill. I was told that if you find fern in the hill, you could also find pitcher plant grew among (or under) them, but you had to be very observant. After nearly an hour of searching, finally I spot it. It got easier when I learnt where it grew, and I found 2 species of them.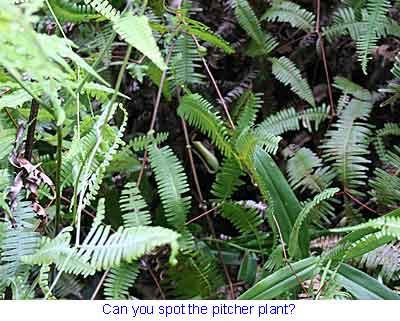 For me, it is far more exciting to see pitcher plant, than seeing them in the garden. There are 2 main types of pitcher plant, i.e. "Upper" and "Lower".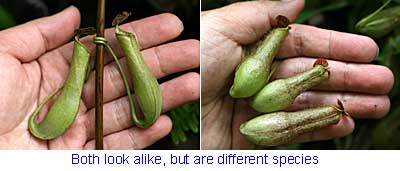 Below is an example of "upper" pictehr plant. It grows on higher spot and usually slimmer. It feels like paper when held in hand (Note: I didn't pluck any of them for photo-taking). I tried to look for its species name in the book but couldn't find it. It could be a hybrid of two species. I am guessing only.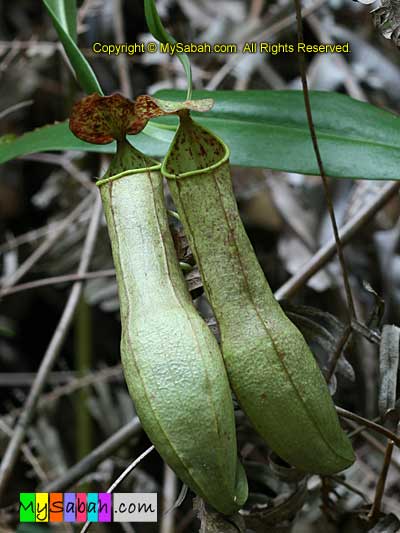 Another picther plant species I find is Nepenthes hirsuta, an example of "Lower" picther plant. It grows under other vegetation so it is even harder to spot. Lower pitcher plant uses ground to support its body (with bigger capacity), unlike upper pitcher plant which hang from the leaf. Lower pitcher plant has 2 hairy lines (called wings) along its body.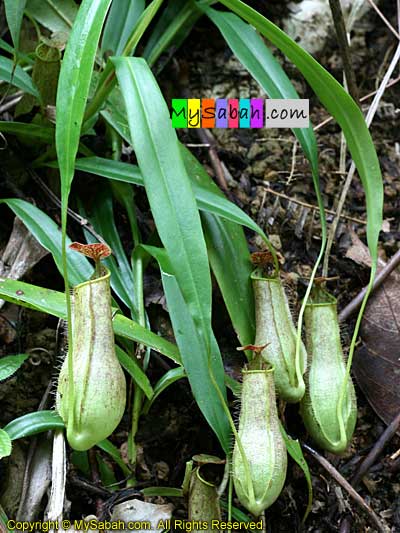 Not bad huh… I find 3 species of pitcher plant in a day. Mountain and beach forest also got very different types of pitcher plant. I will find to photograph them and share the photos in future. There are only 20 species of pitcher plant in Sabah, but it is not easy to see all of them.
Photos taken in Papar, Sabah, Malaysia Borneo
You might also like: