Tag Archives:
nepenthes
(You may start reading from Part 1)
Today is the BIG day because we will go to the summit. Please refer to trail map for the location.
DAY 3. To the Summit!
---
All climbers wake up and had oat meal / Maggi instant noodle as breakfast at 3:30am and headed to the summit at 4am. In the briefing, our tour guide, Maik, says today will be the most challenging day and he is right. As difficulty multiple, the so-called 4 KM distance to summit looks more like a longish 8 KM trek.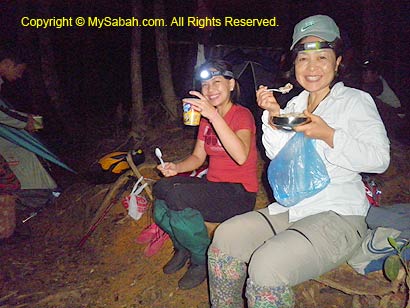 Climb to Summit
For safety reason, we target to reach the summit before 11am. All climbers must return to Musang camp at 11am, no matter how far they make. As there is no water point along the way, a few porters will carry some water and follow the climbers.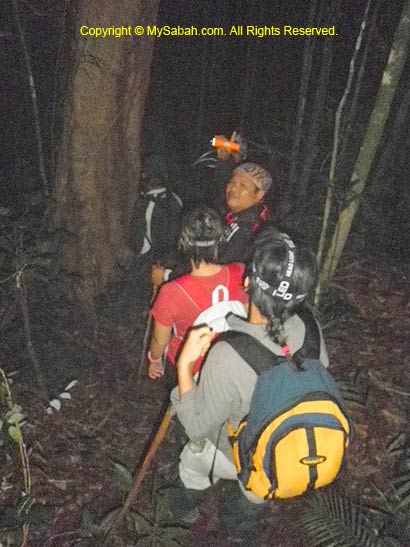 Under a mixed feeling of apprehensive and excitement, we climbed slowly and quietly in the dark. The first 1.5 KM is steep and narrow ascending trail and many parts need to climb over by hands. Besides, the overhanging tree trunks always blocked our way that we have to move over or under them. My head bang on a tree and bleed when I struggle to move up in the dark.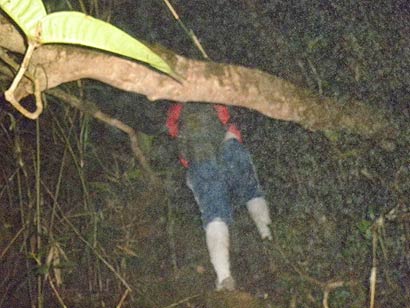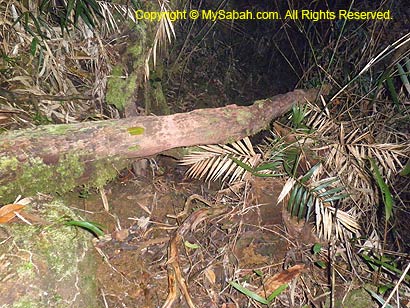 Above: Mind your head and feet!
After KM12, we were awarded by a few hundred Meters of relatively flat trail to the Jeneral Camp (named after General Poon, who led a team of Royal Malaysian army on this route years ago) at KM12.6.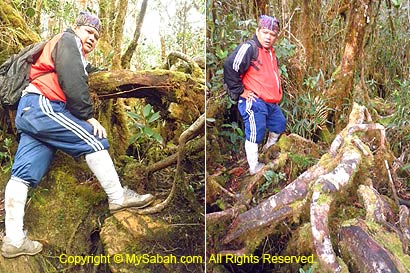 Above: climbing over network of slippery entangled roots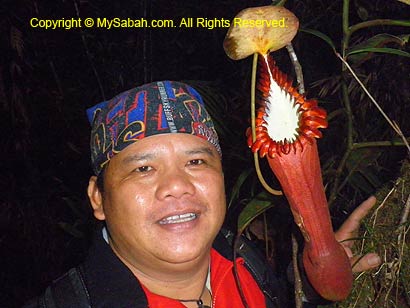 Jeneral Camp is a small open area which can setup 3 small camps. I checked my watch and it was 6:40am, but the summit is still a long way ahead.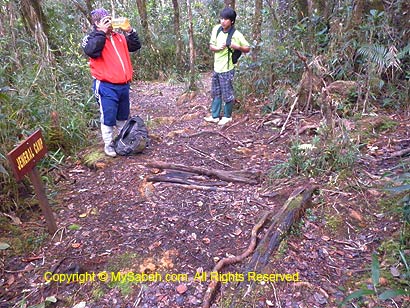 Above: Jeneral Camp (KM12.6). Still a long way ahead…
You can watch 10-sec video below to see the Jeneral Camp:

Click Here for bigger video
Though it didn't rain, after the morning shower by mist, the cloud forest was wet all over the place, and I can even feel the moist filling my nose. Most of the time, I had to hold the trees and roots to move up, actually I like it coz climbing by hands saves a lot of leg work.
Nepenthes Garden (KM11.5 – KM14)
When the day turns brighter, I can see clumps of pitcher plant along the trail after KM11.5. The most spectacular Nepenthes edwardsiana is hard to be missed due to their bright color and huge size (20 to 40 CM, and known to reach 50CM). Nepenthes edwardsiana is characterized by highly developed ribs and teeth peristome. They are most abundant between KM11.5 and KM13, where a few small colonies of Nepenthes villosa and lowii are also found in this mossy environment.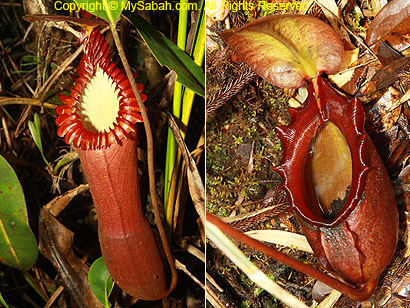 Above: Nepenthes edwardsiana (left) and rajah (right)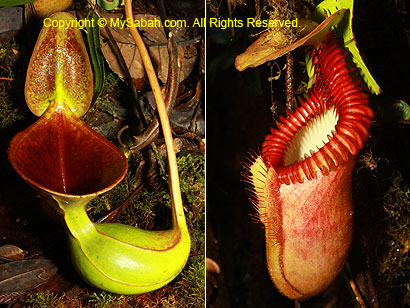 Above: Nepenthes lowii (left) and villosa (right)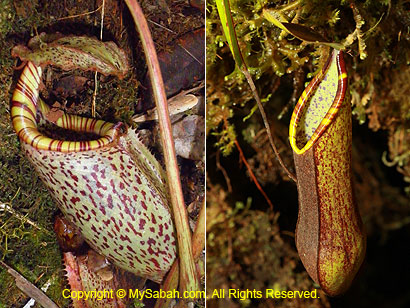 Above: Nepenthes burbidgeae (left) and tentaculata (right)
After KM13, colonies of Nepenthes rajah, the largest pitcher plant species in the world, takes over. Botanists also record the presence of N. burbidgeae, N. tentaculata, N. fusca, N. stenophylla and various hybrids such as N. xKinabaluensis (N. villosa x N. rajah), N. harryna (N. villosa x N. edwardsiana), N. tentaculata x N. burbidgeae and N. edwardsiana x N. burbidgeae in Mt. Tambuyukon.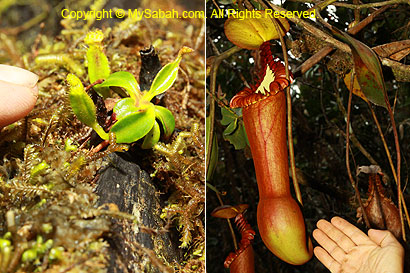 Above: pitcher plant from 1CM to 40CM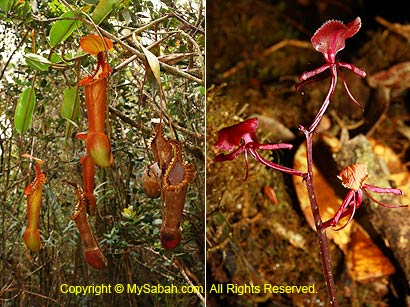 KM13
The summit trail is relatively less steep after KM13. Shortly the luxuriant mossy forest thin out and we came to a long rocky ridge with clearing to sky. If you turn around, you can have a panoramic view of neighboring ridges of Tambuyukon converging towards the summit. I feel like walking on the backbone of a gigantic dinosaur.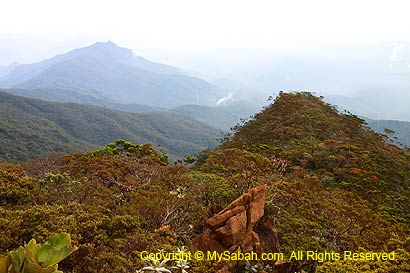 When the mist clears, I can see Nambuyukon (second highest peak of Tambuyukon Range) in Kota Marudu. I have to put on my jacket when it gets cold and windy in open area.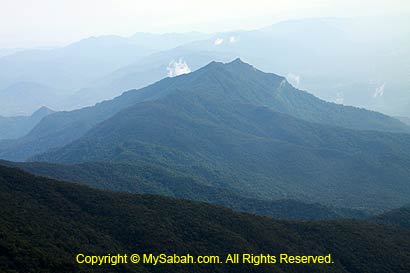 Above: Nambuyukon Peak, 2nd highest peak of Tambuyukon Range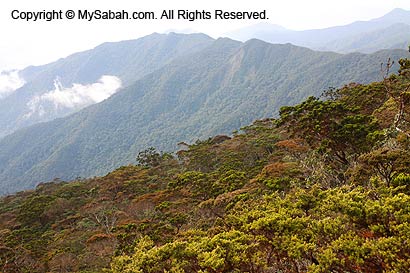 An author (Clarke, Charles M.) has the best description of the mountain relief:
"The summit sits at the top of a number of very long ridges which drop away gradually over several Kilometers. The sides of these ridges plunge steeply down into deep and similarly long gullies. These gullies funnel strong winds up towards the summit. The winds rush over the summit at tremendous speeds, the result being that the vegetation can only grow up to 1 Meter high in places. The upper parts after 2,100M of mountain are covered with low, scrubby vegetation, punctuated by large ultramafic boulders."
You can watch 1-min video below for panoramic view of Tambuyukon Range:

Click Here for bigger video
Ultramafic Boulders
We moved carefully along the rocky ridge and conquer a series of hillocks. At this point, we know the true meaning of Tambuyukon, which always cheats us with a number of "faked summits". And DON'T believe those milestones as they lie too. My experience and gut feeling tell me that the distance between KM13 and KM14 is not 1KM, but 3KM!!!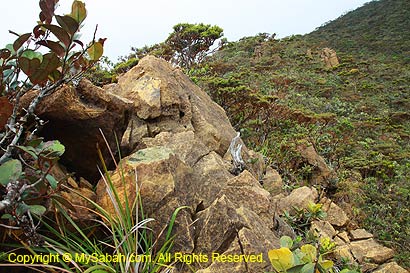 The huge yellowish-grey boulders near the summit are ultramafic rocks. Ultramafic rock derived from the Earth's mantle, the layer of the Earth below the crust and above the core, formed billions years ago from melted rock when the Earth first solidified. Such rock consists of heavy minerals (Magnesium, Iron, Nikel) and its soil is poor in nutrients, which promotes the growth of endemic and highly specialized plants adapted to this environment. Ultramafic rock was pushed to Earth's surface mostly during tectonic movement and Mt. Tambuyukon has the highest concentration of ultramafic rocks in Sabah. Sound cool but watch out for snake under the rock.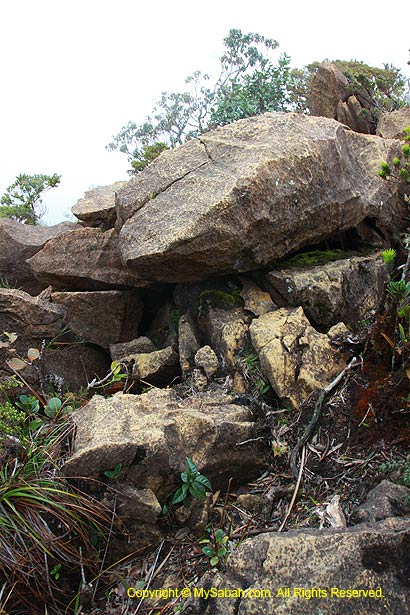 After 9am, we reached the last and smallest camp, Rajah Camp (KM13.6), which can hold only one camping tent. More N. rajah is seen around this area.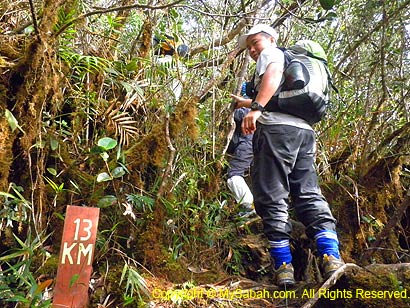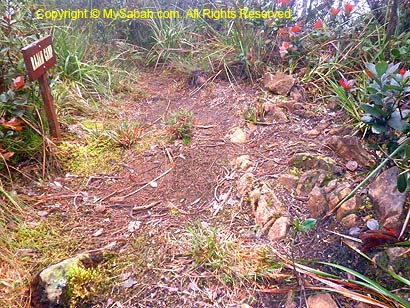 Above: Rajah Camp (KM13.6)
The last 400 Meters to the summit is a narrow and rocky passage under the leptospermum recurvatum dwarf trees and dense with underbrush.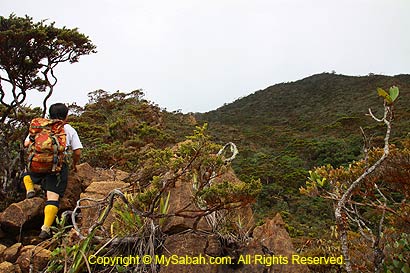 Above: see the summit at the right?
The Summit (KM14)
Finally, all of us reached the summit at 10:10am. The summit has no beacon or survey landmark, but only a signage that shows the trail distance and height of Mt. Tambuyukon.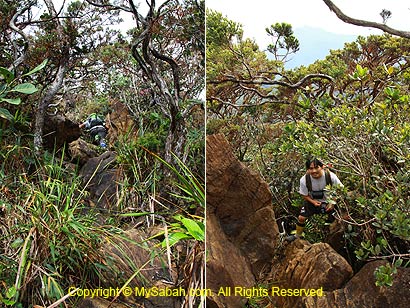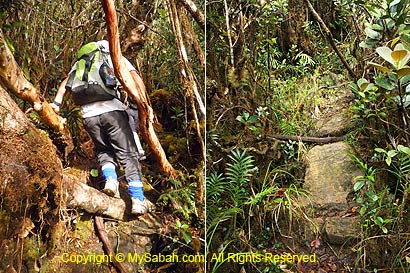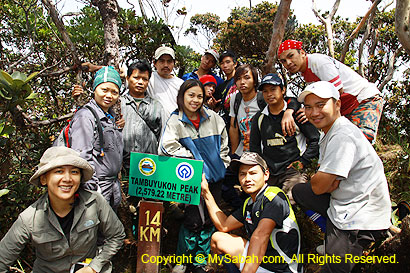 Above: group photo on the summit. WE MADE IT!!!
The summit area is no wider than 20M across and densely surrounded by leptospermum trees. Frankly, it is not an impressive peak, but we are still happy about the victorious moment. We had an early lunch on the summit. The guides and porters have brought some rice with dried anchovy fishes, biscuit and 3-in-1 hot drink.
You can watch 5-min video below to see the climb from the start to the summit:

Click Here for bigger video
Behind the signage is a narrow trail that takes us to the side (very windy!) facing Mt. Kinabalu. Many say we can get the nearest and best view of Mt. Kinabalu from Mt. Tambuyukon. Too bad Mt. Kinabalu was covered by thick mist and refused to show her face.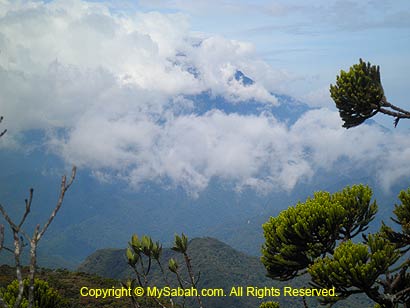 Above: Mt. Kinabalu refused to show her face..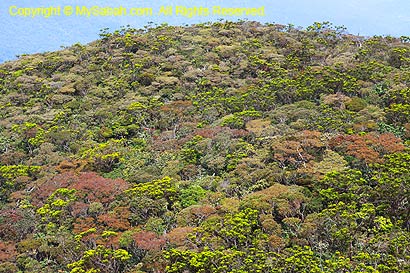 The temperature was about 20°C but the chilling strong wind makes us feel like 10°C. I notice there is a vast camping area that can house more than 5 tents behind the summit.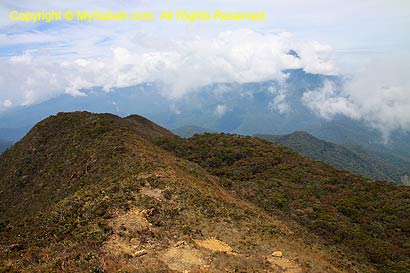 Above: camping ground behind the summit
You can watch 1-min video below to see the surrounding of the summit:

Click Here for bigger video
Return to Musang Camp
We need to be back to Musang Camp before 5pm, so we must leave the summit by 11am. By coincidence, today (24/6) is the birthday of Joimis, so all of us gave him a surprise by singing a birthday song to him on the summit. This might be the first time ever a birthday song echoes on the peak of Mt. Tambuyukon.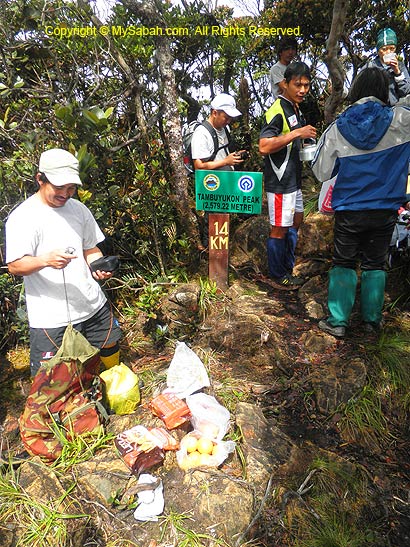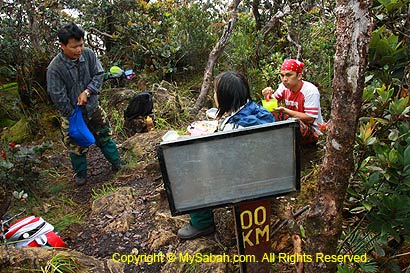 Above: The end is also the beginning. Now we are 0KM on the way back to the starting point.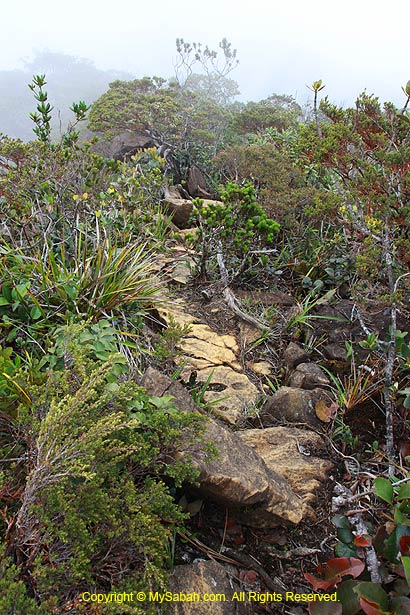 The descending route is not easier than ascending. On the way down, I spotted a few N. tentaculata and N. burbidgeae. We arrived Musang Campsite around 4:30pm. The climb is considered over. Everyone was in relaxing mood and shared their joyful stories. We also prepared a birthday fruit cake for Joimis to celebrate his birthday.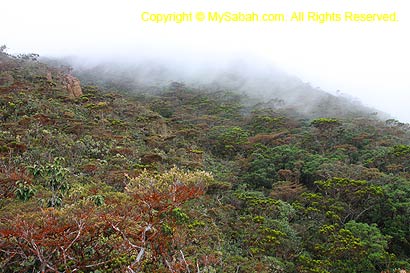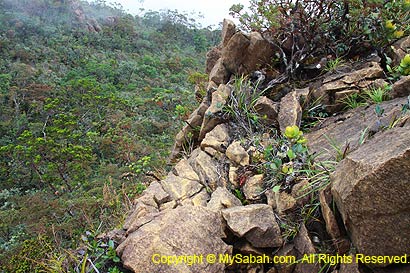 Above: you do not want to fall from here….
Though extremely tired coming back from the summit, I took a shower at the small stream nearby. A leech bites me. Anyway, I feel fresh and clean after the cold shower. Because of humid environment, our cloth is always damp and "sticky", making us uncomfortable. Tonight is still a warm night, but free of stress.
More Photos
You may check out the photo album of Mt. Tambuyukon trip for more nice pictures: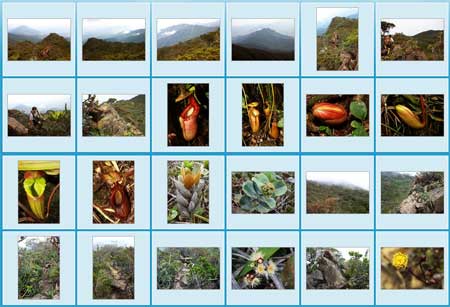 All Articles:
Part 3: Day 3. To the Summit! (this article)
Photos taken in Ranau, Sabah, Malaysia Borneo
You might also like:
In the past, Weston is the first town to have a railway station in Borneo, but it is under-developed and remain a seaside village today. Now tourists find a reason to visit Weston, as it is one of the three places offers wetland eco-tourism in Klias Peninsular to see long-nosed monkey, besides Klias and Garama.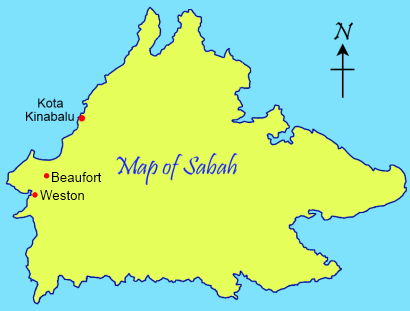 Weston town is about 3 hours drive (125 KM) from Kota Kinabalu city and accessible by paved road. You will pass by Papar, Bongawan and Beaufort towns on the way.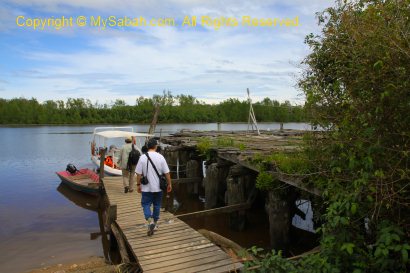 Last month I joined a river cruise tour in Weston. I arrived Weston around 10am and our guide, Richard, and his boat, were already waiting at the jetty. It had been raining every day that time, so I was so glad that we had sunny day. For a start, we had a river cruise tour on the Weston River. The wetland here is mostly intact and well-preserved. Unlike the brackish and lifeless water in peat swamp of Klias and Garama, Weston wetland is a wide river with flowing murky (like color of milk tea) water.


>> Click Here to see more photos of Weston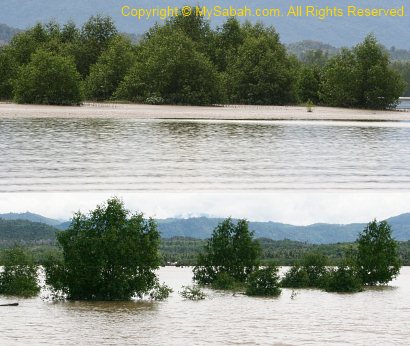 Compared to Klias and Garama, Weston wetland is located at downstream and closer to the sea. In fact, its estuary is where Padas, the largest river of Sabah, ends as the meeting place of sea and river. As tide level changes daily, so is the depth of the water. We can see some lands exposed during low tide, with mangrove trees growing on it. During high tide, about lower half of these trees will be submerged into the water. A funny view but these vegetation have the ability to live in such intertidal environment.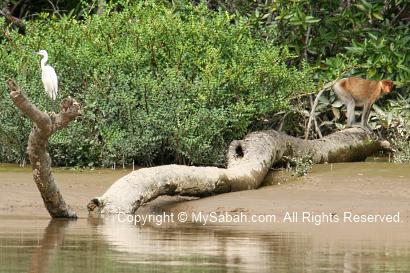 Within 10 minutes, our boat spotted the first proboscis monkey. It's a female monkey foraging at the river bank. Crocodiles also live in Weston River, but most are concentrated in further upstream, so this monkey is safe.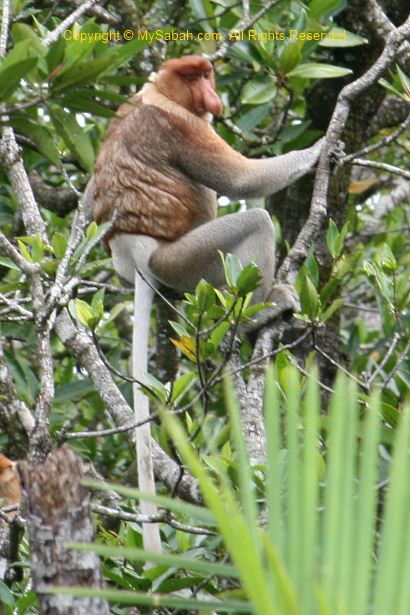 Then we saw about 4 herds of proboscis monkey (about 4 to 8 monkey per group) on the trees next to the river. Each group is dominated by a male proboscis monkey with big nose and belly. Proboscis monkey is one of the biggest monkey species but they are very elusive. They fled into the forest before our boat could get closer, so a binocular would help a lot.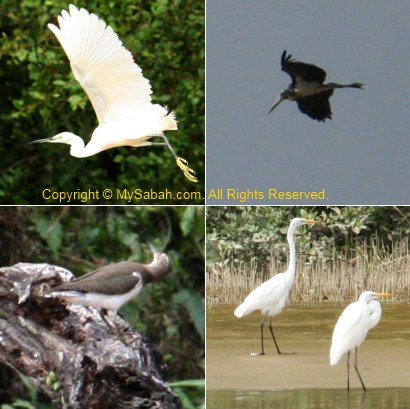 Besides monkey, you can spot some water birds such as kingfisher, egrets and Lesser Adjutant.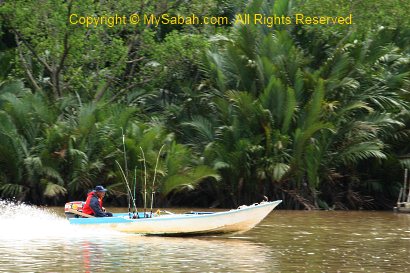 Weston is rich in seafood too. We saw some fishing boats in the river, and a few of them were checking the fish traps.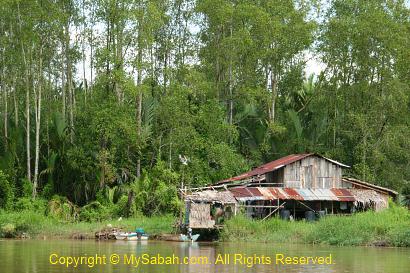 Surprisingly, as an old town, the river of Weston is not really dense-populated. We found wooden houses of fishermen scattered along the river. Richard says the contour of the river always changes, so I assume any area near the river is not suitable for permanent settlement. Due to land clearing upstream, more silt is carried into Padas river, and this would affect the course and flow of the river.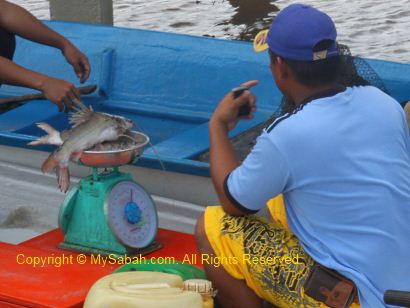 >> Click Here to see more photos of Weston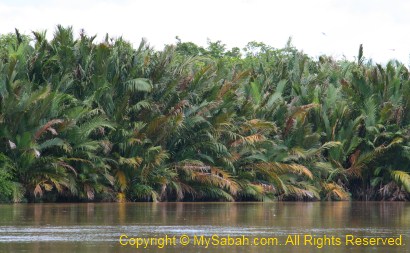 Klias and Garama wetlands have beautiful peat swamp forest, but I think Weston has the densest and most beautiful view of Nipah forest. Someone told me that nipah tree is an invasive species and very easy to plant. You can see nipah tree in swampy area and wetland in Sabah.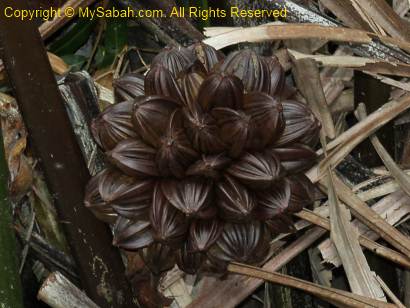 Does nipah tree sound so unfamiliar to you? In fact, most of you (Malaysians) have eaten its fruit. Its popular name is "atap fruit". Chinese calls it "海底椰" (sea coconut). The sweet Nipah fruit is a common item served in dessert called Ais Kacang or "ABC" (acronym for Air Batu Campur, literally means "Mixed Ice").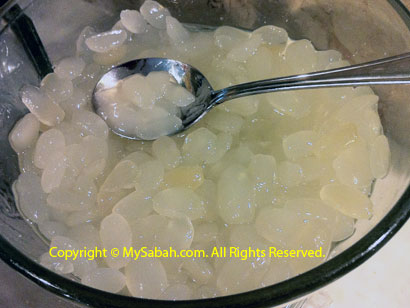 Above: the semi-transparent and oval-shape nipah fruits. The fruit is sweet with chewy texture, taste and feel like jello candy.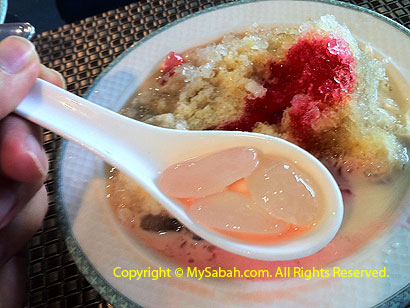 Above: nipah fruit is a nice addition to Mixed Ice dessert.
>> Click Here to see more photos of Weston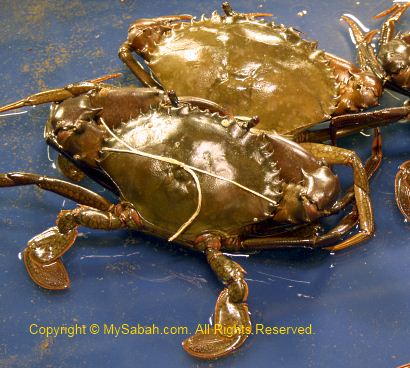 But what Weston most famous for is its crabs. For unknown reason, the crabs from Weston taste sweeter and more chewy. Even my mother knows this and ask me to buy some from Weston.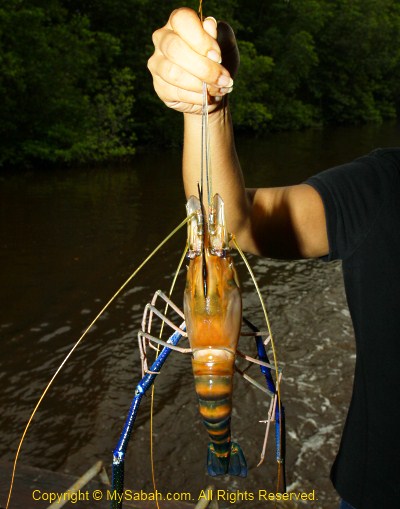 Another popular seafood of Weston is the freshwater prawn "Udang Galah" ( "大头虾" in Chinese). You can fish this prawn with specialized fishing hook. Normally the fishermen throw some rice in the river, after a while catch it using the fishing net. You can buy directly for cheaper price from local fishermen in Weston. In fish market, Udang Galah is sold for RM20 (about USD$6) per Kilogram. Unfortunately, due to overfishing, the crabs and shrimps in Weston are getting less.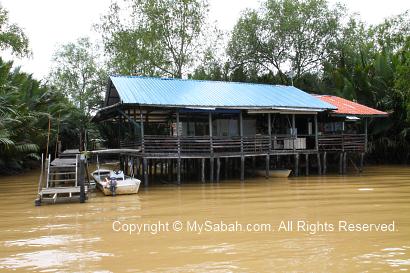 At the end of our morning river cruise, we stopped at the jetty of Weston Wetland Resort, which has its dining area and reception building built next to the river. We were welcome by a fat and friendly cat, aww… so cute.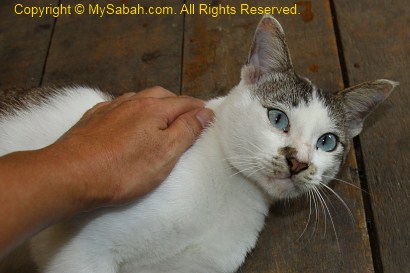 >> Click Here to see more photos of Weston
Below is a 5-minute video of our river cruise tour and Weston Wetland Resort. Sadly, I notice my video has very low click rate. Now I'm not sure if I should waste my time making video next time.. 🙁 At first I thought it was a great idea..

After taking some coffee and pineapples as light refreshment, Richard wanted to take us for a "pitcher plant" walk in a forest nearby. I thought I was the smartest one in the group. Assuming that it might be a "mud" walk, I was wearing short sleeve shirt and short pant, without knowing that I was totally unprepared what was coming next..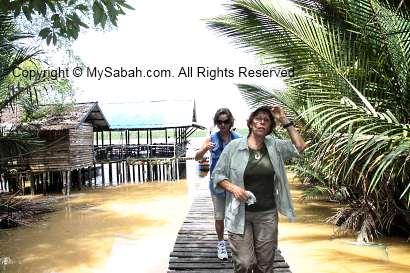 The 5-minute walk on the boardwalk allows us to take closer look at the nipah trees, without getting ourselves wet and dirty in the flooded swamp. However, the boardwalk is not well-maintained, so I had to watch my steps for missing plank.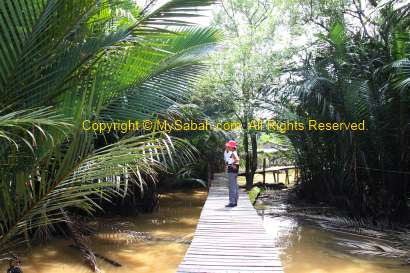 >> Click Here to see more photos of Weston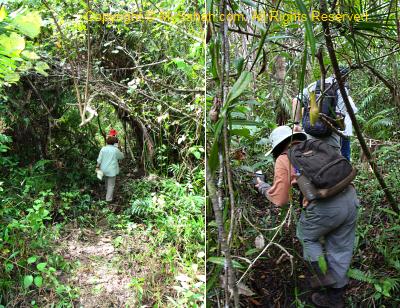 Then we came to a bush area with dense shrubs. Wow, there are pitcher plant (Nepenthes) everywhere. Some are hanging on the shrubs and there are carpets of pitcher plant on the ground too. We have to be very careful of our steps. Pitcher plant is also called "Monkey Cup", but it has nothing to do with monkey though, except that it looks like a miniature cup used by monkey.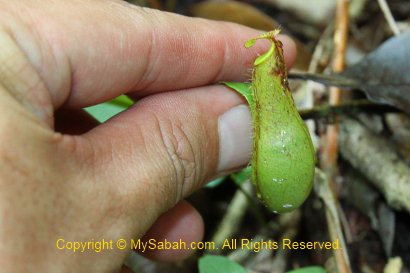 Some are smaller than finger… This is Nepenthes gracilis I think.

Some nepenthes have peculiar shape..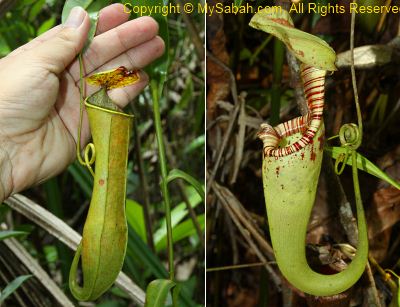 >> Click Here to see more photos of Weston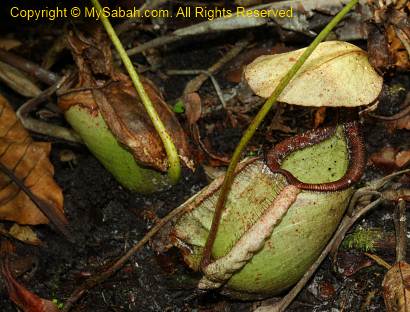 There are a number of nepenthes species around this small area. The one above is Nepenthes rafflesiana if I'm not mistaken.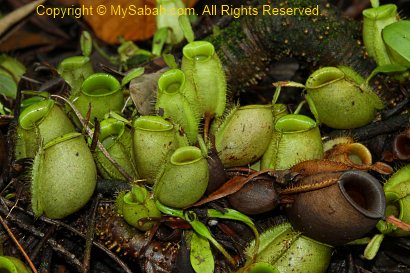 Overall, we saw 4 or 5 species of nepenthes in just a small area. The one above is Nepenthes ampullaria, the highlight of our Nepenthes Hunt. Cute, isn't it?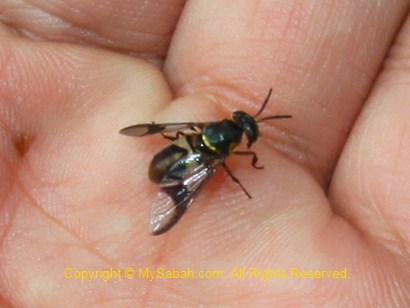 For those of you who plan to visit the Weston Wetland, you need to prepare for horse fly, an annoying blood sucker. I saw no horse fly in Klias and Garama but there are plenty of them near the Weston River. Horse fly is so persistent that they keep following you until you kill them or they are done sucking your blood.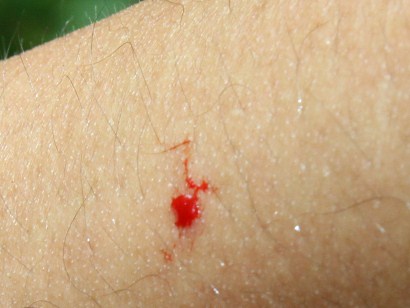 There were more than 10 horse flies following me. According to Richard, my clothing in dark nature color attracts horse fly. Horse fly would not come near to people in bright color dress. In one case, one of his visitors killed 40 horse flies. When I didn't pay attention, the horse fly cut a small wound on my exposed skin and fed on the blood. I ended up having 4 or 5 bites. They said the bites would become really itchy on next day and they were right. The worst thing is it will get worse if you scratch.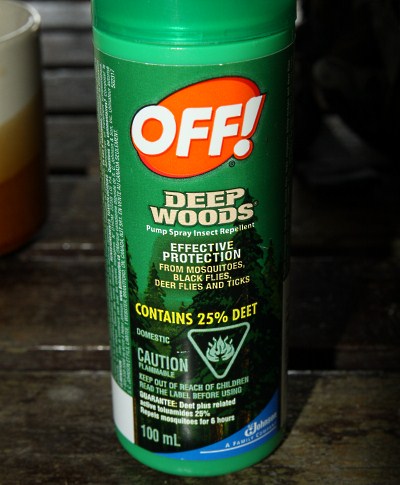 Normal insect repellent can't drive horse fly away. One of my friends introduced me the repellent spray above. It is really effective against horse fly but this spray is not available in Malaysia shop. What you can do is to dress in bright color and cover your skin as much as possible with long sleeve and pant. Horse fly may carry parasite or disease, so don't take it lightly.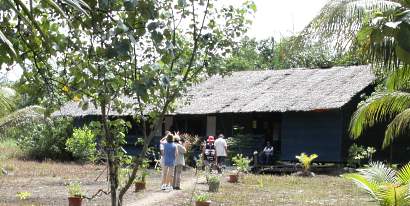 Richard showed us his resort, but the room and accommodation is not ready yet, as of this writing.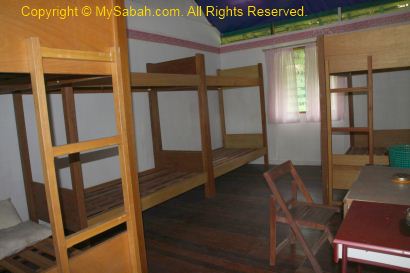 >> Click Here to see more photos of Weston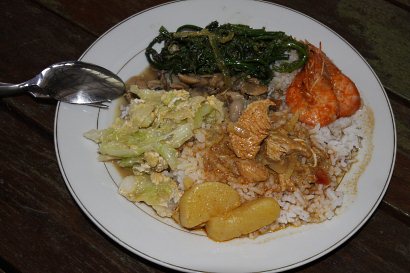 We had our seafood lunch in Weston Wetland Resort. I remember my Sabahan friends and I once ordered shrimp in a restaurant in Peninsular Malaysia. We laughed when we saw the dish, coz the shrimps were so tiny that they are only qualified for making dried shrimps in Sabah. Sabah is blessed with abundant and "big" seafood, is because of our well-preserved wetlands (e.g. mangrove, coral reefs), which is a nursery and breeding ground for our seafood. Remember, our mangrove forest and swamp are not wasteland, they are important supply of our seafood.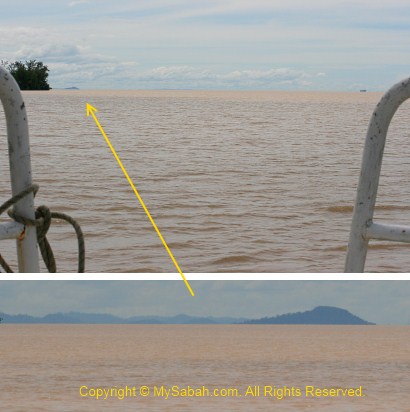 >> Click Here to see more photos of Weston
Before we said bye-bye to Weston, we had another river cruise near the exit of estuary (river mouth of Padas), where we can see Brunei in front. Do you see the light area in the sea, in photo above? The water there is only a few feet deep. We had too many people onboard so we didn't move further or we would risk our boat stranded in shallow water. Yes, you are correct that the last photo is the land of Brunei.
Photos taken in Weston, Sabah, Malaysia Borneo
You might also like: