Tag Archives:
monkey
Because of Sipadan Island, Semporna town is now well-known as a gateway to world-class diving sites. Divers are impressed by the underwater world, but they don't know the endangered and famous Proboscis Monkey are also found in Semporna. If you are a scuba diver, to avoid decompression sickness, you know you have to wait 12 to 24 hours before departing on a flight.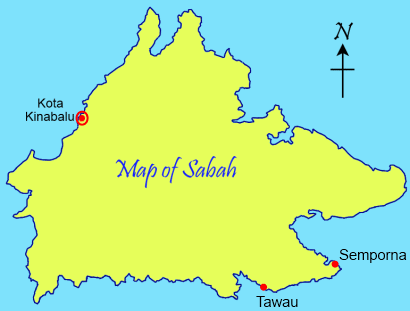 Therefore, during the waiting time, it is a great option for divers to join a river cruise in Semporna, to see the long-nosed monkey of Borneo. The tour costs about RM125 (less than USD$40) per person. Below is the itinerary:
3:30pm: Depart from Semporna by land to Kg. Tunggulangan
4:15pm: Tea break
4:45pm-6:30pm: River cruise
6:30pm: BBQ seafood dinner
7:30pm: Return to Semporna/Tawau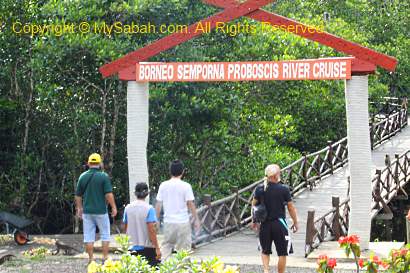 Of course, non-divers also can join the tour. Just book the river cruise package at www.borneotourstravel.com (Borneo Semporna Proboscis River Cruise). The show has begun by the moment we reached the site in Kg. Tunggulangan, which is about 20 KM away from Semporna town. The worker placed some food on a feeding platform next to the entrance, to attract about 20 long-tailed macaque monkey for the fest.
>> Click Here to see more photos of Semporna River Cruise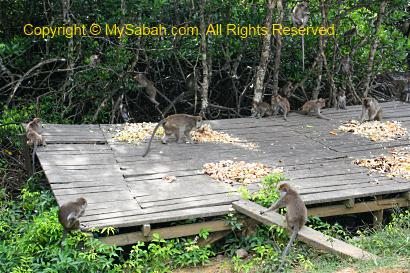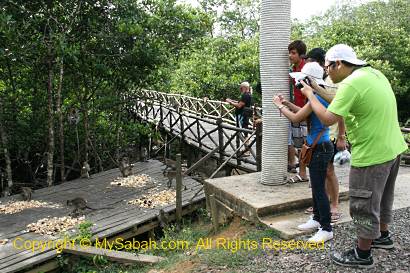 Last year I was told that the monkeys there were shy and not used to human. After being fed for a period, now these monkey have no fear about our presence, even though we are only a few feet away. You can take very clear photos of them.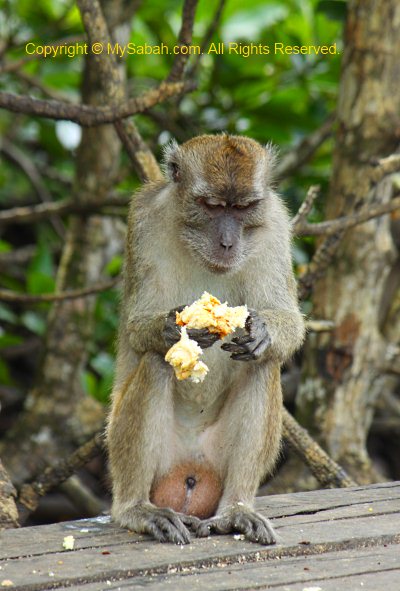 However, they are still wild, so better don't get too near to them. They do bite if they feel threaten. I have no doubt the monkey in photo above have the balls to do so.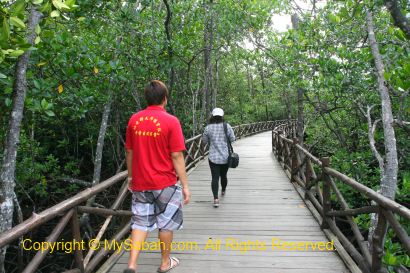 Then we took a short walk on a wooden boardwalk, which is built in the mangrove forest.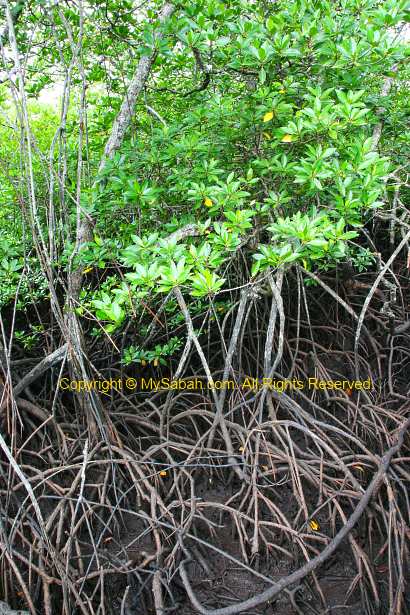 The mangrove trees grow on intertidal zone, which is flooded during high tide, so they have stilt root that allows them to breathe and anchor themselves firmly in the mud.
>> Click Here to see more photos of Semporna River Cruise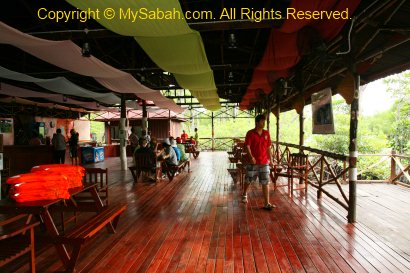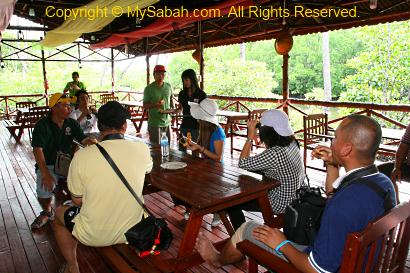 The boardwalk led us to an Activity and Dining Hall built next to the river. We had our afternoon tea break before the river cruise.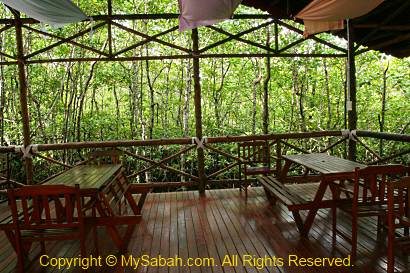 Above: the building is inside the mangrove forest. Please bring insect repellent coz there are mosquitoes in this area.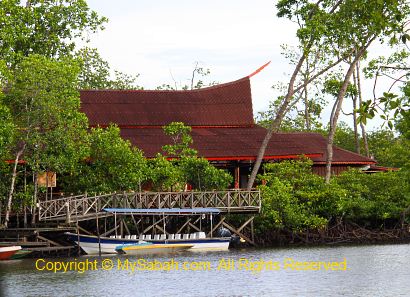 Above: the hall and the jetty of Borneo Semporna Proboscis River Cruise.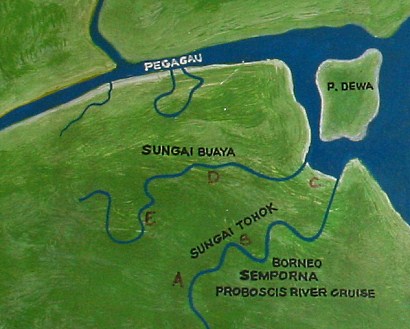 Above: the route map of our river cruise. Our boats departed at 4:30pm to explore Sungai Tohok (Tohok River) and Sungai Buaya (Buaya River) to look for proboscis monkey. We also went to Pegagau to check out the egrets.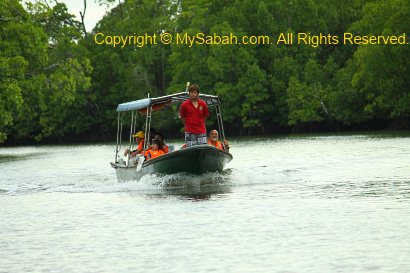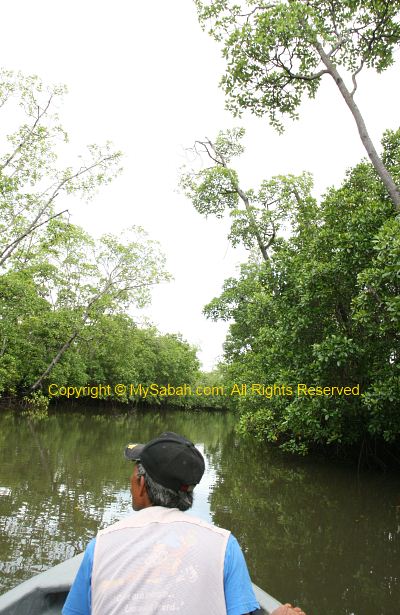 Our boat cruised slowly on the river to spot for wildlife on the trees.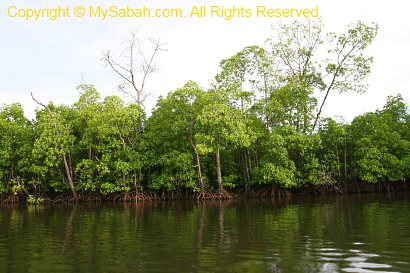 The mangrove here is a forest reserve, which means it is protected from being cut or clear, so the trees here remain intact. This area has become the sanctuary for different birds and wildlife.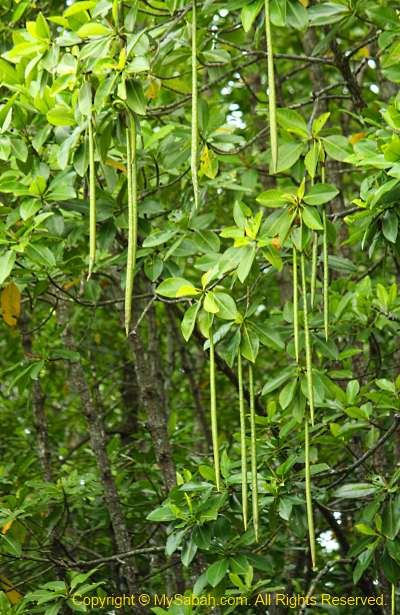 Above: the seeds of the mangrove trees. Once ripen, they will fall into the river and float to somewhere else to germinate.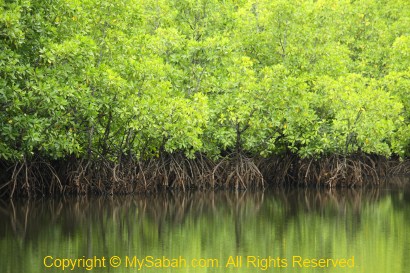 Above: I have to say that Semporna has very beautiful mangrove. I saw many picturesque green reflection like above in the river.
>> Click Here to see more photos of Semporna River Cruise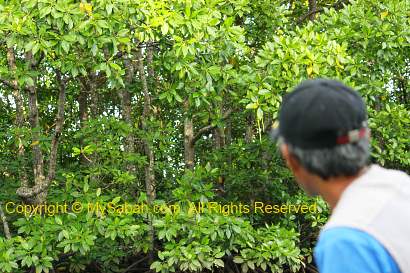 Our boatman is busy looking for monkey. He has very sharp vision, as if he has X-ray eyes that can see through dense layers of trees.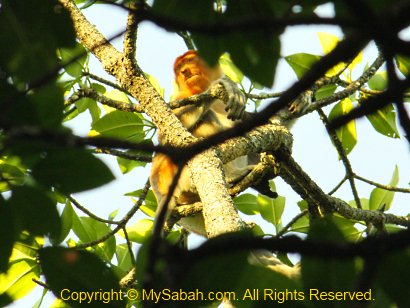 Finally we spotted a female proboscis monkey sitting high on top of a tree.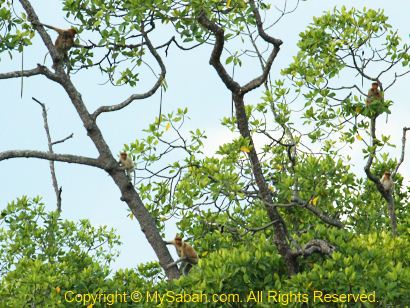 Soon we found more proboscis monkey. I notice that the proboscis monkey here are very elusive, unlike those who are already used to tourists in Klias and Kinabatangan. All of them fled into the mangrove before our boats came close.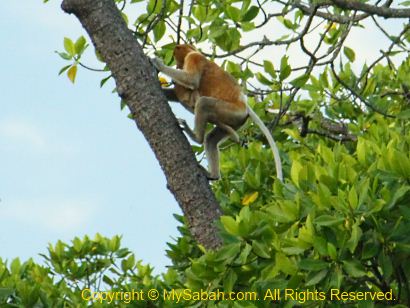 Some of them even carrying baby.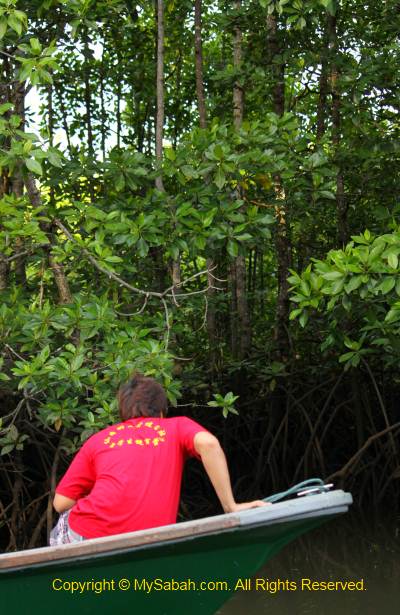 Our guide, Soon Lee, spotted a male proboscis monkey deep inside the wood.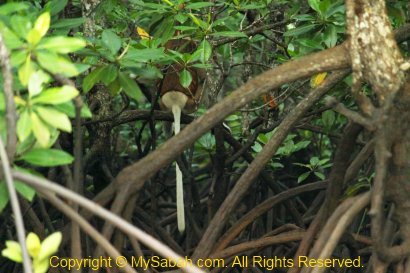 The male proboscis monkey was sitting on a root, with his back facing us.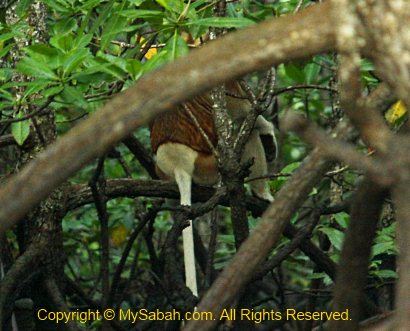 We want to see his big nose so badly, so we move our boat as close as we can. We tried really hard to look at him through the gap between the woods, like how a peeper watches his target in bathroom.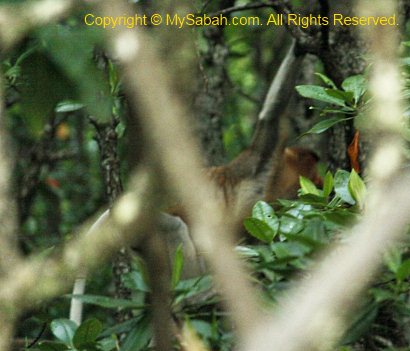 Luckily it made a move and we were so happy to see his sexy big nose, though it was only a split second. The long nose of male proboscis monkey is a sex symbol to attract female. Later we saw 3 or 4 herds of proboscis monkey. That is considered our lucky day. In bad day, visitor may not see any proboscis monkey.
Below is a 3-minute video of our river cruise tour:

Click Here to watch wider video.
>> Click Here to see more photos of Semporna River Cruise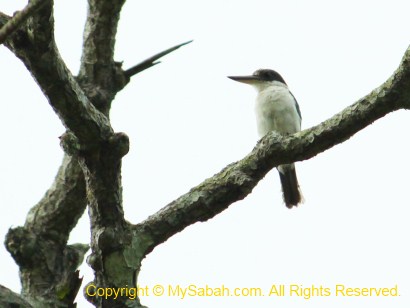 Proboscis monkey is not the only wildlife here. There are some birds around too, like the friendly white-collared kingfisher above.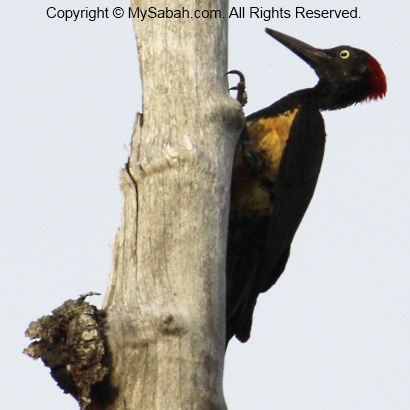 My favorite bird is the white-bellied woodpecker above. Its look is so cartoon.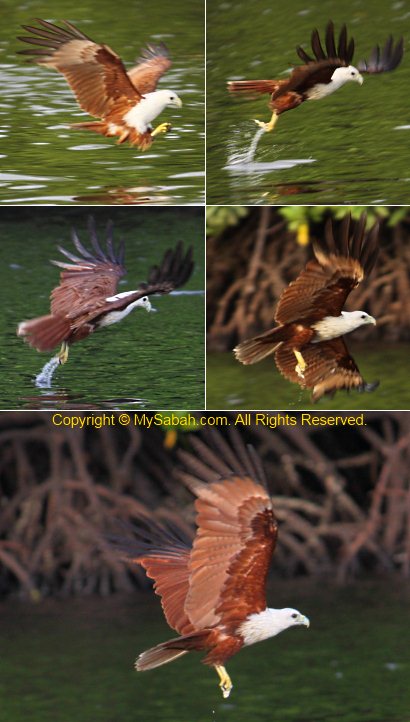 But the animals which steal the show is a pair of Brahminy Kite. The worker threw a few slices of chicken skin on the river, then we spent about 10 minutes watching both Brahminy Kite showing their high-speed & high-accuracy grasping skill in flight. Brahminy Kite is the commonest bird of prey in Borneo. In Iban belief, Brahminy Kite is an omen bird that represents senior God.
>> Click Here to see more photos of Semporna River Cruise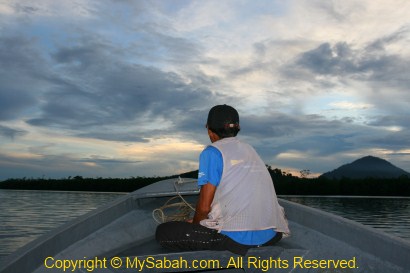 We reached Pegagau River around 6pm, the start of sunset cruise.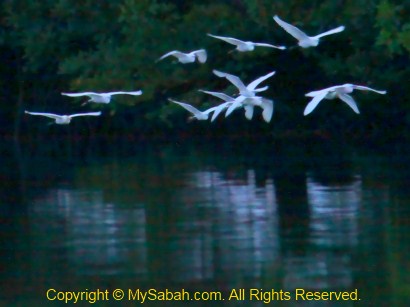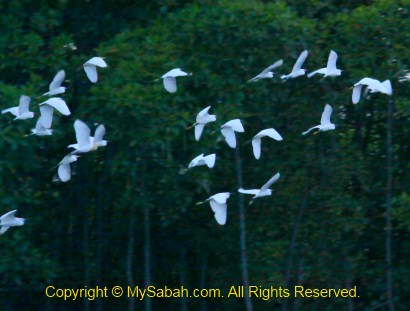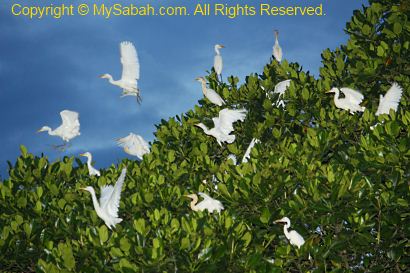 We saw many groups of egrets (most are cattle egret) flying over the river, then they all congregated on a few mangrove trees. It is quite a view to see dozens of them perched on a few trees.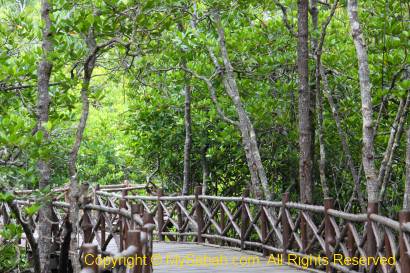 Our river cruise ended at 6:30pm and we were back to the jetty to have our BBQ seafood dinner. I forgot to take photo so I only remember we had tiger prawn and satay. It was dark when we walked out on the boardwalk, and we saw many twinkling fireflies on the trees on both sides! Overall, this trip is a fun experience.
>> Click Here to see more photos of Semporna River Cruise
Photos taken in Semporna, Sabah, Malaysia Borneo
You might also like:
"Kinabatangan River is one of the places in Asia with best concentration of wildlife," a happy photographer said, "I have came here nearly 10 times." This was what I heard when I joined a Photo Safari trip in Kinabatangan last month. I met two European photographers who had a week-long photography trip in important Sabah wildlife reserves such as Danum Valley and Labuk Bay.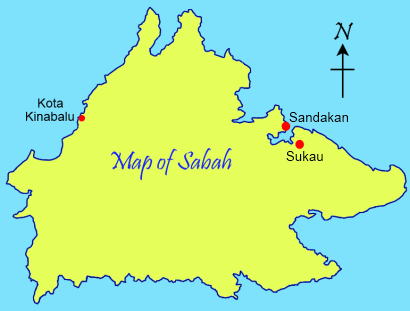 >> Click Here to see more photos of Kinabatangan
This is my second visit to Kinabatangan. My first Kinabatangan trip was with Uncle Tan Camp in Danau Girang back in year 2007. This time I stayed in Barefoot Sukau Lodge located in Sukau, which is 2-hour drive from Sandakan city and next to the longest river of Sabah, Kinabatangan.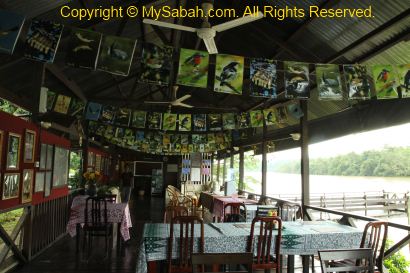 Above: the activity hall and Cliff-Hanger Cafe of Barefoot Sukau Lodge. You can see Kinabatangan River while enjoying your tea. They have nice collection of photographs in display too.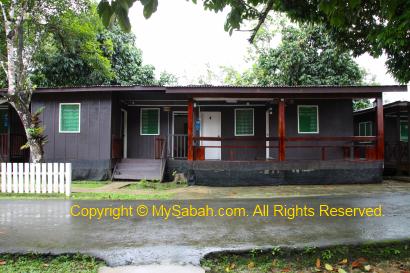 Above: the lodge where I stayed. You can check out their web site for more info.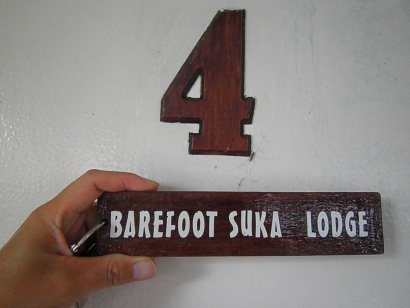 I am Number Four, heheh..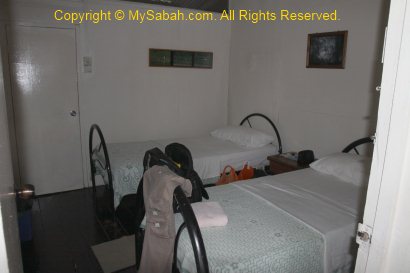 Above: my twin-sharing room. It is clean and cozy, with an attached bathroom/toilet and wall fan. My roommate is a orangutan. Just kidding..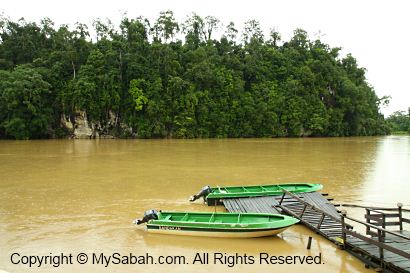 Above: the jetty of Barefoot Sukau Lodge and the boats for our river cruise later. They say a crocodile named "Franky" would be around sometimes but no luck today.
>> Click Here to see more photos of Kinabatangan
Afternoon River Cruise
We started our afternoon river cruise at 4pm when the rain stopped. At first I worried that we would not see any wildlife in rainy day. I worried too much.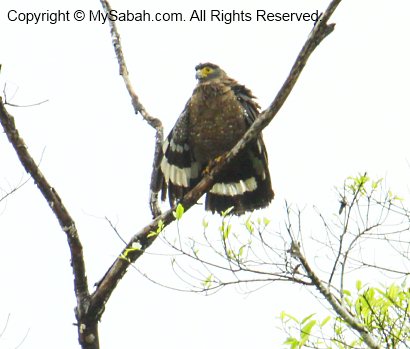 Crested serpent eagle takes snakes and lizards as food. I saw about 5 of them, quite a common eagle. I spotted White-Bellied Sea Eagle, Storm's Stork, Oriental Darter, Great Egret and Wallace's Hawk Eagle too.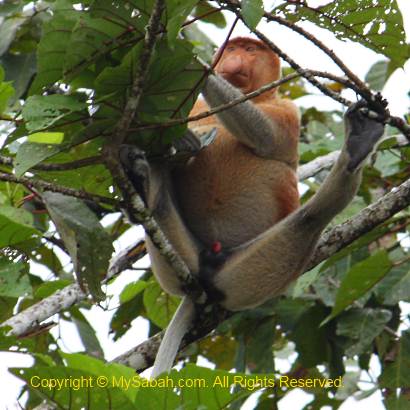 The famous long-nosed monkey (a.k.a. proboscis monkey) of Borneo. They are quite used to presence of tourists.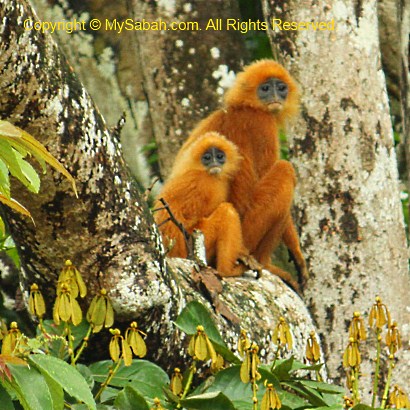 The very shy red-leaf monkey, which always has that funny sad expression on its face.
>> Click Here to see more photos of Kinabatangan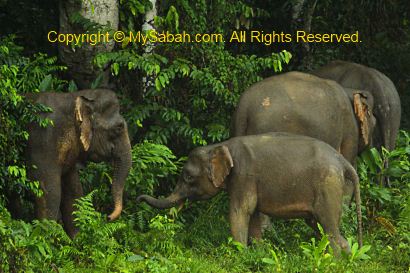 Pygmy elephants! Even though they are the smallest elephant species in the world, they are the largest mammal of Borneo. Only 1,000 of them left in the wild of Sabah.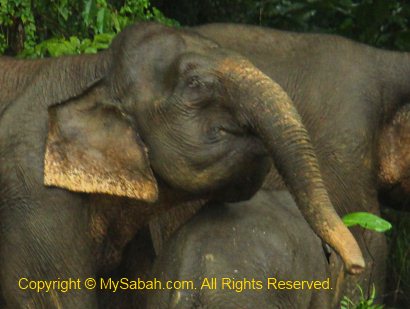 We are so lucky to see them. Sighting of elephants is not common. I know someone who had visited Kinabatangan 5 or 6 times but never saw an elephant. Pygmy elephants are always on the move, migrating from river side to inland.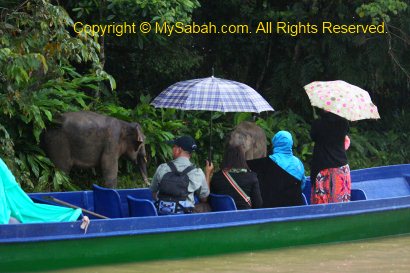 Within 15 minutes, more than 10 boats of tourist gathered around to watch the elephants. I believe all the tour operators keep in touch with one another for elephant sighting news.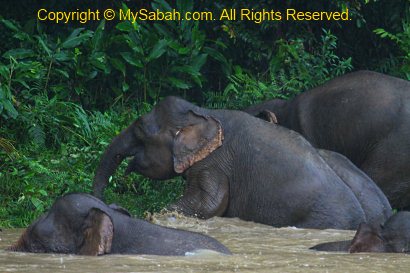 The herd consists of 10 elephants. Elephants look big and heavy but they are good swimmer. They like to take shower in the river in the late afternoon. Then it rained heavily, so our group decided to stick around to watch elephants only until we were satisfied. The Australian silver hair couple in my group was so happy coz they saw blooming rafflesia a few days ago. Lucky them!
Photo Safari River Cruise
The next morning I waked up early to join the photo safari trip led by Cede at 6:30am. It was raining last night until morning. Fortunately, the rain subsided at 7am so we could start our morning river cruise.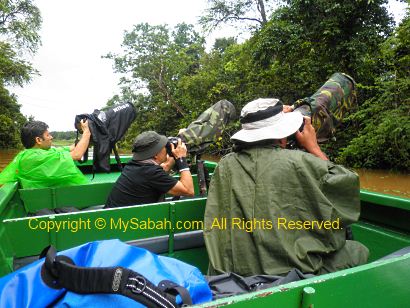 Ok, look at the photo above. All the photographers are equipped with high-end "bazooka" long lens which can cost more than a car, so heavy that they need a tripod to support it. I look at my pathetic cheap 250mm plastic lens (cost less than RM1,000) and offer to sit at the last row, and nobody objected.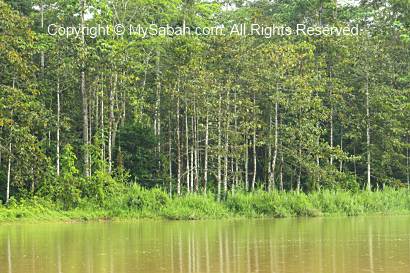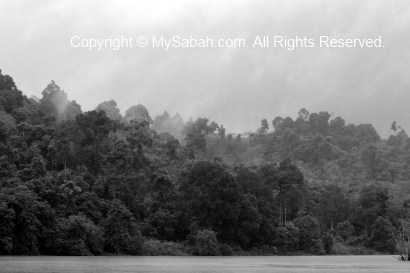 >> Click Here to see more photos of Kinabatangan
It was a beautiful morning. You still can see mist in forest.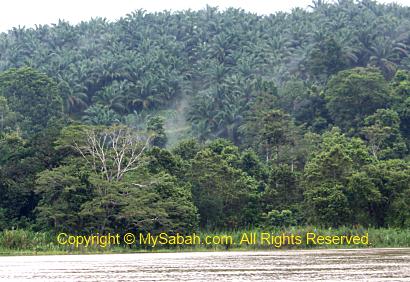 However, there are something ugly hiding behind the wall of forest. I have no problem with oil palm. I only hate the way they plan this crop by deforestation. Over 70% of Kinabatangan is covered by oil palm that fragments the rainforest. I am happy to hear that two palm oil mills here were shut down coz environmentalists complained that these mills released effluent into the river. Hey, we are not totally losing after all. There are still hope.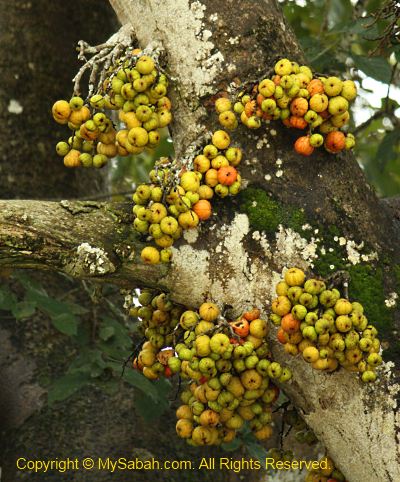 Fig fruit is important food source for primates such as orangutan, so environmentalists try to plant more fig trees in forest rehabilitation projects.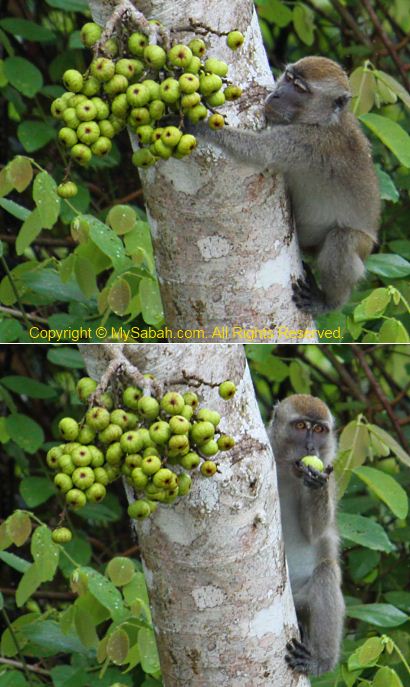 >> Click Here to see more photos of Kinabatangan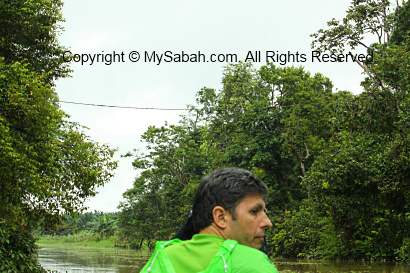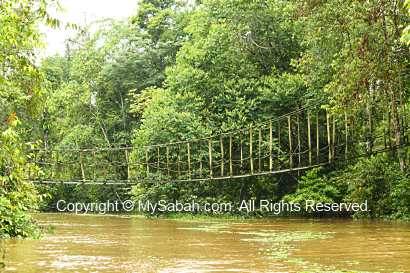 The environmentalists also build some ropes and bridges to help orangutan and monkey to cross the river that has crocodiles. Yes, the primates do use them and the photo was on the news.
>> Click Here to see more photos of Kinabatangan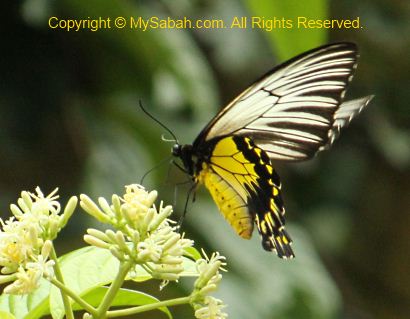 We shot anything that flies, include this bird-wing butterfly. The photo safari trip is different from normal river cruise. Whenever we find a target, the photographers will spend longer time to take photos. They also maneuver the boat to get the best angle. Cede always gave some photography tips. FYI, they don't like subject with strong backlight. The sky is cloudy, so it is not too bad.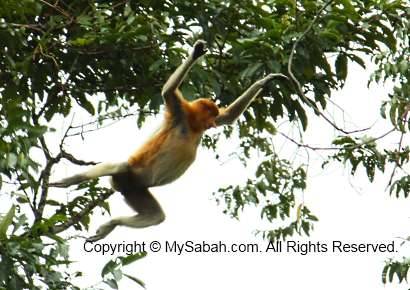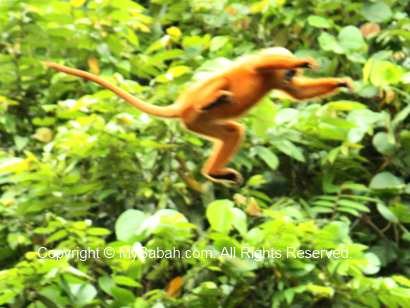 We even spent more than 15 minutes under the tree to wait for the monkey to hop to other tree, for the action shots. There was a female proboscis monkey did a 50-feet drop jump, such a suicidal stunt! Unlike those happy snap-snap tourists, these photographers are aiming for artistic and extraordinary shots, nothing less.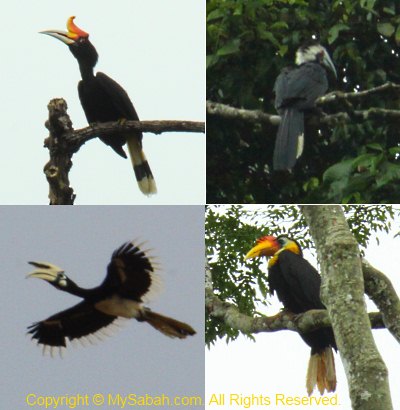 There are 7 species of hornbills in Kinabatangan. We found 4 species (Rhinoceros hornbill, Asian Black hornbill, Oriental Pied Hornbill and Wrinkled Hornbill) that day, not bad. We also saw monitor lizard, long-tailed macaques, etc.
That's all. You may watch the 3-minute video below to see our river cruises and elephants:

Click Here to watch wider video
Photos taken in Sandakan, Sabah, Malaysia Borneo
You might also like: