Tag Archives:
Mangrove
Even children know trees provide oxygen and mitigate global warming. Saving the World is a noble goal but it sounds so ambitious to us. Don't worry. I'm not going to ask you to be the Captain Planet. You only plant tree for yourself and your family. For example, having two mature trees next to your house can provide enough oxygen for a family of four. Plant one more tree and the shade of three trees, if strategically positioned, can reduce the need of air-conditioning by up to 50%. Good deal huh?
Parents always set aside of their personal desires and give the best to their kids. They accumulate wealth for their offspring so they will enjoy a better living. But how many parents will invest in better environment for future generations, so they can enjoy fresh air and clean water in future? Even fishes need clean water and watergrass in their aquarium to live happily. Ton of money in bank account won't guarantee our children to have a quality life in an environment without clean air and water.
Malaysians have been taking clean air and water for granted. But these things can go away and it's happening. The crystal clear stream, where I used to fish during childhood, turns into a smelly drain. I see less and less tree shades around my neighborhood, and people complain about the heat almost every day.
Mother Nature lets us choose between hell or heaven, depending on how we treat her. Tree always appears in the drawing of your kids about dream home. Let's materialize it.
59% of Sabah is covered by forest, so Sabahans overseas always miss the greenery here, especially those staying in big cities such as Kuala Lumpur, where the car population is far more than trees. World Health Organization (WHO) has declared that bad air is a leading environmental cause of cancer, and 1/8 of total global deaths is directly linked to air pollution.
The following are the tree planting programs that individual, company, and organization can participate in Sabah, to increase the quality of our environment. Not all trees are the same, every tree type has its roles for upkeep of a healthy nature.
1. Rainforest
Plant rainforest tree for fresh air, clean water and starry night. Rainforest is also a Disney Land for birds and wildlife. Every tree you plant will produce approximately 260 pounds of oxygen annually and absorb about one ton of Carbon Dioxide in its lifetime.
By shading our houses and streets, tree can lower the temperature of city and shield us from excessive exposure to harmful UV. This makes our places safer for outdoor activities. That's why forested park such as Tun Fuad Stephens Park is a favorite place for joggers.
Tree also absorbs pollutant gases (e.g. sulfur dioxide, ozone) and filter particulates out of the air by trapping them on their leaves and bark. Your home will be filled with cleaner air and less dust. The more trees you have, the more stars you can see at night.
During rain storm, trees act like big umbrella, slowing down the runoff and prevent flash flood. Large area of trees can form a wall to block hazardous strong wind. Sabah is experiencing more flood and stronger wind nowadays, as a consequence of deforestation.
A forested riparian is a good "braking carpet" to reduce large quantity of soil and pollutants being washed into the river by rain, thereby maintaining a clean supply of water to reservoir.
Wildlife will be benefited too. Besides providing shelter to animals such as orangutan and hornbill, fruit trees are important food source for them.
Where to join?
Most homestay in Sabah, especially those located near Kinabatangan River, have tree planting program. Just to list a few, Kampung Bilit, Kampung Abai, Bukit Garam, Tambunan.
Don't hesitate to ask your travel agent for info on tree planting, most of them are very supportive of this initiative.
2. Mangrove
Plant mangrove for seafood and protection against natural disasters. Mangrove was thought to be useless until a super Tsunami took thousands of lives in 2005. There was no death reported in the areas which had mangrove forest! Mangrove is a buffer between the land and the sea, so it can be a cushion that minimize the impact of tidal waves.
Green belt of mangrove forest is excellent in countering water-related disasters. For example, coastal area with mangrove forest is less vulnerable to typhoon. The mangrove tree also helps to stabilize the coastline by preventing erosion by sea waves.
During heavy rain, mangrove forest can act like a sponge to retain the water, a feature that mitigates flood. When filthy rivers flow through mangrove, the forest will filter the sediment and harmful heavy metals in the water, before discharging it into the sea.
Sabah is famous for abundance of seafood but very few people know the secret. Mangrove forest is breeding and nursery grounds for variety of seafood such as fish, crab, shrimp, and clams. 59% of mangrove of Malaysia is located in Sabah. Needless to say, mangrove is also an excellent spot for fishing and aquaculture.
The mangroves in Klias and Weston, the habitat of proboscis monkey and firefly, are well-protected. Now throng of tourists go there every day for firefly tour. Nature always repays us generously if we take care of her.
Where to join?
You can join mangrove replanting at Kota Kinabalu Wetlands. The local schools have been sending thousands of student to plant mangrove trees there.
If you want to get dirty and do something more than just a symbolic gesture, you can join their mangrove replanting project at Sulaiman.
3. Coral
Plant coral for tourism. If you have visited Sipadan Island, you will never forget the diving experience with schools of barracuda and dozens of turtles and sharks, which are drawn by the thriving corals there.
Coral is the home of fishes, and fishes mean food to big marine creatures. If our older generations had protected the corals well, we don't even need to travel far and spend a lot of money to see these. Hope you see the point of leaving a great nature is better than leaving a lot of cash to our future generations. They will have to pay high price to enjoy what was used to be common. Seafood is also getting more expensive now.
As coral reefs are under threat globally, very few high quality coral gardens will remain intact. On the positive side, this is a magnet to tourists. In fact, tourism is the most important industry of Sabah after oil palm. A blooming tourism will create more jobs and income.
Same as mangrove, conservation of corals is vital in maintaining a sustainable supply of seafood.
Where to join?
You can take part in coral planting at Gaya Island Eco Resort off Kota Kinabalu City. Technically, coral is animal and not a plant, so you will be "planting animal" lol.
Usually coral fragments are used for the planting program. It has slimy secretion coming out of the pores.
All you need to do is just fix that fragment on a cement plate and place it in a stabilization tank. It'll be released into the sea by the divers.
Besides planting tree and coral, you also can donate fund to environmental organizations like WWF for restoration of forest. Let's think of the donation as an investment. The $100 cash deposited in our bank today would depreciate to $90 next year due to inflation. But for every $1 we invest in conservation, the return can be tremendous, because trees can grow and multiply.
Photos taken in Sabah, Malaysia Borneo
You might also like:
With over 200,000 visits annually, Manukan (Pulau Manukan) is the most frequented island by domestic and international tourists. It is only 15-minute away by boat ride, almost a no-brainer choice for people who want an island day trip near to Kota Kinabalu City (KK).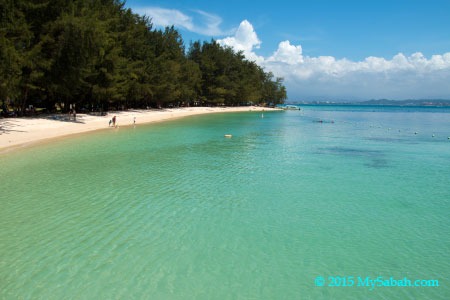 However, to be fair, the reason Manukan Island becomes the most famous island is not just because it's "convenient." It does have three other outstanding factors that make this beautiful island of South China Sea a favorite destination.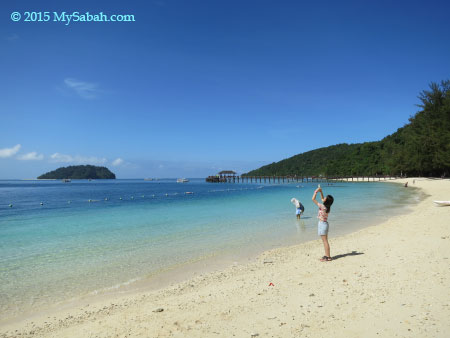 Factor #1. Manukan has long stretch of white sandy beach
Its long beach spans about 1,500 Meter at southern side of the island, facing a bay of crystal clear and tranquil sea. The water is so calm and shallow that it's also suitable for non-swimmers. Families feel safe to let their kids playing in the water. No matter how far their children go, parents still can have a clear open view on what's going on.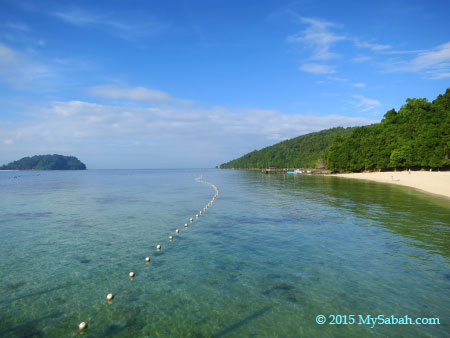 Manukan is the second largest island of Tunku Abdul Rahman Marine Park (TARP in short), and its beach is vast. Though Manukan has hundreds of visitors every day, there is still enough big space for everyone. You won't accidentally trip over a carpet of tourists sunbathing on the beach.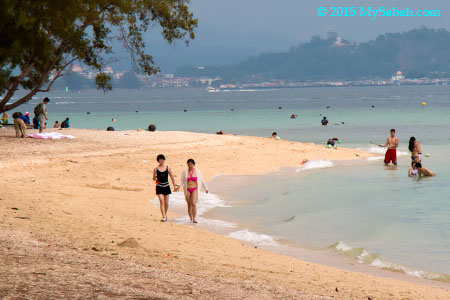 Factor #2. Manukan has the Most Developed Facilities
Tourists can find almost everything they need there, from toilet, shower room, restaurants, water sport activities, souvenir shop to accommodation. You can go to Manukan empty-handed (must bring cash!) and buy your things such as food, sunscreen and beachwear on the island. But please be informed nothing is cheap on the island.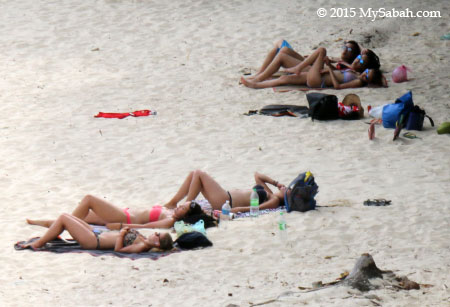 Another thing I like about Manukan is its forested shore. After a swim in hot day, we can retreat to the shade, rest on the bench and enjoy the gentle sea breeze. It can be quite cooling under the trees.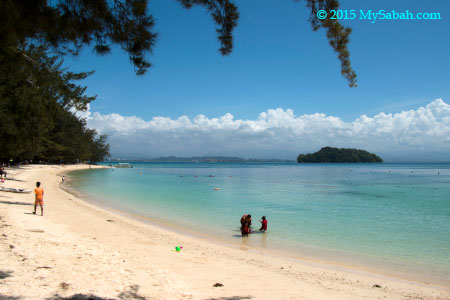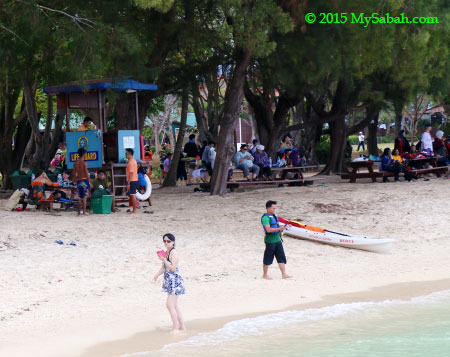 There are a few lifeguards keeping an eye on the sea. They also know how to deal with injury caused by jellyfish sting and sea urchin. For crime prevention, there are some police on the island too.
Factor #3. Manukan Island has the Best Snorkelling Spot
Among the five islands of TARP, Manukan Island ranks top as a snorkelling site. Though its coral reef is not of world class, it's still a wonderful treat to nature lovers. Sighting of Nemo is guaranteed. You can even see Nemo from the jetty, with thousands of other fishes.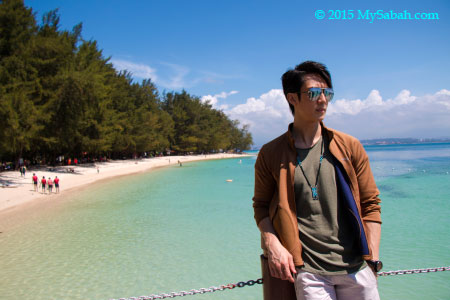 In fact, many Hong Kong celebrities have been to Manukan Island. Usually they come to Manukan as personal trip and try to stay low profile. Don't be surprised if you find WuChun or other superstars laying just next to you in Manukan.
The following is a 3-min video for you to see more beauty of Manukan:

Entrance Fee
You need to purchase ticket (which they call Conservation Fee) to enter the island. The table below is the ticket rates. Don't forget to add return boat transfer and terminal fee (about RM30 in total, ≈US$9) to your travel budget.
Visitor
Ticket Fee
Malaysian
– Adult (18 & above)
– Below 18 years old
– Senior Citizen
– Student (below 16)

RM3
RM1
RM1
RM0.50
Non-Malaysian
– Adult
– Child

RM10 (≈US$3)
RM6 (≈US$1.80)
*6% GST tax would be applied to ticket soon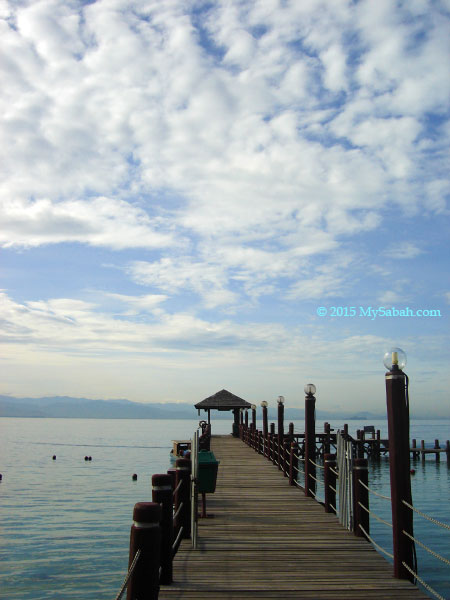 Pic: the jetty of Manukan Island, you can see many fishes under it.
Activities
You can have fun with many water sports on Manukan Island. The most popular and recommended activity on Manukan is Snorkelling. You can rent the snorkelling gears easily on Manukan or boat terminal on mainland. It's ok if you don't know how to swim, just wear a life jacket.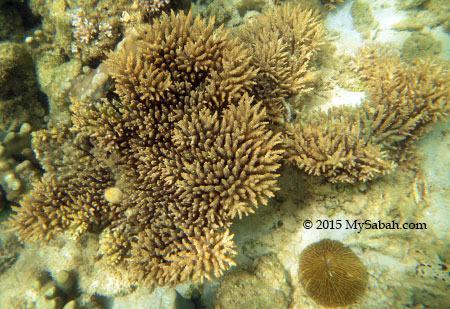 Consider this island is only 7 KM away from KK City Center, the variety of soft and hard corals on Manukan is really impressive. Nevertheless, you need to know where to look for them. Do not snorkel at the side full of people. The Best Snorkelling Location is in deeper water at the left of the jetty (when you face Manukan Island) and far away from "tourist beach."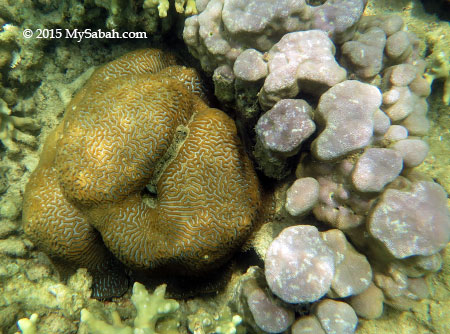 When you enter the water, you will see mainly sandy bottom for the first 10 Meters, then the corals become denser and denser, at last you will reach a large "coral garden" about 25 Meters away from shore. The water is only 4 to 7 Meters deep at this distance so the visibility is very good in sunny day.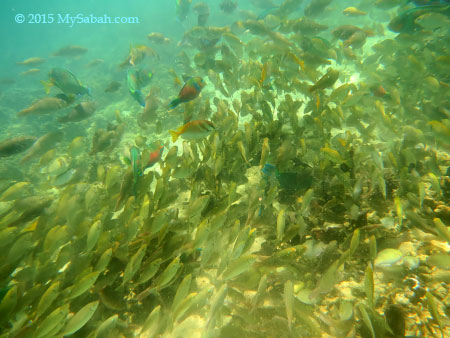 Corals are the home of fishes, of course you will see many types of fishes such as Sergeant major, Trigger fish, Parrot fish, Butterfly fish and Cleaner Wrasse. The coral area is big and got so many stuffs to see, sometimes I spend 2 to 3 hours have fun snorkelling.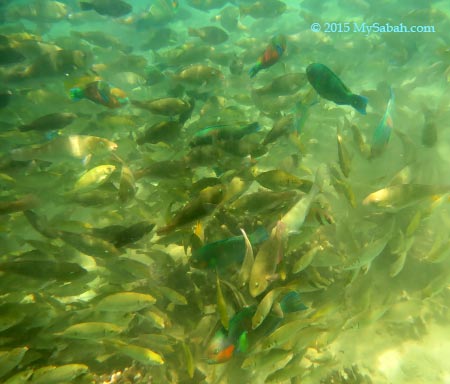 Last year, I bumped into a huge school of foraging fishes, thousands of fishes formed a long line and swam in same direction. I followed them and they didn't seem to mind. On the way, many other fishes in different colors and species also joined the group. This is such an incredible phenomenon!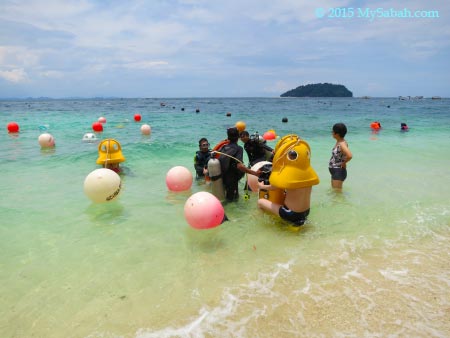 Pic: tourist trying out Scuba-doo (underwater "scooter")
Below is a list of activities and prices just FYI. Get extra cash ready if you plan to play these:
Activity
Fee per person
(in RM)
Fee (in US$)
Duration
Sea Walking
250
≈76
30 Min
Scuba-Doo
250
≈76
30 Min
Parasailing
90
≈27
15 Min
Banana Boat Ride
40
≈12
15 Min
Flying Fish
70
≈21
15 Min
Jet Ski
165
≈50
30 Min
Discovery Scuba Diving
300
≈91
2 dives
Tip: These are just Listed Prices. No harm to haggle.
Ladies, be careful when some "friendly" locals approach you and offer "snorkelling tour." There were cases these so-called guides took their female guests to deeper water, making them panic, then took the opportunity to molest them. Just report to the police on the island if that happens.
Manukan Island Resort
You can overnight on Manukan Island if you love it so much. Manukan Island Resort is the only accommodation on Manukan and they have about 20 units of single and double storey chalets. The accommodation fees* range from RM560 (≈US$170) per room to RM1,500 (≈US$450) per chalet. You may look at their online booking page for room details and updated prices.
*full board package which includes accommodation, meals, island entrance fee and boat transfer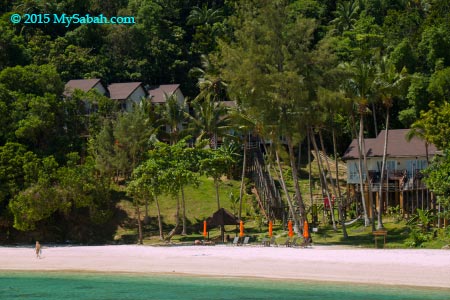 Pic: Hill Side Chalets near the beach
There are two types of villa, i.e. Hill Side Chalet and Beach Chalet. Hill Side Chalets have sea view but Beach Chalets don't. FYI, camping is not allowed on Manukan Island.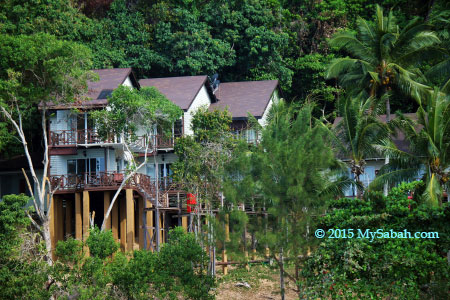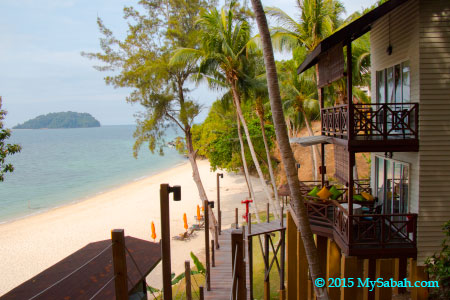 Pic: Hill Chalets are on a slope and have fantastic sea view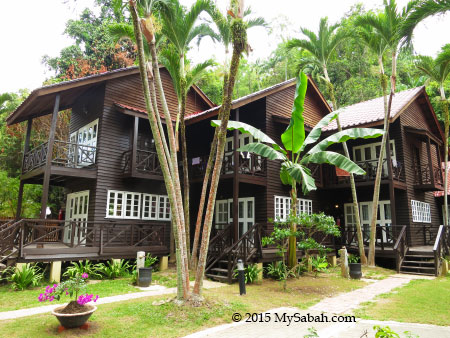 Pic: Beach Chalets can be a bit noisy when tourists walking pass the place during daytime (8:30am-4:30pm)
For reservation, you may book the room online or contact Sutera Sanctuary Lodges (management of the resort) at:
Website: www.suterasanctuarylodges.com.my
E-mail: info@suterasanctuarylodges.com.my
Phone: +60 88-308914, +60 88-308915, +60 88-308916
Cellphone: +60 17-8335022
They also have a reservation center for walk-in guests (opposite to reception / ticket counter of Manukan).
Restaurants
Food and drink are readily available on Manukan Island but sold at "tourist price". If you are price-conscious, I would advise you to bring your own food. Barbecue (BBQ) is forbidden on Manukan (some outdated websites say you can BBQ on the island).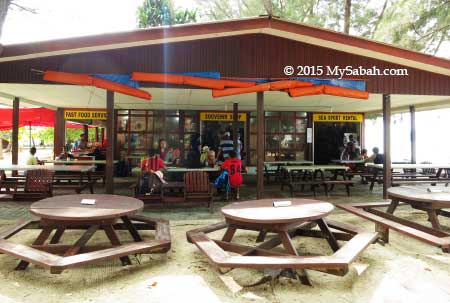 Pic: Koktas Cafe offers the cheapest food. You can have rice and fried noodle from RM4 to RM14.50 (≈US$1.30-4.40). Light meals are also available for a few dollars. You may look at their list of food and prices (as of Apr 2015). Koktas Cafe opens from 8:30am to 4pm daily.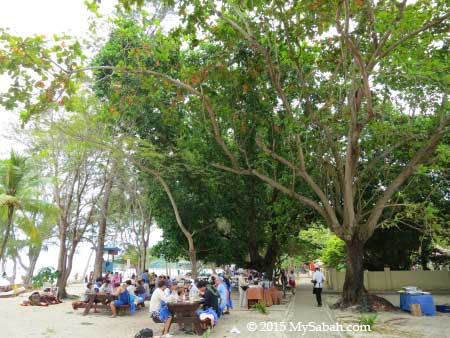 You will find many outdoor food stalls behind the beach. I asked one of the buffet stalls that seem to serve decent food. The price is RM86 (≈US$26, 6% GST tax included) per head and walk-in customer is accepted. They open from 11am to 2pm.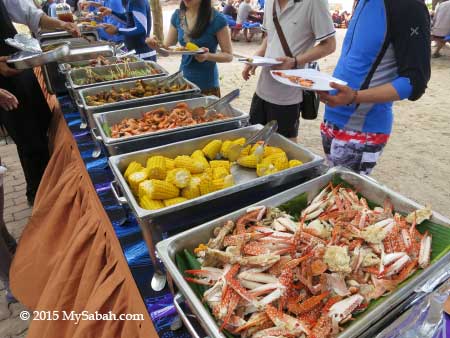 There are dozens of other makeshift food stalls belong to travel agents. They normally sell it as part of island tour package which costs about RM150 (≈US$45), which includes boat transfer, lunch buffet and snorkelling gears. They would accept walk-in customers if there is enough food.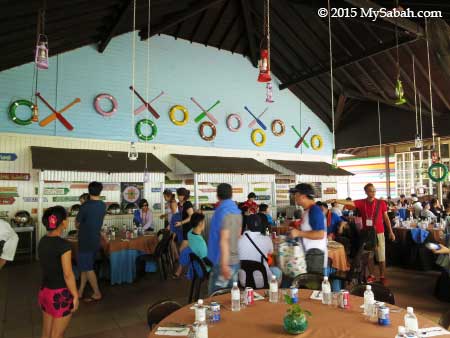 Another restaurant, Arang Barbecue House also sells lunch buffet for RM86 per person. They open from 11am to 2pm.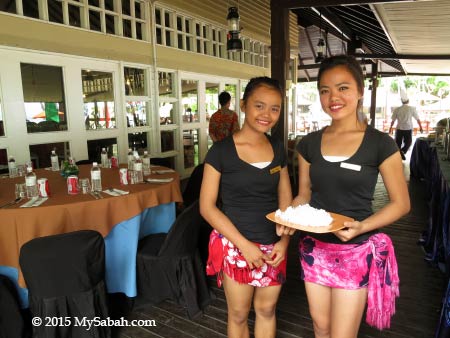 Pic: Perahu Restaurant
Perahu Restaurant is the most established restaurant on Manukan Island. You can dine in their air-conditioning room. Sometimes they close for group function. They open from 11:30am to 4pm. Yes, beer and alcoholic drink are available here. Below is a summary of their menu (Prices as of Apr 2015 and subject to 6% GST tax) for your quick reference:
Fried Noodle, Nasi Lemak, Chicken Rice: RM26 (≈US$8)
Sandwich, Burger, Fish & Chips: RM35 (≈US$11)
Coffee: RM14 (≈US$4.30)
Tea: RM12 (≈US$3.60)
Soda Drink (e.g. Coke): RM10 (≈US$3)
Fruit Juice (Orange, Pineapple, Watermelon): RM19 (≈US$5.80)
Beer: RM28 per tin (≈US$8.50)
Cocktail, Wine, Whisky, Vodka, etc.: RM28 (≈US$8.50) per glass
Other Facilities
This section is an overall of other facilities on Manukan Island. You may refer to the following layout map for location of these amenities: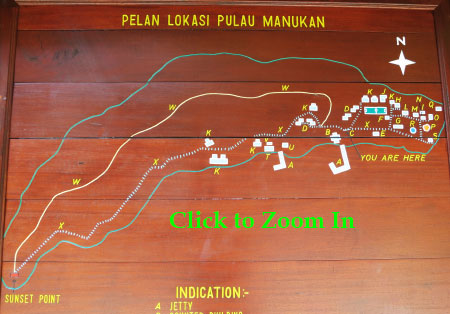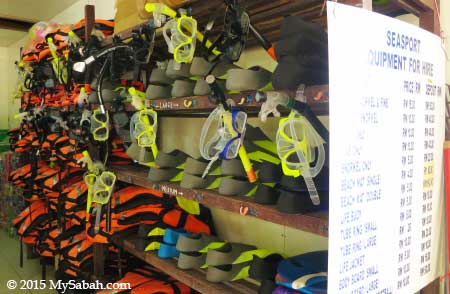 Snorkelling gears can be rent next to Koktas Cafe. The rental fee for a set of snorkel, mask, fins and life jacket cost RM25 per day (≈US$7.60). You need to deposit RM70 (≈US$21), which is refundable when items return in good condition. Do bring more cash. Here is a list of all items available for rent (prices as of Apr 2015). You also can purchase other things such as beach wear, snacks, ice-cream, potato chips, instant noodle and cookies from the same shop.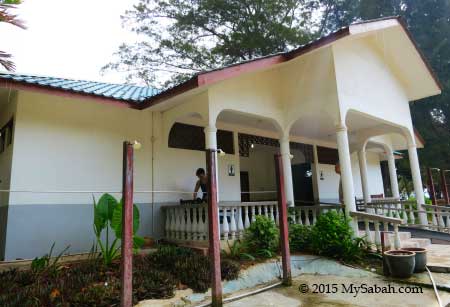 Pic: public toilet and shower room of Manukan Island. It is divided into male and female sections, each has about 10 rooms. There are some shower heads outside to rinse yourselves. Two things I don't like about this toilet – it is a bit too far away from the beach, and its floor is always wet. I wish it has dry surface for me to put my bag. Anyway, it's not too bad.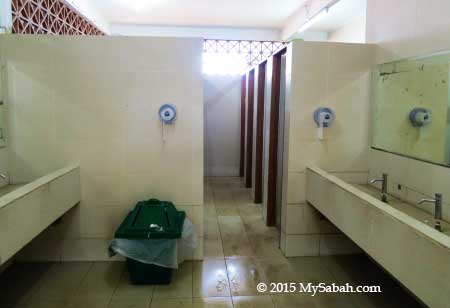 Pic: toilet and shower room. Some doors have broken locks.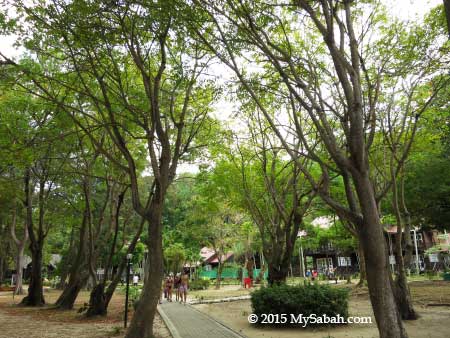 Pic: interlock walkway on Manukan, quite well-maintained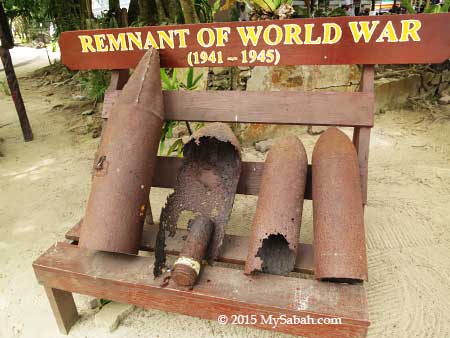 Pic: WW2 bombshells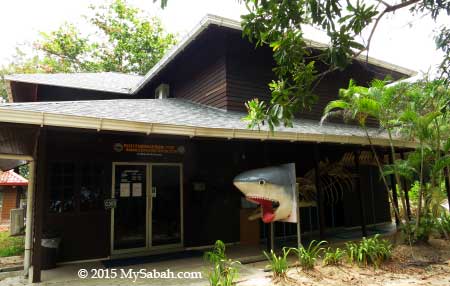 The Marine Education Center of Manukan Island is used to exhibit some marine specimens such as seashells, turtle and corals. Currently it is close (since 25 Mar 2015) for construction of a Marine Touch Pool and may open again in June 2015. Now what they show are only a skeleton of Bryde's whale and a shark head photo booth outside the hall.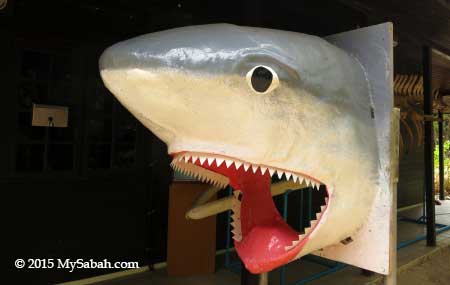 FYI, there is no man-eating shark at Manukan Island.
Besides, there are football and volleyball fields in the center of island. For Muslims, Surau (prayer room) is available too. I wish they have locker service so I can store my belonging because I can't bring my wallet to snorkelling. Without locker, life will be a bit difficult for solo traveler to Manukan.
Sunset Point
If you like jungle and have time to spare, you may go to Sunset Point in western edge of Manukan Island. Day trip tourists have to leave the island before 5pm so most of them don't bother to walk 1.5 KM to Sunset Point that has no sunset. I'm not sure whether that can motivate them, if I tell them two rare mangrove trees, which are critically endangered and only 200 of them left in the wild, are found at Sunset Point.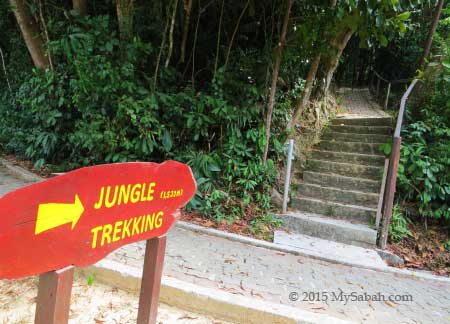 There are two ways to reach Sunset Point, one by rugged and unpaved jungle trail and another one by jogging track. Do you love bugs and birds? If it's a BIG yes, take the jungle trail, otherwise follow the jogging track. The bonus of exploring jungle trail is a chance for sighting of Philippine Megapode, a chicken-like bird with red face. If you are the first one entering the jungle trail in the morning, you would spot this elusive bird.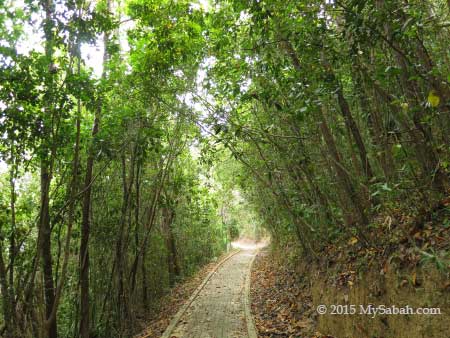 The jogging track is mostly flat path and probably accessible by wheelchair. Along the way, you would see some beautiful trees with interesting barks. The soil on Manukan is not fertile, so most trees are short and slim, with dense ferns, palms and vines growing among them. By the way, swarm of mosquitoes is present during wet season but can be none in dry month. Bring your insect repellent just in case.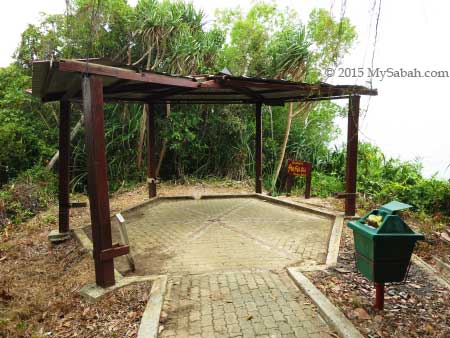 Pic: the broken shelter at Sunset Point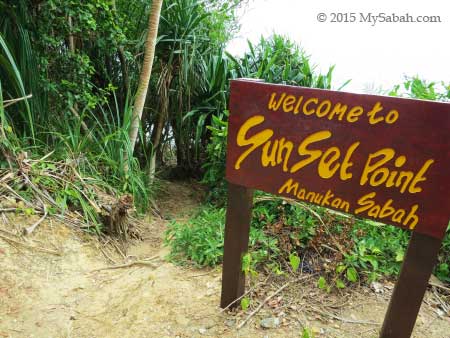 After 45 minutes, I arrived Sunset Point. I didn't even sweat because the track is well-shaded by tree canopy. Look at the photo above, do you see a narrow path at the left? Just follow that narrow route under dense Pandanus trees to descend to the beach. It's a bit steep so please proceed cautiously.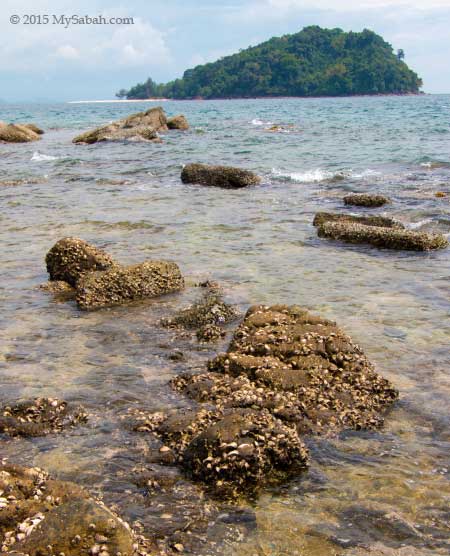 Pic: view of Sulug Island from the Sunset Point. It is a rocky shore without nice beach. The scenery is nice anyway.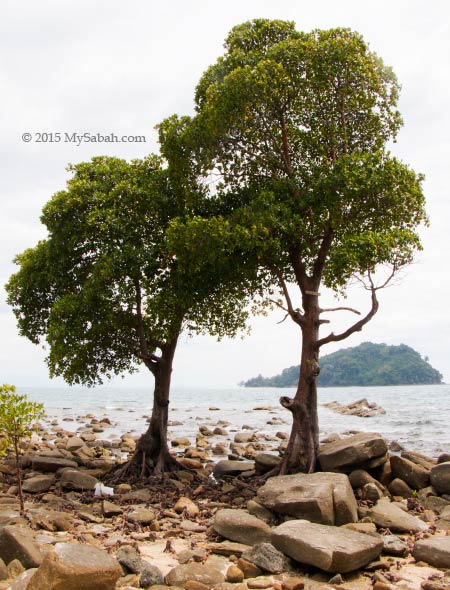 Pic: rare mangrove trees
Finally I saw the rare mangrove trees. They are locally known as Berus Mata Buaya (means "Eye of the Crocodile"). Its scientific name is Bruguiera hainesii, and only about 200 of them left in the world (mainly in Indonesia and Malaysia). I'm so happy that we have two on Manukan. I have no idea how they got here. These two trees look like a couple. Perhaps they purposely chose this sunset viewpoint as their landing spot? So romantic. There are two seedlings growing next to them. Seem like they are starting a family. Not only that, both trees were flowering and fruiting during my visit. Singaporean plant scientist Prof Dr Jean Yong said, "having the tree here is equivalent to China having pandas." I got close-up video of these trees if you want to see more.
Overall, Manukan Island is a wonderful destination. I recommend it to tourists who don't want to travel far to our east coast for island trip.
How to get there
Manukan Island (see Location Map) is a public marine park which accepts walk-in tourists. You don't need to apply a permit or book any tour package to go to Manukan Island. Return boat transfer to Manukan is readily available from 8am to 4pm at any one of the boat terminals in KK City. Please note the last boat returning to KK City departs at 4pm or 4:30pm (unless you stay in resort).
More Photos
For better and bigger photos, please check out 100 latest photos of Manukan Island in my photo album: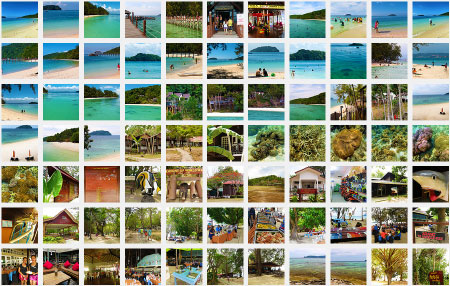 Photos taken in Kota Kinabalu, Sabah, Malaysia
You might also like: