Tag Archives:
Lahad Datu
Confucius said, "by nature we desire food and sex." Therefore, people is passionate in looking for new food as well as sex partner. LOL, ok, probably this is not what he meant, but you would agree that Malaysians never stop exploring for tasty new food. That's why we ask, almost every day, "what to eat huh?" though there are dozens of restaurants around.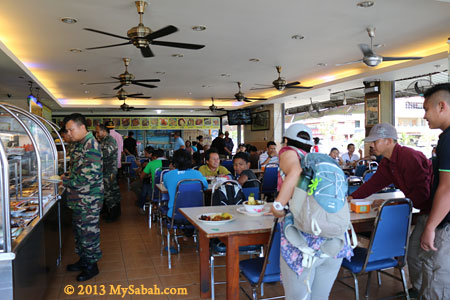 Pic: Rumpun Selera Restaurant
Besides delicious food, we are also keen to try interesting food, especially those with odd name. I bet the first time you ordered "Banana Boat" (ice-cream dessert) was because of its name. Same here when I heard the name Gear Box Soup, when I was having lunch in Rumpun Selera Restaurant in Lahad Datu last month.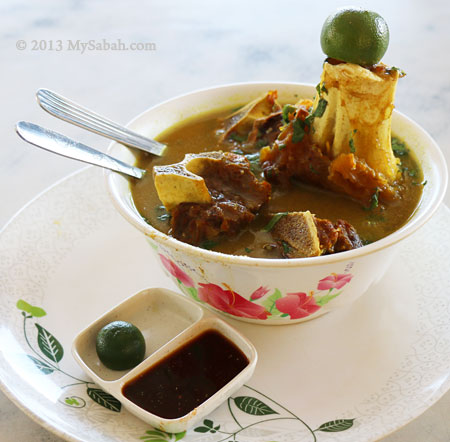 Pic: Gear Box Soup
Actually Gear Box Soup (Sup Gear Box in Malay language) are cattle bones boiled with onions and other spices in soup. Though Sup Tulang (Bone Soup) is common in Malay and Indian restaurants, Gear Box Soup is served in larger quantity and the soup nearly as creamy as stew. It costs RM10* (≈USD3) per bowl and only available in weekends (Saturday & Sunday).
*As of Dec 2013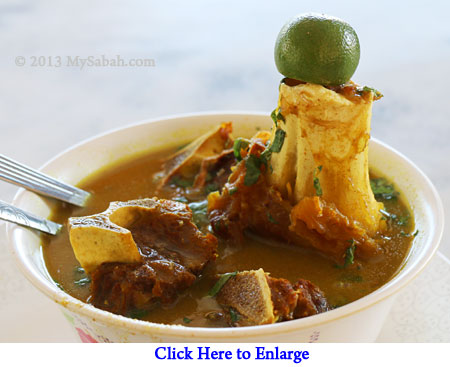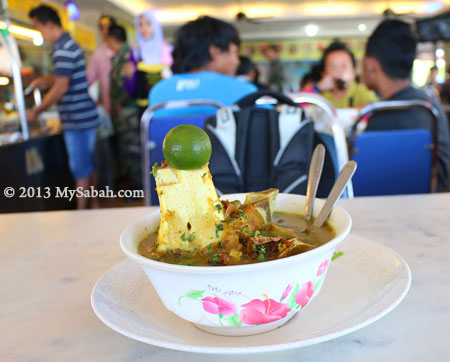 By looking at the photos above, you should know why it is called Gear Box Soup. They erect a big bone and top it with a calamansi fruit (can add its sour juice into soup like vinegar).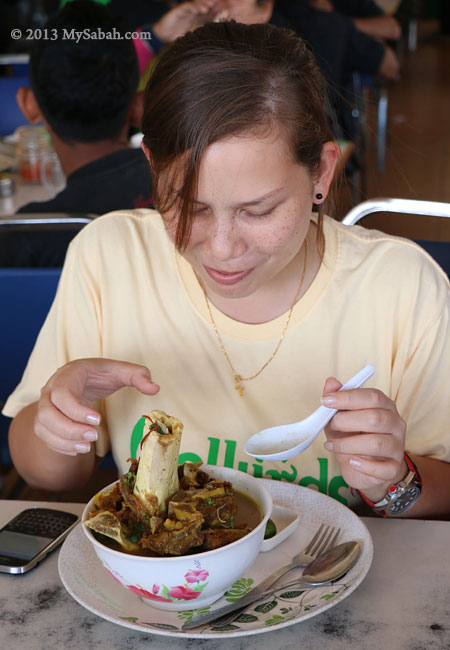 Pic: you can shift gears if you want to, lol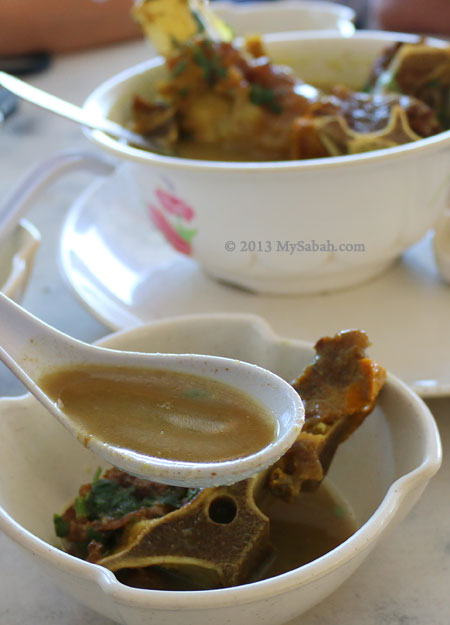 The beef soup is thicker than normal Sup Tulang. I think they don't add any MSG cubes so the price is doubled the normal price of Sup Tulang. Yes, the flavor is really rich. You can eat the meat and tendon attached on the bones, but they are a bit chewy.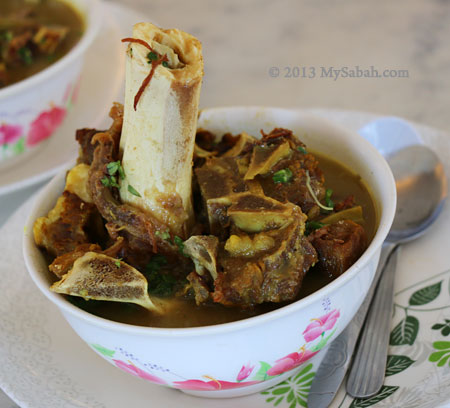 Besides the soup, another best part is to suck the juicy bone marrow out of the bones. I didn't do this because bone marrow is high in Cholesterol (why yummy food is always high in Cholesterol!!?).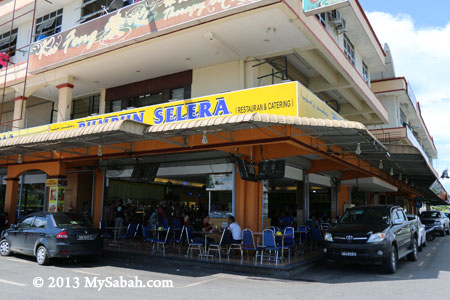 Pic: Rumpun Selera Restaurant of Lahad Datu
Below is the location and contact of the Rumpun Selera Restaurant. They open 24-hour every day. Btw, their food is halal (Muslim-friendly).
Address: Lot No.332, MDLD 7234, Sri Perdana, Phase 3, Jalan Silam, Lahad Datu, Sabah, Malaysia (see Location Map)
Mobile Phone: +60 111-9010040
E-mail: rumpunhikmah@yahoo.com.my
(Please keep in mind Gear Box Soup is only available during weekends)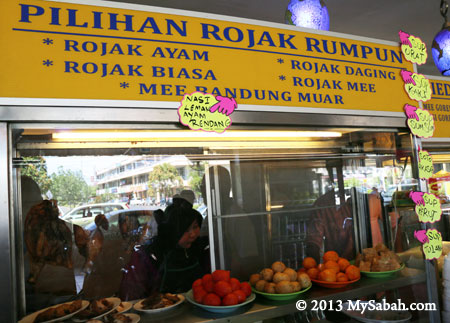 This restaurant is full of people during meal time but not all of them coming for Gear Box Soup. The restaurant serves great variety of nice food such as Rojak (Mixed fruit) and Soto (Soup Noodle).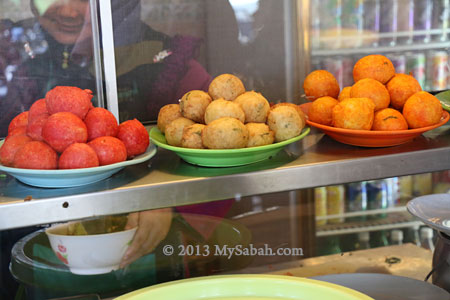 Pic: Chinese-style fritters in ball shape (for Rojak).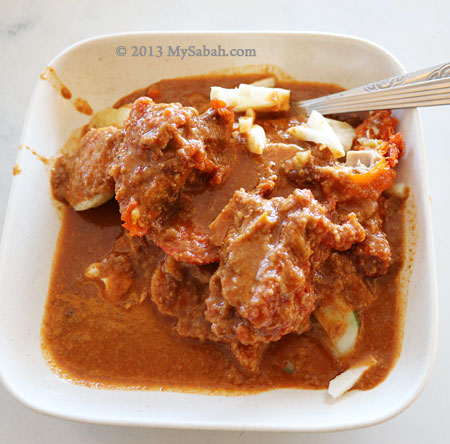 Rojak means "mixture". In Peninsular Malaysia, Rojak means different sliced fruits topped with sweet grounded peanut sauce. In Sabah, we also mix Rojak with Beef (Rojak Daging), Chicken (Rojak Ayam) and Noodle (Rojak Mee).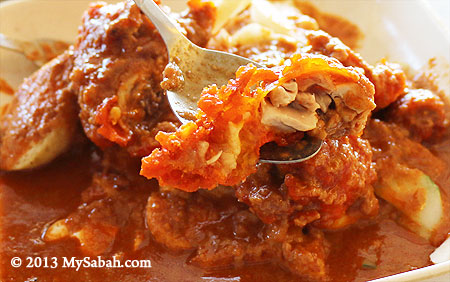 Pic: Rojak Ayam
This is my Rojak Ayam. Its photo may not look appetizing, but Rojak is one of the favorite food of Malaysians.
Now you know a new food to try out in Lahad Datu. Please share with me if you know any other interesting must-try food in Lahad Datu.
Photos taken in Lahad Datu, Sabah, Malaysia Borneo
You might also like:
Located in east coast of Sabah, Tabin Wildlife Reserve is one of the best kept lowland rainforest of Borneo. I don't want to hide the fact that most lowland of Sabah is now blanketed by oil palm. Tabin is surrounded by sea of oil palm, making it an oasis of the ecology desert (oil palm). In fact, this 112,000-hectare protected forest reserve harbors some of the rarest and endangered Bornean animals such as Pygmy Elephant, Sumatran Rhinoceros and Orangutan.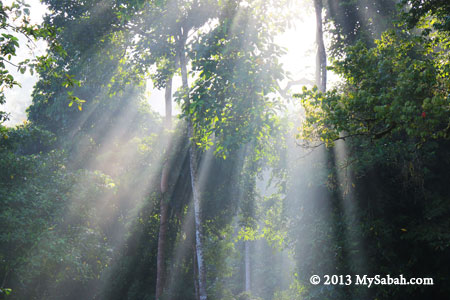 Last month I visited Tabin for 3 days. Though large part of Tabin is secondary rainforest being logged in the past, the forest regenerates really well over the decades. Tabin also has 9,000 hectares undisturbed primary forest known as the Core Area. Do you know that there are nearly 1,000 tree species in 50-hectare area of Borneo rainforest (Temperate Forest is up to 100 species only)?
Macaques
Guess what was the first animal I saw in Tabin. Can you recognise the "aliens" below?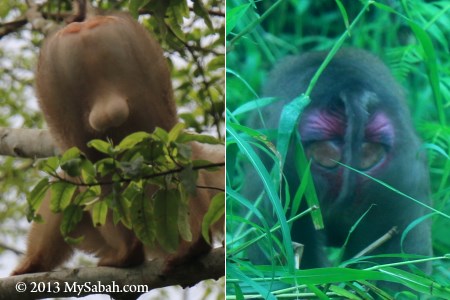 Pic: "Aliens" in Tabin
LOL they are actually the butt of pig-tailed macaques, a common but cheeky monkey. At the left is a male with its testicles, the sexy red butt at the right belongs to a female ready to mate.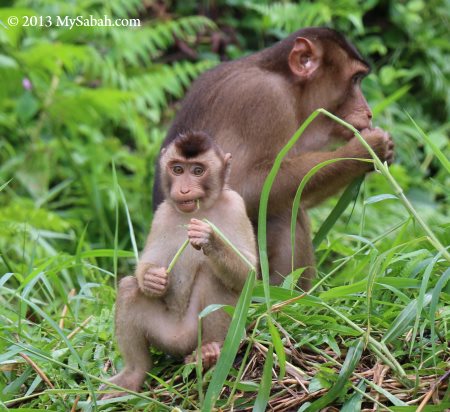 In late afternoon, you would see dozens of macaques gathering on the ground feeding, socializing and grooming one another. Tabin Resort doesn't feed them so they keep a distance from human. But you better lock the door and leave nothing outside your room, because these monkey know how to open door and ransack your stuffs.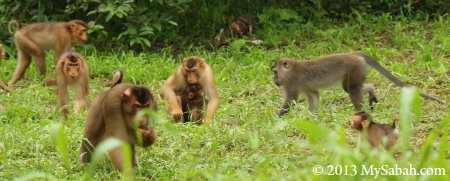 I was surprised to see a long-tailed macaque among a herd of pig-tailed macaques as if it's one of the members. Wonder if both species speak the same language.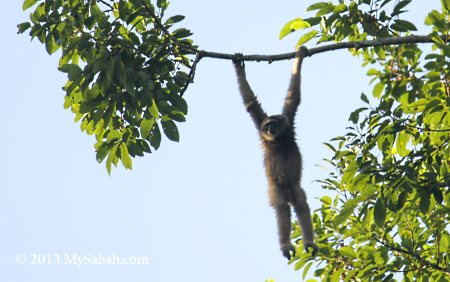 Pic: Bornean Gibbon foraging on a fruit tree. You can always hear their "whoop-whoop" loud and long call early in the morning at Tabin.
There are 9 primate species in Tabin, but gorilla isn't on the list (though the movie says King Kong is from Borneo). The most famous primate here is Orangutan. Tabin is one of the releasing spots for rehabilitated orphan orangutan from Sepilok. To ensure they can survive in the wild, rangers will track and evaluate the new comers for 2 weeks.
Tabin Wildlife Resort
Tabin Wildlife Resort is the only accommodation and tour operator in Tabin Wildlife Reserve. To visit Tabin, you can book a full board tour package with them (Accommodation, meals, transport, activities and guide services are included). They also offer special tours such as bird-watching and frog camp. Please note walk-in tourist might not be entertained.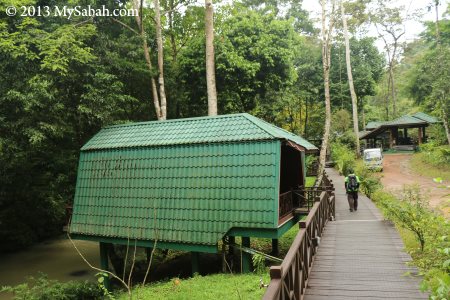 Pic: River Lodge of Tabin Resort
After an hour of bumpy ride on 44-Kilometres of unsealed road from Lahad Datu town, I checked-in to River Lodge of Tabin Resort around noon. River Lodge is just next to Lipad River and you would see foraging animals at the river bank sometimes.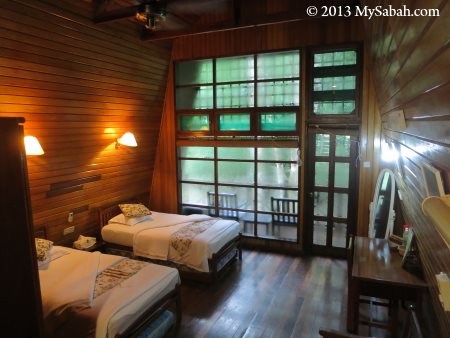 The chalet looks small from outside, but the room is really spacious and completed with attached bathroom/toilet, private balcony, air conditioner, ceiling fan and hot water shower. The accommodation is comfortable and electricity supply is available 24×7. I'm happy.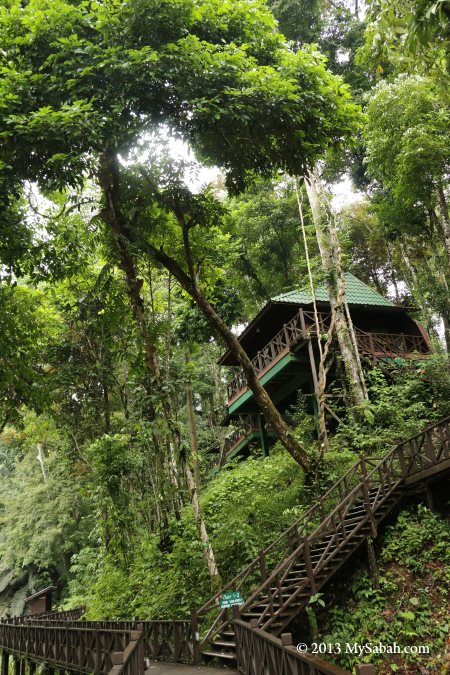 Pic: Hill Lodge of Tabin Resort
For honeymooners, Hill Lodge offers more luxurious and private space, so nobody can hear what you both busy doing in your room. I think it's great for family too.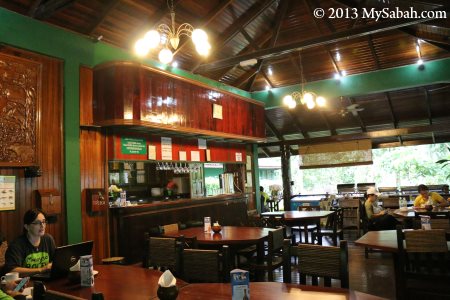 Pic: Sunbird Cafe of Tabin Resort
Sunbird Cafe is where I have my buffet meals (and free flow of coffee) and it is the gathering point for all activities. The cafe has Wifi so you can check your Facebook, but the line would be slow if too many guests are sharing the connection.
Dusk Drive & Night Safari
Compared to my jungle trips in other places of Sabah, the activities at Tabin are really leisure, nothing made me gasping for air there. But I sweated a lot, as rainforest is warm and humid, when the dense trees trap the heat and moisture under their canopy during daytime.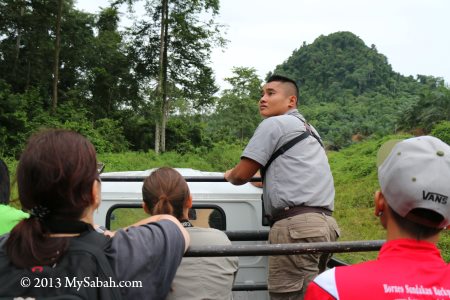 We started our Dusk Drive at 5pm. Unlike Africa, where you can see hundred of animals on open grassland. In Borneo, you need to look quite hard for the animals hiding among the dense wood. Luckily, the guide does the job for us. A napping monitor lizard high on a tree set off the excitement.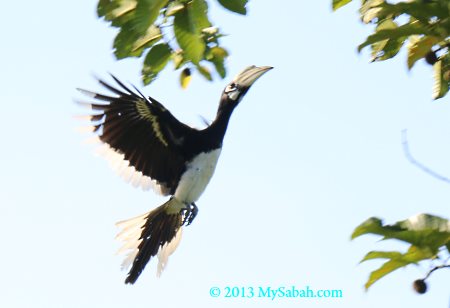 As the habitat of about 260 lowland bird species (FYI, oil palm estate only hosts 9 to 12 species), Tabin is a favorite destination of bird-watchers. Out of 8 hornbill species in Tabin, I saw 4 of them (Oriental Pied Hornbill, Rhinoceros Hornbill, Wrinkled Hornbill and Bushy-crested Hornbill) during my stay. If you are a hardcore birder, they will bring you to Core Area (virgin forest) to look for Blue-headed Pitta and Blue-Banded Pitta, which are endemic to Borneo.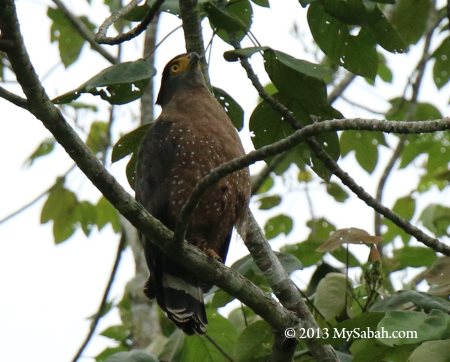 Pic: Crested-serpent eagle is the most common eagle here. We also spotted Wallace's Hawk-eagle and Changeable Hawk-eagle.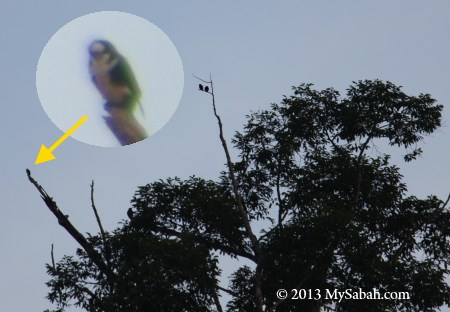 Pic: Bornean Falconet
The highlight is Bornean Falconet (a.k.a. White-fronted Falconet), which is endemic to Sabah and the smallest raptor in the world (about the size of a palm). There was a group of three perching on a tree very far away from us. Fortunately, our guide let us to have a better look with his high-power telescope. I tried to photograph them through the scope but the photo was blur, well. 🙁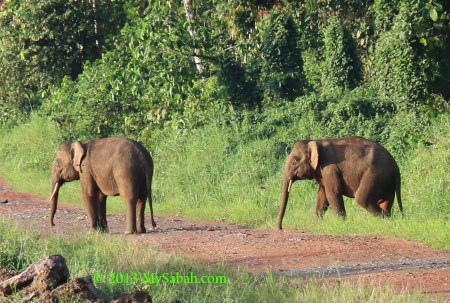 Then we heard a loud roar from the elephants deep in the forest beside us. "It was a mother calling its calf", our guide said. Though there are 200 to 300 elephants in Tabin, sighting of them is not guaranteed. We waited there for over 15 minutes but no sign of them coming near. When I almost gave up, two Bornean pygmy elephants emerged from the wood behind our truck! After wandering on the gravel road for a while, both of them headed to a neighboring plantation for juicy young shots of oil palm. Somehow this smart mammal figures out the time when electrical fence is being turned off lol.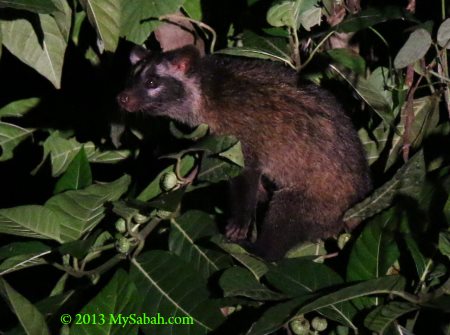 The daylight was out soon and lot of fireflies flickering on the trees, but we didn't stop the fun drive. On the way back to resort, our guide turned on the spotlight and here we went for a night safari. Besides a pair of sleeping Rhinoceros Hornbill on the tree, we saw other nocturnal animals such as Common Palm Civet and Leopard Cats. We were also watching a red giant flying squirrel took off from a branch, it could glide 100 Metres from tree to tree, we were told.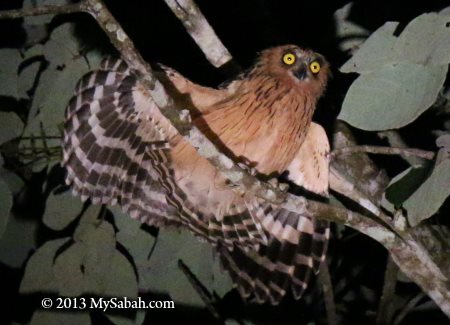 Pic: a Buffy Fish Owl. A Brown Wood Owl was nearby too.
Night Walk
Dusk drive is cool but it would be more thrilling to walk around and search for other forest dwellers in the dark. After dinner, everyone grabbed a flashlight and explored deep in the jungle. We pointed our light to the shrubs, tree top, forest ground, tree bark, etc. and came across something interesting.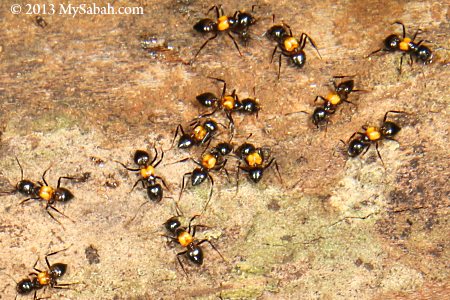 Pic: Crematogaster inflata, these ants look like carrying a "gold" knapsack, which is the enlarged metapleural gland that can secrete whitish defensive fluid and their bites are very itchy. Thank you Arthur Chung for the ID.
A single tree of Borneo can house 1,000 insect species. There are at least 50,000 insect species in Tabin, which is enough for you to explore for a lifetime.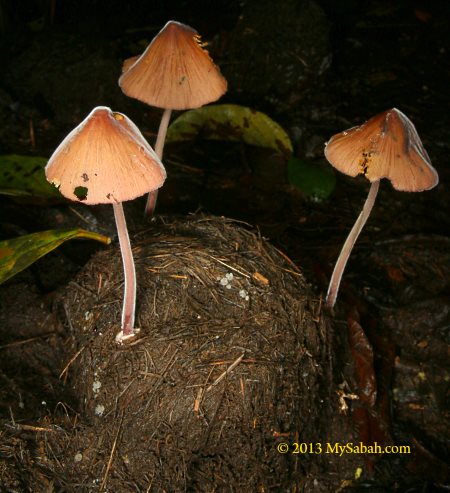 Pic: mushroom growing on an elephant dung. Everything in rainforest is recycled and exist for a reason.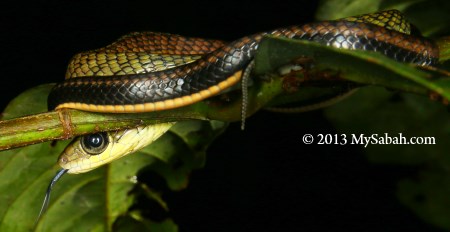 Pic: a small snake waiting quietly for its prey.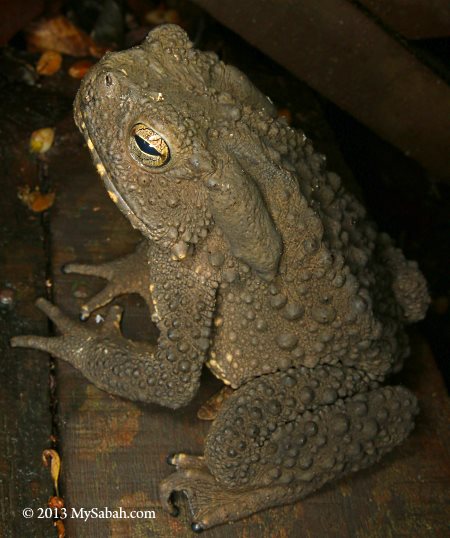 Pic: a giant river toad covered with irregular bumps. The big glands behind its eyes secrete poisonous fluid so don't touch it!
Lipad Mud Volcano
The next morning we went to the Lipad Mud Volcano, something that makes Tabin special. The jungle trail to the mud volcano is 700 Metres and requires only 20 minutes trekking. We saw some fresh and old elephant dungs along the way, an evidence that elephants frequent this area. Anyway, I only found a tiny mouse deer and a few forest leeches.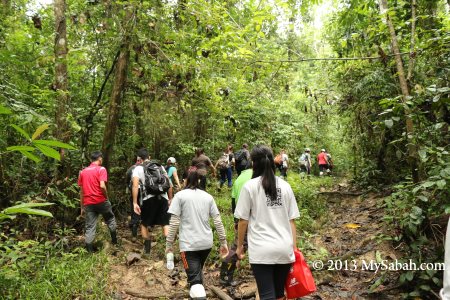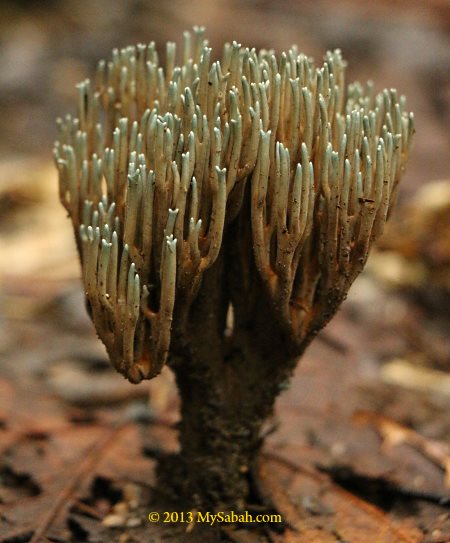 Pic: a coral fungus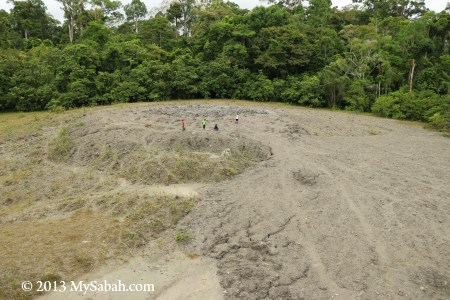 Pic: the Lipad Mud Volcano is as big as a football field and it is still growing. This might be the largest mud volcano of Borneo. Can you spot the tiny people in the photo?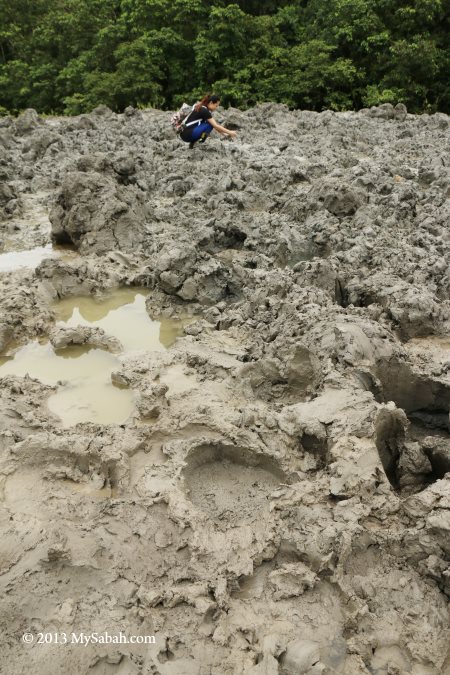 Pic: elephant tracks at mud volcano
Animals love mud volcano as it is rich in sodium and calcium, the vital minerals that are not readily available in their normal diet. That's why this is a good spot for wildlife sighting, as animals come here regularly for "salt lick" in late afternoon.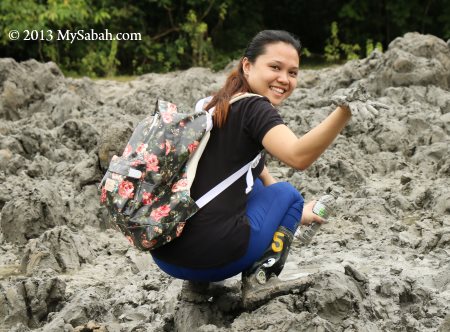 We love mud volcano too, not for salt lick but for skin care. Some says the mud is really good for skin so we collect some for facial SPA later.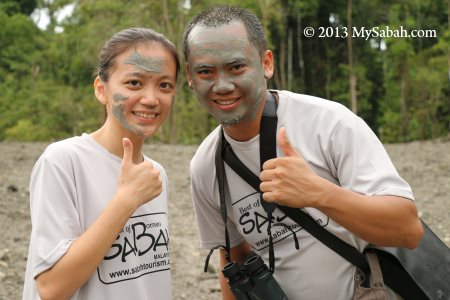 Some prefers to enjoy the muddy face mask on the spot.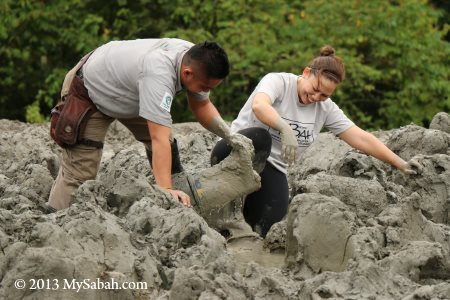 However, the outer ring of mud volcano is dry mud mixed with coarse sand. To collect the finest and silky wet mud, you have to go to the sources located in the centre, where you can see fresh mud burping and bubbling up from the ground. The mud in centre is deep and soft, so your shoes would be trapped in it. Some even lost their pant here (yes, that happened before).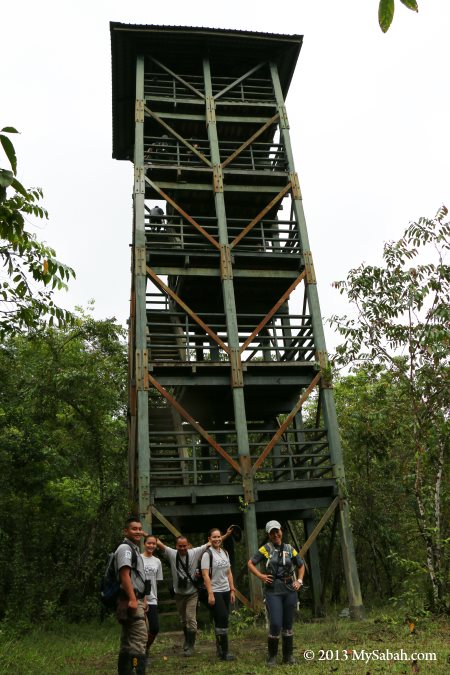 Pic: the 5-storey observation tower next to the mud volcano. You can overnight there for more animal sighting.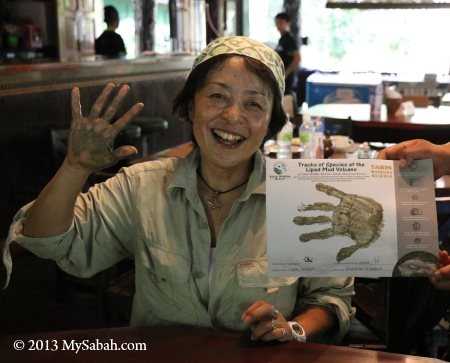 Pic: making handprint certificate with volcano mud.
Lipad Waterfall
After getting ourselves dirty in mud volcano, we got on our truck and moved to Lipad Waterfall. The nature trail to the waterfall is only 400 Metres but we needed to cross a river as deep as our waist level.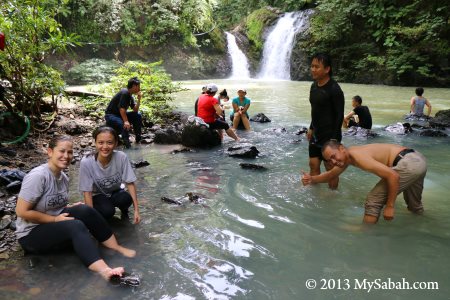 Because of the heavy rain the night before, the water looked a bit murky, but it was clean and cooling. We washed away our mud at the river and took a dip in the waterfall pool.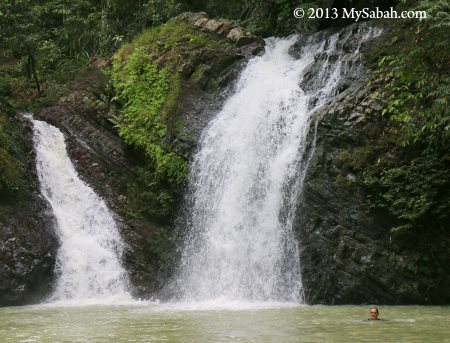 Pic: Lipad Waterfall, pristine and unpolluted.
Other Activities
There are more things to do in Tabin. Just to list a few here.
You may check out the exhibition in Trogon Hall gallery, where they display some photographs and information of Borneo bio-diversity.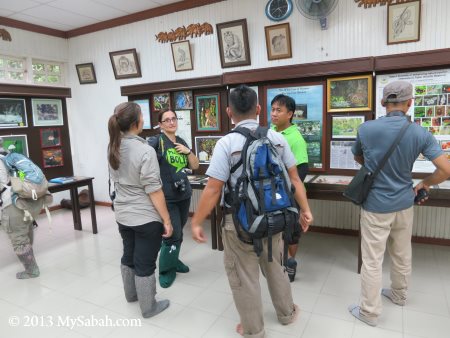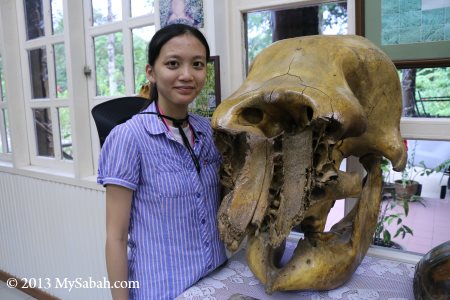 Pic: elephant skull in the Gallery
After a long day of trekking, it's time to relax your tired feet by trying out the Rainforest Foot Soak at Eagle's Nest. Various traditional tropical herb and plants (e.g. Kaffir lime leaf, Aloe Vera, Lemongrass, Betel Leaf, Pandanus Leaf, Galangal, Tumeric) are put in the hot water, and you can rub your feet against the smooth pebbles at bottom.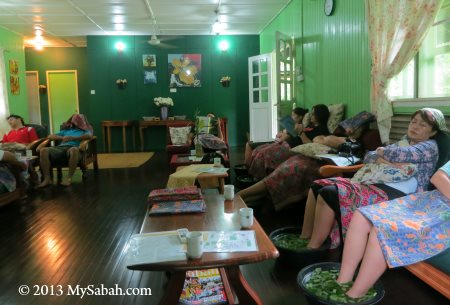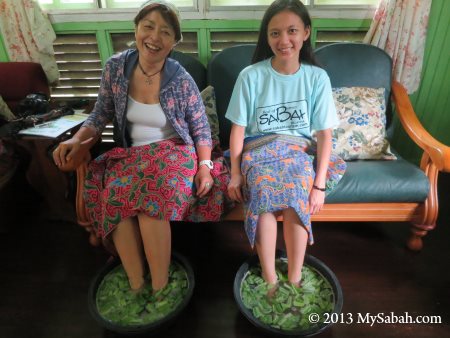 So that's my Tabin trip. You can see that our rainforest is an eco-treasure worths protecting and preserving. The good news is – Sabah government and NGOs are working together to connect all the isolated forest of Sabah, so wildlife can migrate freely among them for food and mates. In future, Tabin forest reserve will be part of the Heart of Borneo.
More Photos
Photos taken in Lahad Datu, Sabah, Malaysia Borneo
You might also like: