Tag Archives:
Kuala Penyu
Whenever you visit a new place in Sabah, especially in countryside, ask the locals. They would share some interesting stories or legend about their village. For Kampung Tempurong (Tempurong Village) in Kuala Penyu, I was excited to know this village has a healing well that still exists.
Kampung Tempurong is about 15 KM away from Kuala Penyu town, and the healing well is next to Jalan Kekapor – Temporong. Its GPS Coordinates is 5.529614, 115.533864 (see Location Map or Street View).
When the village was hit by drought about a hundred years ago, an Arabian prophet came and asked the villagers to dig a well at this location. This well provided enough fresh water for the whole village.
The well never dries up even during drought season. Even if people emptied the well, it would be filled with water again in next day. The villagers had been using this well before tap water is available.
The people also believe that by drinking or taking shower with water from this well, any sickness will be healed. A local said a villager cured his children who were used to have asthma with water from this well.
The Healing Well is accessible by public and not fenced, so anyone can go there to collect water as they wish. Just be respectful and keep the area clean.
I was told that I can drink the water from this well unboiled. To be honest, the water is murky, so I didn't dare to try. Probably next time.
Even the origin of the name of Kampung Tempurong has a story. The village of "Tempurong" (means Coconut Shell in Malay words) was initially called Tanah Merah (means Red Soil literally). In 1800s, a villager found a coconut shell at the seashore, and it's engraved with holy verses of the Al-Quran. The village took it as a sign from God and unanimously agreed to change the name of the village to Tempurong, because they believed this would bring good fortune to the villagers. This place is really blessed by Allah, I think.
Photos taken in Kuala Penyu, Sabah, Malaysia Borneo
You might also like:
I'm so happy to come back to Sands Spit Island again. In my first visit, I said Sands Spit Island had one of the Most Beautiful Beaches of Sabah . After one year, I still say the same.
Sands Spit Island (Pulau Kalampunian Besar in Malay language) is a small island between Snake Island and Survivor Island of famous Pulau Tiga Islands Park. It was used to be a sand bar without any vegetation. Today it has grown so big that nobody thinks it's only a sand bar.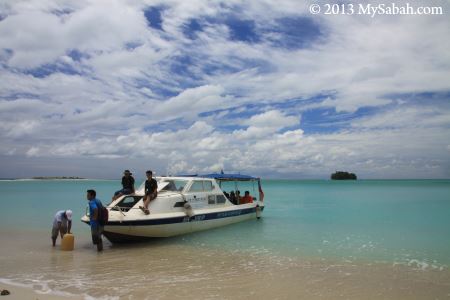 Pic: landing on Sands Spit Island, the island far behind is Snake Island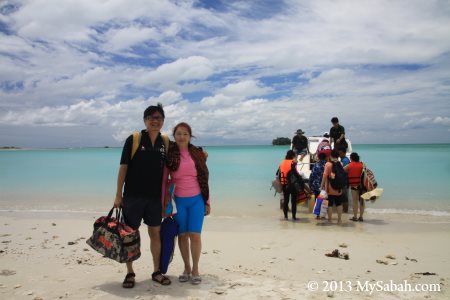 Pic: thanks to Edward and Candy (from Borneo Starcruise) for bringing me here.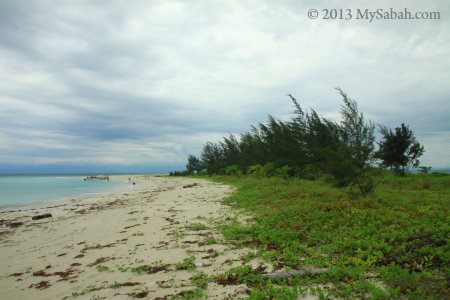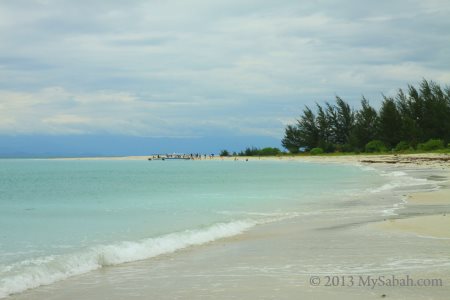 The long sandy beach of Sands Spit Island stretches over one Kilometer. The beach is so pristine and nearly 100% paved by white sand, the dust of heaven. Some gives this island another nickname "Long Beach Island" (which is more marketable).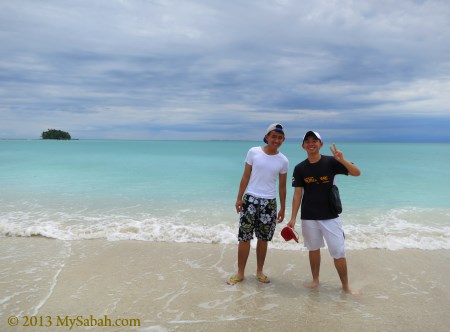 The water here is also crystal clear and shallow, very suitable for swimming and snorkeling.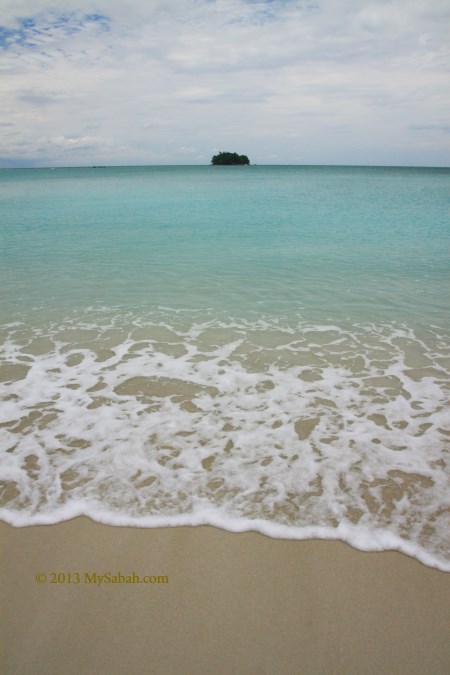 Sands Spit Island is isolated from civilization, so you are cut off from any interruption such as Internet. It is a great place for family to have a "pure" vacation, as parents won't be "phubbed" by their children who are busy looking at their smartphone, LOL.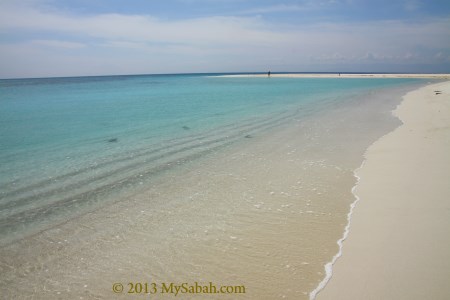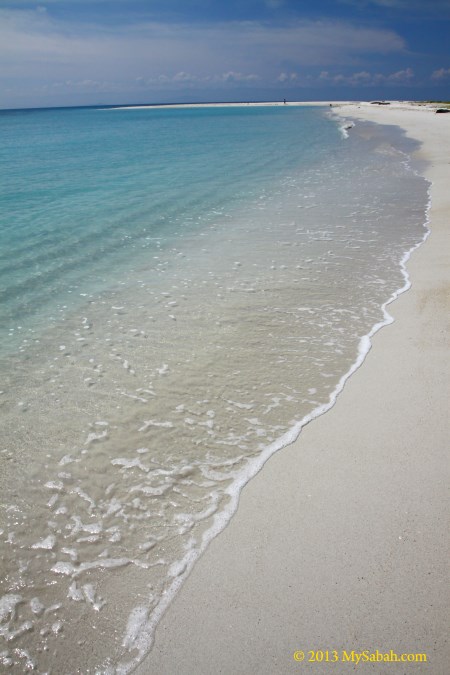 More and more travel agents know the beauty of Sands Spit Island and introduce it to their customers. If you visit Pulau Tiga Island, you must drop by this island.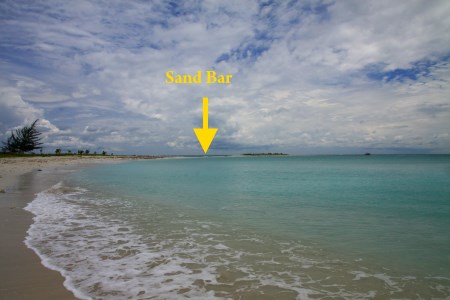 In my second visit, I decided to explore the far end of the Sands Spit Island to see what's there.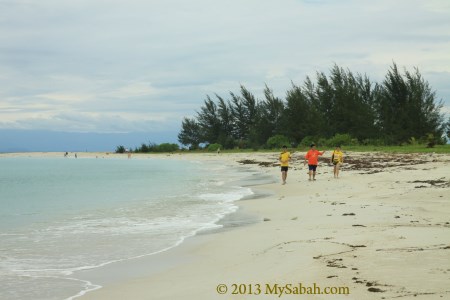 There were a few busybodies joining me too. 🙂 There were some tiny sandflies around this area. Just stay nearer to the sea to avoid them.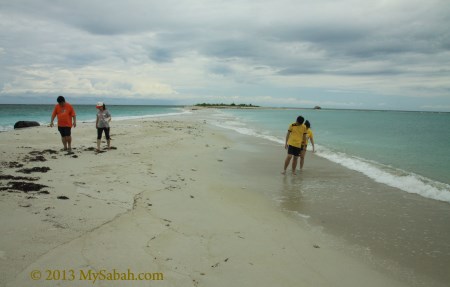 Pic: there is a narrow sand bar connecting to a small island far away.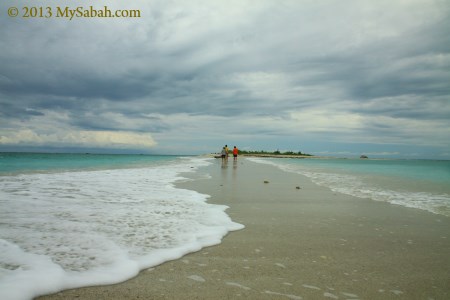 During low tide, you can walk over to another island.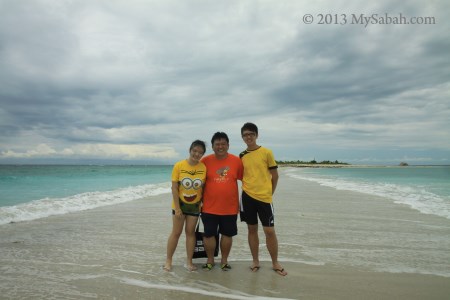 It's kind of fun to stand in the middle where sea waves washing from both sides.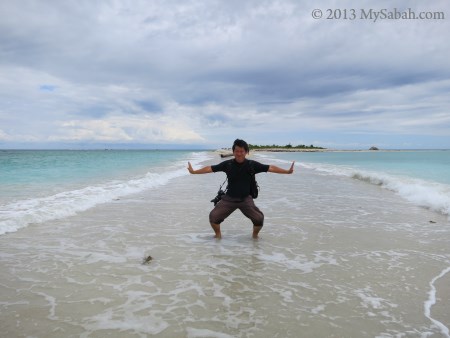 Look mom! I can split the sea like Moses.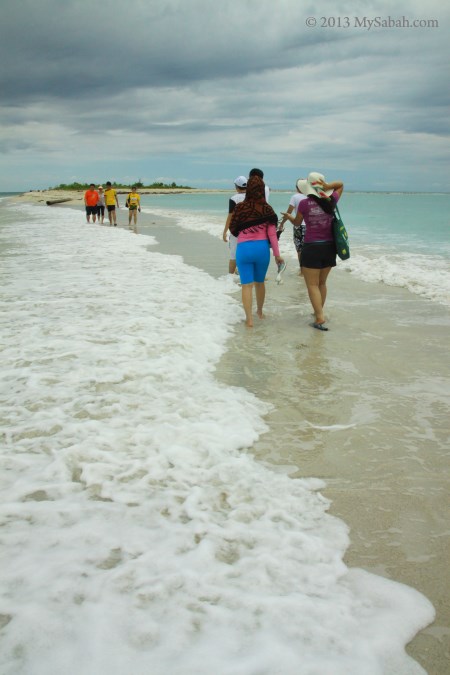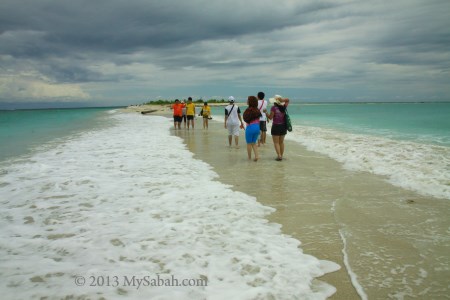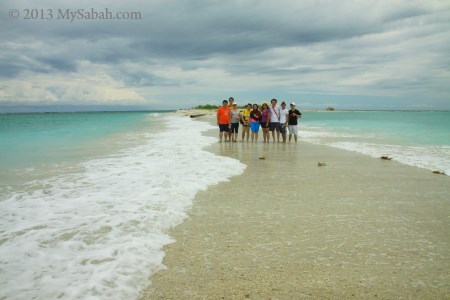 Two families met and took a group photo.
You may watch the short video below to see the waves in motion: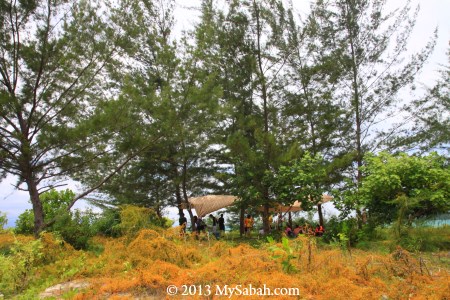 After swimming and walking, we rested under the shade of the trees.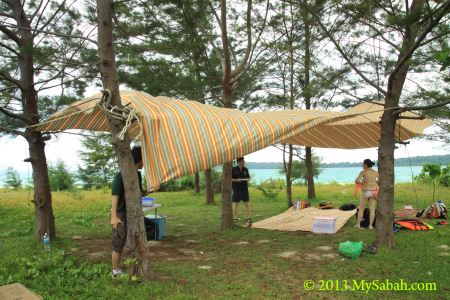 There is no man-made structure on this island, so Edward set up a canvas shelter and picnic area.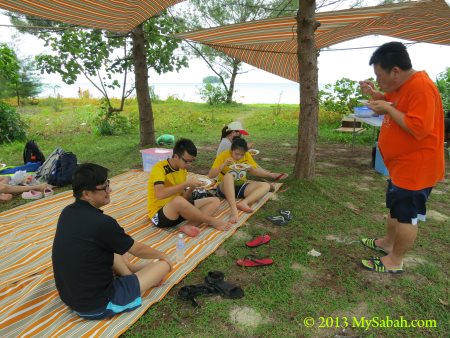 We had our lunch (fried noodle, fried egg, curry chicken, meat dumpling) on the island. The food tasted so good after we had some activities. Tourists from other group even asked us if the food was for sale.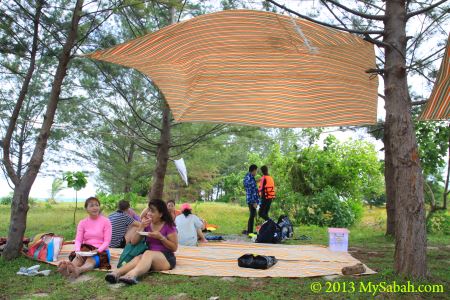 Pic: enjoying meal in sea breeze of Sands Spit Island.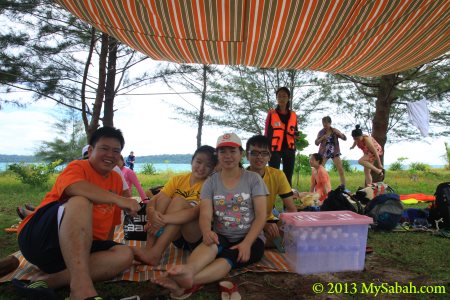 Everyone is happy. It just can't get any better.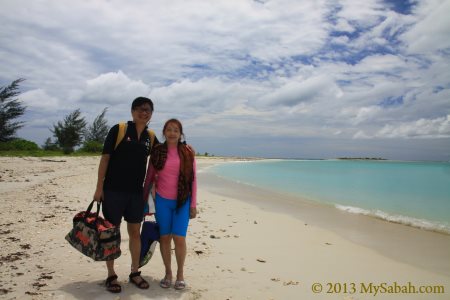 Too bad we had to leave at last, but we can always come back.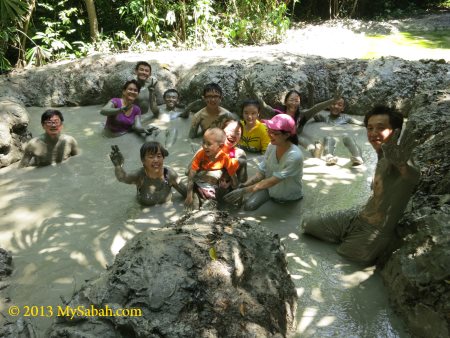 The fun hasn't ended yet. Edward brought us for a Mud Volcano SPA on Pulau Tiga Island (Survivor Island) nearby.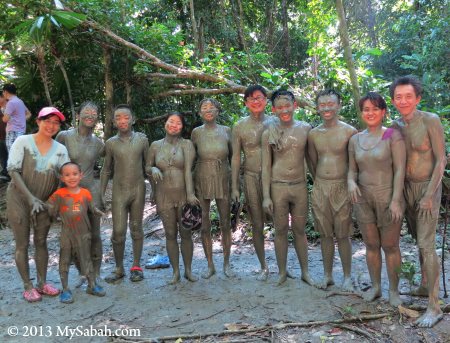 We got all dirty after the mud bath. Now we had excuse to go to the beach again.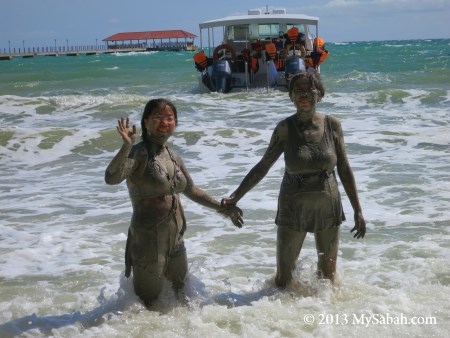 Pic: washing ourselves in the sea
If you would like to have fun like us on Sands Spit Island, you may book a tour with Borneo Starcruise.
More Photos
Related Posts
Pulau Tiga, the Survivor Island
Snake Island and Sands Spit Island
Photos taken in Kuala Penyu, Sabah, Malaysia Borneo
You might also like: