Tag Archives:
Kota Belud
Fishing is FUN! I don't understand why women never like it. So, for man who wants to get rid of his "sticky" girlfriend, just say you go fishing then she won't follow you like a Remora (suckerfish), wahaha!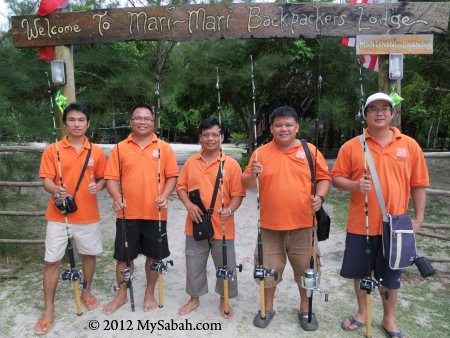 Fishing can be an addictive hobby, and you won't be short of male companion to join you. During our trip to Mantanani, the Mermaid Island, the guys thought it's probably a good idea to fish for "mermaid". Ta-da!!! An angler team (men only of course) was formed in minutes and we couldn't wait to start.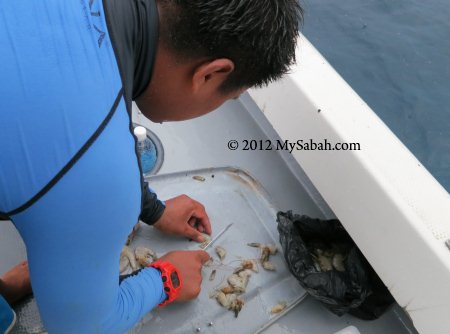 Pic: preparing fish bait (shrimp and squid)
You can book a fishing trip with tour operator of Mantanani Island. The cost for a 3-hour fishing trip is RM150 (≈USD50) per person. A fiberglass small boat will bring you to a few coral reef areas near Mantanani, where the reef fishes concentrated.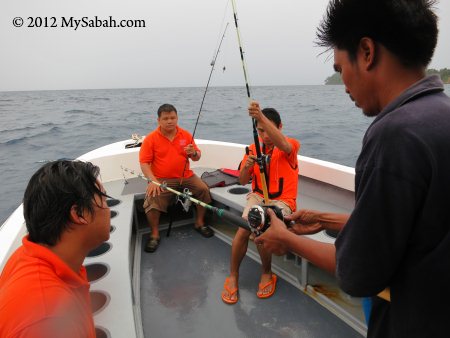 Pic: 101 crash course on fishing
The boat provided everything from fish bait to fishing rod. They even taught me how to fish. The weather was not good, the sea was rough and it rained. However, it didn't put off the passion of enthusiastic anglers like us. Six of us released the fishing lines at both side of the boat and waited quietly.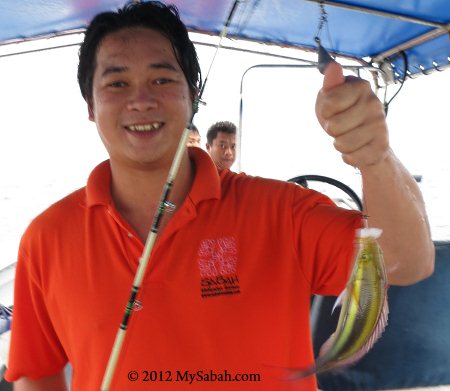 It didn't take a long time to hook our first caught.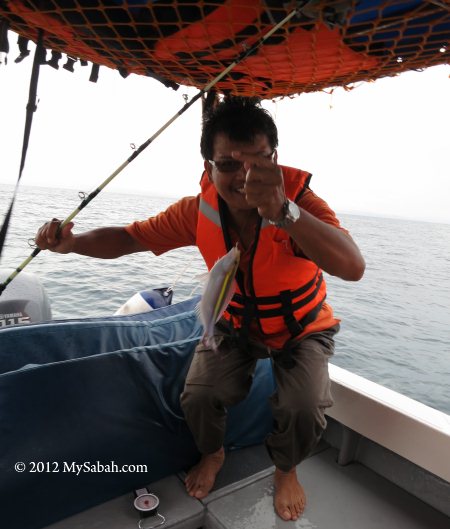 Shortly, we got another fish. Half of our caught were scad fishes.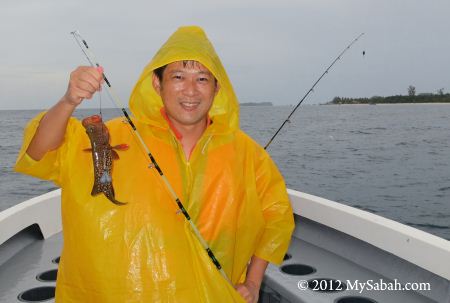 I also got a grouper. Everyone caught something and we had a great time. We changed fishing location around the island 4 or 5 times.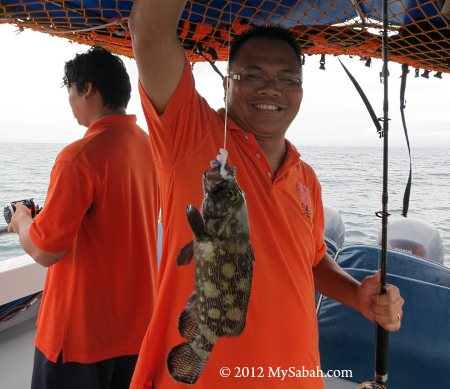 Pic: the caught of the day by Jul, it's a grouper weight nearly 1 KG.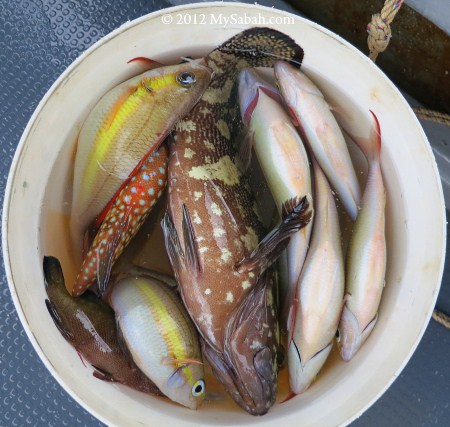 Our bucket was full of fishes!
Below is a 30-sec video of our fishing trip:

Click Here for bigger video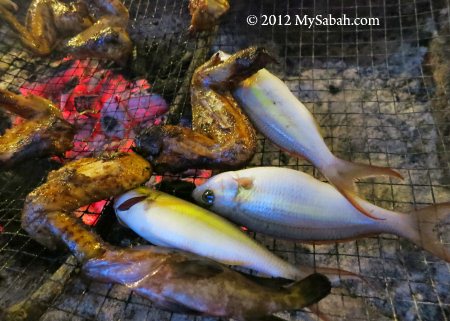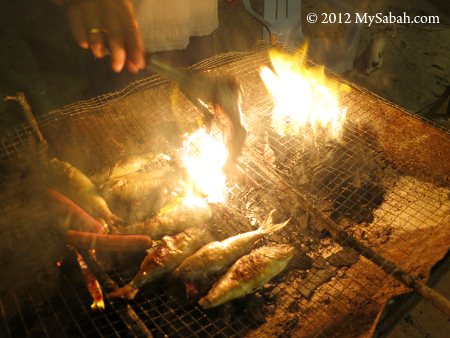 We headed back to our lodge, Sayang-Sayang, just in time for our dinner, so we barbecued the small fishes. For the bigger fishes, we steamed them.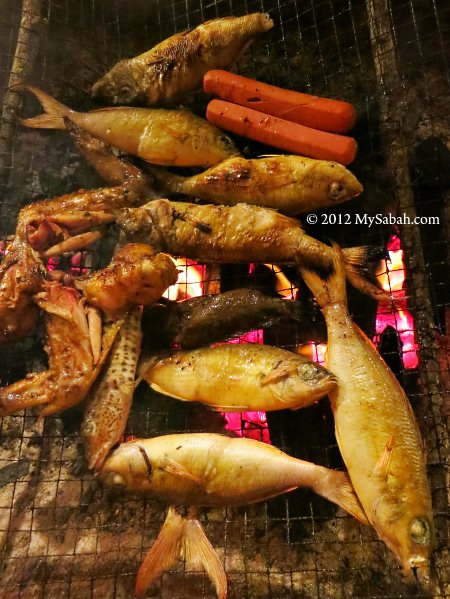 The BBQ fishes are almost ready. Our mouth was watering.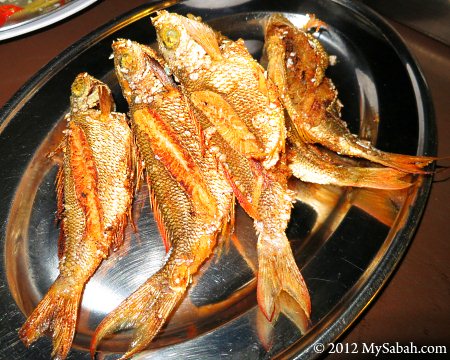 Pic: the crispy BBQ fishes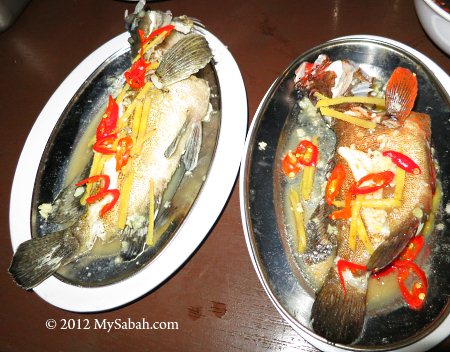 Fresh fishes taste best if steamed. It felt great to eat the fishes we caught than those we bought from fish market.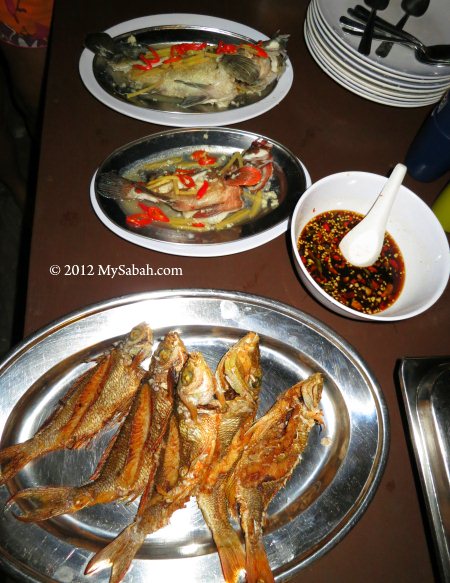 Dip the fish meat into sauce made of small chili, lime juice and soy sauce, and you can taste the heaven, the Sabahan style.
Photos taken in Kota Belud, Sabah, Malaysia Borneo
Mantanani, the Mermaid Island of Sabah has become one of the favorite island destinations of tourists. Instead of day trip, many tourists want to spend a night or two on the lovely island. FYI, there are two budget accommodation on Mantanani Besar Island, namely Mari-Mari Backpackers Lodge and Sayang-Sayang Hostel. Both are managed by Traverse Tours and just next to each other.
Below is the location map of both island accommodation:

View My Sabah Map in a larger map
Please note you need to book the tour package to Mantanani Island in advance. Walk-in tourist may not be entertained. Just contact Traverse Tours for info.
1. Mari-Mari Backpackers Lodge
Tourists love Mari-Mari Backpackers Lodge because of its exotic design. The roof of each wooden lodge is covered with palm leaves, making it looks like a hut of a native tribe.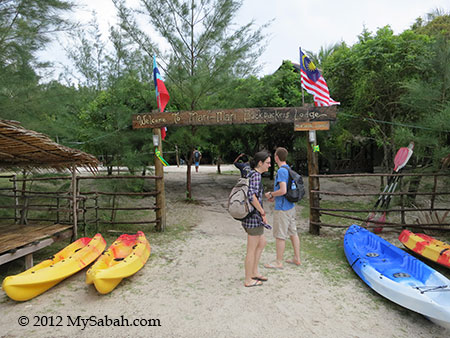 Pic: the entrance of Mari-Mari Backpackers Lodge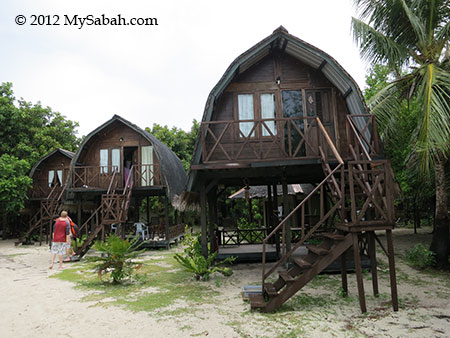 Pic: don't you want to stay in this lodge?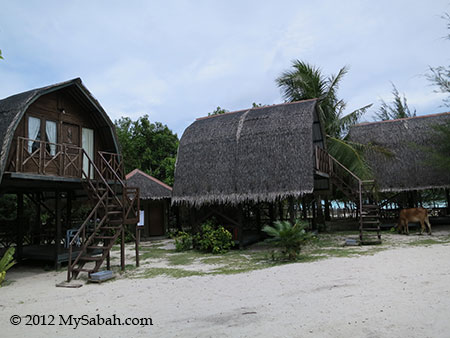 There are two types of room in Mari-Mari Backpackers Lodge (Online Booking available):
1) Standard Room (5 houses)
Each room can host maximum 4 guests. Mattress only and without attached toilet/bathroom.
Rate per head per night: RM85* (≈USD26)
2) Deluxe Room (7 houses)
Each room can host 2 to 3 guests. Single or Twin queen/king size bed. With attached toilet/bathroom.
Rate per head per night: RM120* (≈USD36)
*room rate as of Sep 2012. Note the rate is per head.
Below are more photos of Mari-Mari Backpackers Lodge.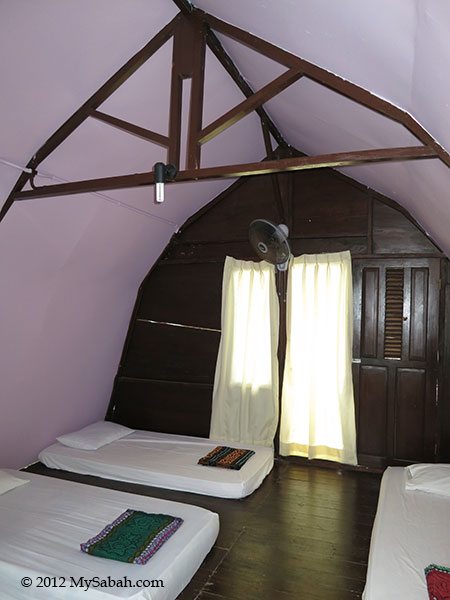 Pic: standard room of Mari-Mari Backpackers Lodge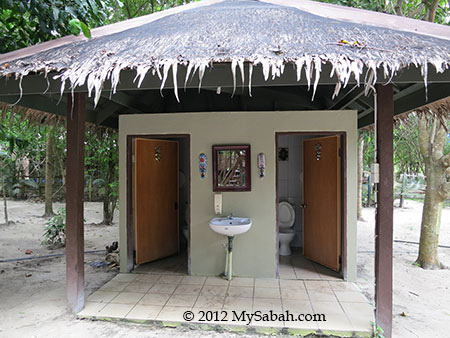 Pic: common bathroom of standard room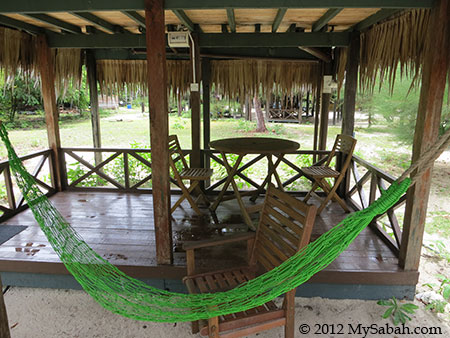 Pic: resting area under the lodge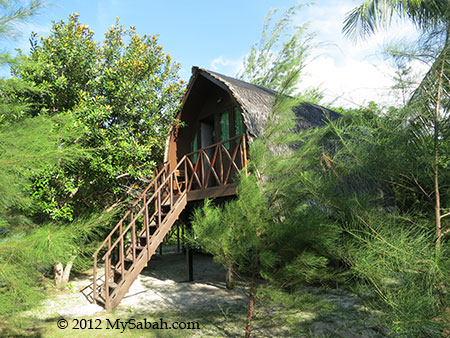 Pic: deluxe room of Mari-Mari Backpackers Lodge is slightly further with more privacy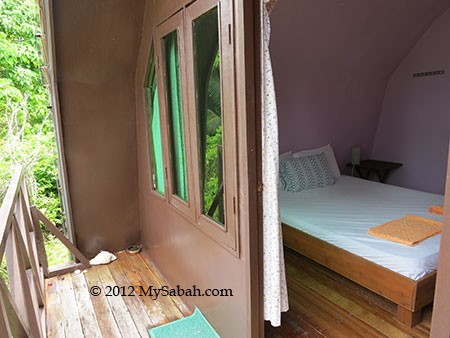 Pic: deluxe room of Mari-Mari Backpackers Lodge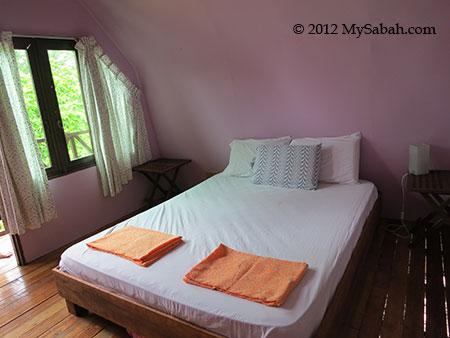 Pic: bed of deluxe room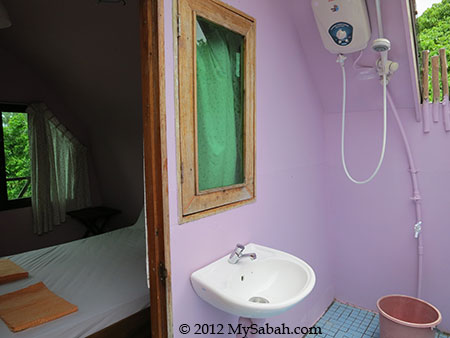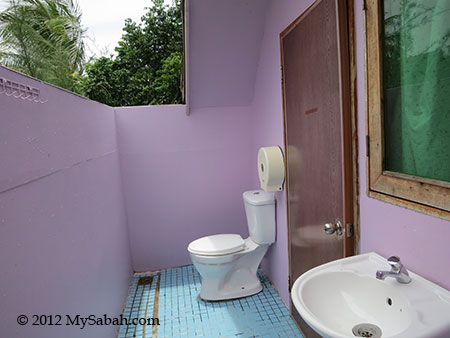 Pic: attached bathroom + toilet of deluxe room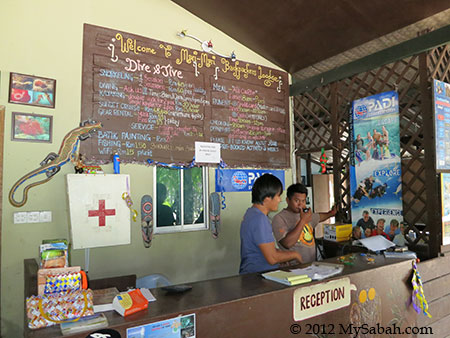 Pic: reception counter of Mari-Mari Backpackers Lodge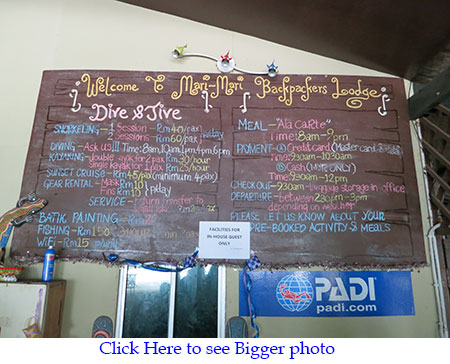 Pic: list of services and rates. You may click the photo above to zoom in.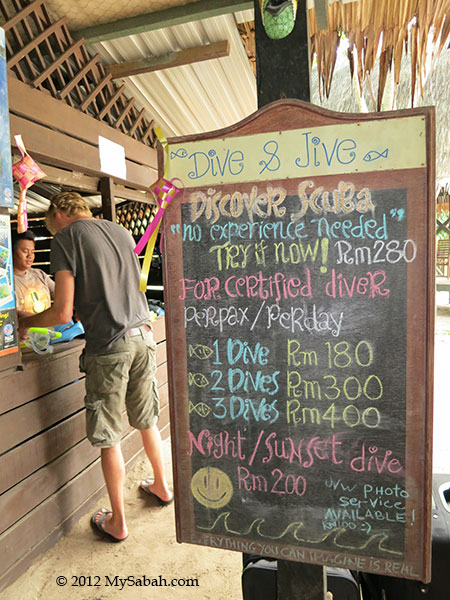 Pic: diving packages of Mari-Mari Backpackers Lodge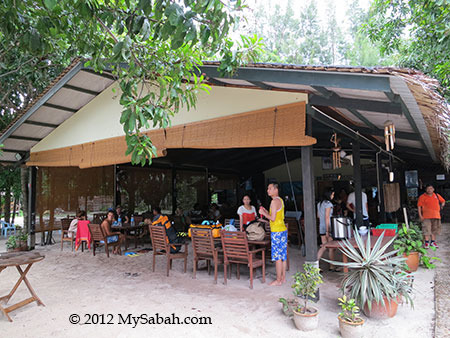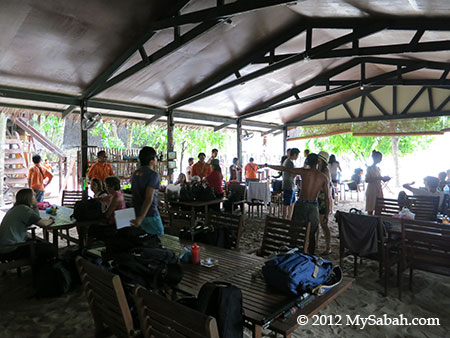 Pic: dining hall of Mari-Mari Backpackers Lodge. They have Wifi here but it's not free.
The cafe is open from 8am to 9pm daily. The tour package is not full board, so you may need to buy meal here. They have variety of Asian and Western food such as salad, lamb/chicken chop, sandwich, snack, pasta, American breakfast, BBQ and fried rice/noodle. The price ranges from RM12 to 20 in average (≈USD3.60 to USD6).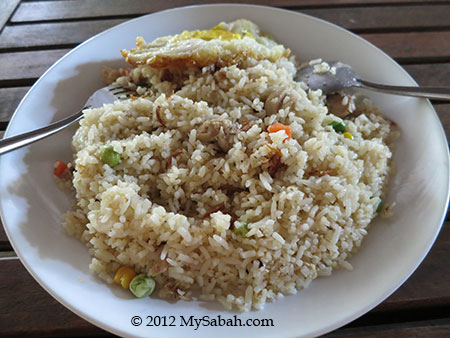 Pic: fried rice with egg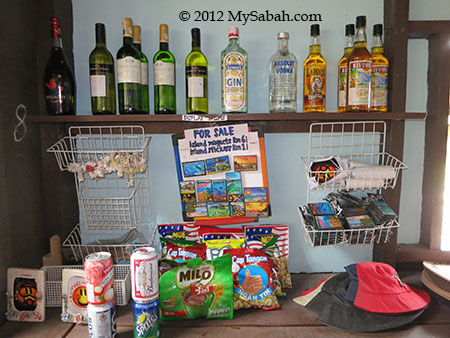 Pic: souvenir shop where you can buy snack, soft drink and alcohol.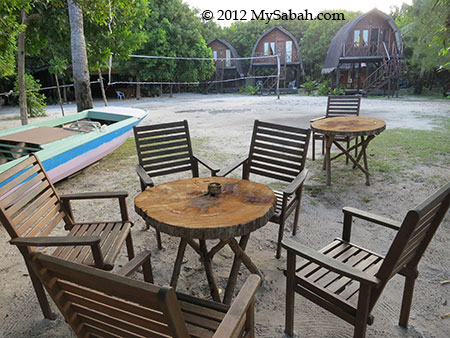 Pic: volleyball field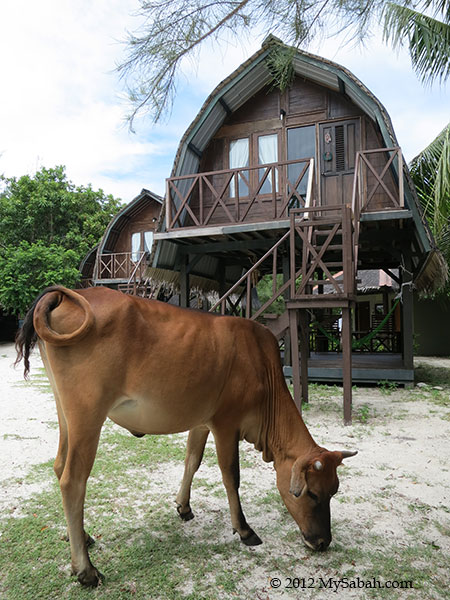 Pic: the cow from nearby village sometimes wandering around the lodge.
2. Sayang-Sayang Hostel
Sayang-Sayang Hostel is a new and cheaper accommodation less than 10 Meters away from Mari-Mari Backpackers Lodge.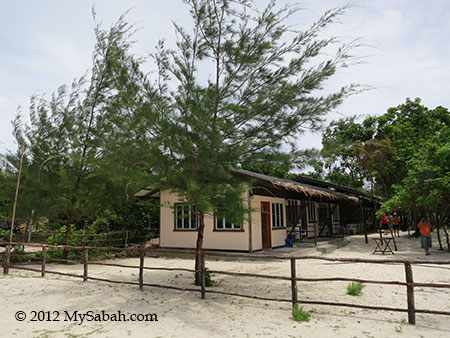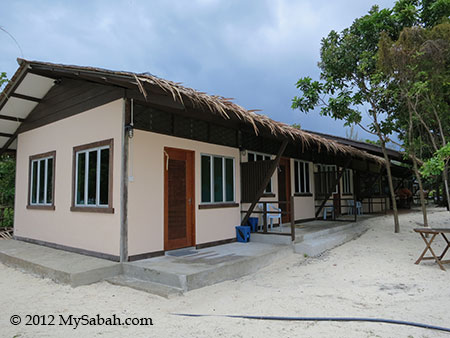 Pic: Sayang-Sayang Hostel
Sayang-Sayang Hostel has 4 rooms. Each room can take 6 to 8 people. The room rate per night per head is RM60 (≈USD18).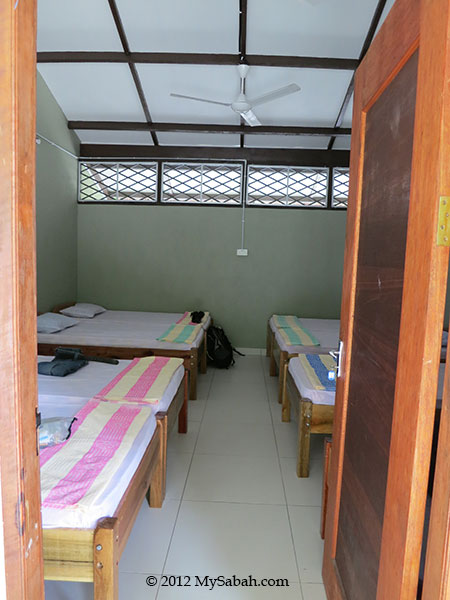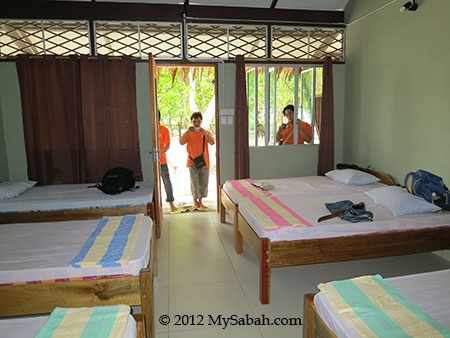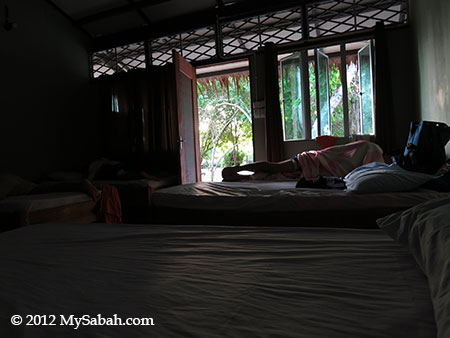 Pic: the room is very basic but clean. Mantanani is windy at night so it's not too warm.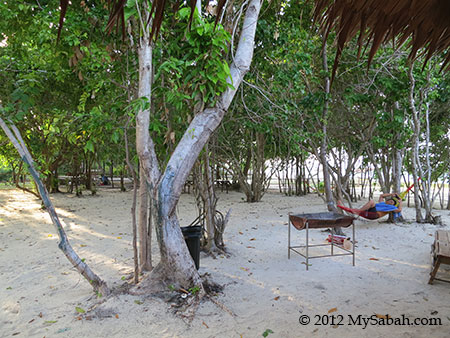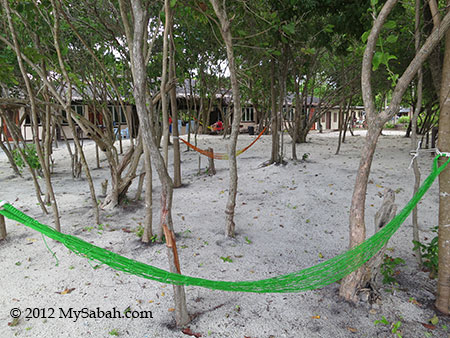 Pic: shady area with hammock outside the room. Watch out for red ants on the ground.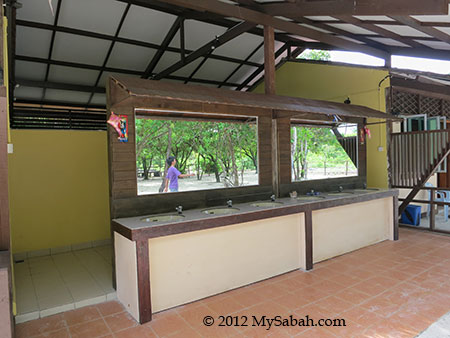 Pic: common bathroom and toilet of Sayang-Sayang Hostel, with mirrors and sinks outside. At the left is male toilet/bathroom, right side is for female.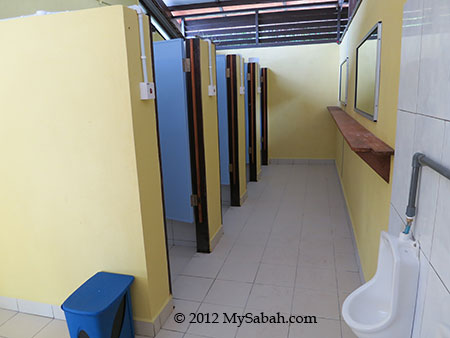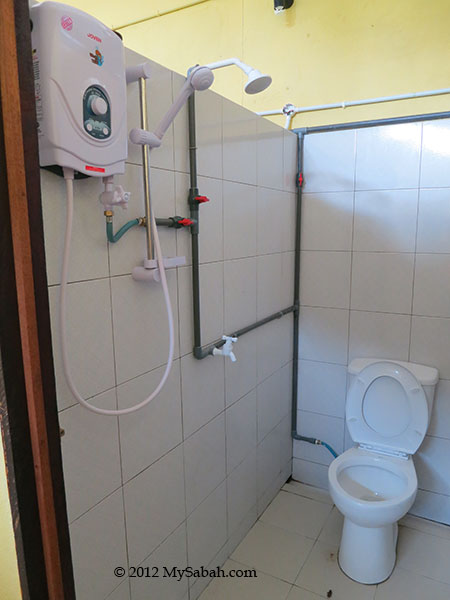 Pic: toilet and bathroom. Hot water shower is available (6pm – 6am).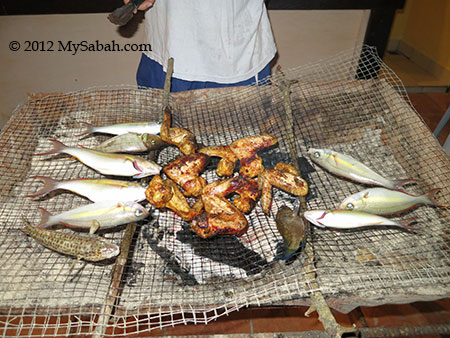 Pic: they have BBQ stoves. Bring some charcoal if you plan to have a barbecue party.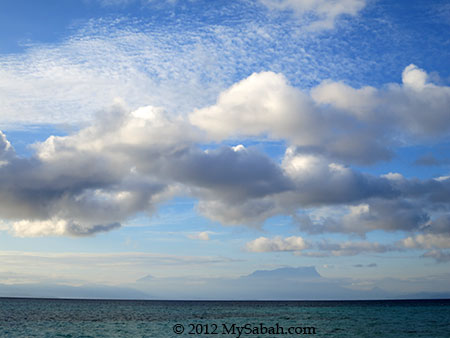 Pic: the beach is a few Meters away from both accommodation. You can see Mt. Kinabalu from there.
The power supply for both accommodation is available from 6pm to 6am. The check-out time is 9.30am. Hope this article gives you a good overview of the places to stay on Mantanani. Have a nice trip.
Photos taken in Kota Belud, Sabah, Malaysia Borneo