Tag Archives:
handicraft
Do you know certain trees are "edible"? You may have tasted it too, for example, the tiny jello-like balls in famous Malaysian dessert, Bo-Bo Cha-Cha (or Bubur Cha-Cha) is from Sago Palm, an important crop for people living in south-west of Sabah. Sago is known as Rumbia locally and a kind of starch that is extracted from the sago palm.
In Sabah, sago palm was once planted extensively in the wetlands of the west coast like Beaufort, Kuala Penyu, Papar and Penampang. However, the scale is getting small now because rice has replaced sago as the main source of carbohydrate.
Rumbia Information Center / Sago Information Center
Sago palm is also called the "Tree of a Thousand Uses". If you are on a tour to Klias or Pulau Tiga Island, you may drop by the Rumbia Information Center (Sago Information Center, or Pusat Informasi Rumbia in Malaysian language) near Kuala Penyu town.
You can check out the 4-hectare sago plantation in the Center on a boardwalk. The signage, labels and information at the Center are displayed or presented in both Malay and English languages.
If you are lost in jungle, finding a sago palm can save your life. Sago is almost pure carbohydrate, an energy food which also contains a bit of protein, vitamins, and minerals. One palm can yield more than 50 Kg of starch, which yields 355 calories for every 100g, and its leaves and trunk are great materials to make tools and shelter! During WWII, the locals survived from starvation by eating sago.
Sago Exhibition Hall
The exhibition hall is the first highlight of the Center. Besides reading information about Sago, you also can see variety of handmade handicrafts made of sago leaves, bark and stem.
In the audio-visual room, visitors can watch a 30-min video that introduces the uses, processing and story of sago. The narrative is in Malay language but English subtitles are shown.
Over 50 handicrafts are on display. Most items are baskets, utensils, containers, mat, hats, fishing net, farming tools, etc. and some items are made of coconut leaves, bamboo and rattan. They are not so common nowadays, because plastic stuffs are more readily available.
In addition to sago, there are many information panels and photographs about the wetland ecology and wildlife in Klias Peninsular.
The hall is air-conditioned. Depending on your level of interest, a tour in Rumbia Information Center usually takes only one or two hours.
The craftsmanship is so fine that I want to buy them all (a few items are available for purchase). I think they are made by Dusun Tatana, Bisaya and Orang Brunei tribes live in Kuala Penyu district.
Sago Information Center isn't a well-known tourist spot, so you (or your group) would be the only visitor most of the time.
You may watch the 1.5-min video below about Sago Exhibition:

Click Here to see bigger video
The Legend of Sago
I heard a sad story about the origin of sago during my visit. During old days in Kuala Penyu, there was a woman who could feed her family very well. Even though food was scarce, she was able to bring home food every day. Her husband was suspicious and decided to stalk her one day. He saw his wife placed a nyiru (straw colander) on the ground and started shaking her sarong. Then many small white pellets dropped from her body to the nyiru and that's the stuff he ate. He was so furious and accused his wife of feeding him dirty food.
Knowing that her husband would kill her, the woman begged her husband to cut her body at waist level into half, and bury them in different spots. After some times, a nypa-like tree with smooth bark grew at the spot where her upper part was buried. And a similar tree, but with thorns, grew on another spot. Both are sago palms that produce sago and are scientifically known as matroxylon sagus (no thorn) and metroxylon rumphii (with thorns) respectively.
Sago Food
At this point, you would ask, "How to 'eat' sago tree then? Do you cut down the tree, chop it and bite it?"
Sago Processing
NO!!!! The starch needs to be extracted from sago stem first. After cutting down the sago palm, the farmers will remove the outer hard skin and process the spongy center of the trunk. Then they crush the stem with a wooden board (garus) full of nails in sawing movement, to break the pith into smaller pieces.
Next step they will collect the sago pieces and lay them on a mat which acts as a filter. A worker will pour water on sago pieces, continuously kneading them with feet, the starchy liquid will flow into a container. The starch powder will be collected after drying the water.
The traditional method is very labor intensive and time-consuming. Nowadays, electrical sago processing machine can grate, filter and collect the sago starch. You can see this machine demo in Sago Information Center.
The starch from sago can be used for making different kinds of delicious food such as cake, dessert, biscuit and pudding. Sago flour can be used similarly to other types of flour. It is used in baking bread and pancake too.
In Sabah, sago starch is mixed with boiling water to make the popular local cuisine called the Ambuyat, a traditional way to enjoy sago. Usually locals eat it with fishes and soup, which go well with smooth texture of ambuyat.
Sago Grubs (Butod)
Sago grub (Local Name: Butod) is a "byproduct" of sago cultivation. Beetles also know the richness of carbohydrates in sago stem, and their babies (larva) grow so fat eating sago. When farmers harvest sago, they collect these juicy worms as food too. You can even eat it raw if you dare.
You may read this article about eating sago worm as delicacy. Sago grub is not cheap though, each is sold for RM1.00 and it's a hot selling item in native market.
Sago Festival (Pesta Rumbia)
So, are you drooling? You can sample different kind of exotic sago food (include worms) and dishes during Sago Festival (known as Pesta Rumbia in local language) in Kuala Penyu for a few dollars only. This sago buffet is very popular. The tickets sold out fast, so don't miss it.
Sago is so important to the local community that Kuala Penyu celebrates Sago Festival annually (usually in July). You may find out the date of this biggest cultural event in Kuala Penyu in Sabah Tourism website.
Sago is normally sold in the shape of very tiny, colorful balls called sago pearls. When soaked and cooked, the pearls become larger, translucent, soft and spongy.
Sago palm can grow very fast (about 1.5 Meters per year) so it is ideal as an alternative staple food.
Sago palm takes 9 to 12 years to mature. You must cut it down before it starts to flower for 2 months, otherwise the fruiting will exhaust the starch and then the tree dies.
It's all about sago during Sago Festival, you can check out exhibition, sago food buffet, Sago Beauty Queen Pageant, cultural shows, handicraft making demonstration, sago processing, games, etc.
Entrance Fee & Opening Hours
Rumbia Information Center is managed by district office of Sabah Forestry Department in Beaufort. Apart from providing basic information on sago, it is also open to public as a tourist destination. The following is the ticket price to enter the Center (rates as of Mar 2016):
| | | |
| --- | --- | --- |
| | Adult | Child |
| Malaysian | RM5 | RM3 |
| Non-Malaysian | RM15 (≈US$3.75) | RM7 (≈US$1.75) |
Walk-in visitor is welcome. You also can organize a group tour with the Center. Their staff can give you an interpretation walk and education tour for better experience. You can even try eating the live Sago Grub. You are advised to inform them a few days prior to your group trip.
Below is the opening hours of Rumbia Information Center:
Mon-Thu, Sat, Sun, Public Holidays: 9am – 12pm, 2pm – 4:30pm
Fri: 9am – 11:30am, 2pm – 4:30pm
Contact
Tel: +60 87-897073
E-mail: rumbiainfocentre@gmail.com
Facebook: RumbiaInformationCentre
Address: Pusat Informasi Rumbia, Kompleks Perhutanan Kimanis, KM 61, Lebuhraya KK-Beaufort, Sabah, Malaysia
GPS Coordinates: 5.496861, 115.543920 (see Location Map or Street View)
Facilities
Besides exhibition hall and boardwalk through sago palms, Rumbia Information Center has other amenities and services such as conference room for rent, food catering and laundry.
The toilet is quite clean. Overall, this Center is quite tourist-friendly. Their staffs are very helpful and friendly too (can speak and understand simple English).
The cafes there don't sell or cook sago grubs. If you want to have a butod feast, you need to arrange with the Center at least 1 day in advance.
Accommodation is available in the Center and named as Orchid Rest House (Rumah Rehat Orkid) suitable for family or student group. The house has two rooms, each room has two double decker bunk beds to host 4 people. The rest house is complete with kitchen (with cooking gas and utensils), toilet, air-conditioning, fan, parking, dining table, and living room. The accommodation can be rented as RM400 (≈US$100) per day for whole resthouse, RM160 (≈US$40) per room per day, or RM40 (≈US$10) per person per day. You can call Mr. Hillary at +60 13-5462717 for booking (or ordering Sago Grubs).
How to get there
Rumbia Information Center is located next to Menumbok – Kuala Penyu highway at Kampung Kasugira (Kasugira village), about 114 KM away from Kota Kinabalu city (KK). When you reach the roundabout (which has turtle statues on it) about 10 KM before Kuala Penyu town, take the junction to Menumbok. After 1.5 KM, you will see Rumbia Information Center at your left (see Location Map or Street View).
If you depart from KK, the road trip will take approximately 3 hours on asphalt road in good condition. You also can take a bus that heads to Menumbok, but to return to KK, you have to take a bus to Beaufort town first, then get another bus from there, quite troublesome. Taxi is a better choice if you have more money.
Photos taken in Kuala Penyu, Sabah, Malaysia Borneo
You might also like:
Sabah may not have a lot of tall building, but we have many long building (longhouse). Though other Sabah native tribes such as Murut and Dusun Lotud also build longhouse, larger number of Rungus people, a sub-ethnic of Kadazandusun (largest indigenous group of Sabah) with a population of 80,000*, still practise the traditional lifestyle of living in a longhouse today. In 1930s, there was a Rungus longhouse stretched as long as 5 Kilometers!**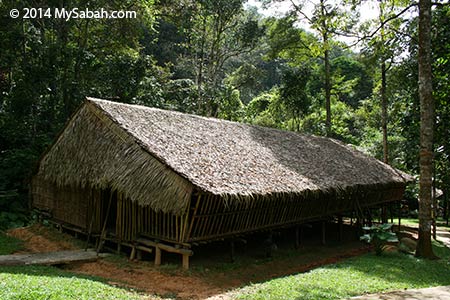 Pic: a traditional Rungus longhouse
A Rungus longhouse (known as Vinataang in local language) is made up of 7 to 15 or more family apartments co-joined laterally. Most residents in a longhouse are relatives among themselves. If new family is added, the owner would extend the longhouse at one end. A Rungus village consists of 1 or more longhouses (usually 5 or 6). Longhouse is common in northern part of Sabah, from Matunggong, Kudat, Kota Marudu to Pitas.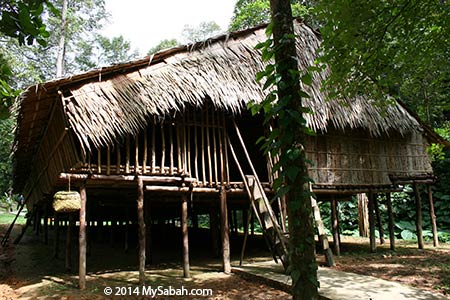 Traditional longhouse is built from wood, bamboo and atap (palm leaves). To avoid flood and wildlife such as snake, the house is lift off the ground by stilts made of hard wood such as bogil, belian ironwood, mangrove wood and manzalangan**. In old day, they also raised pigs under the longhouse. The roof is dry palm leaves of sago or nipah, and needs to be replaced every 3 to 5 years.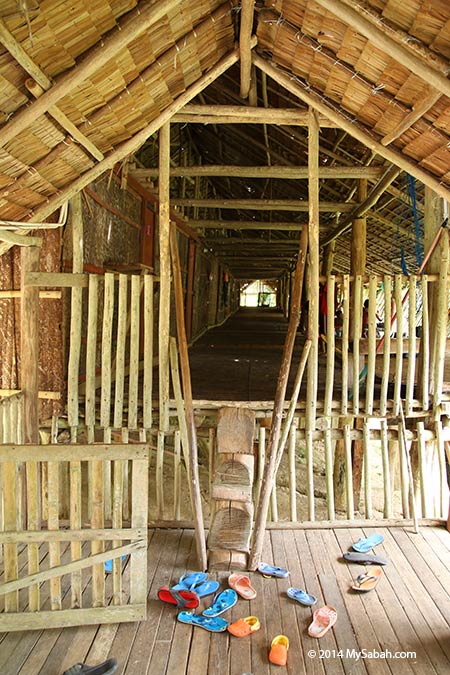 Pic: entry ladder to longhouse
There are many taboos about longhouse. For example, the site of a new longhouse is chosen based on signs such as dream, animals, weather and human behaviour. If a python (which symbolise death in local belief) appears at the construction site, they would not build the longhouse there. In contrast, tortoise is an auspicious sign. Guest who enters apartment under construction, or leaving the house without informing the host will bring bad luck. The wood of toodopon and puvok trees can't be used in making house, as they will bring illness, disaster or bad luck. Nevertheless, after many Rungus converted to Christian, they may not strictly uphold these belief now.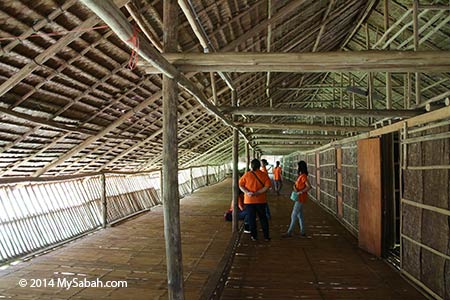 Pic: the long and wide corridor of longhouse. Rungus longhouse is divided into two distinct areas, the apad or common gallery (left), and Ongkob or compartment area (right). Apad is an open area for work and leisure activities such as rice pounding and celebration.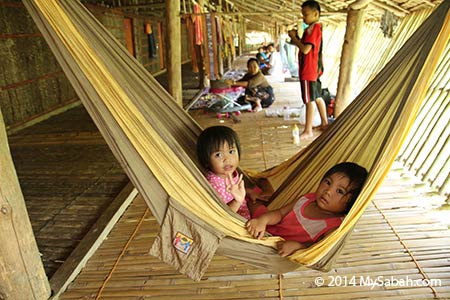 The raised platform (tingkang) of apad is a general working area and sleeping area for older boys.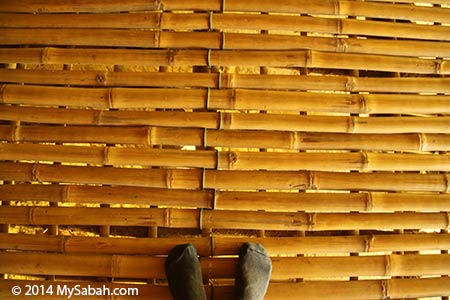 Pic: flooring made of split bamboo or nibung.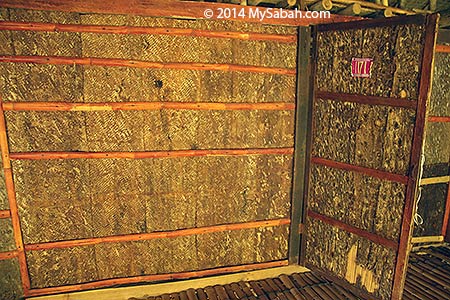 Pic: The wall is created from the bark of manzalangan. There are some holes on the wall if you want to peek what your neighbour is busy on lol.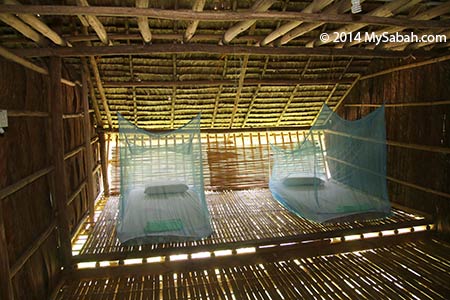 Pic: I was staying in Maranjak Longhouse for a night and this is my bedroom in longhouse. They have electric bulb to light up the room and corridor. The mosquito net can keep hungry mosquito at bay. There were far fewer mosquitoes than I thought because the longhouse is near to the forest. The wall is so thin that I can hear clearly what the girls in next room talking. During bedtime, I can almost hear the girl breathing, as if she was sleeping on my bed. Luckily she didn't snore (but I did, HAHAHA). The longhouse is a bit warm in daytime, but at night it is quite cooling. In my dream, I heard two geckos fighting near my bed.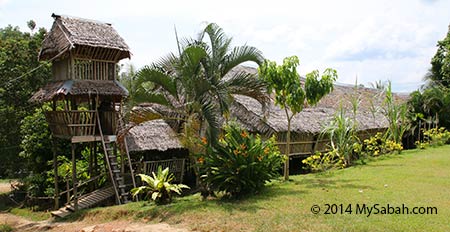 During my stay in Maranjak Longhouse, I took a closer look at the Rungus longhouse.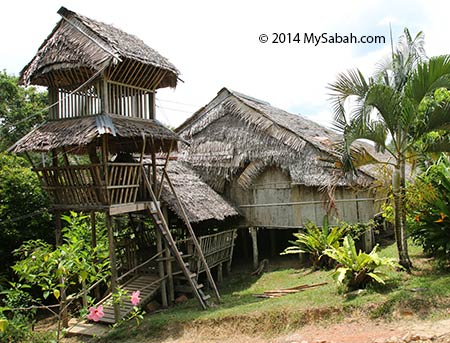 Then I saw a tower at other end of the longhouse. At first I think it's for the guard. Then they tell me that that tower is called Rorizan, the place to keep the most beautiful girl in the longhouse.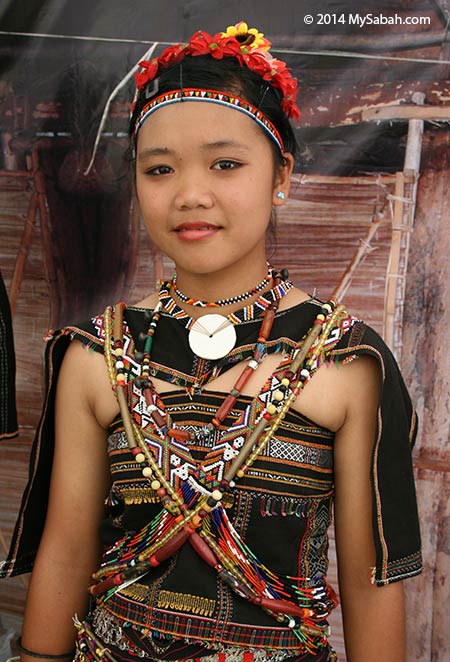 In case you fall in love with the girl in Rorizan… FYI, to marry a Rungus lady, big muscle is not enough. You also need brain and patience.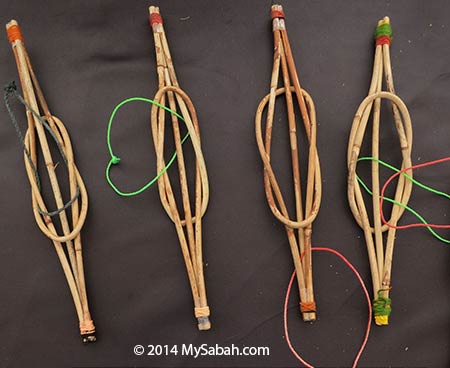 Because, you will be tested by Inuog Dazang (Teka Teki Puteri) puzzle, to free the rope from interlocked rattan knots, without cutting it. If you succeed, you can marry the girl without paying any bride price. You can try until you cry but not getting it. Don't worry, I already have the formula for you. You can buy me some beers if you win a Rungus bride.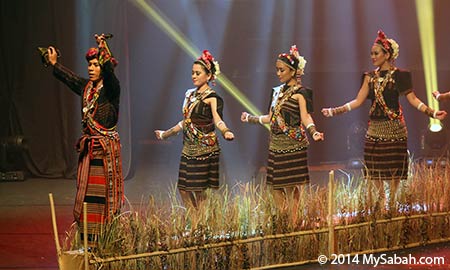 Pic: you may have seen the photo of Rungus people dancing Mongigol Sumandai (a welcoming dance mimic the movement of dragon and the male being the head of dragon) and think that Rungus man can have many wives. Rungus marriage is monogamy. Sex before marriage is strictly prohibited, as Rungus people believe this will bring sickness and death to their village. Besides, girls are kept separate from boys except at work. I'm talking about the old time.
Modern Longhouses
Nowadays each Rungus family prefers to have their own house. Also, it's rare to see thatched-roof Rungus longhouse as corrugated zinc is preferred roofing material. If you see an authentic longhouse, very likely it is built for the tourists. 😀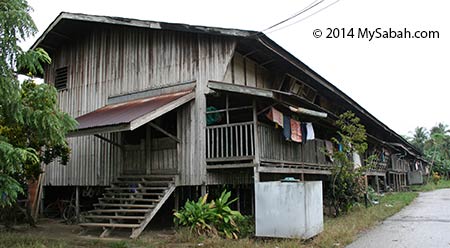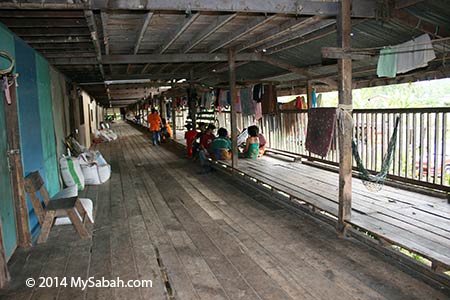 Pic: photos of "modernised" longhouse, which is more durable and offers bigger space. More livable but lack of cultural identity.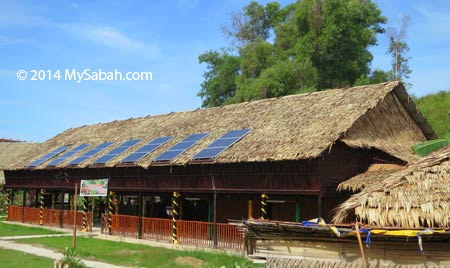 Pic: longhouse with solar panels (certified low-energy green building). This longhouse in KDCA Penampang costs about half a million Ringgit (≈US$157,000) to construct!
The Rungus
Longhouse is not the only cool thing about Rungus. Rungus is renowned weaver. They produce finely woven textiles, handicraft and beadwork which incorporate intricate traditional motif.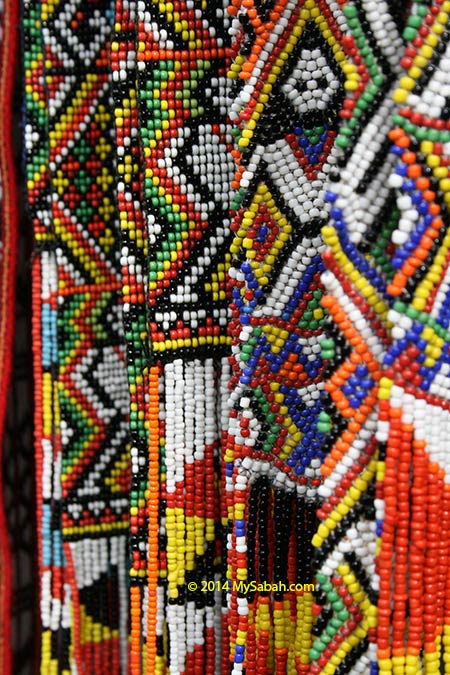 The motif design of Rungus is inspired by animals, plant and other things in their environment. Each piece takes 1 to 7 days to make, depend on its complexity. Some motif carries meaning such as good health.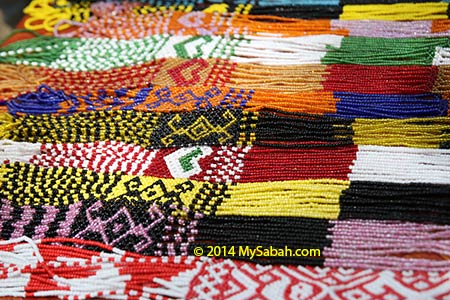 The handmade beadwork of Rungus is so beautiful and colorful that it is one of the most popular souvenirs tourists bring home. It's also nice as an exotic accessory for lady dress. With prices start from only a few dollars, it's quite affordable.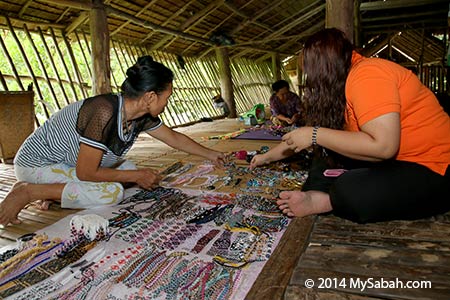 If you go to Kudat, I highly recommend you to buy some handicraft from the locals. In fact, most Rungus handicraft for sale in city shops are from them, but being priced higher by distributors.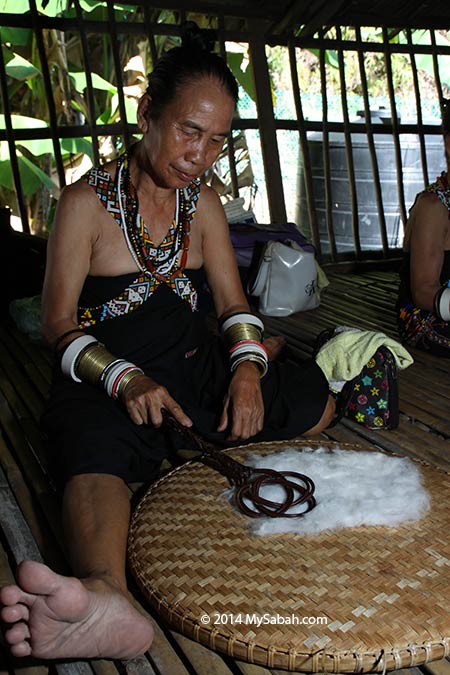 Pic: Rungus woman is also skillful in producing homespun cloth made from cotton (kapok)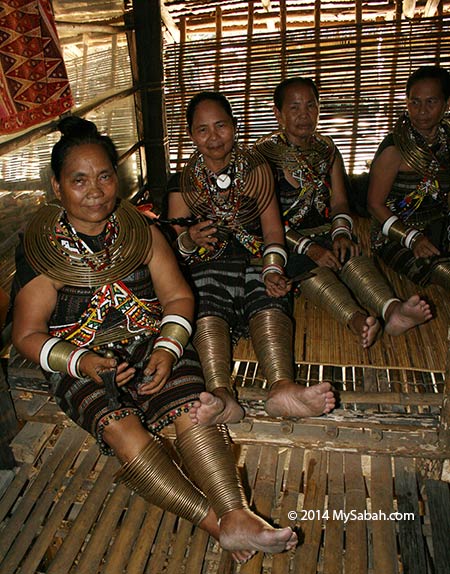 The traditional costume of Rungus is truly unique. I haven't seen other Borneo tribes that share the similar traits. The photo above is the "most traditional" custome of Rungus women, who wear Ganggalung, disc of brass coil necklace of 40cm in diameter, and Lungkaki, the tightly coiled ornament covering the lower leg. Ganggalung and Lungkaki are seldom worn today. They told me that the brass outfit is heavy and make them lazy to move.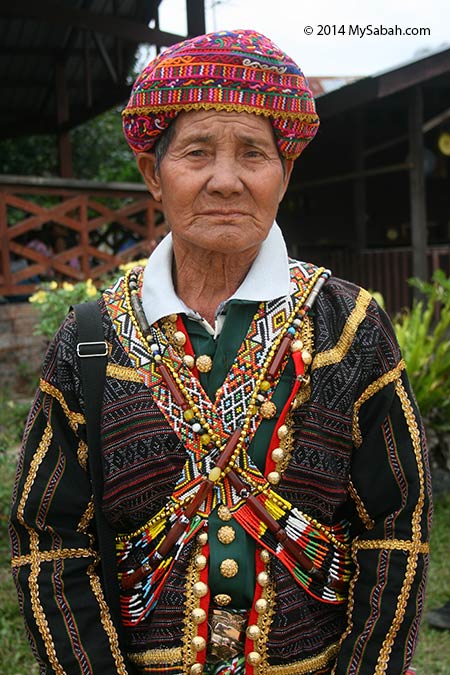 Pic: A Rungus man wearing colorful sash and a sigal, the traditional embroidered headgear. He looks serious but he is very friendly.
Staying in Longhouse
If you would like to experience staying in longhouse, you may visit Kampung Bavanggazo or Maranjak Longhouse Lodge in Matunggong, about 150 KM north of Kota Kinabalu city and 40 KM south of Kudat town (see Location Map). Both longhouses are only a few KM away from each other and their owners are brothers.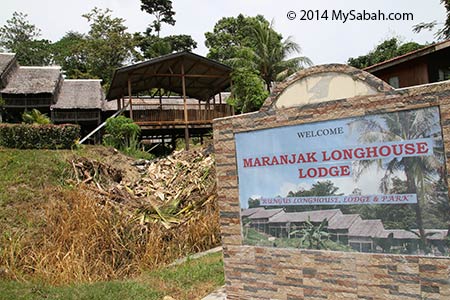 Their longhouse can host about 30 to 40 guests at a time. The accommodation fee is about RM60 – RM80 per night (≈US$19 – 25) and Online Booking is available. You also can sign up for some activities such as fishing, crab catching, hiking and tour around in Kudat.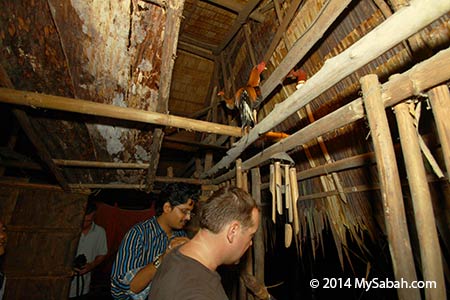 Lastly, mind your head when you visit a longhouse. Incoming! LOL
*Census 2000
**source: Sabah Traditional Ethnic Houses, published by Department of Museums Malaysia (ISBN: 978-967-9935-81-3)
Photos taken in Sabah, Malaysia Borneo
You might also like: