Tag Archives:
Government
At the north of Sabah, Kudat has the most number of nice beaches in Sabah, and many of them have unique geological features more than a stretch of white sand. Kelambu Beach (or Kulambu Beach) is a tombolo, which is a sand bar joining an island to the mainland and something rare in Sabah. Kelambu means mosquito net in local language, probably the beach is named after the mosquito-net shape of Kelambu Island.
Kelambu Beach (locally known as Pantai Kelambu) is accessible by tar road (mostly) and about 31 KM to the north-west of Kudat town and 8 KM at the south of the Tip of Borneo. There is no public transport going there, so you need to drive there yourself (GPS: 6.987443, 116.724120, see Location Map).
Kelambu Beach is a beautiful destination that escapes the radar of tourists. It has no facilities, except three seaside pavilions and a few barbecue pits (someone says a public washroom is available but I didn't see it). In fact, locals would prefer that it remains undeveloped because we don't to share this secluded beach with noisy tourists and greedy developers.
The 200-Meter sand bar to Kelambu Island is quite broad, about 20 to 30 Metres in width, and the soft sandy beach is comfortable to walk on with bare feet.
There were only two families playing at the beach during my visit. The beach is big and everyone is far from one another, so I hear only lapping waves most of the time.
The crystal clear and shallow sea water is very inviting, so I soak my feet to enjoy the cooling water. I tried the water at both sides of the sand bar just for fun because someone say the water temperature is warmer at the right, which is a bay area. It's true.
Here is a secret. If you come here at night, you would find luminous sea at Kelambu Beach. Whenever you touch the water, it will leave a light trail of your movement. The light is a natural chemical reaction called bioluminescence emitted by phytoplankton (a tiny organism) when disturbed. The light is more obvious during new moon.
However, there is no lighting around the beach, so please bring a torchlight if you want to explore here at night, and don't go alone.
Due to presence of rip tide, Kelambu Beach is not a safe place to swim. It's ok to play near the shore, as long as you stay in water lower than your waist.
Unless you plan to have a picnic, a short visit to this beach takes less than an hour. Anyway, it is a great place to take vacation photos to harvest some Likes on Facebook. A selfie on this beach with Kelumba Island as your background is quite a killer shot.
Kelambu Island is an uninhabited and rocky island covered with lush forest. It takes you only 5 minutes to walk to that island during low tide.
When I explored around the island, I found a nice angle for photography. But a pile of seaweed on the beach was in the frame, and I didn't want this. Therefore, I gave it a BIG KICK. Suddenly I was all over by a swarm of buzzing sandflies. That freaked me out because I thought I was attacked by bees. I ran like an Olympian to mainland and screamed "WTH! WTH?" all the way. Now I think it's funny.
You can camp in Kelambu Beach, and the sand bar looks like a loving place to setup a tent. I would advise you not to do that because you would find that you sleep in the water later.
However, there are some rubbish scattered around Kelambu Beach, especially the area near the pavilions. A local non-profit organization, Kudat Turtle Conservation Society (KTCS) has been doing some beach clean up, but the visitors still litter at the beach.
You see. Local people always complain when some resorts or developers privatize a beach. But when they own the beach, they turn it into a dumping ground. With such attitude, do we deserve to have beautiful beach?
The pavilions are also not in good shape due to poor maintenance. I didn't see any dustbin around too.
Now Kelambu Beach just looks like a pretty but dirty girl. After some cleaning, I believe the beach will become super nice again.
I'm sure our government will do something about it after they see this post. Anyway, please don't leave any garbage behind after you visit the beach. If we want to be successful in life, please learn not to let others to take care of our mess.
Photos taken in Kudat, Sabah, Malaysia Borneo
What is the landmark building of Sabah? 99 out of 100 Sabahans will say Yayasan Sabah Tower (officially known as Menara Tun Mustapha). For 36 years, Yayasan Sabah Tower has been "representing" Sabah. It is tall, beautiful and unique, but it is lack of true Sabah feature. Hey, KL and Sarawak have built the taller Twin Tower and Wisma Sanyan in 1999 and 2001 respectively, so this old building is no longer impressive now..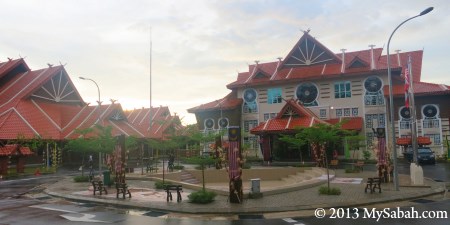 Pic: JKKN Sabah Complex
How about JKKN Sabah building? 99 out of 100 Sabahans would say, "Huh? What's that?" Personally I think JKKN Sabah building is a marriage of modern and traditional architecture. If you are from Sabah, you would find this building somewhat familiar. Most big building of Sabah is ugly "square-square" cheap design, so I'm happy to see a new one that carries some cultural elements of Sabah. JKKN stands for Jabatan Kebudayaan dan Kesenian Negara, a federal department (under Ministry of Tourism and Culture Malaysia) that funds and builds JKKN Sabah Complex. Some also calls the building JKKNS Complex.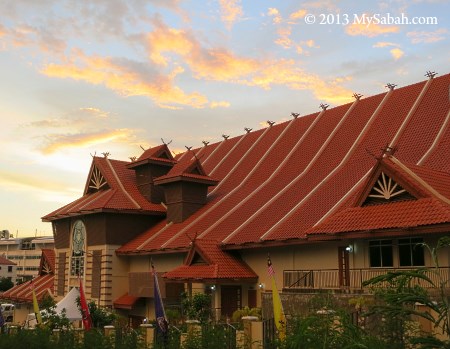 Pic: the roof that resembles Rungus longhouse
Taking a space of 1.3 hectare, JKKN Sabah Complex is constructed under 9th Malaysian Plan and opens in March 2012. The Complex costs RM20.4 Millions (≈USD6.8 millions) and over 4 years to build. JKKNS Complex is more than a landmark building though. Equipped with auditorium, studios, etc., it is an ideal place to hold small to mid scale events.
Let's take a closer look of JKKN Sabah Complex..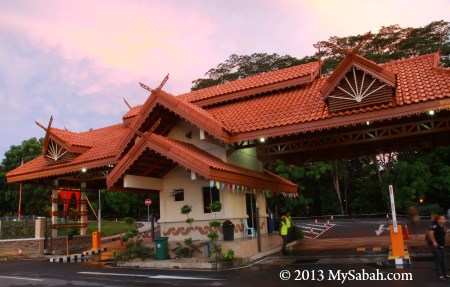 At the entrance of this complex, you already can see the Sabah features at the gate.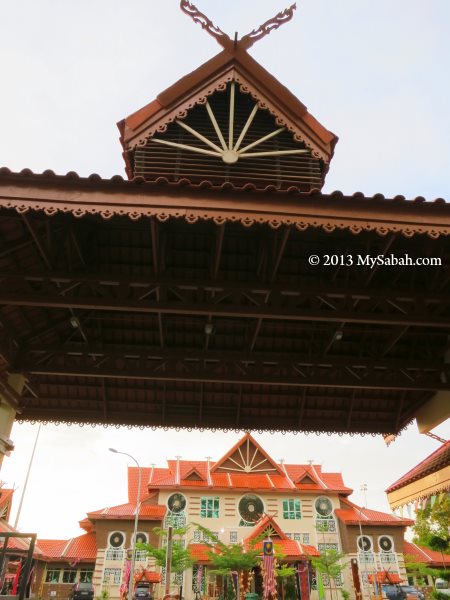 Pic: the roof that looks like top of the Bonggi house.
Auditorium
Besides the roof, you also can find the ethnic motif of Semporna Sea Bajau and Iranun (known as tudjah and layang-layang) in the Auditorium building of JKKN Sabah Complex. .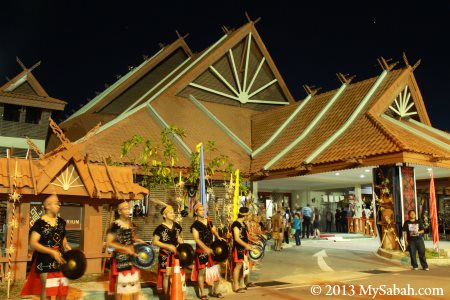 Pic: entrance of the Auditorium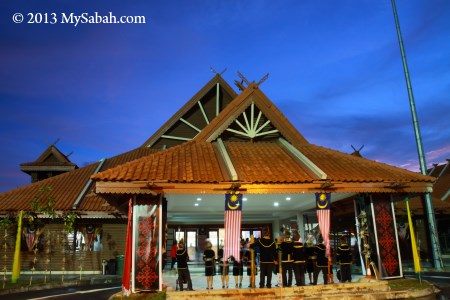 Pic: another angle of the Auditorium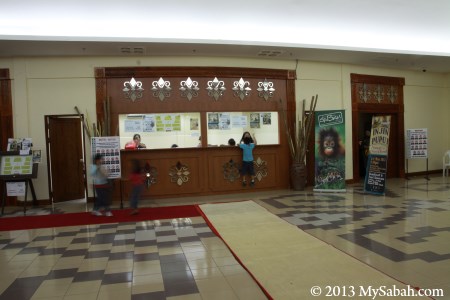 Pic: ticketing counter of the Auditorium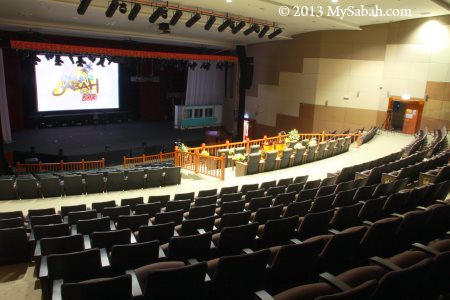 Pic: the Auditorium has 571 seats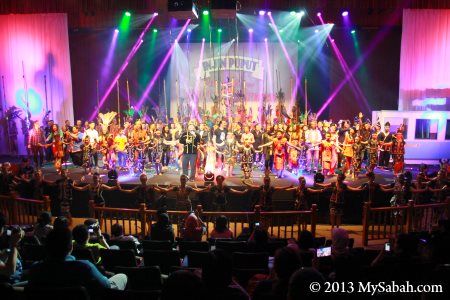 Pic: the annual Sabah Fest were hosted in this auditorium twice.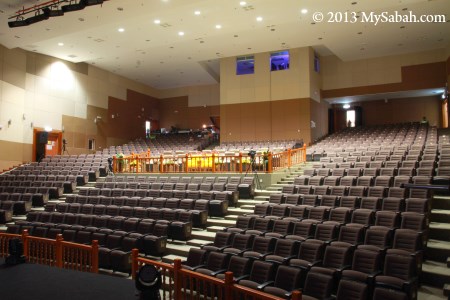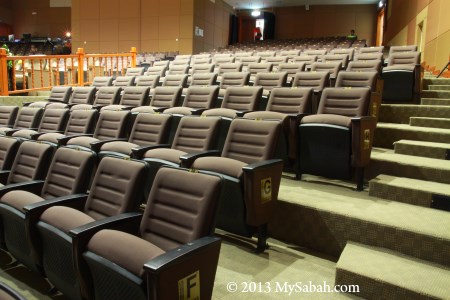 The slope layout of seat arrangement looks just like cinema, so the audiences in front won't block your view.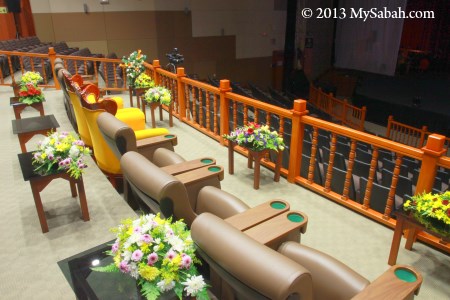 Pic: the VIP seats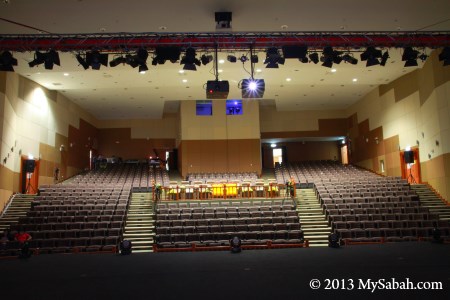 Pic: the view of the auditorium from the stage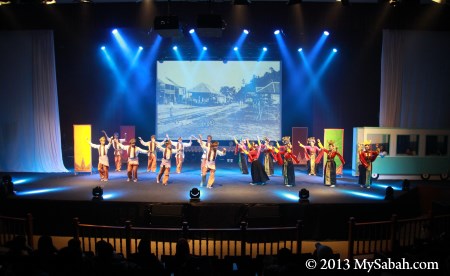 The stage is not really big but it is good enough for most performance such as opera, as Sabah seldom has big shows with thousands of audiences.
Administration Building
The Administration Building is next to the Auditorium. Its window design is inspired by rafflesia, the largest flower in Borneo, the color glasses are imported from Australia.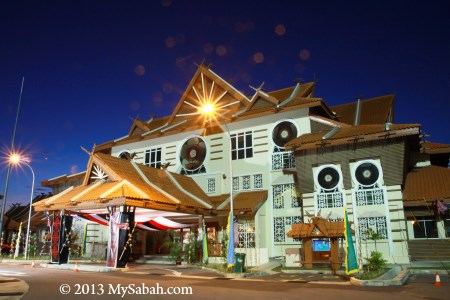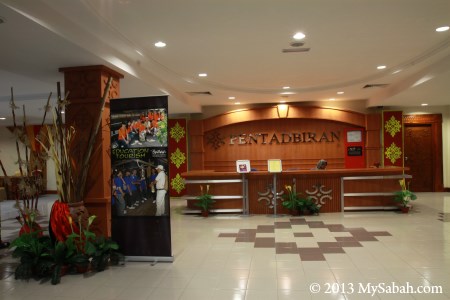 Pic: the reception counter of the administration building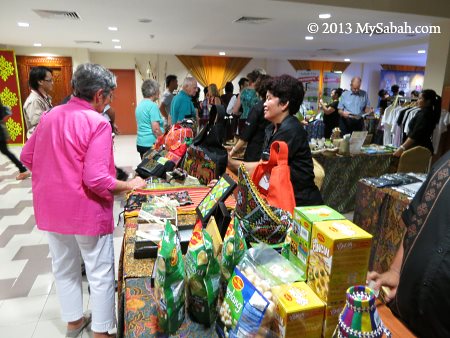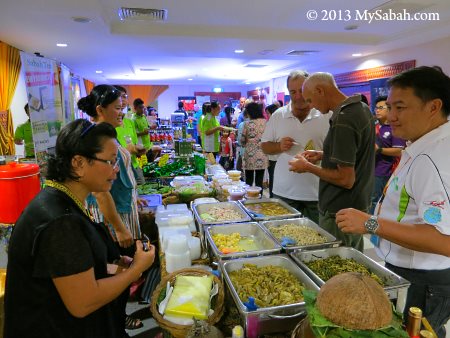 The spacious hall in ground floor allows you to organise mini-exhibition. It is not a problem to accommodate about 15 small booths. The ceiling is a bit low, so you can't display huge item.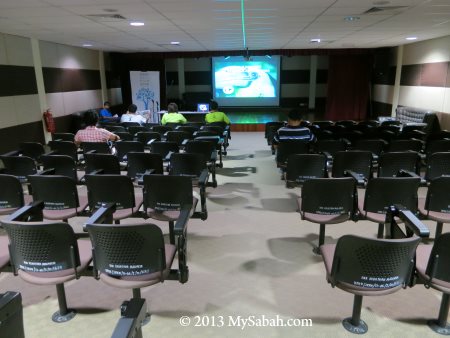 In ground floor there is a seminar room that can host 95 people.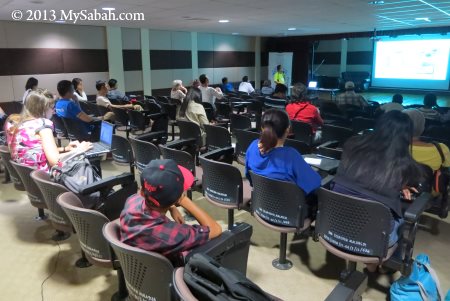 They also have audio visual room (40 seats), dance studios, music studio, Gasing playfield and conference room.
Outdoor Stage
There is an outdoor stage for small shows in good weather.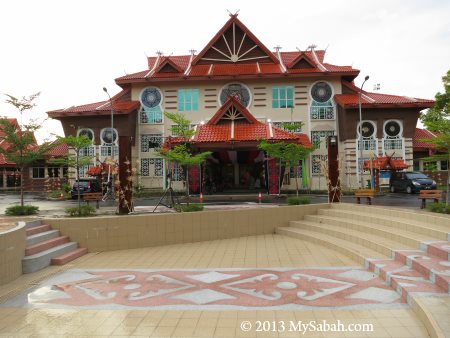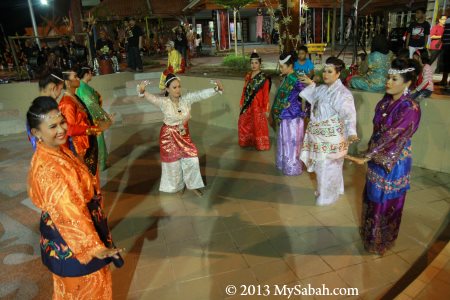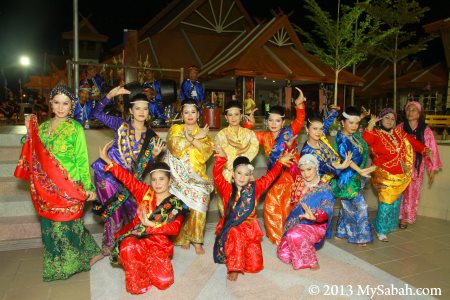 The audiences can sit around in the open space, and even participate in your performance.
Where is JKKNS (JKKN Sabah)?
JKKN Sabah Complex is next to Penampang Road, and near to Rain Forest Park (Taman Rimba Tropika) and Sabah State Library HQ in Luyang. You may check out the location map below:

View My Sabah Map in a larger map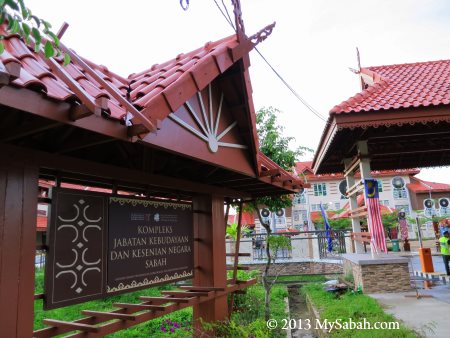 If you want to find out more about the place, you may contact JKKN Sabah at:
Address: Jalan Tasik, KM 4, Jalan Penampang, Kota Kinabalu, Sabah, Malaysia.
Tel: +60 88-237051, +60 88-237052
Website: www.jkkn.gov.my
Facebook: jkkn.sabah
E-mail: ruanah@jkkn.gov.my
Opening Hours: Mon – Fri: 8:00 am – 7:00 pm
Overall, JKKN Sabah Complex is a good location to organise functions. However, there is only a dozen of parking spaces available there. Usually the event organisers would advise you to park your car at neighbouring Sabah State Library, which has about 100 free parking slots after its opening hours. Another thing JKKNS needs the most is a good and marketable name. JKKN Sabah Complex is quite a mouthful and hard to memorize.
Rental Info
Their rooms, halls and studio are available for rental. Below is the price list for your reference only. Please contact them for the latest rates and booking.
| | Rate per Hour | Rate per Day | Capacity |
| --- | --- | --- | --- |
| Auditorium | RM300 (≈US$85) | RM2,000 (≈US$561) | 570 seats |
| Seminar Room | RM90 (≈US$26) | RM580 (≈US$163) | 100 seats |
| Outdoor Stage | RM30 (≈US$8.50) | RM200 (≈US$56) | – |
| Conference Room | RM30 (≈US$8.50) | RM200 (≈US$56) | – |
| Music & Dance Studio | RM40 (≈US$11.50) | RM250 (≈US$70) | – |
Photos taken in Kota Kinabalu, Sabah, Malaysia Borneo