Tag Archives:
fungus
Nearly 17 Meters tall and open to public since June 2003, Mahua Waterfall (local name: Air Terjun Mahua), which is 26 KM away from Tambunan town, is gaining popularity as one of the top destinations of Sabah interior. I visited Mahua days ago and strongly recommend this beautiful waterfall to those who drop by Tambunan. The GPS Location of Mahua Park is 5.796761, 116.408407 (see Location Map or Street View)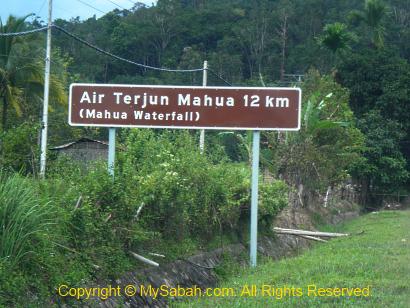 To go there, you need to drive 1.5 hours from Kota Kinabalu to Tambunan. Before Tambunan town, you will reach a roundabout with ginger and machete statue on it. Turn left to Jln. Ranau Tambunan (Ranau Tambunan Road), Mahua Waterfall is only 13 KM away. You will see a brown signpost to Mahua Waterfall shortly. Driving for about 6 KM, you will see the Mahua signpost again at a junction at the left, which leads to a 6-KM small road in Kg. Patau (Patau Village). The road is nicely paved so you don't need a 4-Wheel drive.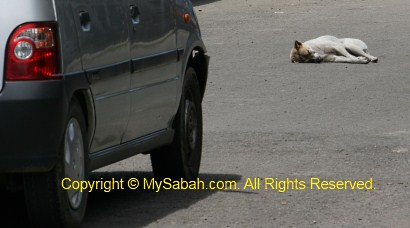 In the beginning, you will pass by the beautiful paddy fields of the village. Drive slowly and keep an eye on the roaming dogs, buffaloes and kids along the road. Very often you would find village dogs sleep on the road and don't even bother about approaching cars.
Then you will enter a hilly road with forest view of Crocker Mountain Range. I saw many Yellow Wagtail birds, the common winter visitors called "Beras Beras" (rice) in local Malay language, and some Ashy Drongo and Pacific Swallow birds perched on power lines too.
At the end of the road is the Mahua substation (of Crocker Mountain Range National Park) managed by Sabah Parks, where you buy entrance ticket. The opening hour is 8am-5pm daily. The following are the ticket rates for visitors to Mahua:
| Age | Malaysian | Non-Malaysian |
| --- | --- | --- |
| 18 years & above | RM3 | RM10 (≈US$2.50) |
| Below 18 | RM1 | RM6 (≈US$1.50) |
| Below 16 (student) | RM0.50 | RM6 |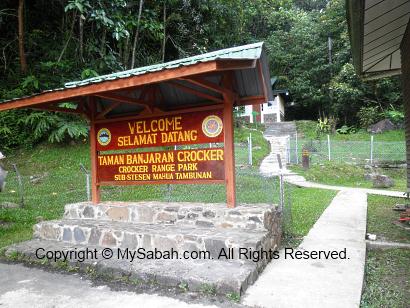 The start of 500-Meter walkway to Mahua Waterfall is just behind this building. You already can hear the sound of thundering waterfall at this spot. Mahua Waterfall receives about 1,600 visitors a month, making it the most popular attraction in Tambunan. Besides locals, it also attracts foreign tourists from Canada, USA, United Kingdom, France, Germany, Norway, Australia, Japan and Brunei.
Crocker Range is an important water catchment area. Water means life, so Mahua is a magnet for variety of fauna and flora. Like the 3-inch-big lacewing in photo above is new to me. Seeing my camera and tripod, the park janitor asked if I took photo for National Geographic. Haha.. if I answer Yes, not sure if they will charge me thousand$ for commercial filming.
Only a few Meters inside I found big mushroom to photograph. Mahua Park is more than just waterfall. I am so glad that I discover a natural eco-garden.
The walkway is under a mossy, shady and moist secondary forest, and such dim and damp environment promotes the growth of mushroom and fungus. The fungus above look like the skin of Chinese Bun (Bao) and Dim Sum. Edible?
Despite the hot day outside, the shady forest and running stream make the surrounding very cooling and refreshing. The temperature hovers around 23 degrees Celsius, as if I am in an air-conditioning room.
Normally I need to walk a long away on rugged jungle trail to see a waterfall. But the 500-Meter walkway to Mahua Waterfall is so short and easy, I didn't even sweat.
The trail is quite flat and paved with cement. Watch out for the slippery mossy surface.
There are some hut shelters, benches, trash bin and toilet along the trail, very well-facilitated for picnic. But sorry, BBQ and fishing are not allowed here, as these activities are bad for the conservation. Most visitors come here for swimming, picnic, camping and other nature-based activities.
Not only human likes waterfall, you also can spot many insects and bugs wandering among the undergrowth, ferns and shrubs along the trail.
Finally I saw the majestic Mahua Waterfall from a distance.
There is a ladder leads to a viewing platform.
Here you go, the photo of Mahua Waterfall. The force of water is so strong that it pounds the pool and create a mini storm and earthquake around it. Even though I was more than 10 Meters away, my camera and I was bathed by wind of misty spray.
Mahua Waterfall is nearly 17 Meters (55 feet) tall. But don't try to jump from the top to the pool, as the water is only about 1+ Meter in depth (I never swim there, it can be deeper during wet day so just be careful).
You can swim around the waterfall, but be cautious of the falling rock from top.
Huge Tree in Minduk Sirung Trail
If you are a tree hugger, you will thank me for telling you that there is a gigantic tree hidden in Mahua Park.
About 120 Meter before the waterfall, you will see a hanging bridge at your right, which leads you to a signage that reads, "Minduk Sirung Trail. Mahua ke Gn. Alab 12 KM".
Minduk Sirung Trail is a jungle trail that connects to Mount Alab (Gunung Alab) substation about 12 KM away, another park in Crocker Range. Some avid hikers use this trail for jungle trekking from Mt. Alab to Mahua Waterfall (mostly descending trail).
Anyway, the big tree that I mentioned is only 1.5 KM away from the starting point. However, there is no clear signage along the trail. You will see many big trees on the way and wonder which one it is. But, when you see it, you know that's the one, as it is SOOooOOoooo…. BIG!
The trail is a bit steep in first 1 KM and lurked with blood-sucking leeches, so you better wear proper hiking shoes and anti-leech sock.
Accommodation & Meals
If you want to overnight in the park, you may book a room with Mahua Rainforest Paradise (located at park entrance), which has 12 bedrooms and a restaurant. Camping and meals are also available. The accommodation fees range from RM30 to RM95 per night (≈US$7.50-24), you may Click Here to check out its rates.
Here is the contact info of the hostel next to Mahua Park:
Hostel: Mahua Rainforest Paradise
Company: Mahua Nature Holidays (S) Sdn. Bhd.
Website: mahua.blog.com
E-mail: mahuanature@yahoo.com
Phone: +60 16 8403969, +60 19-8203198, +60 19-8203198
The owner of hostel also runs a restaurant near the park, which sells common food (e.g. fried rice / noodle, noodle soup, bread) and hot & cold drinks from 9am to 5pm every day. The prices of food are about RM5 to RM10, drink is RM1.50 to RM4, and they serve no pork. If you want to picnic there, BBQ gazebo is available for rent in full-day (RM45), half-day (RM30), and quarter-day period (RM15).
Photos taken in Tambunan, Sabah, Malaysia Borneo
Palm Oil is one of the most used vegetable oils in the world. You can find it in food, soap, bio-diesel, washing powder, cosmetics,etc. so everyone is consuming palm oil. Anyway, oil palm is an ugly tree to me, and I have little interest of learning it. However, I was intrigued by its "by-product".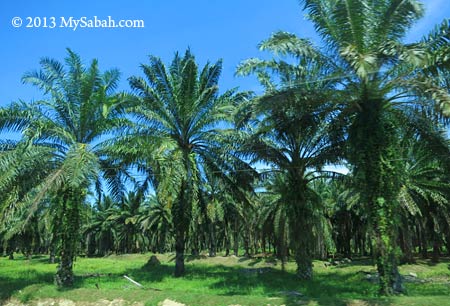 Pic: oil palm plantation
One day I was in a ride from Kudat back to Kota Kinabalu. I felt sleepy seeing rows and rows of boring oil palm along the way, a common sight in Kota Marudu. Then a friend asked everyone to keep an eye on the roadside stalls as she was looking for Cendawan Kelapa Sawit (Oil Palm Mushroom in Malay language).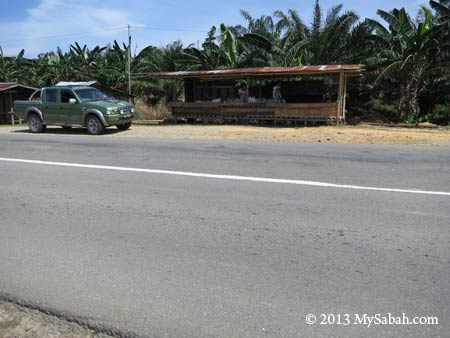 I know villagers normally sell their farm produces such as BBQ corn, peanut, fruit and vegetables at the roadside. Oil Palm Mushroom is something new to me. According to her, Oil Palm Mushroom is not available every day so we need some luck, but it sounds like a must-buy to her. After scanning a few stalls, we stopped at a stall that looked promising.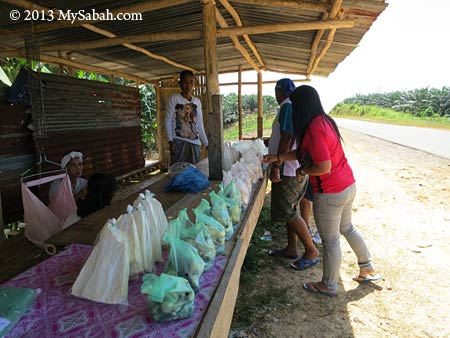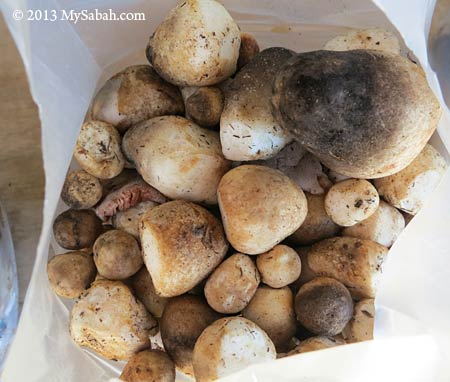 And yes, this stall was selling Oil Palm Mushroom at RM2 (≈USD0.60) for each small pack. Look yummy..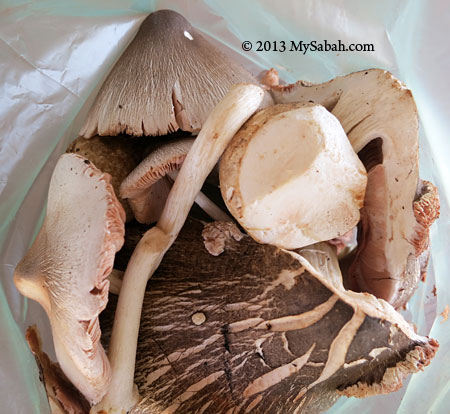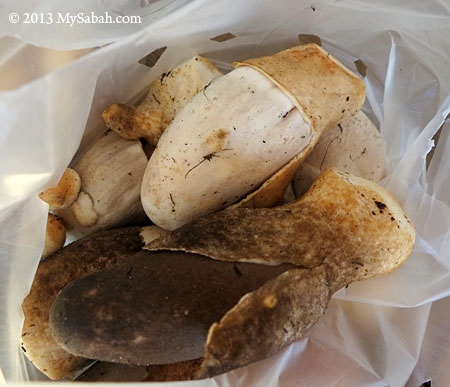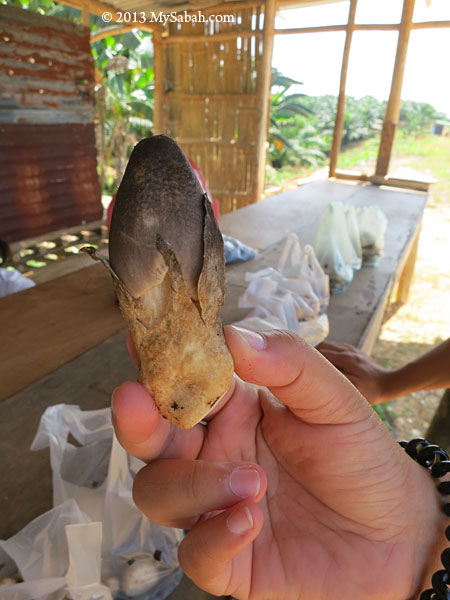 Oil Palm Mushroom comes in different size and shape (and species?), it looks more like fungus though. I think Oil Palm Mushroom is just a general nickname for all types of edible mushroom collected from oil palm.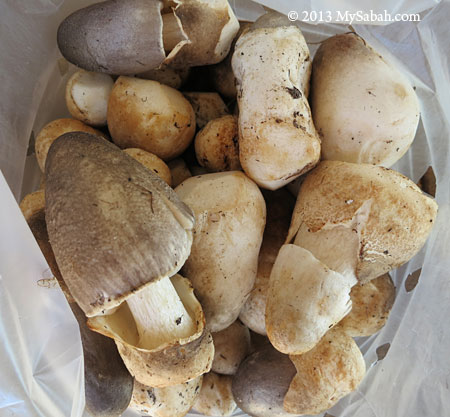 Oil Palm Mushroom is a delicacy and you can just cook it like normal vegetable. I never find Oil Palm Mushroom for sale in city market. Guess you have to look for it in countryside that has oil palm plantation nearby (and probably better chance during wet season).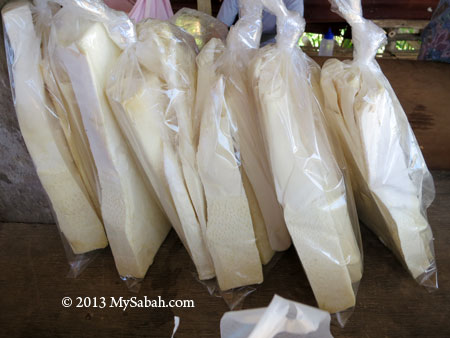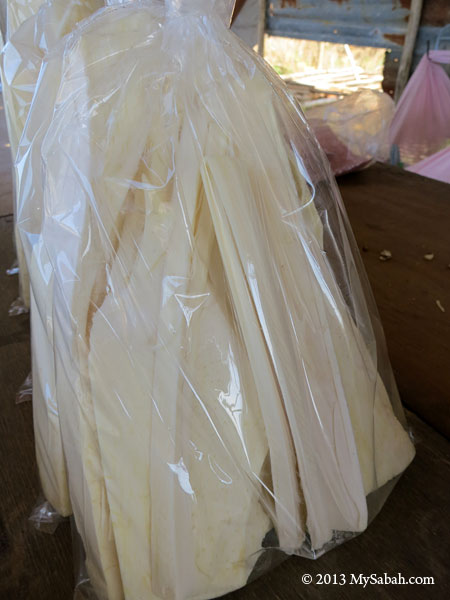 The same stall was also selling edible oil palm for the same price. Interesting, I think it is the soft core of oil palm trunk. As banana trunk is edible too, it makes sense.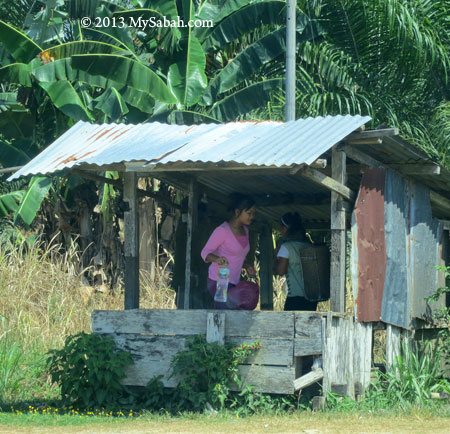 Pic: girl villagers return from oil palm plantation, probably with harvested mushroom in their baskets. Some mushroom species are poisonous, so I advise you not to collect it yourself. 🙂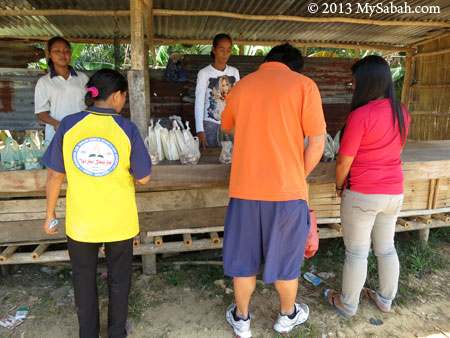 If you want to buy, next time just pay attention to the roadside stall when you are in Kota Marudu (somewhere near SMK Bengkongan high school, approximate location).
Have you seen Oil Palm Mushroom sold in other location? Please share with me.
Photos taken in Kota Marudu, Sabah, Malaysia Borneo