Tag Archives:
frog
Here are some updates of the new upgrade of Sepilok Laut Reception Centre (SLRC) in Feb 2012. If you plan your trip to Sepilok Laut based on my earlier blog about SLRC, you may need to read the following changes.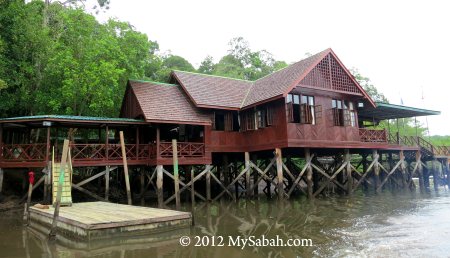 Pic: Sepilok Laut Reception Centre (SLRC)
1. New Boardwalk of SLRC
Sabah Forestry Department has constructed a 700-Meter Belian (Ironwood) boardwalk to connect existing SLRC to camping ground in Kabili-Sepilok Forest Reserve in early 2012.


The new boardwalk will allow you to explore the pristine mangrove forest of Sepilok Laut, without walking in this muddy swamp.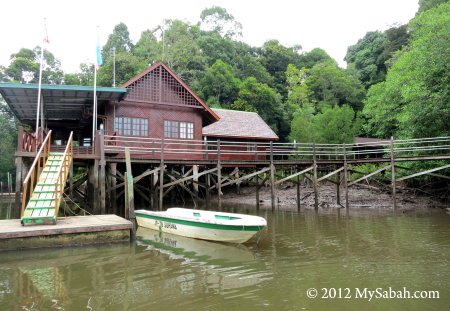 Pic: Mangrove Discovery Centre and the new boardwalk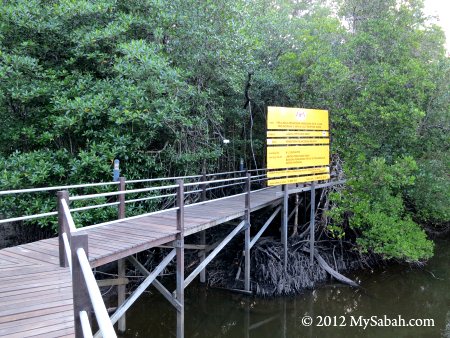 Pic: This 700-Meter boardwalk is built 2 Meters above the ground.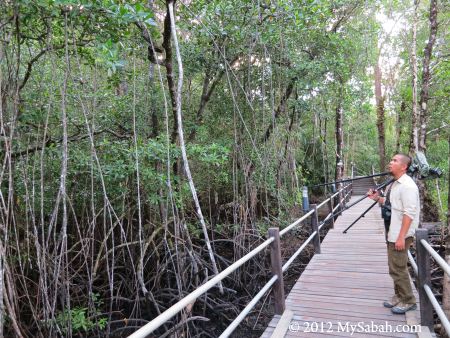 I visited the new boardwalk a month ago and found that this new boardwalk is great for bird-watching, as you can enter deep into the mangrove forest to look for mangrove bird species.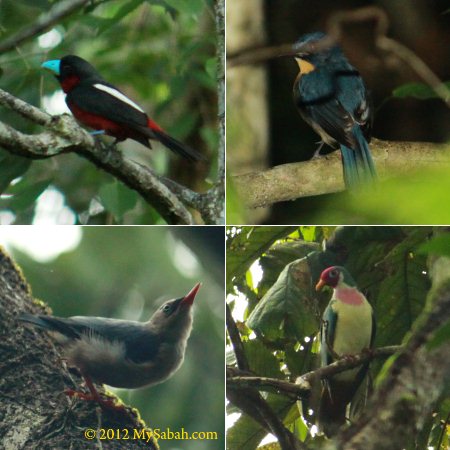 During my 1-day birding tour there, I spotted the following birds along the boardwalk.
Black-and-Red Broadbill
Black Drongo
Bornean Whistler
Buff-necked Woodpecker
Common Iora
Copper-throated Sunbird
Hill Myna
Jambu Fruit Dove
Kingfishers (5 species!): Ruddy Kingfisher, Collared Kingfisher, Oriental-Dwarf Kingfisher, Blue-eared Kingfisher, Stork-billed Kingfisher
Lesser Green Leafbird
Mangrove Blue Flycatcher
Mangrove Whistler
Red-billed Malkoha
White-chested Babbler (not confirm)
Yellow-bellied Bulbul
Velvet-fronted Nuthatch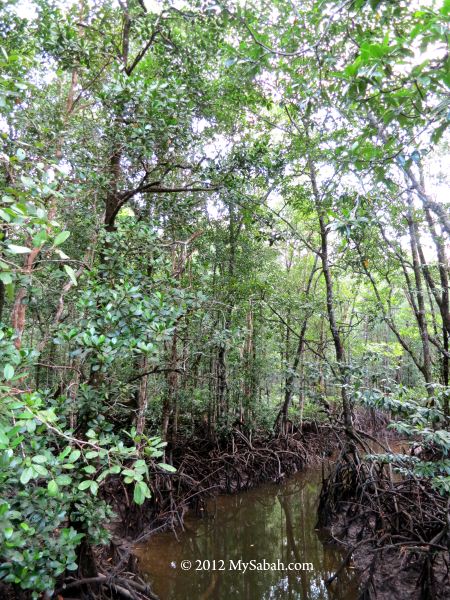 The boardwalk is also a nice way to see mangrove ecology and wildlife upclose. You would see proboscis monkey, macaques, monitor lizard, crocodile and mangrove viper here, depends on your luck.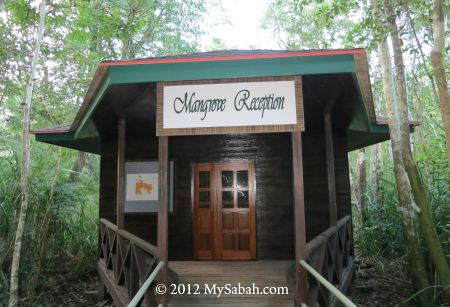 Pic: Mangrove Reception next to SLRC boardwalk.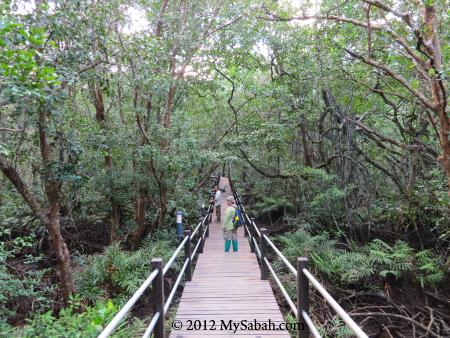 The main mangrove species in Sepilok Laut are bangkita (Rhizophora apiculata), tengar (Ceriops tagal), nyireh (Xylocarpus granatum) and geriting (Lumnitzera littorea).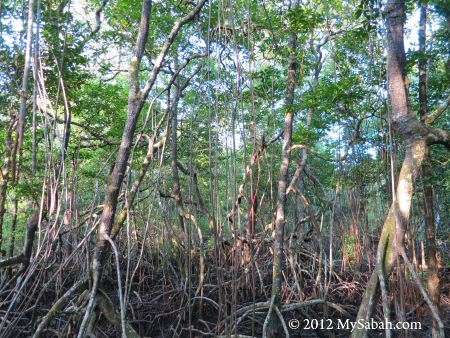 Mosquitoes are active here during dawn and dusk. Do bring insect repellent. You will be deep in the forest, so there is no shop around to sell you this.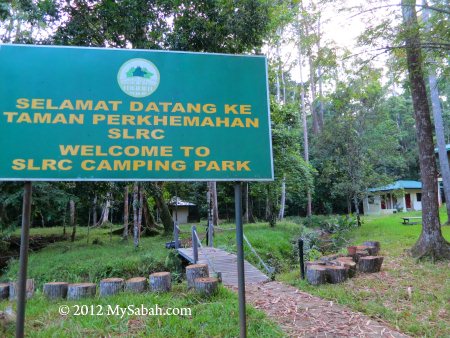 After 30 minutes of leisure walk, you will reach a Camping Ground at the end of the boardwalk. In year 2011, I had to walk nearly 1 KM from this camping ground to SLRC on a rugged forest trail. Now hikers can take the new boardwalk to SLRC, which is easier.
2. Trail to SLRC
In the past, for tourists who wanted to do a jungle trekking from Sepilok to SLRC, the trail started at Sepilok Orangutan Rehabilitation Centre. This trail is poorly-maintained and turns muddy after rain.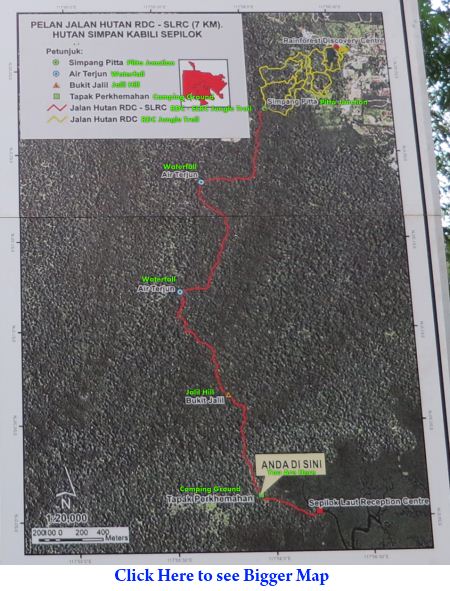 Now the new 7-KM trail starts at Rainforest Discovery Centre (RDC) and passes by two waterfalls. I haven't tried it but I assume it is better. You may click the trail map above for more details.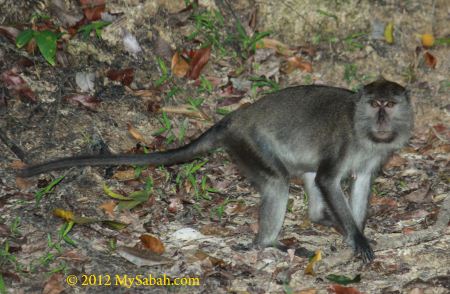 Other than what I mentioned above, nothing much is changed in Sepilok Laut Mangrove Discovery Centre. The naughty long-tailed macaques are still around. I miss them so much. But I didn't see Paul, the alpha male this time.
3. Night Walk at SLRC
Again, I did a night walk at SLRC. I started my walk on a rainforest trail from SLRC to Camping Ground, then return to SLRC via the boardwalk. By doing so, I could see nocturnal animals of rainforest and mangrove forest. Cool huh? Unfortunately, it rained that night so I had to rush back. Anyway, I still photographed some interesting flora.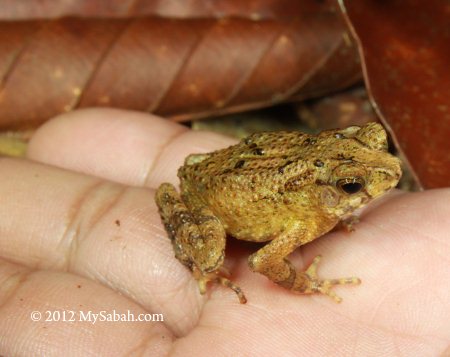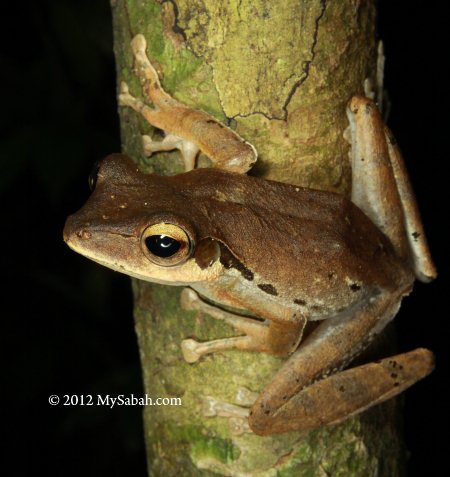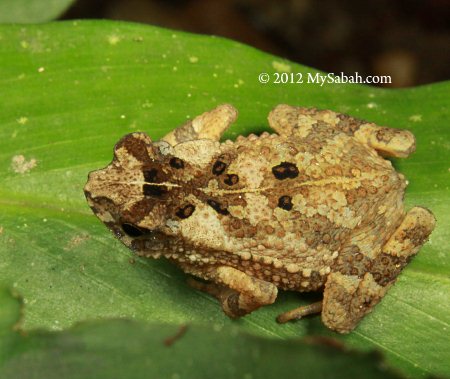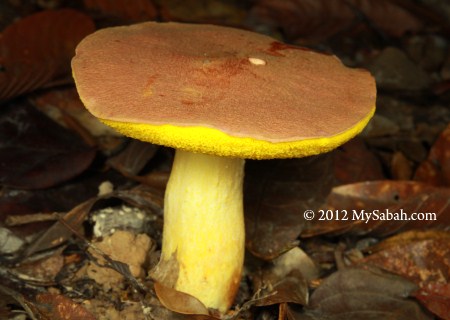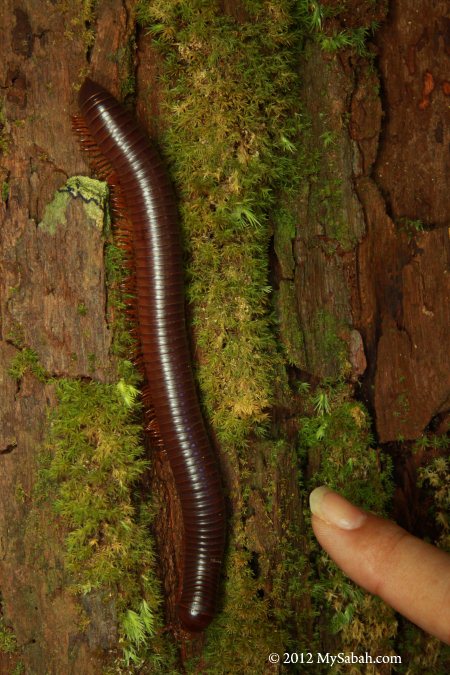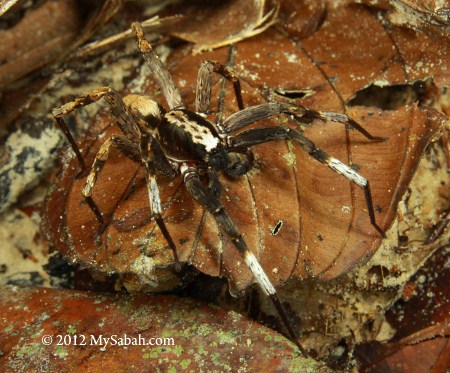 The new facilities of SLRC definitely made my experience there more enjoyable.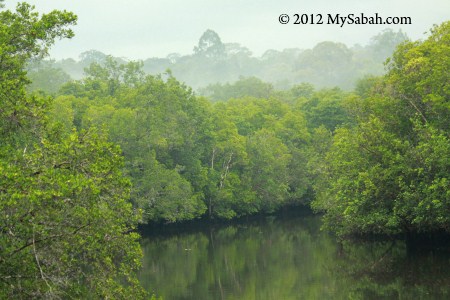 After enjoying the view of misty mangrove forest in the morning, I headed back to Sandakan city by speed boat.
If you love being in touch with forest, Sepilok Laut Reception Centre (SLRC) is really worth a visit, as it allows you to see two ecosystems, i.e., rainforest and mangrove, in one place. Have you been there? Please share your experience with me.
Photos taken in Sandakan, Sabah, Malaysia Borneo
It was an exciting night in Poring rainforest. I finally found the insect that I had been looking for years. Many friends are also very impressed with this insect. Please read on to see it.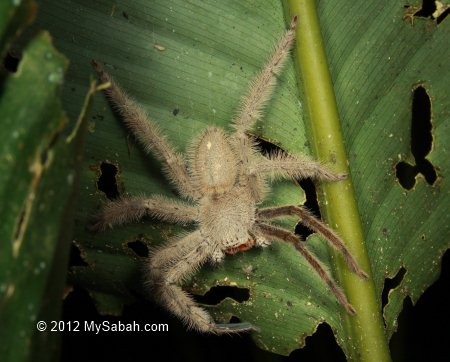 I suppose Poring rainforest is an ideal site for night walk due to its rich flora and fauna. Surprisingly, no tourist asks for a night safari in Poring, so I had to hire a nature guide to start one at 7pm. The fee is about RM70-100 (≈USD20-30) per hour. We have a happy start when we spot a white wolf spider with red mouth.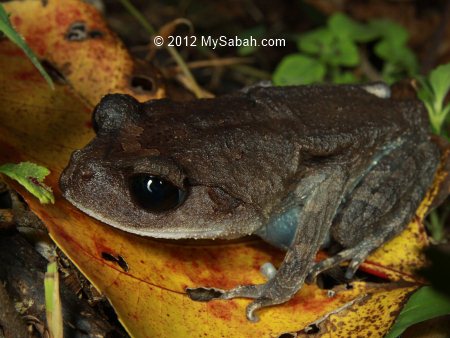 Above: A litter frog that has big head, cute..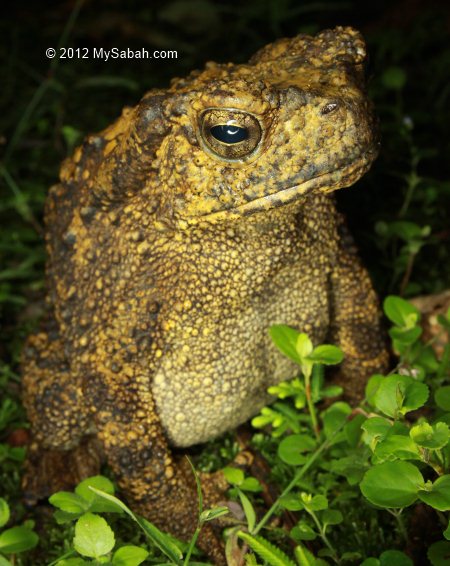 Then we saw a giant river toad, which is endemic to Borneo and famous for its foul smell. I didn't smell anything though. There is a myth that this toad will laugh if you tickle its belly.
We rub its belly gently with a twig. You may watch the 1-min video below to see if it laughs:

Click Here for bigger video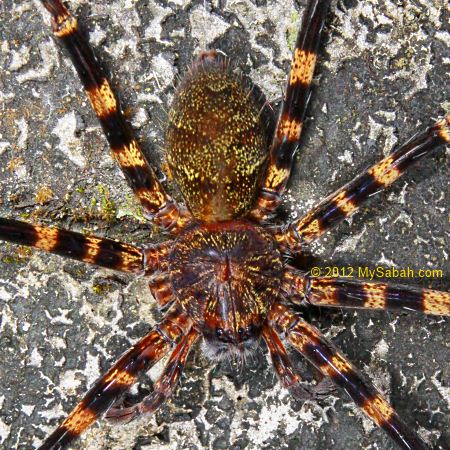 There are quite a number of big spider around, like the leopard spider above. It is easy to spot them coz their eyes reflect our torchlight.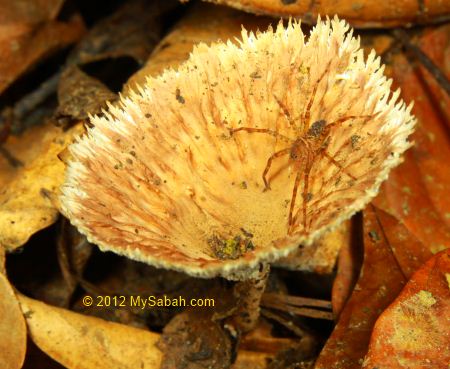 Small spider waits for prey in fungus cup.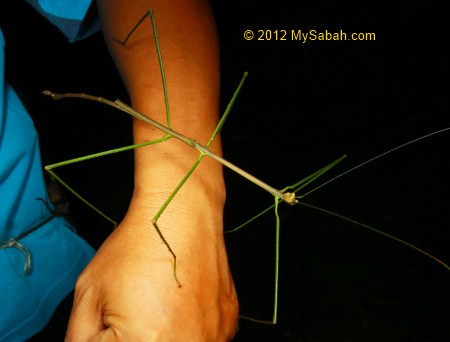 A very long stick insect. The guide says the village kids are used to eat the eggs of stick insect because its eggs are big and look like chocolate.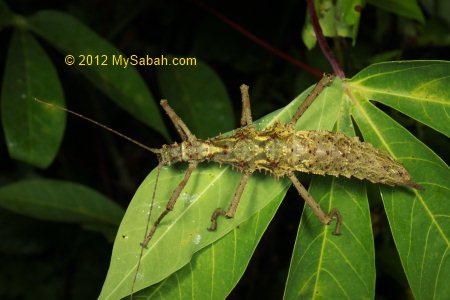 Fat stick insect on tapioca leaf. Seem like stick insect loves tapioca leaf coz I found a few more.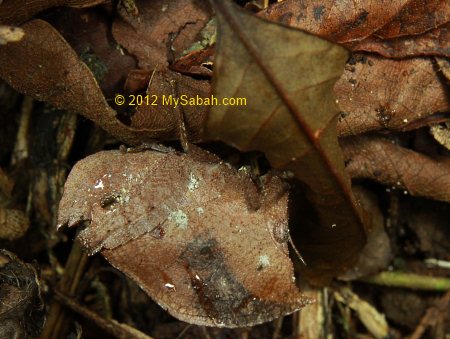 Here comes the highlight of my night walk. Can you spot anything in the photo above?
Can't see it? Below is the answer. It's a Leaf mimicking Grasshopper (Chorotypus gallinaceus) that perfectly camouflaged as a dead leaf.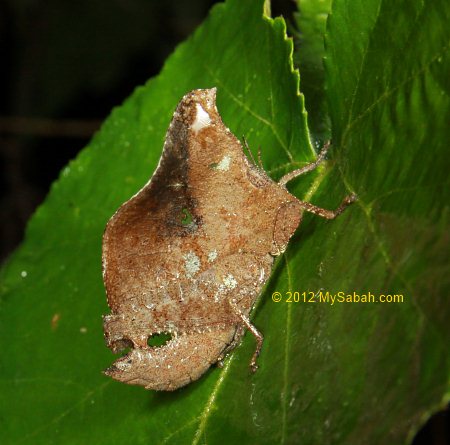 I had heard about this insect. I'm so glad to see one. When I was busy taking its photo, suddenly it just played dead and dropped itself to the ground. The guide and me shouted, "Oh sh*t!" because it would be very hard to spot it among the foliage. Luckily we located it again.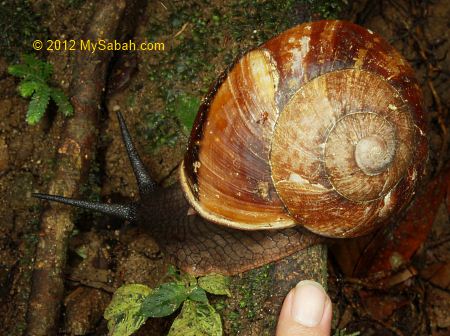 We also saw a big snail near Kipungit Waterfall. So far it's the largest forest snail that I've ever seen.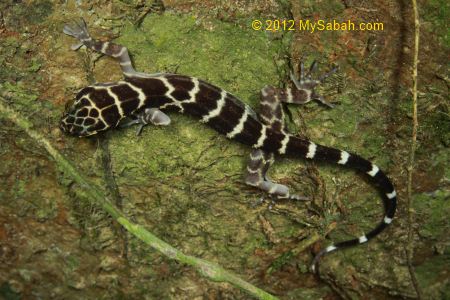 Above: Giant bent-toed gecko on tree trunk.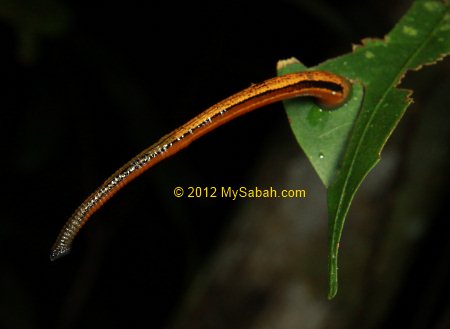 There are some tiger leeches lurking in the bush. They were so excited when they sensed our heat.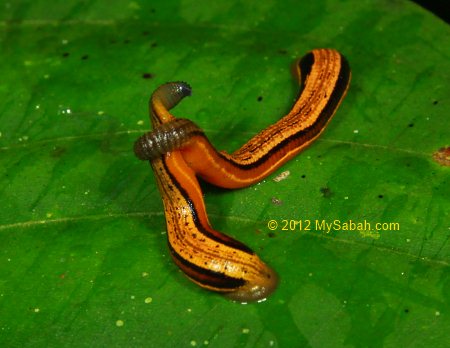 Another highlight is the mating of two tiger leeches. It lasts for quite a long time and both leeches caress each other like crazy. You may see their action in the 1-min video below:

Click Here for bigger video
Our night walk ended at 11pm, just before the heavy rain came. I can't wait to go back there again one day. If you love such activity, Poring is highly recommended for night safari.
More Photos
You may check out my photo album on Poring night walk for more nice pictures: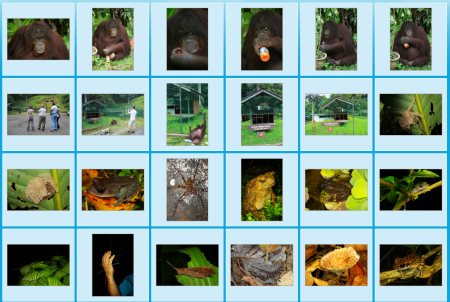 Related posts:
Night Walk in Miki Camp
Night Walk in Crocker Range Park
Other articles about Poring Hot Springs Park:
Photos taken in Poring, Sabah, Malaysia Borneo