Tag Archives:
fishing
It was a quiet morning in Semporna. I setup my camera and tripod, and waited for the magic moment of Semporna sunrise. Due to the cloudy sky, the sunrise was not particularly impressive. Then I saw a sea Bajau paddling a canoe and headed to my direction.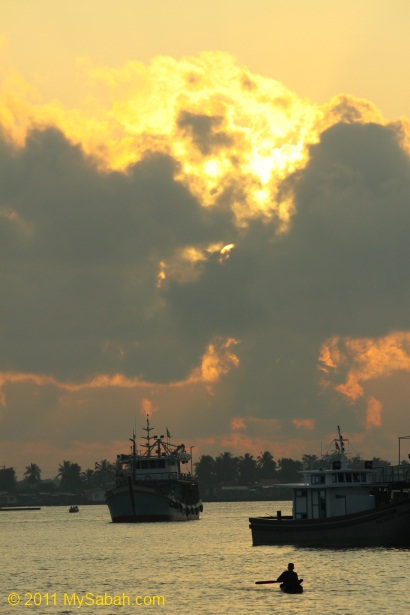 Being focus in the sunrise shots that I wanted to get, I just ignored this common scene in the sea of Semporna.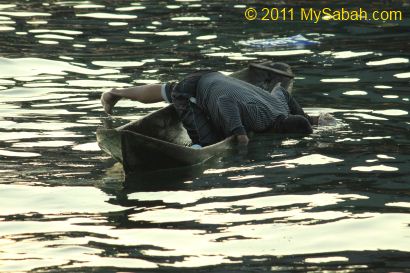 But what this fisherman did next stimulated my curiosity. He submerged his head into the water and maneuver the boat with one foot, as if he was looking for something.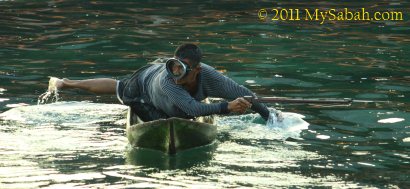 Then I noticed he carried a speargun.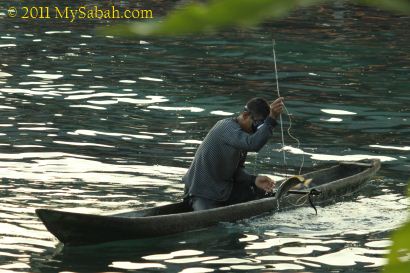 But no worry. He was hunting for fishes under the stilt houses of a sea resort.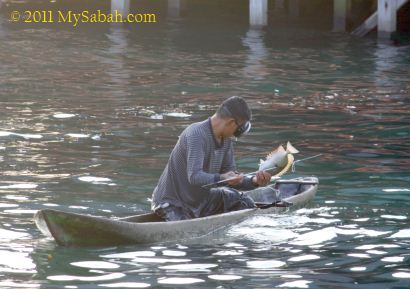 As the sunrise was over, I just observed him from a distance. He had a fruitful day, he got a fish every few minutes, even better than fishing.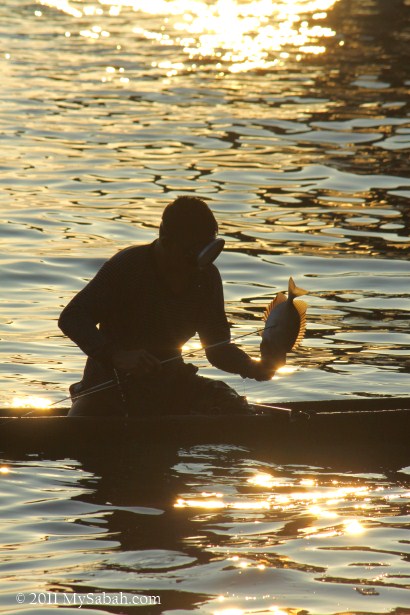 He seemed happy with his caught too. After getting 6 or 7 fishes. He gave me a friendly smile and left. The morning was back to silence again.
You may watch the 30-sec video below to see him fished:

Click Here for bigger video
My mom was an expert in speargun fishing too. She made her own speargun with umbrella metal stretcher, rubber tyre, wood, string and iron wires. Then she would catch a lot of fishes and prawns in river with her brothers. Every time she told me this same old childhood stories, her eyes sparkled, like she was recalling a happy past, though her family was so poor that time. Fish is a vital source of protein for poor men.
From that fisherman, I saw how my mother lived.
Photos taken in Semporna, Sabah, Malaysia Borneo
As part of the training in Miki Survival Camp, Mike, our guide, introduces a fun way to fish crabs without hook and fishing line.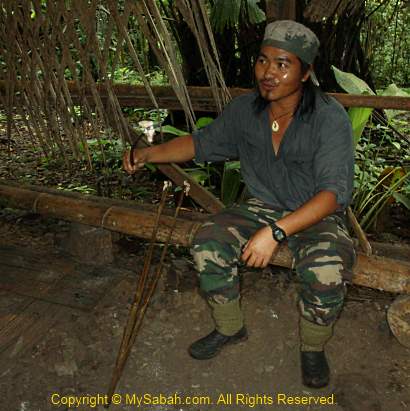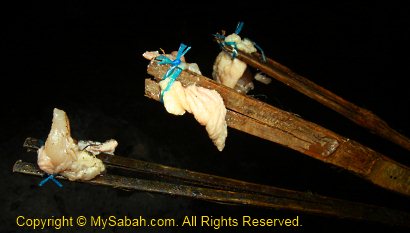 All you need is a bamboo stick with split end to hold a pieces of unwanted meat such as chicken skin or fat. Later we learn that earthworm works the best but you need to tie the worm to the string so it won't break apart.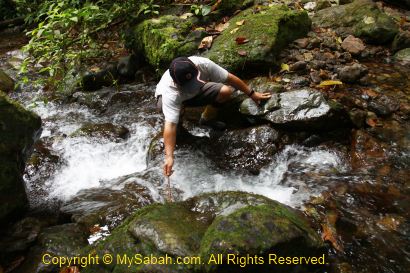 Then we go to a small stream nearby to fish for crabs. Though we don't see any crab in the water, we know they are hiding under the rocks and in the holes.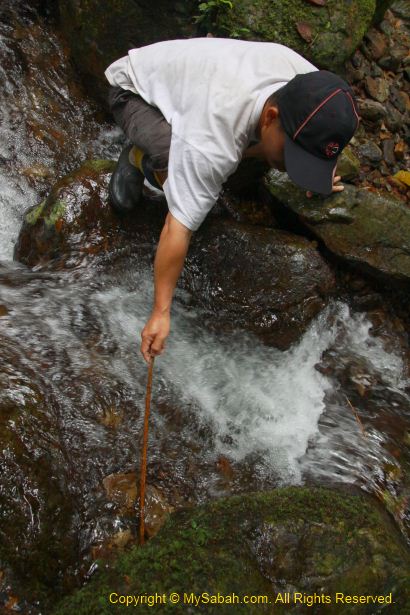 What we need to do is to place the bait near the possible hidden spot of crabs. The crab will be attracted by the bait and come to pinch it. Once you feel the pulling force from the crab, just slowly withdraw the stick.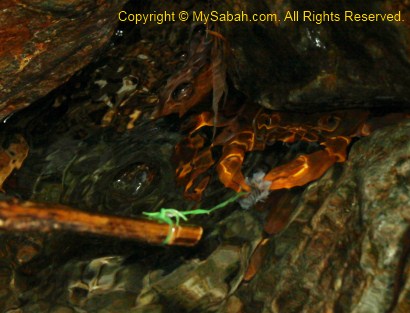 You will see crab being lured out of the hole, follows the bait and try to get a hold of the meat. Once you are sure that the crab pinches the meat firm enough, you can pull it out of the water.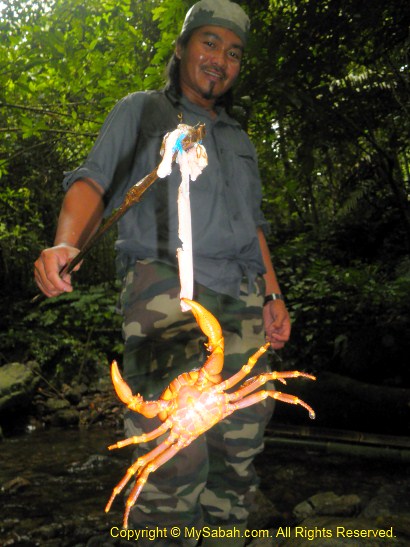 See! Mike got a greedy and stupid crab! However, it's not as easy as it looks. I try a few times but the crab escapes. If you fail to fish it in first time, the crab will become cautious and may not dare to hold onto the bait.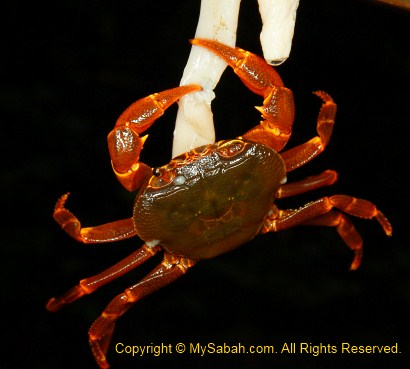 Mike and Jimmy got 4 or 5 crabs in less than half an hour. The crabs are in bright orange color, very beautiful but quite small.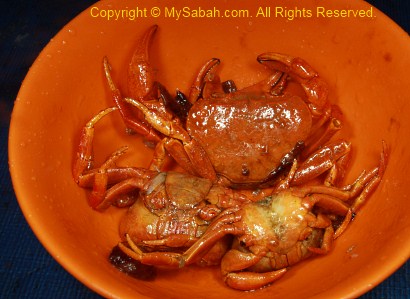 All freshwater crabs in Sabah are edible. Mike cooked these crabs with oyster sauce. The smell is so nice. The meat tastes good too though it's not much.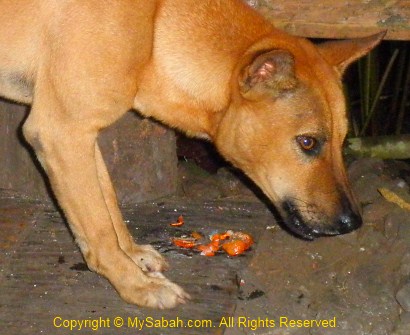 Gontong, our dog, also enjoys the crab shells left over by us, so funny.
You may watch the 90-sec video of crab fishing below:

Click Here for bigger video
Related posts:
Miki Survival Camp
Fishing for ??? (guess!) in Kuala Penyu beach
Photos taken in Kota Belud, Sabah, Malaysia Borneo