Tag Archives:
fishing
Sunlight can't enter a room full of furniture, similarly, we need more spaces sometimes to light up our hearts. That's why I like the sense of freedom in sunset cruise. The feeling of watching sunset from the vast open sea is very different. On the land, sunset is only a nice background to mark the end of day. On the ocean, you are like an audience standing on the stage of sunset for its magic moment.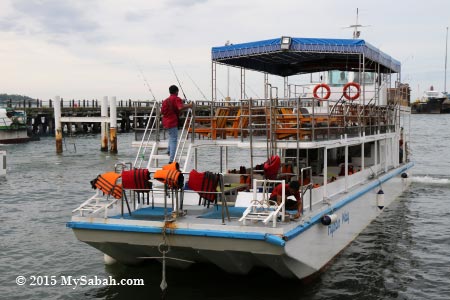 Pic: our cruise boat, Hydian Way
Kota Kinabalu City (KK) has nice sunset and our beautiful islands are just a few Kilometers away, so all we need is a boat for the trip. For the New Year Sunset Cruise Gathering, Sabah Wetlands Conservation Society chartered a cruise boat which could accommodate up to 50 people.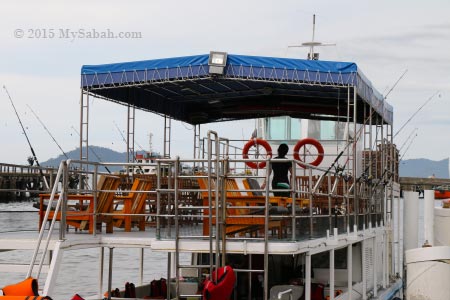 Hydian Way looks like a double-decker bus of the sea. It's a 60-feet passengers cruise boat designed for short distance tour cruise. The lower and upper decks are flat surface with many chairs and tables, so passengers can carry out any activity and enjoy open view of the sea, exactly what we need for a leisure ride. Most area is sheltered from rain and hot sun, another plus.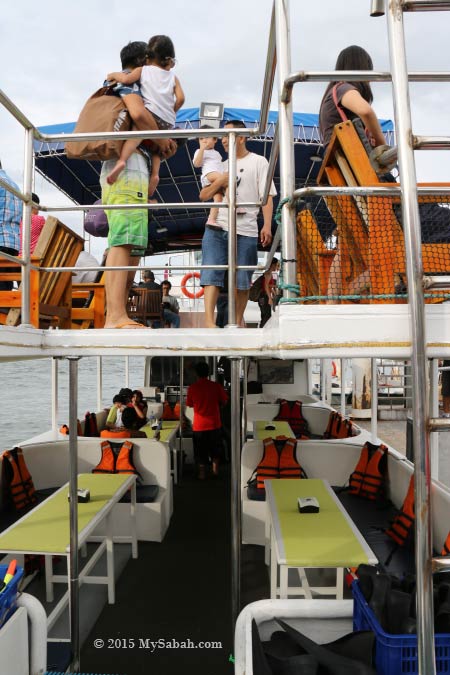 Pic: lower and upper decks of Hydian Way. The toilet and bathroom are at the rear of lower deck.
We departed around 5pm from Jesselton Point Ferry Terminal and headed to the sea and islands of Tunku Abdul Rahman Park. Everyone was so excited onboard, we explored around as this was our first time experience on sunset cruise. The boat has an area of 1,500 square feet.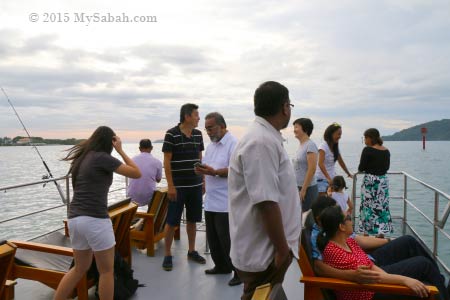 Most seemed to like upper deck better, where we could see the surrounding on higher vantage point and enjoyed the sea breeze. Lower deck is more stable and suitable for those who are prone to seasick. Anyway, the swaying motion wasn't strong when the boat was moving.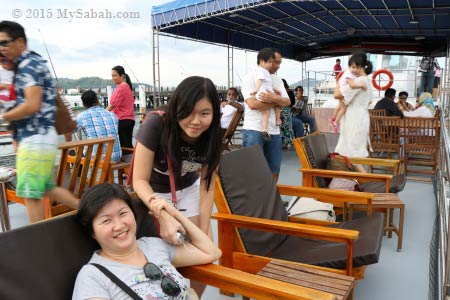 I also walked around to find the best viewpoint. After a while, everyone was settling down and started their romantic or family time.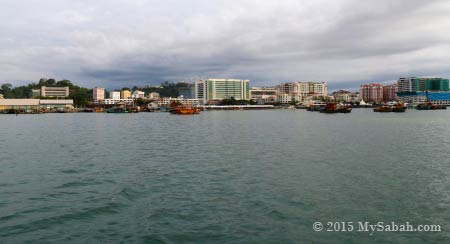 Pic: our boat leaving KK and head to the sun!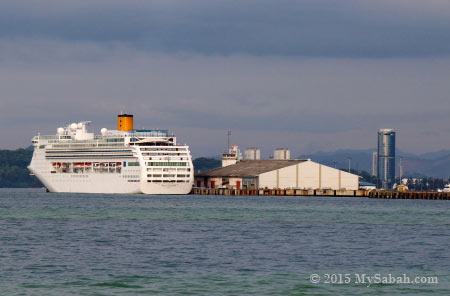 Pic: a cruise ship in Sabah Port. I wonder how it feels to see sunset from that huge ship.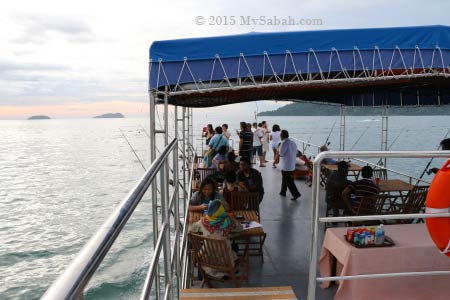 It had been raining in past few days, we didn't know if the sunset view would be nice. The sky was cloudy, so I didn't expect a spectacular sunset. As long as it didn't rain, I was happy.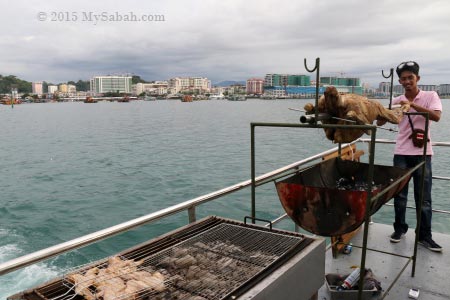 Even if the sunset wasn't nice, we still had nice food onboard. Yeah, check out that BBQ lamb, it's the one of the highlight man.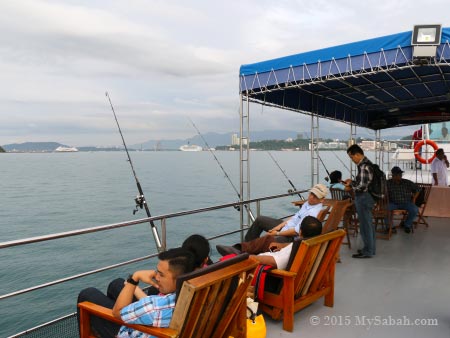 Everyone's spirit is high. For company annual dinner, you may consider organizing a sunset cruise party. Conventional dinner in hotel is just boring and everyone wants to leave after meal.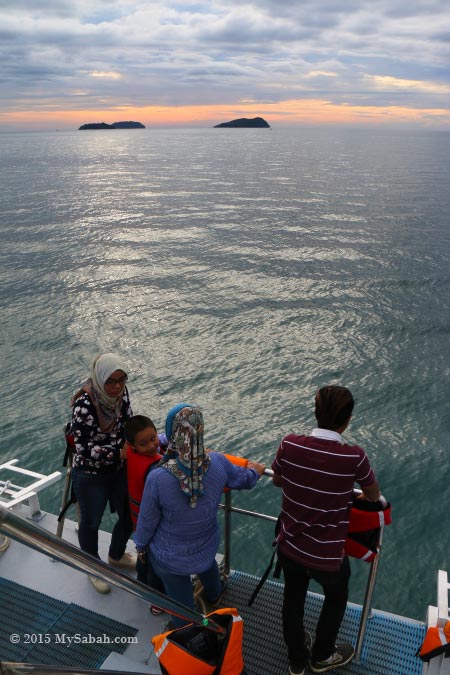 Pic: the sunset is about to start. When the sun moved closer to the horizon, the sea water turned into silvery blue, an interesting color that only can be seen from open sea.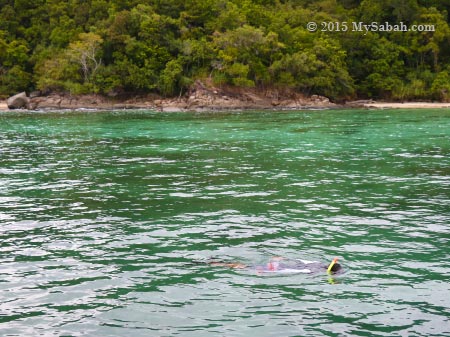 Then the boat brought us behind Sapi Island, where we could snorkel (snorkelling gears provided onboard). It was a bit cool probably due to the recent rainy season, so only one person doing it. Just to let you know that you can have this activity, and the boat can take you to snorkelling spot far away from crowded tourist area. If it was a hot day, I would take a swim.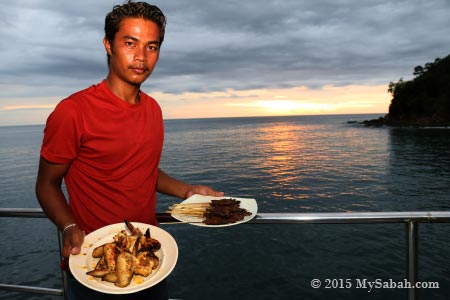 Our barbecue chicken wings and satay were ready, just in time for the sunset. With free flow of soft drink, it couldn't be better.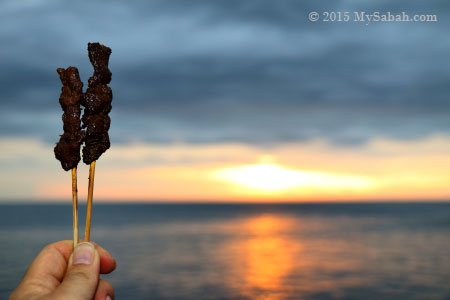 Pic: satay for the sunset!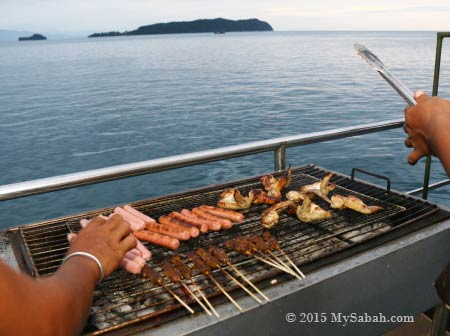 Pic: more BBQ food. Wish you were there.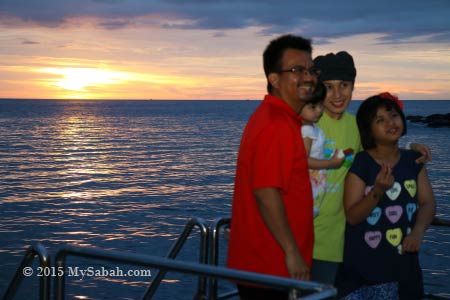 We were so happy about the exceptional view of sunset. In fact, we thought of postponing the trip because of the possible bad weather, now we have no regret.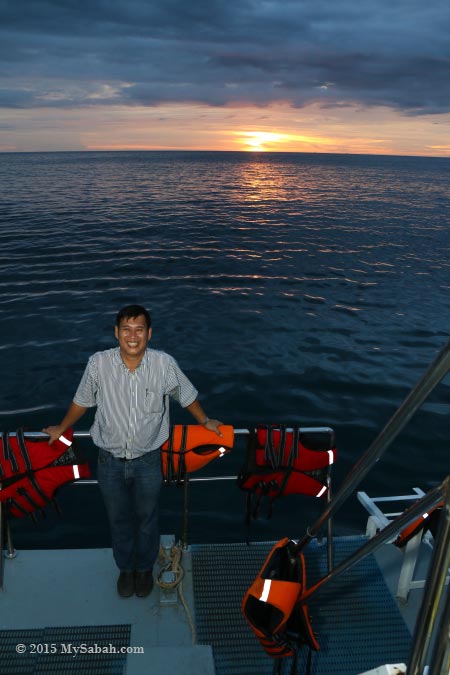 Alex, the owner of the boat, was happy too. We were the only group on the open sea that day, this sunset view was exclusively for us.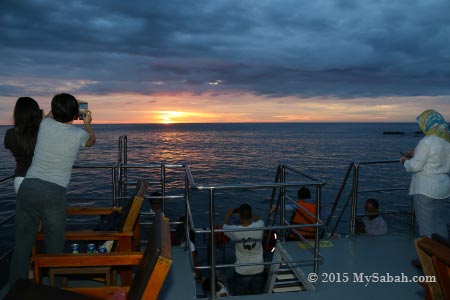 We were busy taking and posting sunset photos to our Facebook. Some even updated their profile photos with sunset as background. Bet these photos got many likes and made their friends envious.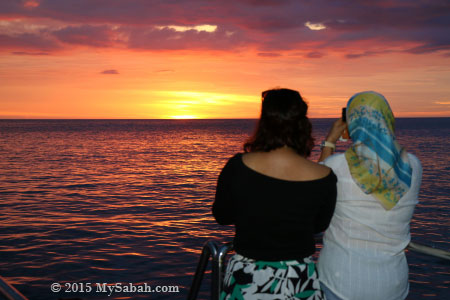 Pic: the magic moment with the most intense colors, cloud and sea were painted with rosy colors but only lasted a few minutes.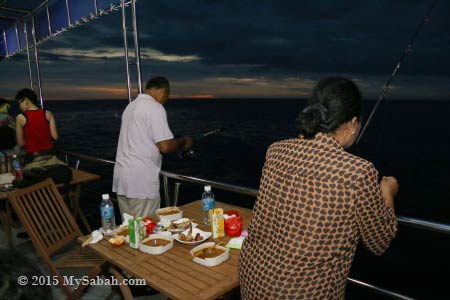 After the sunset was over, our boat moved further and anchored in open sea for next activity, fishing. The crews had prepared fishing rods and bait for us.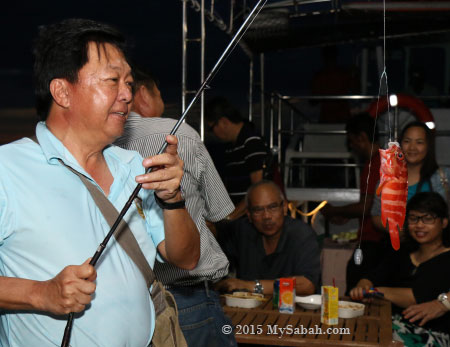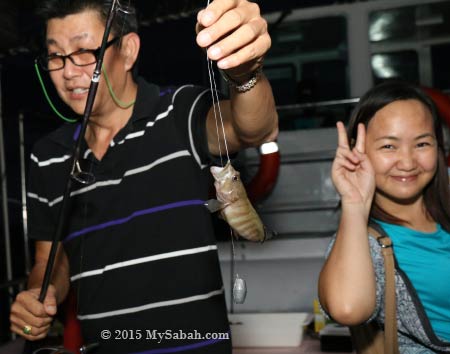 We caught a few snapper and grouper. However, the fishes were too small, so we released them back into the sea after photo taking. If we were lucky, we would have BBQ fishes.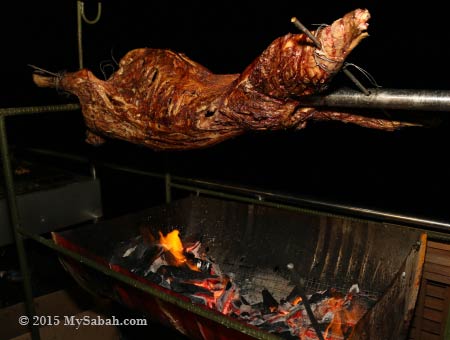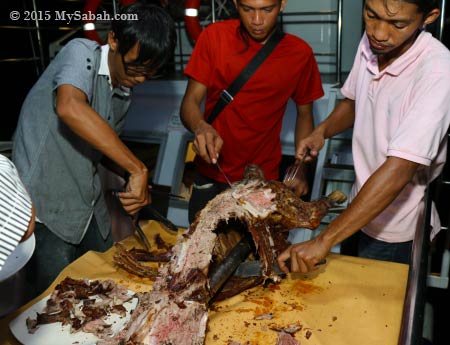 Though we have no BBQ fish, there's something better waiting for us. Our BBQ lamb is ready. We started second round of feasting. The lamb was roasted slowly, so the meat was kept juicy inside, very yummy.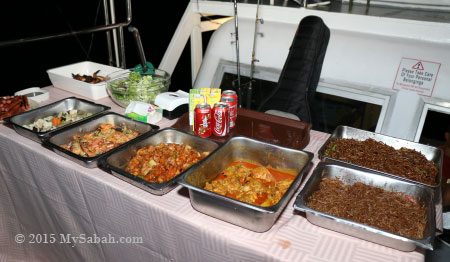 For buffet dinner, we also had fried noodles, curry chicken, butter prawns, mixed vegetables, salad and sweet & sour fish. The BBQ just now was more like high tea lol.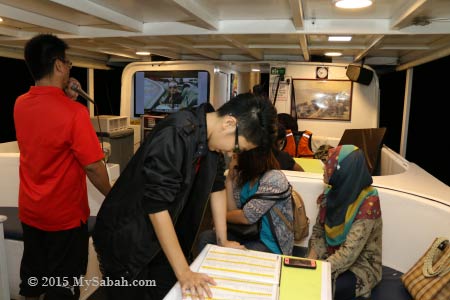 Our eyes and mouth were satisfied, next it's the turn for our ears. Let's have some music. The boat has karaoke set in lower deck, so you can show your talent. Your voice will be broadcast to upper deck too, so nobody could escape from your performance, unless they jump into the sea. Sing as loud as you can, because there no neighbour will complain you.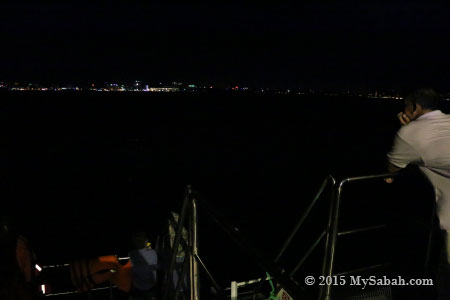 We had fun until 8:30pm, then we had to go home at last. Watching night view of KK city is the last part of our trip. The bustling KK looks like a sleepy city from a distance.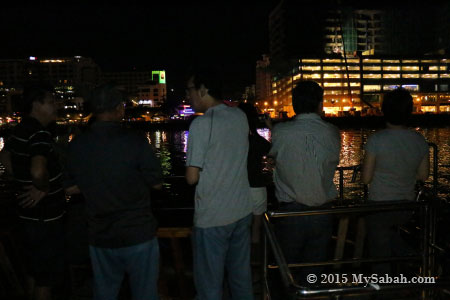 Instead of heading straight to the port, our boat cruised slowly along the shoreline of KK, to have closer look of KK city night.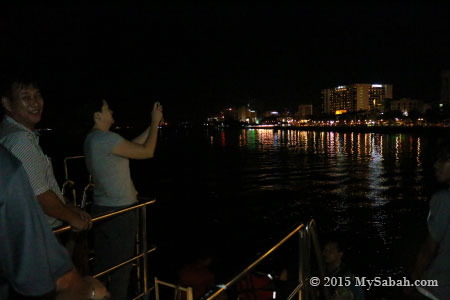 To be honest, though lovely, the night view of KK is not as magnificent as big cities. Anyway, I don't see this every day, so I still enjoy the moment.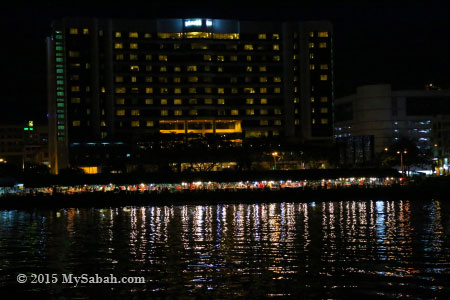 Pic: Le Meridien Hotel and Sinsuran Night Market are the brightest section of the KK night view.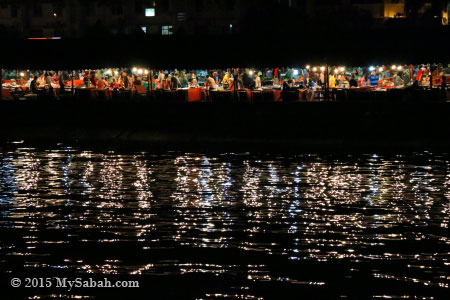 Pic: Sinsuran Night Market with busy hawkers and customers. Guess they didn't know they were being watched.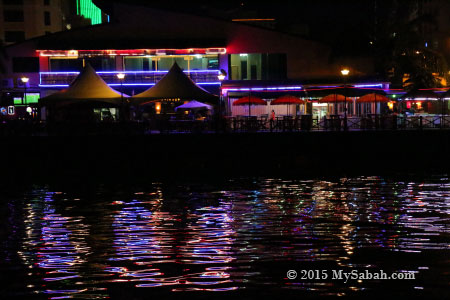 Pic: KK Waterfront Esplanade won my award as the most colorful night view of KK, haha.
Overall, this is a delightful trip and a luxury to me, who spend most of my time living and working in a world as small as an office cubicle and bedroom. I bet you will enjoy such tour.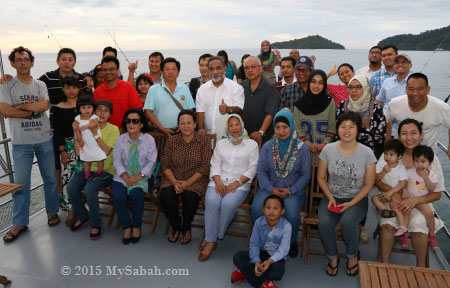 Pic: 40 passengers and 40 happy faces
Joining a Sunset Cruise
You can either join a tour or organize a party yourselves. The following are the packages and prices for tours by Hydian Way (as of Jan 2015). You can download their brochure for full details.
Type of Tour
Activities
Fee
Morning Cruise
(10am-2pm)
Snorkeling, Fishing, Lunch with free flow of drinks
RM249 per person (≈US$70)
Sunset Cruise
(5pm-7pm)
Night Cityscape, Sunset Viewing, Refreshments
RM199 per person (≈US$56)
Sunset Cruise with Fishing
(4pm-8pm)
Fishing, Night Cityscape, Sunset Viewing, Refreshments
RM249 per person (≈US$70)
Private Chartered
Customized
Hydian Way can host up to 50 people (30 would be the most comfortable size)
Rental Fee: RM2,500 to RM5,000 (≈US$700 to 1,400) for 4 hours
For booking and enquiry, please contact Huang Long Travel & Tour (皇龙旅行社) at:
E-mail: info.hydianway@gmail.com
Tel:: +60 16-557-0211 (Terita – Marketing Manager), +60 13-863-1982 (Melessa – Sales Manager)
Address: Ground Floor, Premier Golf Center, Jalan Istiadat, Kompleks Sukan Likas, 88400 Kota Kinabalu, Sabah, Malaysia.
More Photos
The photos in this article are small. You may browse my photo album for bigger and better photos: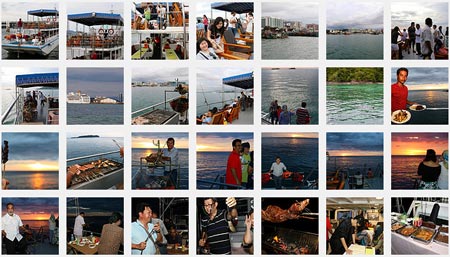 Related Posts
I had tried sunset cruise with different types of boats too. You may check them out and compare the experience:
Photos taken in Kota Kinabalu, Sabah, Malaysia Borneo
You might also like:
To enjoy a weekend on island, people of Kota Kinabalu city (KK) always visit Sapi, Manukan or Mamutik Islands. Though Sepanggar Island (Pulau Sepangar) is only 12 minutes by boat ride from KK, it was like a "nobody island."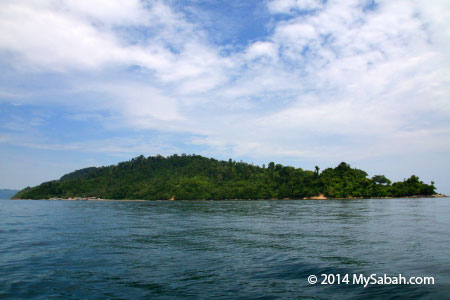 Twice the size of Manukan Island, Sepanggar Island looks like a giant manta ray from the sky (see location map) and ten of thousands of motorists see it from the busy road along Tanjung Lipat every day, but most don't even know the name of this big island.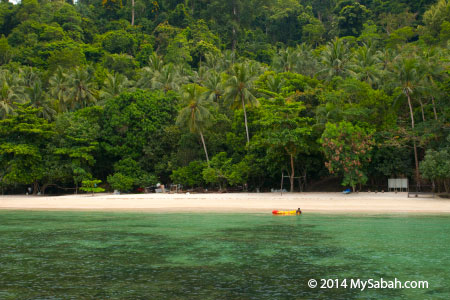 Pic: beach of Sepanggar Island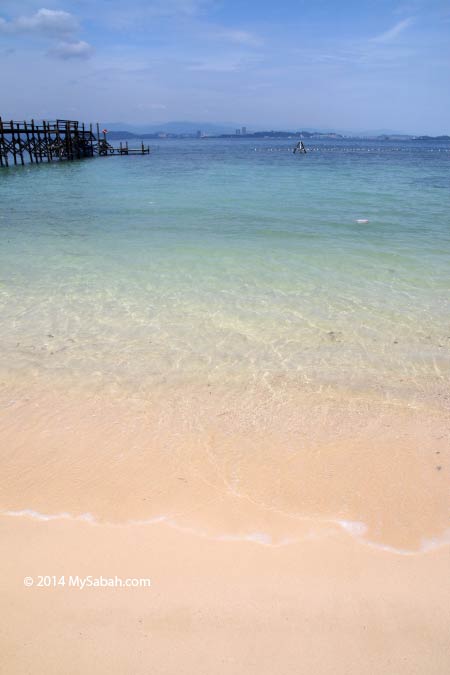 Sepanggar Island has all the elements such as nice beach and swaying cocnut trees to be a tropical island destination. When the neighbouring islands get really crowded with tourists, Traverse Tours sees the potential, they develop Sepanggar Island into a new attraction and name it Mari Mari Sepanggar Island.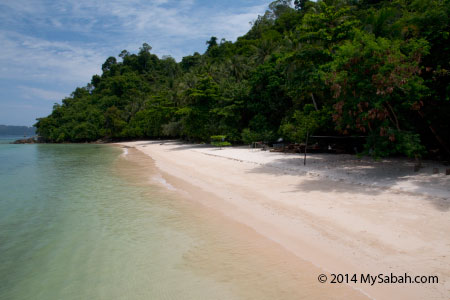 Now you have another choice of island, besides those in nearby Tunku Abdul Rahman Marine Park. Instead of promoting Sepanggar Island as a cheap and mass tourist destination, this island is meant for visitors who want to stay away from the noisy crowd and chillax at a tranquil seaside.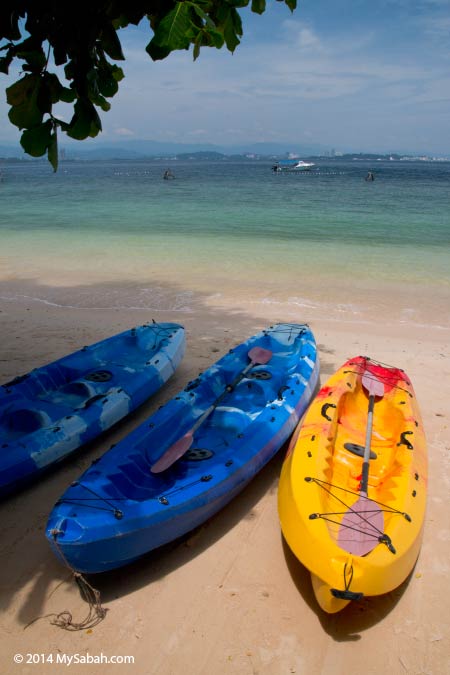 You can laze around its white sandy beach and do nothing, or you can try scuba diving, discovery scuba diving (no diver license required), snorkelling, kayaking, fishing and jungle trekking. Sepanggar Island is a protected forest reserve and covered by thick tropical rainforest. The highest point is 160 Meters, where you can have a panoramic view of Likas Bay, Sepanggar Bay and Kota Kinabalu city. I haven't explored their jungle but I think its undisturbed forest has interesting fauna and flora waited to be seen.

Pic: you can see Kota Kinabalu city from Sepanggar Island. The night view should be nice.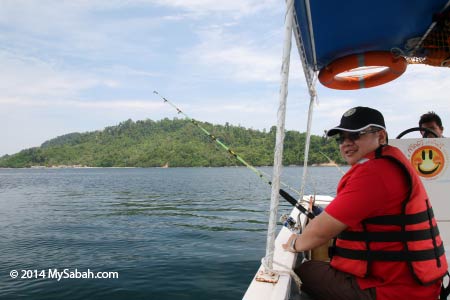 Last month I was in a 1-hour fishing trip around Sepanggar Island in the morning. My travel agent prepared the fishing rod and bait for me.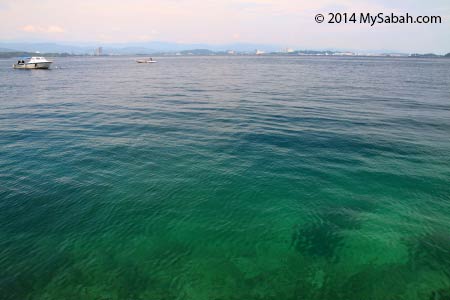 Pic: the sea of Sepanggar Island is also a fishing spot for local fishermen. There are 8 dive sites near this island.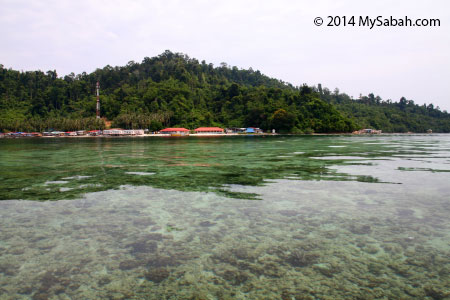 Our boat passed by Sepanggar Island Water Village. The water was so clear and we saw a juvenile turtle swimming among corals.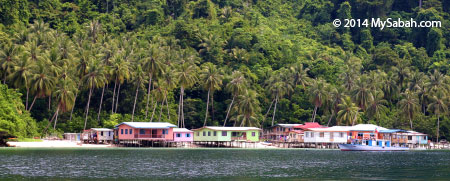 Pic: Sepanggar Island Water Village (Kampung Pulau Sepangar)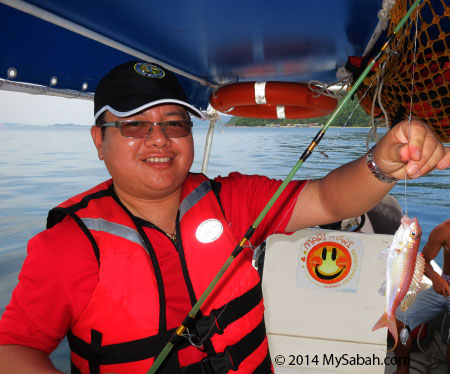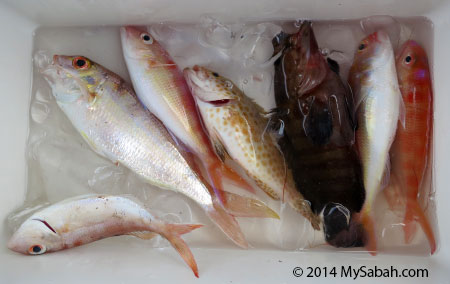 We caught a few fishes about the size of a palm. You would get big fish if you are lucky.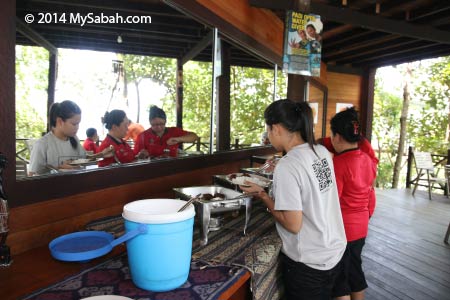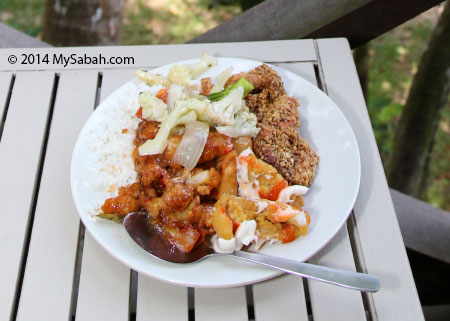 We enjoyed our lunch buffet after the fishing trip.
Then we just relaxed at the beach side and felt the gentle breeze.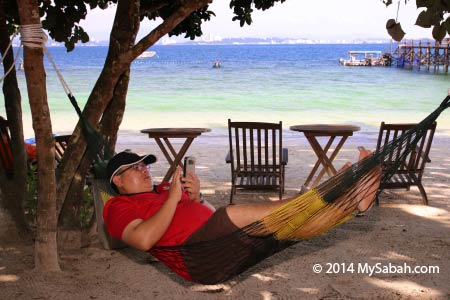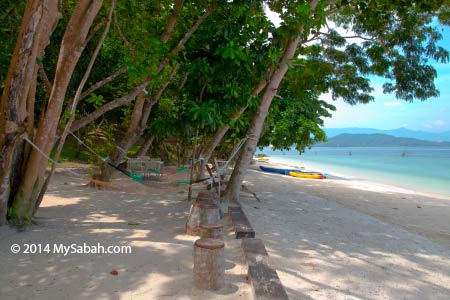 Pic: from the beach, you can see Mt. Kinabalu at the left and Gaya Island at the right.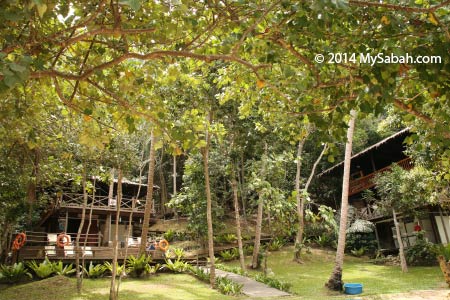 Pic: Dive Centre (left) and Activity Centre (right) of Mari-Mari Sepanggar Island. They also have proper toilet, changing room, lockers, activity hall and dining area for the guests.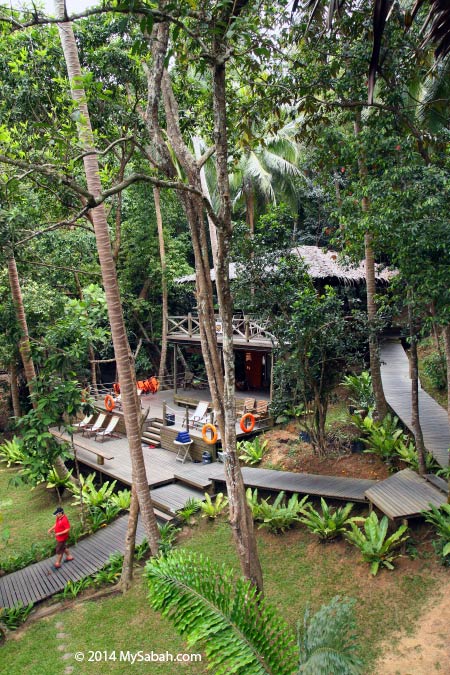 Pic: Forestry Department doesn't encourage them to cut the trees so the centre is inside lush wood. Surprisingly there was very few mosquitoes during my visit.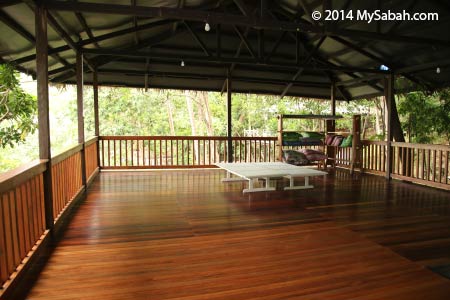 Pic: for student group who wants to overnight on the island, there is a wide sleeping area to accommodate them.
Island Accommodation (Chalets)
The island has 1 unit of Beach Chalet (Double bed) and 5 units of Hill Chalets (3 units with Double Bed, 2 units with Twin Bed). All rooms are equipped with attached bathroom & soap dispenser, stand fan and towel rack/bar. Beach Chalet is near the beach and has great sea view. If you love to be surrounded by trees, you may stay in Hill Chalets on the slope but you need to take a short walk to the beach.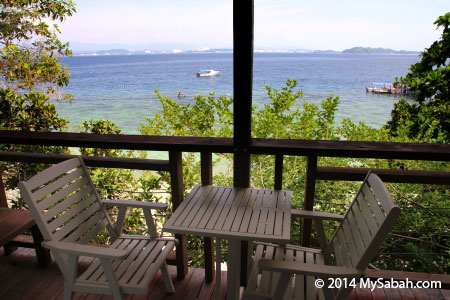 Pic: Beach Chalet with nice sea and night view of KK city.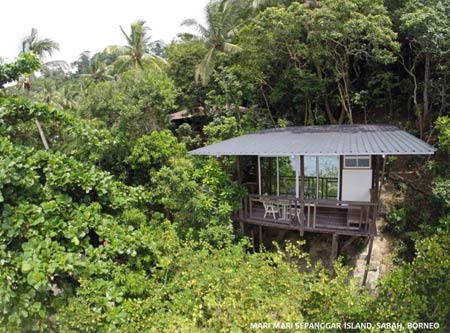 Pic: Beach Chalet
All chalets can accommodate up to 3 people but it is a tight fit, so they recommend just 2 Adults + 1 Child for the Hill Chalet while the Beach Chalet can accommodate 3 Adults.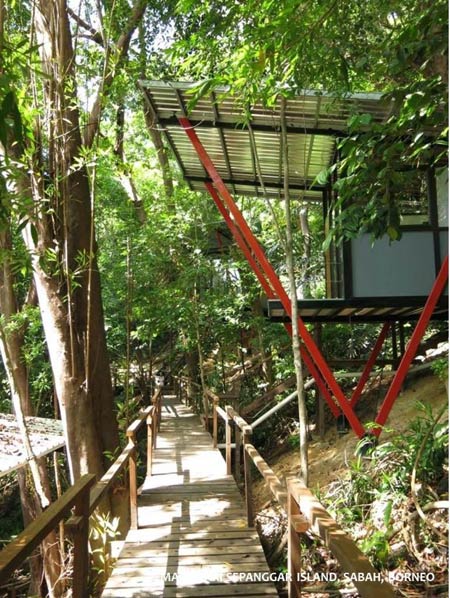 Pic: Hill Chalet inside the forest
As all facilities depend on solar power, electricity usage is kept to a minimum and there are no charging options in the room. However, they have a charging station at the reception area where you can charge your electrical appliances safely.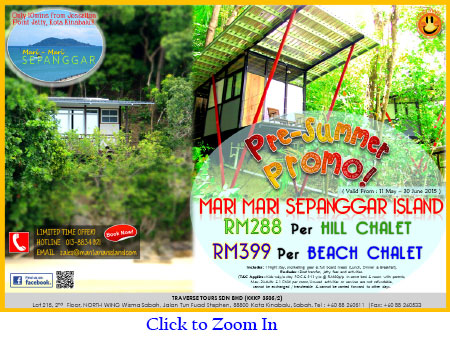 Their Beach Chalets and Hill Chalets have opened and now available for booking. You may download the Pre-Summer Promotion package for details (valid from 11 May – 30 Jun 2015).
IMHO, Sepanggar Island is a suitable playground to organise small private beach party and group outing. You can enjoy BBQ and beer at the beach, watching sunset and KK city night view and then spend a night on the island.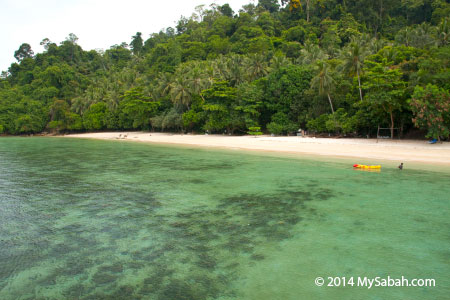 How to get there
The tour to Sepanggar Island starts from RM180 (≈US$57). To visit the island, below is the contact of the agent:
Company: Traverse Tours
(The tour operator has a counter (No.12) in Jesselton Point Ferry Terminal, where their boat departs to Sepanggar Island)
E-mail: sales@mantananiisland.com, mantanani@traversetours.com
Tel: +60 13-883 4921 (Hotline), +60 88-260 511, +60 88-260 522
Website: www.mantananiisland.com
Facebook: Mantanani-Kechil-Island-Sabah-Borneo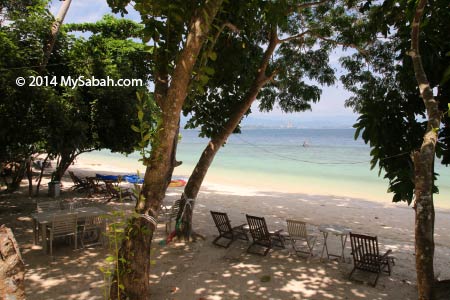 However (I wish I don't need to mention this), I need to tell you that you will see rubbish on the sea and other corners around Sepanggar Island. Most of these garbage are from the water villages of Gaya Island. I hope the government will relocate those villagers ASAP to inland, to solve the littering problem once and for all, because it is also affecting other nearby islands and island resorts. Other than that, the service and location of Mari-Mari Sepanggar Island is great, so it deserves to be the next popular destination.
More Photos
You may check out album of Sepanggar Island for more photos.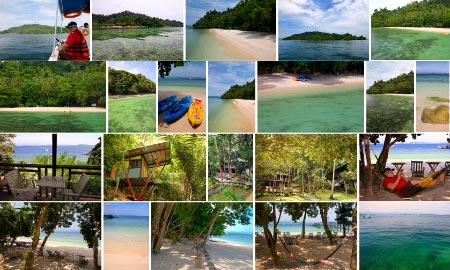 Photos taken in Kota Kinabalu, Sabah, Malaysia Borneo
You might also like: