Tag Archives:
firefly
Before I introduce this place, I want to show you two photos below. 1st one (below) is the photo of afternoon sun blocked by haze. You can tell the haze is really dense.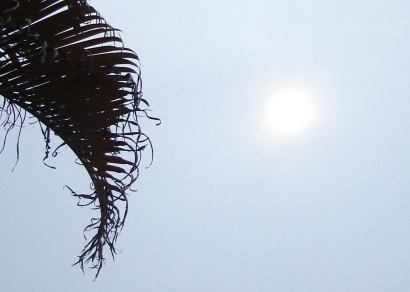 Next one is the photo of our city attacked by haze. The haze from Kalimantan every year is really a nuisance. Such pollution not only affecting our economy, it also damages our health. Don't you hate it?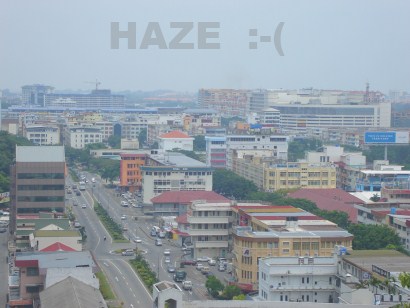 The place that I'll talk about has very close relationship with haze. The title has said it. It's Klias Peat Swamp Field Center (KPSFC), 10 KM south-west of Beaufort. When you drive pass Beaufort toward the direction of Sipitang town, a few minutes later, turn right to the junction with the sign "Kg Luagan", follow the main road, then you need to turn to two junctions again, to Jalan Luagan and Jalan Sanginan (see Location Map).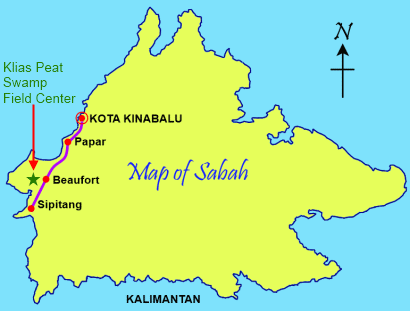 Soon you will see the sign "Hutan Paya Gambut Klias" (means Klias peat swamp forest), drive another 3.5 KM on a gravel road and you will reach Klias Peat Swamp Field Center.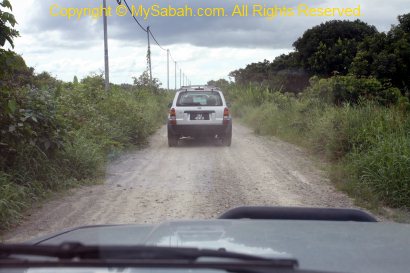 >> Click Here to see more photos of Klias Peat Swamp Field Center (KPSFC)
What is Peat Swamp Forest?
Peat swamp forest is wetland with a layer of decomposing organic matters, such as dead leaves and plant material, up to 20 Meters thick. Waterlogged soils prevent dead leaves and wood from fully decomposing, which over time forming acidic peat (pH 2.9 – 4), giving a typically dark brown to black colour to the water – hence the name 'blackwater swamps'. An estimated 1.54 million hectares of peat swamp forest still remain in Malaysia (but going fast!). More than 70% are in Sarawak, less than 20% in Peninsular Malaysia and the rest (over 2/3 are in Klias) in Sabah.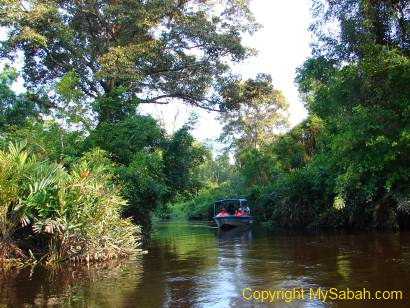 Importance of Peat Swamp
Peat swamp forest is highly diverse with as many as 927 species of flowering plants and ferns recorded in Borneo. It provides sanctuary for migratory birds and home to more than 60 endangered animal species such as Orangutan, Proboscis Monkey, Sumatran Rhinoceros, Asian Elephant, Tiger, Civet Otter, Storm's Stork and Wrinkled Hornbill. Arowana, a very expensive aquarium fish, also lives in peat swamp. Peat swamp forest is also very important for our nature tourism, as many tourists want to see proboscis monkey and fireflies, which live in our peat swamp forest such as Klias, Weston and Garama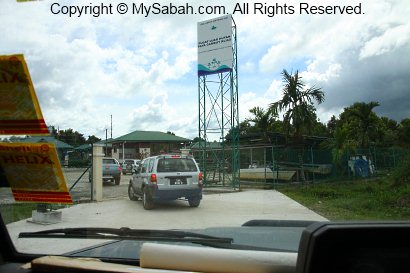 That's why Sabah Forestry Department gazetted 3,630 ha of peat swamp in Klias as Class I protected forest reserve. They also open KPSFC in 2006 for conservation and research of peat swamp forest. FYI, the peat swamp of Klias is over 5,400 years old and the peat can be as deep as 13 Meters!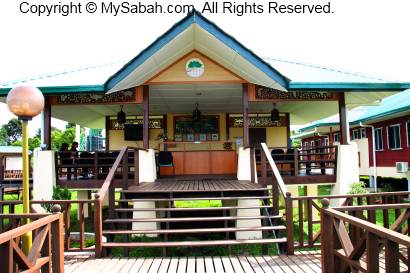 Above: the reception building of KPSFC.
Opening Hours & Contact
GPS Location: 5.325683, 115.673054 (see Location Map)
Mon – Thu: 9am-1pm, 2pm-4:30pm
Friday: 9-11am, 2pm-4:30pm
Closed on weekends
Tel: +60 87-208101, +60 87-208102 (Note: If the phone numbers don't work, you may call the mobile phone of Center Manager, Mr. Christopher Matunjau at +60 17-8101070)
Facebook: kliaspeatswamp.fieldcentre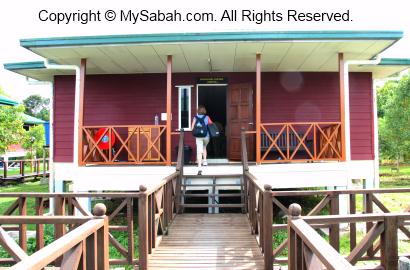 Above: the hostel in KPSFC can accommodate 16 to 30 people. Of course tourists can visit this place, but it'll be better if they can bring a very knowledgeable tour guide, someone who can give them very good interpretation talk. Sadly, most tour guides in Sabah have 0 or poor knowledge on wetlands ecology.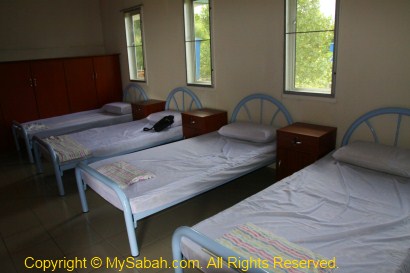 Above: our bedroom in the hostel. The room is quite comfortable and equipped with air-conditioning. There is a big male and female washrooms in the building. Overall, the place is clean but the toilet is poorly constructed. Not only that it is very small, a few doors also can't be closed properly, making you wondering why those people didn't monitor the quality of the construction.
You can watch the 1-minute video below if you want to get a feel of the surrounding of Field Center: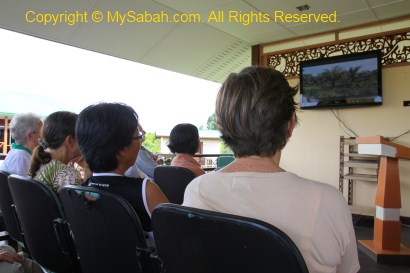 Then we were shown a short video briefing in the reception building. The vegetation of Klias is a mix of peat forests, mangroves, nipah swamps, freshwater swamp forests, open marshes, heath forest and dryland forests, one of the most diversified and outstanding examples of peat swamp forest in Borneo. Klias is the largest peat swamp forest of Sabah, located on the delta of the Padas and Bukau rivers. At first glance, it does not look like an impressive attraction. Unlike a lively and flowing river, what you will see is a stalled brackish river with unpleasant smell.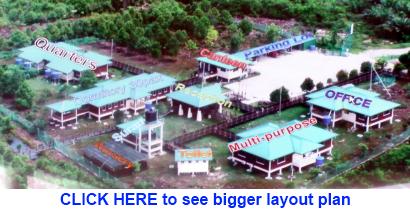 You may click the picture above to see the layout of the Field Center. All necessary facilities are in place, except a restaurant.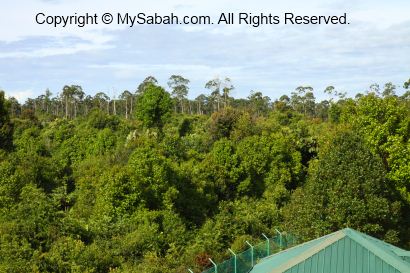 Above: the peat swamp forest behind the Field Center.
>> Click Here to see more photos of Klias Peat Swamp Field Center (KPSFC)
Luckily visitors do not need to step into the mud and swamp to explore the peat swamp forest. You can walk on 2.7 KM of wooden boardwalk to get close to peat swamp. The walk takes about 2 hours and the starting point is just behind the reception building.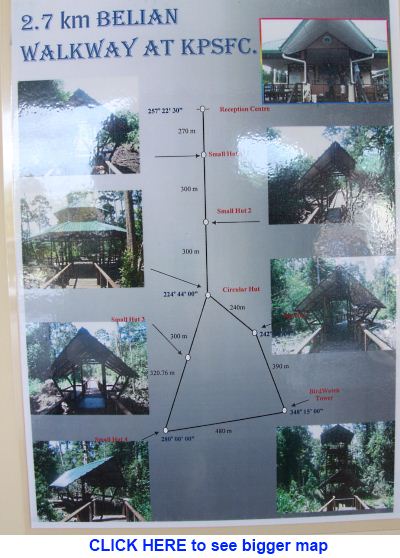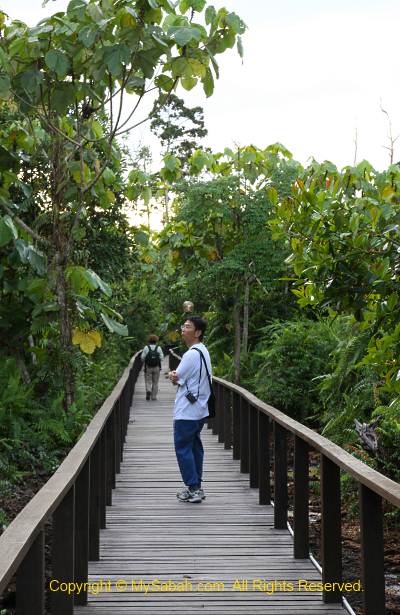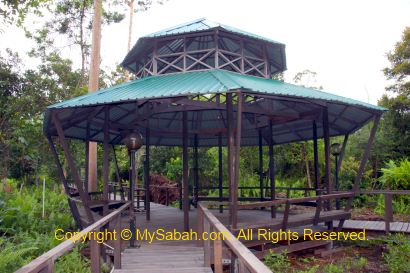 >> Click Here to see more photos of Klias Peat Swamp Field Center (KPSFC)
In early morning and late afternoon, the boardwalk is a nice place for bird-watching. You would see hornbills and woodpeckers. A rare Hook-billed Bulbul bird can be found here. Sometimes the bird watching guides bring tourists to look for birds here. I only saw glossy starling, dollar bird, kingfisher, imperial green pigeon and Hill Myna. Do bring a binocular if you plan to see birds.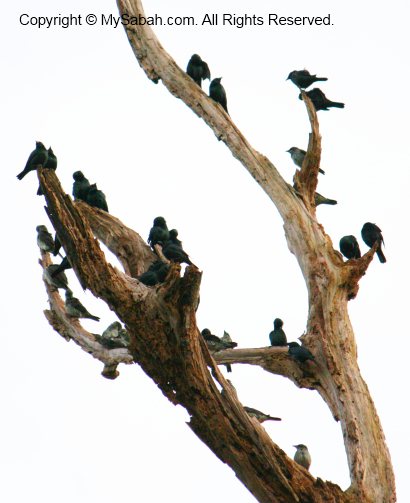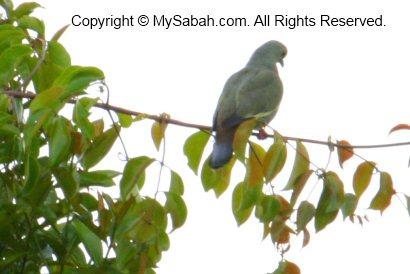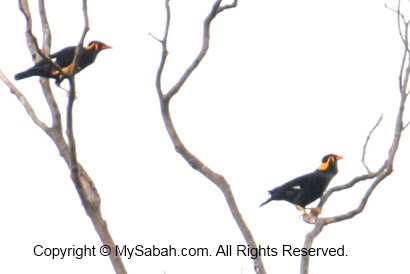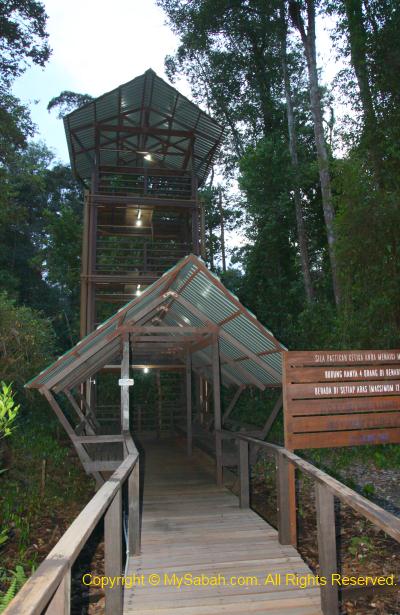 They also have a bird watching tower.
>> Click Here to see more photos of Klias Peat Swamp Field Center (KPSFC)
You may spot interesting plant or insect next to the boardwalk. Some look weird. 4 species of pitcher plant live in peat swamp.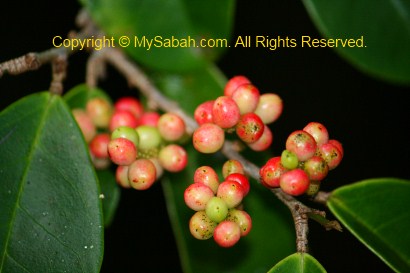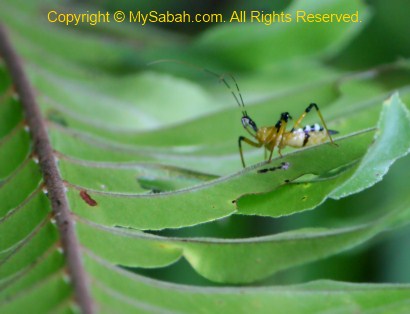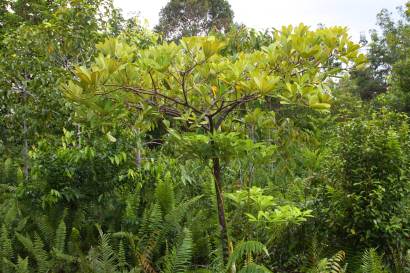 >> Click Here to see more photos of Klias Peat Swamp Field Center (KPSFC)
To my surprise, there are many tall trees in this area. Like the Kapur Paya (Dryobalanops rappa) in photo below. It is endemic to Borneo and can grow up to 55 Meters tall. It is a threatened species due to its value as a commercial hardwood "Kapur". Kapur Paya was not the favorite timber in the past coz its log sinks in the water. But when timber price goes up today, it becomes the feasible target of logging.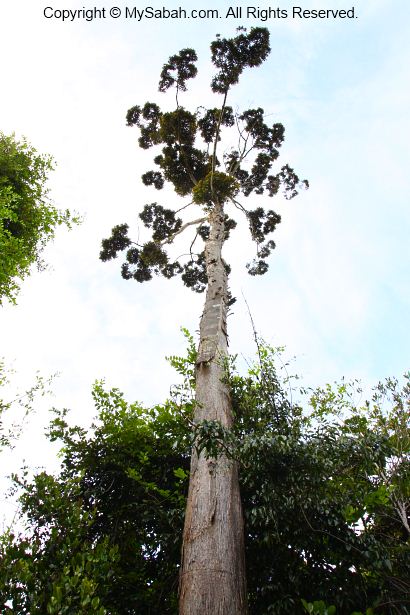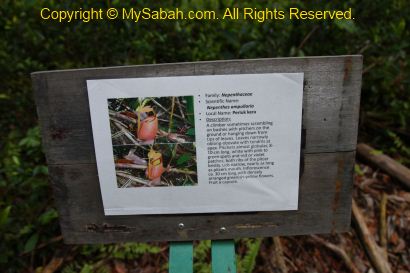 Above: there are many interpretation signs (in English) along the boardwalk for tourists to self-educate themselves.
Haze from Peat
Ok, let's come back to the haze and peat swamp things. How are both related? Heavily packed with centuries of decaying organic material (i.e. dead wood & trees), peat swamp stores a huge quantity of carbon. A 10-Meter deep peat swamp can store about 5,800 tonnes of carbon per hectare, compared to 300-500 tonnes per hectare for other types of tropical forest. When peatlands are drained, dried, and burned for opening up new land for plantation such as oil palm every year, they emit over 3 billion tons of CO2, more than 10 percent of annual CO2 emissions, contributing to global warming!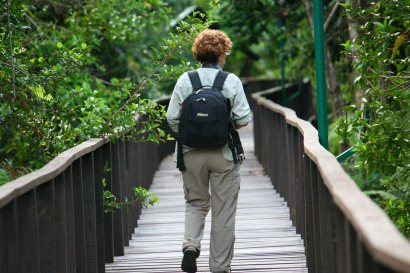 What is shocking – dry peat swamp forests are very vulnerable to fire and produce the most carcinogenic haze. Fires in peat swamps are extremely difficult to extinguish because the fire can smolder deeply underground for YEARS, even after surface fires are put off by rains, creating haze that regularly haunts Southeast Asia. By now you should know why Indonesia has problem to stop haze.
After the planters drain and dry the peat swamp, they will burn it to clear the land for oil palm plantation. Imagine tons of carbon, which was locked under the ground for thousand of years, suddenly free and escape into the atmosphere as Carbon Dioxide… DISASTER!!!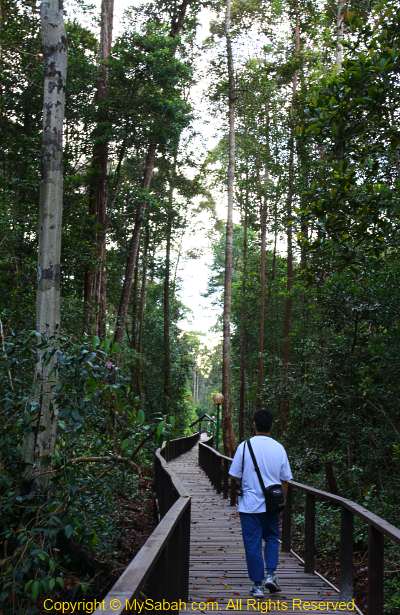 There is only a self-catering kitchen in the Field Center, but that's not a problem for our wonderful ladies who can cook. We had a great BBQ dinner! But I need to warn you that there are many mosquitoes in the evening and they can bite through my thin socks! Remember to bring insect repellent.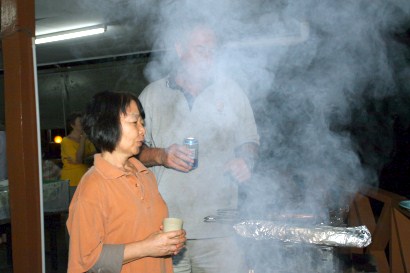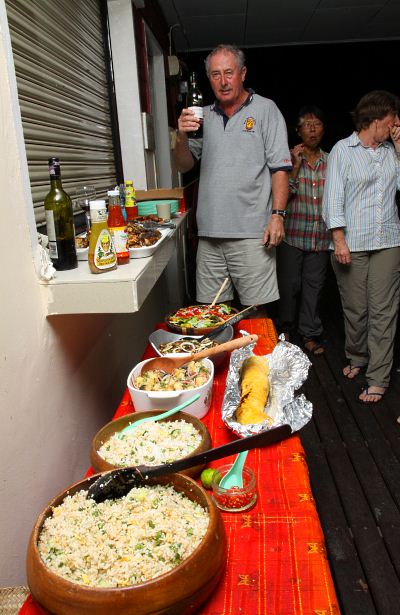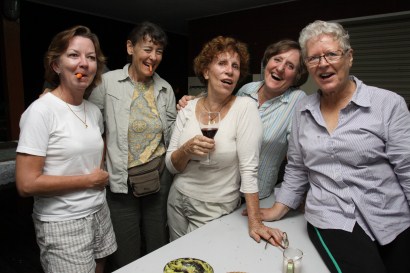 >> Click Here to see more photos of Klias Peat Swamp Field Center (KPSFC)
After heavy meal, a few of us decided to do a night walk. FYI, you may request the ranger to turn on the light along the boardwalk (but we didn't). With the aid of torchlight, we walked quietly and saw termites, bats, frog and big millipede. The starry night is also a great feature here.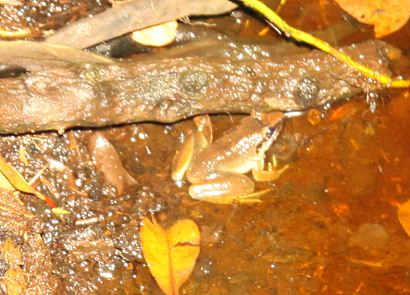 You would see wild animals such as wild boar, civet and badger at night, but you have to be very lucky. Guess that was not our night, though we could sense that this forest was very lively in the dark.. No wonder there are some old stories that warn children not to play till dark because the "tembuakar" which roams swamps and rivers on Sabah's southwest coast will subdue them. Indigenous communities claim the creature takes on 44 life forms, appears after a heavy storm, is capable of uprooting bridges and can overnight "eat" grasses that clog rivers.
However, this monster has more reason to be afraid of human because new studies by Netherlands-based Wetlands International conclude that 20 percent of all Malaysian palm oil is produced on drained peatlands. They even say peat swamp will disappear from Sarawak state by the end of the decade if the destruction does not cease.
Conclusion
In Sabah, I see blue sky almost every day. I thought the beautiful sky would be there for me forever, until the haze from open burning turns our sky into grey color. Only then I realize that we should not take our environment for granted, or we will lose it forever.
Photos taken in Beaufort, Sabah, Malaysia Borneo
You might also like:
In the past, Weston is the first town to have a railway station in Borneo, but it is under-developed and remain a seaside village today. Now tourists find a reason to visit Weston, as it is one of the three places offers wetland eco-tourism in Klias Peninsular to see long-nosed monkey, besides Klias and Garama.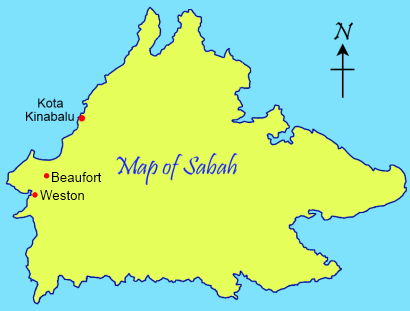 Weston town is about 3 hours drive (125 KM) from Kota Kinabalu city and accessible by paved road. You will pass by Papar, Bongawan and Beaufort towns on the way.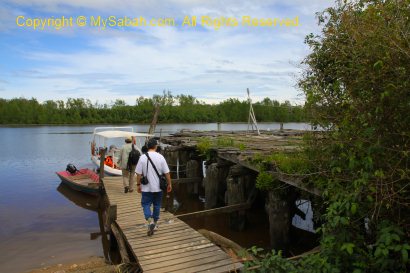 Last month I joined a river cruise tour in Weston. I arrived Weston around 10am and our guide, Richard, and his boat, were already waiting at the jetty. It had been raining every day that time, so I was so glad that we had sunny day. For a start, we had a river cruise tour on the Weston River. The wetland here is mostly intact and well-preserved. Unlike the brackish and lifeless water in peat swamp of Klias and Garama, Weston wetland is a wide river with flowing murky (like color of milk tea) water.


>> Click Here to see more photos of Weston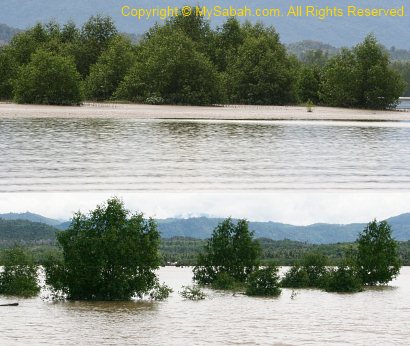 Compared to Klias and Garama, Weston wetland is located at downstream and closer to the sea. In fact, its estuary is where Padas, the largest river of Sabah, ends as the meeting place of sea and river. As tide level changes daily, so is the depth of the water. We can see some lands exposed during low tide, with mangrove trees growing on it. During high tide, about lower half of these trees will be submerged into the water. A funny view but these vegetation have the ability to live in such intertidal environment.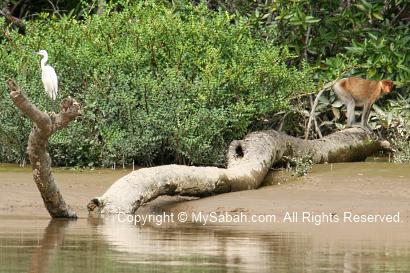 Within 10 minutes, our boat spotted the first proboscis monkey. It's a female monkey foraging at the river bank. Crocodiles also live in Weston River, but most are concentrated in further upstream, so this monkey is safe.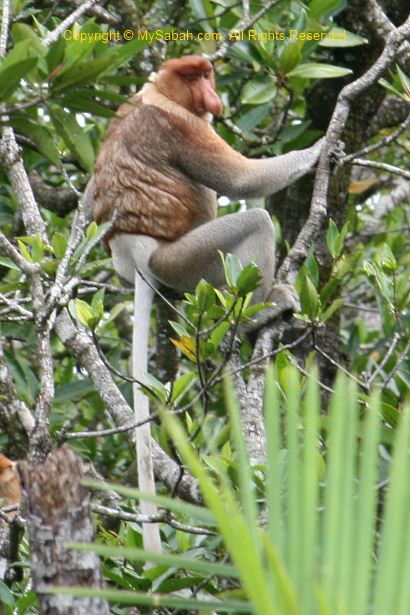 Then we saw about 4 herds of proboscis monkey (about 4 to 8 monkey per group) on the trees next to the river. Each group is dominated by a male proboscis monkey with big nose and belly. Proboscis monkey is one of the biggest monkey species but they are very elusive. They fled into the forest before our boat could get closer, so a binocular would help a lot.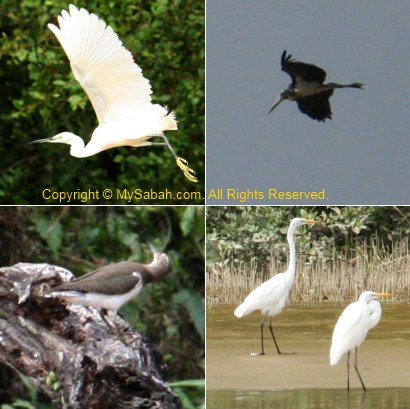 Besides monkey, you can spot some water birds such as kingfisher, egrets and Lesser Adjutant.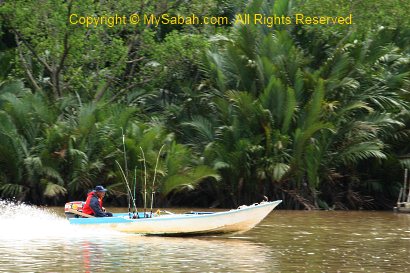 Weston is rich in seafood too. We saw some fishing boats in the river, and a few of them were checking the fish traps.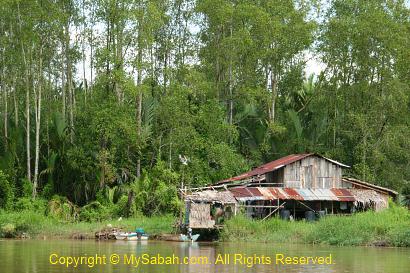 Surprisingly, as an old town, the river of Weston is not really dense-populated. We found wooden houses of fishermen scattered along the river. Richard says the contour of the river always changes, so I assume any area near the river is not suitable for permanent settlement. Due to land clearing upstream, more silt is carried into Padas river, and this would affect the course and flow of the river.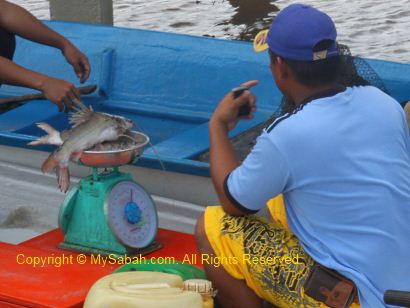 >> Click Here to see more photos of Weston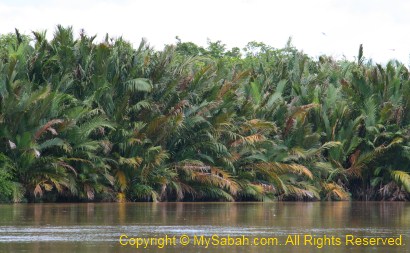 Klias and Garama wetlands have beautiful peat swamp forest, but I think Weston has the densest and most beautiful view of Nipah forest. Someone told me that nipah tree is an invasive species and very easy to plant. You can see nipah tree in swampy area and wetland in Sabah.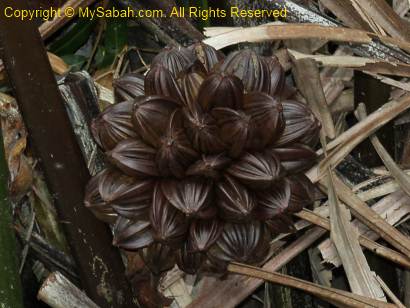 Does nipah tree sound so unfamiliar to you? In fact, most of you (Malaysians) have eaten its fruit. Its popular name is "atap fruit". Chinese calls it "海底椰" (sea coconut). The sweet Nipah fruit is a common item served in dessert called Ais Kacang or "ABC" (acronym for Air Batu Campur, literally means "Mixed Ice").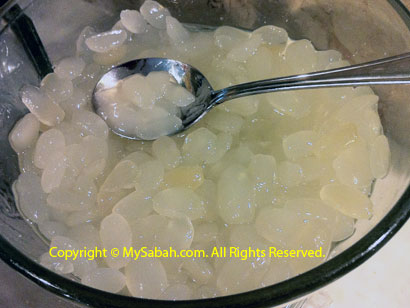 Above: the semi-transparent and oval-shape nipah fruits. The fruit is sweet with chewy texture, taste and feel like jello candy.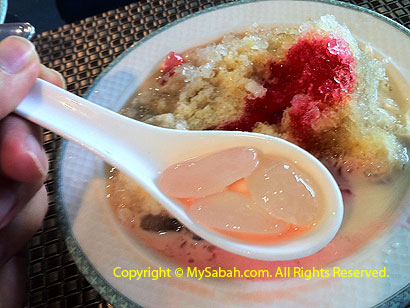 Above: nipah fruit is a nice addition to Mixed Ice dessert.
>> Click Here to see more photos of Weston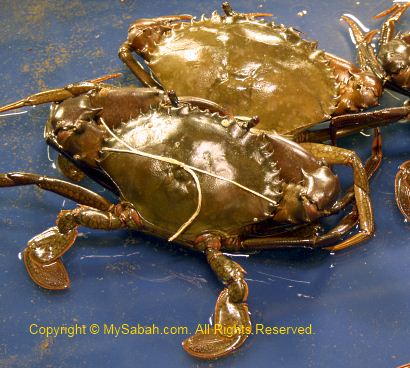 But what Weston most famous for is its crabs. For unknown reason, the crabs from Weston taste sweeter and more chewy. Even my mother knows this and ask me to buy some from Weston.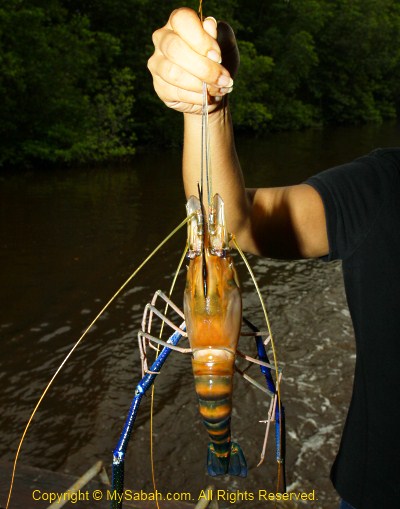 Another popular seafood of Weston is the freshwater prawn "Udang Galah" ( "大头虾" in Chinese). You can fish this prawn with specialized fishing hook. Normally the fishermen throw some rice in the river, after a while catch it using the fishing net. You can buy directly for cheaper price from local fishermen in Weston. In fish market, Udang Galah is sold for RM20 (about USD$6) per Kilogram. Unfortunately, due to overfishing, the crabs and shrimps in Weston are getting less.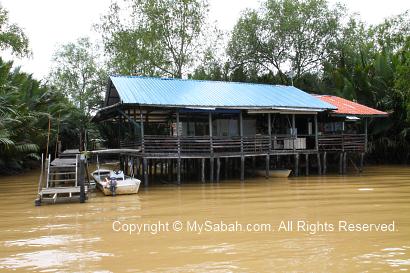 At the end of our morning river cruise, we stopped at the jetty of Weston Wetland Resort, which has its dining area and reception building built next to the river. We were welcome by a fat and friendly cat, aww… so cute.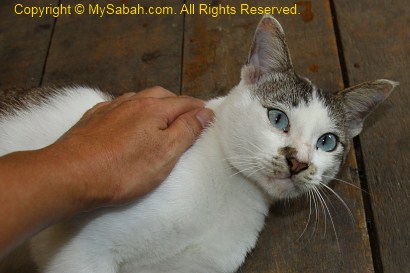 >> Click Here to see more photos of Weston
Below is a 5-minute video of our river cruise tour and Weston Wetland Resort. Sadly, I notice my video has very low click rate. Now I'm not sure if I should waste my time making video next time.. 🙁 At first I thought it was a great idea..

After taking some coffee and pineapples as light refreshment, Richard wanted to take us for a "pitcher plant" walk in a forest nearby. I thought I was the smartest one in the group. Assuming that it might be a "mud" walk, I was wearing short sleeve shirt and short pant, without knowing that I was totally unprepared what was coming next..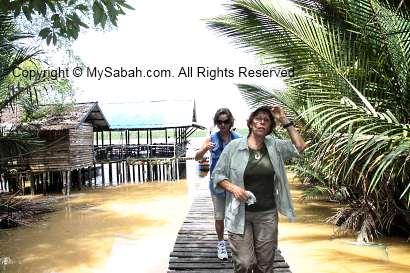 The 5-minute walk on the boardwalk allows us to take closer look at the nipah trees, without getting ourselves wet and dirty in the flooded swamp. However, the boardwalk is not well-maintained, so I had to watch my steps for missing plank.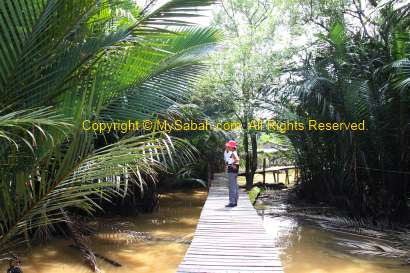 >> Click Here to see more photos of Weston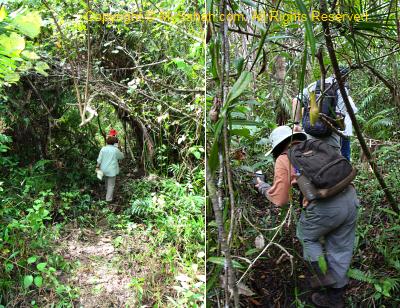 Then we came to a bush area with dense shrubs. Wow, there are pitcher plant (Nepenthes) everywhere. Some are hanging on the shrubs and there are carpets of pitcher plant on the ground too. We have to be very careful of our steps. Pitcher plant is also called "Monkey Cup", but it has nothing to do with monkey though, except that it looks like a miniature cup used by monkey.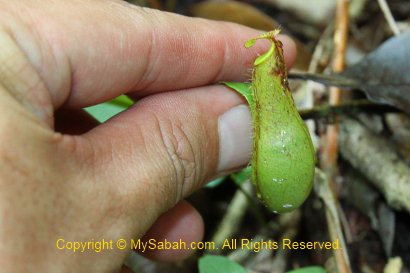 Some are smaller than finger… This is Nepenthes gracilis I think.

Some nepenthes have peculiar shape..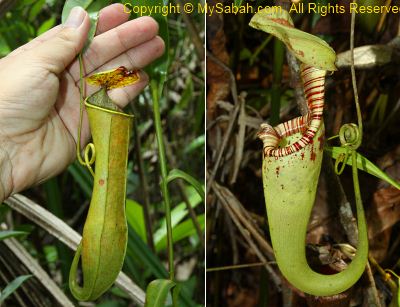 >> Click Here to see more photos of Weston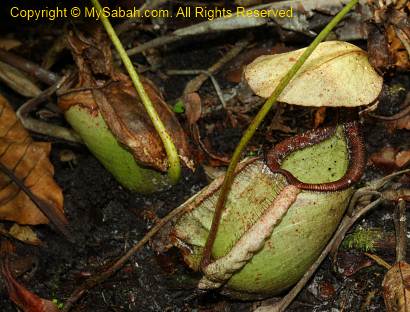 There are a number of nepenthes species around this small area. The one above is Nepenthes rafflesiana if I'm not mistaken.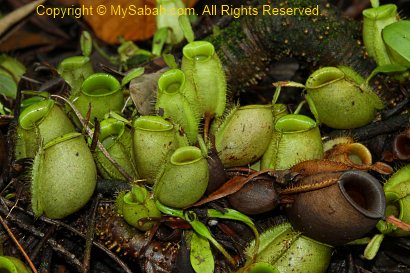 Overall, we saw 4 or 5 species of nepenthes in just a small area. The one above is Nepenthes ampullaria, the highlight of our Nepenthes Hunt. Cute, isn't it?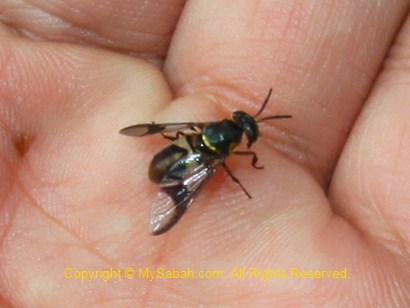 For those of you who plan to visit the Weston Wetland, you need to prepare for horse fly, an annoying blood sucker. I saw no horse fly in Klias and Garama but there are plenty of them near the Weston River. Horse fly is so persistent that they keep following you until you kill them or they are done sucking your blood.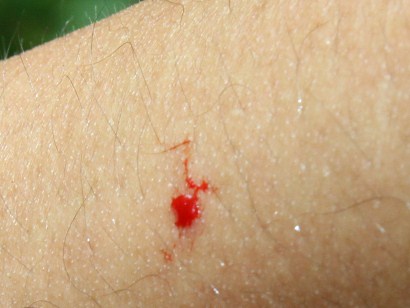 There were more than 10 horse flies following me. According to Richard, my clothing in dark nature color attracts horse fly. Horse fly would not come near to people in bright color dress. In one case, one of his visitors killed 40 horse flies. When I didn't pay attention, the horse fly cut a small wound on my exposed skin and fed on the blood. I ended up having 4 or 5 bites. They said the bites would become really itchy on next day and they were right. The worst thing is it will get worse if you scratch.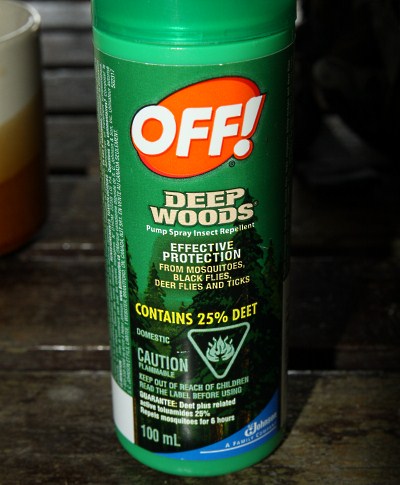 Normal insect repellent can't drive horse fly away. One of my friends introduced me the repellent spray above. It is really effective against horse fly but this spray is not available in Malaysia shop. What you can do is to dress in bright color and cover your skin as much as possible with long sleeve and pant. Horse fly may carry parasite or disease, so don't take it lightly.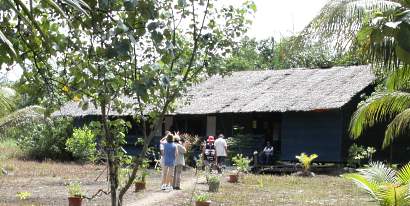 Richard showed us his resort, but the room and accommodation is not ready yet, as of this writing.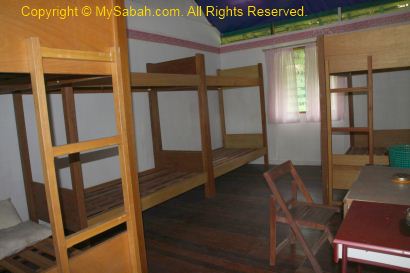 >> Click Here to see more photos of Weston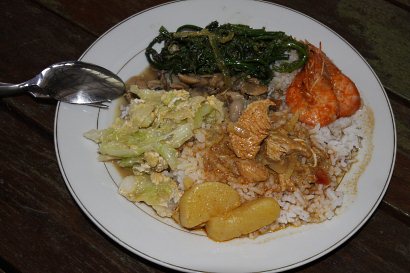 We had our seafood lunch in Weston Wetland Resort. I remember my Sabahan friends and I once ordered shrimp in a restaurant in Peninsular Malaysia. We laughed when we saw the dish, coz the shrimps were so tiny that they are only qualified for making dried shrimps in Sabah. Sabah is blessed with abundant and "big" seafood, is because of our well-preserved wetlands (e.g. mangrove, coral reefs), which is a nursery and breeding ground for our seafood. Remember, our mangrove forest and swamp are not wasteland, they are important supply of our seafood.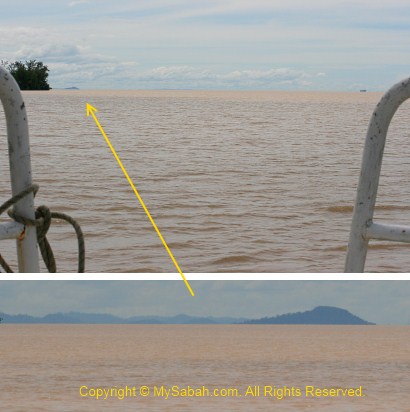 >> Click Here to see more photos of Weston
Before we said bye-bye to Weston, we had another river cruise near the exit of estuary (river mouth of Padas), where we can see Brunei in front. Do you see the light area in the sea, in photo above? The water there is only a few feet deep. We had too many people onboard so we didn't move further or we would risk our boat stranded in shallow water. Yes, you are correct that the last photo is the land of Brunei.
Photos taken in Weston, Sabah, Malaysia Borneo
You might also like: