Tag Archives:
firefly
(You may start reading from Part 1)
Here comes the highlight of my trip in Crocker Range Park, the night walk! I did two night walks, 1st night in Insectarium, and 2nd night in 2.036KM Crocker trail. You see nothing much in both places during daytime, but they turn into a busy world when night falls. If you are interested in night walk, you can arrange in advance with the Park at Administration Office or Crocker Nature Center during office hours. They will send a ranger to guide you. Usually the walk starts at 7:30pm.
Night Walk in Insectarium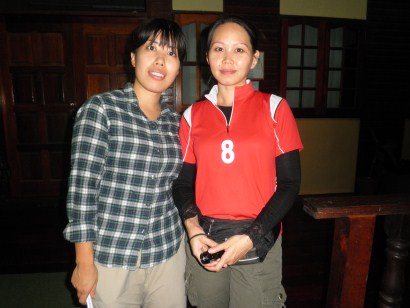 For my 1st night walk in Insectarium, the Park sends two ladies to accompany me, wow. They asked, "would you mind if the guide is female?" I smiled and replied, "No… Of course not" (why should I, hehe..). Oh, by the way, the lady at the left is Tomomi Kan, a Japanese volunteer from JICA. At the right is Lucy Suin, a Sabah Parks staff.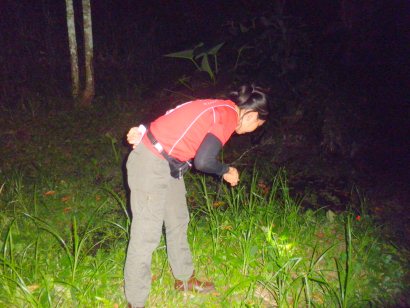 No kidding… these girls have sharp eyes. They started to discover bugs the moment we stepped into Insectarium. Normally girls will scream when they see bugs. However, these girls are so happy to find creepy creatures in the dark, like enjoying a treasure hunt. With the aid of torchlight, we search every inch of Insectarium and left no leaf unturned.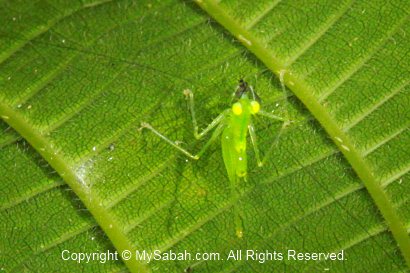 One by one, the bugs reveal themselves under their torchlight. I wonder how they did it. Probably they are so used to insect collection. Crocker Range Park has over 400 species of insects, making the Park one of the best spots for collecting specimen.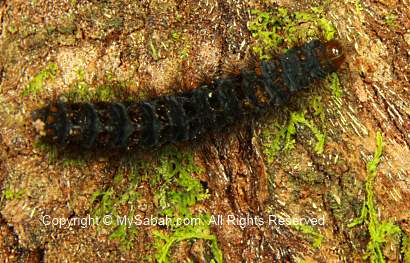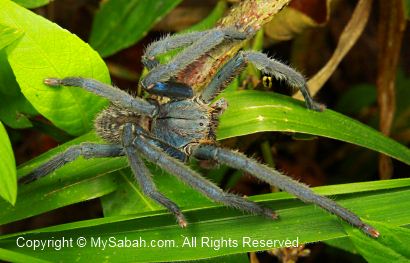 Above: this might be a Malaysian Earth Tiger (Cyriopagopus thorelli) tarantula spider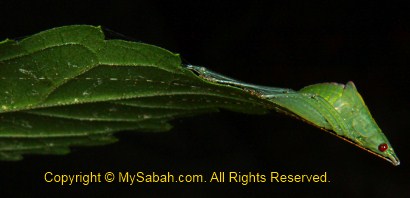 Above: a cricket disguised as the tip of leaf!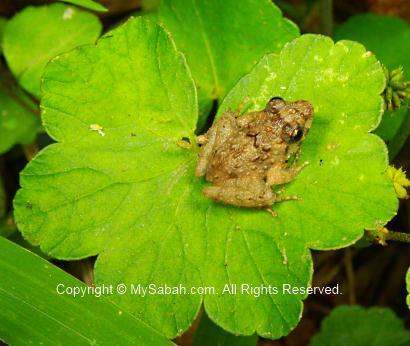 There are more bugs discovered when we moved closer to the pond and stream areas. It was such a joyful experience!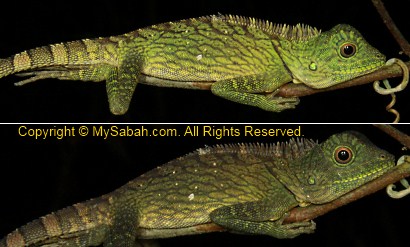 Above: an agamid that can change color in minute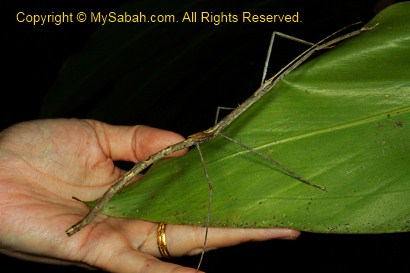 Above: a very long stick insect found by Lucy, the highlight of the 1st night walk.
It started to rain at 10pm, so we had to stop our night walk and said goodbye to each other. Anyway, I'm really happy to bag so many good shots.
Night Walk in Crocker Trail
Because of the exciting experience, I decided to arrange another night walk in Crocker Trail (2.036 KM) next day. This time the Park sends Mr. Rosandy Angkusup to guide me. I feel sorry to make them work until late night in fasting month (Puasa), so I tipped all the guides. Same as the lady guides, Rosandy has a trained eyes to beat the smart camouflage by bugs, especially stick insects.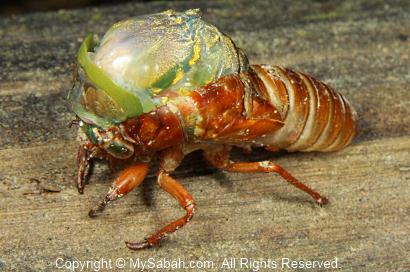 Above: a moulting cicada. The moulting was so slow that we couldn't wait until it finished.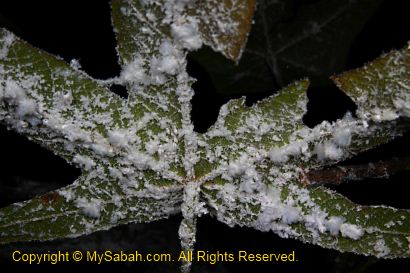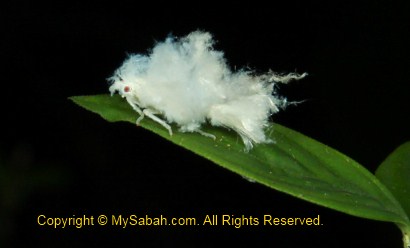 Above: the cotton-like substance is a group of Wooly aphid insect, amazing…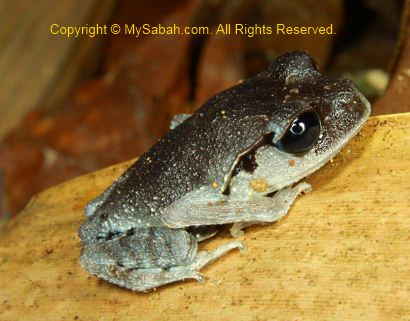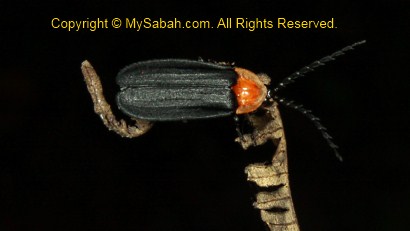 We saw at least 3 fireflies in the jungle.
It is so impressive that crickets can look so different to one another.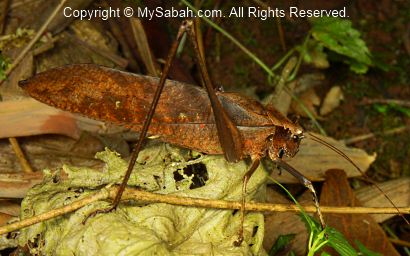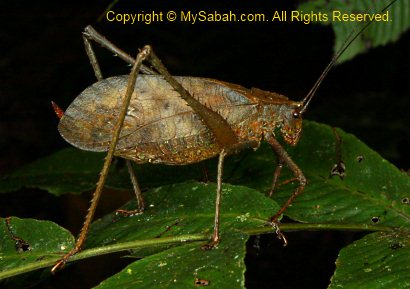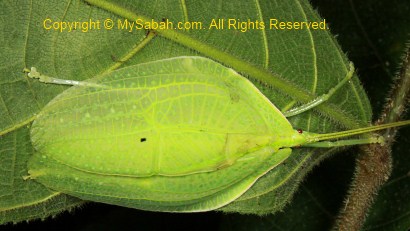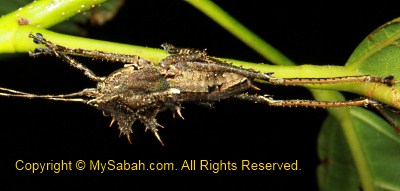 Above: this alien-like cricket was shown in National Geographic channel before. The Crocker Trail is far more promising because the trail is inside the real forest.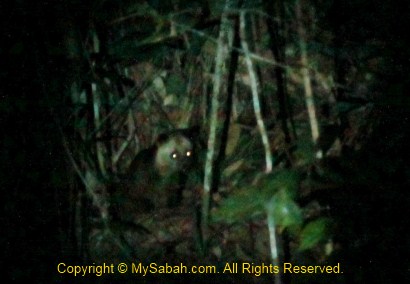 Besides bugs, we also saw a Shama bird sleeping on tree, a mouse deer, heard the loud barking of a barking deer (probably smell our presence) and 2 civets at the edge of primary rainforest. We would get some if we carry hunting rifle, haha. Of course, poaching is prohibited in national park.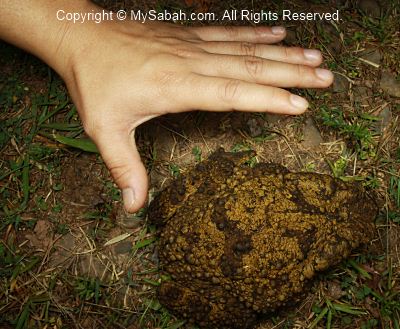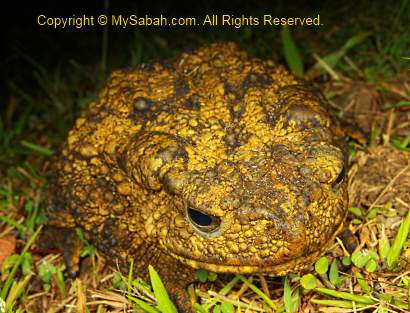 Above: giant river toad
Stick Insects
Rosandy is so professional in spotting stick insects (I always miss it!). I never saw so many stick insects in one night, nor do I know stick insects have so many species and variety. Some can play dead and some can release foul smell as a defense. Some can fly while some can't. But all of them have one thing in common – they look like stick.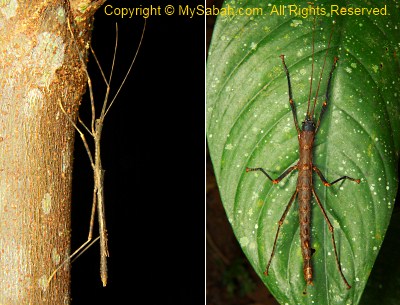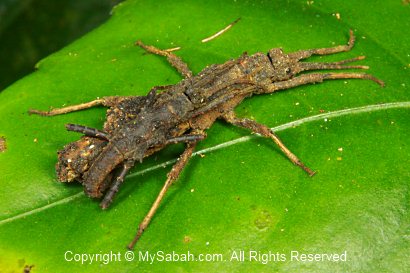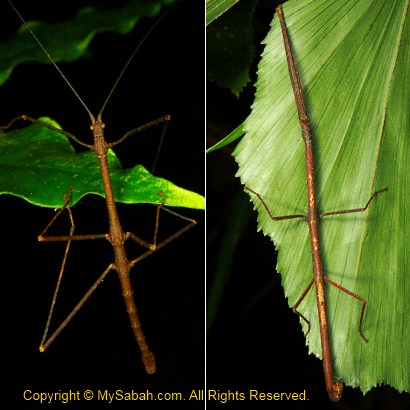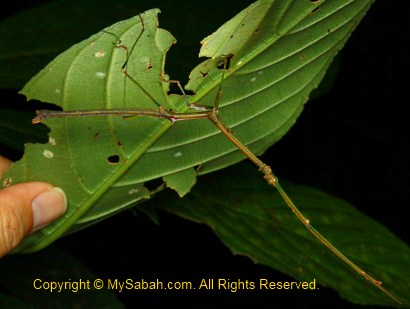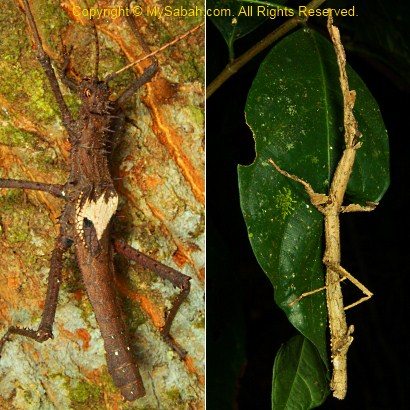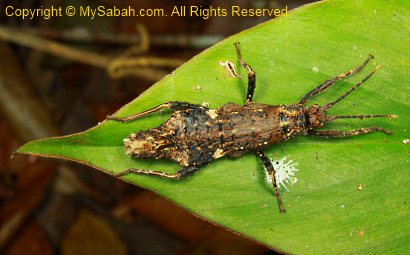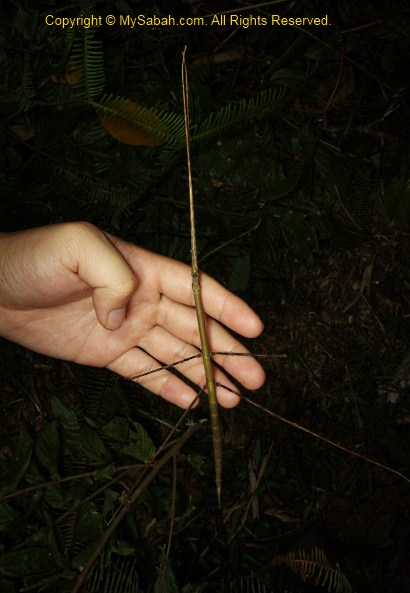 Above: very long stick insect
We moved so slowly that the night walk ended at 12:30am and our torchlight was almost out of battery. This is the best night walk I've had. I'll be back one day.
WARNING: I know this blog would attract insect collectors. Please be informed that collection of any flora & fauna in national park without a permit, whether the subject is dead or alive, is a serious offense. You will be fined heavily or even jailed for illegal collection. Crocker Range National Park is NOT a place for you to look for toy pet!!!
More Photos
You may check out the photo album of Crocker Range Park for more nice pictures: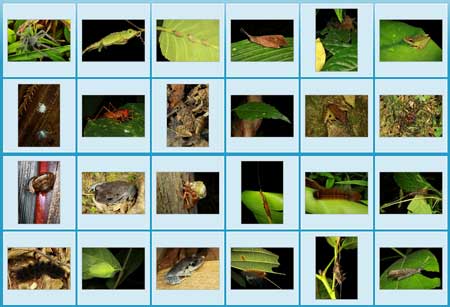 All Articles
Part 1: Crocker Nature Center, Insectarium, Fern Garden & Rafflesia Plot
Part 2: Crocker Trail, Pine Trail & Observatory Tower
Part 3: Night Walk (this article)
Part 4: Accommodation in the Park
Photos taken in Keningau, Sabah, Malaysia Borneo
More Night Walk photos:
Miki Survival Camp
Because of Sipadan Island, Semporna town is now well-known as a gateway to world-class diving sites. Divers are impressed by the underwater world, but they don't know the endangered and famous Proboscis Monkey are also found in Semporna. If you are a scuba diver, to avoid decompression sickness, you know you have to wait 12 to 24 hours before departing on a flight.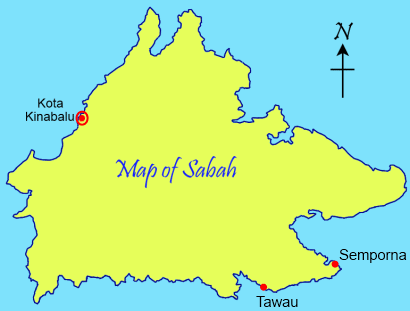 Therefore, during the waiting time, it is a great option for divers to join a river cruise in Semporna, to see the long-nosed monkey of Borneo. The tour costs about RM125 (less than USD$40) per person. Below is the itinerary:
3:30pm: Depart from Semporna by land to Kg. Tunggulangan
4:15pm: Tea break
4:45pm-6:30pm: River cruise
6:30pm: BBQ seafood dinner
7:30pm: Return to Semporna/Tawau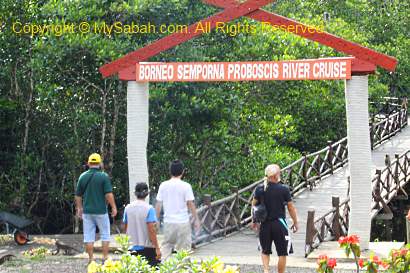 Of course, non-divers also can join the tour. Just book the river cruise package at www.borneotourstravel.com (Borneo Semporna Proboscis River Cruise). The show has begun by the moment we reached the site in Kg. Tunggulangan, which is about 20 KM away from Semporna town. The worker placed some food on a feeding platform next to the entrance, to attract about 20 long-tailed macaque monkey for the fest.
>> Click Here to see more photos of Semporna River Cruise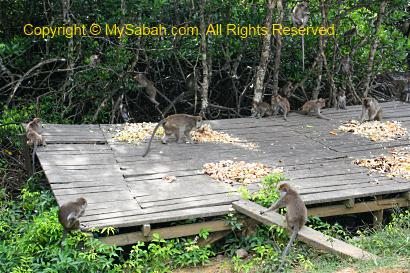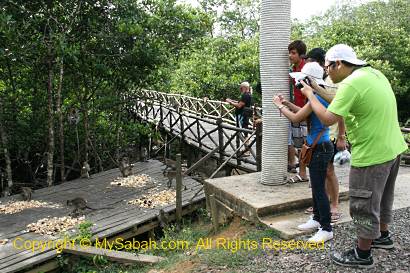 Last year I was told that the monkeys there were shy and not used to human. After being fed for a period, now these monkey have no fear about our presence, even though we are only a few feet away. You can take very clear photos of them.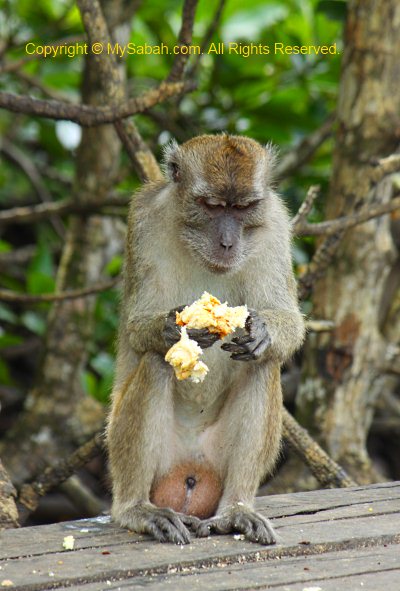 However, they are still wild, so better don't get too near to them. They do bite if they feel threaten. I have no doubt the monkey in photo above have the balls to do so.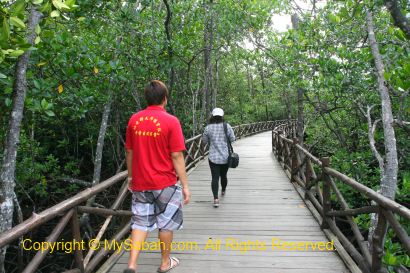 Then we took a short walk on a wooden boardwalk, which is built in the mangrove forest.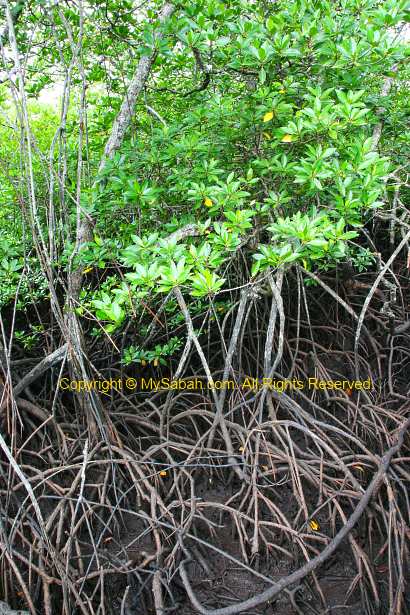 The mangrove trees grow on intertidal zone, which is flooded during high tide, so they have stilt root that allows them to breathe and anchor themselves firmly in the mud.
>> Click Here to see more photos of Semporna River Cruise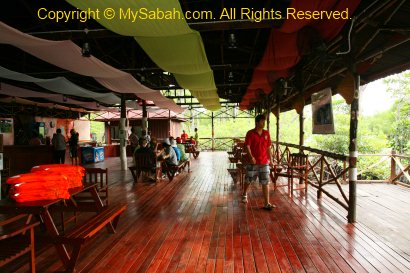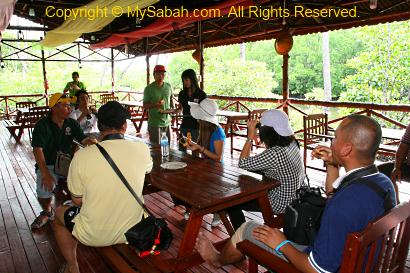 The boardwalk led us to an Activity and Dining Hall built next to the river. We had our afternoon tea break before the river cruise.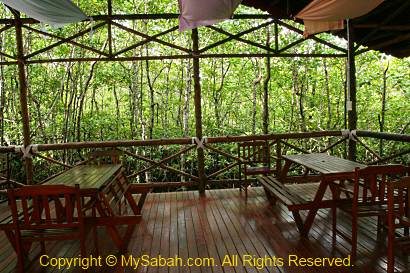 Above: the building is inside the mangrove forest. Please bring insect repellent coz there are mosquitoes in this area.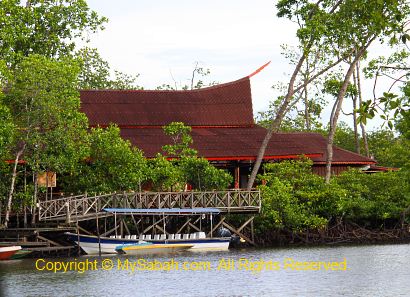 Above: the hall and the jetty of Borneo Semporna Proboscis River Cruise.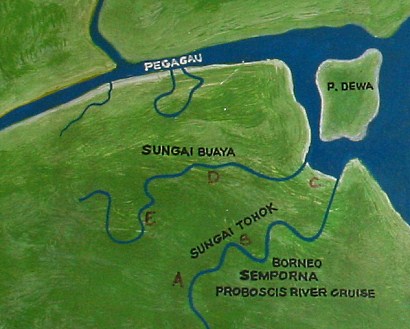 Above: the route map of our river cruise. Our boats departed at 4:30pm to explore Sungai Tohok (Tohok River) and Sungai Buaya (Buaya River) to look for proboscis monkey. We also went to Pegagau to check out the egrets.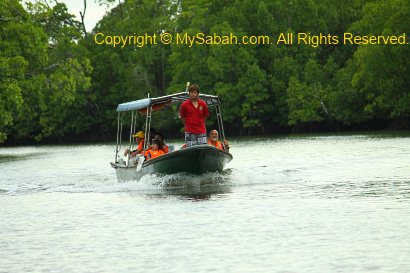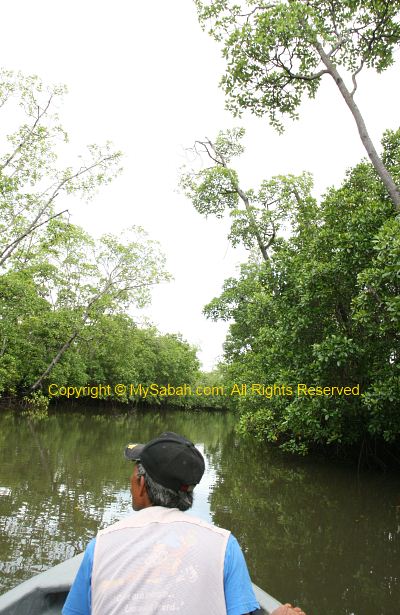 Our boat cruised slowly on the river to spot for wildlife on the trees.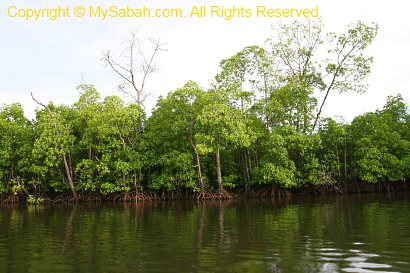 The mangrove here is a forest reserve, which means it is protected from being cut or clear, so the trees here remain intact. This area has become the sanctuary for different birds and wildlife.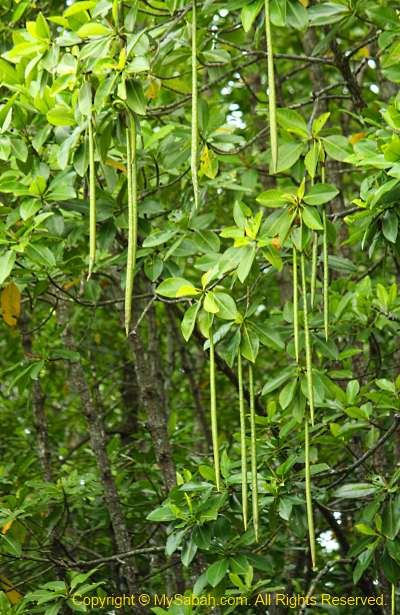 Above: the seeds of the mangrove trees. Once ripen, they will fall into the river and float to somewhere else to germinate.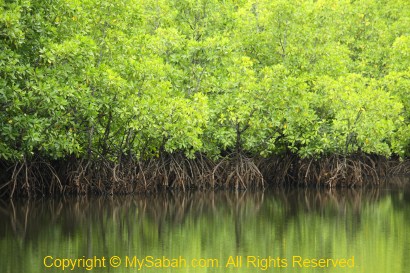 Above: I have to say that Semporna has very beautiful mangrove. I saw many picturesque green reflection like above in the river.
>> Click Here to see more photos of Semporna River Cruise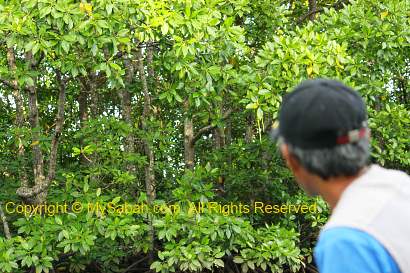 Our boatman is busy looking for monkey. He has very sharp vision, as if he has X-ray eyes that can see through dense layers of trees.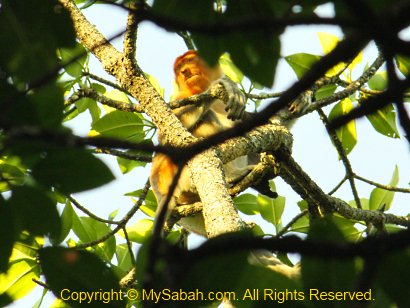 Finally we spotted a female proboscis monkey sitting high on top of a tree.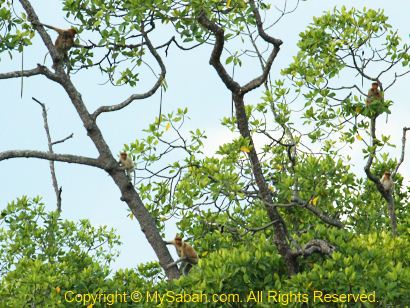 Soon we found more proboscis monkey. I notice that the proboscis monkey here are very elusive, unlike those who are already used to tourists in Klias and Kinabatangan. All of them fled into the mangrove before our boats came close.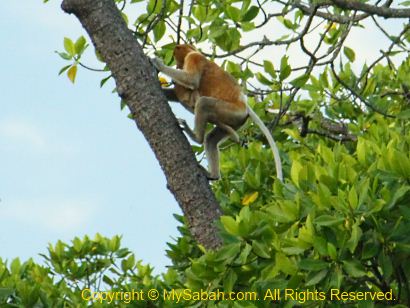 Some of them even carrying baby.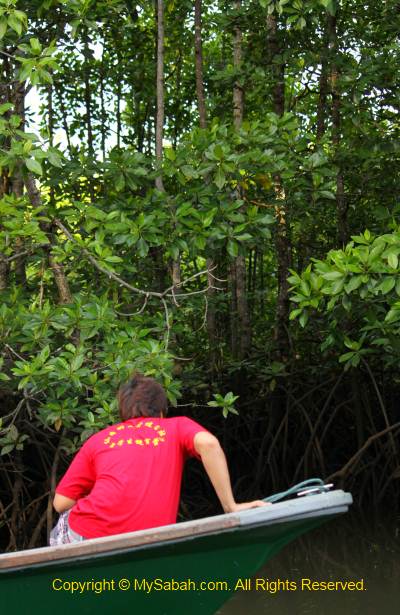 Our guide, Soon Lee, spotted a male proboscis monkey deep inside the wood.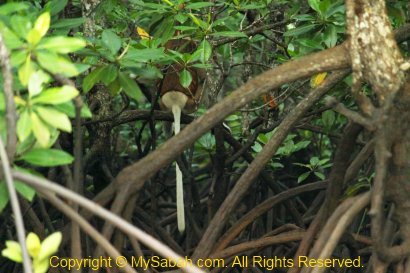 The male proboscis monkey was sitting on a root, with his back facing us.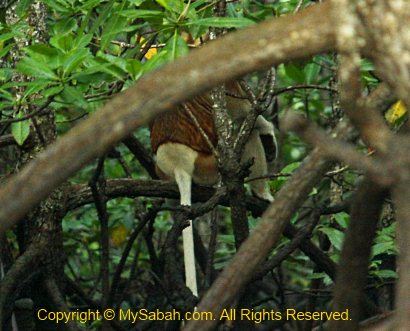 We want to see his big nose so badly, so we move our boat as close as we can. We tried really hard to look at him through the gap between the woods, like how a peeper watches his target in bathroom.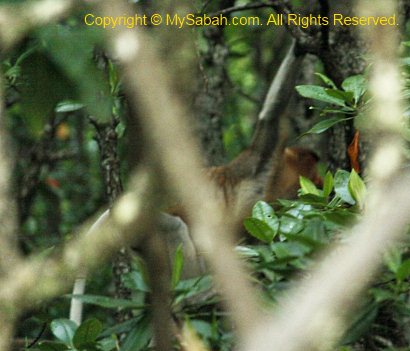 Luckily it made a move and we were so happy to see his sexy big nose, though it was only a split second. The long nose of male proboscis monkey is a sex symbol to attract female. Later we saw 3 or 4 herds of proboscis monkey. That is considered our lucky day. In bad day, visitor may not see any proboscis monkey.
Below is a 3-minute video of our river cruise tour:

Click Here to watch wider video.
>> Click Here to see more photos of Semporna River Cruise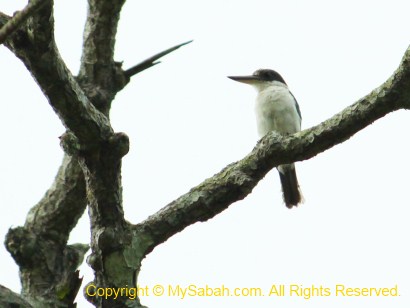 Proboscis monkey is not the only wildlife here. There are some birds around too, like the friendly white-collared kingfisher above.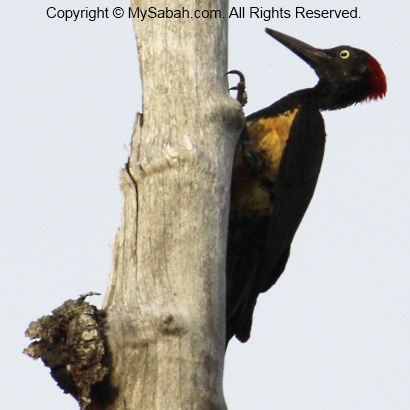 My favorite bird is the white-bellied woodpecker above. Its look is so cartoon.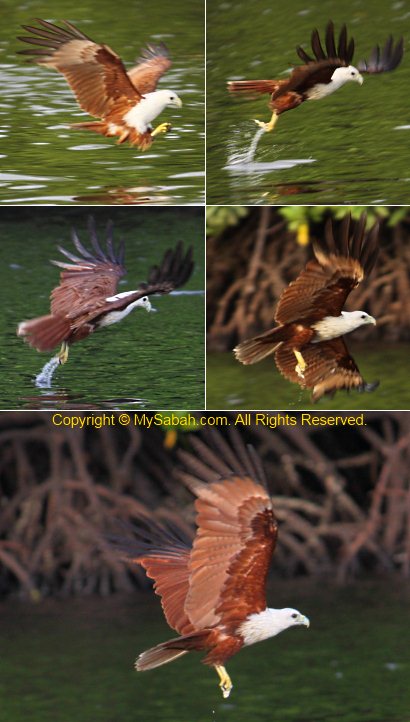 But the animals which steal the show is a pair of Brahminy Kite. The worker threw a few slices of chicken skin on the river, then we spent about 10 minutes watching both Brahminy Kite showing their high-speed & high-accuracy grasping skill in flight. Brahminy Kite is the commonest bird of prey in Borneo. In Iban belief, Brahminy Kite is an omen bird that represents senior God.
>> Click Here to see more photos of Semporna River Cruise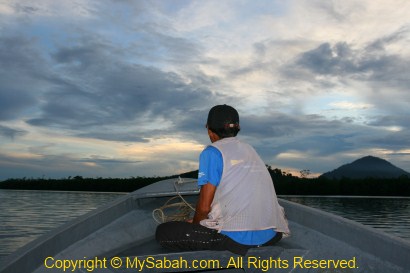 We reached Pegagau River around 6pm, the start of sunset cruise.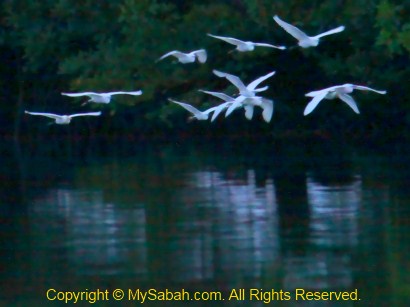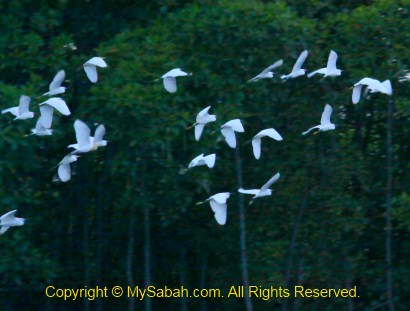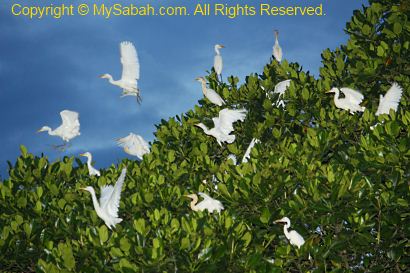 We saw many groups of egrets (most are cattle egret) flying over the river, then they all congregated on a few mangrove trees. It is quite a view to see dozens of them perched on a few trees.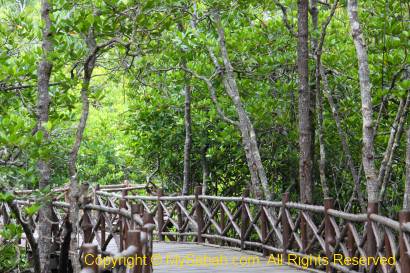 Our river cruise ended at 6:30pm and we were back to the jetty to have our BBQ seafood dinner. I forgot to take photo so I only remember we had tiger prawn and satay. It was dark when we walked out on the boardwalk, and we saw many twinkling fireflies on the trees on both sides! Overall, this trip is a fun experience.
>> Click Here to see more photos of Semporna River Cruise
Photos taken in Semporna, Sabah, Malaysia Borneo