Tag Archives:
firefly
River cruise in mangrove forest is one of the most popular tours in Sabah. Normally tourists pay about MYR200 to see long-nosed monkey, sunset and fireflies in wetlands of Klias, Weston or Kota Belud.
Sambah River Cruise
FYI you can see these in Tenghilan (in Tuaran district) for about half of the price (MYR80), but without wildlife such as proboscis monkey. Anyway, its advantages are: (1) the destination is less than an hour drive from Kota Kinabalu City (KK), (2) You will have a chance to sample a delicious snack called Udang Salai (Smoked Shrimps).
This tour is named Sambah River Cruise because it is based in Kampung Sambah (Kampung means Village in Malay language). Before the river cruise, my group was invited to the house of David (our host) in Kampung Bunga, where welcoming drink and light refreshment were served, and an introduction about the trip was given.
Then we moved to the jetty in Kampung Nouga (GPS: 6.233895, 116.307495) around 5pm to start our first river cruise in mangrove forest.
Mangrove Forest
As part of the Sulaman Lake, this wetland has been a fishing zone. If you are an avid angler, you can request them to include fishing as part of the activities.
Technically this swamp is a lagoon as it is directly connected to the sea via a channel. During high tide, fishes such as grouper follow the sea current to enter this mangrove to forage and breed, so it's not uncommon that you can catch very big fish here.
Tuaran has one of the best mangrove forest near KK. The area we visited was mostly intact and large. The brackish water may look dirty, but crabs and prawns grow faster and fatter in such environment. The mudflat of mangrove is also the best place to harvest clams.
Located between sea and river, mangrove swamp is one of the most peculiar forest in the world. The trees can grow in the water and tolerant to saline water, and they breathe with roots. Living among the trees are some weird animals such as the walking and jumping fish, mud-skipper and colorful fiddler crabs with huge pincer.
Our boat navigated in a maze of mangrove forest network. The panoramic view of lush mangrove forest is impressive. Some trees grow over 10 Meters. I think Sabah Wildlife Department can bring in some proboscis monkey families. I'm sure they can live happily here.
59% of the mangrove forest of Malaysia is located in Sabah. Do you know Sabah has both the smallest (KK Wetland) and largest (Kinabatangan) Ramsar sites of Malaysia? Ramsar Site is a wetland site designated of international importance in terms of conservation, ecology and biodiversity.
Udang Salai (Smoked Shrimps)
Around 5:30pm, we arrived Kampung Sambah, a water village next to the lake.
We took a walk in the village, which has a population of 200 of mainly Bajau people. Most of them live in wooden houses on stilt on the mudflat of mangrove, a typical view of fishermen village in Sabah.
However, this ordinary village has an extraordinary snack called Udang Salai (Smoked Shrimps). Believe me. The taste of Udang Salai is unforgettable. Once you try it, you would crave for it occasionally.
Shrimps are abundant in this area. Only fresh shrimps (no frozen shrimp) are used in making Udang Salai.
They have a simple small hut with wood burning stove to smoke the shrimps. The small shrimps are placed on mesh wire above the burning wood and being smoked until they are totally dry and cooked. The taste is yummy and crunchy with nice barbecue flavor. Even the shell is edible. You can't stop once you start eating it.
Sambah Village is one of the largest producers of Udang Salai, apart from its neighbors Kampung Penimbawan in Tuaran. Smoked shrimps are sold at tamu (morning open market) of Tenghilan on Thursday and Tuaran on Sunday. It's always sold out before 8am.
Sunset & Firefly
Though I wanted to stay back to eat more Udang Salai, we had to start our second river cruise at 6:10pm.
Soon our boat approached the estuary, where we could see the sun started sinking into the ocean. The blazing sun ray gradually turned into warm and golden beam, marking the start of twilight.
The sunset view was hypnotizing. Even though it rained earlier, the extra moisture in the air is the recipe for making of a beautiful sunset. The colors of the sky and cloud went wild and intense, and we were lucky to see the famous flaming sunset of Sabah.
After the sunset, our boat cruised slowly in the total darkness in mangrove. We saw some congregating fireflies flashing on the mangrove tree like summer Xmas tree. The density and scale of fireflies here are small, but good enough for people who never see firefly.
The river cruise ended around 7:30pm and we enjoyed our dinner at David's house.
How to get there
This destination is less than 50 Kilometers from KK. The tour operator can pick you up at your hotel. The fee is about MYR80 (about USD$20) per person for this half-day tour (3:30pm-8:30pm).
Below is contact information and more details for you to find out more:
Tel: +60 14-6751256
E-mail: sambahrivertour@gmail.com
Facebook: sambahrivercruise
Instagram: @sambah_river_cruise
Website: sambah.weebly.com
Photos taken in Tenghilan, Sabah, Malaysia Borneo
"Firefly was so common and abundant during my childhood," my mom said, "I even collected them into a glass jar and made a 'firefly lamp'." Unfortunately, I don't grow up with firefly. Most city people nowadays only have imagination, rather than vivid memory, of a flickering firefly. So where are our fireflies?! Well, they still exist today, but you have to travel far and pay to see them (in most case).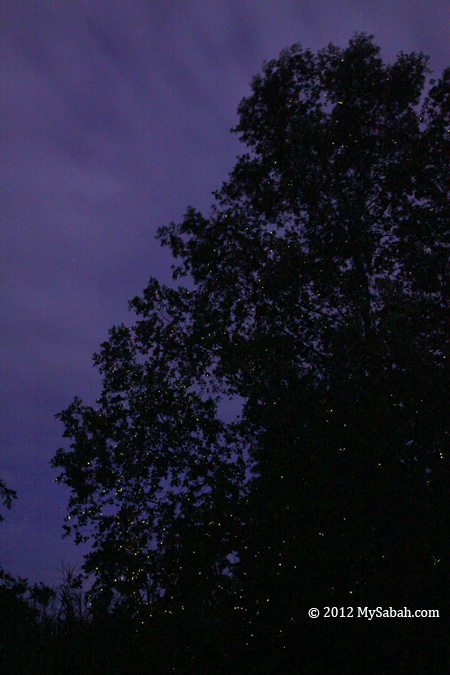 Pic: a tree full with twinkling fireflies in Abai
Firefly Tourism
Firefly watching has become a big business in Malaysia as well as Sabah. For example, firefly generated a total of RM7.3 million (USD2.4 million) income for Kuala Selangor in year 2000, from the tour, employment, F&B, transportation, etc. In average, each firefly there carries a RM2,000 price tag. In Sabah, Klias wetland is the hot spot for firefly watching. Just do a simple math, 100 tourist/day x RM180/tour x 365 days, and you will get the figure RM6.57 million/year!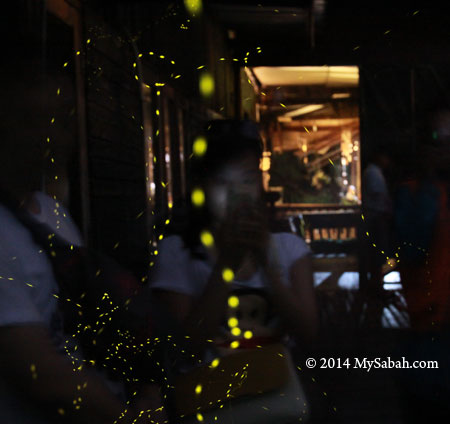 Pic: tourists looking at the fireflies. Note the dotted firefly trails.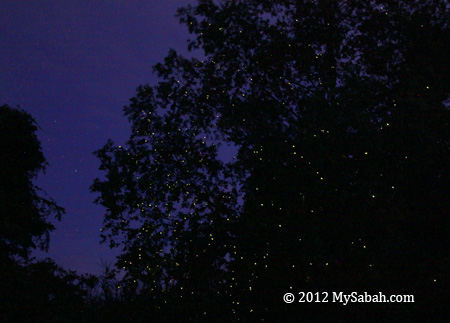 Congregating Fireflies
There are over 2,000 firefly species in the world. But what impresses tourists the most is Congregating Firefly, which is mainly Pteroptyx genus (Family: Lampyridae). Fireflies gather and flash on a display tree in mangrove forest, by a number of hundreds, even thousands, to create a phenomena like Summer Christmas Tree, one of the most beautiful natural wonders of Sabah.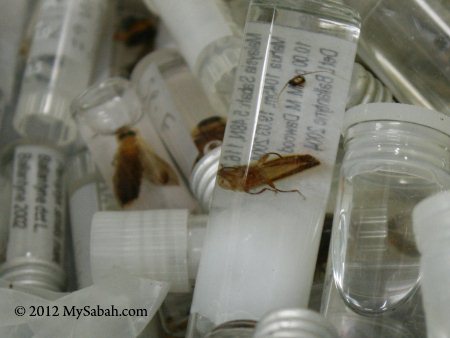 Pic: firefly specimen
8 species of Pteroptyx are recorded in Malaysia, and 5 of them are found in Sabah, namely, P. tener, P. gelasina, P. similis, P. malaccae and P. valida. I won't talk much about the Roving Firefly, which is solitary.
Why Firefly Glow?
Actually firefly flashes (not glow). Flashing, in different pulse and pattern, allows fireflies to communicate and attract the right species to mate. The presence of artificial light such as street light will disturb their communication. That's why firefly lives far away from city, to avoid the light pollution. Some tour guides know such behaviour and flash their torchlight purposely to attract fireflies coming to their boats (to impress their customers!). Such practice is wrong and shall not be encouraged.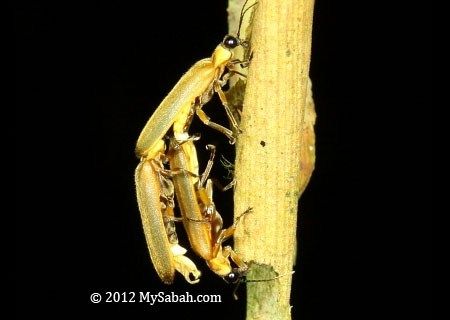 Where is our Firefly?
You can find Congregating Firefly Zones (CFZ) in the following locations of Sabah. The best time to see firefly tree is between 7pm and 10pm in moonless night. The number and view during rainy or full moon night are not so fascinating.
Best spot: Klias, Beaufort. – P. tener
Kampung Sabandar, Tuaran. – P. similis & P. gelasina
Sungai Beringis (Beringis River), Kinarut. – P. similis
Kinabatangan Floodplain, Sandakan. – P. tener
Danau Pitas, an ox-bow lake in Kampung Abai. – P. tener
Others: Garama River, Binsuluk River, Weston.
Source: Mahadimenakbar bin Mohamed Dawood, Fiffy Hanisdah binti Saikim and Elia Godoong from Institute for Tropical Biology and Conservation, Universiti Malaysia Sabah.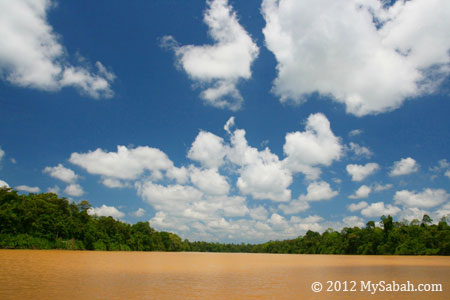 Pic: Kinabatangan Floodplain
The firefly trees are usually located at both side of the river in mangrove. Fireflies seem to prefer to congregate on Sonneratia caseolaris (Berembang tree). You can read my other articles about fireflies in Sabah.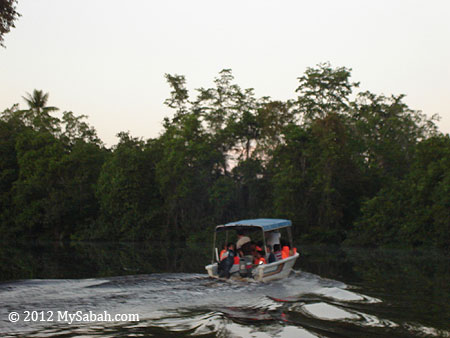 Pic: the common way to see firefly is by night river cruise
Interesting Facts of Firefly
Firefly is not a fly, it's a beetle (group: Coleoptera).
The light of firefly is "Cold" light (2% heat and 98% light).
Adult firefly lives less than 1 month.
The firefly is a Bioluminescent Beetle, Bioluminescent means "direct production of light from a chemical reaction occurring within a living organism."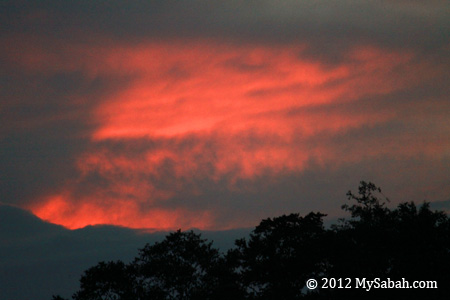 Pic: firefly party after sunset
Love our Firefly
The declining of firefly population is primarily caused by the clearing of their wetland habitat for various development purposes such as housing, agriculture and aquaculture. According to the laws, the riparian must not be clear, and river bank is where firefly larva lives. Sadly, most orchard and oil palm plantation are oblivious about it, and their pesticides kill the babies of firefly. Furthermore, the increasing stray light from human settlement leaves firefly little space for survival. For example, the mangrove of Likas was used to have a lot of fireflies. After decades of forest clearing and encroachment, only a small colony of fireflies are left inside Kota Kinabalu Wetlands.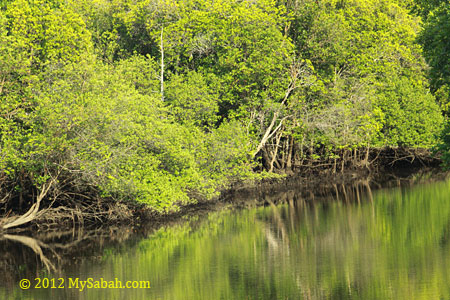 Pic: mangrove and river bank are habitat of firefly
Well, firefly watching was used to be FREE. After people destroy their habitat, firefly becomes rare and now we have to pay to see them. You see, eventually people will have to pay for their wrongdoing to the environment. Due to the destruction we did in the past, our children are no longer seeing this little elf everywhere. Instead of feeling sorry about no firefly to light up the childhood of our future generation, let's start to protect what we have now. Be nice to nature and it'll repay you.
Photos taken in Sabah, Malaysia Borneo