Tag Archives:
farming
DESA is a household name in Sabah because most Sabahans grow up drinking milk from Desa Dairy Farm, which produces nearly one million liters of fresh milk annually. But Sabah people feel affection for Desa milk because of more reasons. You will know why if you visit Desa Dairy Farm in Mesilau, which is about 100 KM away from Kota Kinabalu City (KK). In fact, this farm has become a well-known tourist attraction. Throngs of tourists go there every day to enjoy the delicious dairy and beautiful scenery.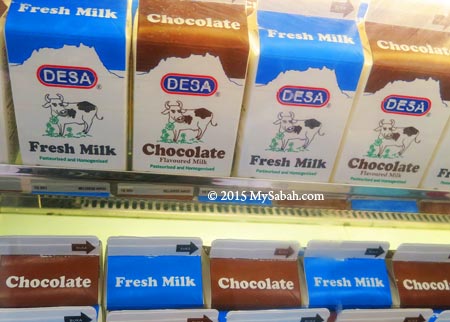 Pic: The fresh milk made in Sabah. They also produce goat milk.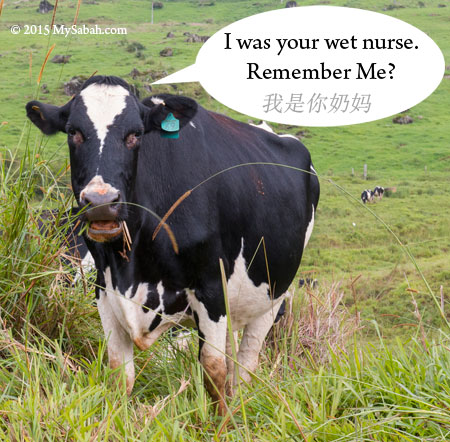 Pic: meeting my "milk mother" in Desa Cattle Farm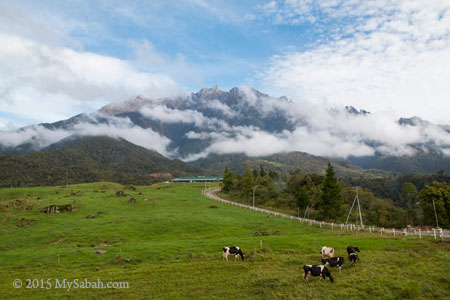 It took me about 2 hours to reach Desa Dairy Farm in Mesilau by car. The green pasture with grazing cows at foothill of Mt. Kinabalu is a sight to behold. Doesn't the place look like grassland of New Zealand? No wonder locals call it the New Zealand in Sabah. To see Mt. Kinabalu, you need to be there before 8:30am because the mountain will be covered by dense fog.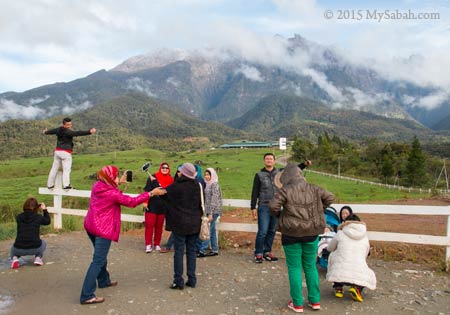 The scene is so breathtaking that many tourists taking selfie and photos. FYI, many photographers also come here to use Mt. Kinabalu as the background for wedding shots of their customers. Photo taking is free outside the fence. The photography permit fee is RM100 (≈US$27) for you to enter the farm for better camera angles. In case you worry that the cows will charge at people who wear red dress. No, they won't. lol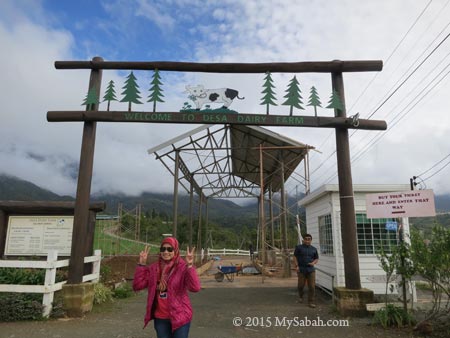 Pic: the entrance of Desa Dairy Farm (ticket booth at the right). It is open to visitor who purchases a ticket.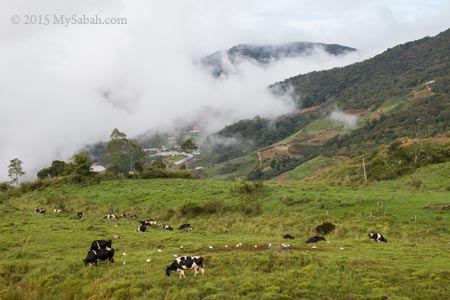 Good Mooorning milk cows and welcome to the Moo-Moo Land of Sabah. The farm is 199 hectares in size and most cows are Holstein Friesian cows imported from New Zealand, the highest milk producers of all cattle breeds. It's quite cool and windy here (about 20°C / 68°F) so you better put on a jacket or fleece to keep warm.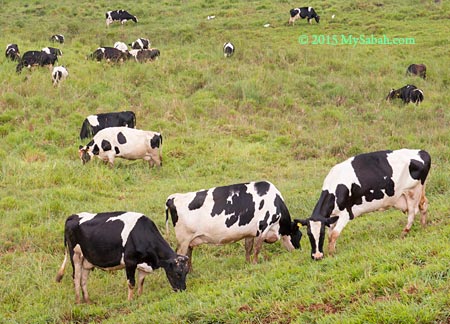 Cows are amazing. They are probably the best workers in the world. They turn grass into milk (and cut the grass). They don't complain a lot. Instead, they ask for Mooooore.. But that's why cow has no Mooney because people milk them dry. Ok, it's a cow pun joke, such life sounds familiar though.


The cows were busy grazing and occasionally staring at tourists with "what you want?" expression. They were all pretty relaxing. I didn't see any cowboy to look after them. Do these cows know when to clock-in at milking station?
Desa Building
For more things to do, the milk processing plant, milking station, office and shop of Desa is about half a KM from the entrance by gravel road.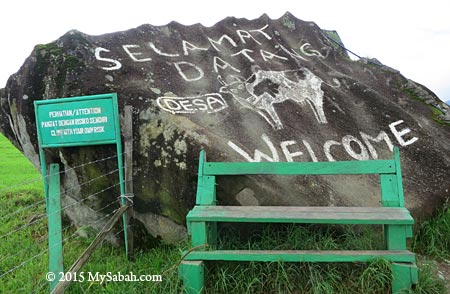 Pic: welcome sign near Desa activity centre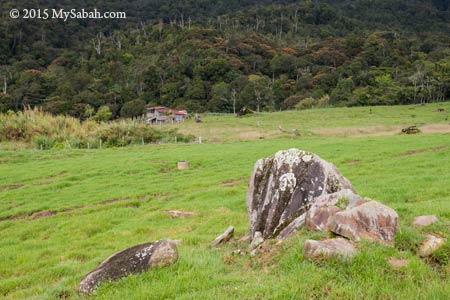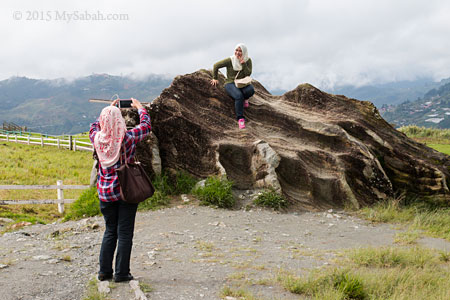 Pic: There are many big and beautiful granite boulders in the farm. A lot of tourists like to climb up to take photos, so Desa has to put a warning sign "Climb at your Own Risk" next to almost every boulder.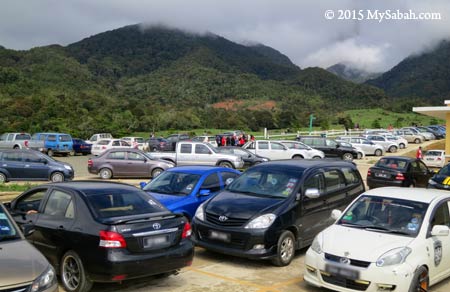 Desa Dairy Farm is more famous than I think. The Desa activity centre was packed with visitors and most parking lots were occupied that day. I chit-chat with some tourists and found that many of them are from Peninsular Malaysia, and some of them are from Hong Kong.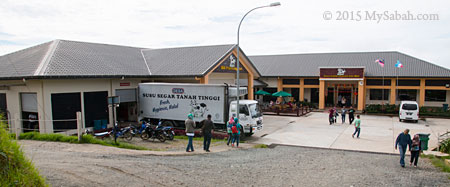 Pic: milk processing plant (left) and shop (right) of Desa
The following are the activities you can do at Desa. Family and student groups would find the tour educational, and it's important for younger generation to see and learn how food is made and processed.
Milking Process: 2:30pm – 4:30pm (Daily)
Raw Milk Processing: 10am – 3pm (Tue, Thu, Sun)
Calf Feeding: 9am – 4pm (daily)
Toilet is at left-hand side of the building (RM0.30 per entry).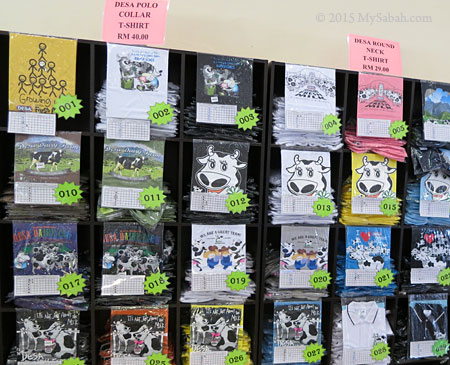 Pic: Desa T-shirts
There is a souvenir kiosk in Desa building where you can buy T-shirt, postcards, fridge magnet, stickers, etc. with Desa branding.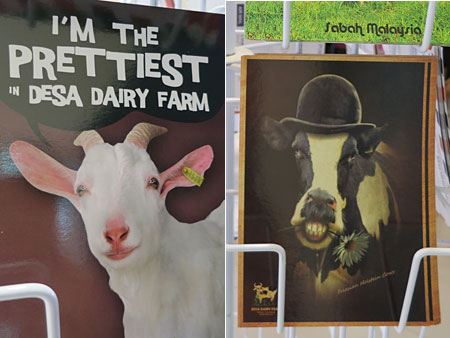 Pic: funny postcards of Desa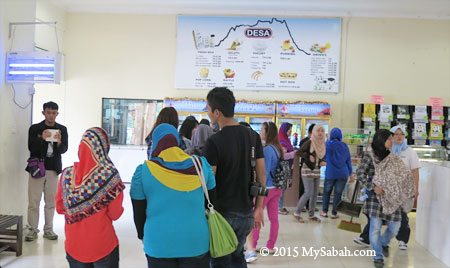 Then a long queue caught my attention. It must be something good, I thought.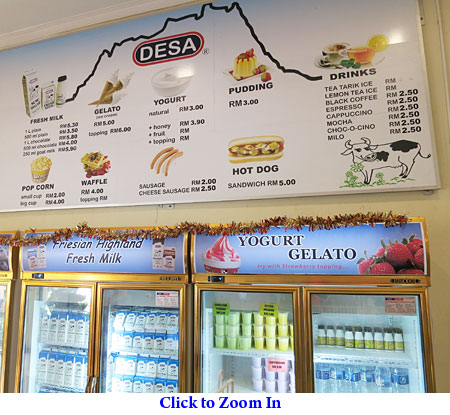 Seem like milk is not the only product being sold there, they have different snacks made of the freshest milk such as ice-cream, yogurt and pudding. I drove 100 KM to this place so it would be a shame if I didn't try one of these dairy food.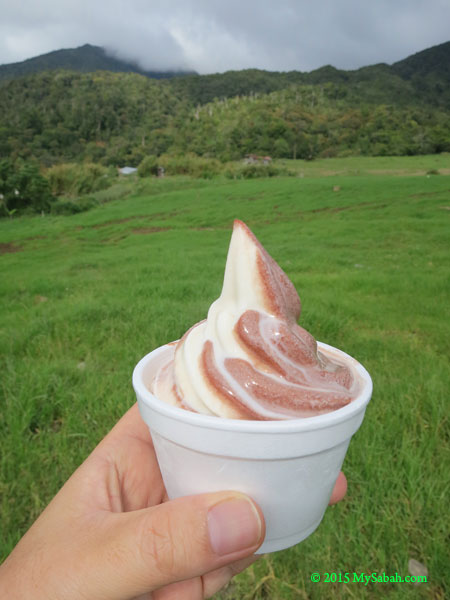 Pic: enjoying Desa's vanilla & chocolate ice-cream in cooling weather of Mesilau. Couldn't be better!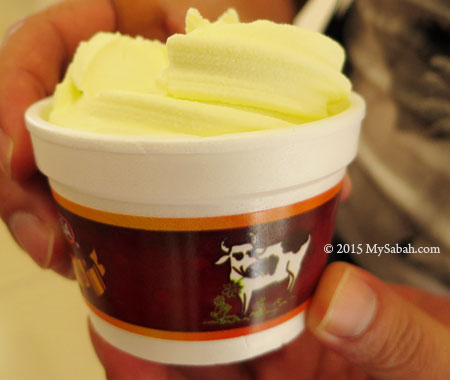 Pic: Durian ice-cream
Their ice-cream and yogurt were sold out very fast. I wanted to go for second round and there was no more. 🙁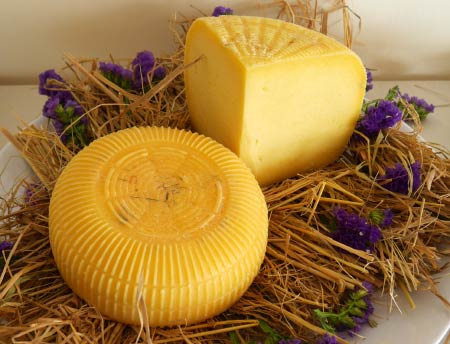 New! (Jul 2015): They have started selling fresh mozarella and ricotta cheese at food kiosk. You also can drop by viewing bay and cheese cellar room to see making of yogurt and cheese.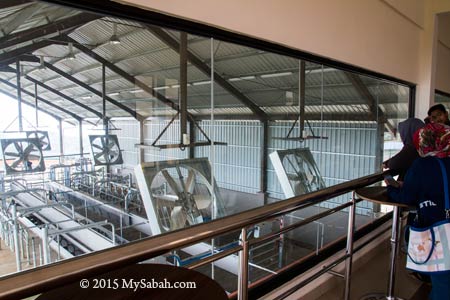 There is a view room for visitors to see milking process through a big window. Too bad I couldn't wait a few more hours so I moved on.
Calf Pen / Barn
After seeing and eating something at Desa, probably you want to touch something as well. You can head to calf pen next to the main building.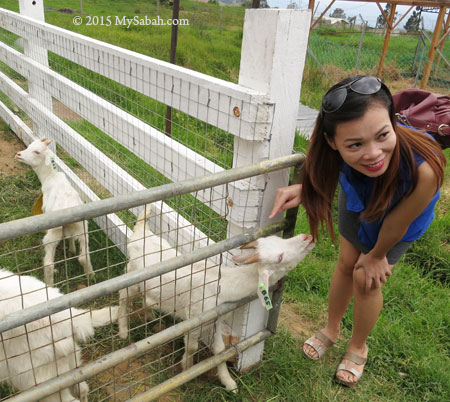 This year is the year of goat, so it would be auspicious to touch goats. Note what the little lamb is doing (see photo above). The farm also rears saanen goats for their milk.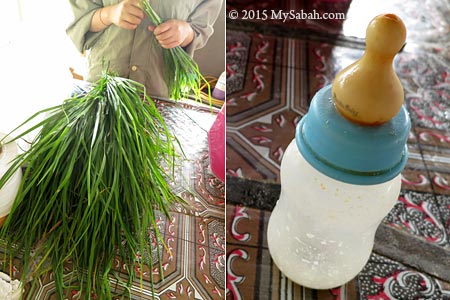 You can buy grass (RM1 per bunch) or milk (RM1.50 per bottle) to feed the calves. They really know how to milk the money of tourists lol.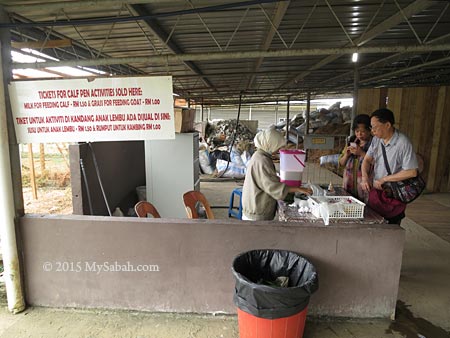 Pic: tourists buying grass and milk. Please note the calf may not take your food when they are full, and there is no refund for that. Anyway, they all looked hungry during my visit.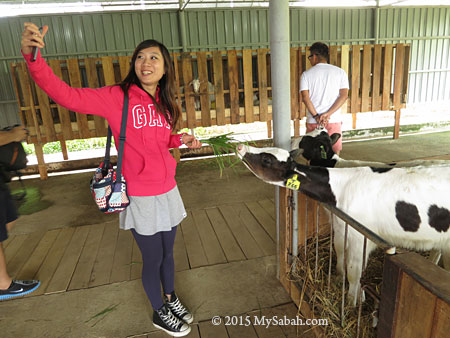 Hold the grass tight while feeding. The calf is quite strong and would pull the grass out of your hand.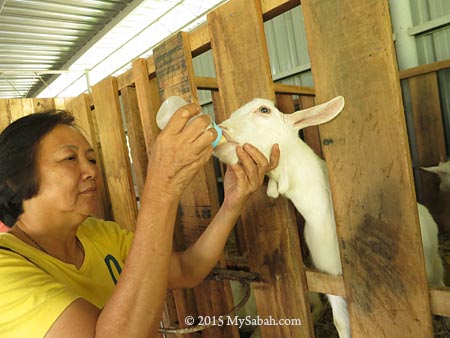 Pic: bottle-feeding the young dairy goat. Oh My Goat, it's so cute.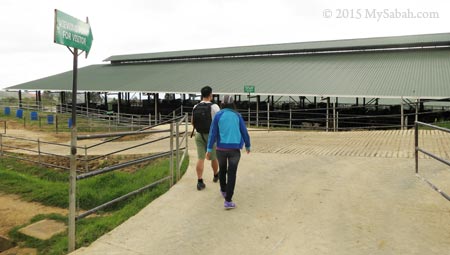 Next I went to cow barn where I could see hundred of milk cows laying or standing under the roof. Tourists can only see them from a distance (I believe some curious tourists would squeeze their udders if they are allowed to touch the cows, haha). Milking a cow is not as easy as it looks. If you upset the cow, it would kick the milk bucket, and you.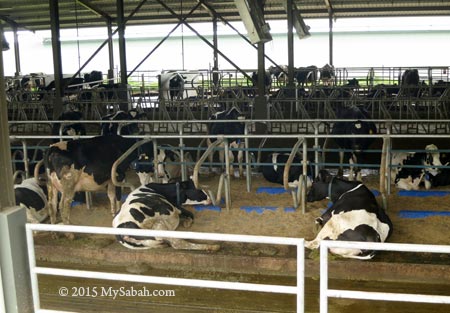 A cow emits nearly 300 Litres (about 80 gallons) of methane a day, which is enough to power up an average size refrigerator for a day. No kidding, cows can turn grass into milk and also bio-fuel. The cows in photo above look dirty because it rained heavily the previous night.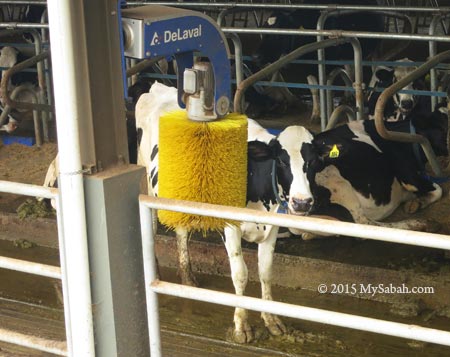 Pic: a cow enjoys rubbing its body against rotating cow brush, which said to make cow healthier and happier thus better milk production.
Ticket & Contact Info
The following is more information of Desa Dairy Farm.
Visiting Hours: 8am – 5pm (Daily)
​Ticket Fee: RM5 (≈US$1.30) per Adult, RM4 (≈US$1.10) per Child / Student (Free if under 6 years old). Prices as of Jul 2015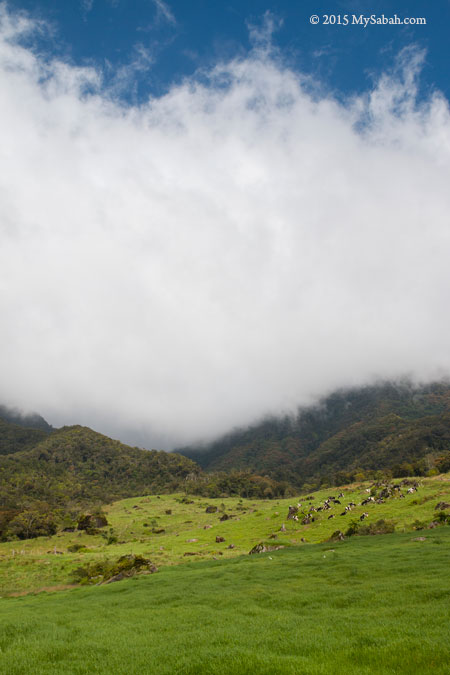 Company: Desa Plus Sdn. Bhd.
Address (office): Level 3, West Wing, Wisma 2020, 18, Lorong Belia Karamunsing, 88991 Kota Kinabalu, Sabah, Malaysia.
Website: www.desaplus.com
Facebook: Desa-Cattle-Dairy-Farm-Kundasang-Sabah
Tel: +60 88-889562
How to get there
Desa Dairy Farm is in Mesilau and about 100 KM away from KK. Though far, it's quite accessible if you own / rent a car. There is no bus goes directly to Desa Dairy Farm. However, you can get a bus to Kundasang town, then hire a taxi to go to the farm (you may need to arrange with taxi driver for return trip), which is about 10 KM away from Kundasang.
GPS Coordinates: 6°00'59.0″N 116°35'28.9″E (see Location Map)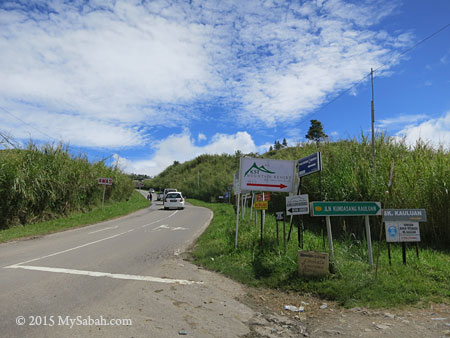 Pic: the road to Desa Dairy Farm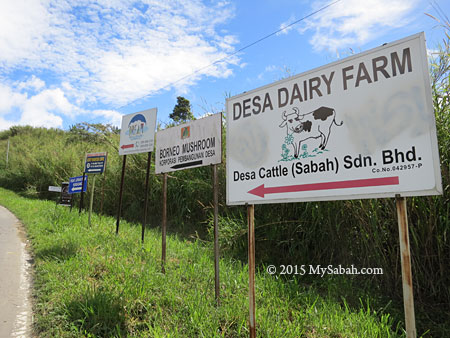 Pic: you will see a few direction signs of Desa next to the road in Mesilau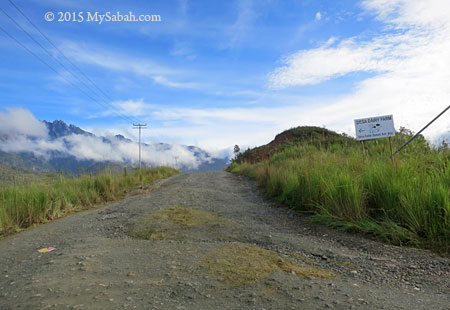 The road to Desa Dairy Farm is mostly on paved road, until you reach the last junction, which is the start of 2 KM gravel road to the farm. The road is not well-maintained but you still can get in easily using standard saloon car. Just drive slowly and carefully.


You may check out my photo album if you want to see more photos.
Photos taken in Mesilau, Sabah, Malaysia Borneo
Some city kids are very afraid of chicken though they eat a lot of KFC. "Apple" is probably the first English word pupils learn but they have never seen an apple tree. Though our young generation is no longer required to get their hands dirty in the farm today, we must let them understand how agriculture works, as it's the most important knowledge for survival of mankind. We can't improve things that we don't know.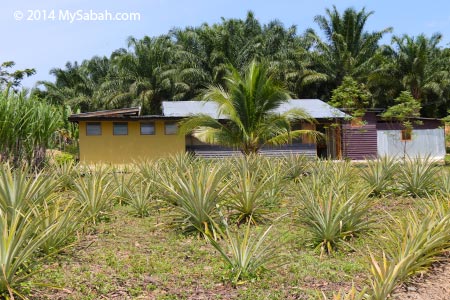 Pic: Tenom farmstay with pineapples in front
Run by Tham's brothers in Sapong, Tenom Farmstay is about 12 Kilometres away from Tenom town (Ladang Batu 10, Jalan Kemabong) of Sabah interior (see Location Map). It's a 35-acre real farm that practices organic farming and open for people who want to experience authentic farm life. Besides, they also bring their guests to volunteer in local community projects and interact with the local people.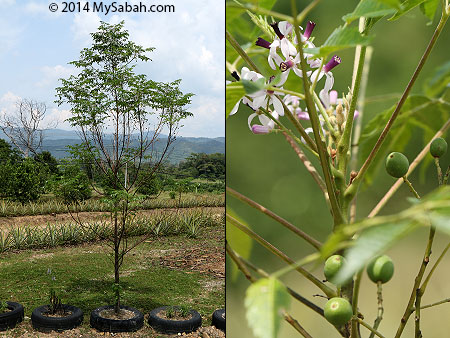 Pic: Neem tree outside the house. It is a natural mosquito repellent.
The Plantation
Different from other farms, Tenom Farmstay is an integrated farming with the concept of diversifying the crops / livestock and making them to complement one another. For example, the manure from animals can be recycled as fertilizer for the crops. The end result is the creation of multiple recurring income streams and more sustainable organic farming.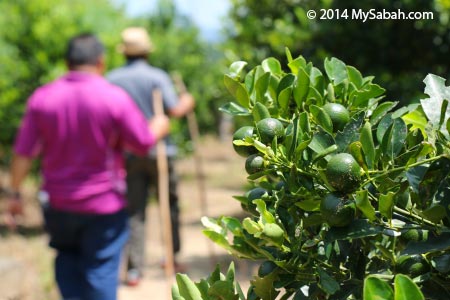 Pic: lime orchard produces 200 Kg of fruit monthly
The owner, Tham Yau Siong took us to tour around his farm, which is thriving with pineapples, tapioca, calamansi, banana and other crops. He supplies fruits and vegetables to market as far as Kota Kinabalu city and also gives some to his friends. (Note: many mosquitoes in orchard, do bring insect repellent)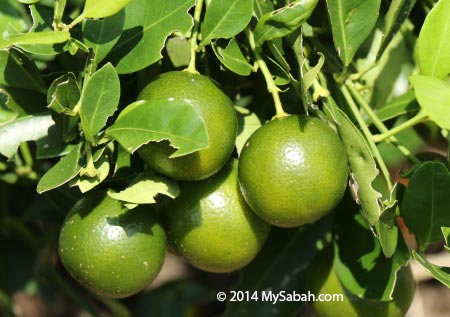 Pic: Calamondin fruit (Limau Kasturi in Malay language)
Calamondin fruit is in good demand because its sweet and sour juice (locally known as Kik Cai Ping) is the favorite drink of Sabahans.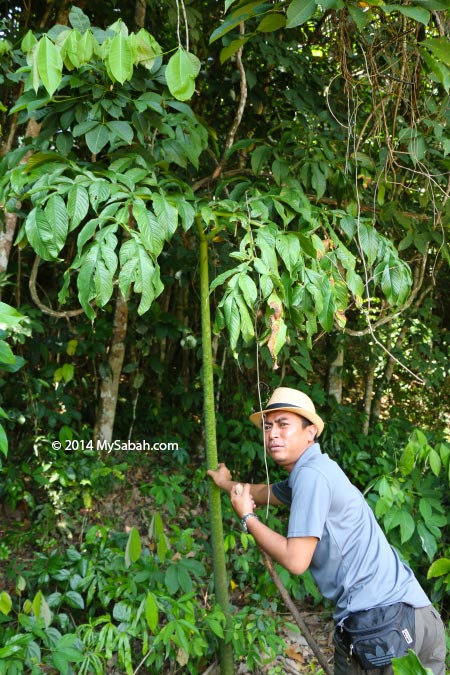 Pic: Aroid plant
What surprised me was – I found corpses flowers in his plantation. This flower (a.k.a. Samurai Flower) is a close relative to titan arum in Sumatra, a flowering plant with the largest unbranched inflorescence in the world. According to Alim from Sabah Parks. it is Amorphophallus lambii, a plant under the family Araceae. There are 5 species of such flower in Borneo. FYI, Amorphophallus means "misshapen penis" in Greek.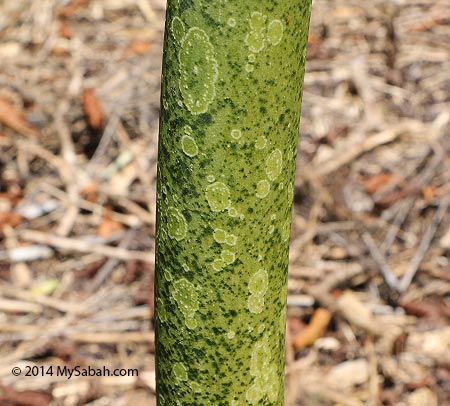 Pic: beautiful stem of Amorphophallus lambii
Samurai Flower takes many years to bloom and I was not in time for its flowering. Anyway, it is still worth taking a close look. Its trunk is actually part of its leaf structure. If you squeeze its soft stem, you can feel layers of leaves under its skin, what a peculiar plant. I never expect to see such natural wonder in a farm and there are 6 of them! Tham said someone told him that he could charge people entrance fee to see this flower.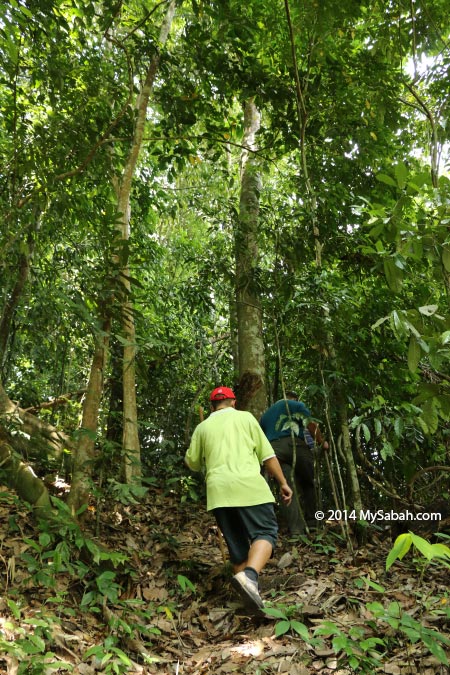 We kept on walking and enter a mini "forest" on a slope. Tham keeps slope area of his farmland forested, for conservation and as a buffer zone to prevent soil erosion. Sometimes wildlife such as mouse deer and eagle forages here.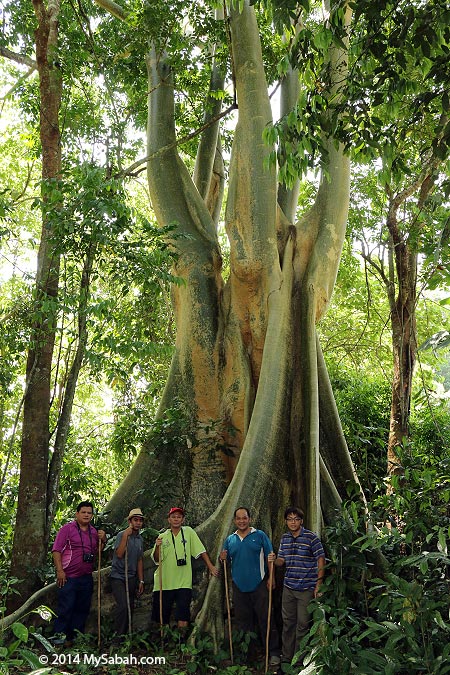 Pic: this giant tree is the highlight of this forest. It's a softwood that called "包皮青" in Chinese (literally translated as Wrapped Green Skin). Please tell me if you know its identity.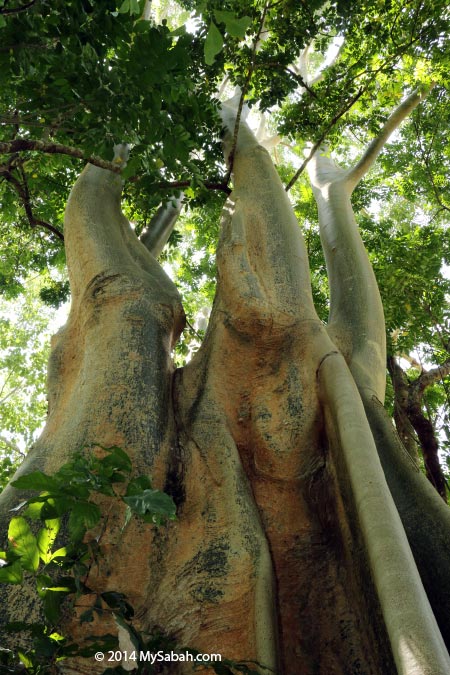 This tree looks like a long-necked Sauropod dinosaur from a close distance. There are a few other beautiful tall trees too and Tham decides not to cut them down.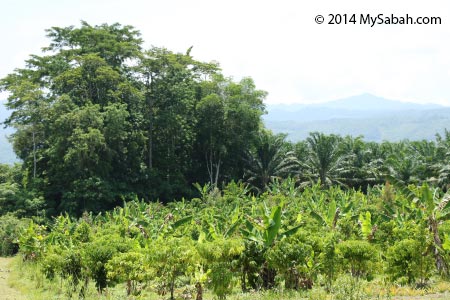 Pic: stand of 5-acre forest in the plantation
Shortly we came to an open space and walked among large area of banana and Sabah vege (Sayur Manis in Malay language) plantation, and also passed by a lush grassland, which is the food stock for his goats. Probably Tenom was used to be the floodplain of Padas River, so the soil is fertile, making Tenom one of the most important agricultural area in Sabah. Both lowland and highland crops seem to grow well in Tenom.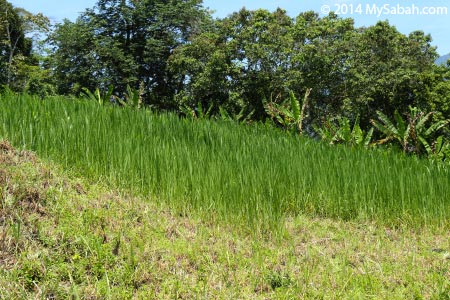 Pic: 7 acres of grasses for goat farming
Tenom is also famous for its pomelo, avocado and coffee. Unlike greedy farmers who always aim to maximize profit by using a lot of chemical fertilizers, Tham uses goat dung from his farm instead, it is more organic and save him 70% of money spent on fertilizer.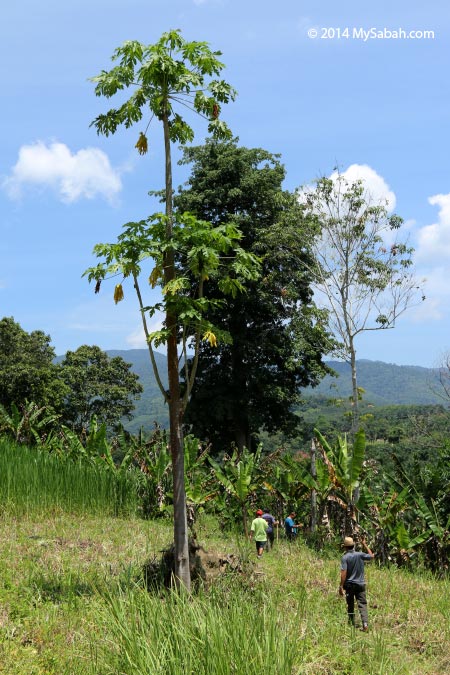 Pic: a super-tall papaya tree in the farm
He prioritizes the well-being of the environment and consumers over the money, which makes his integrated farm more sustainable. This reminds me of the 3P model (People, Planet and Profit). Tham proves that winning for People-Planet-Profit is attainable with mixed farming.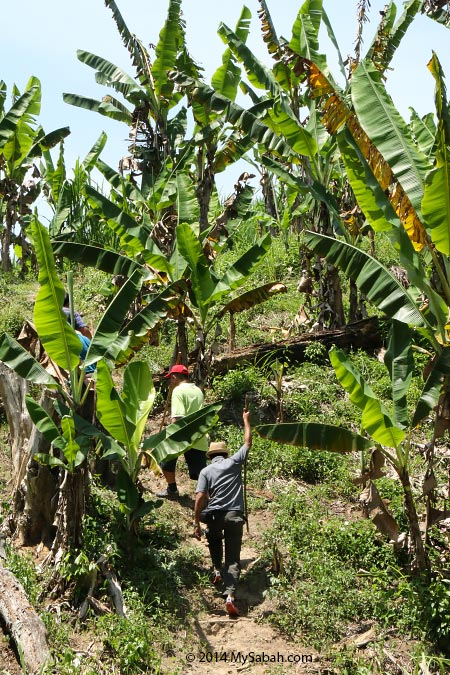 "Nothing is illegal if a hundred businessmen decide to do it." Well what'll go wrong if people are obsessed with money? Just look at the recent cases like the use of gutter oil and plasticizing agent in our food and drink. Feed your chicken with unwashed vegetables and they will turn blind in weeks. When fruit juice is not real juice, fat is not real fat (trans fat), food issues become a world crisis. We have been putting highly-processed or harmful food into our mouth. How many "real" food are there in the market? I think "Food Education" is more important than Sex Education now. Consumer is the key force to drive the change. We are no longer afford to say, "I don't know and I don't care." It's time to question how our food is made.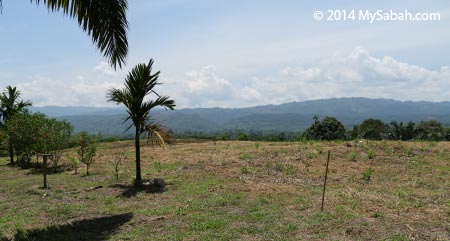 Pic: a high ground area with nice view of the farm, forest and mountain. A chalet will be built here.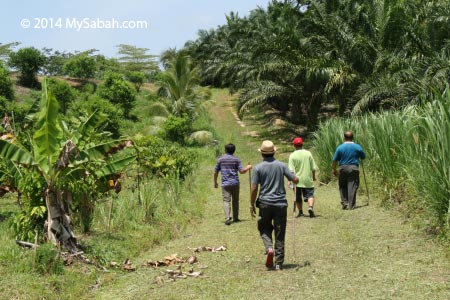 Besides 8 acres of orchard and vegetable farm that provides fresh banana, Sabah Vege (Sayur Manis), pineapple, durian, mangosteen and various other crops, Tham also owns a 16-acre oil palm plantation.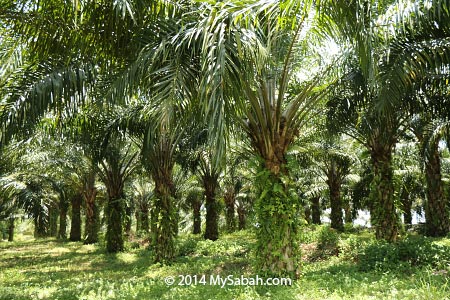 These oil palm is mainly nourished by goat dung from Tham's farm, which cut down the need for chemical fertilizer significantly. Moreover, he keeps a long vegetation zone between the river and his plantation, to prevent fertilizer causing pollution to the river. As a matter of fact, oil palm can be environmentally friendly if planted correctly.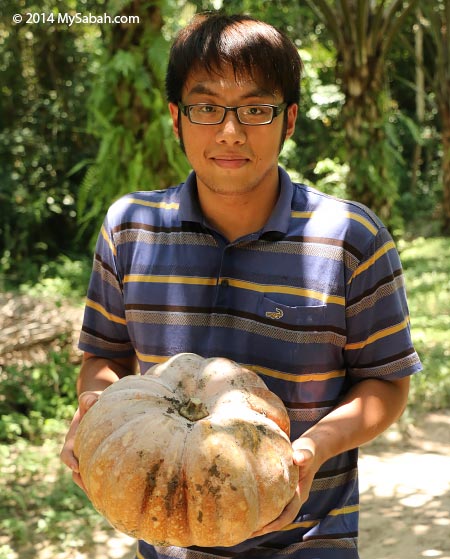 Pic: Brian (Tham's nephew) holding a big pumpkin from the farm
Tham says it is very satisfying if you cultivate your crops with heart, and everyone can enjoy your healthy food worry free. Looking at his happy face, I have no doubt he is a good man rich in economic and inner wealth. I know some farmers who don't dare to eat their own crop due to heavy use of pesticides. I wouldn't sleep well if I were them.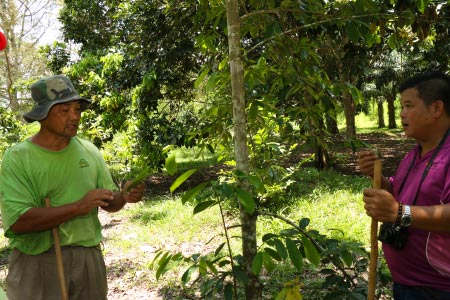 Pic: Tham Yau Kong (left) shows us the formula to cure cancer with the leaves and fruit of Guyabano.
Then we met his brother, Tham Yau Kong in the orchard, he is a no-nonsense but a very friendly and kind man. He travels to a lot more places in Sabah than I do. He has climbed Mt. Tambuyukon numerous times as if it's in his backyard. He still works in tourism industry and comes back to this farm regularly.
Goat Farm
Next we checked out the fertilizer factory, no.. I meant the goat farm. You might think that Tham Yau Siong is a farmer since the beginning. Nope. He was a financial controller. When economy turned bad in late 90s, he returned to Tenom and started his farm in 2004. He saw the potential of goat farming. With 0 experience, he ventured into goat rearing in 2005 after he took a 1-week course conducted by Veterinary Department.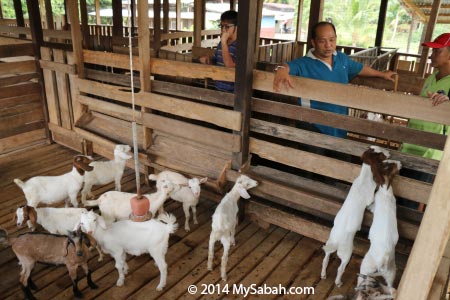 He started with 6 goats and now he has about 300 goats in his farm and even won the Successful Breeder Award (Sabah) in 2010. Most important of all, he finds meaning in his new business and really love his job. His success story is an inspiration to those who only want to stay in comfort zone.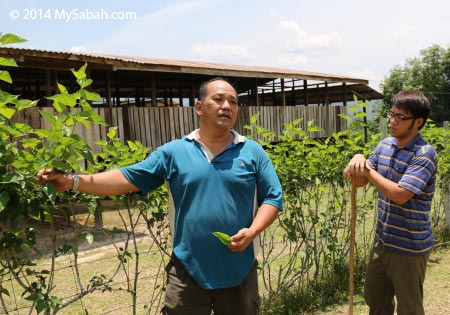 Pic: Tham shares his secret recipe on goat's diet. The mulberry leaves in the photo is a natural multi-vitamin for goat. Tham also feeds his goats with Jackfruit leaves that can de-worm and high-fibre oil palm leaves that keep their guts healthy. This eliminates the needs for chemical and synthetic nutrients injection.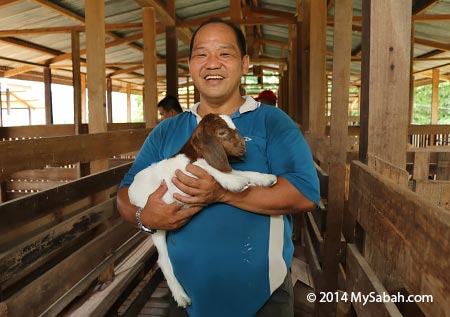 In contrast to what I imagine, his goat feedlots are clean, well-ventilated and well-lit. It doesn't smell bad at all. Hundred of goats started bleating like baby when they saw us approaching, so cute.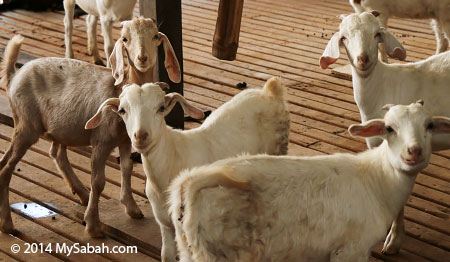 The goats are so adorable and look like smiling. In Sabah, about 85% of the lamb is imported (as frozen meat from Australia and New Zealand), so it is demand over supply hence a huge market. Tham stressed, "Everyone needs food and world population is growing, so food supply is getting scarce and becoming more and more expensive, so you won't go wrong producing food."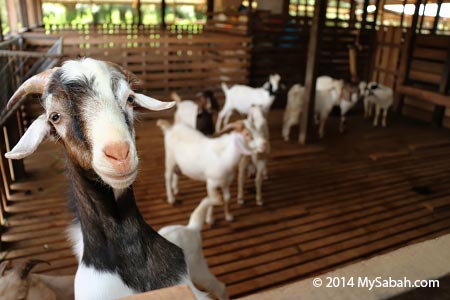 There are 3 types of goats in his farm, namely, Ferrel and Boar goats, and 3rd kind is a cross-breed of these two Australian breeds. It takes about 6 months for the goat to grow to the marketable size of 25 Kg. Each goat can be sold for RM1,000 in Brunei, quite a lucrative business as every goat costs less than RM300 to raise. The advantage of Sabah is that our livestock has no foot and mouth disease problem, so exporting them to other countries is easy.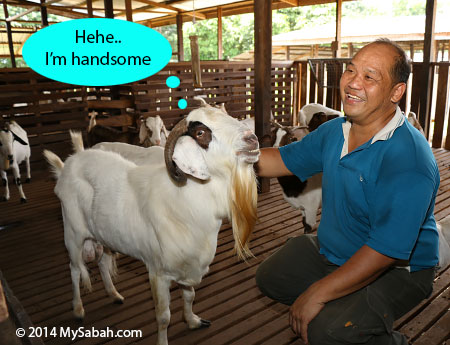 Pic: Tham shows us how a healthy goat looks like. This goat seems pleased.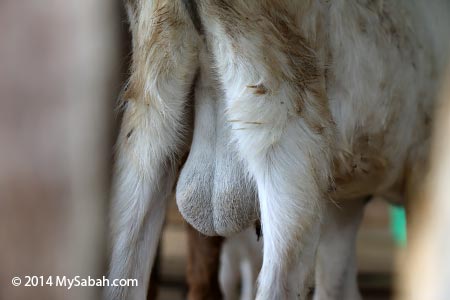 Male goat can mate 3 times in a minute. Though "fast" it is impressive. Most guys believe mutton is good for men. I even made fun of its big "sperm tank" in one of my blog lol.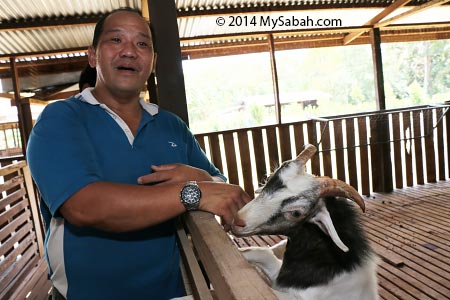 Pic: the goat is so happy and playful, as if it sees its father.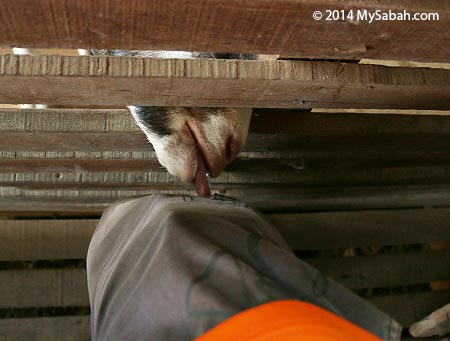 Pic: a goat tried to eat my pant. Want to keep a goat as pet? Think twice.
Goat eats anything. "You better rear them behind the fence. If you let them wander around, they will eat plastic, cloth, rubbish and everything. Their meat will smell bad," Tham smiled and said.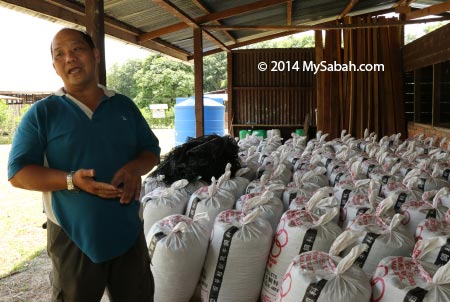 Pic: the by-product of goat farm, organic fertilizer
His goats produces 1,000 bags of goat dung per month. Each sack weighs 30 Kg, and Tham sells 200 bags for RM20 each every month, generating a side income of RM4,000. He uses the rest of the goat dung for his farm, saving him a ton of money. FYI, chemical fertilizer costs RM5 per 400g, which is far more pricey.
Farmstay
After a long walk, we were hungry and Tham prepared a yummy Kampung (village) lunch for us. We had some rice, pumpkin, Sabah vege and chicken. Somehow I felt the food tasted better when I knew that they were fresh from the farm.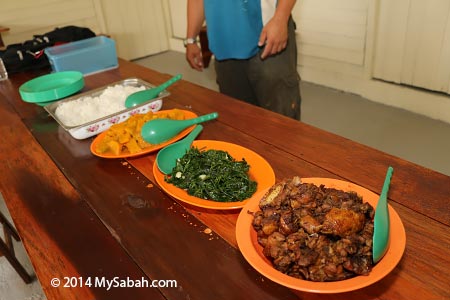 The soy sauce chicken meat tastes really delicious. I think it's the famous Maize Chicken of Tenom, another high-quality product by Tenom farmer. The chicken is fed with corn instead of cheap pellets, so its skin appears yellowish and the meat is sweet, springy and less fatty.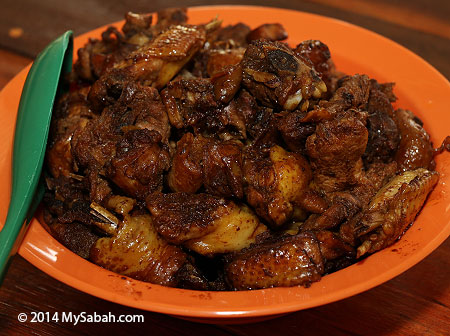 Pic: soy sauce chicken
Tenom Farmstay welcomes anyone who wants to experience farm life to stay there. They have been receiving many student groups, especially from UK. The youngsters will be kept busy doing real works. Instead of being a braggart in social media, they gain more pride by doing volunteer work to help the local community.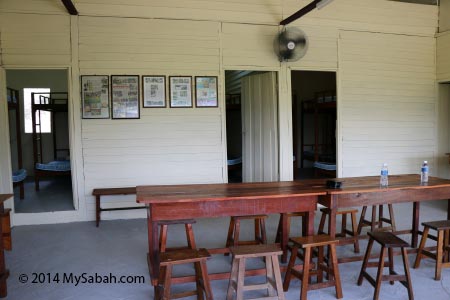 The farmstay has 6 rooms with fan and bunk beds, and able to host up to 30 people. The fee is RM60 per night (≈US$18.50) (normally it is a 2-Day-1-Night package). Tham joked, "the large quantity of fruits they can eat here is already worth more than that."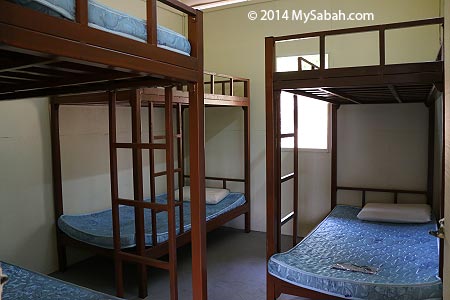 Pic: the room of the farmstay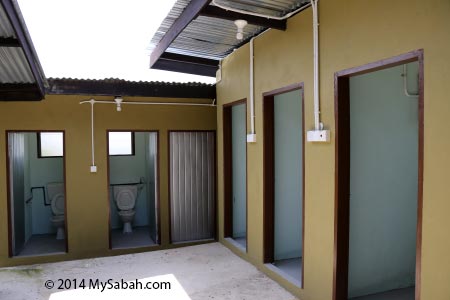 Pic: toilet and bathroom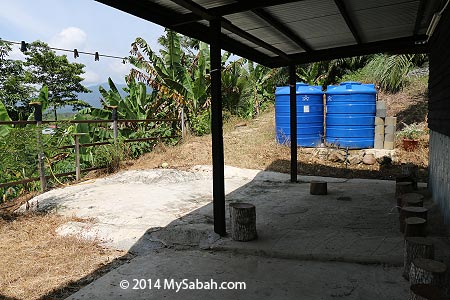 Pic: BBQ area
If you are interested in Farmstay, you may contact TYK Adventure Tours for more info:
Name: Padas Farmstay or Tenom Agro Paradise Farmstay
Website: www.tykadventuretours.com
Address (office): Block E, Lot 38, 2nd Floor, Damai Plaza IV, Luyang, Kota Kinabalu, Sabah, Malaysia.
Tel: (6088) 232821
E-mail: thamyaukong@gmail.com / b.oswanda@gmail.com
Below is the leaflet of the farmstay:

To see more photos of Tenom Farmstay, you may browse my photo album.
Photos taken in Tenom, Sabah, Malaysia Borneo