Tag Archives:
dugong
The story of an island boy and a friendly male dugong (named Nicky) in Mantanani was once featured in Discovery Channel. Besides their touching friendship, viewers are also impressed by the beautiful scene of the island. Due to the mysterious and human-like appearance of dugong, the people call it "mermaid". Mantanani consists of three islands, namely, Mantanani Kecil, Mantanani Besar and Lungisan.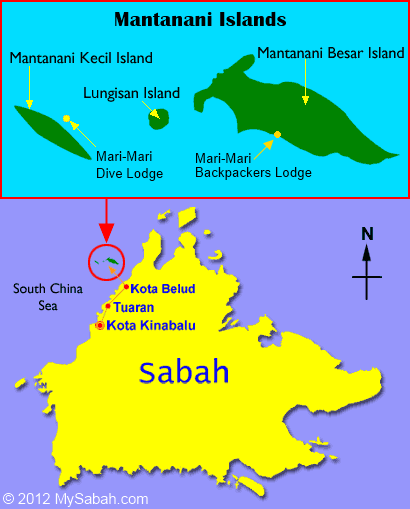 Two years ago, I had a 2-day-1-night trip in Mari-Mari Dive Lodge on Mantanani Kecil Island. Earlier this month, I decided to have a day trip to Mantanani Besar Island this time. FYI, as of this writing, the accommodation (Mari-Mari Dive Lodge) of Mantanani Kecil is destroyed by storm and will be open in later date.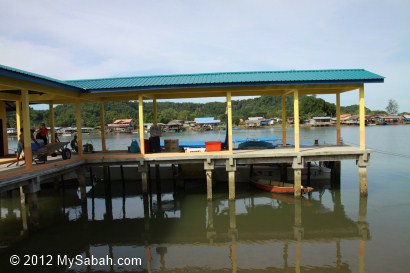 Above: jetty at Abai Village
There are a few tour operators such as Mari-Mari Backpackers Lodge on Mantanani Besar. You need to book the tour with them for day / overnight trip on Mantanani, they will arrange the land transport and boat transfer for you. First, a tour bus will bring you to jetty of Kg. Abai (Abai Village) in Kota Belud in the morning (now boat transfer from Kota Kinabalu is also available daily). The land transfer takes about 1.5 hours. A day trip to Mantanani costs about RM300 (about USD90), which includes return transport, lunch and 2 snorkeling (with gears).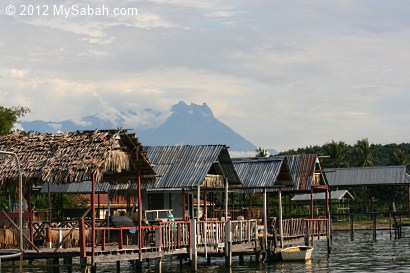 Then you will take a boat at jetty to transfer to Mantanani. The boat ride takes about an hour, depend on the sea condition. It'll take longer time if the sea is rough during bad weather. I know it'll be a good day when I see the face of Mt. Kinabalu is clear of mist.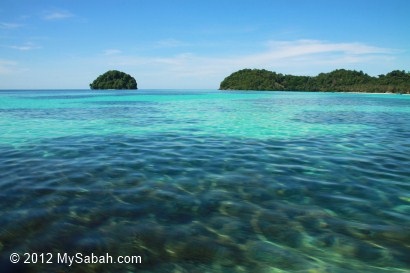 Everyone on the boat is in happy mood and we enjoy the ride and breeze. The ride took less than 1 hour.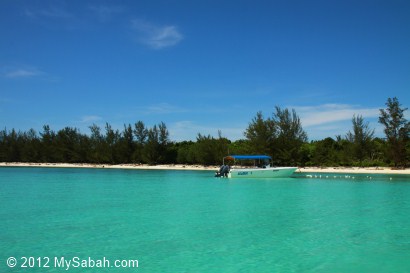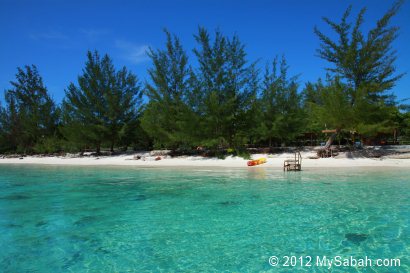 Probably most are first-time visitors. I heard lot of WOW and WAH when they saw the crystal blue sea of Mantanani Besar. Many stood up and took photos like crazy and they couldn't wait to get out of the boat to take a dip. The visibility is so good that we can see the corals deep in the water. You can watch the 2-min video below: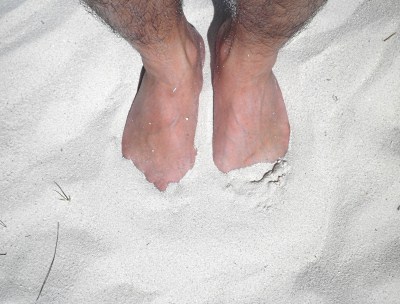 Unlike the yellow sand we see in other beaches, the sand on this island is white and as fine as powder.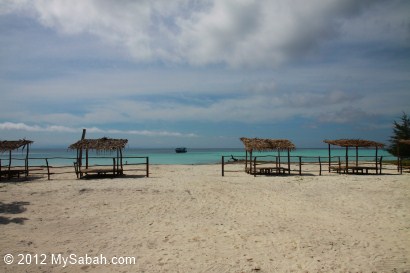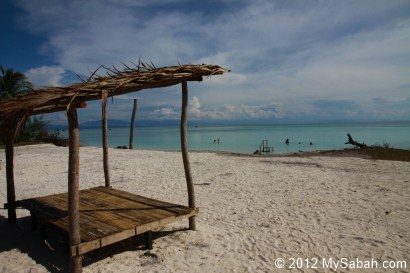 The place we have our tea break is "Sayang-Sayang" (means Lovely), which is an area next to Mari-Mari Backpackers Lodge of Mantanani Besar Island.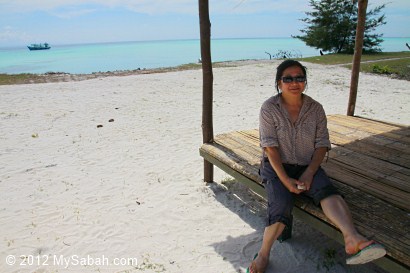 Frankly, I don't mind resting in this little hut and watch the sea all day long. You may watch the 40-sec video below to see the surrounding: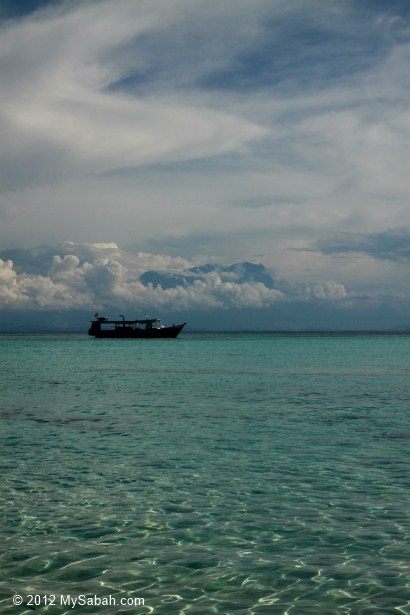 You can see Mt. Kinabalu and mainland from this side. What's better than having blue sky, peaceful sea and our iconic mountain in one open view?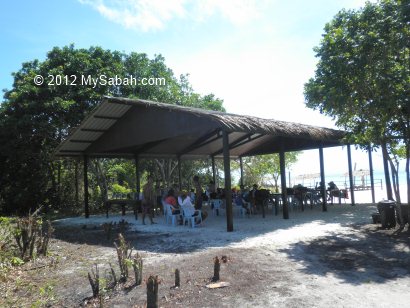 Above: Sayang-Sayang, the place we have our break and lunch.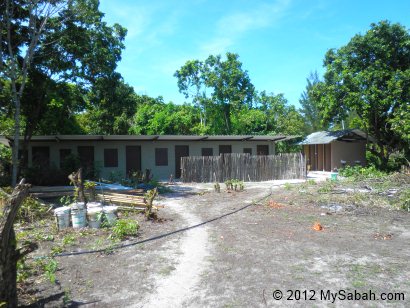 Above: toilets nearby Sayang-Sayang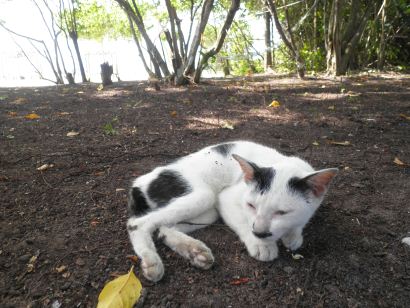 Above: a friendly cat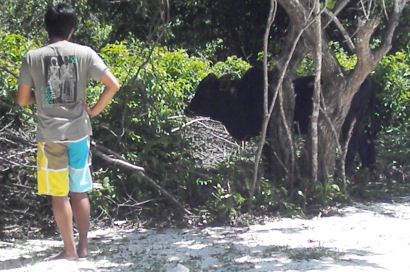 Above: a cattle asks for a share of our lunch. It's from a nearby village of islanders. It doesn't swim all the way here from mainland.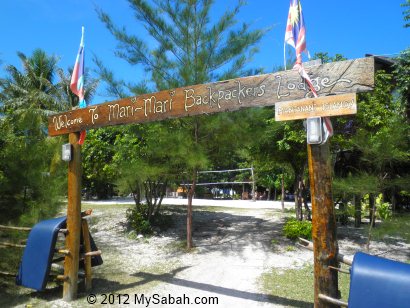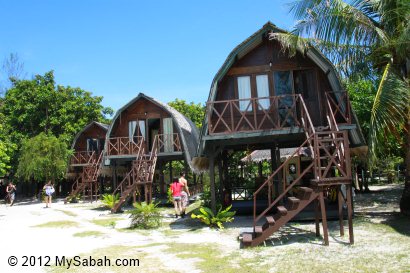 Above: The Mari-Mari Backpackers Lodge of Mantanani Besar looks really nice. Too bad I was on a day trip. There are about 10 of them and each house can host 4 guests. The starting price is about RM80/night per person. They will build more houses like this at Sayang-Sayang soon.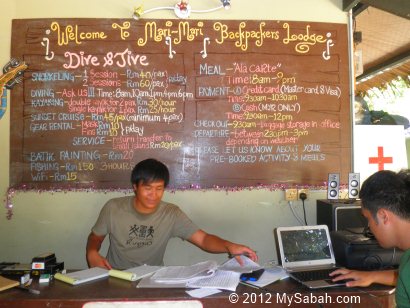 Above: reception counter of Mari-Mari Backpackers Lodge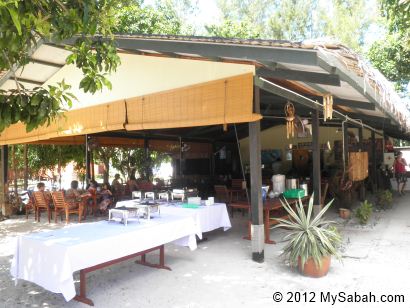 Above: Cafe of Mari-Mari Backpackers Lodge. We collected our snorkeling mask, fin and life jacket behind this cafe.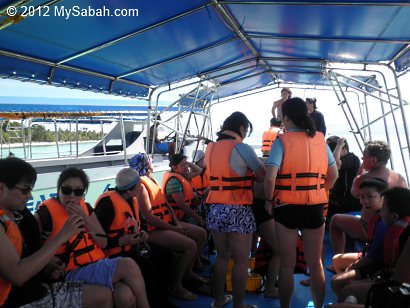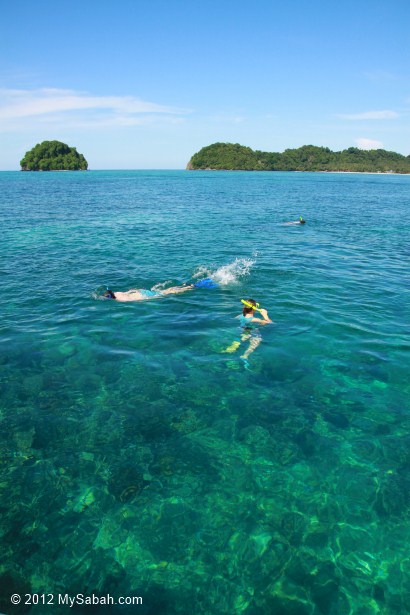 Our day trip includes 2 snorkeling. You may go for Diving Package instead, which costs RM500 (about USD150) and includes 2 discovery scuba diving (no diver license required) in water of 3 to 7 Meters in depth.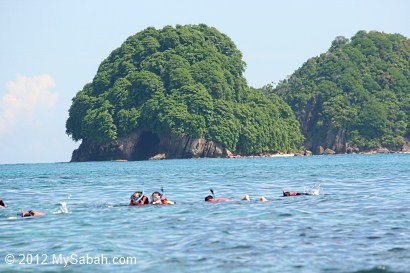 Our first snorkeling site is near Magic Rock, an area near Mantanani Kecil Island. Though our snorkeling sites are far from shore, the depth is only 2 to 3 Meters only. The sea there is quite choppy and we were being tossed around by rough waves. At first I was having fun, then I started to feel dizzy after 10 minutes. All of us got seasick and felt very uncomfortable.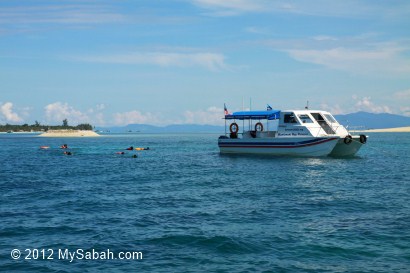 After returning to island for a lunch break, our boatman took us to second snorkeling site near the sand bars. This time the sea is calmer, but the water is quite cool and the current is strong too. Instead of fighting with the current, I just stay relax and let myself flow with the current and I was sent to a warmer zone. Then I felt something stinging me like mosquito. I look carefully and find that I'm in a swarm of translucent jelly bug! Their stings are very light so no worry. I saw a few tiny flashing jellyfishes, so cool..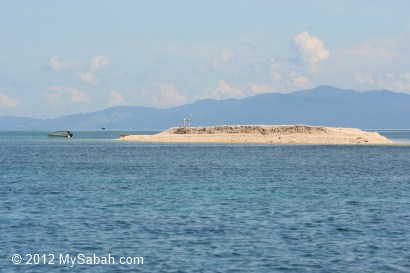 Above: I wonder what is on that sand bar. Too bad we didn't explore it. There might be tons of seashells and corals on it?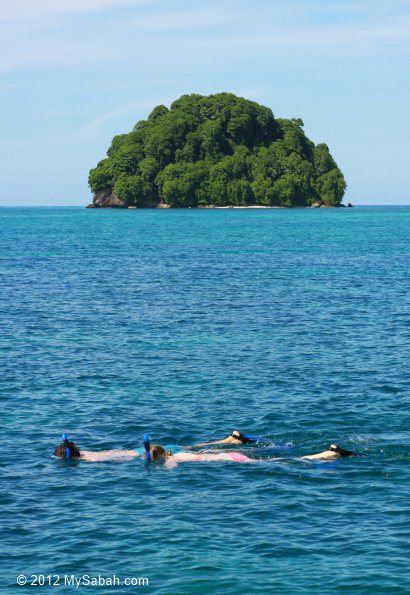 Frankly speaking, I'm a bit disappointed with what I see during snorkeling. Even though I still see quite a number of fishes, many corals are dead and the rest don't look healthy, probably damaged by blast fishing (fish bombing). If you go for snorkeling, the corals at Rocky Point and Magic Rock near Mantanani Kecil Island are still in great shape.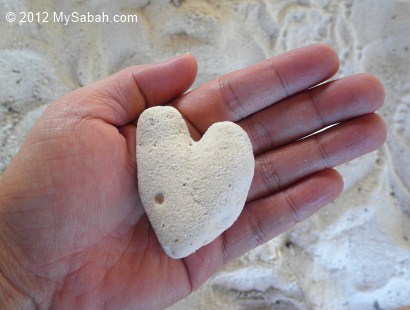 Anyway, Mantanani is still a beautiful island.
More Photos
You may check out my photo album if you want to see more nice pictures: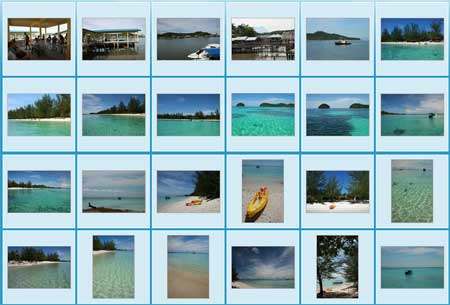 Related Post
Mantanani Kecil (Mari-Mari Dive Lodge)
Fishing at Mantanani Island
Budget accommodation on Mantanani Island
Photos taken in Kota Belud, Sabah, Malaysia Borneo
You might also like:
I thought all the beautiful island in west coast of Sabah was gone until I met Mantanani Islands (Pulau Mantanani). Sapi and Manukan Islands? They are not even in top 10 most beautiful islands of Sabah (but they were, 30 years ago), and it is funny that most tourists flow to these islands. That would make them think that all islands of Sabah are dirty, polluted and lack of corals. Local divers also expresses their concern about the dwindling corals and fish species in Tunku Abdul Rahman Park. Due to increasing pollution and garbage from the shore (especially Gaya Island), very soon swimming in Sapi Manukan will be same as swimming in toilet bowl.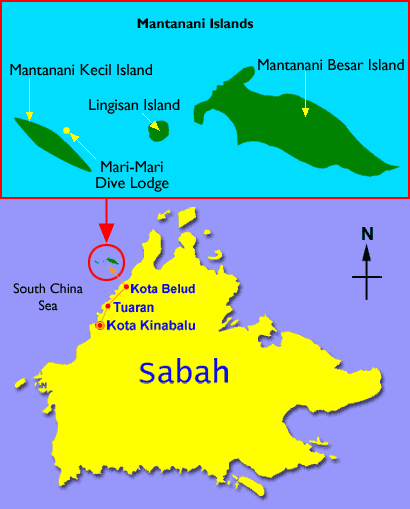 Click Here to see more photos of Mantanani >>
Mantanani is fairly accessible (prior booking with travel agent is required). Just drive 1 hour to the jetty of Kampung Kuala Abai in Kota Belud, then take a boat to Mantanani. The boat ride takes 40 to 50 minutes depending on the sea condition. If the weather is bad, they might cancel the trip. Mantanani consists of 3 islands, namely, Mantanani Besar (the biggest) Island, Mantanani Kecil (Kechil) Island and Lingisan Island (smallest). Above is the map to Mantanani. In fact, these islands are so tiny that they are not appear in most Sabah map. I draw the map myself just for you to get an idea, the shape and scale are not accurate, so don't use it in textbook ye.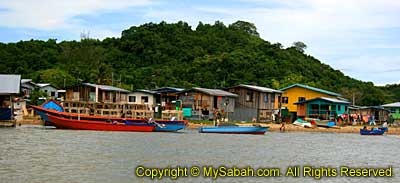 Click Here to see more photos of Mantanani >>
Above is the view of Kg Kuala Abai (Kuala Abai Village) fishing willage. To go to Mantanani, you need to arrange the tour with the island operator prior to the visit. I went 2-day-1-night with Mari Mari Dive Lodge (of Traverse Tours), the sole operator of Mantanani Kecil Island. On Mantanani Besar, there are a few operators such as Mantanani Resort.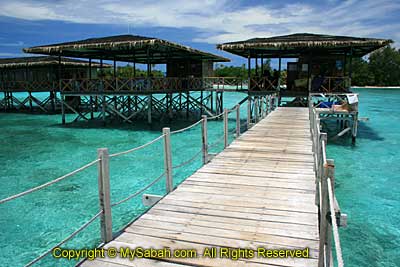 Click Here to see more photos of Mantanani >>
Lucky tourists would see dolphin in the boat ride. They usually follow behind the fishing boats. This is no guarantee and too bad I didn't see any. Though it was a sunny day, the sea was so choppy that I felt the boat was riding on something rock solid and I got free shower from splashes. After 45 minutes, I arrived the jetty of Mari Mari Dive Lodge (MMDL). MMDL is built 400 Meters away from the shore of Mantanani Kecil. If not, tourists will have to walk extra 400 M from the island to jetty during low tide, which is too shallow for boat to enter. You can walk from MMDL to the island when it is low tide, but watch out for the venomous stonefishes and stingray that can hide really well in the sand. Better way is to snorkel to the island during high tide or ask the boatman to send you there. MMDL is a structure of 3 stilt houses joined together, i.e., a 4-room twin-bed accommodation, a dive lodge and a dining area.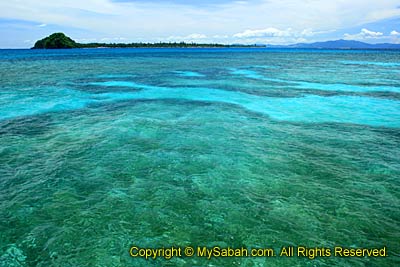 Click Here to see more photos of Mantanani >>
Manatanani is also known as "Mermaid Island", due to the presence of an endangered sea cow "dugong / duyung", which is occasionally found grazing on the sea grass around the island. Sighting is rare and the most recent sighting was reported last month. Taking beautiful photos of Mantanani is so easy, coz everything is like a picture, the blue sky, crystal clear sea and white sandy beach… The visibility of the water can reach 20 Meters, so clean that as if it is drinkable.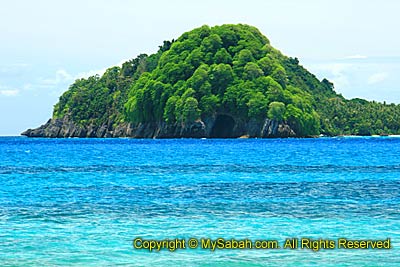 Click Here to see more photos of Mantanani >>
Though very few Sabahans know about Mantanani, many tourists from Europe, Hong Kong, China, Japan and Korea had discovered this pristine island by words of mouth. You would be impressed if you see the photos. FYI, the dark patches under the sea are rocks and corals, in case you misunderstand they are something dirty.
The photo above is Lingisan Island, which is named after frigate birds that fly around there in the evening. Lingisan is very small and nobody lives on it. The big island behind it is Mantanani Besar. Personally I call it "flower pot" island coz of its round shape and dense vegetation on top. I was so curious what was inside its cave.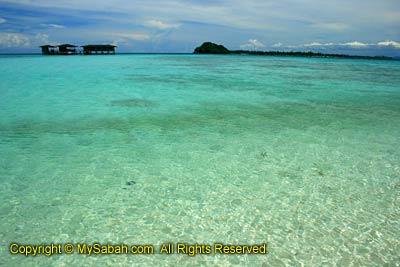 Click Here to see more photos of Mantanani >>
Before I came, I was not too excited about this trip coz I heard about the fish bombing activity in Mantanani, thinking that it was a degraded island. However, what I saw in snorkelling and diving was a huge number of corals like an underwater garden. Since the setup of a police base on Mantanani Besar, the fish bombing is greatly reduced. Some fishing boats like to come here to fish. There are over 15 dive sites in Mantanani, more adventurous divers can try out muck diving and wreck diving. You would see turtles, bumphead parrot fish, big stingray, giant clam, moray and eagle eel, nudibranch, finger corals and many other marine life.
The underwater current is quite strong under the sea. Instead of fighting it, divers can use the current as an "escalator", go with the flow to "glide" above the corals. In one of the dives, my dive group was swept to 1.5 KM away within an hour! The boat man took nearly an hour to locate us. Honestly, I was quite pissed, but forgot it soon.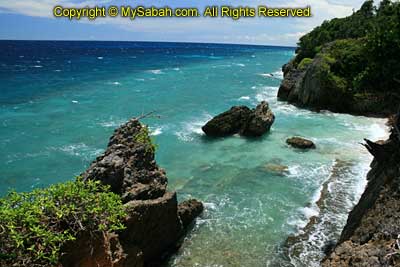 Click Here to see more photos of Mantanani >>
Besides the sandy beach, Mantanani Kecil has a nice view behind. You can walk to a small cliff behind the island and enjoy a bird view of its rocky shore (see photo above). The sea under the cliff looks deep and rough, so it is meant for watching only. There are only a few MMDL workers live on Mantanani Kecil, and they look after the power generators and water supply on this island. All communication is cut off on Mantanani Kecil, so no need to worry about phone call from your office. Kayaking is allowed if the sea is calm.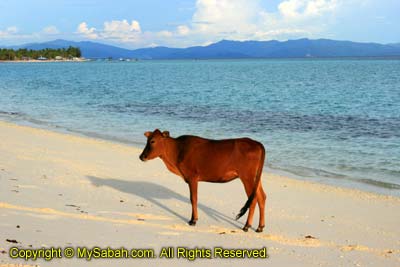 Click Here to see more photos of Mantanani >>
Mantanani Besar is a few KM away from Mantanani Kecil and mainly resided by local fishermen. The people there are very friendly and I saw some youngsters were playing volley ball in the evening. I visited there briefly to buy something, as there is no shop on Mantanani Kecil and Lingisan. Sadly, Mantanani Besar didn't give me a good impression coz I saw rubbish everywhere on the beach. There were many cows wandering along the beach but too bad they were not the sea cow that I was looking for.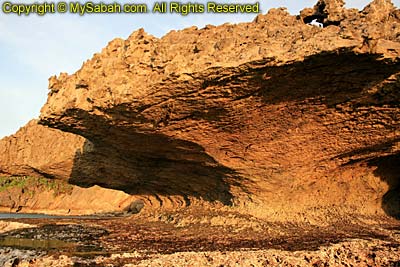 Click Here to see more photos of Mantanani >>
After the shopping, I toured around the islands and checked out the other side of Mantanani Besar. It is a rocky shore with interesting mushroom rock formation, probably the collaborative work of wind and water over years. I climbed onto the rock and walked around. The surface was slippery, rough and sharp, so I moved carefully with naked feet. Do visit this when you come to Mantanani.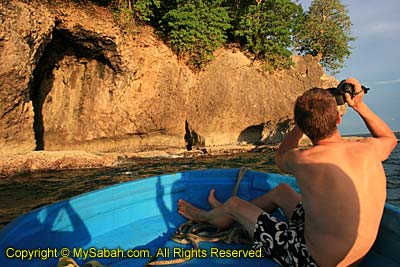 Click Here to see more photos of Mantanani >>
Lingisan Island is the one I most eager to check out because of its big cave. A closer look reveals that it is not a deep cave and its bottom only submerges a few feet under the water during high tide. The staff told us that only swiftlets and bats live inside, and the owner comes to collect edible bird nest from the cave sometimes. It is a small but very unique island.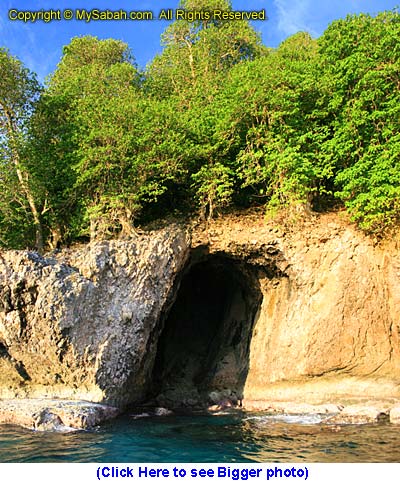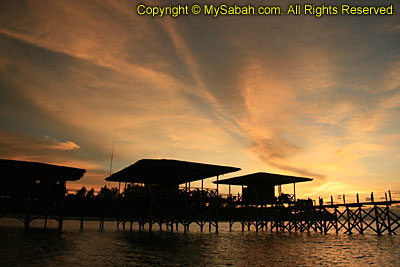 Click Here to see more photos of Mantanani >>
Sunset was approaching and we returned to MMDL. Everything was painted with gold color. Jesus light came out at north, later I had to call it a day. Most tourists only opt for day trip so most of them had left around 3:30pm. Unlike honeymoon couple who can make baby at night, I got nothing to do. But hey, this is a holiday, so I shouldn't do anything right? Living in city for too long, I was not used to leaving my brain stops thinking for a moment.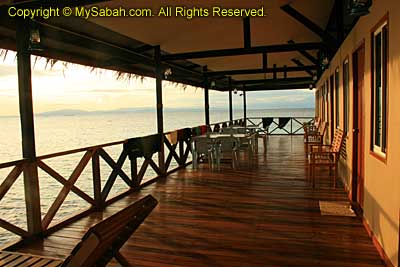 Click Here to see more photos of Mantanani >>
Whole day of water sports already made me so tired. Surprisingly, Mantanani is supplied with 24-hour of pleasing sea breeze, so I don't feel warm even in hot afternoon. I even slept a while on the veranda, just to enjoy the gentle wind, sound of ocean and freedom. The next morning I waked up very early to take sunrise photos and was rewarded by magnificent view of Mt. Kinabalu.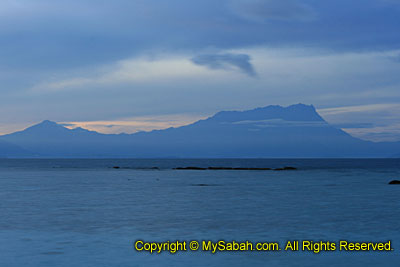 Click Here to see more photos of Mantanani >>
Hopefully government will gazette Mantanani as a National Park, so we could preserve its beauty and marine ecology for future generations to enjoy. There aren't many pristine islands left in Sabah west coast.
However, with weak enforcement of Sabah government, who recently denied the presence of illegal coral mining that destroyed tons of coral reef in Tawau and release of effluents into Segaliud River by oil palm mills nearby, I am not so optimistic about our conservation.
Related Post
Mantanani Besar Island
Photos taken off Kota Belud, Sabah, Malaysia Borneo
You might also like: