Tag Archives:
diving
Seafood has been an important source of protein for human. The ocean is so vast that people think it can take anything. When pollution and overfishing become a global problem now, we know we were wrong. Not only we are exhausting the limited fish stock, we are also contaminating and destroying the habitat of marine lives.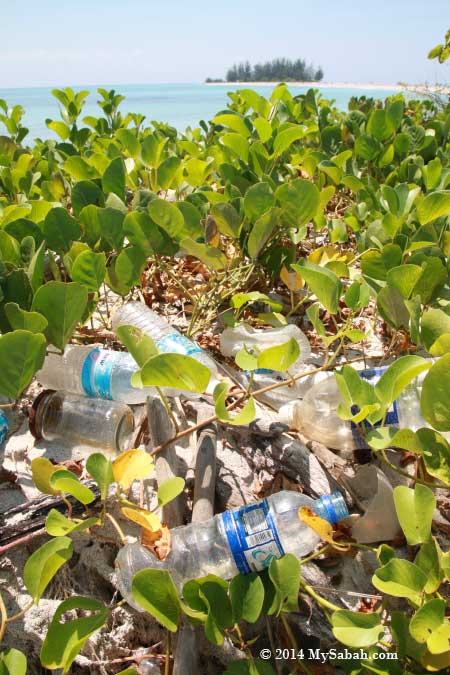 Nowadays you can find trash even in the most remote beach in the world. Pollution is no longer a local issue only. Garbage in the sea is many times harder and costlier to remove. It is estimated that over 100 million marine animals are killed every year due to plastic debris in the sea. Thousands of turtles die each year because they swallow plastic bag that looks like their food – jellyfish. The plastic particles also enter our food chain, causing various illness such as cancer.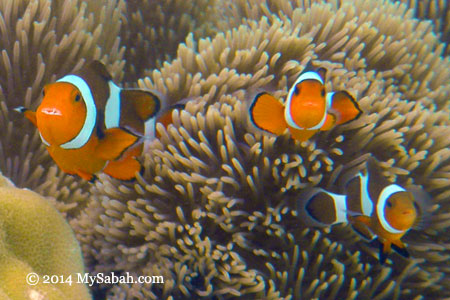 We all laugh at the greedy man who slaughters his goose that lays golden eggs in a fable. Such foolish things happen daily in fishery. For example, blast fishing (fish bombing), cyanide poisoning and trawling are common fishing methods in our waters and these unsustainable fishing practices damage corals, the home of seafood. One day seafood will be so scarce that we need to buy sashimi and Tuna sandwich with gold bars.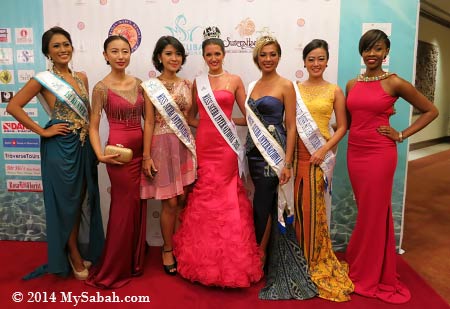 Therefore, Miss Scuba International was started in 2011 to select the "Superhero" to fight for the rights of our marine animals, as other Superheroes are too busy with villains in cities and alien invasion from outer space. Miss Scuba will take care of the ocean, which covers 71% of earth's surface, more powerful huh? Just kidding. She will involve in ocean conservation and educate the public to safeguard our fragile ocean ecology.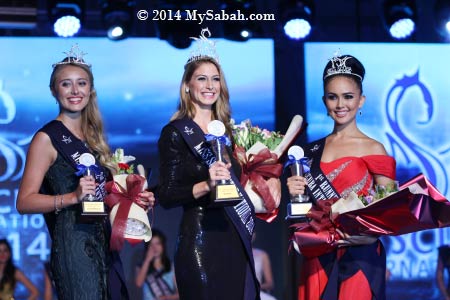 Pic: winners of Miss Scuba International 2014
Miss Scuba International 2014 Pageant was held in Magellan Sutera Hotel in Kota Kinabalu city on 28 Nov 2014. Miss Scuba finalists from 14 countries were competing in 3 rounds (National Costumes, Bikini and Evening Gown) then top 5 were selected for final Q&A session.
Below are just my (shallow) comments and random photos on the contest. You may check out my photo album to see 124 photos.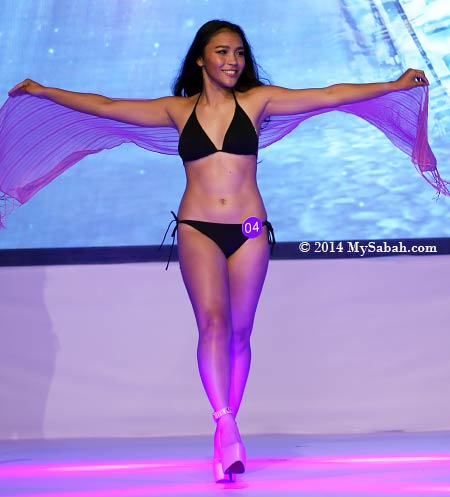 Pic: Rima Saradiani Demensah from Indonesia. I call her Miss Smiley because she always smiles. I bet she also smiles even if she is angry.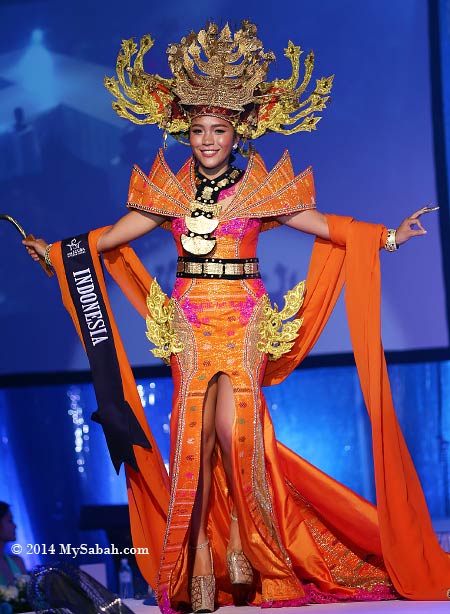 With such a heavy headgear, she still can smile like sunshine, so she deserves the Best National Costume subsidiary title.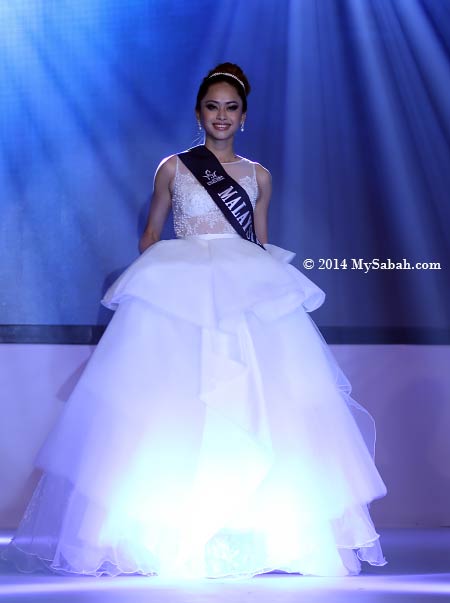 Pic: Here is Joanne Kimberley Majalap / Kimmy from Malaysia, our Sabah mermaid, yea~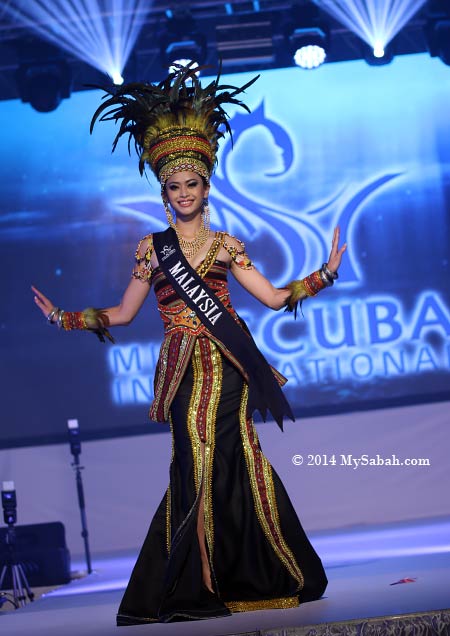 Her headgear reminds me of Bobohizan (high priest of Kadazan people). She looks like Huminodon (Goddess in Sabah legend) in Sumazau dance pose.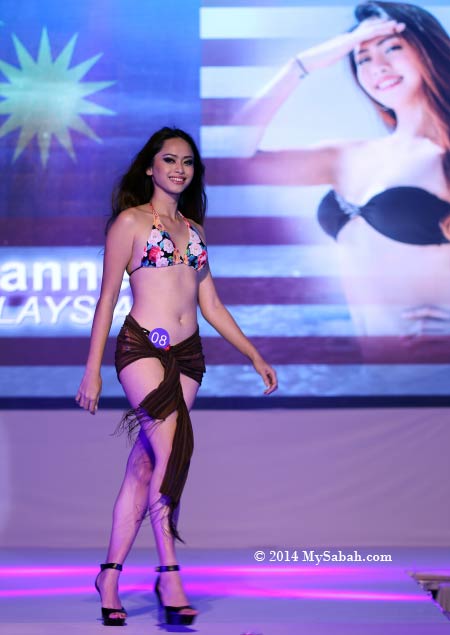 I could sense that she was very nervous. She made it to Top 5 nevertheless. Well done Kimmy!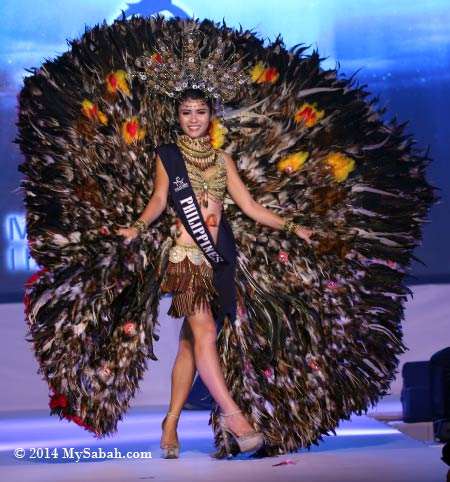 Pic: Amanda Arbitrario / Dada from Philippines in her flamboyant peacock costume.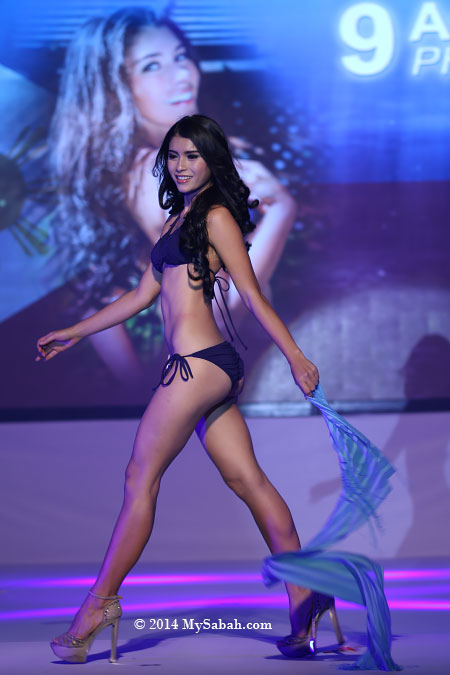 Dada performed the best cat walk, making a very good presentation of herself.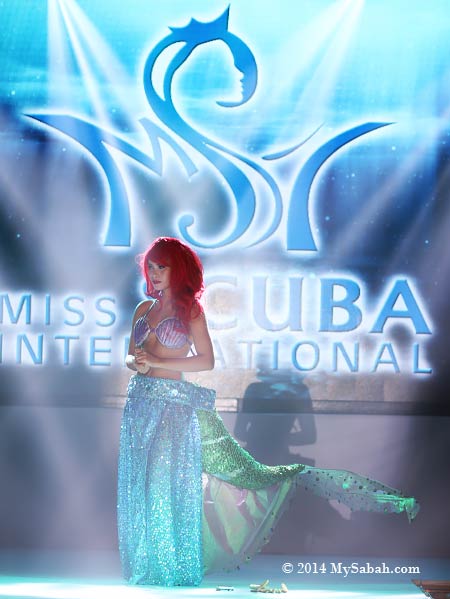 Dada also sang and danced well in her talent show. I'm a bit disappointed that she didn't enter final round.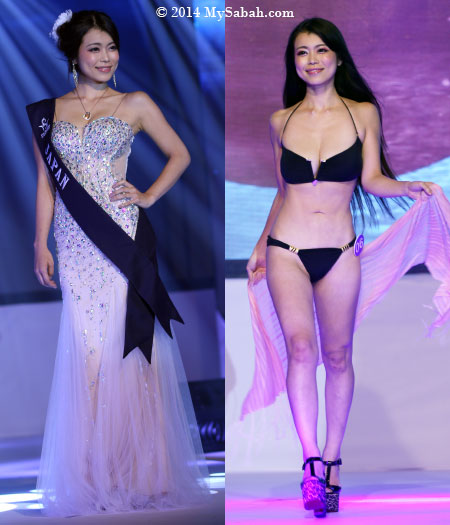 Oh, here is my favourite, Saori Tahara / Tara from Japan. With long hair, fair skin, pretty face, sweet smile and a vital statistics of 36″ 23″ 35″, she is a killer.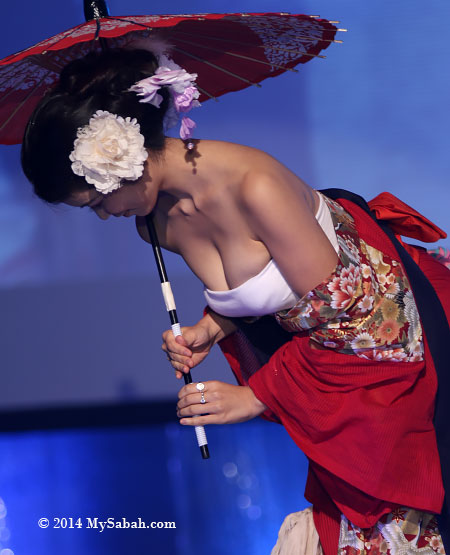 To me, she is the sexiest finalist. No offense Tara, it's not a sin to be beautiful and sexy. Please keep it up and thanks for the nose-bleeding (stimulating) moment..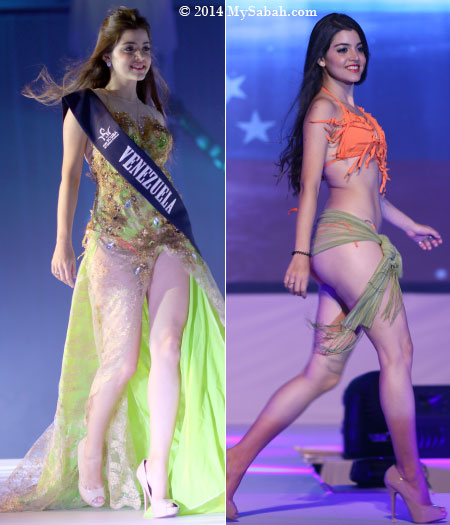 Pic: "Hola" to Krystel Bendahan Corrales / Kyky from Venezuela. Venezuela seems to produce a lot of beauty queens and models (and that's the only thing I know about Venezuela), she is no exception. I think Latin girls are hot because they inherit the nice physical features of westerner and oriental.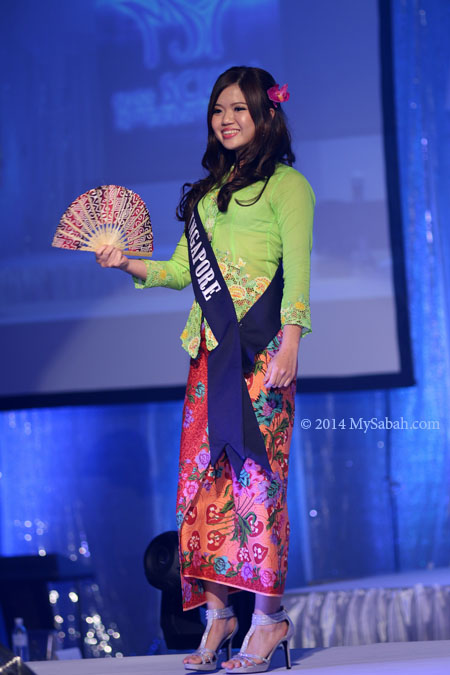 Pic: Let's welcome Jeraldine Phneah Jialin from Singapore. She is small but she has the biggest brain. She won the Miss Marine Conservation subsidiary title because of her good knowledge in marine.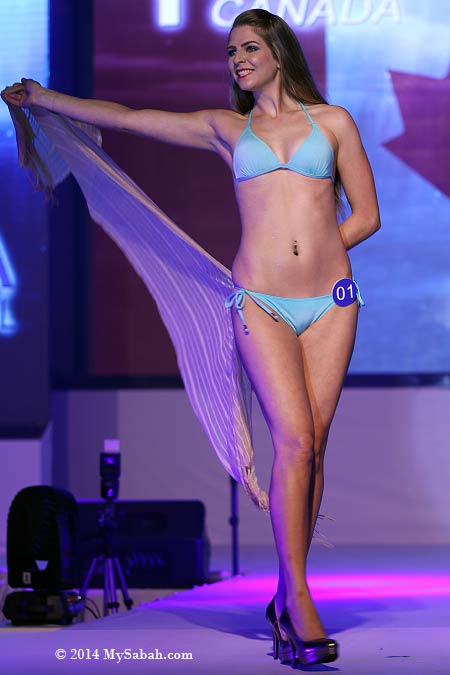 Pic: Winner of Miss Scuba Tourism, Allison Nicole Pelletier from Canada. Another goal of this pageant is to promote scuba diving in tourism. People will protect the sea after they learn to appreciate the beauty of ocean through diving.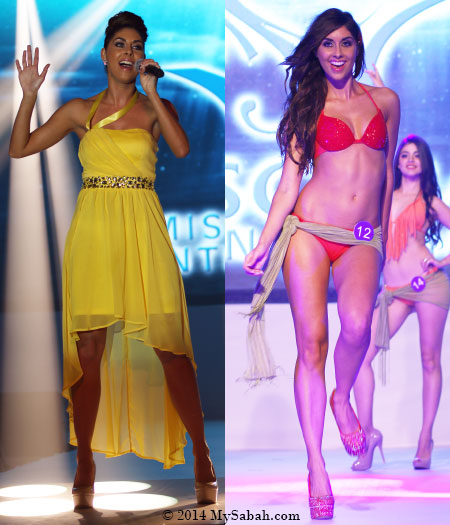 Pic: Michelle Katie Paraskeva / Chelle looks like a superstar from United Kingdom (may be a Bond girl), she radiated self-confidence and everyone could feel her energy. She sang the song "Mercy" in talent show, and all judges and audiences were so impressed when they saw a contestant turned into a professional singer. Of course, she won the Best Talent award.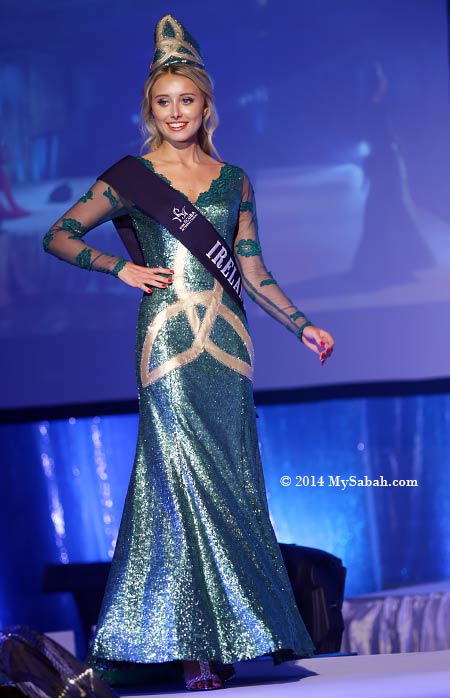 Pic: Amber Ryan Marie Gamble from Ireland. Does she look like Elsa in the movie Frozen?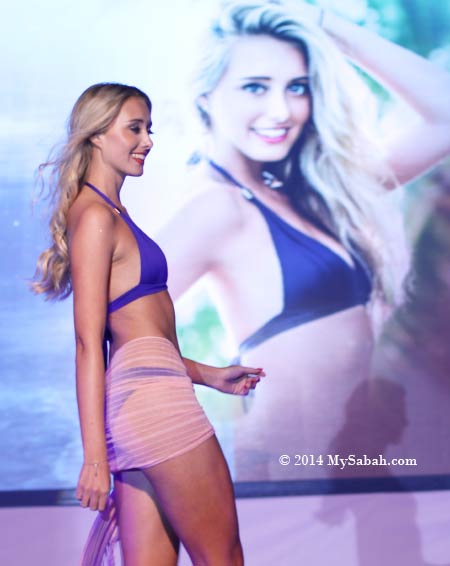 Amber won 2nd Runner-Up and Miss Photogenic in Miss Scuba International 2014.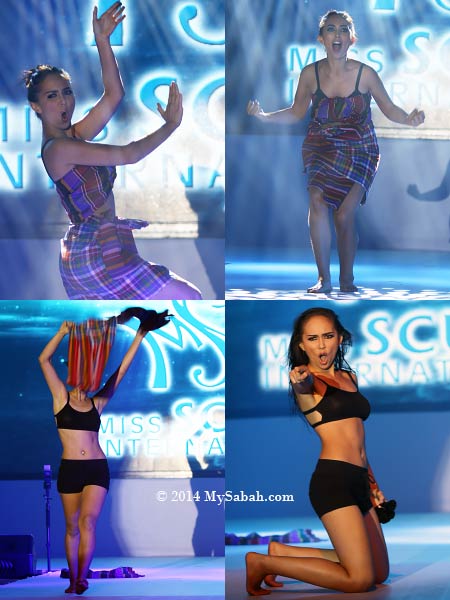 Pic: Next is Cattaleya Schulze / Catt from Thailand, the Land of Smiles and she did make everyone smiled. In her talent show, first she acted with many funny expression, then music changed and followed by a crazy dance (I Will Survive) of her.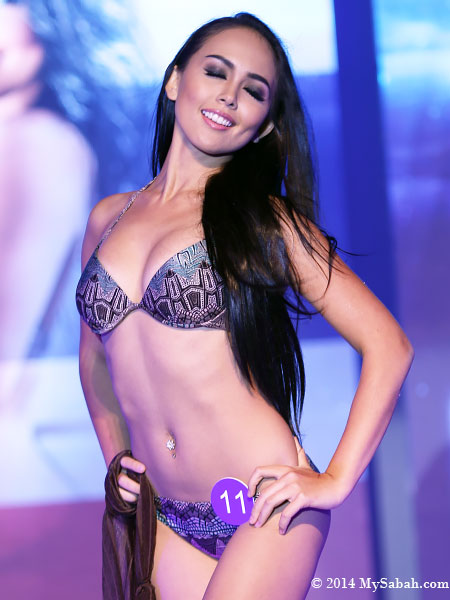 She seemed to enjoy the pageant and able to show her outgoing and playful personality. In fact, she is the most popular candidate since the beginning.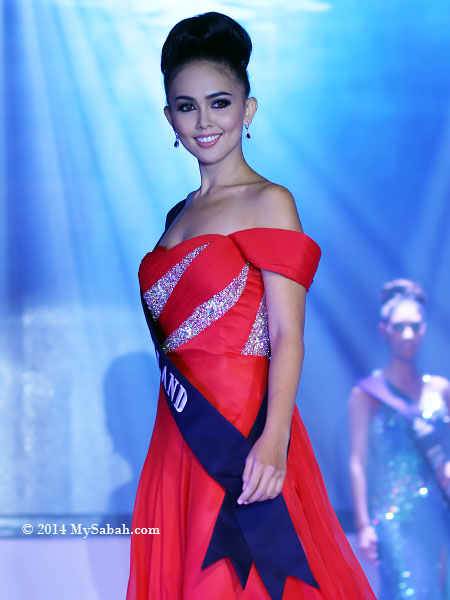 She is really gorgeous (when she doesn't try to act funny). Look at her perfect teeth. No surprise that she won First Runner-Up in this pageant.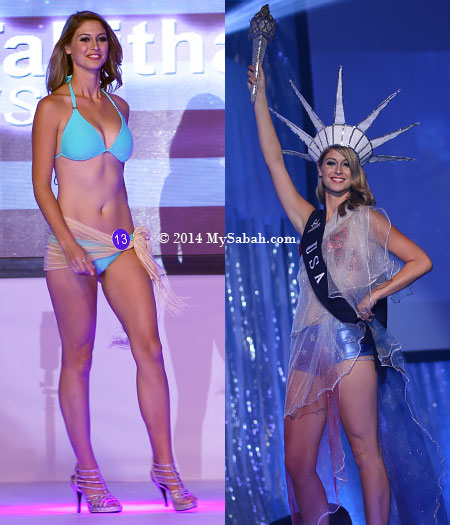 Congratulations to Tabitha Eleanor Lipkin from USA for winning the titles of Miss Scuba International 2014 and Miss Congeniality. Though she is no.13 and the contest was held on Black Friday, it's her lucky day. I like her costume with ice-cream.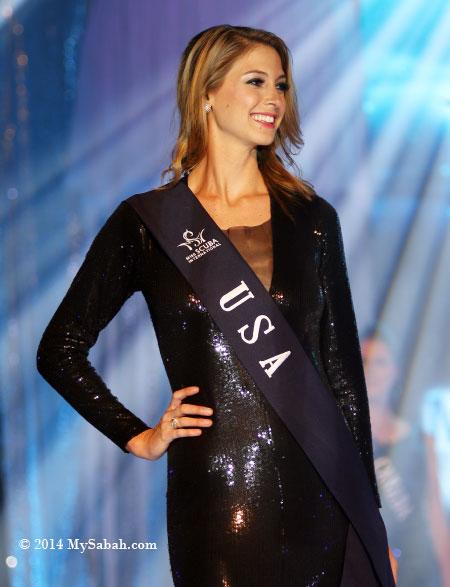 USA is really a birthplace of Superheroes, probably she will join Avengers team to save the earth lol. Tabitha is a journalist and her speech won the heart of judges in Q&A round.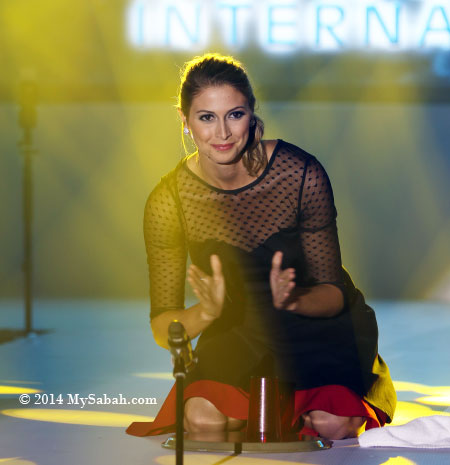 Pic: cup song by Miss Scuba USA
Ok, that's all. Let me ends this article with a few more photos.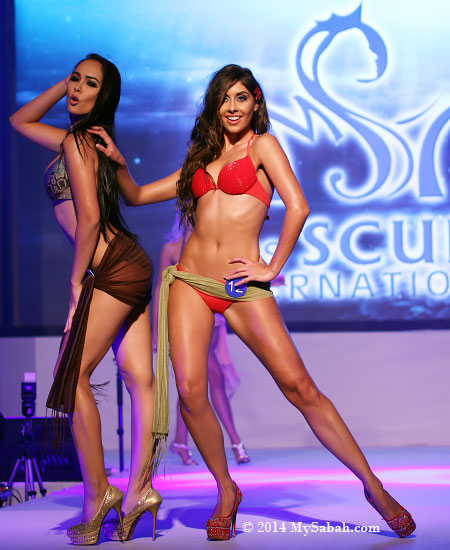 Pic: Miss Scuba Thailand and UK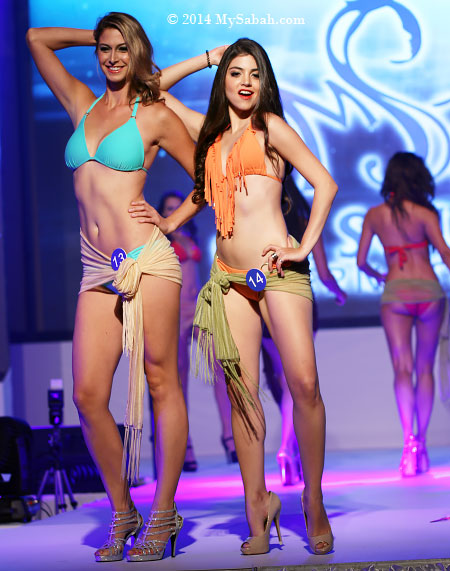 Pic: Miss Scuba USA and Venezuela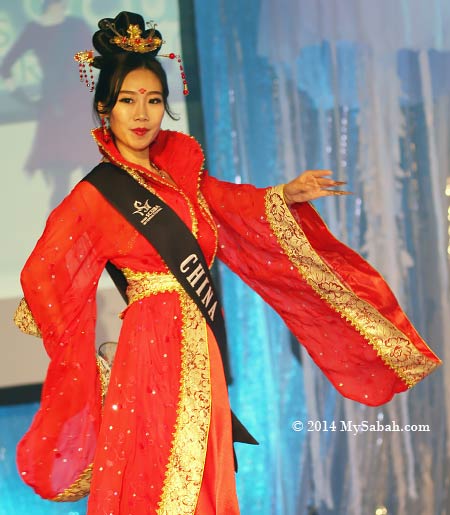 Pic: Miss Scuba China, Qian Ya / Quennie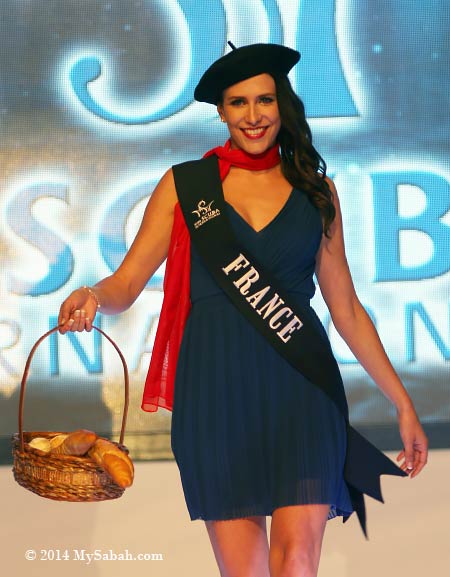 Pic: Miss Scuba France, Melanie Marie Louise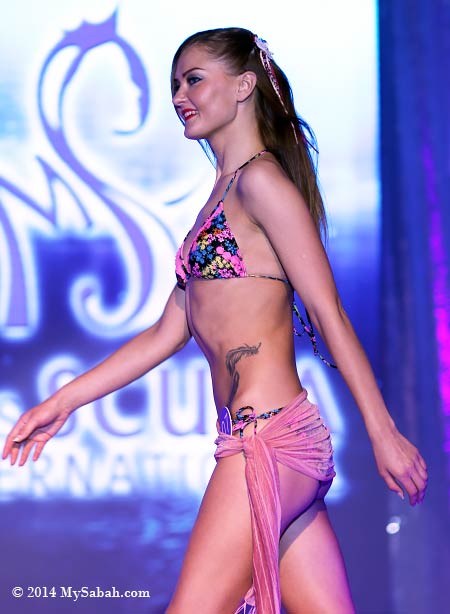 Pic: Miss Scuba Latvia, Liene Larko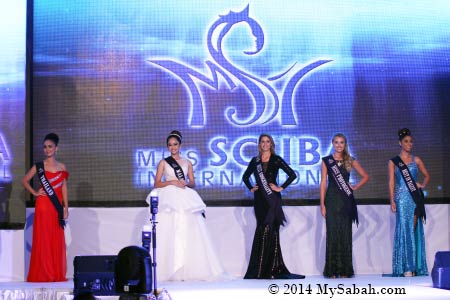 Pic: Top 5 of Miss Scuba International 2014. From Left: Thailand, Malaysia, USA, Ireland, UK.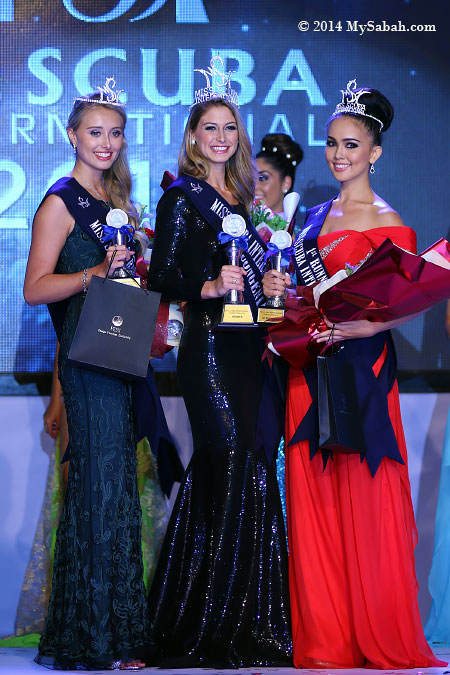 Pic: Winners of Miss Scuba International 2014
From Left:
2nd Runner-Up: Amber Ryan Marie Gamble, Ireland
Miss Scuba International 2014: Tabitha Eleanor Lipkin, USA
1st Runner-Up: Cattaleya Schulze / Catt, Thailand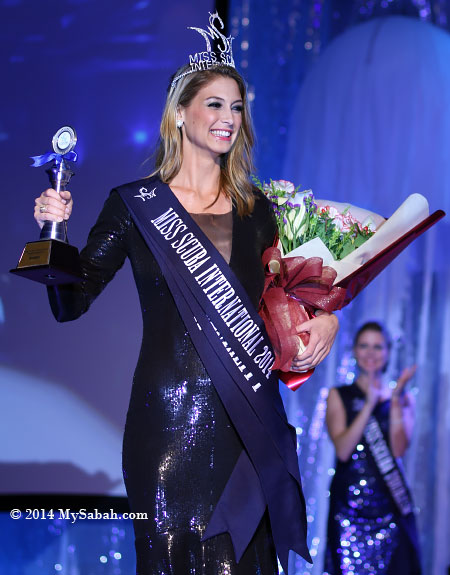 Pic: Miss Scuba International 2014
More Photos
There are 124 more photos in my Flickr album: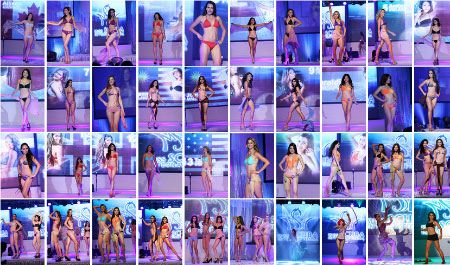 More Information
Below are the official websites of Miss Scuba International if you want to find out more about this pageant.
Website: www.missscuba.com
Facebook: Miss Scuba International, Miss Scuba Malaysia
Photos taken in Kota Kinabalu, Sabah, Malaysia Borneo
You might also like:
Kota Kinabalu City (KK) is the gateway to Sabah. Some of our islands are only 15 minutes away from KK by boat. In KK, there are three boat / ferry terminals that can take you to most Sabah islands at west coast. However, their services and charges are slightly different to one another. All of them opens from 8am to 5pm every day (boat service ends about 4:00pm).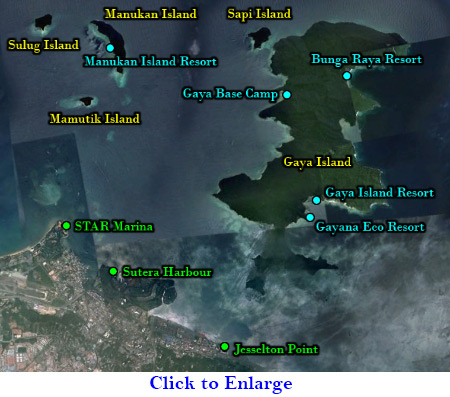 Pic: map of 3 boat terminals (green) and neighboring islands of KK
1. Jesselton Point Ferry Terminal
Jesselton Point is the most popular public ferry terminal at the edge of KK city centre, and it's packed with local and foreign tourists during weekends. If you stay in KK city centre, it is within walking distance.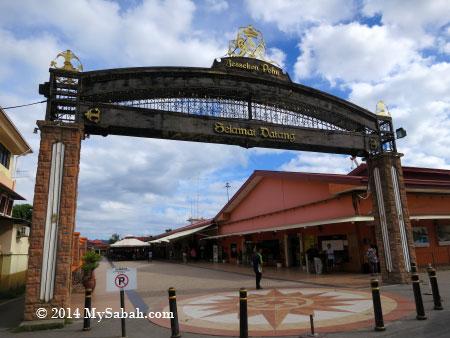 Pic: entrance of Jesselton Point Ferry Terminal. The building at the right is ticketing hall.
Their boat service can start as early as 7:30am in weekends, but the boat only moves after it's full with passengers (about 10 to 12 people). If you go in big group, you can negotiate for discount. Their fares are the cheapest so most people use their boat service to visit islands off KK.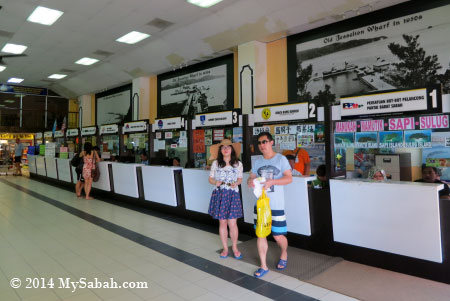 Pic: the ticket counters run by over 10 operators competing with one another. This is the place where you buy return boat fare.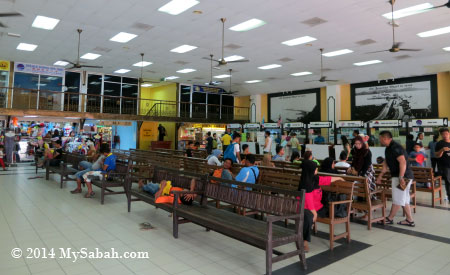 Pic: after you buy the ticket, you can sit in the hall (toilet is at the left corner). They will inform you once the boat is full and ready to depart. The waiting time is short if there are many tourists.
Destinations
Below are a list of islands you can go from Jesselton Point:
Tunku Abdul Rahman Marine Park
(Manukan Island, Mamutik Island, Sapi Island and Sulug Island)
Return Boat Fare (as of Apr 2015)
Sapi, Manukan, Mamutik: RM23 (≈US$7) per Adult, RM18 (≈US$5.40) per Child (below 11 years old)
Island Hopping
Two Islands: Adult RM33 (≈US$10), Child RM28 (≈US$8.40)
Three Islands: Adult RM43 (≈US$13), Child RM38 (≈US$11.40)
Four Islands: Adult RM53 (≈US$16), Child RM48 (≈US$14.35)
In addition, you need to pay Terminal Fee (6% GST tax included): RM7.63 (≈US$2.30) per Adult, RM3.80 (≈US$1.20) per Child.
The fare doesn't include Conservation Fee imposed by Sabah Parks and to be paid on island (see fees below).

Malaysian: Adult: RM3, Child (below 18 years old): RM1
Foreigner: Adult: RM10 (≈US$3), Child: RM6 (≈US$1.80)

If you want to visit less popular islands such as Sulug and Gaya Base Camp and there are not enough people joining, they will ask you to pay extra or even charter a boat (over RM200)
You can tell them what time to pick you up for return. The last boat transfer is around 4pm.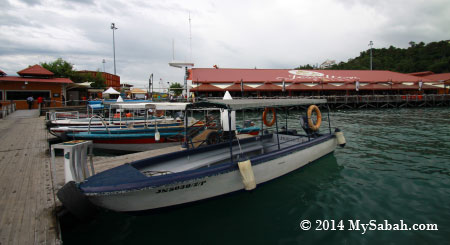 Pic: jetty of Jesselton Point
Though their fare is the cheapest, the boatmen ride the speedboat like cowboy, making the trip very bumpy. Anyway, it's only 15 minutes so most people can put up with this.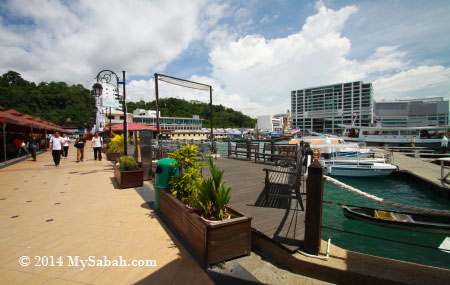 Gaya Island
To go to Gayana Eco Resort or Bunga Raya Resort, you can book the tour at the office of these resort operators in this terminal. However, these resorts are private zone, they only allow resort guests to enter, unless you purchase a tour such as lunch package from them.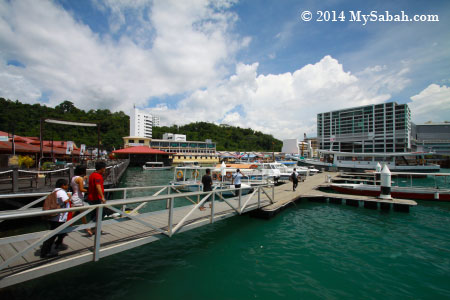 Labuan & Brunei
You can go to Labuan and Brunei from Jesselton Point. They have regular ferry service as the following:
KK → Labuan: departs at 8:00am & 1:30pm (take 3.5 hours)
KK → Brunei: depart at 8:00am (transit Labuan, take 6.5 hours)
You may visit their website for more info such as fare price.
Other Islands
You also can go to the following islands in west coast. Most operators will require you to book an island tour in advance, so they would or would not accept walk-in customers. Since these islands are far away, they usually use catamaran instead of speedboat.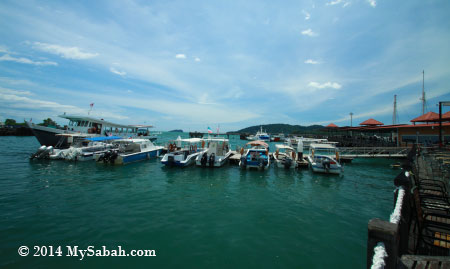 Pic: boats parked at Jesselton Point
Amenities
Jesselton Point is more like an activity centre for tourists and locals. Besides island transfer, there are many things you can get or do here. You can charter a boat to go fishing or even fish at their jetty (for a fee). For islanders, they can rent snorkeling set (fin, snorkel, mask) before they depart to islands. You can park your car in the parking lot next to the terminal (for RM1 per hour).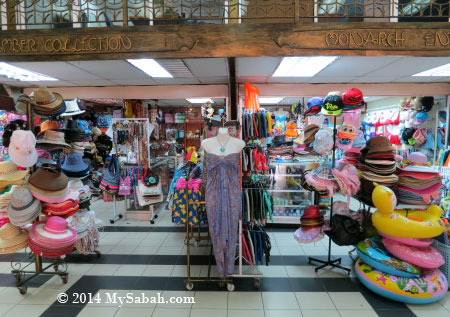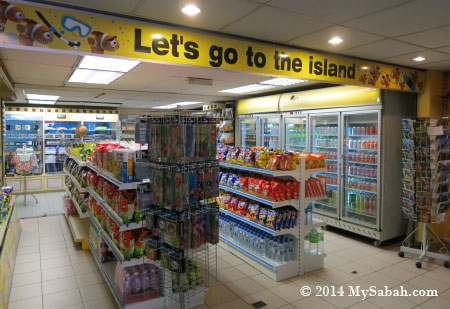 Pic: Jesselton Point has some shops where tourists can buy sunblock lotion, swimwear, sunglass, flip-flop, swimming float, soft drink, snacks, insect repellent, beach mat, souvenirs, etc.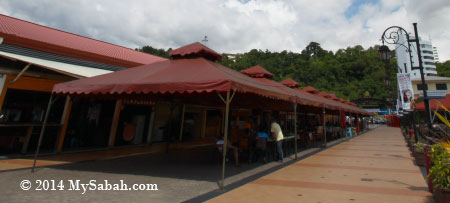 Pic: there are good variety of food and beverages in their hawker centre.
Contact
Below is the contact of the management of Jesselton Point:
Website: www.jesseltonpoint.com.my
Facebook: Jesselton-Point-Ferry-Terminal
E-mail: jesseltonpoint@bumiria.com.my
Phone: +60 88-240709
Address: Jalan Haji Saman, Kota Kinabalu
2. Sutera Harbour Marina Jetty
Sutera Harbour Marina Jetty is a harbour between Pacific Sutera Hotel and Magellan Sutera Resort. Going to islands is very convenient if you stay in one of these hotels (which is 3 KM away from KK City Centre). The services also open to public. Some locals also like the ample free parking space there.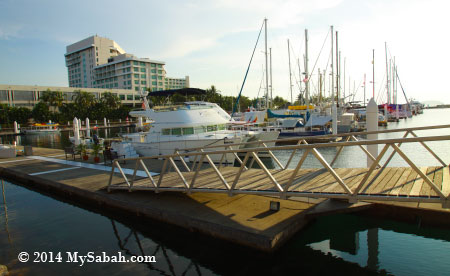 Pic: Sutera Harbour is a beautiful port parked with many private yacht port and sailboats. At the background is Pacific Sutera Hotel.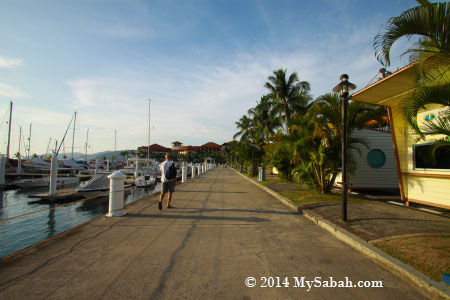 Pic: at the right are the kiosks of tour operators who offer boat transfer and island tour. The popular agents here are Sea Quest and Summer Cruise Holiday.
Destinations
Tunku Abdul Rahman Marine Park
(Manukan Island, Mamutik Island, Sapi Island)
Same as Jesselton Point, they also offer island transfer to Manukan, Sapi and Mamutik Island. The return fare costs RM60 (≈US$16.75) per adult and RM30 (≈US$9) per Child, which has included jetty fee. Conservation Fee (entry to island) is not included. Island hopping is available for an additional fee of RM10 (≈US$3) per island. The fare may be slightly higher than Jesselton Point, but I like them for a few reasons:
Their staff and boatman are more professional (less bumpy ride).
The boat departs on time at fixed schedule (no matter it's full or not).
They have staff stations on island to guide you if required.
The boat looks newer or well-maintained.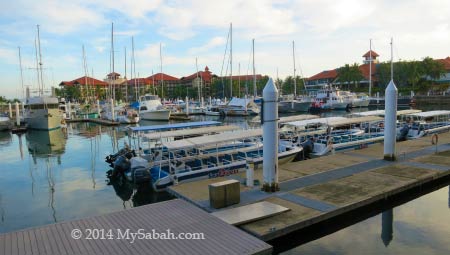 Other Islands
They also offer trip to the following islands (required booking of island tour in advance).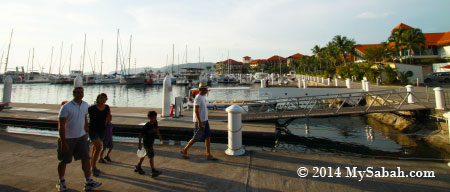 Amenities
Besides boat transfer and island tour, they have watersport centre that offers diving courses / services, parasailing, jetski, flyfish, banana boat ride, sea-walking, kayak, sunset cruise, fishing, etc. The harbor also has short and long term rental berthing services for boats.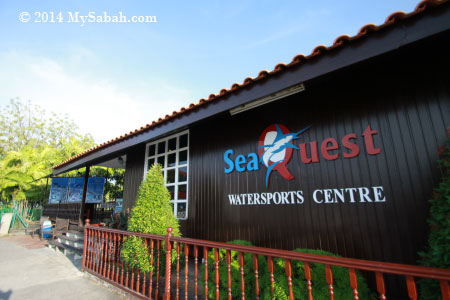 Contact
Website: www.suteraharbour.com
Facebook: suteraharbour
E-mail: marinaO@suteraharbour.com.my
Phone: +60 88-318888
Address: 1 Sutera Harbour Boulevard, Kota Kinabalu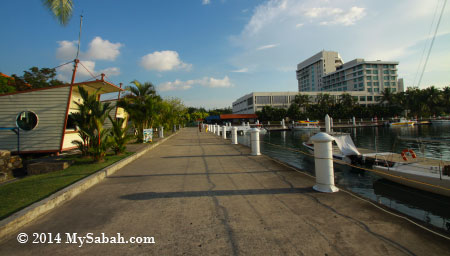 3. STAR Marina
STAR Marina is located behind Shangri-la Tanjung Aru Resort (STAR) and operated by Borneo Divers, about 7KM away from KK. They offer full-fledged professional services on all island tours and watersports, not just boat transfer.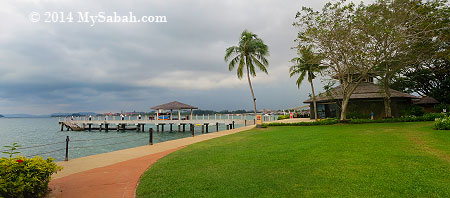 Pic: STAR Marina (right) and its jetty (left)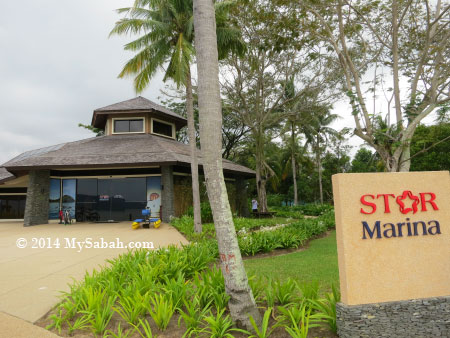 Destinations
Tunku Abdul Rahman Marine Park
(Manukan Island, Mamutik Island, Sapi Island, Gaya Island – Base Camp)
They have fixed schedule to these islands. The fee of return boat transfer is RM65 (≈US$19.50) for Adult and RM40 (≈US$12) for Child (12 & below), which includes 10% service tax. You can purchase optional items such as picnic box for RM50 (≈US$15) and snorkel gears. You may download the brochure of Island Transfer Services for details. They are willing to provide extra service such as sending you to the best spot for snorkeling.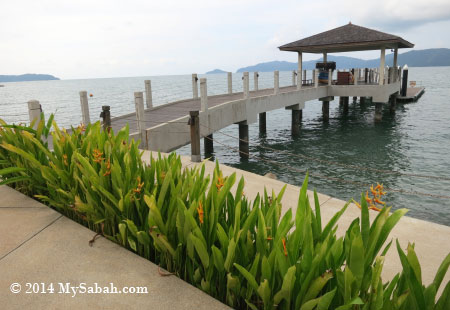 Pic: 60-Metre-long jetty designed by Design B.U.BE from Singapore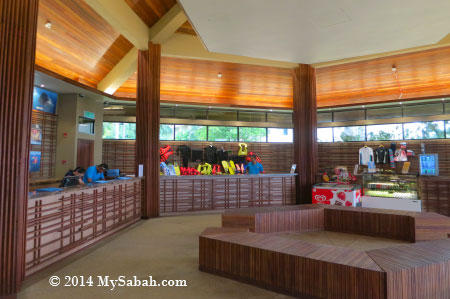 Pic: air-conditioned service centre of STAR Marina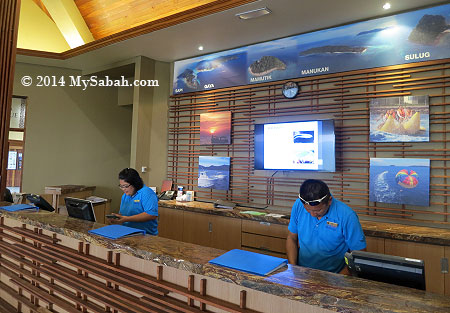 Pic: tour service counters of STAR Marina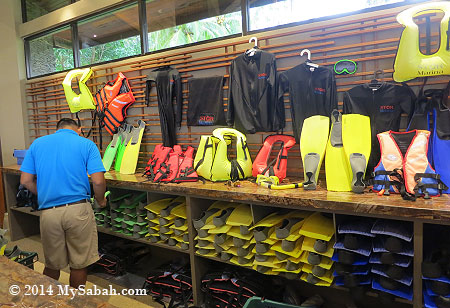 Pic: snorkeling set for rent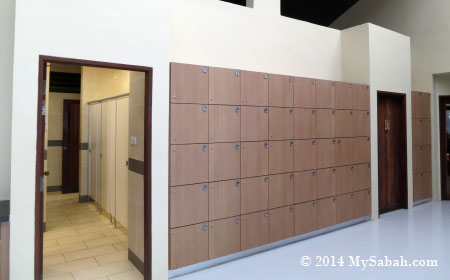 Pic: they also look after your belonging during the island trip, or you may keep some of your things in the locker in STAR Marina.
Amenities
You can find the most complete motorised and non-motorised watersport activities in STAR Marina. Just to list some, diving (and PADI certitication courses), coastal and deep-sea fishing at Mengalum Island and Pulau Tiga Island, windsurfing, jet-ski, waterski, wakeboard, ocean kayak, paddle board, banana boat, Hobie Cat (a small sailing catamaran).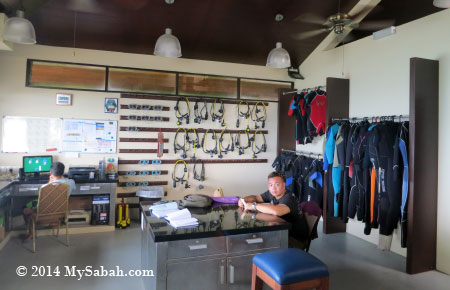 Pic: Dive centre of STAR Marina
To learn more detail about the activities, you may download the following brochures: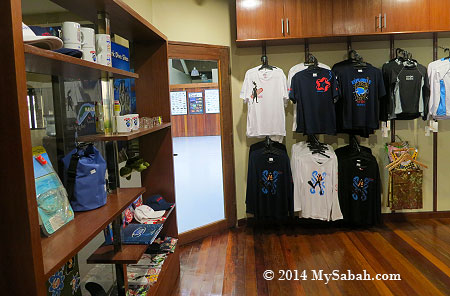 Pic: souvenir shop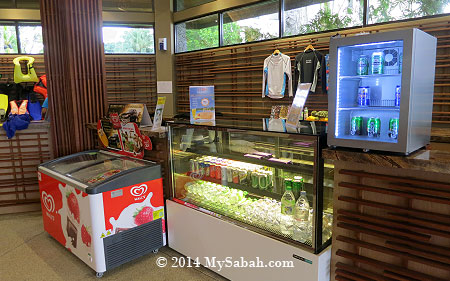 Pic: refreshment corner
Contact
Website: www.shangri-la.com
E-mail: marina.tah@shangri-la.com
Phone: +60 88-327888
Address: 20 Jalan Aru, Tanjung Aru, Kota Kinabalu
Illegal Operators
A word of cautious to those who want to get island transfer other than the three locations I mentioned above. There are some illegal and unlicensed boat operators around KK Central Market and Wisma Merdeka Shopping Mall lobbying ignorant tourists to employ their services. In one case, a group of tourists were robbed and left on an island. I would say they are lucky because it can be worse, e.g. kidnap, rape (though these haven't happened yet).
Photos taken in Kota Kinabalu, Sabah, Malaysia Borneo
You might also like: