Tag Archives:
crocodile
Sabah is blessed with abundance of wildlife and many enjoy that with their mouths. Consumption of game meat (meat of wildlife) is common here, especially in rural area. In fact, hunting of wildlife (game species) is permitted in unprotected forest, if you get the hunting license from Sabah Wildlife Department (of course you also need license for owning a hunting rifle in first place). Below are some popular game species of Sabah: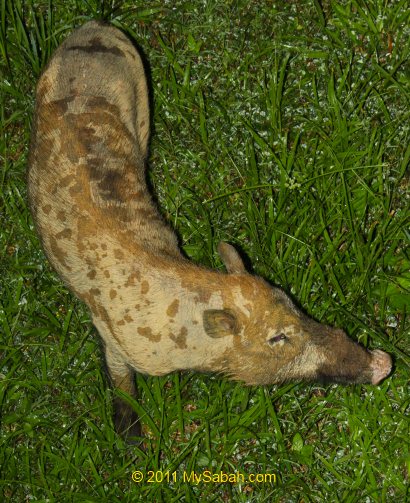 The bearded pig is on top of the list. Muslims don't take pork, so there are still quite a lot of them in the wild. However, the number is comparatively lesser than a few decades ago. In the past, hunters ambushed the wild boars at their migration path and they could see hundreds of wild boars at a time. Today you only can see such marvelous scene in National Geography channel. Due to shrinking and fragmented forest, wild boars venture to villages for food crop, making them more vulnerable to hunting.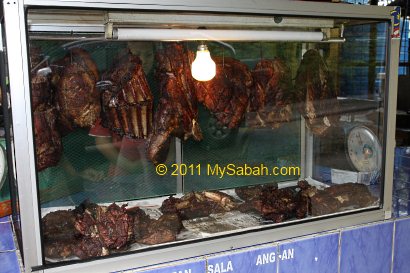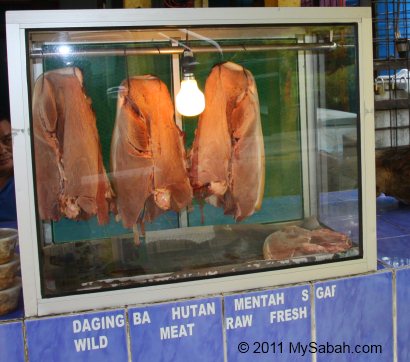 Above: wild boar meat for sale at a roadside stall.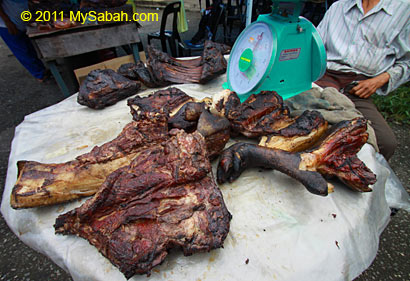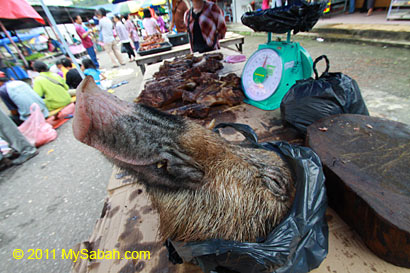 Above: wild boar meat for sale at tamu (native open market)
The trading of game meat is a million-dollars business, but not heavily commercialized. The meat is mainly for local consumption and not exported. I tried wild boar meat and it is not really taste better than domesticated pig. Most wild boars are hunted in oil palm plantation, so their meat has unpleasant smell because oil palm fruit is their main diet, some say.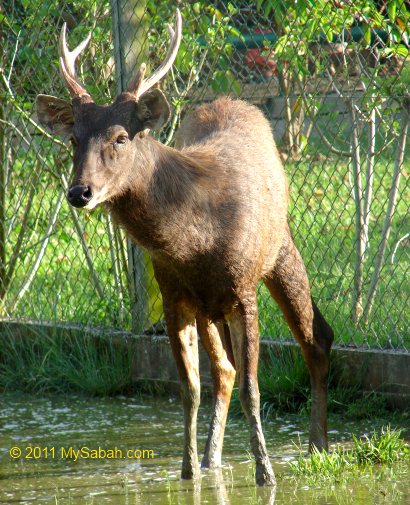 The photos above is Sambar Deer, locally known as Payau, the largest deer species of Sabah.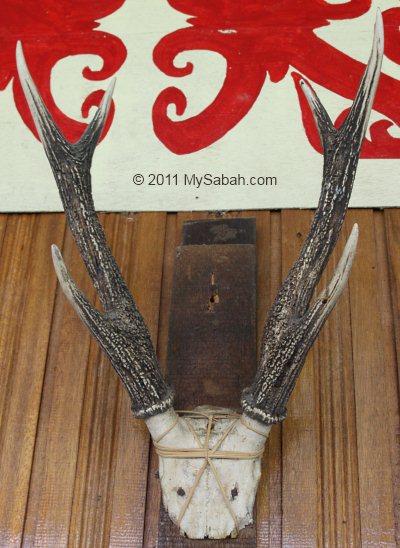 When I was a little kid, I was used to see them when I was playing in the wood nearby my grandmother house in Kepayan (near Kota Kinabalu International Airport Terminal 1 today).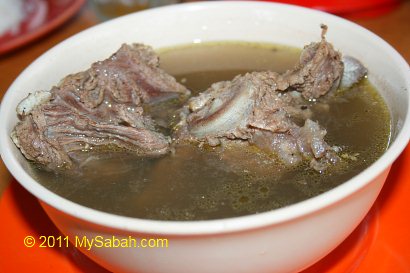 Above: "Payau" soup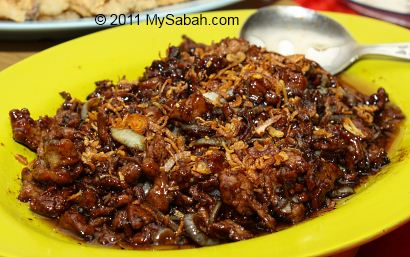 Above: payau (deer) meat sautéed in soy sauce and zesty sliced ginger.
Deer meat is the most well-received game meat, and most Sabahans had tried it at least once. It tastes like a mixture of lamb and pork.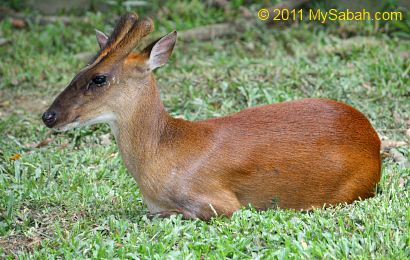 Above is barking deer, locally known as "Kijang". It is about the size of a dog but its meat is more tender than Sambar Deer.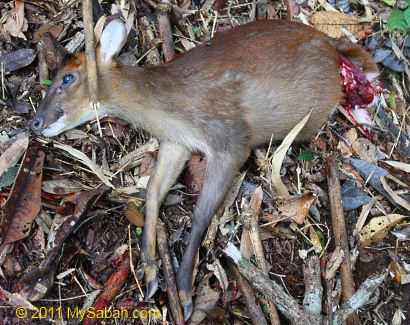 However, when I saw a poor Kijang being hunted in the wild like photo above, I don't think I want to eat it again..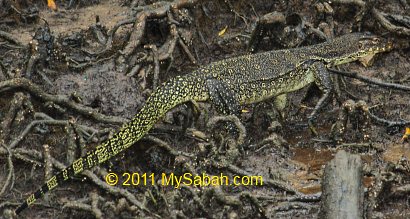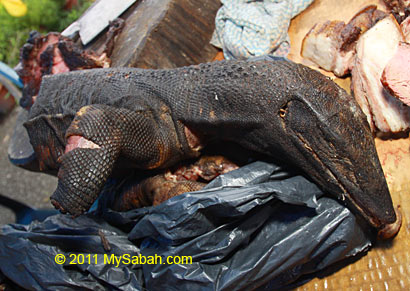 Monitor lizard is also part of our menu. It's so easy to catch them and they are everywhere, in river, drain and even dumpster. People usually "fish" them with chicken intestine as bait. I was told that their meat is good for skin. Well, this reptile eats rotten meat and live in dirty swamp, I would not recommend you to eat such creature which is full of bacteria.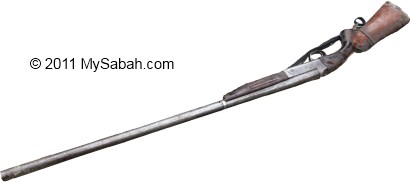 Above: photo of "bakakuk" (home made rifle)
As a matter of fact, even today, villagers living adjacent to a forest usually hunt, just like villagers next to river are usually fishermen. And they have been doing this for centuries and that has become part of their traditional lives. Many own a "home made" rifle. Under Malaysian law, owning an unlicensed rifle is a serious offense and you can be jailed not less than 7 years, or fined more than RM10,000, or both. However, most local authority keeps one eye closed. Occasionally we hear from the news that hunters shot at the moving shadow and killed their buddies by accident.
I once followed a trip in Sabah interior and have the chance to photograph how hunters cook the game. Even clever animals such as mouse deer can't escape the bullet of hunters. Poor deer..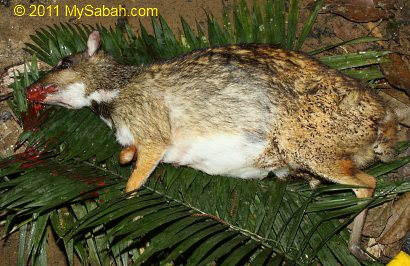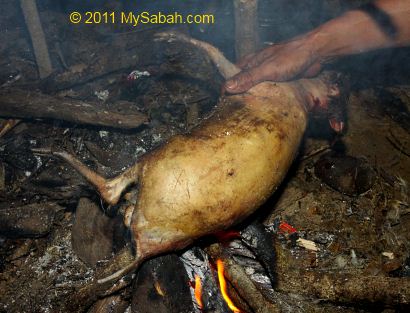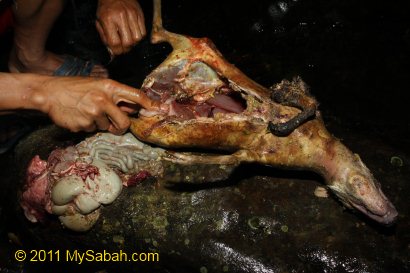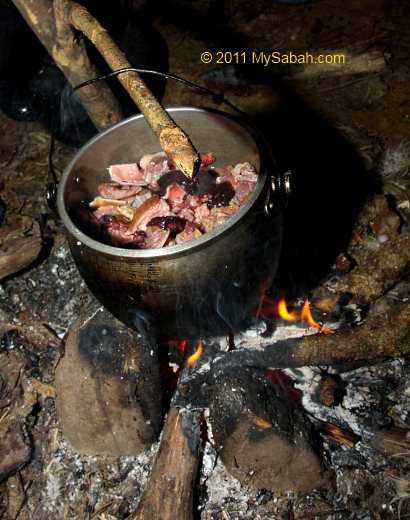 They removed the fur and cut the meat into pieces, then they cooked the meat in a pot with onion.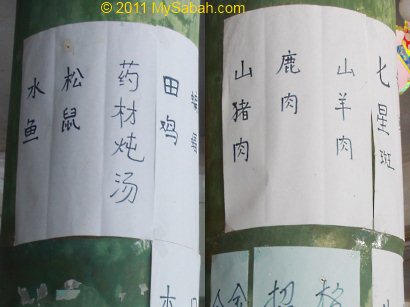 When having lunch in a restaurant in remote area, I found a Chinese restaurant that serves variety of wild meat. Besides the usual wild boar and deer dishes, they also cook squirrel and… hmmm.. bat, which I guess might be flying fox (fruit bat).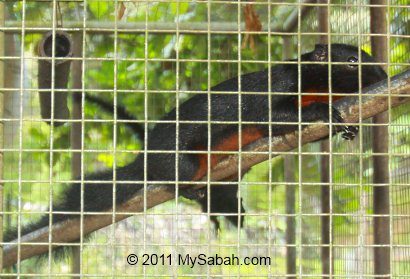 Above: squirrel waits for its turn to be eaten..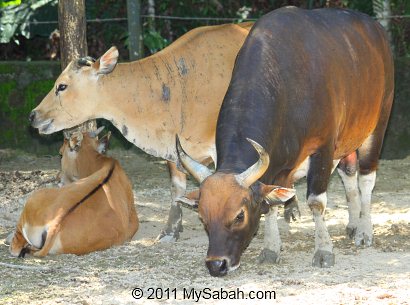 Personally I'm not really fond of eating wildlife, as there is no way I can tell if the meat on my plate is from licensed hunter or illegal poaching. Probably nobody remember that Banteng (a wild cattle called "Tembadau" locally) was once a very common animal in Malaysia. I read a old story of a Borneo hunter who says he can easily find the herd with 100 Banteng. Due to poaching, Banteng is extinct in Peninsular Malaysia since 1950s and Sarawak in 1980s. There are only a few hundreds left in Sabah so they are highly endangered. But there are still bastards who don't care about this and say Banteng is delicious and is a must-try meat.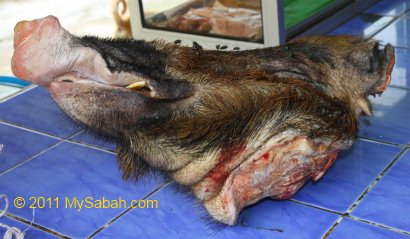 Some may say Sabah has thousands square Kilometers of forest and we still have many wildlife. But bigger mammals need about 10 square Kilometers to survive, so our forest is not big enough to host that many wildlife to fulfill the appetite of everyone. Do you know Tapir and Tiger once existed in Sabah thousands years ago? It is the earliest case of extinction caused by hunting.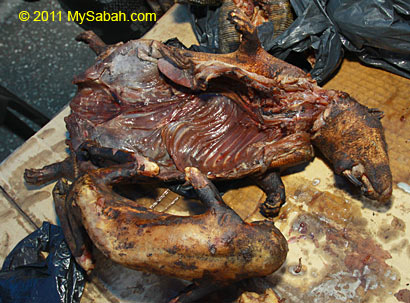 Above: porcupine meat. The seller said they were trapped by snare in the plantation, not that they hunt them.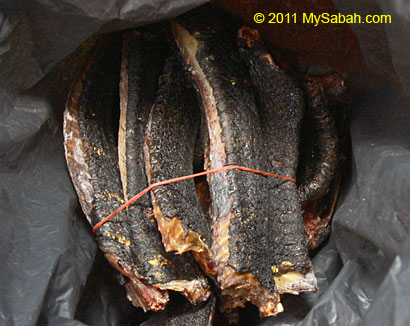 Above: snake meat for sale
Just look around us and you will see many overweight people, we are not short of protein supply, so there is no need to turn to wildlife for meat. I don't want to encourage people to eat wildlife, so I'm sorry that I can't disclose the locations where you can find those meals.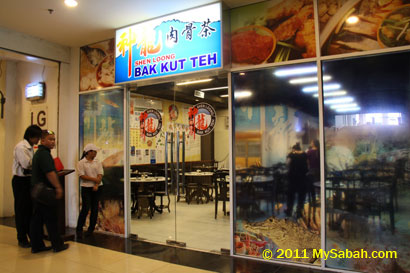 The only sustainable game meat I can think of is the crocodile meat from crocodile farm. Sandakan Crocodile Farm opens a restaurant that sells Crocodile "Bak Kut Teh" (herb soup). For those of you who are curious how this man-eater tastes like, you can try it at Shen Loong in 1Borneo Hypermall, LOL.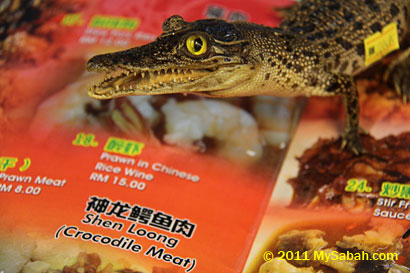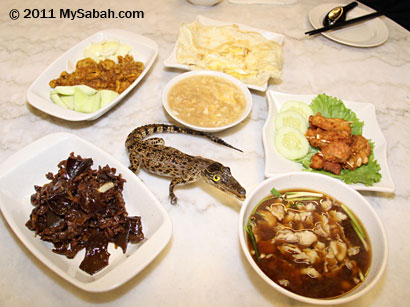 Above: Crocodile meat. Note the fried crocodile egg.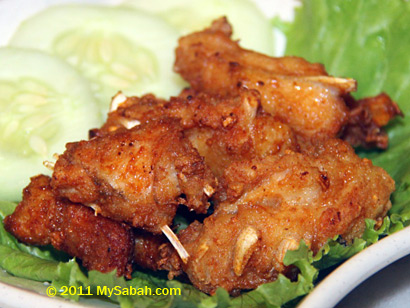 Above: did you see the crocodile claw in the photo?
The crocodile meat is a bit chewy but not bad. No, I don't work for Shen Loong.. I brought home some crocodile eggs and my mom screamed, "ILL! Throw it away!!!" Haha..
Photos taken in Sabah, Malaysia Borneo
You might also like:
Continued from part 1…
(You may Click Here to start reading from Part 1)
Sepilok Laut Reception Center (SLRC)
Here I was in Sepilok Laut Reception Center (SLRC), deep inside the pristine Sepilok mangrove forest, which makes up nearly 30% of Kabili-Sepilok forest reserve. SLRC is 5.5 KM away from the popular Sepilok Orangutan Rehabilitation Center.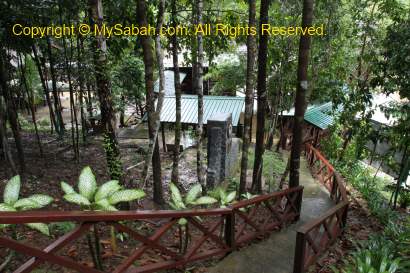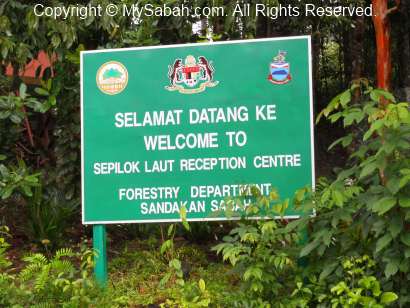 >> Click Here to see more photos of Sepilok Forest
SLRC is managed by the Sabah Forestry Department. The Center is for researchers to study the mangrove and rainforest, as well as schools and tourists who want to have recreational tour here to enjoy the natural mangrove environment. The Center is a wooden stilt house built on the mudflat of the mangrove, and it also serves as an enforcement station to prevent intruders from stealing the wood. There have been some illegal Filipino immigrants trying to steal the bark of mangrove tree for making liquor.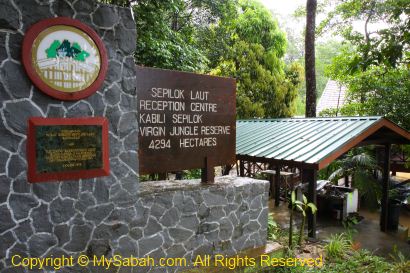 SLRC consists of two main building, i.e. reception building and staff quarter, connected by a boardwalk.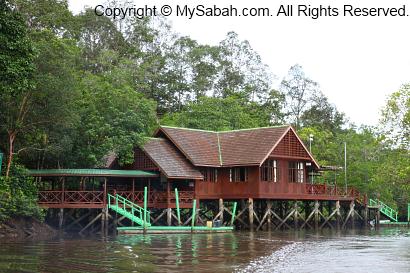 You can watch the 5-minute video below to tour around SLRC, without reading the rest of my lengthy text description:

Click Here to watch bigger video
1. Reception Building
SLRC has no electricity supply during daytime, but the staff turns on the power generator every day after 6pm (or whenever necessary) until morning.
The Reception Building has two dormitory rooms. Each room has two bunk beds and able to take 4 people.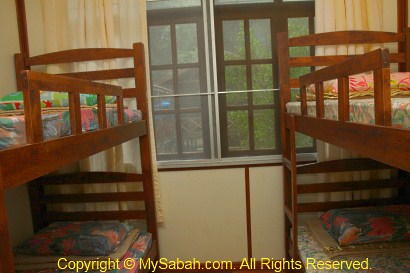 The dormitory room is quite basic and only has a fan and wardrobe. Pillow and blanket are provided for each bed. The room is quite clean and new.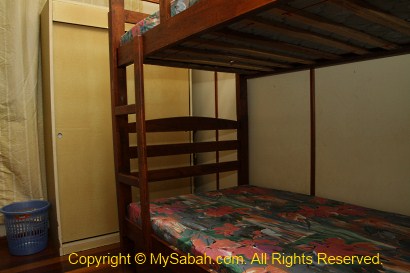 Outside the rooms is a shared bathroom. Water heater is not available but it's ok, consider our climate is warm throughout the year.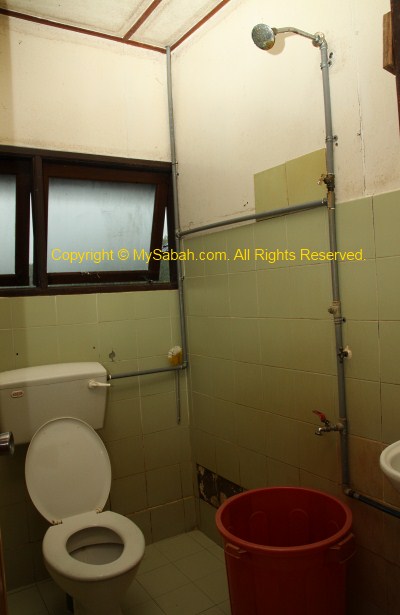 There is a big living room area, where you can watch TV. Astro, the satellite TV channel, is available.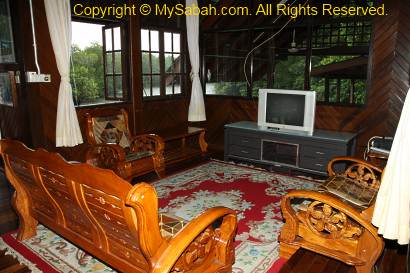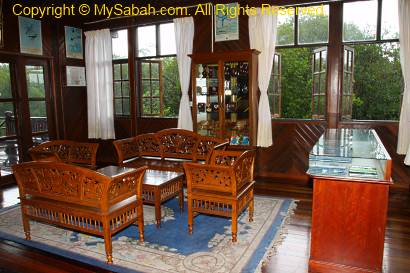 >> Click Here to see more photos of Sepilok Forest
You may sign the guest book at the reception counter or call your dad for money. They have a satellite phone (No: +60-89-676306).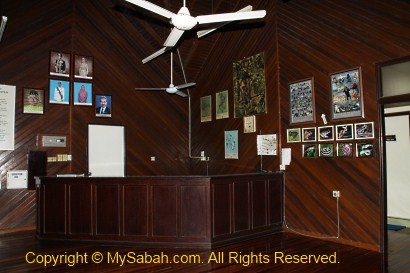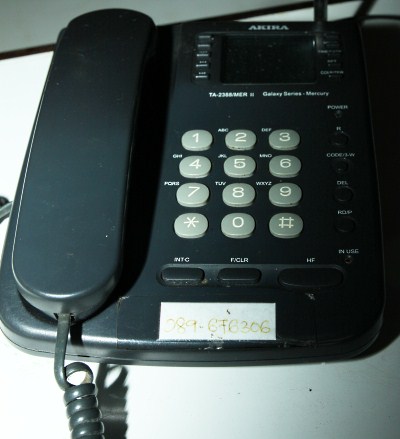 As there is nothing much to do, you may check out some display items and information.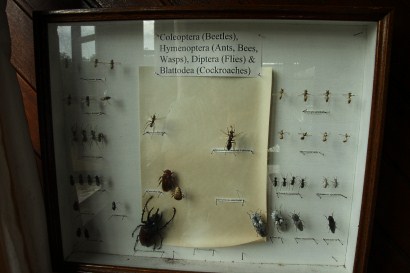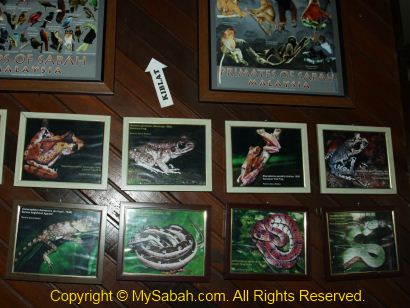 >> Click Here to see more photos of Sepilok Forest
You can see the nice view of mangrove forest outside the window.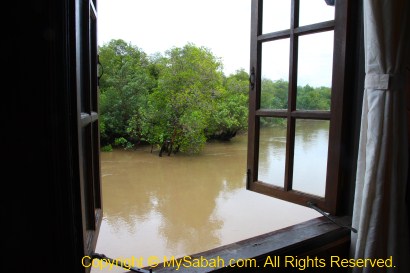 It was raining so I sat inside to stay dry and warm, and enjoyed the river view.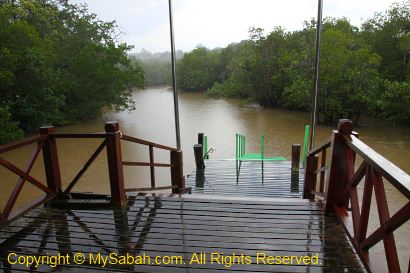 There are crocodiles around here, some are big enough to become man eater, so don't go swimming in the water. The staff says you would see them during high tide at night. Just few days ago, they witnessed the fight between a monitor lizard and crocodile. The crocodile won and grabbed the tail of the lizard that tried to escape. It sounds like a dinosaur fight in Ultraman TV. Too bad I miss the show.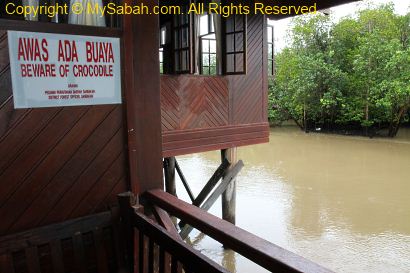 2. Staff Quarter + Kitchen
There is no restaurant in SLRC, so you must bring your own food. You may cook your food and boil drinking water in the kitchen next to the Reception Building. Since I only stayed one night, I brought only canned food.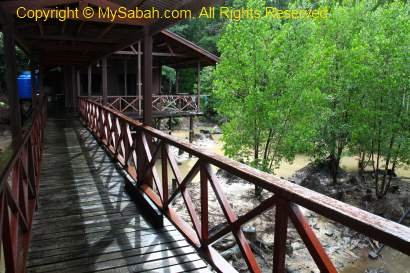 You may have your meal in the dining area. Cooking gas stove, wok, plates, spoon, cups, etc. are available in the kitchen.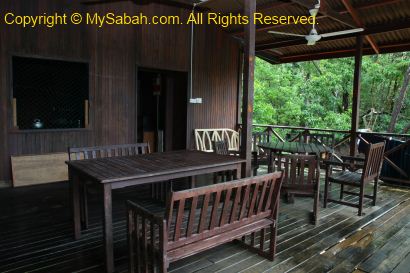 But be careful of the naughty monkey. They would steal your food.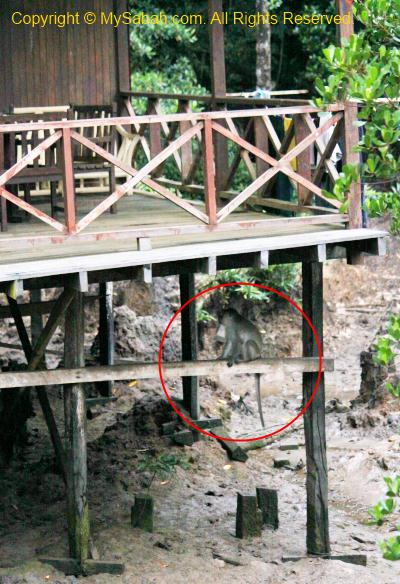 If you come with a group a friends, you can BBQ here too. More fun..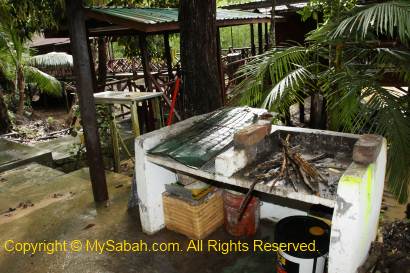 >> Click Here to see more photos of Sepilok Forest
If you think you desire better accommodation with air-conditioning, you may book the chalet which can host 8 guests.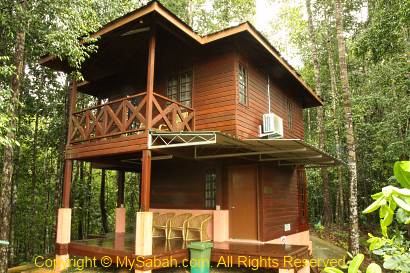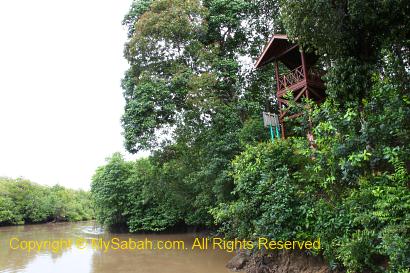 Above: there is a lookout tower not far from the building on higher ground. They say some mobile phone line may get coverage there, but not Digi. In terms of line coverage in Sabah, Digi sucks real bad. This is what a frequent traveller like me can tell you. Maxis is the best so far.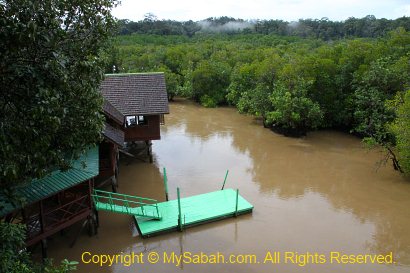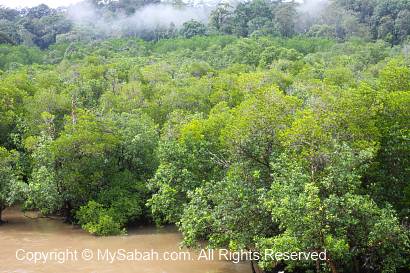 You can get a nice view of large mangrove area from the lookout tower. SLRC is in intertidal zone, so you get different view in low and high tides. During low tide, the mudflat under the river will expose.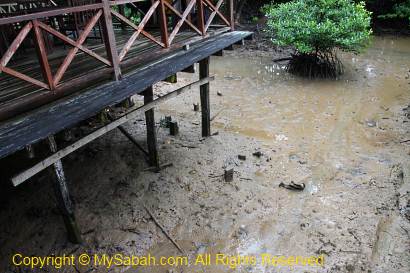 The mudflat of mangrove is a busy world. I stood on the boardwalk and saw many activities down there.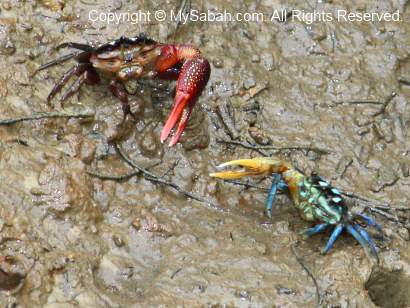 The fight between two colorful male fiddler crabs.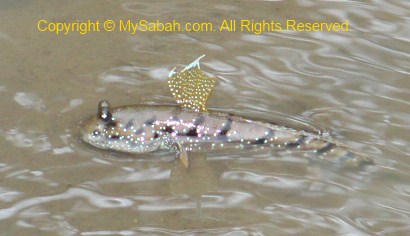 Mudskipper, a peculiar fish that can walk on land.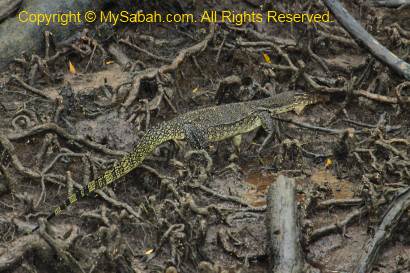 Monitor lizard is the second largest predator (next to crocodile) in mangrove.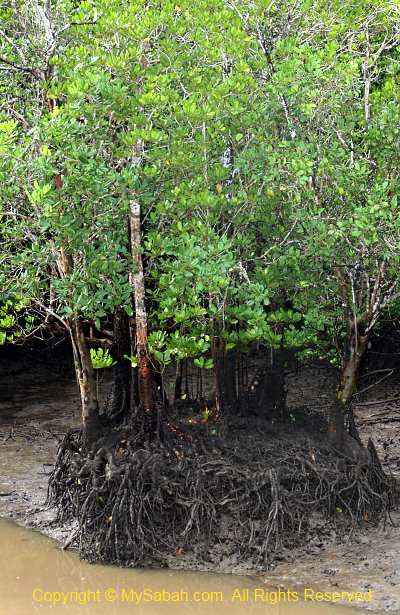 The main mangrove species here are bangkita (Rhizophora apiculata), tengar (Ceriops tagal), nyireh(Xylocarpus granatum), and geriting (Lumnitzera littorea). These trees are adapted to harsh saline and anaerobic water-logged soil in this area.
>> Click Here to see more photos of Sepilok Forest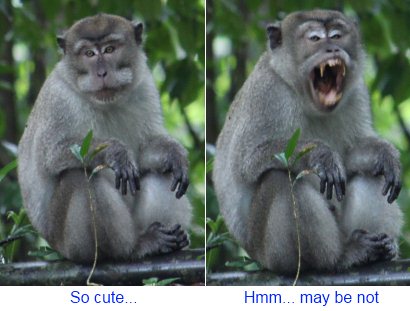 In late afternoon, I noticed movement in the wood nearby the Center. It was a big long-tailed macaque. According to the forestry staff, it's the King here…
Photos taken in Sandakan, Sabah, Malaysia Borneo
You might also like: