Tag Archives:
canopy walk
Hundred-Feet Observation Tower
I wake up early at 5am in day 5, when others are still in their dream. Next to the Nepenthes Camp is an observation platform on top of a 33-Meter Agathis borneensis tree. I want to climb up there early to see the sunrise.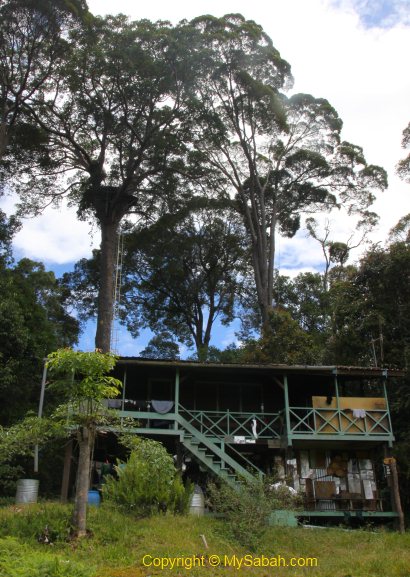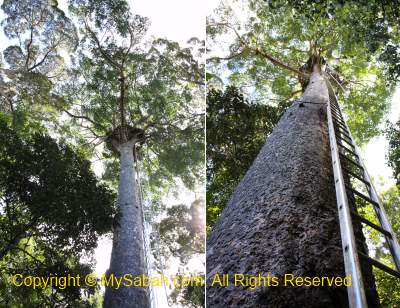 Soon Mr. J and Mr. T also wake up to join me. Ms. S doesn't join coz she has issue with the height and says there is no way she will do it. It is already frightening just looking at this tall tree. Anyway, adventure is doing something that scares you. At 5:15am, one by one, we climb up to the tree top with aluminum ladder that fixed to the tree body.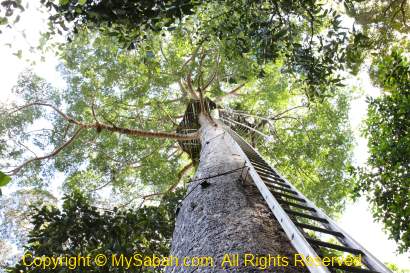 Imagine you climb a ladder to the top of a building over 10 floors high in the dark (about same height as the Karamunsing Complex in Kota Kinabalu). This is the second scariest climb that I attempt so far (the first is Batu Punggul). A misstep and you will be a free falling object for hundred feet.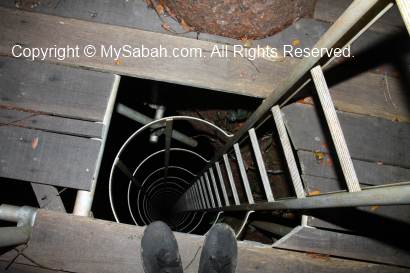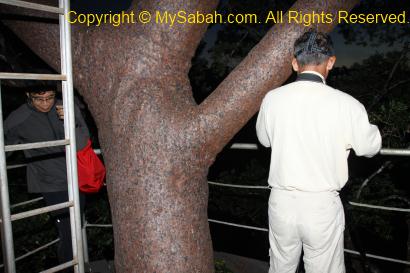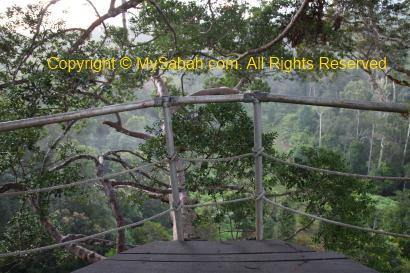 One good thing to climb in the dark is, you can't see anything under your feet, so it is not that terrifying. Mr. T and J got up there first. I hang the camera and tripod over my shoulder and move up carefully. After a few days of holding camera to take thousand of photos, my fingers are really painful. The extra camera weight also makes my legs tired and shivers. I have to stop a few times to rest. Finally, I reach the top within 10 minutes.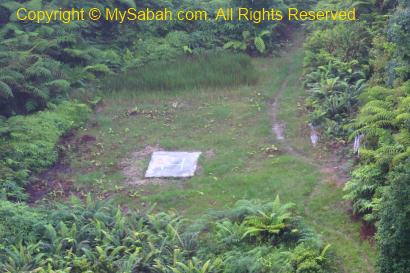 Above: a helipad not far away from Nepenthes Camp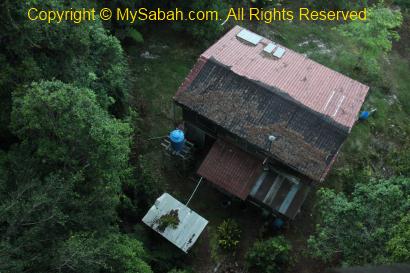 Above: Nepenthes Camp looks so small from top. You can see the solar panel on the roof.
Strictly speaking, the observation tower is only a wooden platform on top of a tall tree. It is not really a tower. The structure is fenced and solid enough to take 5 to 6 persons. It is 5:40am. We look out from this platform and see that our house is so small under our feet. We also admire and appreciate the pretty Agathis borneensis tree that house the structure.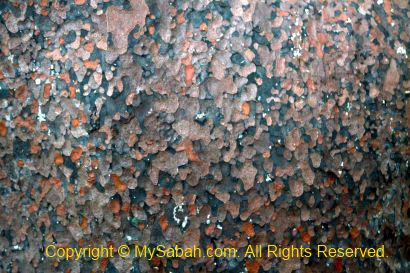 Above: the beautiful skin of Agathis borneensis tree, note the pocked-marked, greyish-reddish bark.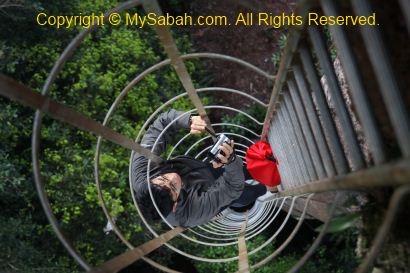 Above: Mr. J waits to video sunrise
The sunrise comes at 6:10am. The surrounding and the trees are painted with golden hue of colors. The birds also start their days. Many colourful birds such as Iora and Scarlet Minivet gather around the canopy of this tree. This platform is quite a nice bird watching spot. We climb down at 6:40am for breakfast, when the sunrise show is over. Damn it! I find a crack on the LCD protector. Luckily it helps to block the damage to LCD which would cost hundreds to fix.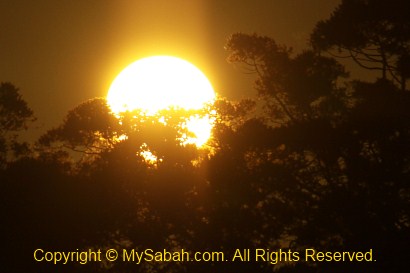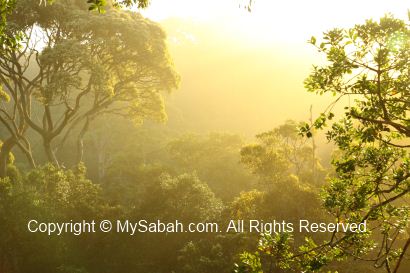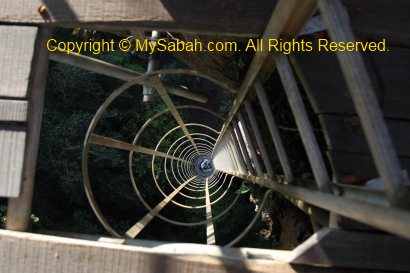 Above: Mr. T climbing down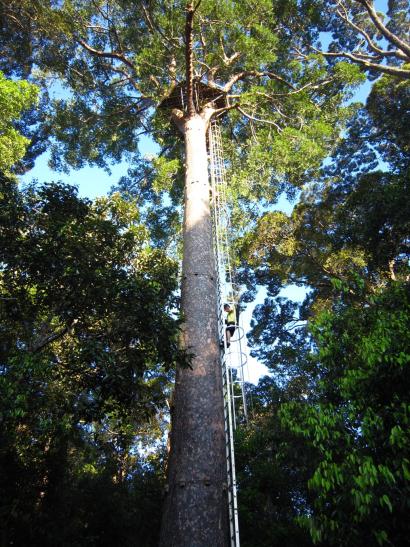 Above: it's me climbing down the tree
Back to Maliau Basin Studies Centre (MBSC)
We are very relaxing today, coz we will leave the total wilderness of Maliau Basin and the trail is mostly descending (easy) path. Even though I am cut off from civilisation for many days, I don't really feel homesick, it's a sad day for me actually. After we have our breakfast, we depart at 8:30am to Agathis Camp, which is 7.5 KM away and a move from 1,005 to 421 Meters above sea level.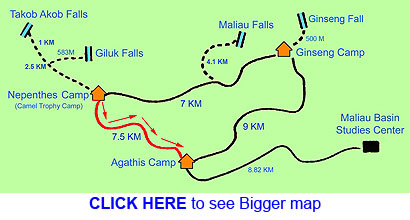 Above: trail in red is our path to Agathis Camp today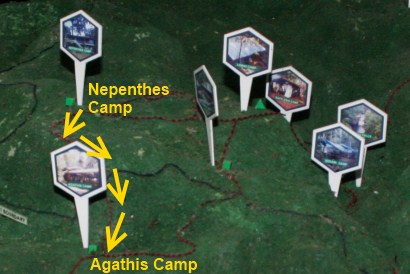 Above: the trail in 3D model
The guides warn us about the steep downhill trail and we should "brake" always and don't run too fast. And they are right. The descending trail is not easy and it does not make us move faster, and it poses another challenge. There is no way you can tell if the soil is soft or solid until you step on it. The slope area is dangerous coz the soil is soft and slippery. The slippery "trap" is so evil coz the mud layer is just thin enough to make you slip, but not deep enough to hold your foot. I have to make sure both of my hands are supported by a rope or tree before I take the next step. I can survive a fall but my camera might not. Just be careful of the precipitous hills…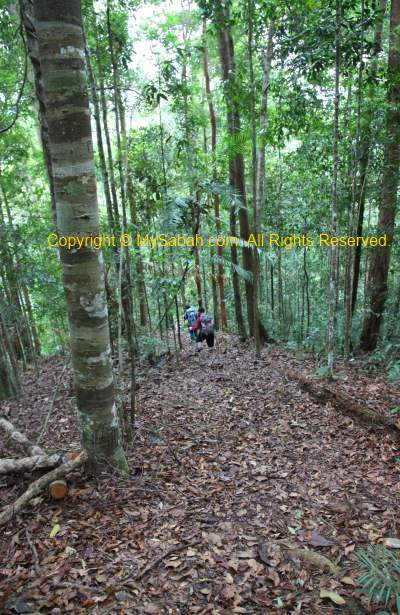 Over the days, I discover a special ability of women. They just can't stop talking, during trekking, eating and sleeping, ALL the time. I am already out of breath trekking and they still talk to me. At the end, I just pretend I don't hear them. Sorry, I am just too tired.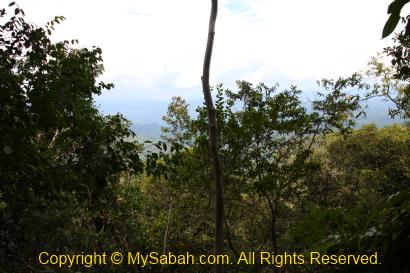 Above: lookout point, where you can see Maliau rim through gap between the trees.
Since this is the last jungle trekking of our trip, we just walk slowly, open all our senses and enjoy the surrounding view. We saw a family of 3 Bornean gibbons swings on tree branches. Red & Hose's Leaf Monkeys (langurs) and Bornean gibbons are very common primates in Maliau. We also hear the distinct calls of Black & Yellow Broadbill and Bornean Bristlehead, and also the loud pecking noise of a woodpecker. Then Mr. T is very excited and shows me a flower of Dendrobium cinnabarinum. He says this flower is very rare, the two (all) varieties are found in Maliau Basin only.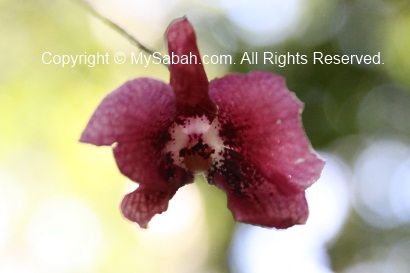 Above: flower of Dendrobium cinnabarinum.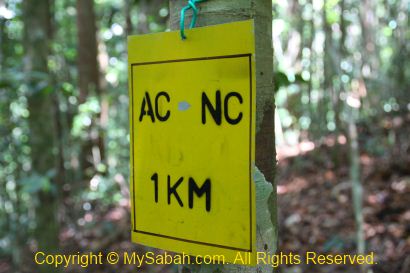 Finally at 12:30pm, we arrive Agathis Camp, where we have our pack-lunch. We are asked to take a shower and put on clean clothing, before we are allowed to sit in the beloved 4-wheel of the guide. Then we leave Agathis Camp and go to the hostel of MBSC, where we will spend the last night in Maliau Basin. After staying 3 days in jungle camp, the hostel is really a 5-star accommodation to us now. The guides and porters are very happy too coz now they can watch World Cup 2010 in MBSC.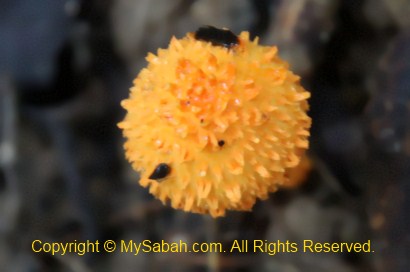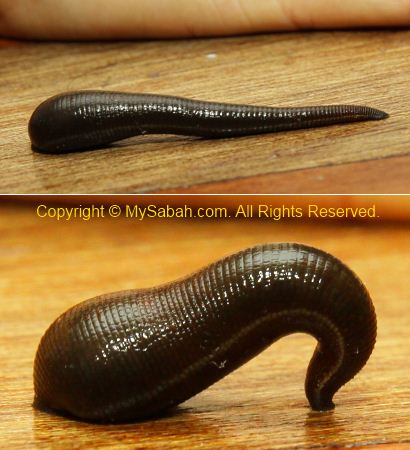 Above: don't know who brings this tiger leech back to the hostel. It is fully fed with 1 year worth of meal, so fat… lol
Skybridge (Canopy Walk)
You are wrong if you think we are holidayers who can sit still for day doing nothing. After we unpack our bags in hostel, we start to get restless and want to go to Skybridge (suspension bridges built between tall trees high above the ground). It rains heavily in the afternoon so we go around 4PM.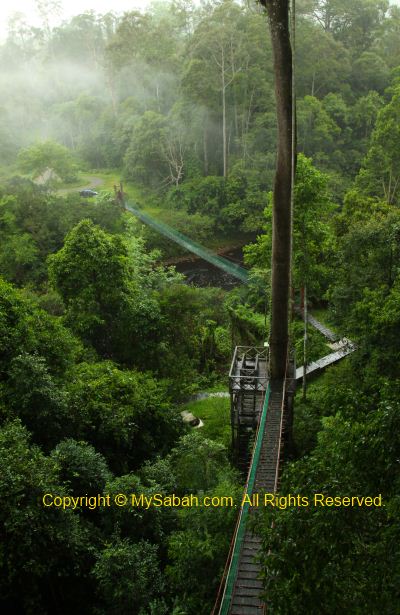 The Skybridge is only a 10-minute drive from MBSC. Constructed in April 2007 and linked up with about 8 super tall trees (Uratmata, Sepatir, Merbau and Seraya), Skybridge is the second longest canopy walk of Sabah, with a length of 293.8 Meters (Highest Point: 21.35 Meters).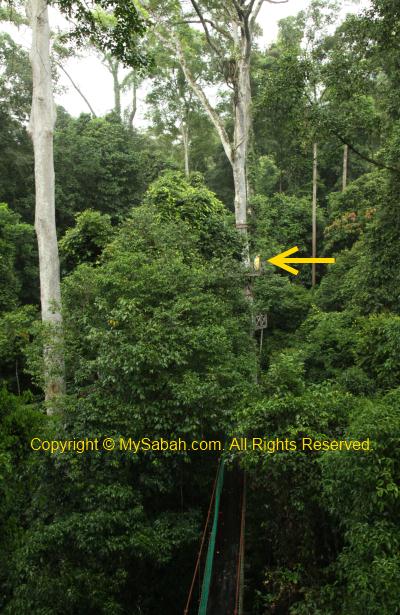 Above: can you see them? They look so small…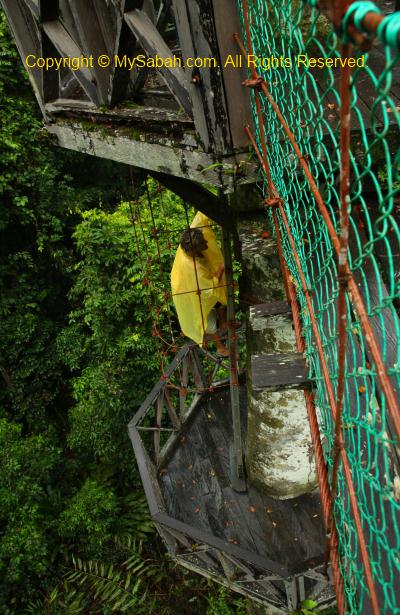 Maliau Basin is an Important Birding Area. More than 290 bird species are found here, with more than 20 are endemic to Borneo, and 26% are listed as threaten or near-threaten by IUCN. Here you can find all 8 species of hornbill of Borneo, 6 species of kingfishers and all 9 species of Bornean barbets. We see fruits of fig species (Ficus), which is the favourite of hornbills, who visit as many as 240 species of fruit trees. We spend an hour here and back to hostel later.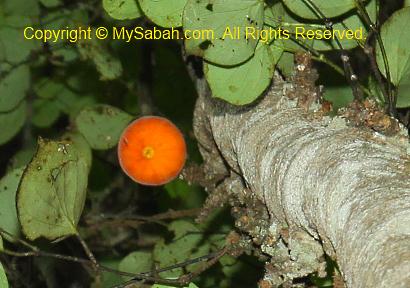 Above: fruit of Ficus tree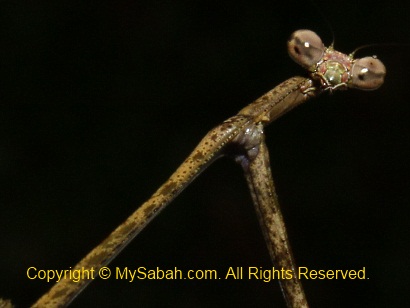 Above: a weird praying mantis looking at us
Night Safari
Tonight we have a night safari at 8pm. We just sit on the jeep and let the guide scans for wildlife by using a spotlight. If the guide spots anything, the car will stop and he will show and tell us what we see. This is highly depends on luck. In bad day, you would see nothing.


Above: this wild boar (Sus barbatus) always comes to MBSC. She got 8 babies.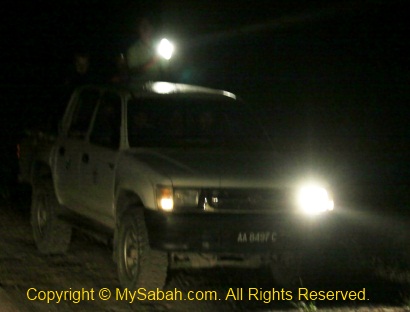 During an hour of fun drive, we see Malay Civet cat, Sambar Deer (cervus unicolor), Flying Squirrel, Rhinoceros Hornbill and Buffy Fish Owl.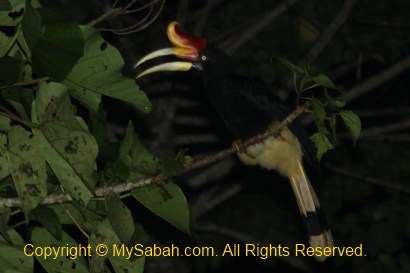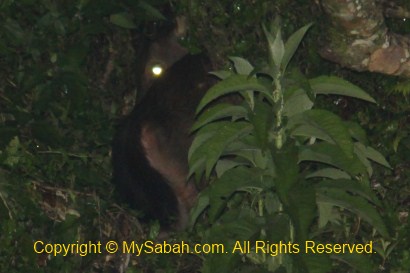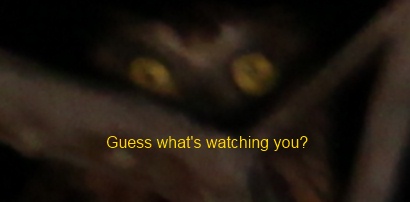 We have been seeing the fresh dung of Banteng and elephants and hope to see them tonight, but too bad none of them turn up. Anyway, below are their photos for you to know how they look like.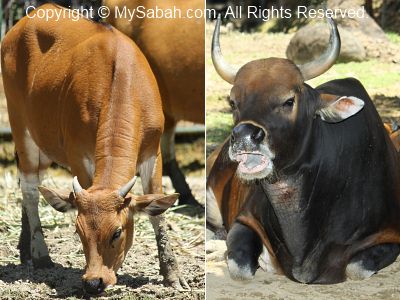 Above: Banteng (Bos javanicus), Asian Wild Cattle or Bornean Wild Ox, known as Tembadau locally. Left is the female and right is male Banteng. Banteng is extinct in West Malaysia (since 1950) and Sarawak (since 1980). It was used to be the favourite game species of hunters but now it is endangered and protected in Sabah. The domesticated Banteng becomes Bali cattle. Note the white "stockings" on the legs. About 15 to 20 Banteng are recorded in Maliau.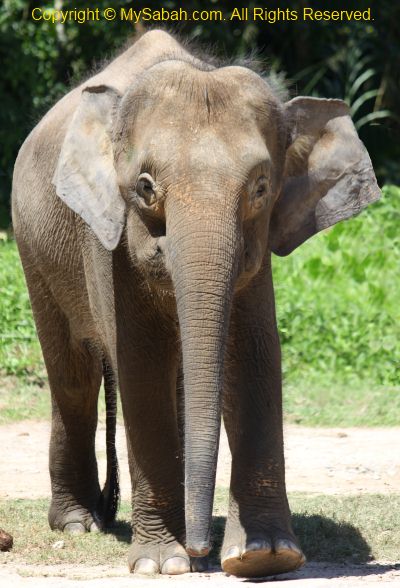 Above: Pygmy elephant of Borneo is the smallest elephant species in the world.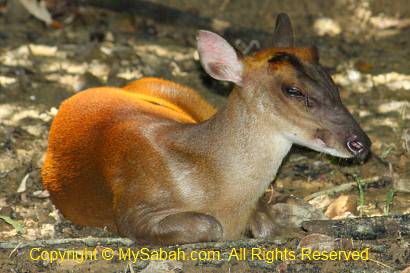 Above: Common barking deer (Red Muntjac), known as Kijang locally. It can grow in length up to 98 to 111 cm, a height of 50 cm and a weight of 15 to 35 Kg. You can buy its meat as it is still the game species.
FYI, all 5 cat species (i.e. flat-headed cat, marbled cat, bay cat, leopard cat, clouded leopard) of Sabah are found around Maliau Basin. They are very elusive and secretive animals active at night, so they are very hard to spot.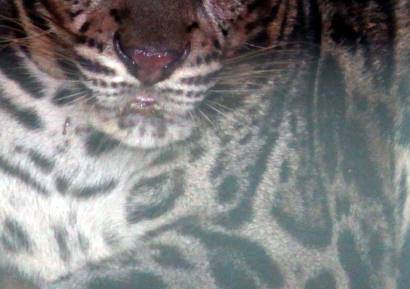 Finally, we have joined all the programme In Maliau Basin and will go back to Kota Kinabalu tomorrow. But there is still one more unplanned programme waits for us tomorrow.
Photos taken in Maliau Basin, Sabah, Malaysia Borneo
All Articles of Maliau Basin Trip:
Part 1. Introduction to Maliau Basin
Part 2. Day 1 in Maliau Basin
Part 3. Day 2 in Maliau. Trekking to the 1st camp
Part 4. Day 3 in Maliau. Maliau Waterfall
Part 5. Day 4 in Maliau. Entering the garden of pitcher plant
Part 6. Day 5 in Maliau. Skybridge & Night Safari
Part 7. Day 6 in Maliau. Leaving Maliau
Part 8. Conclusion & Notes
More Photos
You may check out my Maliau Basin photo album for more pictures: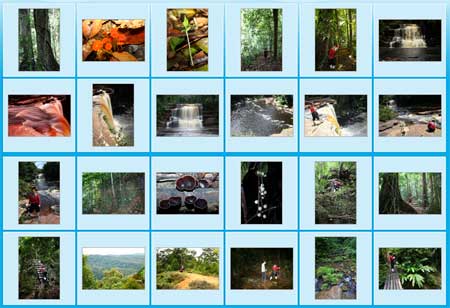 BONUS! More new photos of Maliau Basin…
Other canopy walk in Sabah:
Poring Canopy Walkway (highest in Sabah)
Canopy Walk of Danum Valley (award-winning attraction)
Rainforest Discovery Center (best for bird-watching)
You might also like:
Though a large part of Sabah is covered by forest, very few have seen the beauty of virgin Borneo rainforest. Most forest that we see around our cities and countryside is degraded jungle or secondary forest. Compared to regenerated forest, undisturbed virgin forest is characterised by taller trees, with denser, richer and more biodiversified of flora and fauna.
If you want me to name the jungle that is best representing Borneo tropical rainforest, I will say Danum Valley. With a size of 438 square KM, this 130-million-year old forest is older than Amazon rainforest (60 million years) and the habitat of Borneo's rarest and most precious plant and wildlife.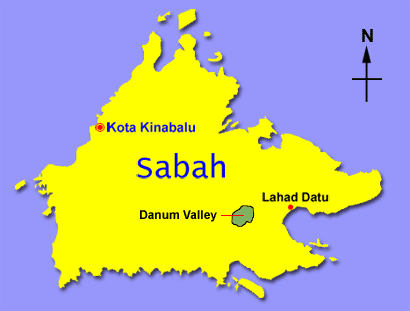 Click Here to see more photos of Danum Valley >>
5-STAR RAINFOREST
Mostly lowland dipterocarp and riverine forest, Danum Valley is one of the richest conservation areas in the world with over 200 species of tree per hectare. You could find huge commercial timbers such as Kapur,Keruing, Seraya and Belian everywhere. To lumbering companies, these trees look like standing gold bars. To scientists, this forest is the least explored treasure, which holds the secrets that can change our future. But sadly, to most Sabahans, these are just wood that ought to be cut to give way to development.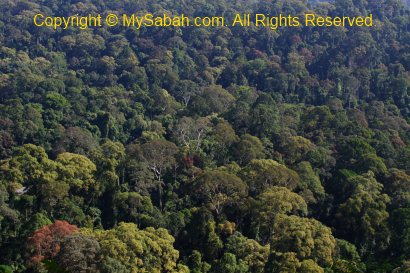 Click Here to see more photos of Danum Valley >>
I was in Danum Valley last month but stayed for less than 24 hours. Danum Valley is 97KM at west of Lahad Datu. After travelling over 2 hours over a gravel road, I reached Borneo Rainforest Lodge, the accommodation in Danum Valley, about 8pm. I left at 1:30pm in the following day, so I only tried night drive at night, 2.6-KM jungle trekking in next morning and canopy walk in next afternoon.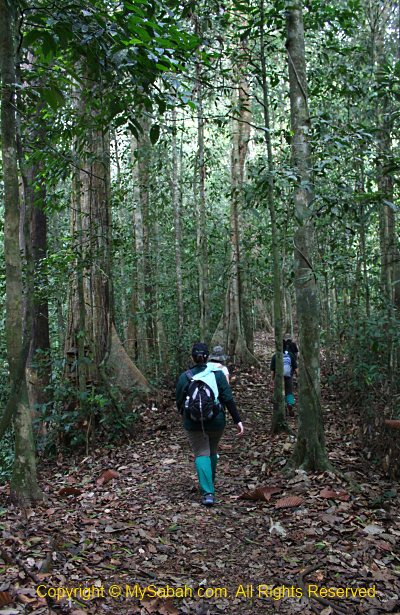 Click Here to see more photos of Danum Valley >>
NIGHT DRIVE
After every tourists got to the back of a jeep, we started our night drive around 8:30pm. The jeep moved slowly on the road, with a "spotter" who held a spotlight and scanned the surrounding forest for reflection of the animal eyes. Once an animal was spotted, the car stopped and the friendly guide would explain what we saw. That night we saw only flying squirrel (the tail), firefly, mouse deer, bearded pig and Sambar Deer, not much. Due to the bright full moon, most animals were hiding deep inside the jungle to avoid predators. Another group who did night walking inside the forest saw many interesting things though, e.g. huge stick insect, colourful frog, civet cats and leopard cat.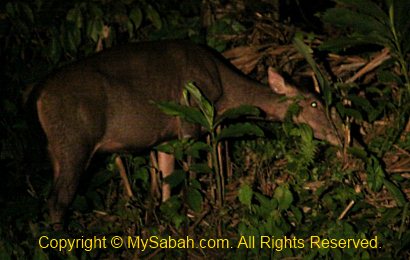 Click Here to see more photos of Danum Valley >>
JUNGLE TREKKING
The next morning we started our jungle trekking at 6am in the morning. I was already there at 5:40am and I saw a big orangutan fed on the fruit tree in front of Borneo Rainforest Lodge (BRL). According to the BRL staff, its name is "King" and it always comes here during fruiting season. There is also another orangutan family also comes here quite often. Seeing orangutan in the wild is such a wonderful experience. King didn't seem to bother about the presence of people and carried on his feeding from branch to branch.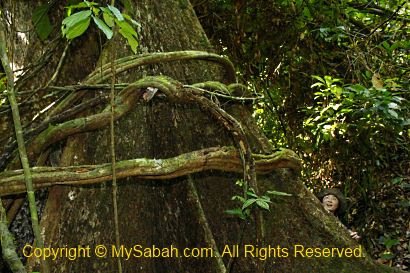 Click Here to see more photos of Danum Valley >>
There are over 50KM of jungle trails for visitors to appreciate the pristine rainforest in Danum Valley. One of the most recommended trails is the 2.6-KM View Point trail, the one that I was trying. Be observant and you will spot many types of orchids, lichens, lianas, fungus and mushroom along the trail. The morning of Danum Valley is always misty and cooling as if it has a macro-climate of its own. It's a leisure walk coz of the cooling fresh air (but can be tiring to those who are lack of physical exercise). You also can hear lot of loud gibbon calls.
Ancient Kadazandusun Burial Site. After 40 minutes of walking, we took the junction that led us to an ancient burial site at a cliff. We were asked to be keep quiet and be respectful. The guide showed us a 200-year ancient coffin, who was made of strong Belian wood (Diamond Wood) and belongs to a chief. There is also a blowpipe inside the coffin. These coffins belong to Dusun Supan who lived around this area in the past (now they had moved to lowland at Kinabatangan). Later we went to a platform high above the ground, to see a small coffin of a child. Besides the coffin is a pile of old human bones and skeleton. Then we returned to the View Point trail and continued the trekking.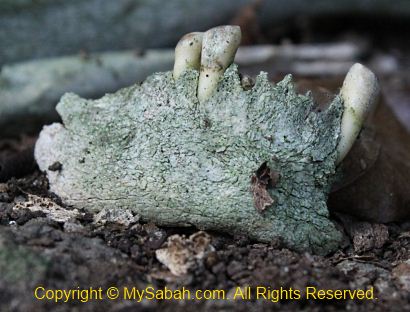 Click Here to see more photos of Danum Valley >>
View Point. After 16 minutes, we reached the View Point which has two wooden platforms to get a breathtaking bird eye view of rainforest and Borneo Rainforest Lodge. You won't understand how happy I was to see an ocean of pristine rainforest. After seeing so many oil palm "forest" everywhere in Sabah, I had doubt if big forest really existed in Sabah. As a matter of fact, most Sabah wildlife attraction areas such as Kinabatangan are the "Concentration camp" of wildlife because the animals are pushed to small patches of forest fragmented by oil palm plantation.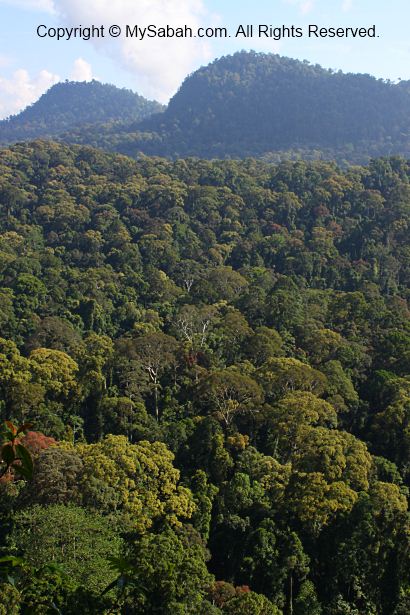 Click Here to see more photos of Danum Valley >>
However, Danum Valley is naturally an animal kingdom and 124 mammals, 72 reptiles, 56 amphibians and 37 fishes live happily under one big mass of forest. Whichever rarest and endangered Borneo wildlife you can name, you find them all here in Danum Valley. For example, large mammals such as Sumatran Rhino, Sun Bear, Benteng and Pygmy Elephants, primates such as Orangutan, Proboscis Monkey, Leaf Monkey, Tarsier, Slow Loris and Macaque, highly secretive cats such as the Sunda Clouded Leopard, Bay Cat and Leopard Cat. The elusive Bay Cat, which is a sub-species endemic in Borneo, was only spotted in Mulu (Sarawak) and Danum Valley.
Our lodge looked so small under our feet. Couldn't believe we walked that far. Too bad it was nearly 8am so sunrise view was not available. I took out my packed breakfast, with ham sandwich & fruit, and enjoyed a great break time with nice view.
Waterfalls & Pool. Later we dropped by the Fairy Waterfall (27 Meters high) and Serpent Waterfall next to the trail. Too bad it was dry season, the water volume was so small that the waterfalls didn't look big and impressive. Though it was drought season, little sunlight contacts the forest ground so it is always wet. The last stop is a Jacuzzi Pool where you can swim and enjoy "fish massage". The small fishes will nibble your feet and remove the death skin. It is a bit painful but doesn't hurt. Lastly, we were back to the lodge about 11:30am. The jungle trekking took us about 5 hours, as we stopped briefly in every interesting site.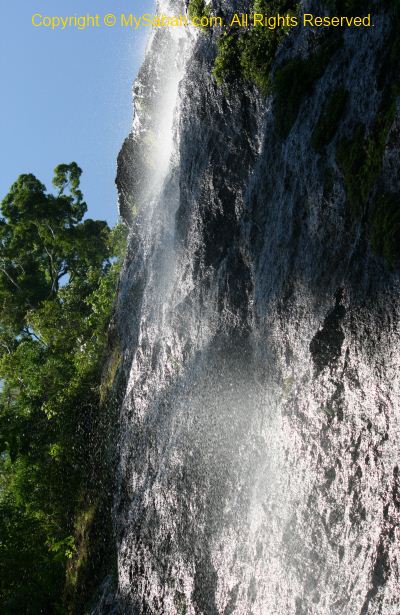 Click Here to see more photos of Danum Valley >>
Before the trip, we were warned that there were many big tiger leeches in Danum Valley, but we saw only two small brown leeches. If you are bitten by a tiger leech, you will be qualified to get a "Blood Donation" certificate from Borneo Rainforest Lodge. Of course this is for fun only, you still need to pay RM5 (about USD$1.50) to buy it. Since there was no leech biting me, I caught a leech and let it sucked my blood. Later I was told that it was a brown leech (not tiger leech), but I was still qualified to get the certificate. Well, I did it for fun but the 1-hour bleeding annoyed me.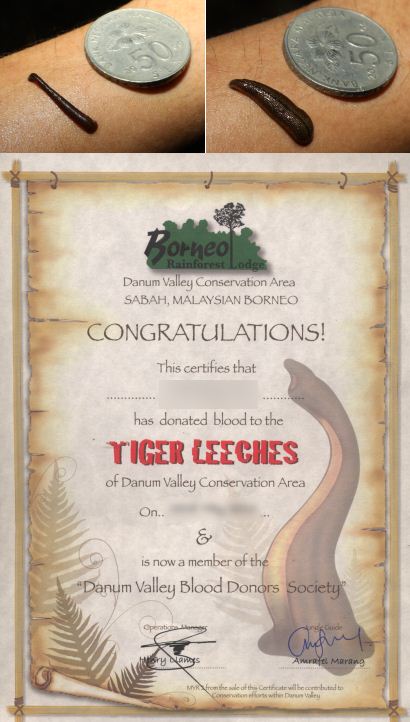 Click Here to see more photos of Danum Valley >>
CANOPY WALK
I went back to my room, take a shower and packed my bag for check-out at 1:30pm. On the way out, we dropped by the Canopy Walk. For bird-watching, you will really appreciate the 300-Metre-long and 27-Metre-high canopy walkway built by Borneo Rainforest Lodge and it won the Best Nature Attraction award in Sabah Tourism Awards 2009. In year 2008, a bird guide Richard Webster discovered a new bird species (Spectacled flowerpecker) on this canopy. Who knows you might discover a beautiful new bird that can be named after your beloved wife (mother-in-law if it is an ugly and noisy bird). If you look carefully, you will see many bee hives on Menggaris tree, the favourite nesting tree of wild honey bees due to its height.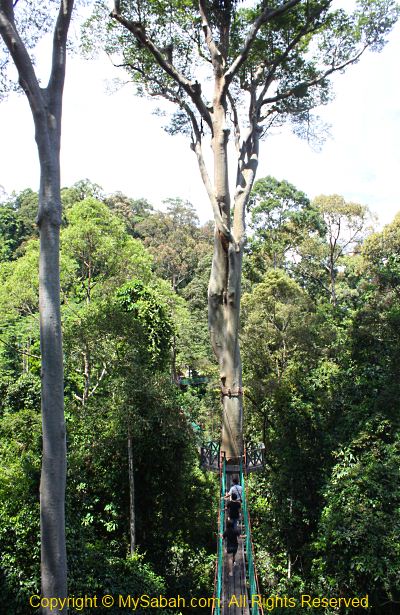 Click Here to see more photos of Danum Valley >>
In Danum Valley, you can see or hear flock of big hornbills flying over your head almost every hour. This is one of the few places in Malaysia where we can find 8 species of hornbills. Do you know there are more than 290 bird species in Danum Valley? That is almost half the bird species of whole Borneo! Some birdwatchers pay thousands to come to see only one bird in Danum Valley, the Bornean Bristlehead (only found in Borneo). Other rare birds include Great Argus, Bulwar's Pheasant, Giant Pitta, Bornean flycatcher, Bornean Ground-cuckoo and many more.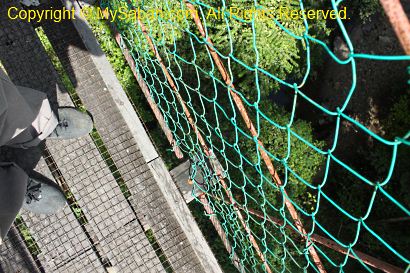 Click Here to see more photos of Danum Valley >>
BTW, I saw a leopard cat and some long-tailed macaques on the road. The staffs say you might see elephants if you are lucky. I also saw the helicopter of Martha Stewart heading to Danum Valley. I don't know why the whole world is so crazy about her. Anyway, too bad I didn't see her. From her blog, she is so happy to see "King", the orangutan. She is quite crazy about our Borneo wild man I guess. No wonder West Malaysians want to "steal" our orangutan. So the federal government is interested in rehabilitating our orangutan? A middle finger to you! You only want the tourist $$$. But I'll be more than happy to send illegal immigrants to KL, as we have nearly million of them here. I can guarantee that they are also wild men.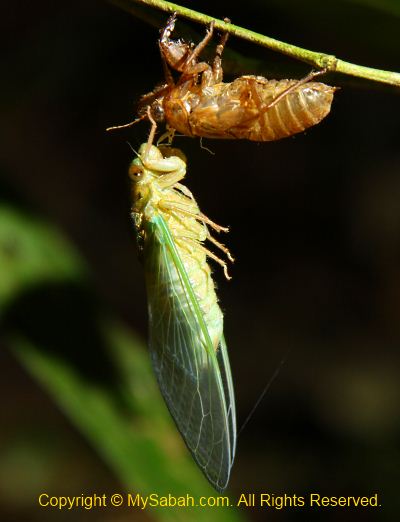 Click Here to see more photos of Danum Valley >>
It is no surprise that Sabah government is planning to nominate Danum Valley as a world heritage site. Actually Sabah has only about 92,400 hectares of virgin forest, less than 5% of all forest area in Sabah. If we clear them, they will never be the same again; the millions-year old ecosystem will be lost, no matter how hard we try to recover them later. Rather than cutting down the trees for their wood and paper, we should keep the forest as nursery ground for our priceless wildlife, world-class research hub for tropical rainforest, sustainable income source for tourism and high quality conservation area to combat global warming. And no coal plant near to Danum Valley, please. The Sabah Chief Minister always says conservation is important to protect the eco-treasures of Sabah, but he is the one who approves the logging at Danum Valley and Maliau Basin. What a joke!
Other canopy walk in Sabah:
Poring Canopy Walkway (highest in Sabah)
Skybridge of Maliau Basin (longest canopy walk)
Rainforest Discovery Center (best for bird-watching)
Photos taken in Lahad Datu, Sabah Malaysia
You might also like: