Tag Archives:
camping
I bet you love the beautiful seas and rivers of Sabah. The flowing water invites you for a playtime. But when I say "lake", you would feel different emotions, like calm, laid-back and peaceful. These are exactly how I describe the beauty of Tanjung Bulat, one of the largest oxbow lakes in Sabah. An oxbow lake was used to be part of a big river in U-shaped. As river changes course, a body of water is cut off naturally from the main river and forms a lake.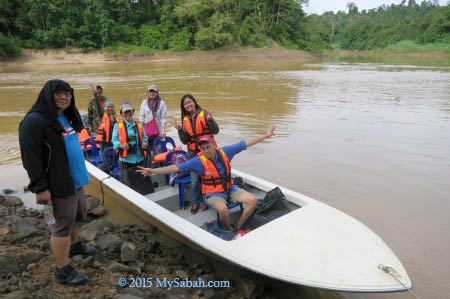 Pic: ready to depart
To go to Tanjung Bulat Oxbow Lake (see Location Map), you can take a 25-minute boat ride from Bukit Garam, which is a riverside village 75 Km from Sandakan City and accessible by road. For my tour, I took the boat from Balat Jetty of Deramakot Forest and the ride took about 2 hours.
Bukit Garam Village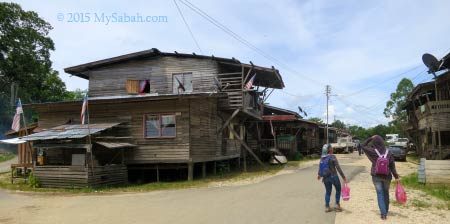 Bukit Garam (literally means Salt Hill) is a small village at upstream of Kinabatangan River. We stopped there shortly to buy some stuffs before going to Tanjung Bulat. I saw power line but electricity wasn't fully utilized. Almost every house has satellite TV, but every grocery stores have no light on, except refrigerators that keep the soda drink cold.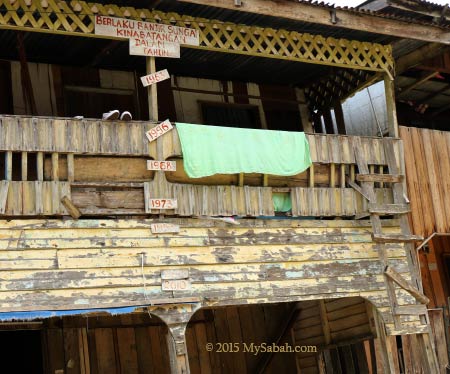 Pic: the most interesting house in Bukit Garam
Bukit Garam is just next to Kinabatangan River (Sungai Kinabatangan), the longest river of Sabah, and it was flooded occasionally during heavy rain season. I even saw a house with water level markers of all major floods happened between 1963 and 2010.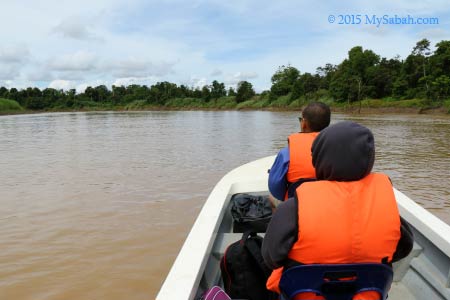 Most of the land around Bukit Garam is clear for plantation, so very little forest cover is left. I noticed some tree replanting going on in a few sections of riparian to restore the forest along the river.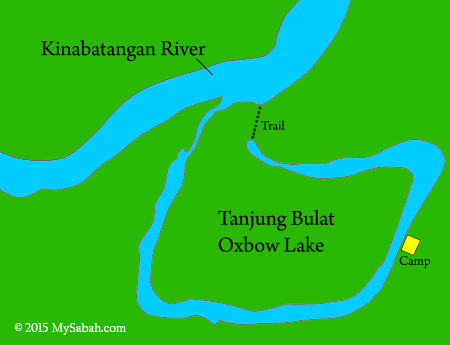 You can see from the diagram above that Tanjung Bulat Oxbow Lake has a small tributary that connects to Kinabatangan River. If the water level is high, our boat can send us straight to the camp. However, it's dry season so we had to get off our boat, walked 450 Meters to the oxbow lake, then take another boat to the camp.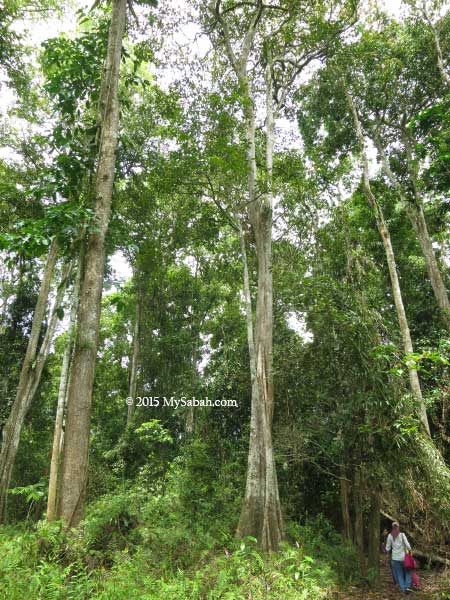 The walk takes about 20 minutes on a soil trail. Luckily the staffs of Tanjung Bulat Jungle Camp helped us to carry our heavy luggage. The trees near the lake is so dense and tall. It's part of a forest reserve where logging, hunting and farming are off limit.
Tanjung Bulat Oxbow Lake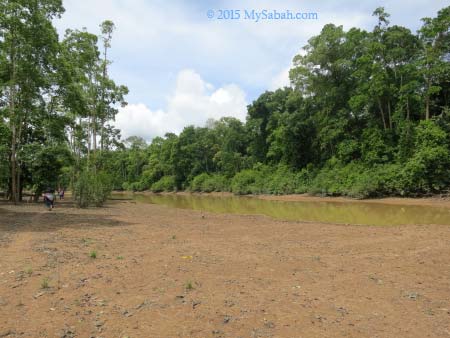 It's an easy walk and we came to an open area at the edge of Tanjung Bulat oxbow lake. This is the second Oxbow Lake I visit after Uncle Tan Camp in Danau Girang but the first time I was being so close to the lake. During rainy season, the Kinabatangan River will flood this lake and brings in fresh water.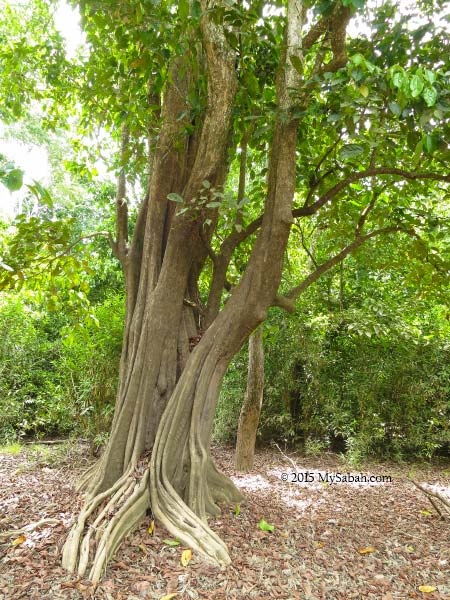 Pic: silungapid tree next to the lake
I admire the beautiful tree trunk of silungapid tree, which is abundant around the lake. This tree can survive the flood in wetland and its fruit is an important food source for proboscis monkey, the endemic monkey of Borneo.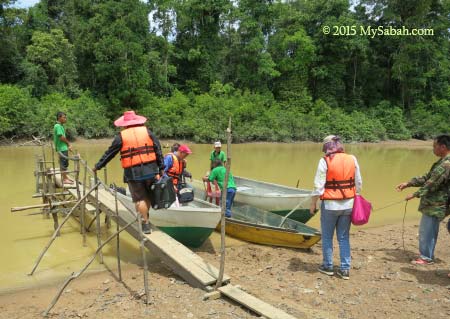 Pic: transit to another boat to jungle camp
When I was still busy enjoying the scenery, everyone was already waiting for me onboard. You may check out the short video below to know why I like this place so much: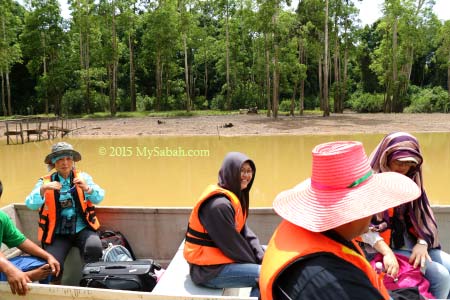 For those of you who spent your childhood in outdoor, you would understand why lake holds such a special place in my memory. Every kids that time had a "secret" corner where they loved to hang around in group, and lake is the coolest place because we could swim and fish in it. Unfortunately, today most of my old-day nature playground has been cleared to make way for estate and agriculture.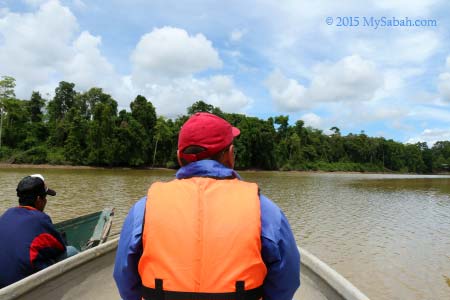 That's why I was so excited to see that Tanjung Bulat Oxbow Lake is kept in near pristine condition. It's like a hidden lake in a dense jungle and it's huge. The lake surface is about 95 hectares, with depth up to 30 Meters.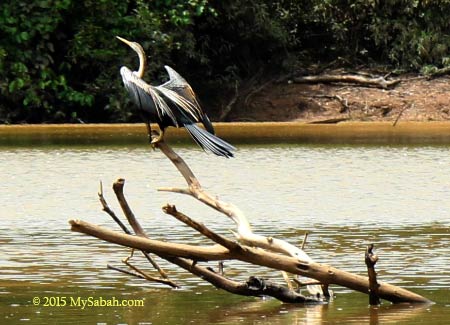 We saw 4 or 5 Oriental Darters (Anhinga melanogaster) on the way to jungle camp. Also known as Snake Bird, Oriental Darter spears fishes with its long and sharp beak. It's a threatened bird species, but you can find a good number of them at Tanjung Bulat. Great egret is also common here.
Tanjung Bulat Jungle Camp
Here is a brief but inspiring story about the camp. Tanjung Bulat Oxbow Lake is well-preserved as a marvelous destination because of one fisherman, Mr. Malik, who started the jungle camp in year 2010. Malik is born 40 years ago in a fisherman family of Orang Sungai community. He was used to swim (that time had no crocodile) and fish in this lake since he was six. During that time, fishes were plentiful and wild elephants were everywhere.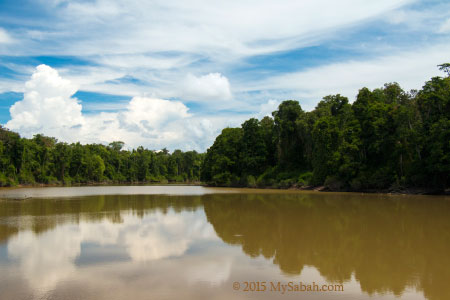 Pic: Tanjung Bulat Oxbox Lake
However, over the three decades, the well-being of the lake was gradually compromised when people used destructive fishing methods such as poisoning, and the forest was encroached for plantation. The situation became so severe that the lake got no fish for a year, so Malik decided to protect his beloved lake from further deterioration. We both share the similar childhood so I fully understand his sentiment.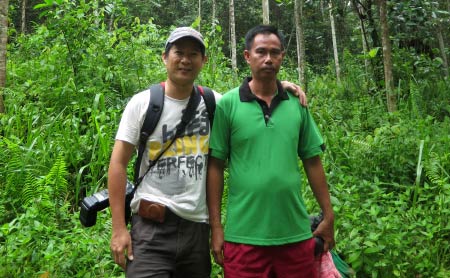 Pic: photo of me and Mr. Malik (right). He looks serious but he is a friendly guy who is passionate about his work.
The lake and its adjacent land is a 450-hectare area under multi-layer land title of State Government, oil palm company and villagers, so Malik had to work with the authorities and different parties to conserve the oxbow lake. Some villagers were so unhappy initially.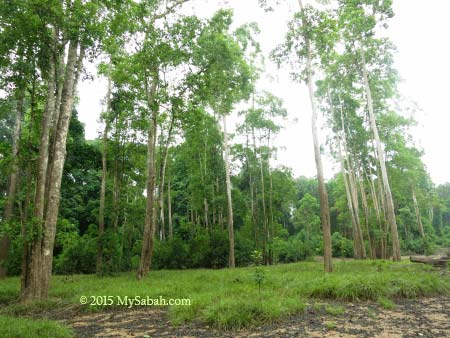 With the support of native chief, Tanjung Bulat was included as part of the 1 Village 1 Product Rural Campaign and helped the village won the national and international championship in Gerakan Desa Wawasan (Rural Vision Movement). And villagers saw the fishes coming back, so they turn from against to acceptance. Now the fish stock gets a 60% recovery.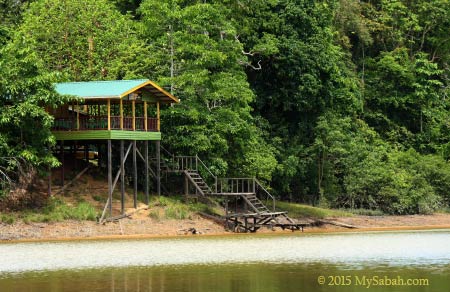 Back to our tour. Within 10 minutes, Tanjung Bulat Jungle Camp was in sight. The wooden building with stilts in the photo above is the dining and activity hall. The camp is built on high ground so it is safe from flood even during wettest season.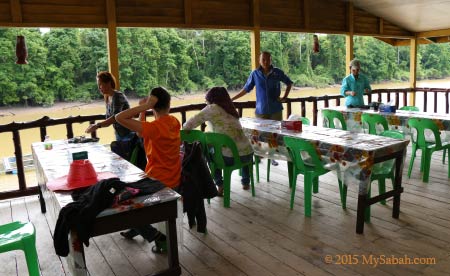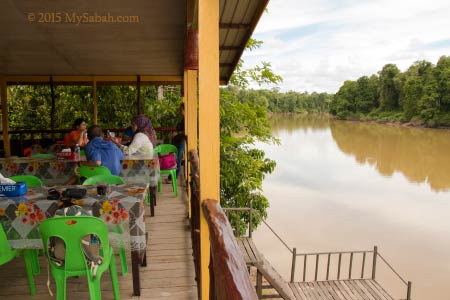 Located in high point, the camp overlooks Tanjung Bulat oxbow lake. Every visitor is automatically drawn to this hall for this panoramic killer view. I would say Tanjung Bulat has one of the most spectacular lake view in Sabah. Without other man-made structure at the lake, it's a 100% wilderness.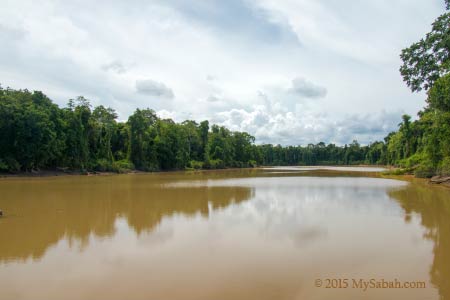 You can see half of the lake from the camp. At the left of photo above is an isolated (almost) forest surrounded by the lake. It's mainly marshland with dense wetland trees, which is a little paradise for birds, reptiles and arboreal animals.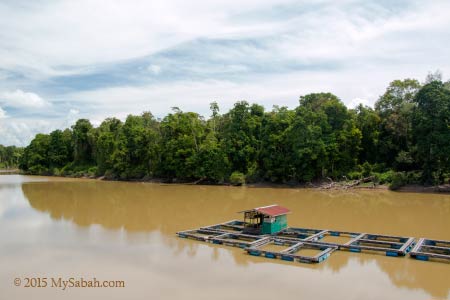 Pic: fish farm with black and red Tilapia (freshwater cichlid fish). Two Little Herons were fighting there for this prime fishing spot. The highly sought after seafood such as udang galah (giant river prawn) and Freshwater Gobi also found in this lake.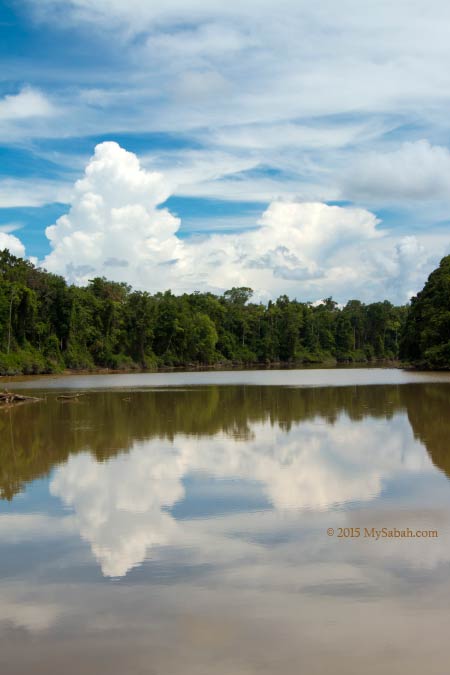 The weather was so good and we could see the reflection of cloud on the lake surface. I was completely immersed myself in this tranquil environment as if the clock had stopped ticking.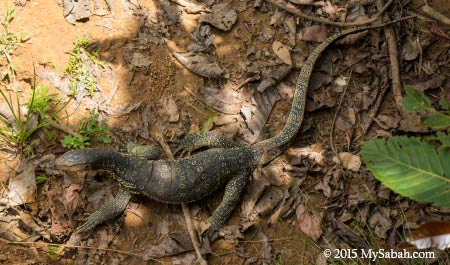 Pic: a 2-Meter monitor lizard that wanders near the camp. Monitor lizard always avoids human contact so it isn't a threat (except infant).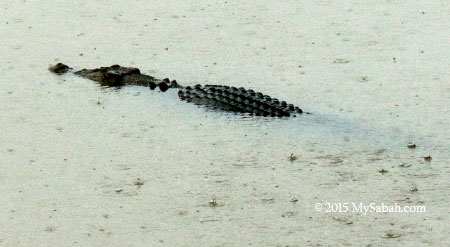 There is also a 3-Meter crocodile living in the lake. It is wary of the human presence and keep a distance from our camp. It always patrols in the water, and its movement is so slow that it looks more like a floating log. We like this croc so much that we name it "Dicky".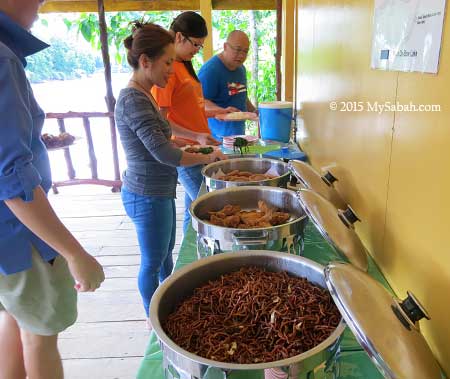 After we checked in, a tasty lunch buffet was already waiting for us, and it's really nice to enjoy our meals next to a lake.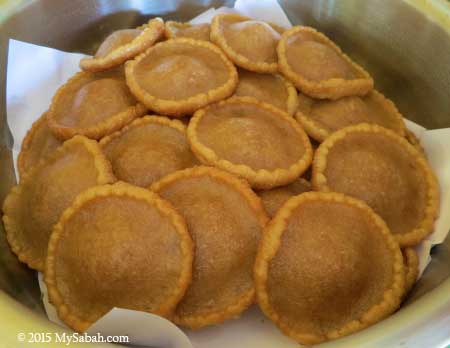 Pic: Panjaram Pancake, a famous local snack of Bajau people
We had fried noodle, chicken wings, tomato fish, local vegetables (fern) and a deep-fried pancake called panjaram (a.k.a. UFO Pancake).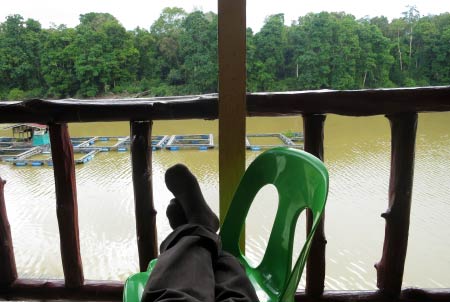 We were supposed to have a river cruise in late afternoon to check out the crocodiles, proboscis monkey and other wildlife around the lake, but it was raining dog and cat. So I just grabbed a coffee, enjoyed the nice breeze and view. It was so relaxing that I fell asleep. During dusk, I saw Rhinocerous and Oriental Pied Hornbills, Brahminy Kites and Blue-eared Kingfisher. I also heard screeching of proboscis monkey in the forest across the lake. Tip: bring a binocular for more excitement.
Accommodation and Amenities
Though the accommodation of Tanjung Bulat Jungle Camp is basic, it is clean and comfortable. We got mobile phone network coverage. The signal is weak but we can call and text the outside world.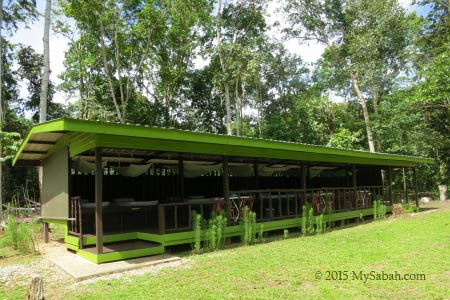 The camp can fit about 15 people at a time. Electricity by generator is available from 7am to 9pm. You can even ask them to on it until 11pm. But noisy generator is too near the camp so it'll be off during bedtime.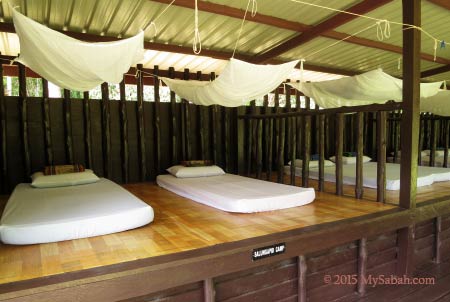 Pic: our bed with mosquito net. It was warm during daytime but cooling at night. We all had a good night sleep.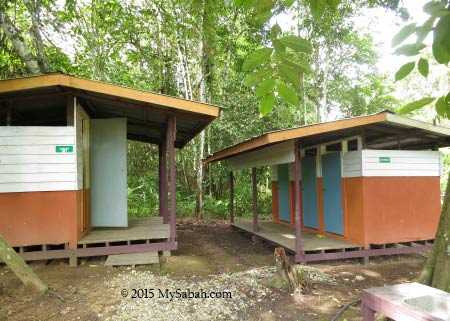 Toilet and bathroom are only 15 Meters away. The water from the lake is crystal clear. Malik told us that he used stones, sand and cotton to filter the water, a simple but effective technique he learnt from a Japanese engineer. The water of the lake looks murky, but it is almost as clean as the tap water, because it's from the upstream of Kinabatangan River.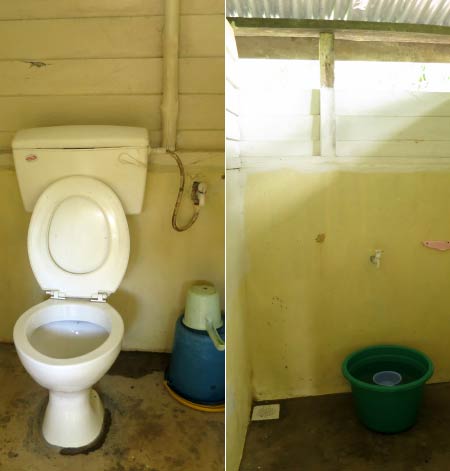 The toilet and bathroom are clean and basic too (no funny smell). Hot shower is not available but you will love the freshness of having a cold shower in hot day. As there is no lighting, you better bring a flashlight so you can find your way to toilet in the dark.
Tree Planting
Since the camp started 5 years ago, over 500 trees were planted to contribute to the Corridor of Life project. Basically it's a long term conservation effort to restore the forest along the riparian of Kinabatangan River, to connect the fragmented forests, so the wildlife can use the forested river bank to move freely to other forest for food and mates.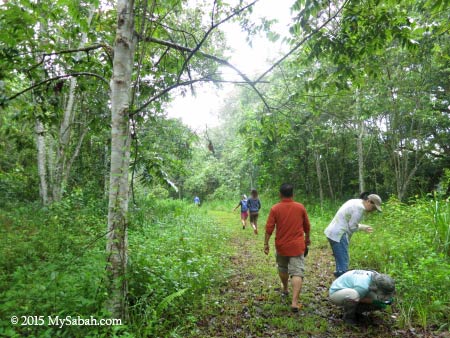 The next morning we were brought to the tree re-planting area just behind the camp, to plant some trees before we left. Many trees have grown tall over years and some have bear fruits. This dense wood also becomes home for some birds such as Hooded Pitta. During fruiting season (especially in August), orangutan would be sighted here.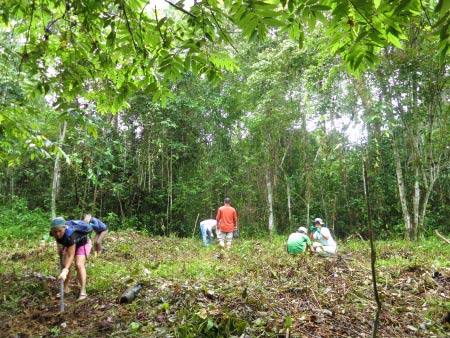 Actually the staffs had done the hard work for us. They cleared an area for the tree planting. All we needed to do is to dig two holes and planted two seedling. The common trees chosen for replanting are Pokok Bayur and Asam-Asam (wild mango), which provide nesting place and food for orangutan respectively.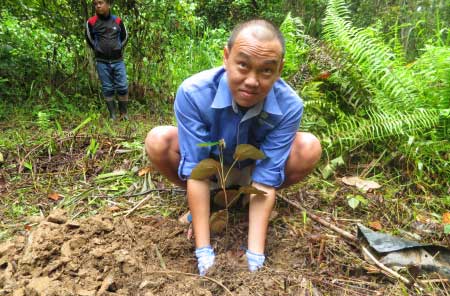 As a city folk who seldom uses hoe, it's no easier than I think. The soil is held firm by many tree roots. Just digging two small holes already made me sweated in the morning. Anyway, I'm glad that I've left some green footprints, a perfect way to end my journey here.
"The best time to plant a tree was 20 years ago. The second best time is now."
To visit Oxbow Lake Tanjung Bulat Jungle Camp (or Danau Tanjung Bulat Jungle Camp), you can book the tour with Aseh Travel & Tours, a licensed travel agent which practices Responsible Tourism.
Below is the contact of Tanjung Bulat Jungle Camp:
E-mail: tgbulat_junglecamp@yahoo.com
Hotline: +60 12-8656773
Website: kinabatangantbjc.blogspot.com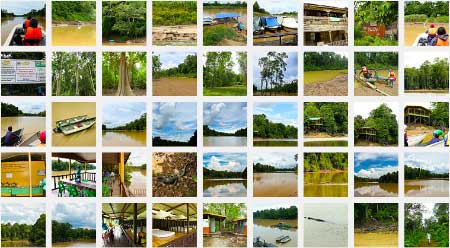 For more photos of Tanjung Bulat Oxbow Lake, you may check out my photo album.
Photos taken in Kinabatangan, Sabah, Malaysia Borneo
You might also like:
Tourists to Kota Kinabalu City (KK) always ask, out of the five islands of Tunku Abdul Rahman Park (TARP), which one is recommended. My answer is – if you expect a famous and exciting tourist destination, go for Sapi or Manukan. But if you only want a quiet beach to laze around and unwind, Mamutik Island (Pulau Mamutik) is a small island with big space.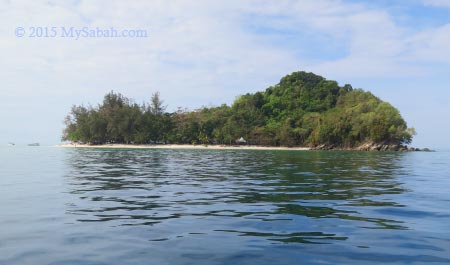 Pic: Mamutik Island, looks like a crocodile head isn't it?
People who want to avoid the crowd will love Mamutik Island, as it is less touristy than Sapi and Manukan, the islands where they would see more people than fishes, and human noise is louder than splashing waves. Being the smallest island of TARP, Mamutik is like an unsophisticated child who doesn't try to impress you, it may not have charming personality but you feel more open up and relax.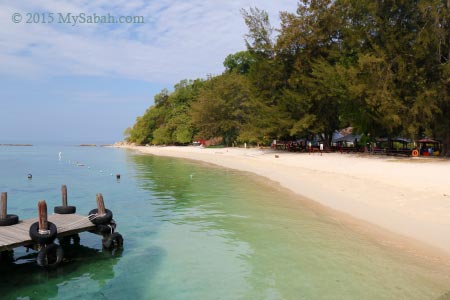 Mamutik is rated by some tourists as an average island because of three reasons. First, the sea there is quite rough and water turns murky sometimes. Second, the strong waves wash many coral fragments to the shore. Stepping on this jagged surface can be a discomfort to sensitive feet. Last, the density and variety of corals isn't great. All of the above are true.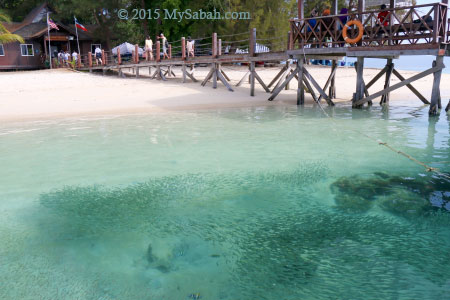 Pic: school of anchovy fishes (ikan bilis) at the jetty
However, Mamutik still has one of the most beautiful beaches near KK and its photo is good enough to be used as postcard. Though lack of WOW factor, Mamutik isn't lack of happy customers who appreciate the ambience of tranquillity and privacy offered by this less-crowded island.
The following is a HD video that gives you an overview of Mamutik:

The Beaches
Mamutik Island has long stretch of white sandy beach about 200 Meters in length. The sea can be choppy occassionally and the water is getting deep after 10 Meters from shore, so be careful if you don't know how to swim.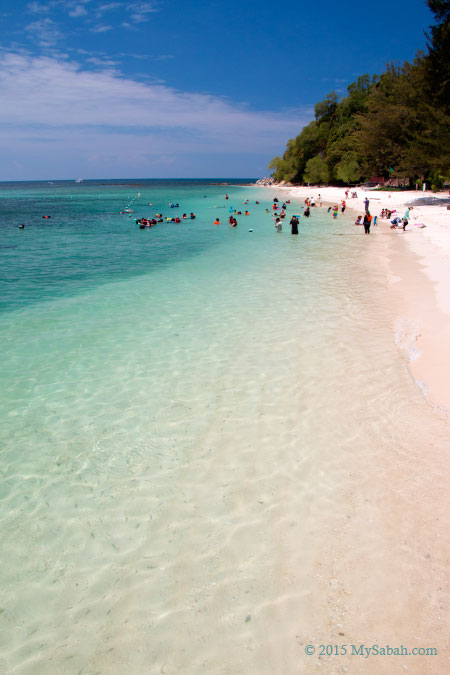 Pic: note the darker area of the sea, it's the color of deeper water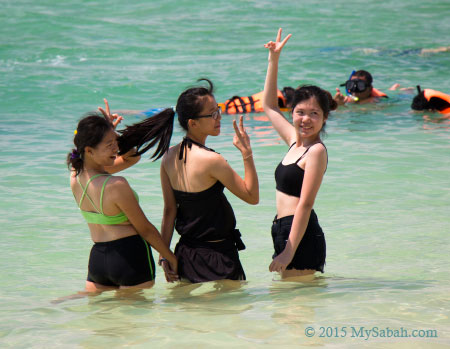 Every visitor can get a big share of space, swim freely and won't collide with others (but watch out for jellyfish). Without many eyes around, tourists here behave relatively more relax.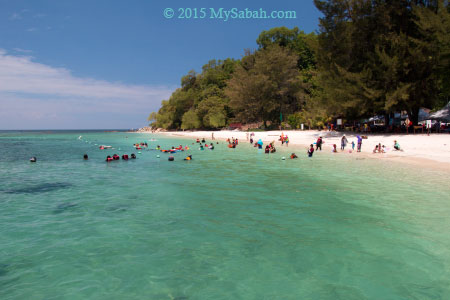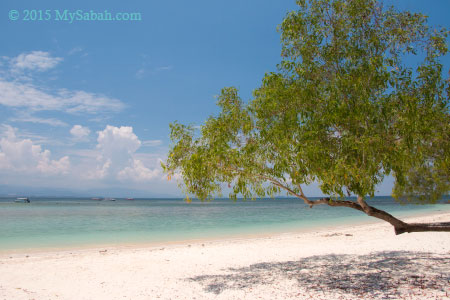 However, the visitors seem to congregate in one or two places. Probably they feel safer to stay near to one another, or these places are near to toilet. Anyway, there are some sections that has few or no tourist, so feel free to pick a zone as your "private beach".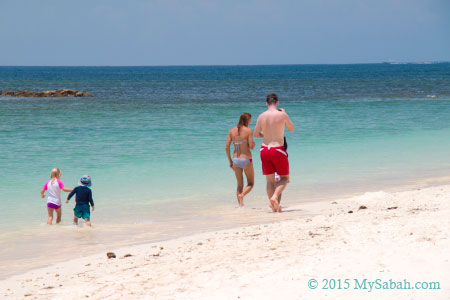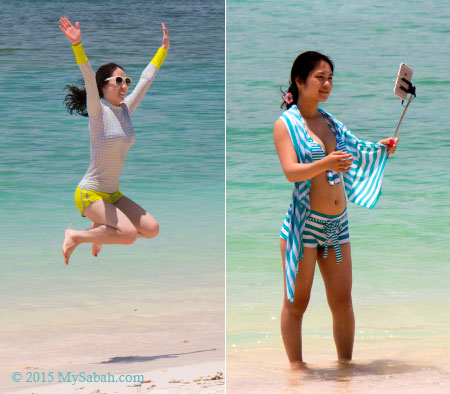 Move further away from people, you can find many good photography spots with clean background, as if you are on a remote island. Most coral fragments are concentrated in the water. The beach is still mainly fine sandy beach that is nice to walk on.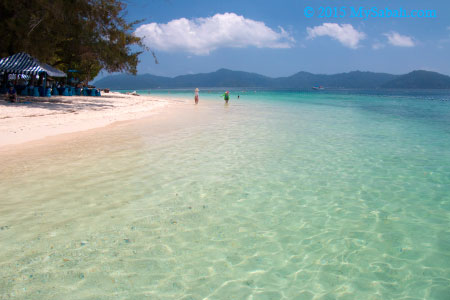 Pic: You can count the number of tourists here by fingers. If we are willing to pay more for bigger hotel room, the ample personal space in Mamutik is a great value, isn't it?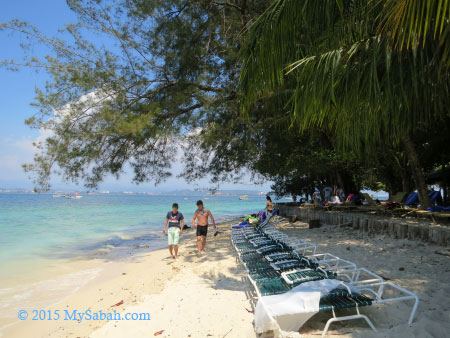 If you go to the east side of Mamutik, there is a more secluded area very well-shaded by tall casuarina trees. The beach chairs are reserved for the hotel guests from Shangri-La's Tanjung Aru Resort. The place is quite cooling and suitable for chilling out after a swim under hot sun. You may walk or snorkel at the beach there but please keep your voice down. The staff would ask noisy outsiders to leave.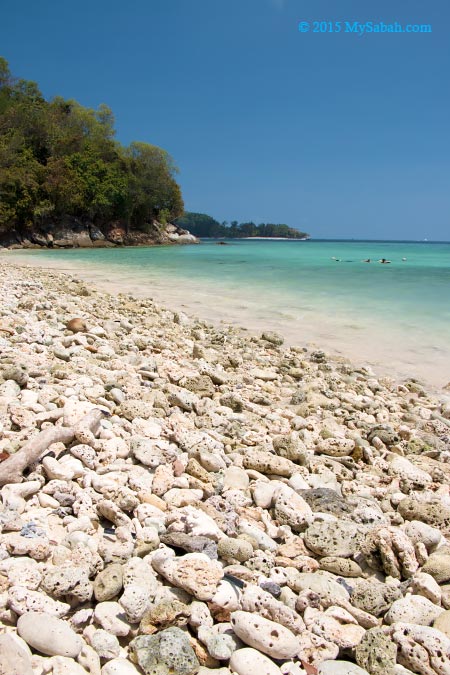 The sea waves at east side is even stronger because it is where open ocean current passing by the island. I call it a "Coral Beach" because the beach here is covered by bigger pieces of coral fragments. I even found giant clam shell once. Probably that's how Mamutik got its name which means "shell collection". (Note: collecting shell and anything is forbidden in this protected marine park)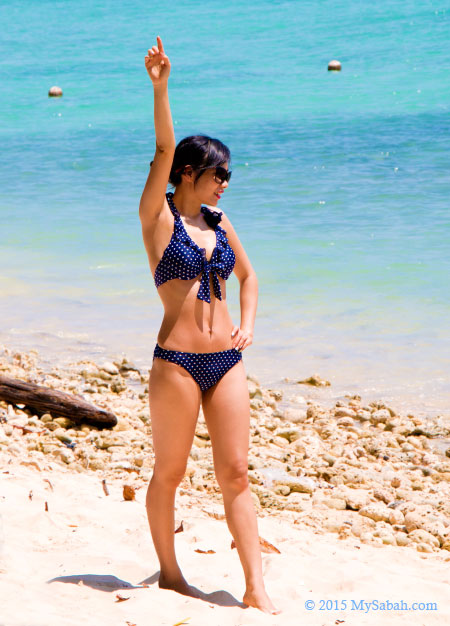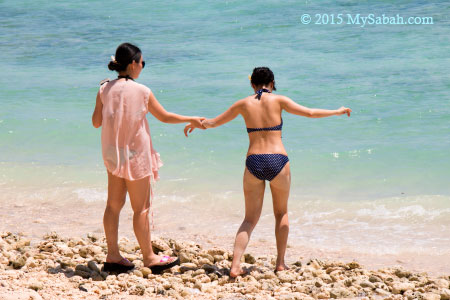 Walking on the coral fragments with barefoot isn't too bad. Just take it as a reflexology walking therapy lol. My feet have thick skin so it doesn't hurt at all. You can wear slipper if it's a problem.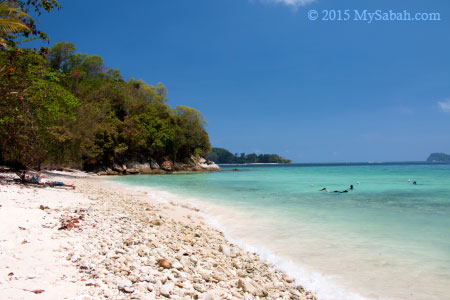 The coral beach is quite well-kept to near pristine state since it's a semi-private area. Turtles know it. On 26 Dec 2009, a hawksbill turtle landed on this beach to lay its eggs. It's a good sign that turtles are coming back. We still face a lot of challenges to conserve them due to increasing plastic garbage in our sea.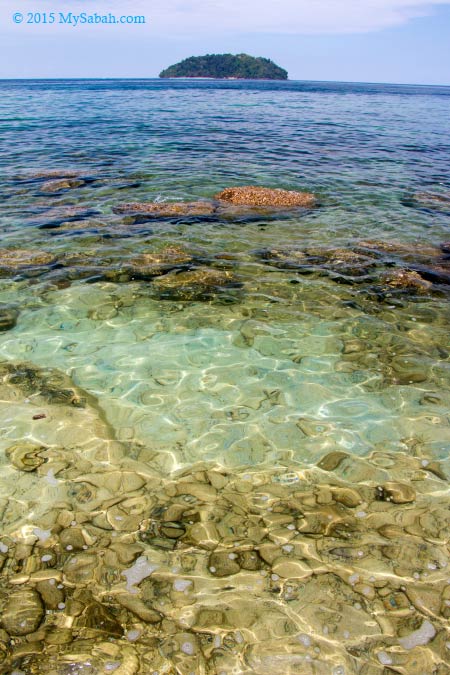 FYI, if you explore further to the edge of the beach at west side, you will come to a rocky beach with nice view. The rocks in the water is slippery so be cautious when you walk on them.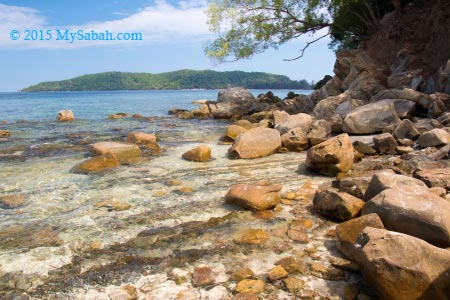 Mamutik Island is located in the center of TARP, so you can see four other islands clearly from there. In the past, all five islands were part of the mainland. After Ice-Age ended, they were disconnected from mainland about 1 million years ago.
A City Island
Mamutik Island is the second nearest island to KK, so you can have a good view of our city only 3 KM away. Though travellers were away from the city, some can't take city totally out of their mind.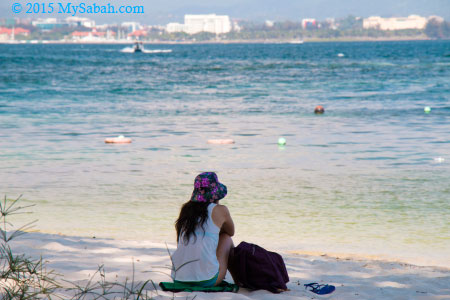 On Mamutik, I always see people sitting and staring at the sea and city for a long time, or look at the planes flying in and out of KK International Airport. I wonder what's in their mind. Were they thinking about their relationship, work, future or nothing? Whatever, Mamutik is a good place for daydreaming.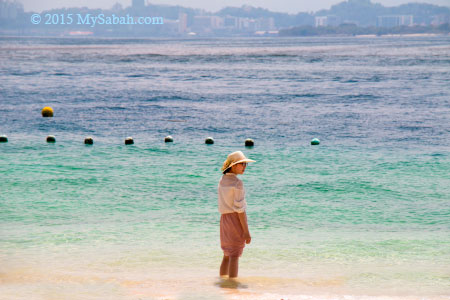 Oh by the way, since Mamutik is nearer to city, your phone may have good access to 3G network (Celcom seems to have the best coverage here).
Snorkelling
Besides sunbathing and swimming at Mamutik, snorkelling is an enjoyable way to see the underwater world. To be honest, I'm a bit disappointed with the experience. Compared to other islands, the variety of corals here isn't so good (but not bad).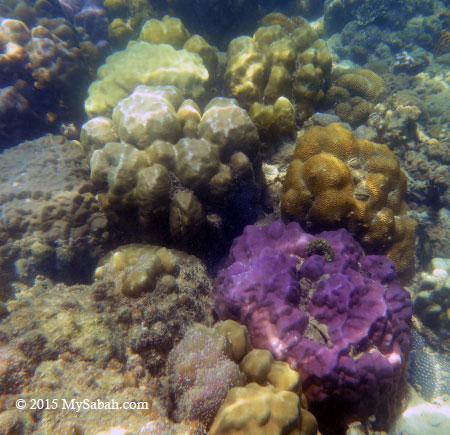 The best location to go snorkelling is the sea in front of the coral beach (another best spot is near rocky beach at the west side). The visibility is ok (about 5 Meters). That area is dominated by brain and boulder corals. They are quite abundant and big in size, often in yellow or brown color. Some have tubeworms (or Xmas Tree Worm) live in them. The most beautiful coral is the purple color Porites coral (see photo above). Not many soft corals are found though.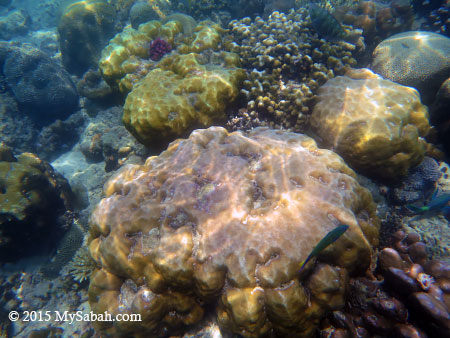 It's cool that I found plenty of fishes even in shallow water. I even saw a lonely barracuda. The variety of fishes is good, but I can't tell their species other than "Nemo" (clownfish), parrot fish and damselfish. A reef fish expert is able to spot 63 fish species in 45 minutes of snorkelling at Mamutik.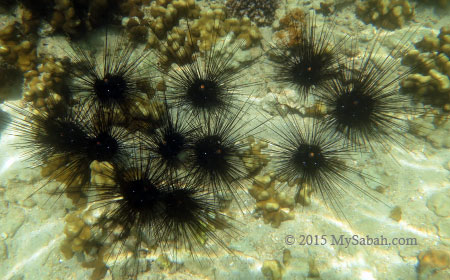 Be careful when you snorkel in the sea near the jetty area, there are many sea urchins among the corals. In case you get stung by sea urchin, just keep calm and look for the lifeguards at the beach.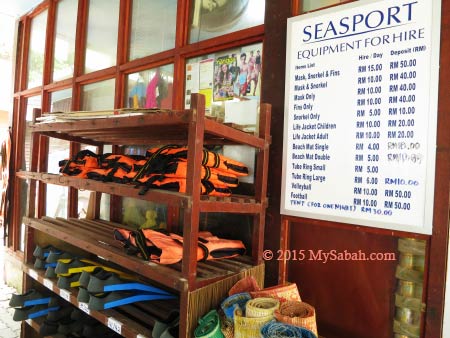 Snorkelling set (snorkel, mask, fin, life jacket) are available for rent on the island, so are beach mat, tube ring, camping tent, volleyball and football. You may check out the price list (as of May 2015).
Facilities
Mamutik definitely has the facilities to fulfil tourists' two most basic needs, i.e. call of nature (toilet) and food. Changing rooms, picnic shelters, tables and benches are free for public use too. The following is a layout map of the facilities on Mamutik: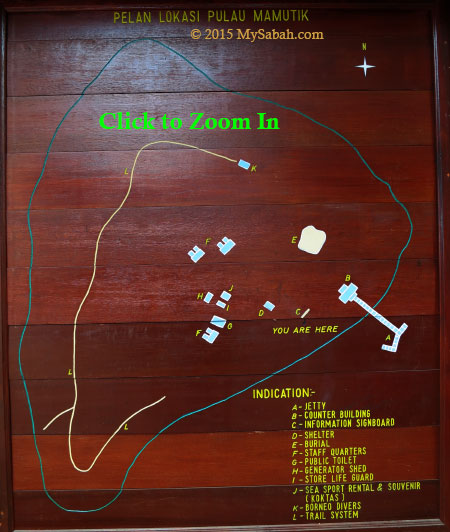 Cafe
There is a canteen named Koktas Cafe that sells basic meals and drink. You can get food such as chicken rice, sandwich and fried noodle there. You would spend over RM10 (≈US$3) per meal as everything is priced higher on island. Better bring your own food. You may look at its menu and price list JFYI (prices as of May 2015).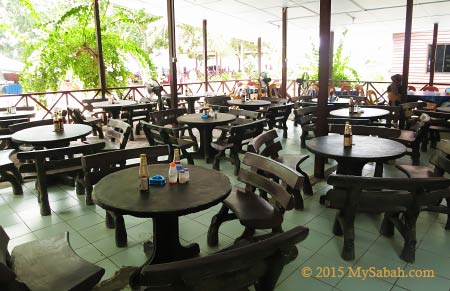 Pic: Koktas Cafe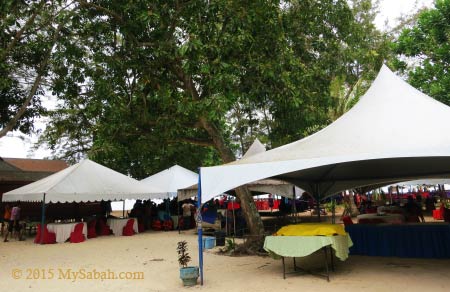 Pic: there are many lunch buffet stalls on the island. May serve good food but won't be cheap.
Shop
Next to Koktas Cafe is a grocery and souvenir shop, where you can buy T-shirt, beach wear, slipper, hat, towel, snacks (cookies, potato chips, chocolate bars, nuts, etc.), instant noodle, insect repellent, bottled drinking water, soft drink, ice cream, etc. Beer and cigarette are available. It's also where you rent snorkelling gear.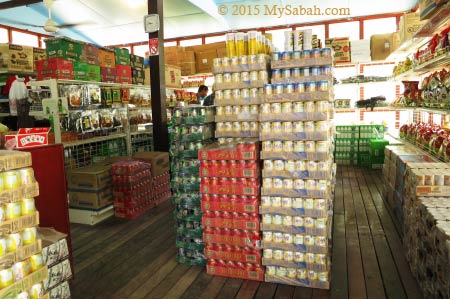 Accommodation
There is no hotel, resthouse and accommodation on Mamutik Island now, but a new hostel would be ready by 2017. Camping is allowed under the permission of the park warden. Camping tent is available for rent at RM30 per night (≈US$9). The park requires the camper to pay a small Camping Fee of RM5 (≈US$1.50) for adult and RM2 (≈US$0.60) for child (below 18). Please noted you need to pay additional RM50 (≈US$15) to boat operator for return trip next day. The bonus of camping here is – campers will have a wonderful night view of KK city light and sunrise view of Mt. Kinabalu (if weather is good).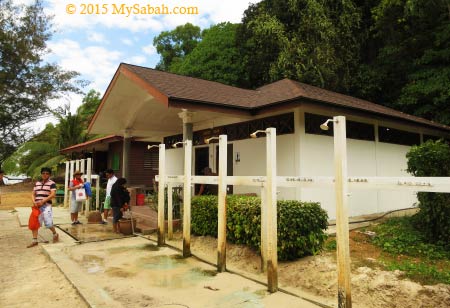 Pic: public toilet with shower heads outside. The toilet on Mamutik is not well-maintained, with some broken door locks and toilet flush, a bit dirty sometimes.
Borneo Divers Dive Academy
Built by Borneo Divers, a PADI 5-star Dive Centre and Instructor Development Centre (IDC), Borneo Divers Dive Academy has started operating on 18 May 2016.
Their main role is to provide beginner and advanced scuba diving courses in this centre completed with swimming pool, dive station (with full range of dive equipment) and classrooms.
If you want to experience scuba diving without a diver license, you can sign up for their Discovery Scuba Diving, which costs about RM300 (≈US$90) per person and includes two dives (guided by dive instructor).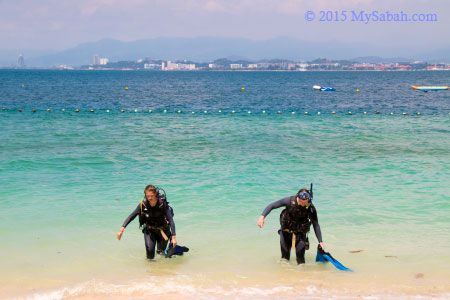 Pic: scuba divers on Mamutik Island
Besides, this Center also has the following facilities (some are open for public):
Water sports center
Souvenir shop
In-door and outdoor restaurants
Changing rooms, lockers and shower facilities
Marine Research Lab
Beach Bar
Hostel which can accommodate 80 people (available by end of 2016)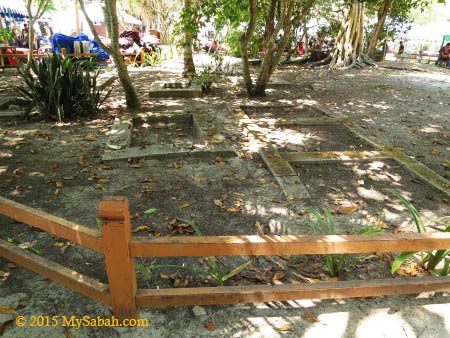 Pic: old cemetery belongs to the past residents of Mamutik, before the island is gazetted as national park in 1979. The burial ground is inside a fenced area. Just to let you know so you won't unknowingly camp on a grave.
Jungle Trekking
At the north of Mamutik is a forested ridge. If you have 20 minutes to spare, you may walk its 385-Meter jungle trail. There are a lot of mosquitoes so insect repellent is a must.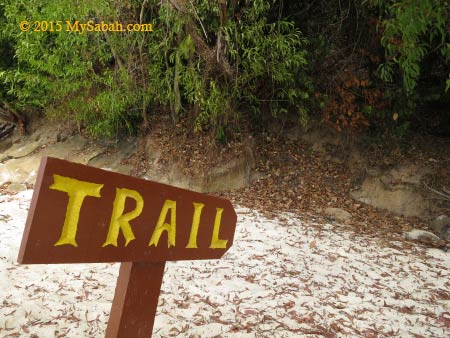 However, this regenerated secondary forest is too small to support rich diversity of flora and fauna, so there is nothing much to see.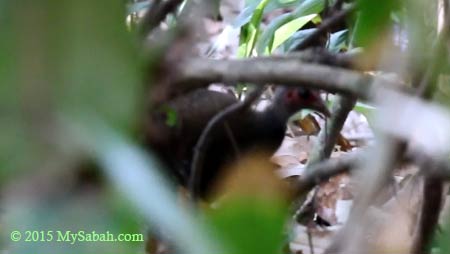 The only highlight is Philippines Megapod, a red face chicken-like bird that lays its eggs in mounds of sand at the edge of beach. I spotted 3 of them in my last visit. They were busy digging the soil about 5 Meters away from me behind the bush.
How to get there
Mamutik Island (see Location Map) is open from 8:00am to 5pm to public every day. You can hire a boat (for about RM30≈US$9) at one of the boat terminals in KK. The boat transfer is available every hour and the ride to Mamutik takes about 10 minutes.
Entrance Fee to Island
Besides paying for return boat transport (about RM30≈US$9, 6% GST tax and terminal fee included), you need to buy ticket (known as Conservation Fee) from the park to enter the island. The table below is the ticket rates. Please note if you are on an island-hopping trip, you only need to buy this ticket once, and you can reuse the same ticket to enter other islands of TARP on the same day.
Visitor
Ticket Fee
Malaysian
– Adult (18 & above)
– Below 18 years old
– Senior Citizen
– Student (below 16)

RM3
RM1
RM1
RM0.50
Non-Malaysian
– Adult
– Child

RM10 (≈US$3)
RM6 (≈US$1.80)
More Photos
For more nice photos, you may browse 100 latest photos of Mamutik Island in my photo album.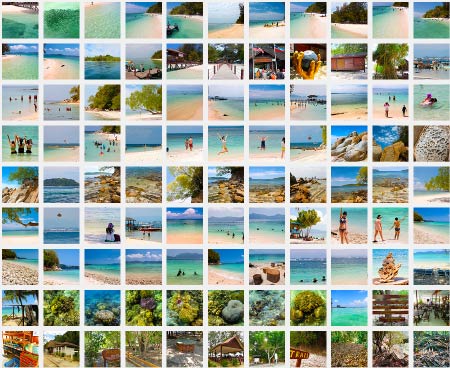 Photos taken in Kota Kinabalu, Sabah, Malaysia
You might also like: