Tag Archives:
Birds
(Update: Mesilau Trail is permanently closed, and day hike to both Timpohon and Mesilau trails is no longer allowed) The space to climb Mt. Kinabalu is always full, so many tourists don't have the chance to climb the highest mountain of Malaysia. Don't be disappointed if you are one of them, because you still can try Loop Trail, which allows you to hike up to 2,745 Meters asl (asl = Above Sea Level), about half the height of Mt. Kinabalu (4,095M). The height of Mt. Kinabalu is not the reason why it's listed as a UNESCO World Heritage site. The real treasure of Kinabalu Park is its high density of endemic flora & fauna, which you can see along the Loop Trail. I would say it's one of the Best Hiking Trails in Malaysia.
The Loop Trail
Loop Trail is a day-trip easy to arrange and you won't be under pressure to conquer the mountain. You only need to hire a Mountain Guide and pay a small fee. More on this later. Please note the Loop Trail (in orange color) in the 2D trail map below: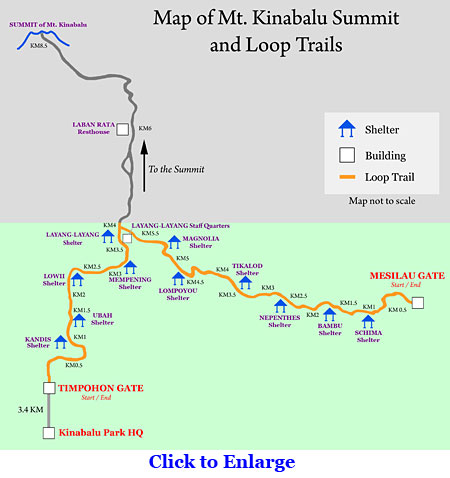 You can pick one of the starting points for Loop Trail, namely, Timpohon Gate and Mesilau Gate, and both trails join at Layang-Layang after 4 KM (2.5 Miles) and 6.2 KM (3.9 Miles) respectively. At Layang-Layang, Loop Trail visitors have two options, (1) turn back to where they begin, or (2) proceed to another Gate. Loop Trail visitors are forbidden to take the Summit Trail after Layang-Layang, and no, you can't camp in the shelter.
Timpohon Vs. Mesilau Trails
Timpohon Trail is shorter and easier, Mesilau Trail is longer but the view along this trail is more beautiful (EVERYONE says that). Timpohon Trail is mostly uphill trail so descending is fast and easy. In contrast, Mesilau Trail is a series of ascending and descending trails, so turning back is almost as challenging as going up. Anyway, it's not mandatory to finish the loop trail. You are free to stop at any time and head home.
Below is a table that shows you 3 types of route you can do in Loop Trail:
| | | |
| --- | --- | --- |
| Route | Distance | Remark |
| Timpohon Gate → Layang-Layang → Timpohon Gate | 8KM (5 Miles) | The Easiest route, take 3 to 5 hours. |
| Mesilau Gate → Layang-Layang → Timpohon Gate | 10.2KM (6.34 Miles) | Recommended route to get the most of Loop Trail. Take 5 to 7 hours. Tip: start the climb from Mesilau in the morning, for clear view of Mt. Kinabalu (would be covered by fog after 9am) |
| Mesilau Gate → Layang-Layang → Mesilau Gate | 12.4KM (7.7 Miles) | Hardest route. May need over 7 hours. You have to be very fit. Some trail runners do this loop as a training. |
*The number of hours taken is highly dependent on your physical fitness.
Though Loop Trail ends at the altitude of 2,745 M (9,006 feet), you already reach a height taller than the second and third highest mountains of Malaysia, i.e. Mt. Trus Madi (2,642M) and Mt. Tambuyukon (2,579M)! Overall, along the trail there are shelters with toilet, water tank to refill water (it's untreated water from mountain stream, use water purification tablet if you have sensitive stomach) and support such as stairway, hand rail and wooden plank. The trail is well-marked and there is no leech (a blood sucking critter), bear and Bigfoot.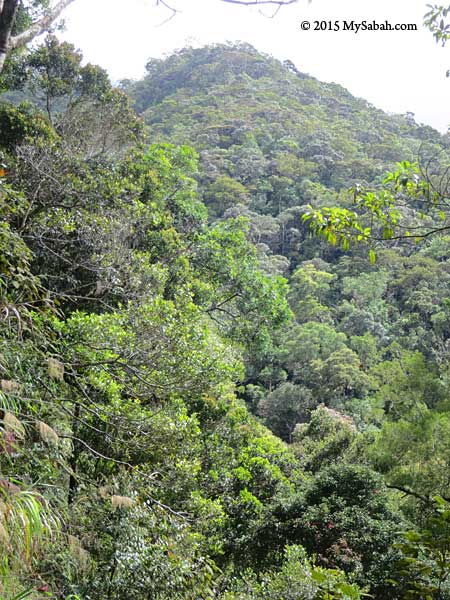 Things to Do
Besides hiking, the following are some fun activities to keep yourselves entertained during the walk:
Birdwatching: 17 endemic montane birds of Borneo live in Kinabalu Park, e.g. Chestnut-hooded Laughing Thrush, Friendly Bush Warbler
Flora & Fauna Watching: you will find exotic orchids and pitcher plant next to the trail. Some plant may look ordinary but they can't be found in other parts of the world. Don't pluck or collect anything. It's an offense in national park.
Photography: The majestic landscape, lush forest, pretty flowers, etc. are good subjects for photo taking.
Or just sit and watch, enjoy the nature. A few squirrels will come near to you.
Temperature drops every 1°C for every ascending of 100M, so it's cooler the more you move up. The temperature ranges from 16 to 25°C (61-77°F), but it can be quite warm in daytime, especially in a vigorous walk. Be warned though, the trail would turn into creek during heavy rain and the experience could be quite awful.
Registration and Fees
The climbing fee for Loop Trail is RM5 for Malaysian and RM10 (≈US$3) for foreigner. You MUST hire a Mountain Guide (from Sabah Parks) to go with you. The service of a Mountain Guide costs RM203 (≈US$57, rate of year 2015) per day and he can bring up to 6 climbers, which means you can share the guide fee with other hikers. For example, there is a group of 6 foreigners, each of them needs to pay RM10 climbing fee and share the cost (about RM34) of hiring one Mountain Guide, so each person only spends RM44 (≈US$12.22). If you go solo, you still have to pay the full amount.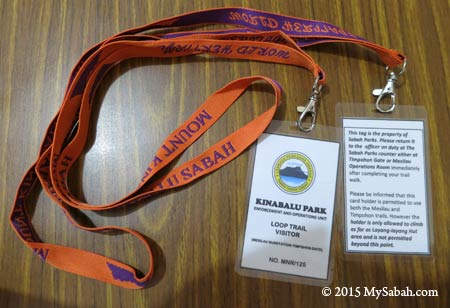 Pic: This is the tag (permit) for Loop Trail visitor. The tag for Summit Climber has photo of Mt. Kinabalu imprinted.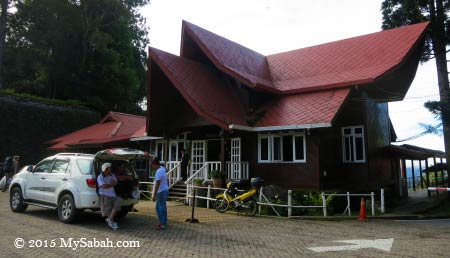 Pic: Kinabalu Park HQ. The registration and payment counter is behind this building, and you can hire transport to Timpohon Gate in the small office at the left.
If you start your Loop Trail from Timpohon Gate, you can register and hire your Mountain Guide at Kinabalu Park HQ. Passport or MyKad is required for the registration. Please note Timpohon Gate is 3.4 KM (2.1 Mile) away from Kinabalu Park HQ (by asphalt road) so you may want to hire a (one-way or return) transport to send you there. The phone number of Kinabalu Park HQ is +60 88-889888 in case you have more questions.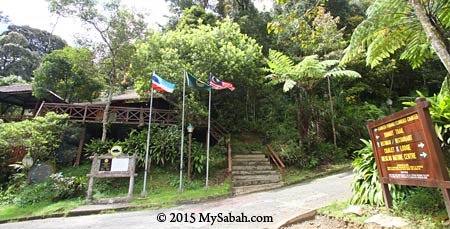 Pic: Mesilau Gate and Sabah Parks are in Mesilau Nature Resort
If you plan to depart from Mesilau Gate, you better inform the Sabah Parks office there by phone (+60 88-871550) so your Mountain Guide will wait for you at Mesilau (as most of them stations in park HQ).
For those who can afford to pay more for a better experience, you may hire tour guide (from travel agent, someone who has good knowledge on flora & fauna). Please note all payment is by Cash Only.
Below are some photo walk-through so you know what to expect.
Timpohon Gate → Layang-Layang (4KM one way)
Timpohon Gate is the trailhead for Timpohon Trail, which is busier and shorter than Mesilau Trail. You will see many climbers start their summit trail here. Porters also use this path to carry supplies (e.g. tourist's luggage, rice bag, gas tank, water tank) to the accommodation on mountain.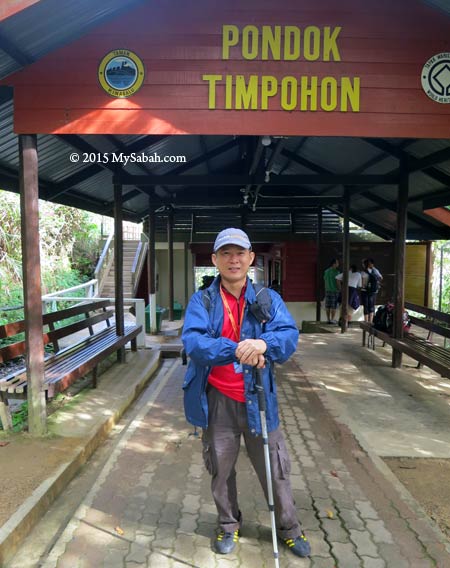 Pic: Timpohon Gate. You can buy snacks, drink and basic supplies (e.g. raincoat) in the building.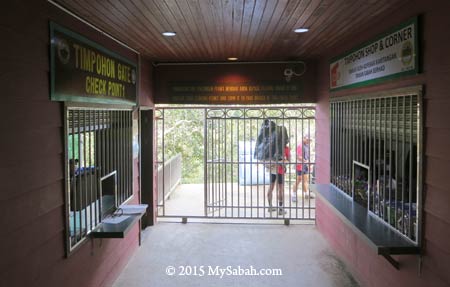 Pic: You need to show your tag (permit) to the Checkpoint at the left, before you hit the trail.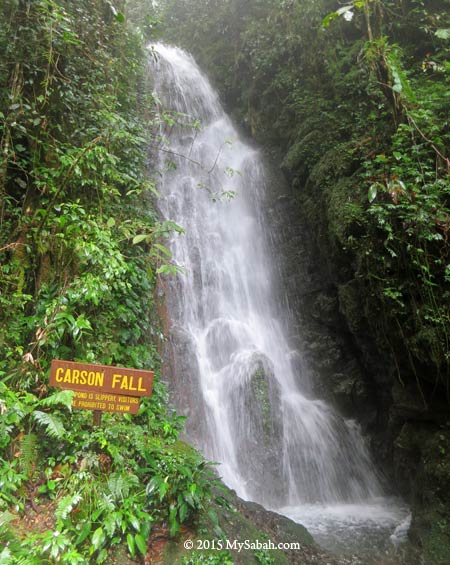 After 300M, you will see Carson Waterfall at your left. If you see large volume of water, it might be raining in higher ground.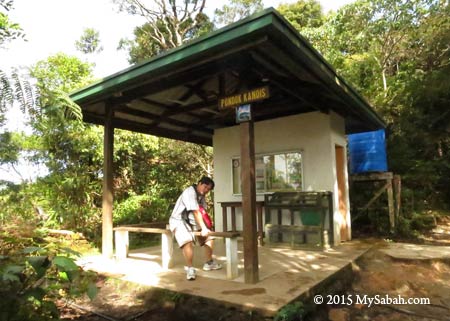 Pic: the first shelter you will reach is Pondok Kandis (Pondok = Shelter), which is named after an edible but sour mangosteen (in Dusun language). At 1,981.7M asl, you are in the transition zone between lowland rainforest and montane cloud forest, where you start to see mosses, ferns, orchids, etc. Most of the time you will walk on the ground mainly consists of metamorphic rocks from here to Mempening Shelter.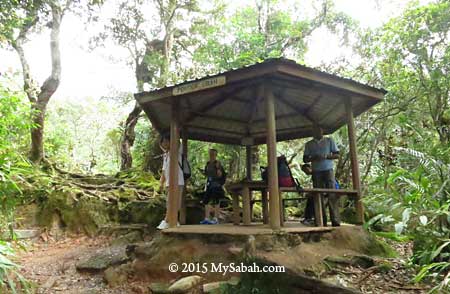 Pic: Ubah Shelter, the 2nd shelter at 2,081.4M asl, it's named after wild guava tree. The signage says red leaf monkey could be spotted around there, but I never see one.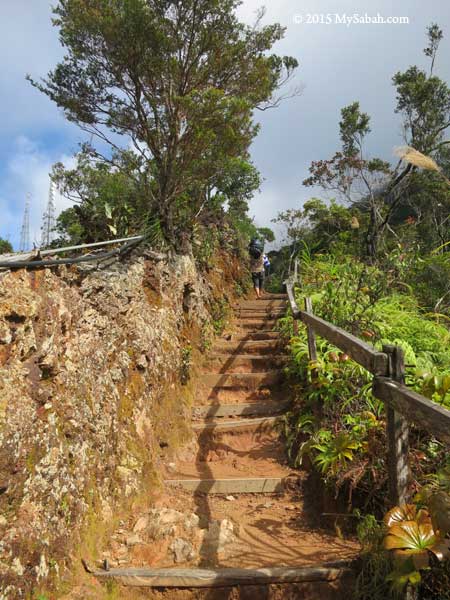 You can enjoy the scenery better than other climbers as you are not in a hurry to conquer the mountain. Just relax and enjoy the beautiful surrounding.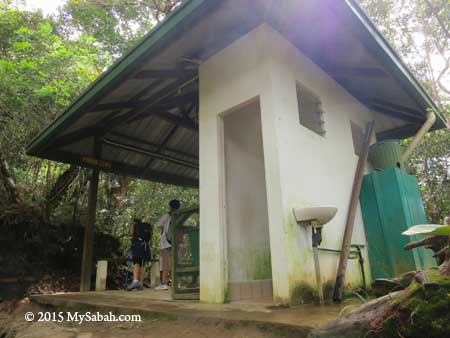 Pic: 3rd Shelter, Lowii Shelter at 2,267.4M asl, which is named after Nepenthes lowii pitcher plant. You would see some pitcher plant such as Nepenthes tentaculata if you explore the bush next to this shelter.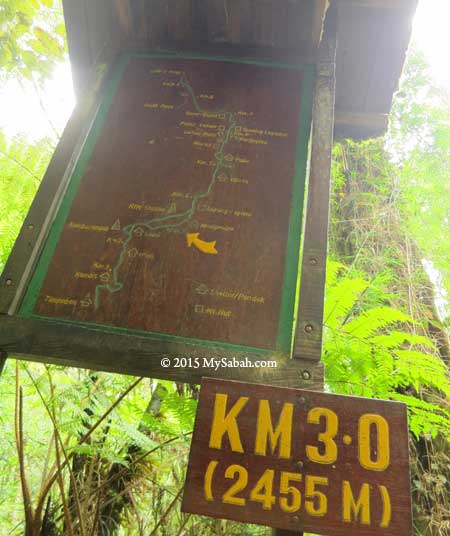 Pic: distance marker (in Kilometer) and trail map to show your current location.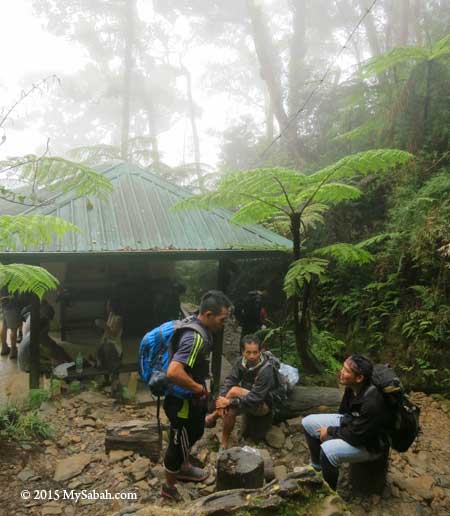 Pic: Mempening Shelter (2,515M asl), named after a species of Oak (family Fagaceae). In this shelter, you will hear many climbers start mumbling about the exhausting hike. You can tell them they are not even half way yet LOL.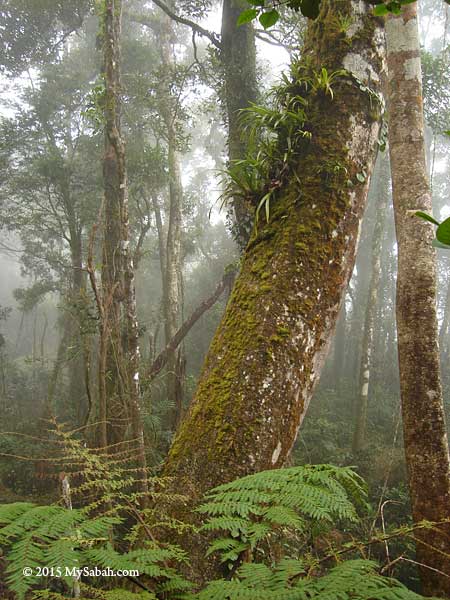 At this point, you have entered the Montane Forest (Cloud Forest) above 2,500M, the surrounding will look misty and mossy, and so distinctly different from vegetation in lowland.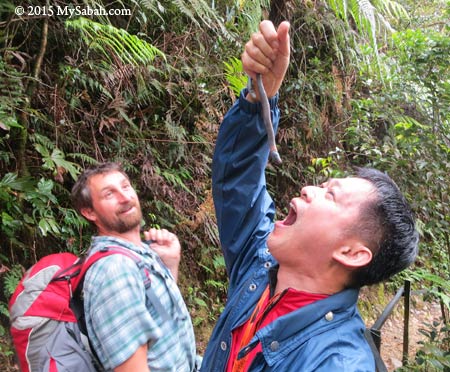 Pic: To survive the long trek, you have to to eat whatever you find along the trail, like the giant earthworm that comes out after heavy rain. Just kidding. If you are very lucky, you will spot Kinabalu Giant Leech, the predator of giant earthworm.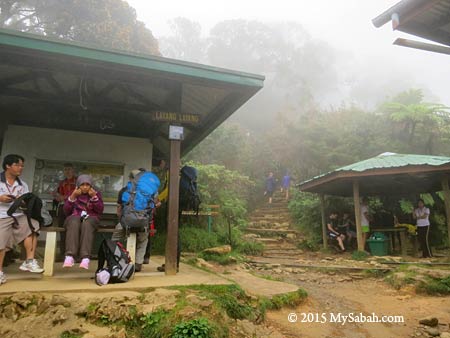 Pic: The last shelter of Timpohon Trail, Layang-Layang Shelter at 2,702M asl, it's named after a Bornean swiftlet (Collocalia dodgei). This is also where ultrabasic forest begins, which is made up of orange soil that is high in acidity, with high concentration of magnesium and zinc while low in phosphorus. You will see a lot of endemic plant from now on. Unfortunately, you will reach Layang-Layang junction within 10 minutes, where you need to turn back to Timpohon Gate or proceed to Mesilau Gate.
Mesilau Gate → Layang-Layang (6.2KM one way)
Mesilau Gate is 1,933M asl and located in Mesilau Nature Resort. This trail is longer and more challenging than Timpohon Trail, but you will be paid off by nicer view. Only a small number of climbers taking this trail to the summit, so it's more pristine. The trail is also narrower and not that well labeled. A few sections are steep and slippery (after rain). You will be fine if you are careful.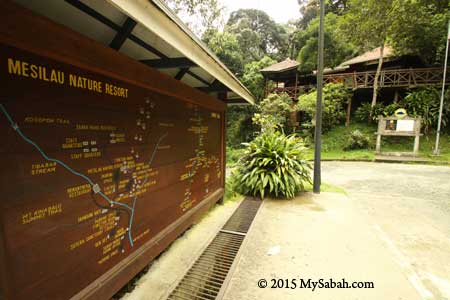 Pic: Sabah Parks office and Mesilau Gate in Mesilau Nature Resort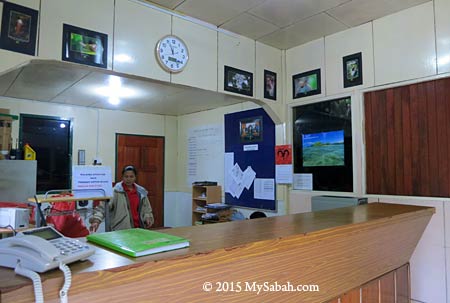 Pic: the registration and payment office is just next to Mesilau Gate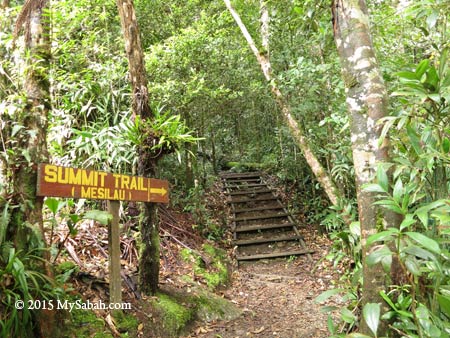 Pic: start of Mesilau Trail. Enjoy the 6.2 KM hike!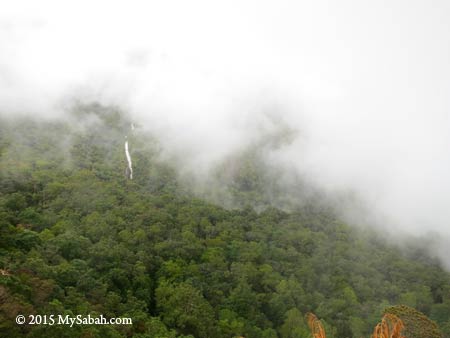 Pic: mountain and forest in fog
I only tried Mesilau Trail once and it was raining. It was so misty that I wasn't able to take some good photos to show you. Please believe me that the scenery along Mesilau Trail is better than Timpohon Trail.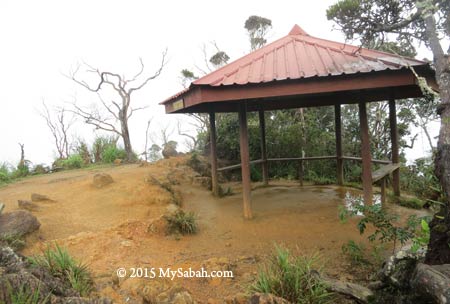 Pic: Schima Shelter, the 1st Shelter.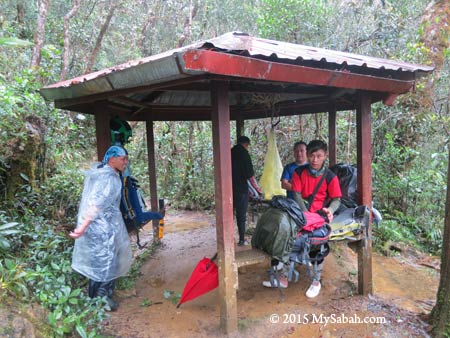 Pic: Bambu Shelter, the 2nd shelter.
In average, there is one shelter for every one KM. All the shelters on Mesilau Trail are smaller and less developed than those on Timophon Trail.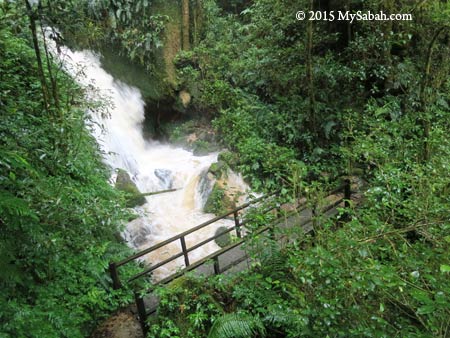 Pic: bridge over West Mesilau River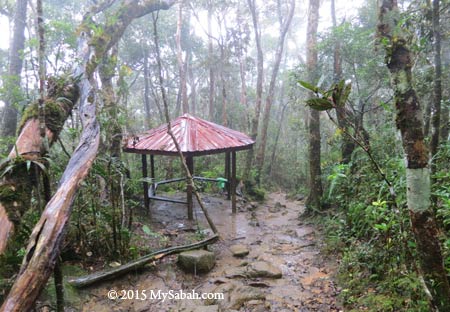 Pic: Tikalod Shelter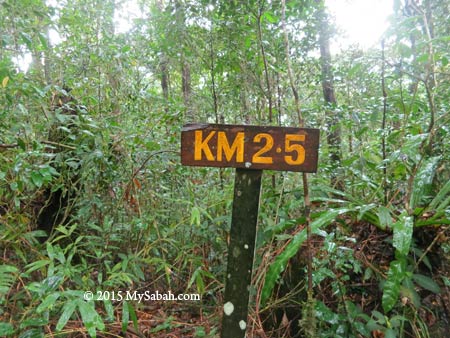 Pic: Don't ask your guide how many KM left. You will always get the same answer, "We are near". Read the distance marker.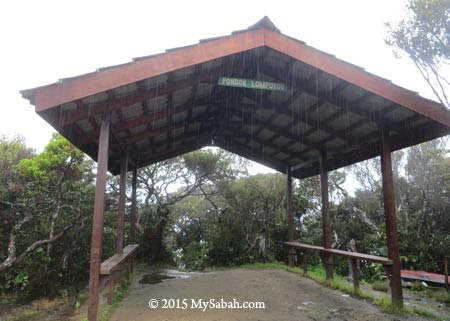 Pic: Lompoyou Shelter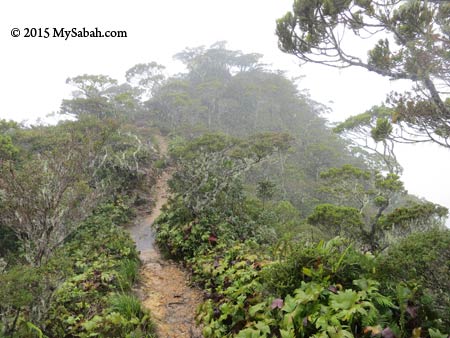 Pic: There are some viewpoints in open area. Too bad the view was obstructed by dense fog during my visit.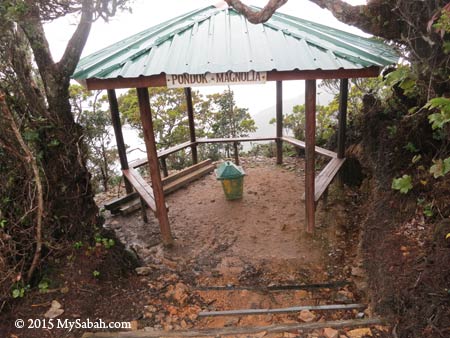 Pic: Magnolia Shelter
After 6KM, you will reach the Layang-Layang junction, where you should descend to Timpohon Gate or turn back to Mesilau Gate.
Layang-Layang
Layang-Layang is the meeting point of Timpohon and Mesilau Trails. The summit trail beyond this junction is off limit for Loop Trail visitors.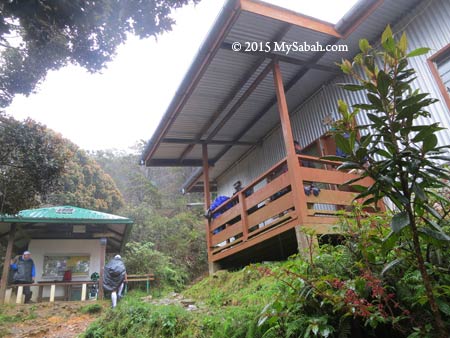 Pic: Layang-Layang Shelter (left) and Staff Quarters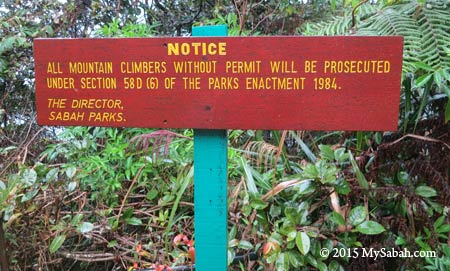 Pic: warning to visitors without permit.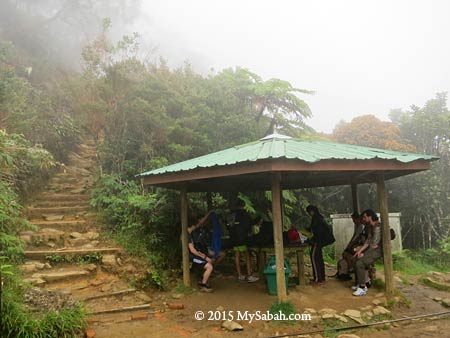 Pic: Layang-Layang Shelter. The Layang-Layang junction is less than 10-minute walk further up.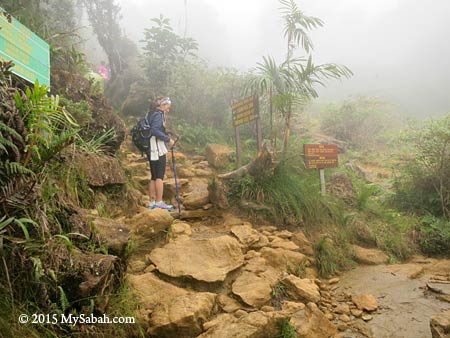 Pic: Layang-Layang junction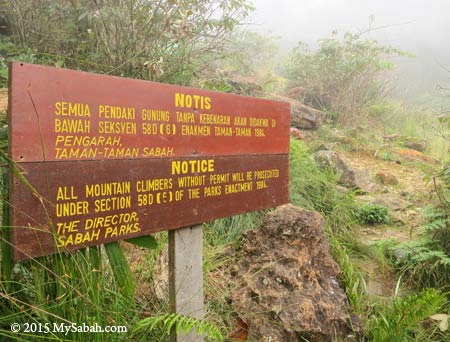 Pic: final warning to climbers at Layang-Layang junction. You are not allowed to move further up if you don't have the permit to climb Mt. Kinabalu.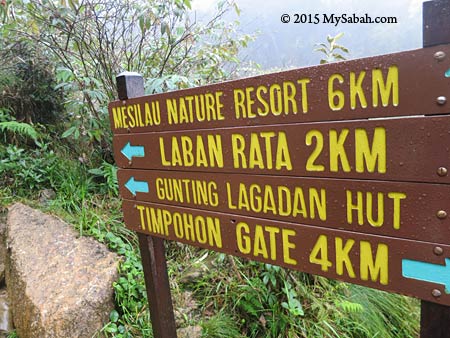 Pic: signage at Layang-Layang junction (Laban Rata and Gunting Lagadan Hut are the accommodation on the mountain)
Things to Bring
The following is a list of items you should bring. Try to pack light. When you climb a mountain, you can feel every Kilo of the weight. Also, wearing comfortable hiking shoes will help a lot (best if it's water-proof).
Backpack (preferably with rain cover)
Water bottle (with water of course)
Pack lunch and snacks (no restaurant available on the trail)
Fleece or Windbreaker (It can be cold when it's windy)
Raincoat (a Must-Have)
Sunblock lotion (UV on mountain is higher)
Walking pole
Camera (with spare batteries & memory cards)
Extra socks
Pain killer (for altitude sickness or knee problem)
Torchlight or LED Headlamp (just in case the sky turns dark before your trip ends)
Cash
Photos taken on Mount Kinabalu, Sabah, Malaysia Borneo
You might also like:
Some people prefer to camp in park equipped with Wifi, air-conditioning and cozy bed. To truly appreciate the nature, some campers want to get away from civilization totally and live among trees and wildlife, like Lupa Masa Jungle Camp. Lupa Masa means Forget Time in Malay language, you would lose sense of time there when you forget about your Facebook, your computer and your boss.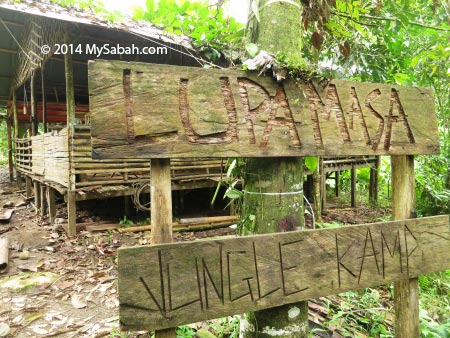 Lupa Masa is located between Borneo rainforest and lower montane forest at the foothill of Mt. Kinabalu, the UNESCO Natural Heritage Site of Sabah. To visit the camp, I met the camp manager, Michael from Scotland, at Poring Hot Springs. He marries a sumandak (girl) from Tamparuli and able to speak Malay fluently. He already blends into the community and now behaves more like a Sabahan wearing a "orang putih" skin (Caucasian). However, he hasn't fallen in love with Durian yet.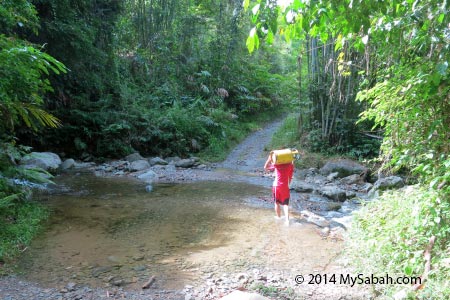 Pic: Michael crossing a stream with a gas tank
Michael got some groceries from Poring and led the way. We walked on a gravel road in village and plantation for about 10 minutes, then we entered a soil trail that took us deep into the forest. The forest is an aged regenerated secondary forest that gives us much needed shade in muggy day. The trail is mostly mildly inclined, with a short section of steep slope.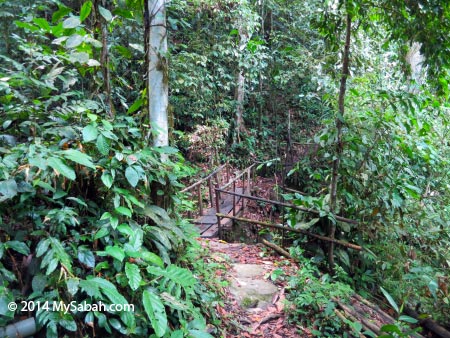 Pic: nature trail to Lupa Masa
The walk was supposed to take about 30 minutes. I was carrying two bags weighed over 15Kg and one of them broke, so it took me an hour to reach the camp. Since this camp is near the boundary of Kinabalu Park and situated between rainforest and cloud forest, you would see wildlife from both habitats. This attracts naturalists who are expert in snakes, mammals, birds, etc. to stay in Lupa Masa. A snake expert even found 12 snake species in a day. But please note that wildlife sighting is depend on luck.
Camping in Lupa Masa
My "room" is only a basic hut with raised floor and a canvas roof over my head. Albeit being pounded by heavy rain a few times during my stay, the roof didn't leak. It is near the edge of campsite and far away other shelters, so I feel so alone at night.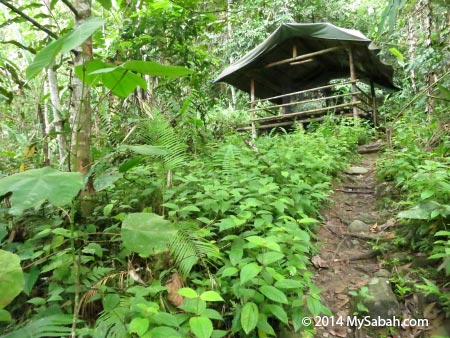 Pic: my private "chalet" surrounded by greenery
As there is no wall between me and the wood, I was fully exposed to the wildlife territory. In the morning, I was always waked up by a flock of noisy Buff-rumped Woodpeckers, and countless chirping birds came to check me out. Then cicada took the afternoon shift to continue the rainforest choir, at night it was the sound of frogs and crickets that sent me to dream land. I was like an outsider. Perhaps I should have tried to join their orchestra by making some rhythmic calls too.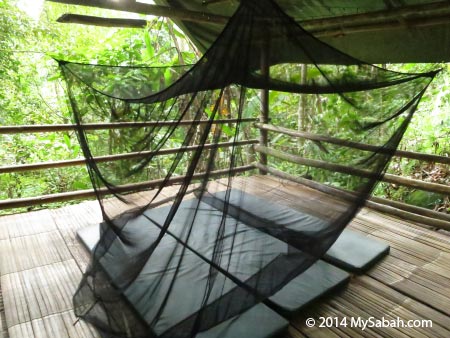 Pic: my bed on bamboo floor
My bed is a few camper beds enveloped in mosquito net. Mosquito is the most active during dusk and I would find 4 or 5 of them bumping the net from outside. In other time, there were very few mosquito in the campsite. The temperature here during daytime is about 25°C (77°F) but can drop to 15 (59°F) or below at night. The camp provides blanket or you can bring your own sleeping bag. There are a few wires for me to hang my cloth between the poles in the hut. My clothing never turned dry in cold and humid days though.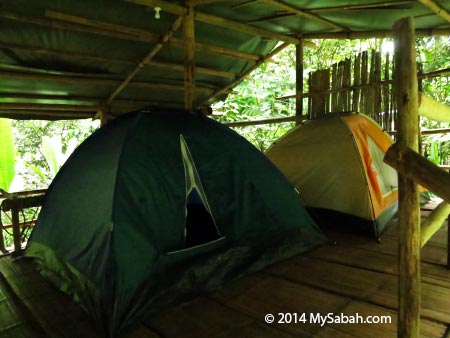 Pic: camping tent in longhouse
If you want more privacy, you can choose to stay in shelter that has camping tent. In Lupa Masa, there are 6 shelters that can host up to 25 campers. The accommodation costs about RM70-90 (≈US$22-28) per night. Food is included, mainly vegetarian meals because they don't have fridge to keep the meat. Some of the food that I had there were rice with curry vegetables, French toast, oat meal with fruits, fried rice, etc.
Night Walk
Night Walk is the highlight of Lupa Masa. You can see far more animals in the dark as most wildlife are nocturnal. You can choose easy walk that takes 2 to 3 hours, or long challenging trek that requires you to cross river and climb steep hill with more rewarding sighting. The guide fee is RM30 (≈US$9.40) per hour, RM75 (≈US$24) if 3 hours. You can share the cost with others if you go in group.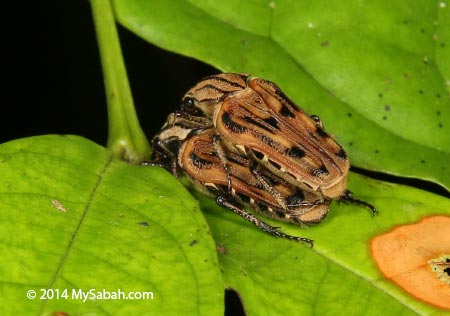 Michael seemed to be more excited than me in night walk. After dinner, we started our night safari on foot at 8pm. Spotting animals in the dark is no easy task because of their camouflage. You need a good torchlight and great eyesight. Anyway, you won't need both when Michael is around, as he is an excellent spotter. Even if he showed me the things he found, it still took me quite a while to see it. His secret is to look for light reflection in animal's eyes.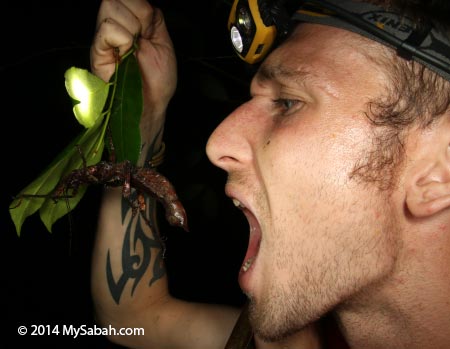 Pic: big juicy stick insect, endemic to Borneo
In case it rains, you better bring a raincoat. Leech is expected, so wear your anti-leech socks. I didn't get any leech bite though there were many leeches around. We shined our torchlight to every corners to find those critters hiding in burrows, tree holes, bark, river rocks, shrubs and fallen log.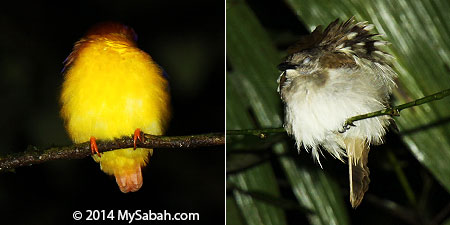 Pic: sleeping birds. Note the kingfisher has only 3 claws.
We saw a number of sleeping birds on the trees. It's interesting that they turn into "fur ball" while asleep.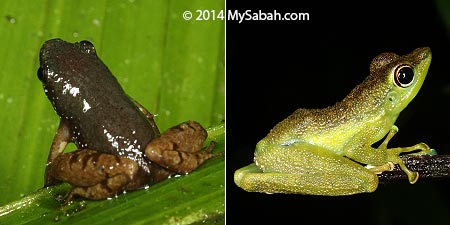 Frog are everywhere. I saw and heard many of them after rain, e.g. Lesser River Frog, Black-spotted Rock Frog, Giant River Frog, Montane Litter Frog. Some leaped away before I got close enough to take a photo. "You have to approach them like a Ninja," Michael said.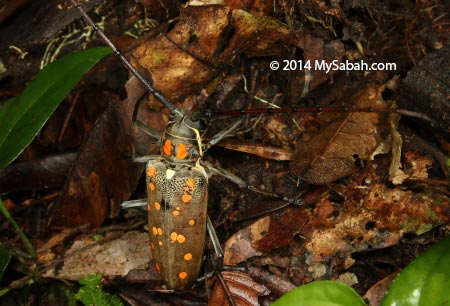 Pic: a big long-horned beetle
Other animals that we spotted included Small-toothed palm civet, long-legged millipede, Agamid lizards, white lantern bug, spider, scorpion, tree-hole crab, dead-leaf grasshopper, trilobite, geckos, katydid and a green pit viper.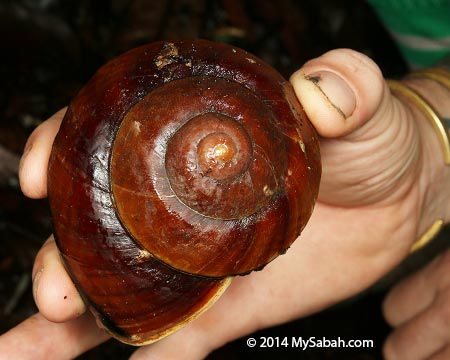 Pic: a giant forest snail
Suddenly Michael paused and smiled, "How much you would pay me for spotting a horned frog?"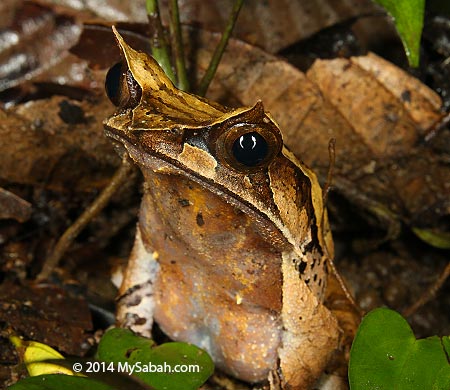 Oh yeah, we found a Bornean Horned Frog, no, two!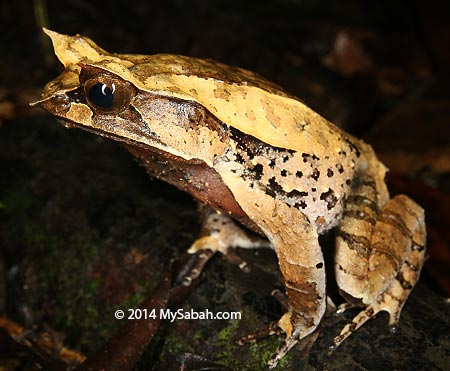 Bornean Horned Frog looks like a little devil. Actually it's a gentle frog. Its "horn" is an extension of its eyelid, to make its body shape looks like a leaf.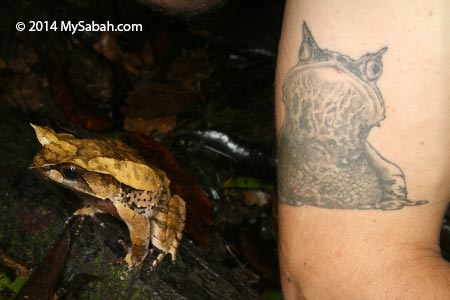 From his tattoo, obviously Michael is also a fan of horned frog lol.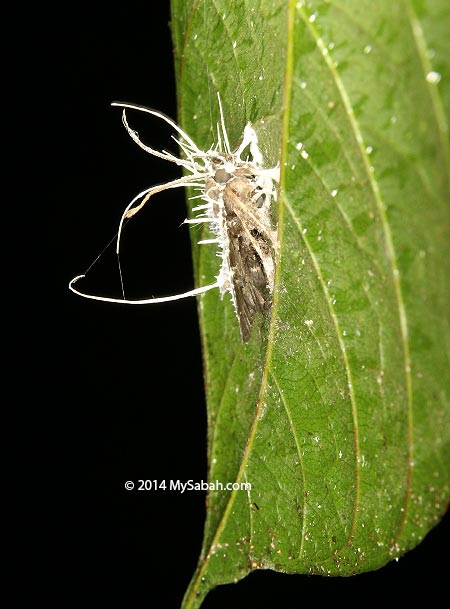 Pic: a moth which was infested by parasite fungus which turned it into a "zombie." This fungi can mind control its host to climb to the higher spot, to spread its spores.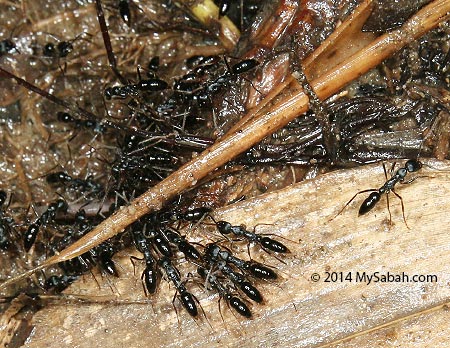 Pic: Beware of aggressive fire ants on forest floor. Their stings can penetrate sock and very painful hence the name.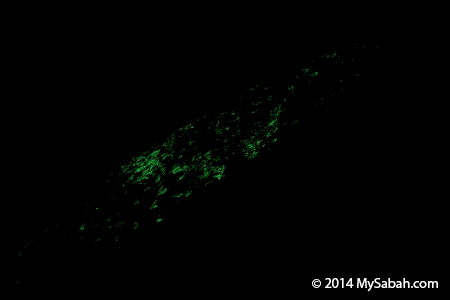 Pic: animation to show luminous fungus with the light on and off
Then Michael showed me something really special but we needed to turn off our torchlight. It's luminous fungus that glows like green neon light on a decaying log. The glow is quite bright in the dark. We saw a few glowing mushroom too.
Some "trophy species" of wildlife photographers such as Western Tarsier, Slow Loris, Bornean Leaf Nose (snake), Wallace's Flying Frog and Caecilian (a limbless amphibian) are known to be present at Lupa Masa, but you will need some luck to see them.
Day Walk
During daytime, you can take a stroll in the campsite or surrounding forest. Walk slowly and quietly in the morning, you would find a lot of birds around the camp. This place is great for birding because flock after flock of sunbirds, flowerpeckers, bulbuls and other forest birds frequent this camp during dawn and dusk. I saw Orange-bellied flowerpecker, Crimson-breasted flowerpecker, Broadbill, Ashy Tailorbird and Kingfisher during my stay.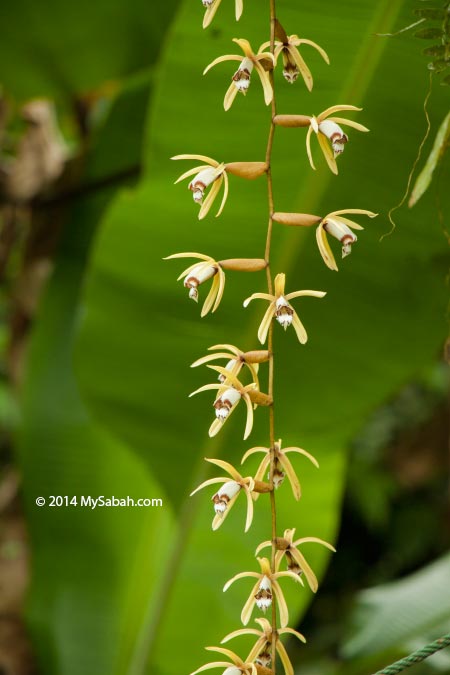 Lupa Masa campsite is a garden by itself, planted with vegetables, fruit trees and flowers. The blooming orchid here attracts butterflies such as Rajah Brooke butterfly, tree nymph and birdwing butterflies in different colors.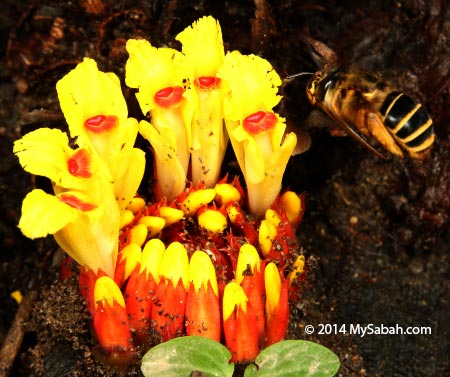 Pic: Ginger flower that looks like a birthday cake (Species: Etlingera fimbriobracteata),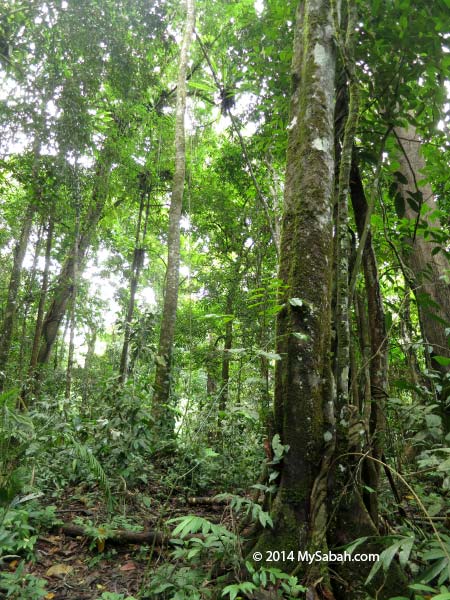 The boundary of Kinabalu Park, the most bio-diversified forest of Borneo, is just a few minutes walk away from the camp. The jungle is well lit by daylight, so you can enjoy the view of standing tall trees. The zappy Pygmy squirrel, the smallest squirrel in the world, is commonly seen busy moving up and down tree trunks. Look high above you would find bird's nest fern and wild orchid on the trees.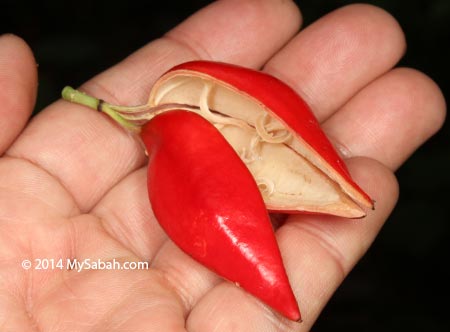 Pic: a fig fruit that looks like red chili
Lupa Masa is one of the few places where you can find three types of corpses flowers, namely Rafflesia, Rhizanthes and Titan Arum (Samurai Flower). Their flowers take many months to bloom, so you should be very happy if you see such rare sighting.
River & Waterfalls
During hot day, one of the favorite activities of their guests is to soak in the icy river or pond of Lupa Masa Waterfall nearby. You can enjoy the cleanest (and Chlorine-free) flowing water from Mt. Kinabalu.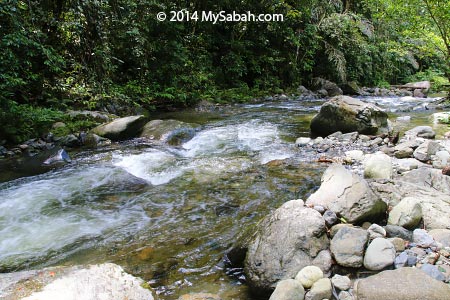 Pic: clean and unpolluted river from Kinabalu Park is only 10 Meters from the camp.
The water is shallow so it is safe for a swim, or you can just sit in the river for a free massage from river current (do bring beer with you).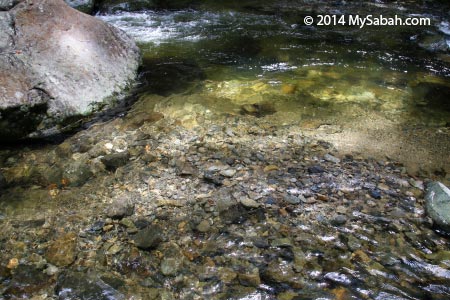 Pic: you can tell how clean is the water from the photo. It's so crystal clear that I can't see the water. Sometimes otters and kingfishers forage for fishes here too.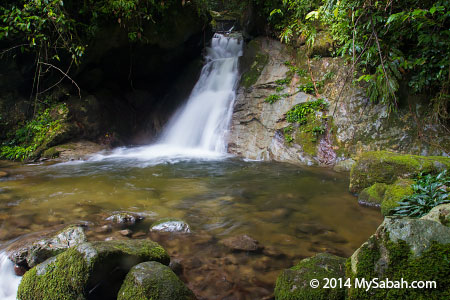 Pic: Lupa Masa Waterfall near the camp (7 minutes walk)
For those who are adventurous, they can hike one hour uphill to explore the "hidden" waterfall, which is five times bigger than Lupa Masa Waterfall.
Amenities
The camp was started by Tom in 2010, with the concept of providing authentic jungle experience, so the amenity is basic. The campsite has solar panel and power generator but electricity supply is not available most of the time, so you better bring a torchlight (with spare batteries). There is no outlet to charge your phone and battery. No Wifi in camp, but my phone can receive 2G connection, slow but able to use Whatsapp and SMS.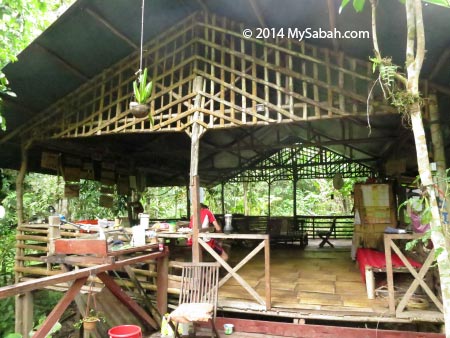 Pic: activity hall where guests can sit around and relax
You can sit at the deck facing the river and dense forest, looking at starry sky and firefly. Tom said, "I'm so glad that this forest wasn't turned into a paddy plantation." Looking at the beautiful trees and river, I can't agree more.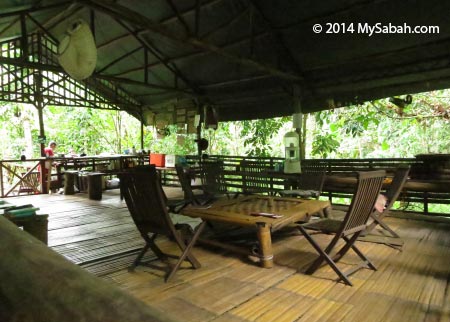 Pic: table where guests can have meal, chit chat and playing cards.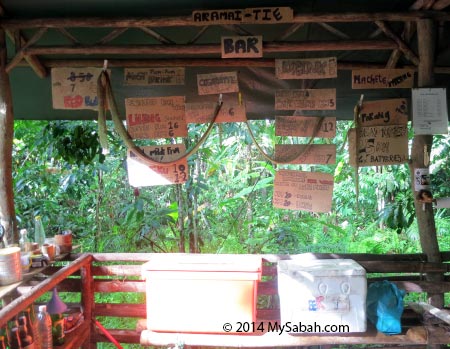 Pic: "mini-bar" for you to buy some soft drink, beer and wine. The hanging object is a shed snakeskin.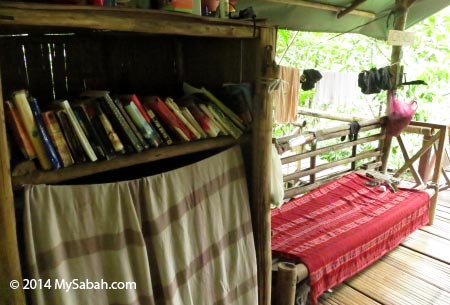 Pic: reading corner. Guide books on animals such as birds and snakes are available.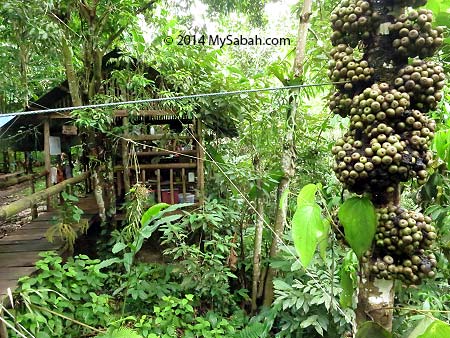 Pic: kitchen. The lucky guest would see Slow Loris around here at night. I saw an ant mimic spider the other day.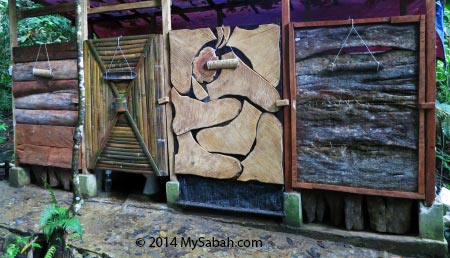 Pic: the toilet with creative door design.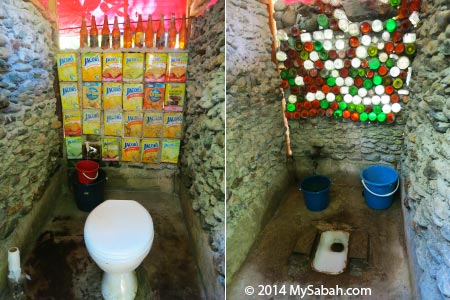 Pic: you can choose to sit or squat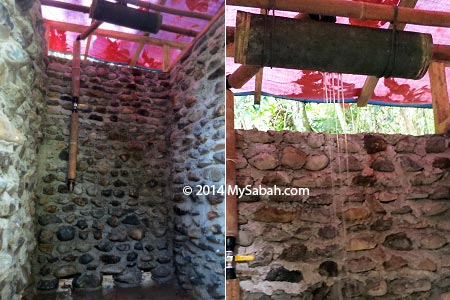 Pic: bathroom with bamboo shower head. The water is from the river, very cold and refreshing (I advise you to bath before the cold evening approaches).
Contact
To stay in Lupa Masa, you need to contact the camp to book a place prior to your visit.
Tel: +60 11-32024500
E-mail: LupaMasaBorneo@gmail.com
Website: LupaMasaBorneo.com
Facebook: LupaMasaRainforestCamp
(Now this camp is managed by Top Peak Travel)
The camp also welcomes volunteers. You can get free stay and meal if you contribute some labor work. There is no fixed requirement but you need to have special skill such as cooking, carpenter and house-keeping. You may contact them for more details.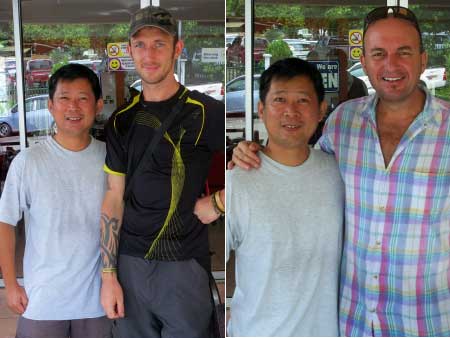 Pic: photos with Michael (left) and Tom (right). I look like a dwarf next to them lol. Thank you for your hospitality!
Tom has stayed in Borneo for 15 years. He is actively helping the local communities across Sabah and Sarawak to develop their local attractions. One of his latest project is Lupa Masa Longhouse in Kudat. You may visit the website of his company (Adventure Alternative) for more info.
Getting there
You can take a bus to Ranau town from Inanam Long Distance Bus Terminal (see Location Map) or Kota Kinabalu Merdeka Field (see Location Map). The fare costs about RM15 one way (≈US$4.65) and the bus reaches Ranau in 2 hours. In Ranau, get a cab or bus at taxi station (see Location Map) / bus terminal (see Location Map) to Poring Hot Springs (where the staff meets you), the fees are RM40 (≈US$12.50) and RM10 (≈US$3.10) one way respectively and the ride takes about 25 minutes. It takes 30 minutes to walk to the camp from Poring.
More Photos
You may check out my photo album to see more pictures of Lupa Masa: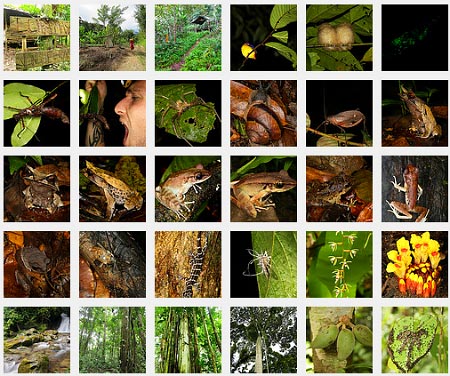 Photos taken in Poring, Sabah, Malaysia Borneo
You might also like: