Tag Archives:
Beaufort
In the past, Weston is the first town to have a railway station in Borneo, but it is under-developed and remain a seaside village today. Now tourists find a reason to visit Weston, as it is one of the three places offers wetland eco-tourism in Klias Peninsular to see long-nosed monkey, besides Klias and Garama.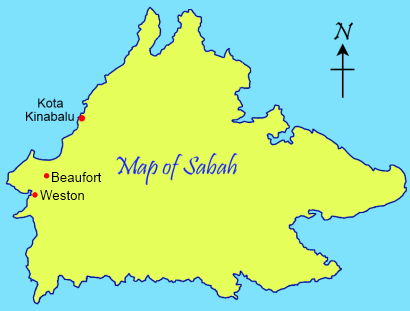 Weston town is about 3 hours drive (125 KM) from Kota Kinabalu city and accessible by paved road. You will pass by Papar, Bongawan and Beaufort towns on the way.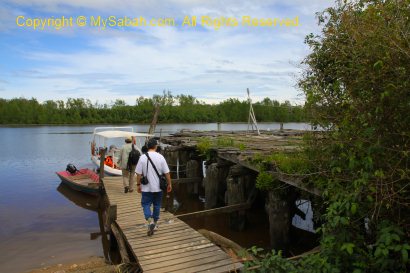 Last month I joined a river cruise tour in Weston. I arrived Weston around 10am and our guide, Richard, and his boat, were already waiting at the jetty. It had been raining every day that time, so I was so glad that we had sunny day. For a start, we had a river cruise tour on the Weston River. The wetland here is mostly intact and well-preserved. Unlike the brackish and lifeless water in peat swamp of Klias and Garama, Weston wetland is a wide river with flowing murky (like color of milk tea) water.


>> Click Here to see more photos of Weston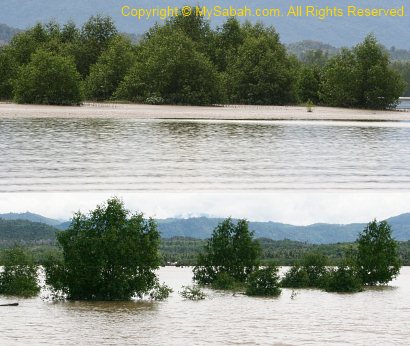 Compared to Klias and Garama, Weston wetland is located at downstream and closer to the sea. In fact, its estuary is where Padas, the largest river of Sabah, ends as the meeting place of sea and river. As tide level changes daily, so is the depth of the water. We can see some lands exposed during low tide, with mangrove trees growing on it. During high tide, about lower half of these trees will be submerged into the water. A funny view but these vegetation have the ability to live in such intertidal environment.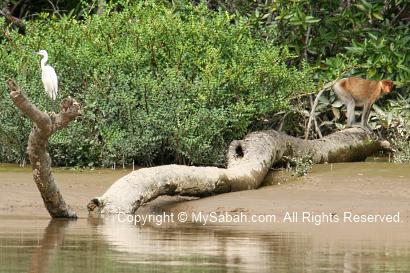 Within 10 minutes, our boat spotted the first proboscis monkey. It's a female monkey foraging at the river bank. Crocodiles also live in Weston River, but most are concentrated in further upstream, so this monkey is safe.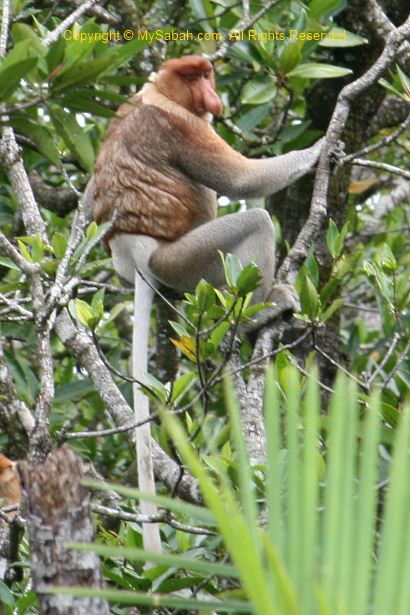 Then we saw about 4 herds of proboscis monkey (about 4 to 8 monkey per group) on the trees next to the river. Each group is dominated by a male proboscis monkey with big nose and belly. Proboscis monkey is one of the biggest monkey species but they are very elusive. They fled into the forest before our boat could get closer, so a binocular would help a lot.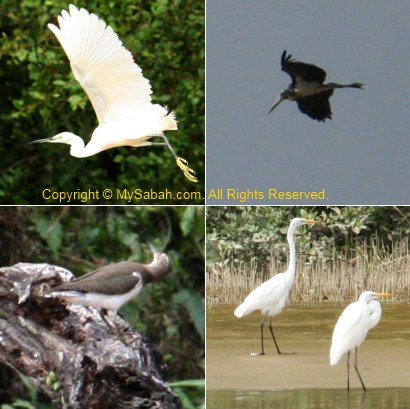 Besides monkey, you can spot some water birds such as kingfisher, egrets and Lesser Adjutant.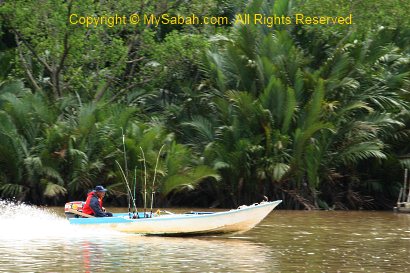 Weston is rich in seafood too. We saw some fishing boats in the river, and a few of them were checking the fish traps.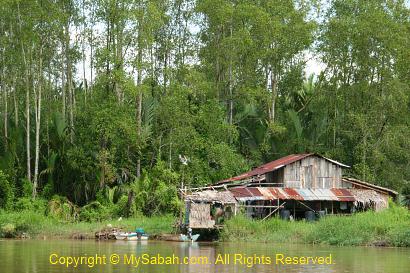 Surprisingly, as an old town, the river of Weston is not really dense-populated. We found wooden houses of fishermen scattered along the river. Richard says the contour of the river always changes, so I assume any area near the river is not suitable for permanent settlement. Due to land clearing upstream, more silt is carried into Padas river, and this would affect the course and flow of the river.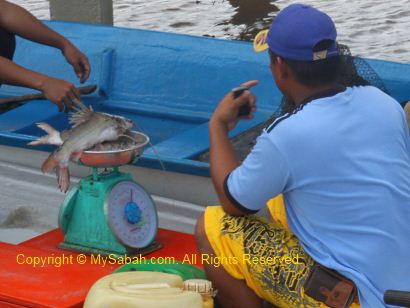 >> Click Here to see more photos of Weston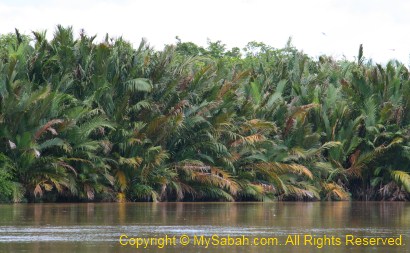 Klias and Garama wetlands have beautiful peat swamp forest, but I think Weston has the densest and most beautiful view of Nipah forest. Someone told me that nipah tree is an invasive species and very easy to plant. You can see nipah tree in swampy area and wetland in Sabah.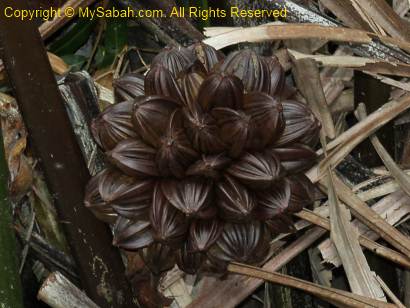 Does nipah tree sound so unfamiliar to you? In fact, most of you (Malaysians) have eaten its fruit. Its popular name is "atap fruit". Chinese calls it "海底椰" (sea coconut). The sweet Nipah fruit is a common item served in dessert called Ais Kacang or "ABC" (acronym for Air Batu Campur, literally means "Mixed Ice").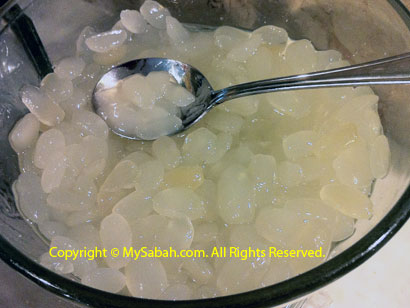 Above: the semi-transparent and oval-shape nipah fruits. The fruit is sweet with chewy texture, taste and feel like jello candy.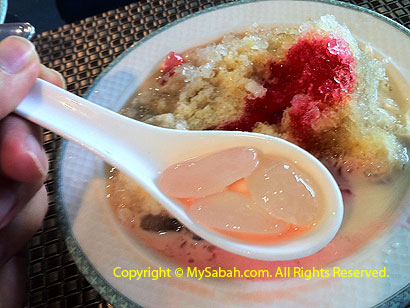 Above: nipah fruit is a nice addition to Mixed Ice dessert.
>> Click Here to see more photos of Weston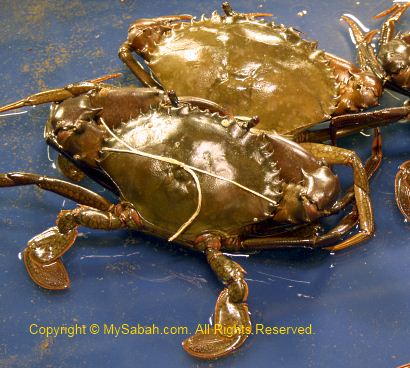 But what Weston most famous for is its crabs. For unknown reason, the crabs from Weston taste sweeter and more chewy. Even my mother knows this and ask me to buy some from Weston.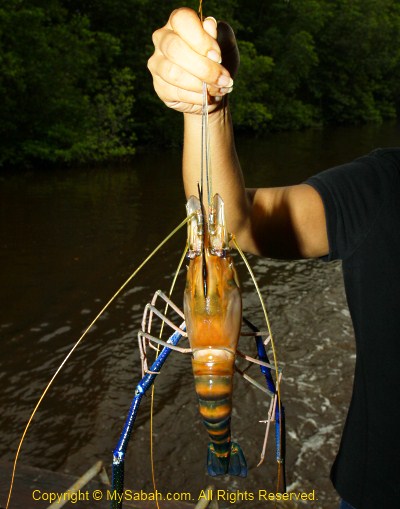 Another popular seafood of Weston is the freshwater prawn "Udang Galah" ( "大头虾" in Chinese). You can fish this prawn with specialized fishing hook. Normally the fishermen throw some rice in the river, after a while catch it using the fishing net. You can buy directly for cheaper price from local fishermen in Weston. In fish market, Udang Galah is sold for RM20 (about USD$6) per Kilogram. Unfortunately, due to overfishing, the crabs and shrimps in Weston are getting less.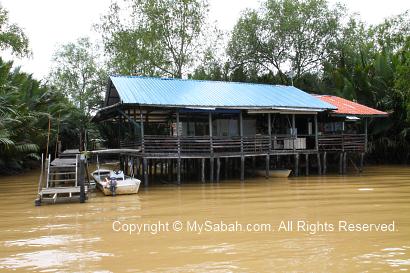 At the end of our morning river cruise, we stopped at the jetty of Weston Wetland Resort, which has its dining area and reception building built next to the river. We were welcome by a fat and friendly cat, aww… so cute.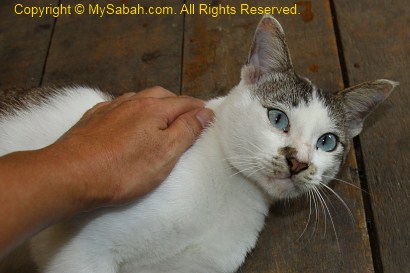 >> Click Here to see more photos of Weston
Below is a 5-minute video of our river cruise tour and Weston Wetland Resort. Sadly, I notice my video has very low click rate. Now I'm not sure if I should waste my time making video next time.. 🙁 At first I thought it was a great idea..

After taking some coffee and pineapples as light refreshment, Richard wanted to take us for a "pitcher plant" walk in a forest nearby. I thought I was the smartest one in the group. Assuming that it might be a "mud" walk, I was wearing short sleeve shirt and short pant, without knowing that I was totally unprepared what was coming next..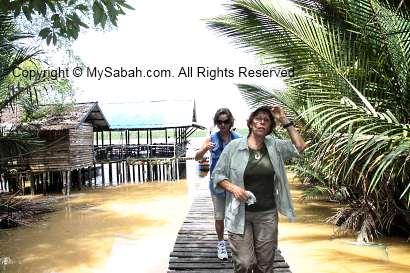 The 5-minute walk on the boardwalk allows us to take closer look at the nipah trees, without getting ourselves wet and dirty in the flooded swamp. However, the boardwalk is not well-maintained, so I had to watch my steps for missing plank.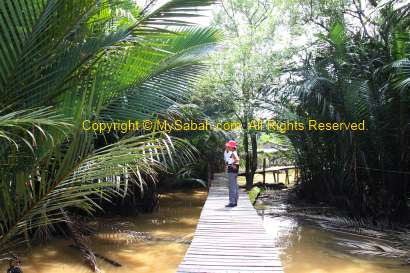 >> Click Here to see more photos of Weston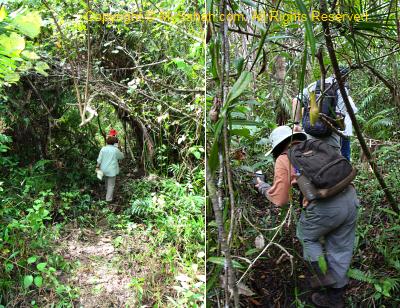 Then we came to a bush area with dense shrubs. Wow, there are pitcher plant (Nepenthes) everywhere. Some are hanging on the shrubs and there are carpets of pitcher plant on the ground too. We have to be very careful of our steps. Pitcher plant is also called "Monkey Cup", but it has nothing to do with monkey though, except that it looks like a miniature cup used by monkey.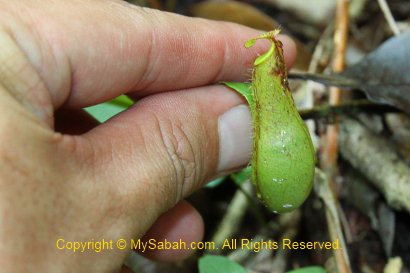 Some are smaller than finger… This is Nepenthes gracilis I think.

Some nepenthes have peculiar shape..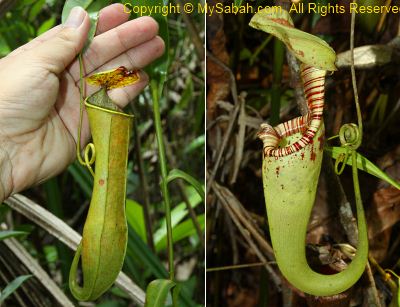 >> Click Here to see more photos of Weston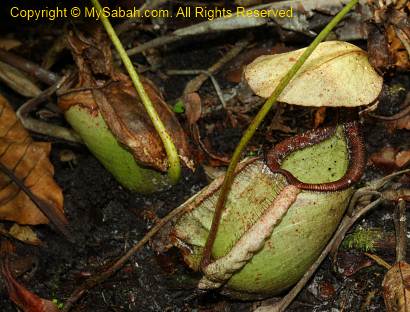 There are a number of nepenthes species around this small area. The one above is Nepenthes rafflesiana if I'm not mistaken.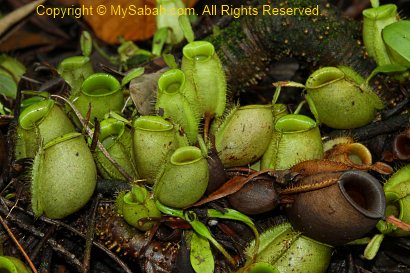 Overall, we saw 4 or 5 species of nepenthes in just a small area. The one above is Nepenthes ampullaria, the highlight of our Nepenthes Hunt. Cute, isn't it?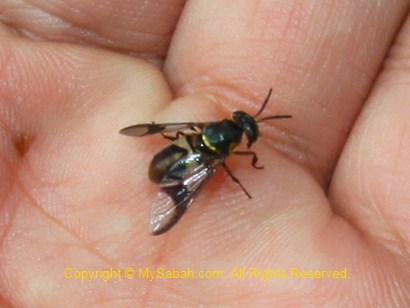 For those of you who plan to visit the Weston Wetland, you need to prepare for horse fly, an annoying blood sucker. I saw no horse fly in Klias and Garama but there are plenty of them near the Weston River. Horse fly is so persistent that they keep following you until you kill them or they are done sucking your blood.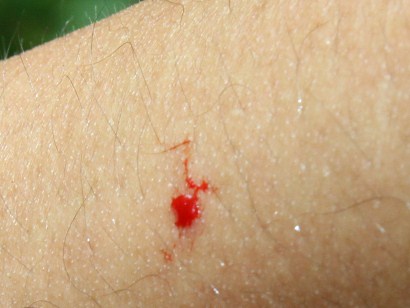 There were more than 10 horse flies following me. According to Richard, my clothing in dark nature color attracts horse fly. Horse fly would not come near to people in bright color dress. In one case, one of his visitors killed 40 horse flies. When I didn't pay attention, the horse fly cut a small wound on my exposed skin and fed on the blood. I ended up having 4 or 5 bites. They said the bites would become really itchy on next day and they were right. The worst thing is it will get worse if you scratch.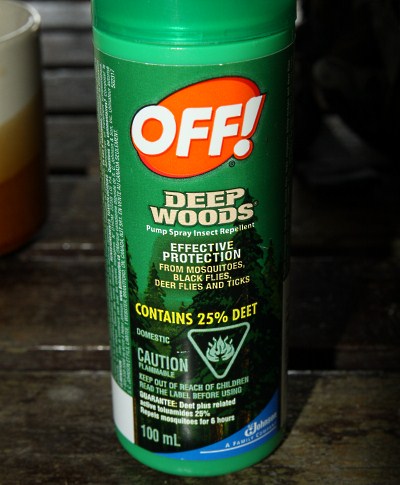 Normal insect repellent can't drive horse fly away. One of my friends introduced me the repellent spray above. It is really effective against horse fly but this spray is not available in Malaysia shop. What you can do is to dress in bright color and cover your skin as much as possible with long sleeve and pant. Horse fly may carry parasite or disease, so don't take it lightly.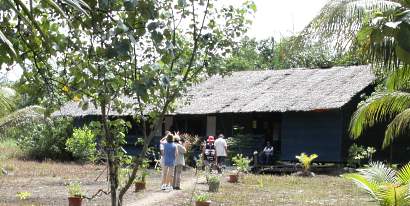 Richard showed us his resort, but the room and accommodation is not ready yet, as of this writing.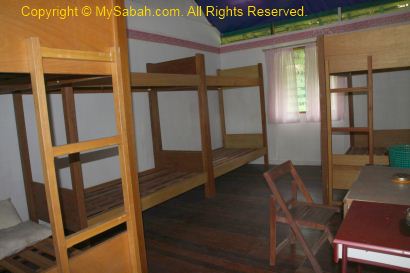 >> Click Here to see more photos of Weston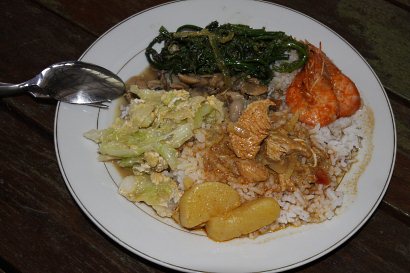 We had our seafood lunch in Weston Wetland Resort. I remember my Sabahan friends and I once ordered shrimp in a restaurant in Peninsular Malaysia. We laughed when we saw the dish, coz the shrimps were so tiny that they are only qualified for making dried shrimps in Sabah. Sabah is blessed with abundant and "big" seafood, is because of our well-preserved wetlands (e.g. mangrove, coral reefs), which is a nursery and breeding ground for our seafood. Remember, our mangrove forest and swamp are not wasteland, they are important supply of our seafood.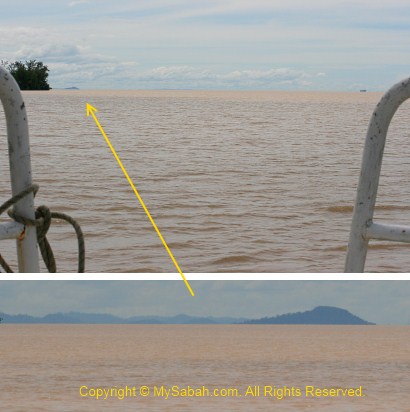 >> Click Here to see more photos of Weston
Before we said bye-bye to Weston, we had another river cruise near the exit of estuary (river mouth of Padas), where we can see Brunei in front. Do you see the light area in the sea, in photo above? The water there is only a few feet deep. We had too many people onboard so we didn't move further or we would risk our boat stranded in shallow water. Yes, you are correct that the last photo is the land of Brunei.
Photos taken in Weston, Sabah, Malaysia Borneo
You might also like:
Near to Beaufort town and 1.5 hours drive from Kota Kinabalu city, Klias Wetland is the biggest peat swamp forest of Sabah. As Klias is the habitat of wildlife such as proboscis (long-nosed) monkey, silver-leaf monkey and firefly, it attracts thousands of tourists every year. I have tried river cruise in Klias wetland a few times. Basically what the tour operators do is – they put the tourists sitting on a small speed boat, cruise along Klias or Garama River, to spot for monkey on the trees of the river bank. At night, they will bring tourists to see fireflies.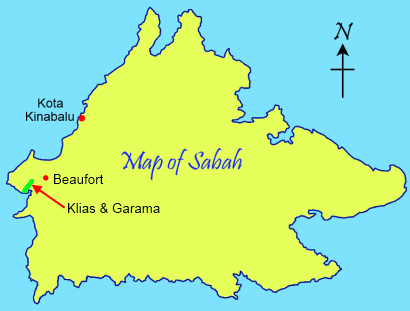 However, OIB Tours (Only in Borneo) now offers a totally different new experience. Personally I call it an excellent example of Blue Ocean Strategy (which create new niche and make ordinary competition irrelevant). They turn a 80-feet wooden fishing boat into a tourist house-boat named "Kunang-Kunang" (means Firefly), the first deluxe river cruise tour in Sabah.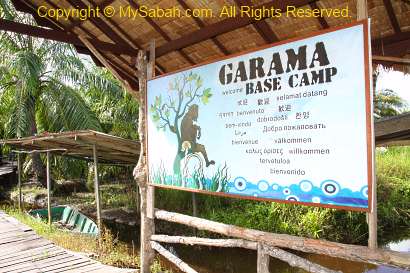 >> Click Here to see more photos of Deluxe River Cruise
Though I was invited, I had no idea what they meant by deluxe river cruise. At first, we need to travel 2 hours by land to their riverside base camp in Garama. FYI, Klias and Garama are adjacent to each other and both are the rivers in Klias Wetland (Peninsular).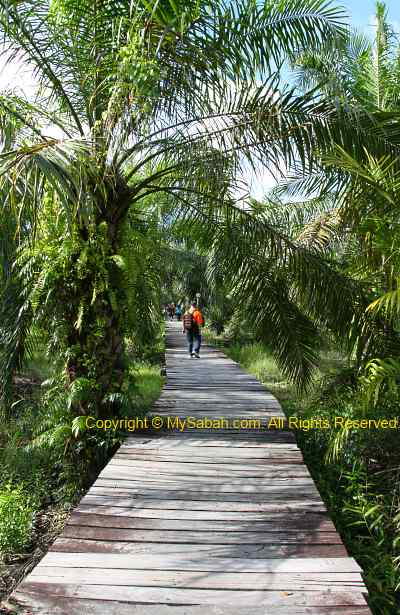 We get out of our bus and walk about 10 minutes on a boardwalk to reach Garama Base Camp. The starting doesn't look luxury. I am perfectly ok with the walk, but I dislike oil palm.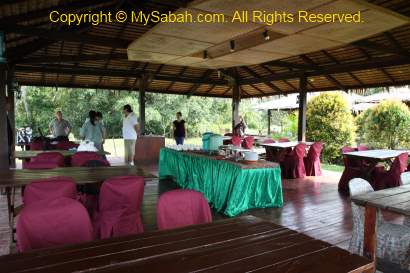 We took a short tea break at the base camp of OIB.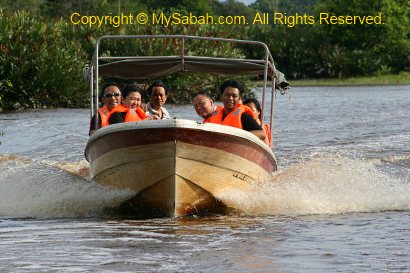 Then we got onboard on small speed boats and started our river cruise at 4:30pm.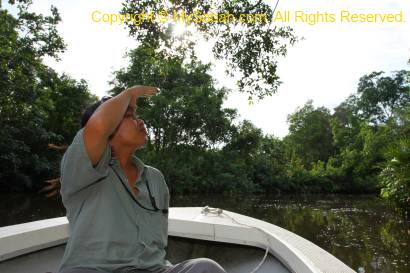 Above: our guide, DJ, looked for monkey.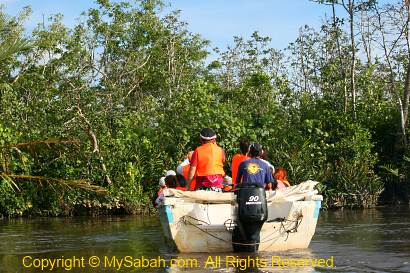 Above: a group of tourists saw the proboscis monkey. Compare to Kilas River, the Garama River is smaller and have many narrow maze-like network, but you can get closer to the monkey.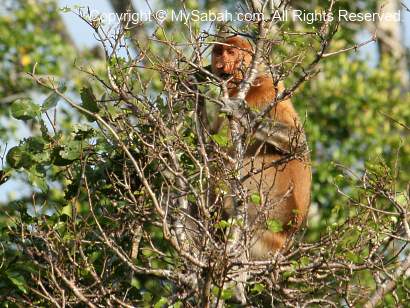 Above: we spot a few herds of proboscis monkey at the riverside.
For me, this is quite an ordinary river cruise like most other travel agents offer. You may watch the video of "ordinary" river cruise below. Later you can compare this with the deluxe river cruise:

After 30-minute of river cruise in Garama River, we are transferred to the 80-feet house boat "Kunang-Kunang" in Klias River at 5pm: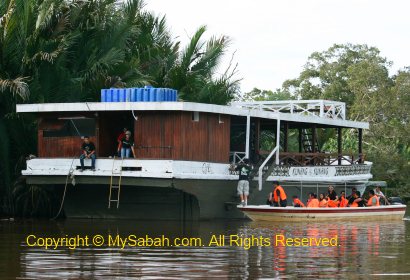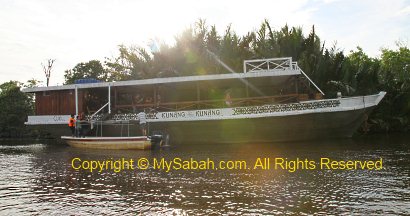 >> Click Here to see more photos of Deluxe River Cruise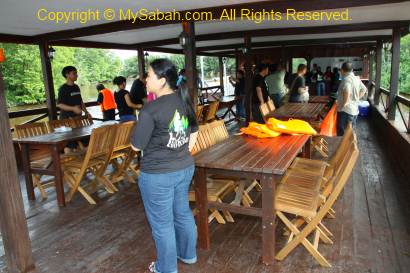 Above: everyone is so excited and check out the boat. The dining and resting area looks big.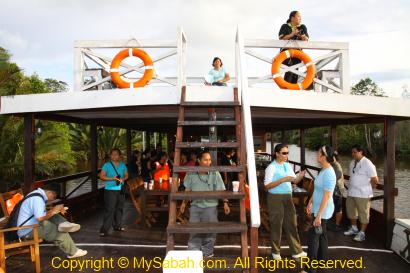 Kunang-Kunang is a double-deck boat. It can accommodate 30 to 50 people, really great for private party and company annual dinner. You may have a wedding party onboard too. Sound much more fun than those formal and boring functions in hotel.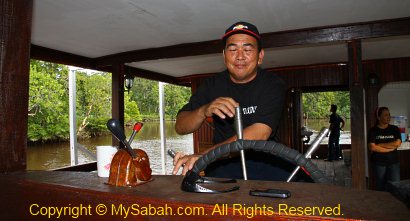 Above: introduce to you the captain of Kunang-Kunang. He is blind actually. Haha, just kidding..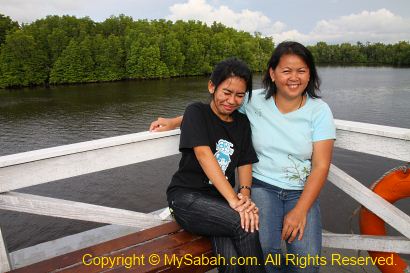 The view from upper deck is so nice! See the lush mangrove forest behind them?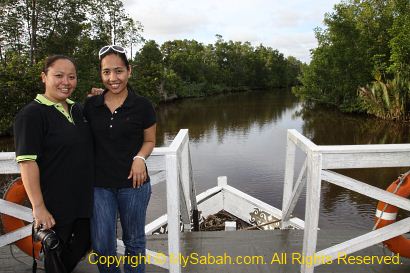 Another photo taken on upper deck. You can have a very open and 360 degree view of Klias River.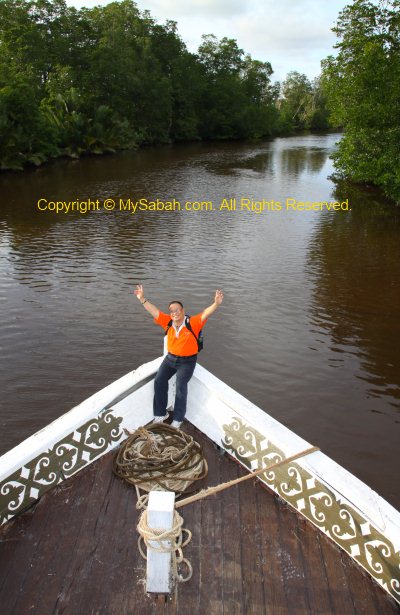 The boat moves slowly and very stable, none of us got seasick. Everyone was as happy as a kid on this big boat.
You may watch the 5-minute video below to have a 360-degree look of both lower and upper decks: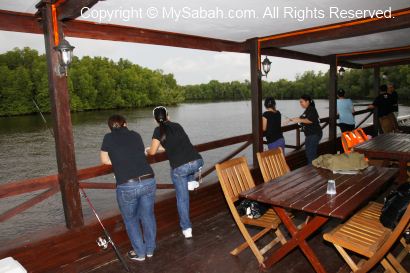 >> Click Here to see more photos of Deluxe River Cruise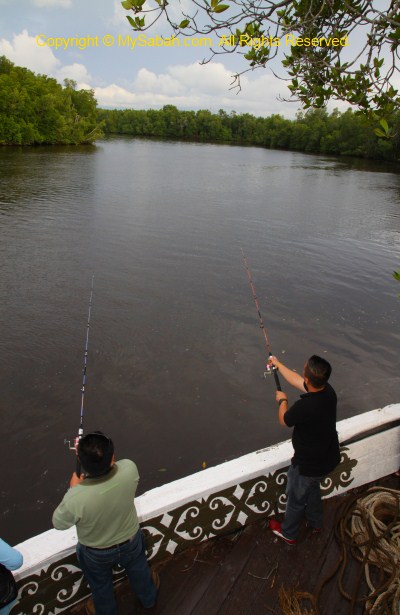 Kunang-Kunang was once a fishing boat, of course you can try fishing on it.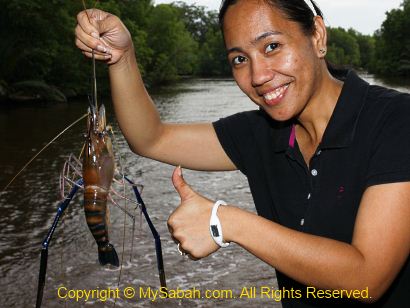 If you are lucky, you may catch "Udang Galah", an odd-looking big prawn from the river. It is edible and sold for RM20+ per Kilograms in market.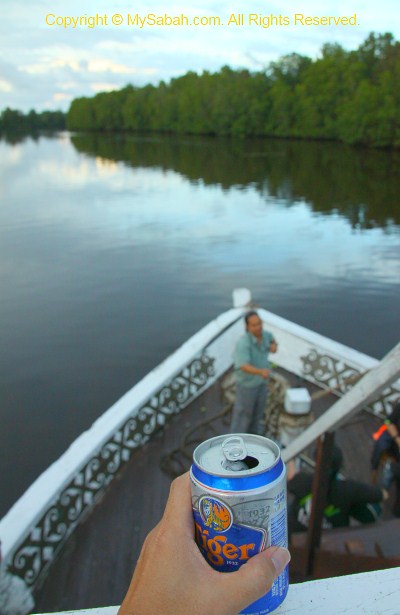 For me, I prefer to do nothing and just enjoy my beer, hehe..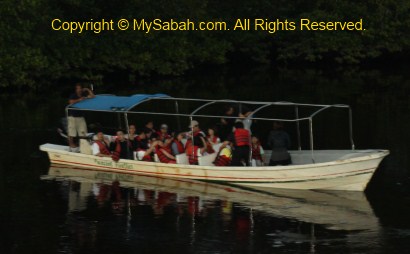 There were many small tourists boats passed by. We can see from the faces of these tourists that they are so envy and want to be on our big boat too, lol.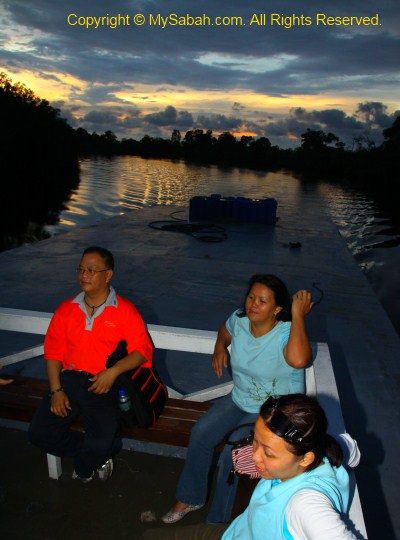 Due to cloudy weather, the sunset that day was not so spectacular but we still had good time anyway.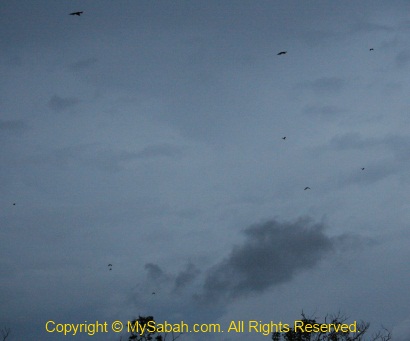 After sunset, we saw non-stop traffic of flocks of "birds" on the sky. See the small dots in photo above? They kept on coming. When the day turned darker, they fly lower. I notice that the way they fly is very strange. These are not birds.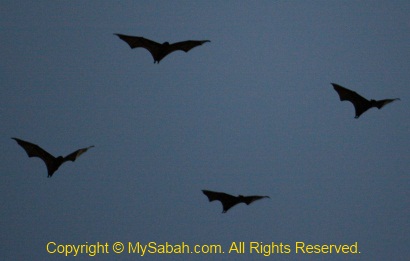 They are flying fox (fruit bat) and hundreds of them flying over our boat. I didn't know Klias has flying fox. You can see it at the end of my last video.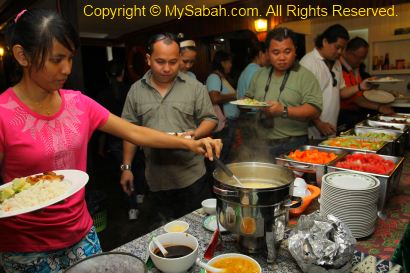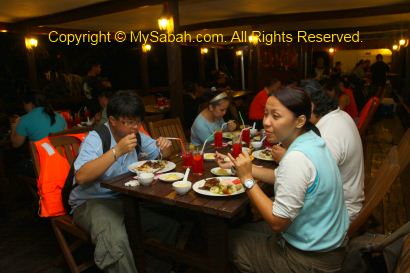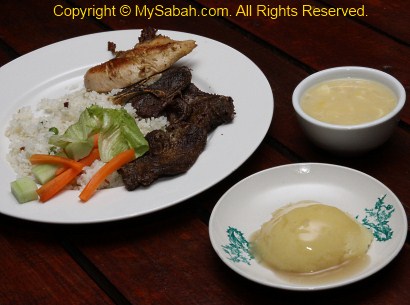 >> Click Here to see more photos of Deluxe River Cruise
We also enjoyed our dinner onboard. It has been a fun trip and I can see that everyone is really happy. So… you know what to propose to your company for annual dinner? 😉
After dinner, our boat started to return to Base Camp. Suddenly the boat turned off all the light. In total darkness, we saw many "Christmas trees", which in fact are synchronized flashes from hundreds, even thousands, of twinkling fireflies congregated on the trees. There are nearly 50 of such "Summer Christmas Trees" along the Klias River. Though it's the highlight, too bad I can't show you any photo coz it's impossible to take photos. A few fireflies even fly to our boat!
For pricing info and reservation, you may contact OIB Tours.
Photos taken in Beaufort, Sabah, Malaysia Borneo
You might also like: