Tag Archives:
banana boat
About 30 KM from Kota Kinabalu, somewhere in Tuaran there is a "secret" paradise between a river and the sea. Some heard about this beautiful place but they can't describe it, b'coz few locals have been there. Borneo KellyBays (or Kellybays in short) is special b'coz it's probably the only Sabah nature attraction that lays between sea and river.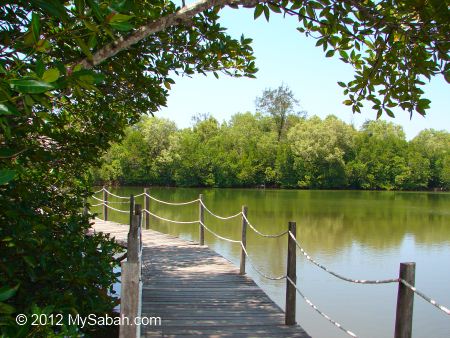 Borneo KellyBays is in Laya Laya Village (Kampung Laya Laya) of Tuaran. At the edge of the village, there is a boardwalk that leads to the jetty of Borneo KellyBays.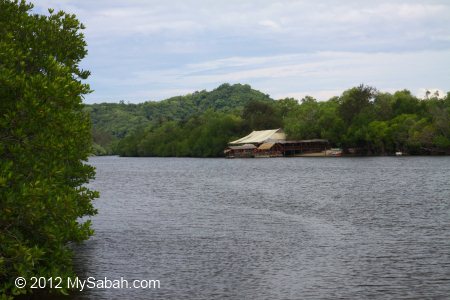 At the jetty, you will see a wide river between you and Kellybays. Even during low tide, the river is about 3 to 6 feet deep and you can't walk across it. That's why Borneo KellyBays looks so "mysterious" to uninvited guests. Normally they don't take walk-in tourist, so you need to book the tour in advance.
You can look at the map below for the location of Borneo KellyBays and its jetty. The map also clearly shows that Kellybays is between river and sea:

View My Sabah Map in a larger map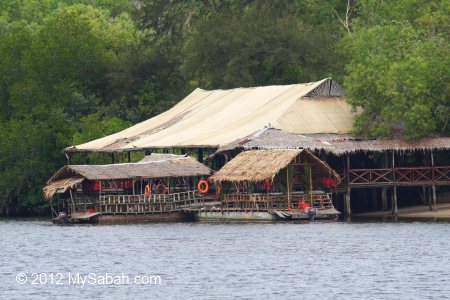 Above: the wooden rafts of Kellybays.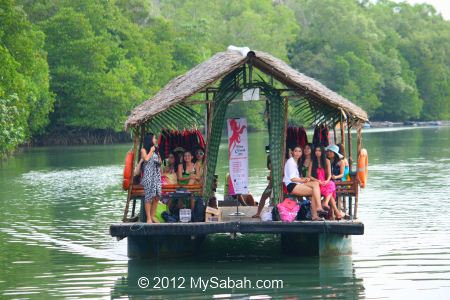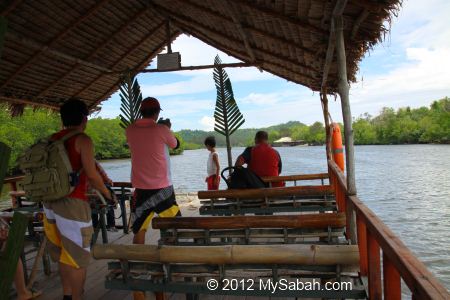 If you have booked a tour, they will send a wooden raft to pick you up at jetty. Once you are on-board, you are their VIP.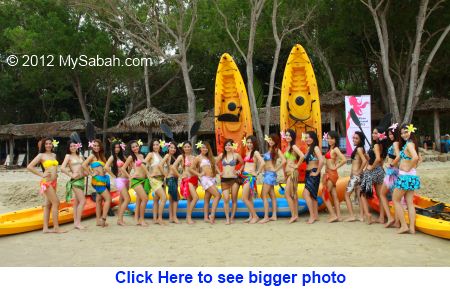 Last month I had a photography outing with 19 gorgeous ladies at Kellbays. They are the contestants of Miss Oriental Beauty Pageant, which aims to promote local modelling talent in the fashion industry on modelling run-way show and exposure in beauty pageant. It was an enjoyable experience b'coz both models and photographers have more space and privacy, as there is no Uncle Bob, busybody and weirdo around in the private beach of Kellybays.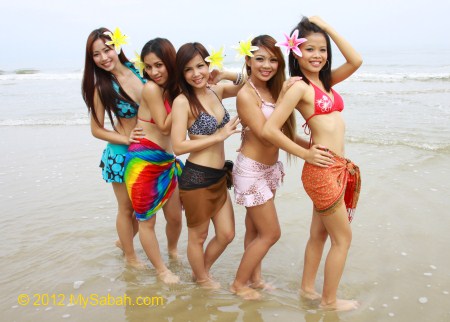 Though we didn't have blue sky that day, the overcast sky in the morning offers very pleasing soft light. And it's not too hot (except the hot models) so everyone was very relax and had lot of fun. What is better than photo-shooting sexy bikini models in beautiful beach?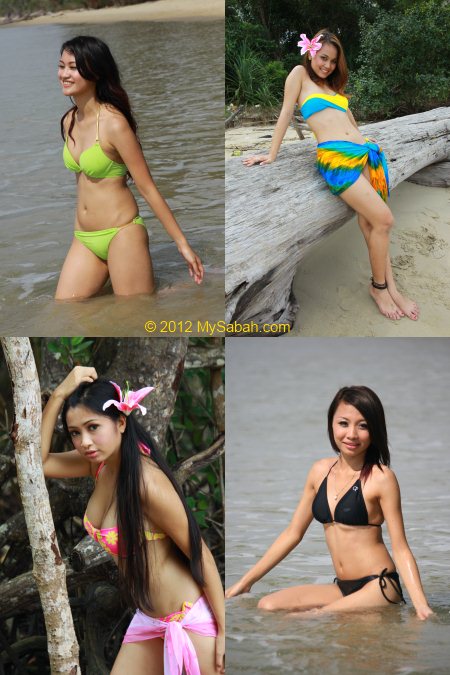 The photographers and models are divided into a few groups for photo-taking in different spots in rotation. The beach of Kellybays stretches 8 KM long overlooking the South China Sea with sandy bay and forested coastal, so there are plenty of nice background for framing the shots. In fact, many overseas models have come here for photography.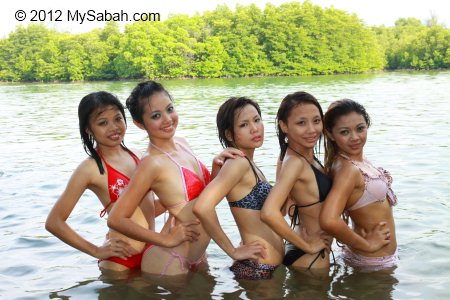 The mangrove forest and river at the other side is also great for photography. The models are experienced and know how to pose for camera. FYI, quite a distance away is an estuary where the river and sea meet. Looking afar, it is like a dragon tail, that's how Kellybays got its Chinese name 龍尾灣 / 龙尾湾, which is literally translated as "Dragon Tail Bay".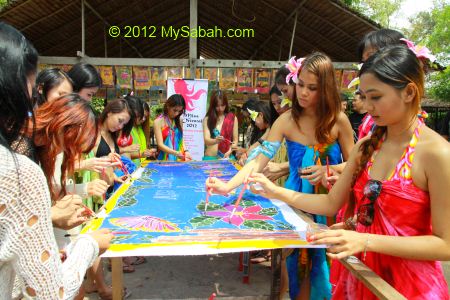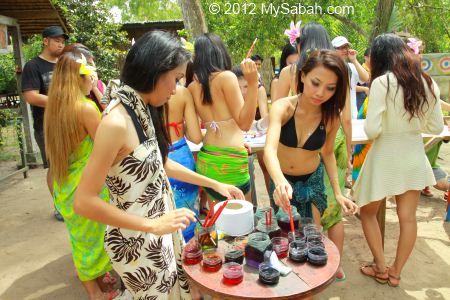 For the promotion of Kellybays, the models also tried batik painting, one of the favorite activities of tourists.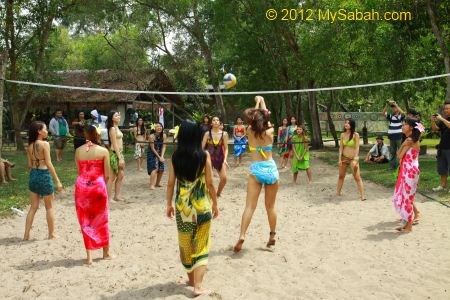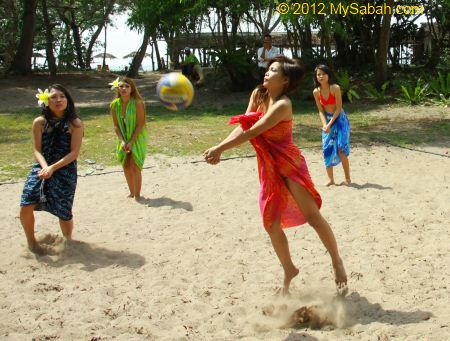 Then we photo-shoot the models playing volleyball. Everyone is happy, whatever ball they look at..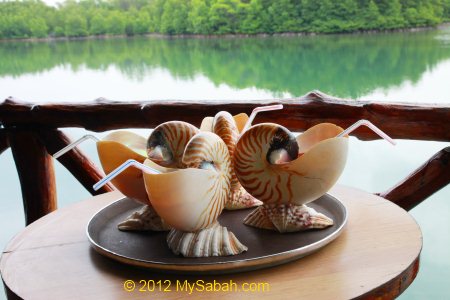 Finally we could enjoy Malay buffet lunch at the floating restaurant of Kellybays after work. I really love their seashell cups for fresh fruit juice. The owner, Stephen says these are special-made and not found anywhere else. He ordered 200 units, but the guests like it so much that they "borrow" it (without asking), so there are only 100 left.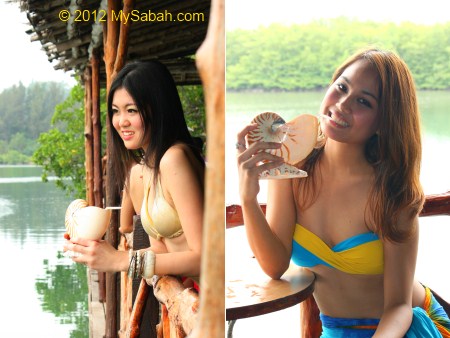 The restaurant is facing the lush mangrove forest and clam river, so you can appreciate the nice scenery while having your drink.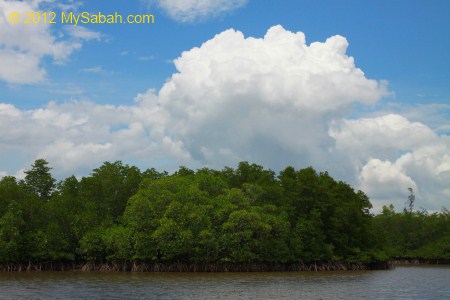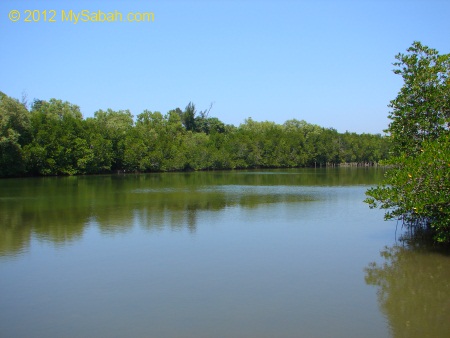 Above: the mangrove and river at Kellybays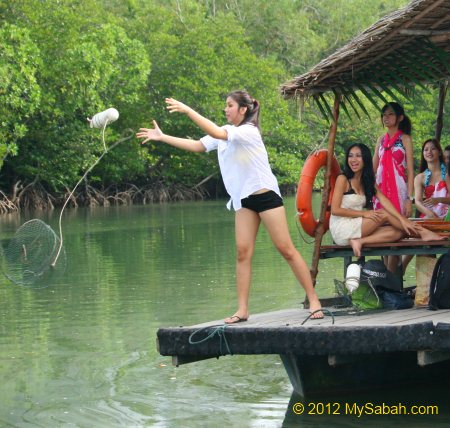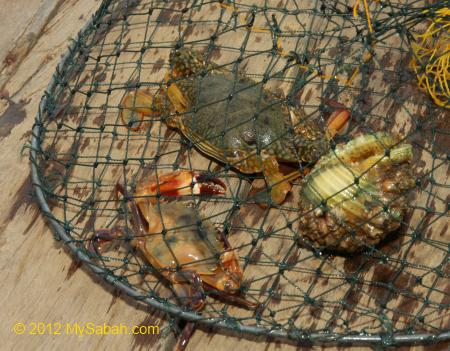 Mangrove has abundant fishes and crabs. You can try crab fishing in the river there. Just throw a net with bait in it, withdraw the net after a few hours and you would find seafood inside.
There are many things you can do at Kellybays.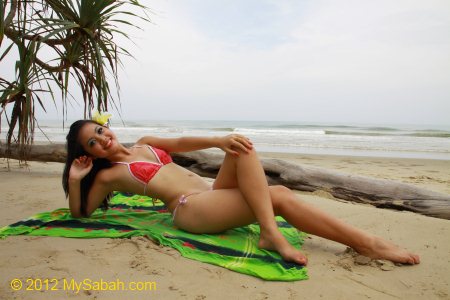 For example, you can laze on the sandy beach for a sunbathe.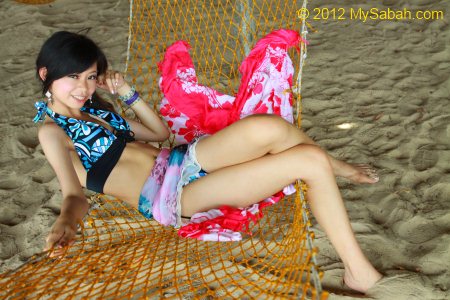 If you are drowsy after heavy lunch, you can take a nap on the hammock and enjoy the gentle sea breeze.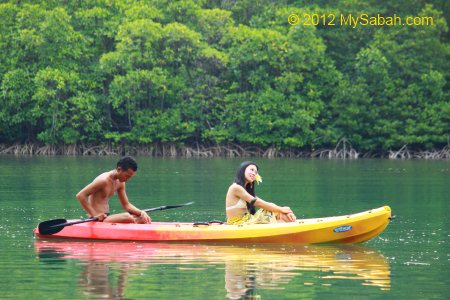 Kayaking in the river to blend yourself into the nature.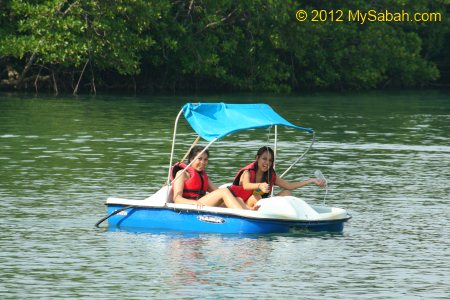 Or ride a water bicycle on the river…
Ok, ok, I know the activities above are too "slow" for you. You want something Fast and Furious right? Try their Banana Boat then! Personally I call it "Torpedo".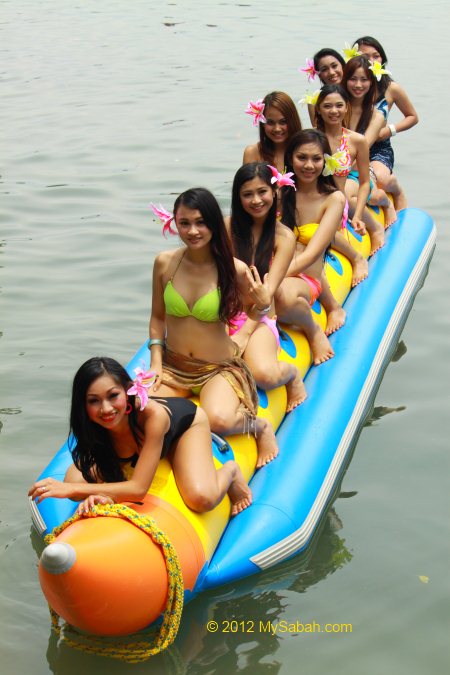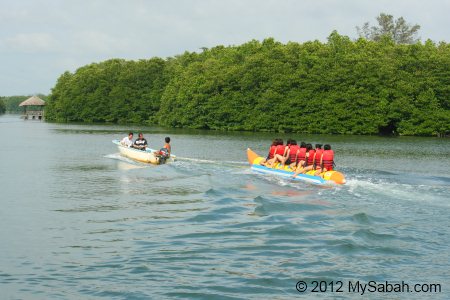 Don't look down this banana-shape rubber boat.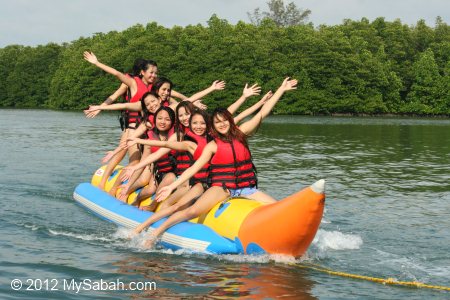 At first a speed boat will pull the banana boat for a leisure cruise. See! You can go hand-free.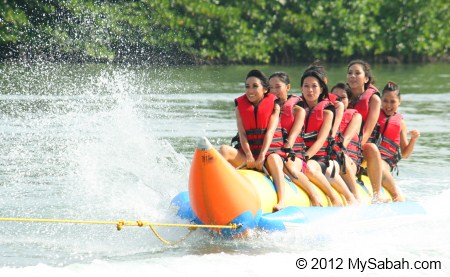 Then the boat will go faster and faster, you will feel like riding on a missile and scream your lung out.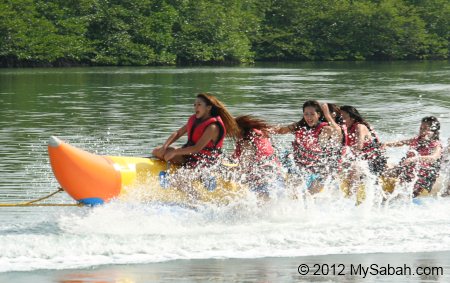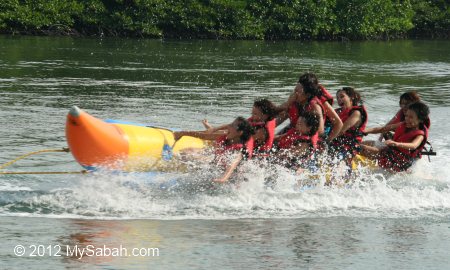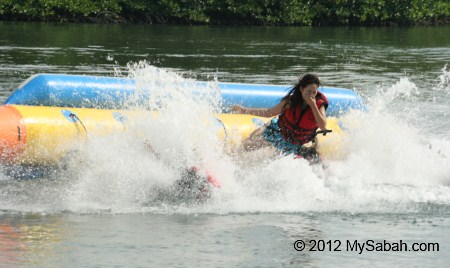 Lastly, the boat will purposely make a sharp turn in high speed. Everyone will be thrown out of the banana boat and dash into water.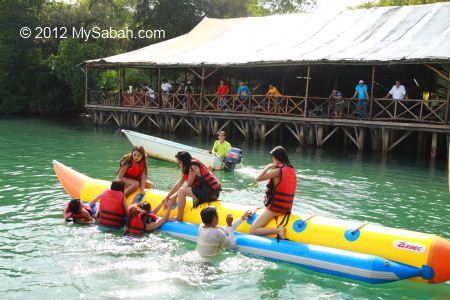 Don't worry. It's perfectly safe. The girls will survive.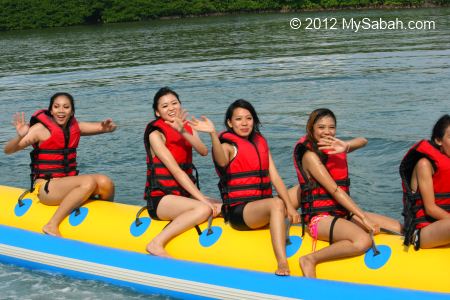 Guess what? The babes are so thrilled being dumped and they want MORE.. so bold and sporting huh. You can have as many rides as you want.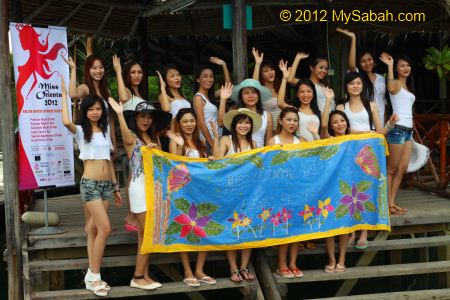 It had been a happy day but we had to say goodbye. FYI, the Miss Oriental 2012 beauty pageant is still on. If you want to see those pretty girls, you may visit D'Junction Fun Pub (Address: Batu 3, Jalan Lintas, Penampang) at 9pm on the following dates:
20 Apr 2012: Special appearance (preview night with Burlesque theme)
27 Apr 2012: Grand Final
Come and support your favorite girl! For enquiry, contact D Junction representatives at +60 88-703131.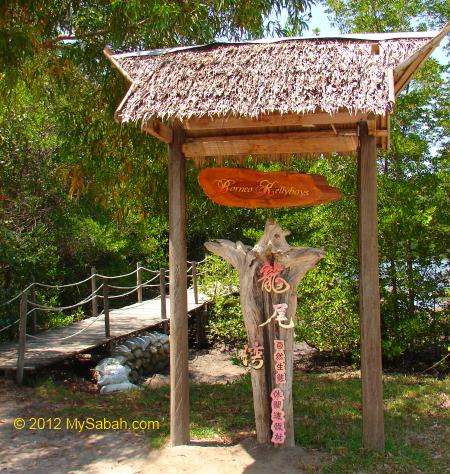 To visit Borneo KellyBays, head to Tuaran, after passing by the junction to Shangri-La's Rasa Ria Resort, drive a few more Kilometers on the main road and you will see the direction signage of KellyBays. Just follow the little signages along the way and zig-zag on the small road of Laya Laya Village to reach the jetty. You can browse their website at www.kellybays.com for more info.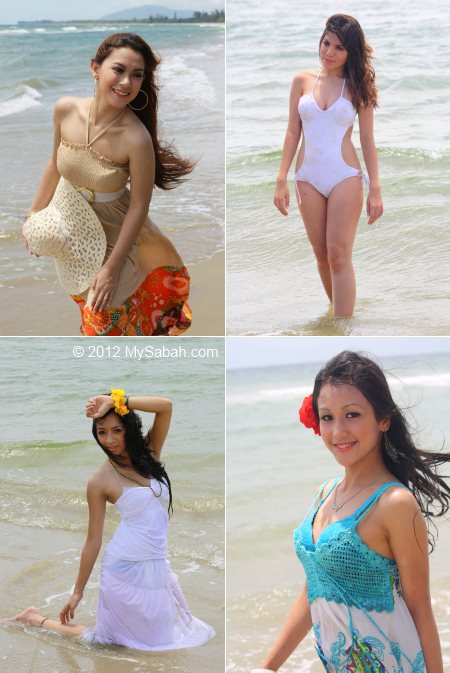 You may Click Here to see more photos of Miss Oriental at Borneo Kelly Bays. I also post some photos of Miss Sabah Photo Fest models on last page, which were taken in year 2011 at Kelly Bays.
More Photos
You may check out my photo album if you want to see more nice pictures: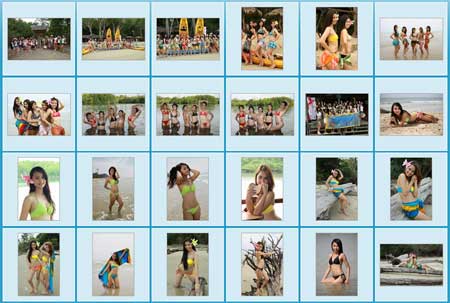 Photos taken in Tuaran, Sabah, Malaysia Borneo
You might also like:
I have blogged about five islands of Tunku Abdul Rahman Park, so I create this entry to group all the links together. You can click each island below to view my individual comment and photo gallery about them.
| | |
| --- | --- |
| Island | What I like about it |
| Manukan | Plenty of coral reef and fishes in clear sea water, good facilities and lot of activities (and bikini babes) |
| Gaya | Great resort & facilities, 4 KM jungle trail and wildlife |
| Sapi | Nature-rich and wildlife, beautiful sea view |
| Mamutik | Peace and quiet |
| Sulug | White sandy beach, full of corals and seashells |

Note: There are many things (e.g. diving) that I haven't explored yet, so do not plan your trip solely based on my comments. I just share my personal experience, so I am not really reviewing each island. Who knows, you may get totally different experience.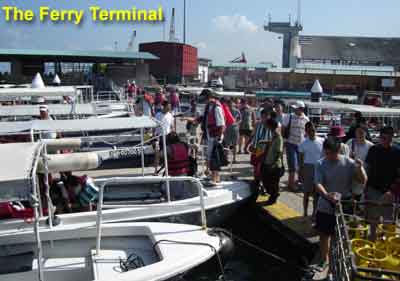 OK, just a bit of information about the boat transfer to the islands. I usually take the boat at the ferry terminal next to KK Customs (Pejabat Kastam Diraja). They start the boat transfer at 8 AM. You can register at the counter, something like putting your name on a waiting list. The boat departs when there are enough people (about 8 to 12 pax) going. In many cases, you may need to wait for an hour or more, so there is no fixed departure time. Only the departure time to Gayana Resort is fixed and no need to wait for enough people. So… it is better that you go to the island on non-working days when there are more tourists.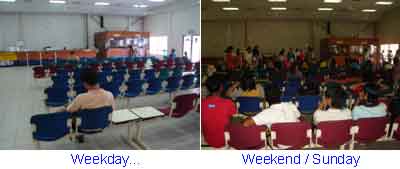 I post their transport fee below (USD1 = RM4). However, the oil price is going high recently, so they may increase the price. Two-way ticket to Gayana Resort costs RM15. Besides the transfer fee, you also need to pay RM1 (about USD0.25) terminal fee.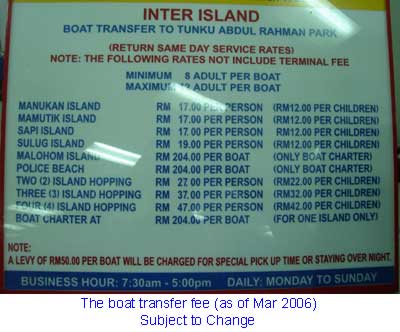 The best time to see the island is in the morning. The sea water is usually crystal clear in dry session. Probably due to the high tide and stronger sunlight in the afternoon, the view is not that great. Please note there are other extra fees, depending what you do on the island. Again, this is only a reference, to be safe, just prepare more cash.
Conservation Fee (must pay)
Malaysian Adult: RM3.00, Below 18: RM1.00
Non-Malaysian Adult: RM10.00, Below 18: RM5.00
Diving Fee
Malaysian: RM20.00
Non-Malaysian: RM50.00
BBQ
RM5.00
Camping
Adult: RM5
Below 18: RM2
You might also like: