Sapi Island

Sapi Island is famous for its calm crystal clear water and wildlife such as monkeys and monitor lizards. It is also an ideal site for snorkeling coz the water is clean and shallow, and got plenty of coral reefs and fishes.

There are boats departing for Sapi Island at Sutera Harbour every 30 minutes, from 8:30 AM to 3:30 PM daily. The two-way ticket costs RM35 (less than USD9). The last boat leaves the island at 5 PM. To enter the park, you need to pay RM3 (local adult) entrance fee. I went there on Wednesday. Since it was weekday, it should be less tourists. I was quite wrong though. There were many visitors, especially those from Japan and Taiwan.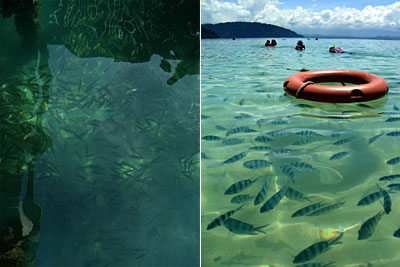 Click Here to view more photos of Sapi Island >>

After we arrived the jetty, the first view was already rewarding. We saw thousands of fishes swam freely in the clear water. Some are very colourful. Many tourists were already impressed at this point. These fishes are not afraid of people. You can even feed them, and see them come and surround you. When we were snorkeling, they would swim near to us. But a few female tourists got very worried and asked me if the fishes bite people. Yes, a few do, but not hurt at all.


Click Here to view more photos of Sapi Island >>
One thing that disappointed me was – I didn't see any monkey. I spent an hour walking on the jungle trail to explore the island but could not find even one. I asked the park ranger where was the monkey. He gave me an explanation that sounded like bull shit. He said all the monkeys climbed on the boats of tourists and went to city already. I wonder if they caught all the monkeys coz they have been a nuisance, stealing stuffs and harrassing the tourists. There is no accommodation on Sapi Island, but you can camp here.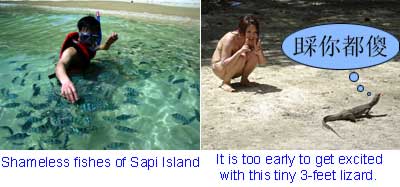 Click Here to view more photos of Sapi Island >>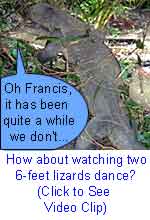 Usually you could see a few 6+ feet giant monitor lizards roam around the island during lunch time. I remember the ranger called one of them "Babe". They are huge and look like Komodo lizard. I even saw two of them "fought" but looked more a violent foreplay before mating. You can check out the video clip below. When I took the pictures and video, they were only a few feet away from me. It was better than watching the Discovery Channel. When I was a child, I liked to catch centipads, scorpions, snakes, bugs… in the forest, so this is not a problem.
Later when we had our lunch, we also found a green viper snake rested on a tree just a few metres away from our table. According to the guide, it has been there for a few days. A nice surprise, as I didn't expect to see a snake. For those of you who love jungle trekking, you should try the 1 KM jungle trail (take one hour). You can explore other beautiful spots, which are less accessed and known by others. If you are not keen, nevermind also, coz you can see all the "bonus" views in my photo gallery below.
You might also like: