Pisang Goreng Cheese (Fried Banana with Cheese)

Pisang Goreng (literally means Fried Banana, the correct translation is Banana Fritter) is the most popular snack for tea break in Malaysia. This sweet, crispy and golden dessert is made of banana that is battered and then deep fried, and you can find it everywhere in Sabah too, like coffee shops and street stalls. Last month I came across another (better) variation of Pisang Goreng, which is called Pisang Goreng Cheese (Banana Fritter with Cheese), in Semporna town.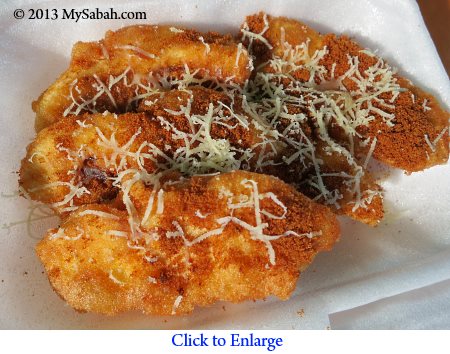 Pic: Pisang Goreng Cheese (Fried Banana with Cheese)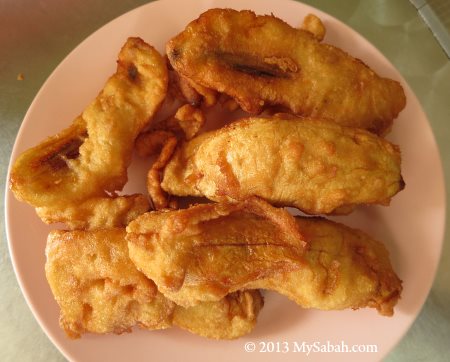 Pic: photo of "common" Pisang Goreng
You can compare the last two photos to see the difference between Pisang Goreng Cheese and "common" Pisang Goreng. Pisang Goreng Cheese has shredded cheese on it.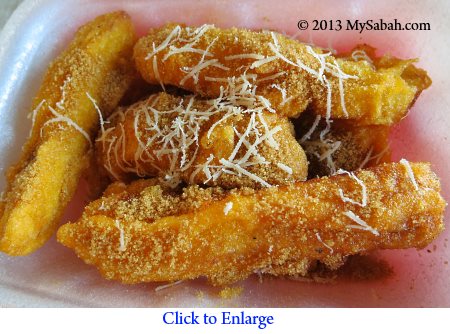 The common Pisang Goreng is sold about RM1 (≈USD0.30) for 6 pieces, and Pisang Goreng Cheese is RM2 (≈USD0.60). Though Pisang Goreng Cheese is more expensive, it is worthy.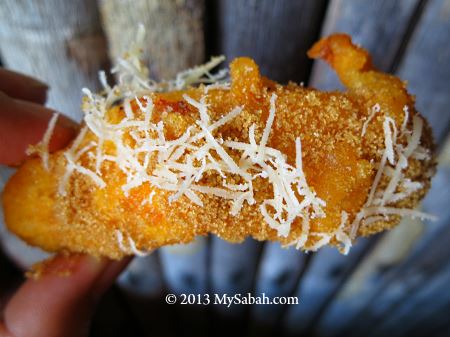 The crispy surface of Pisang Goreng Cheese is sprinkled with shredded cheese and brownish Gula Melaka (Palm Sugar).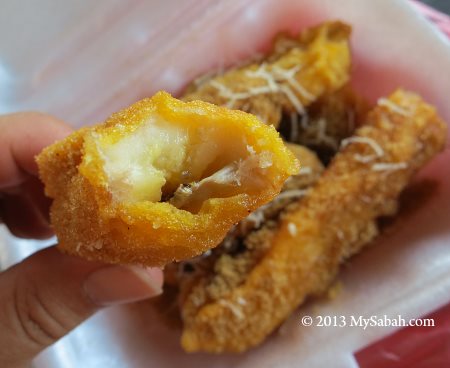 The taste is similar to ordinary Pisang Goreng, but I really love the coarse palm sugar, which has fruit-like sweetness and give this banana fritter two types of sweet tastes. I can't taste any cheese, hope they can add more. Anyway, I presume the shredded cheese gives banana a creamy flavor.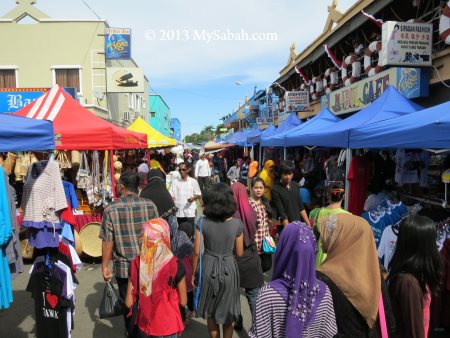 You can find Pisang Goreng Cheese in open market of Semporna.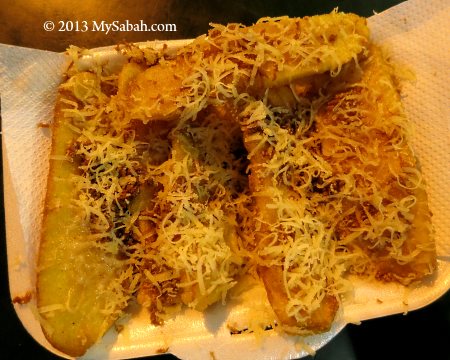 Pic: Pisang Goreng Cheese of Kota Kinabalu
You also can find Pisang Goreng Cheese in Kota Kinabalu city. In Anjung Senja (Waterfront Esplanade), there is a shop named "M&N Corner" that sells Pisang Goreng Cheese for RM4 (≈USD1.20). However, despite higher price, it is not as good as the one in Semporna.
Have you tried Pisang Goreng Cheese?
Photos taken in Semporna, Sabah, Malaysia Borneo
You might also like: