Magunatip the Murut headhunter dance

Magunatip, more well-known as "Bamboo Dance", is considered as one of the most popular traditional dances in Sabah. The name "Magunatip" is derived from the word "apit", which means "to press between two surfaces." In the dance, dancers need good timing and agility to put their feet between the clapping bamboo poles, without being trapped.

To create more fun, the music tempo and the clapping speed of the bamboo will become faster and faster and FASTER (so is the your heart beating), so the audiences will be super-impressed by the exciting ending. In the past, Magunatip was a warrior dance to welcome the return of Murut headhunters. Today bamboo dance is commonly performed in cultural functions and celebrations for entertainment and socializing purposes.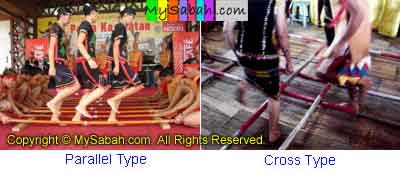 Based on what I have seen in the past, there are two primary types of bamboo poles arrangement for Magunatip, namely, parallel and cross styles (tell me if you know the exact term). You can see the Bamboo Dance video clips in these pages:
1) Bamboo Dance (Cross Style): Taken in Pesta Kaamatan 2006 *new
2) Magunatip by kids: Performed by cute little school kids from SK Sembulan and SRK Stella Manis. Their presentation got overwhelming good responses from the local press and community.
3) Bamboo Dance Tutorial: Beginner level. Great guide for overseas students who want to organise a cool performance in Cultural Night of their colleges.
4) Advanced Magunatip: By professional dancers from Monsopiad Village. Only try it if you want broken bones.
5) Crazy Bamboo Dance: The speed is so EXTREME that you worry about the dancer.
6) Bamboo Dance (Parallel Style): Taken in Pesta Kaamatan 2005
7) Bamboo Dance – Ultimate Level: Do bamboo dance blindfolded!!!
The dance looks so easy and graceful, doesn't it?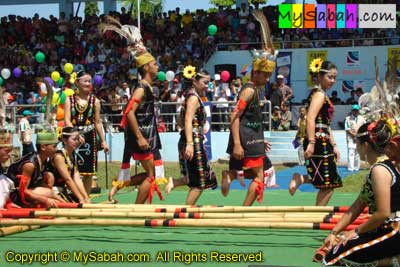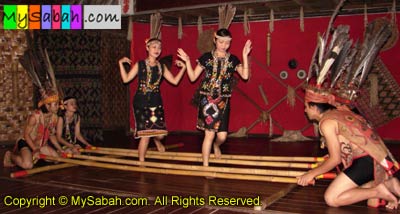 Usually the dancers are pleased to invite the audience to try. But when we do it, it ends up like below: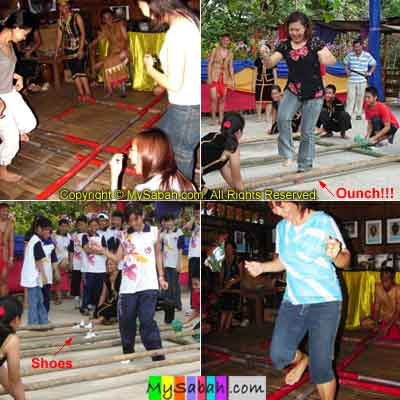 Everyone dances like a jumping chicken, most end up either their feet or shoes caught by the bamboo. You can laugh laugh at the side, but when you really try it yourself, you will know it requires a lot of practice. Click Here to see the video of what happens if you make the wrong move. Can be painful…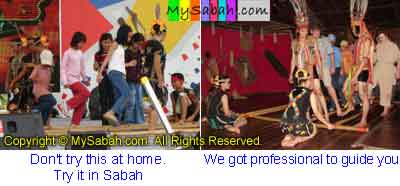 Other ethnic groups such as Dusun Tambunan and Kwijau Dusun also got bamboo dance. Below is the bamboo dance picture of Rungus people from Kudat.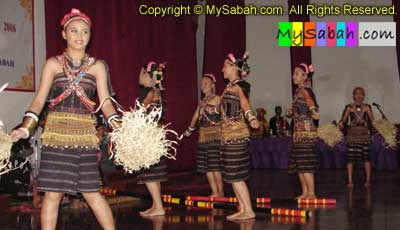 Hope you find that bamboo dance is fun. If you manage to organise a Magunatip performance by using the information here, please post the link here to your photos online (if any).