Miss Malaysia Tourism 2005 (Sabah State Selection)

Got addicted with my site? Kept on reloading the page yesterday and wonder why no new blog? 😀 Smoke Head was busy last night lah. There was a Miss Malaysia Tourism (Sabah State Selection Semi-Final) competition at BED pub (Waterfront) last night. 20 sexy ladies lined up to show their nose-bleeding figures in jean, beach and evening wear. It was so HOT that I give it a three thumbs up (don't ask me to show my 3rd thumb ok. It is too private).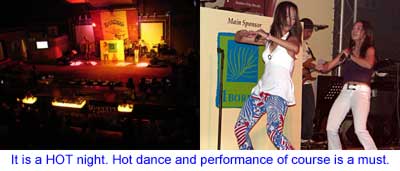 After I quit smoking, I seldom go to pub. Staying there is like smoking a dozen packs of cigarette, my shirt and hair become stink, the loud music also making my ears "yih yih yih…" until now. Anyway, for the welfare of my hungry readers, I decided to sacrifice my health.
The entrance ticket costs RM15. The subzero costs me RM25+. :'-< Hai.. so expensive... Me joble$$ lah.. The competition was started at 9:45 PM and ended around 12 AM. Quite enjoyable looking around there. Even if it was a Monday, it was still crowded. I noticed many girls were also as good-looking as the beautiful girls on the stage. Ok lah, Click Here to see 96 photos of Sabah beauties: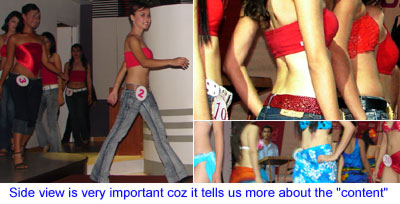 You should thank Smoke Head. MySabah.com is now one of the web sites that got the MOST number of Sabah pretty girls photos (any objection?). And you can find many pretty faces in my other photo albums too. If you want more, below are the quick links to other Beauty Contests photo galleries. Enjoy.. 🙂
1) Miss Merdeka
2) Miss Coconut Fashion Queen
3) Ratu Serimpak, Tamu Besar
4) Miss Sago, Pesta Rumbia
Photos taken in Kota Kinabalu, Sabah, Malaysia Borneo