Category Archives:
Sabah
Everyone from Kota Kinabalu City (KK) loves Tanjung Aru Beach, a place filled with sunshine and laughters. If Mt. Kinabalu is like our father, Tanjung Aru Beach is an affectionate mother. In late afternoon, many couples, families, picnickers, tourists, joggers and photographers congregate at the beach, and they won't miss one of the most beautiful sunset of Sabah, which marks a perfect ending to their busy days.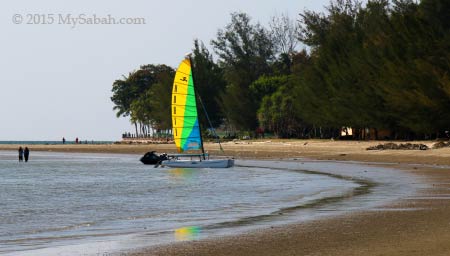 Though a lot of locals walk and frolick on this golden beach, most of them stay away from the inviting seawater as if it is a boundary. However, I have no doubt that they have ever imagined themselves cruising freely on the sea and sailing to the sunset.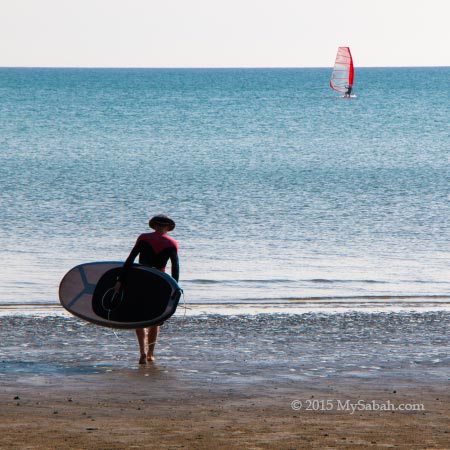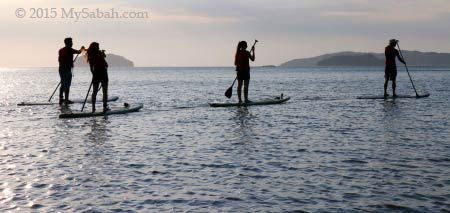 People doing pretty much the same things there every day like what our grandparents did 50 years ago. Then in 2014, beachgoers started to see someone "standing" and paddling in the open sea. FYI, it is a fast growing global sport called Standup Paddleboarding (S.U.P in short).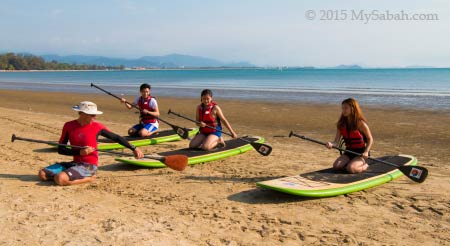 The cool thing about S.U.P is – you can hit the water only after 10 minutes of training, without the need to operate a bulky sailboat or master the skill to maneuver a wobbly windsurfing board.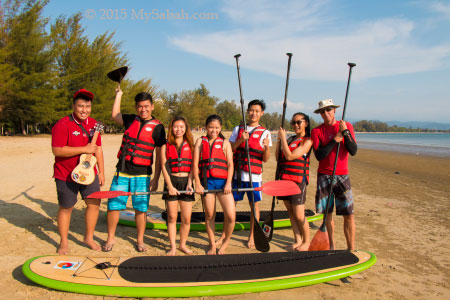 I've tried S.U.P on Sapi Island and like it very much, so I strongly recommend you to experience a different way of enjoying sunset hour in Tanjung Aru Beach.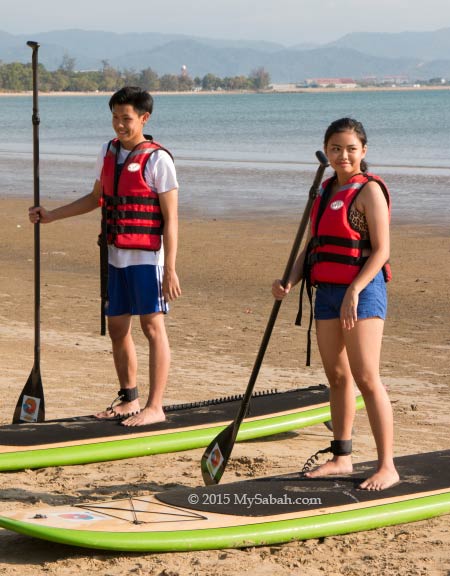 Paddle Below the Wind conducts sunset S.U.P session at Tanjung Aru First Beach around 4pm almost every day, and you are just a call away to join them (Phone: +60 17-8960341).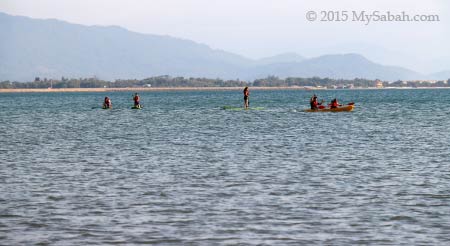 You may watch the following video of excited students in S.U.P:

There are Three Good Reasons why you should give Standup Paddleboarding a shot.
1. "Reconnect" with Friends and Nature
Nowadays we are so hyper-connected, we have Facebook, WhatsApp, E-mail, WeChat, Snapchat, Line, Twitter, etc. Ain't you upset when you gather with friends, but they just busy poking their phones?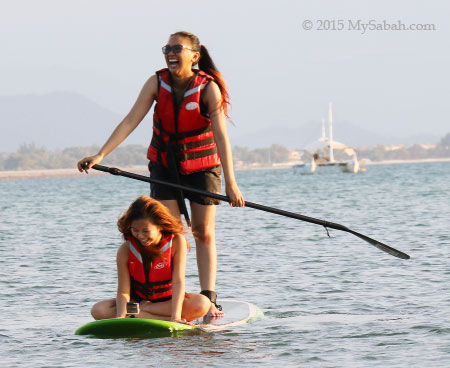 We can't create cherishable moments with friends on social media, we will forget what we say on Facebook shortly, but we won't forget the time we were doing something fun together. Let's talk with our mouth, not fingers. Be more likeable by being there for them, not just posting food photo.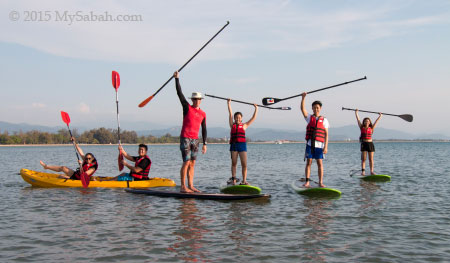 Let's disconnect from virtual world on small screen and see the real beauty of our big world. Feel the sand between your toes and gentle breeze from the ocean.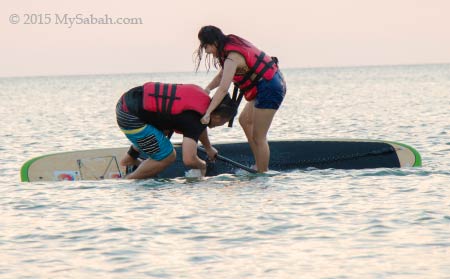 Pic: the moment before falling into water. It's just part of the fun.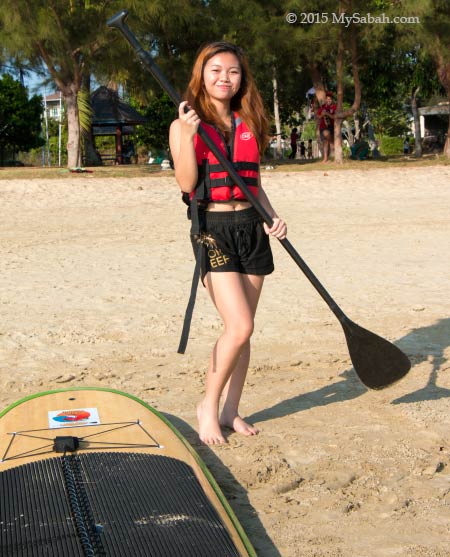 The one smiling face of your friend is better than 100 smiley emoji in messenger apps, isn't it? When people type LOL on screen, how many of them are really laughing?


Another nice feature of S.U.P is you can do it in a group, but able to stay close and chat with one another. Everyone has story in Tanjung Aru Beach. What's yours?
2. Exercise for Fun
For me, I like the idea that exercise keeps me healthy, but most sport is just boring. For example, jogging, the boredom kicks in much sooner than the fatigue. :-p In contrast, stand-up paddle-boarding is super fun and I'm pleased to do it every day. If big waves come, I can even surf. Did you know Tanjung Aru also has very nice corals? You can reach it easily with S.U.P.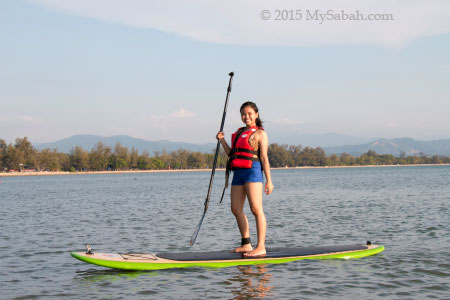 Stand-up paddle-boarding is a good exercise for our limbs and abdominal muscles due to constant paddling and balancing. S.U.P may seem very pleasant and relaxing, but you can go as extreme as Justin DeBree, who paddled all the way up from Florida to Georgia (USA) for a total of 676 KM (420 miles) and set the world record for the Longest Stand Up Paddle Board journey. Some adventurers even ride on S.U.P in Arctic expedition.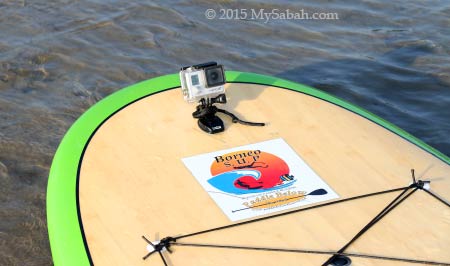 Pic: you can mount your GoPro camera on S.U.P board
You might be able to paddle from KK to Brunei (remember to bring your passport hehe..) if you are extremely fit and the sea condition is good. Richard, our S.U.P instructor, says we can paddle to Sapi Island in 1.5 hours.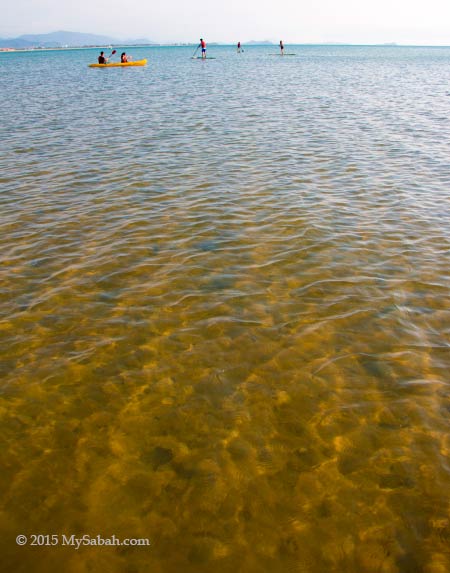 Pic: you can go very far away from shore with S.U.P in just minutes
However, not everyone wants to be an athlete, so you can choose to drift in placid water, just to get in touch with nature and unwind yourselves. In USA, Stand-up paddleboarding had the highest percentage of new participants in 2012. It has become a trendy sport in Australia, USA, Canada, Germany and Australia. Paddle board yoga is also getting popular.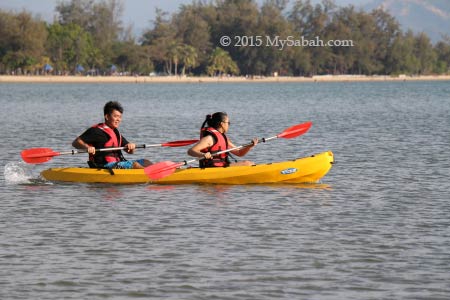 Pic: Paddle Below the Wind also provides kayak
3. Watching Sunset
To break out of monotony, it's human nature to constantly explore new sources of happiness. You may have already long retired from the age of building sand castle, so Tanjung Aru Beach can't be a playground to grow-up like you? Wrong.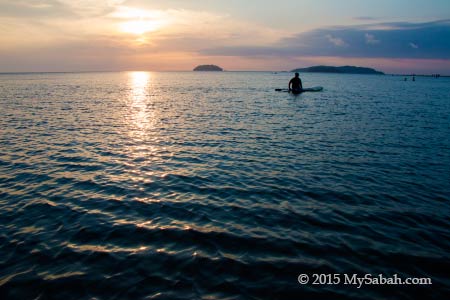 Why not paddling out to the sea to enjoy the mesmerizing sunset view this time? When was the last time you did something for the First Time? It could be your best day ever in Tanjung Aru Beach.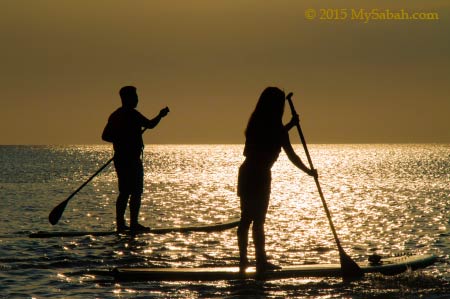 To release your stress after work, you need to move your body, to detach your mind from work. Then go rinse yourself in the warm seawater, harvest the negative ions in the air and embrace the healing power of nature to detox.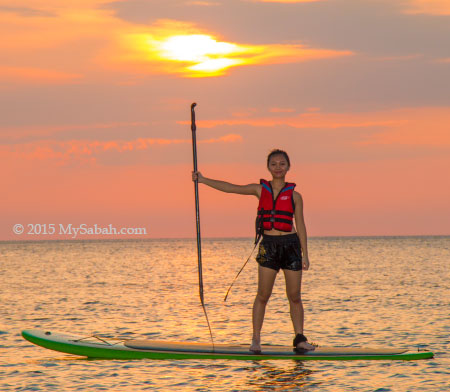 Life is too short. Let's try different things at least once in a while. You also can try S.U.P with your spouse and kid. They will thank you.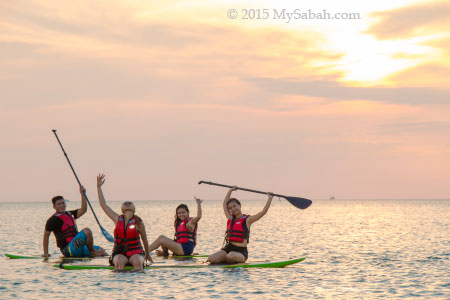 Pic: this sunset group photo will make your other friends envy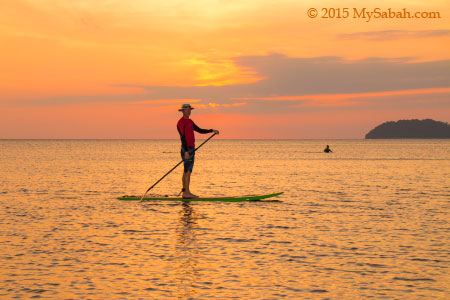 One day perhaps the face of Tanjung Aru Beach would change dramatically if Tanjung Aru Eco Development (TAED) takes over the place and develop it into resort area. I don't know whether that day will come. For now, let's enjoy what this beloved beach offers. Enough talking, below are more sunset photos for your viewing pleasure.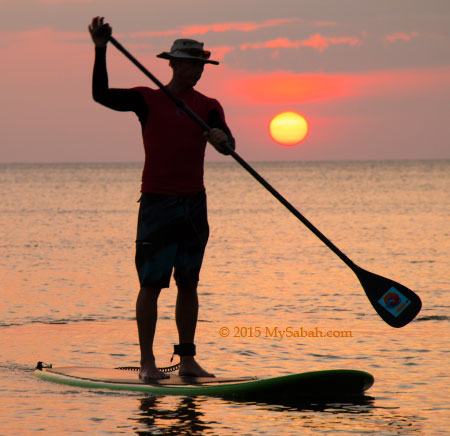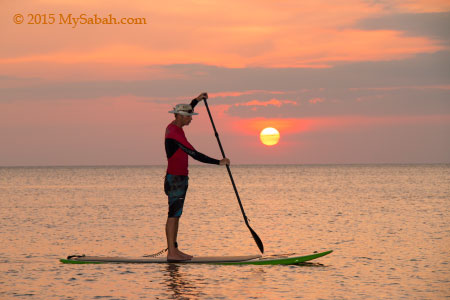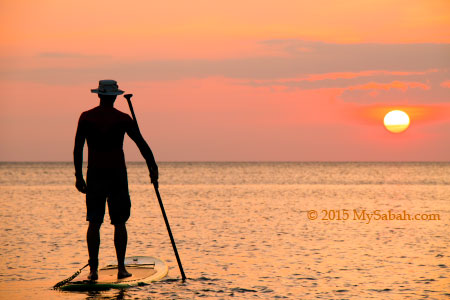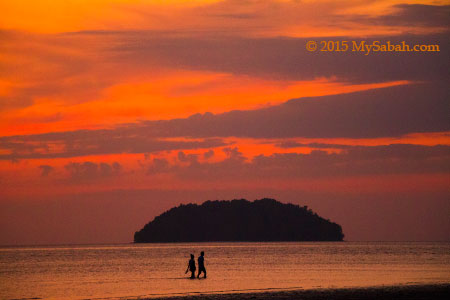 Contact
To join S.U.P session, you may book with Paddle Below the Wind:
Mobile Phone: +60 17-8960341 (Nora / Richard)
Facebook: BorneoSUPpaddlebelowthewind (many photos!)
Website: www.paddlebelowthewind.com
E-mail: paddlebelow@gmail.com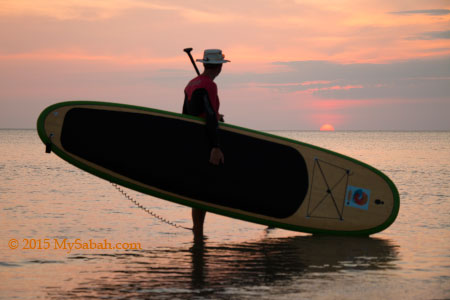 The sunset S.U.P session at Tanjung Aru Beach takes about 1 hour and costs RM40 (≈US$12) per person (No 6% GST tax). Life jackets, stand up paddle board and paddle are provided. Besides training, the instructor will guide you on the sea. They also offer Snorkelling with S.U.P at Sapi Island.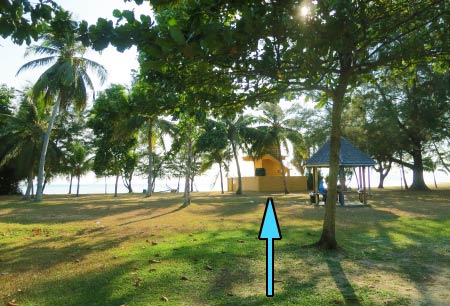 The meeting point is next to the yellow lifeguard building in a small stretch of picnic area near to Kinabalu Yacht Club in Tanjung Aru First Beach.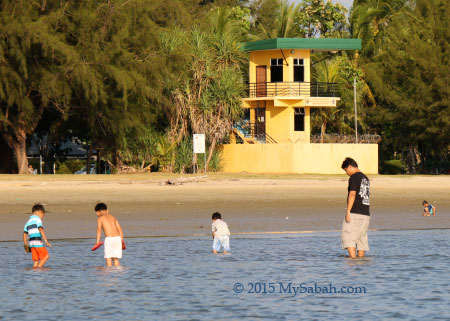 Pic: lifeguard building
More Photos
You may check out my photo album for more photos of S.U.P: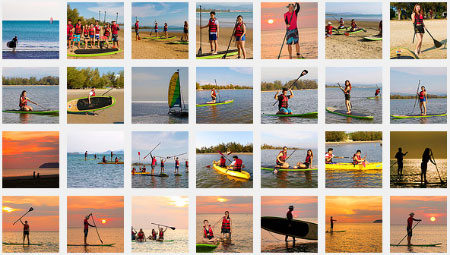 Photos taken in Kota Kinabalu, Sabah, Malaysia
You might also like:
Kürtös Spiroll™ brings a 300-year history pastry, Kürtös Kalács, from where Dracula lived* to Sabah. It is the oldest Hungarian pastry which stems from the Hungarian words kürtő that refers to "chimney" and kalács meaning "cake". Kürtös Kalács is still a popular delicacy today especially in Eastern Europe during special occasions such as wedding. Now it is available throughout the year at the 4th outlet of Kürtös Spiroll in Malaysia (1st in East Malaysia) in Imago Mall, Kota Kinabalu.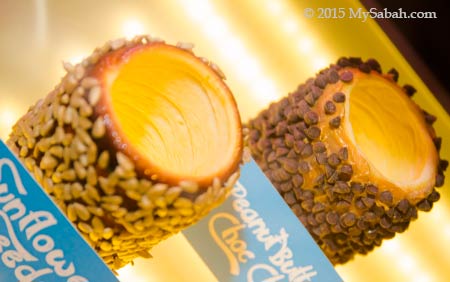 The unique shape of Chimney Cake allows you to enjoy the bread in two different tastes and textures, its outside is sweet and crispy crust but inside is fluffy & soft. I'm not a "bread" person, but I eat it with great relish.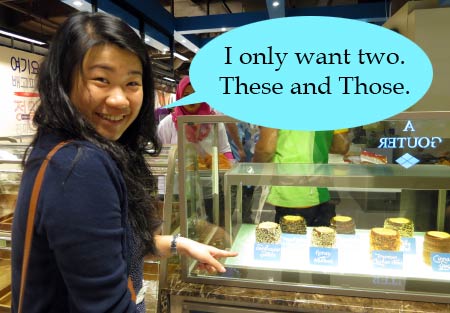 Say Hi to Chloe, my model, and also a foodie who loses control whenever she smells good food.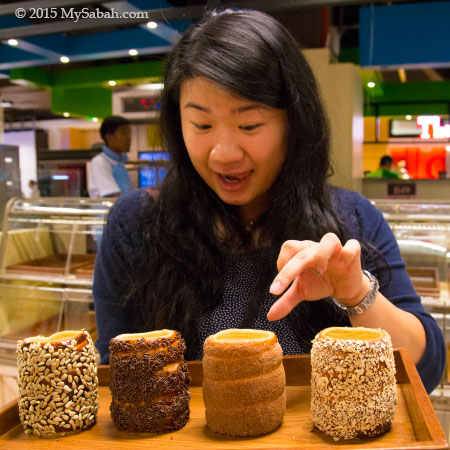 Ok, you win. You can have them all.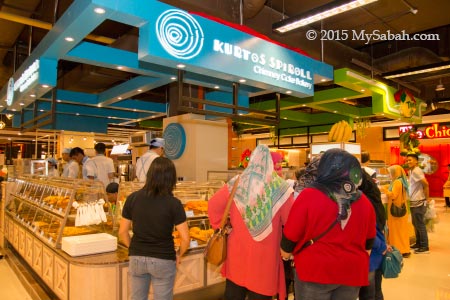 In first day of opening, Kurtos Spiroll already attracted many curious buyers who were keen to try something new.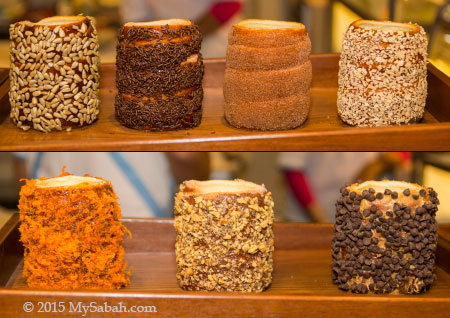 Pic: 7 flavours of sweet-series Kürtös Kalács were on display that day. From top to bottom, left to right:
Sunflower Seeds
Chocolate Rice
Cinnamon Sugar
Honey Nestum
Premium Chicken Floss
Nutella Walnut
Peanut Butter & Chocolate Chips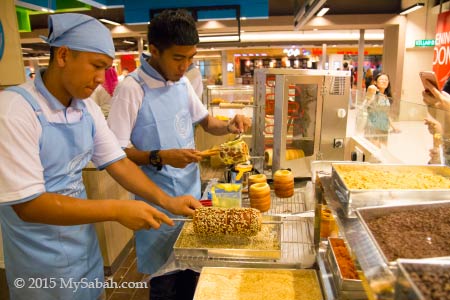 Kürtös Spiroll prepares chimney cakes on-site in traditional way, it's baked rather than fried, and no preservative or artificial flavour is used. It's best consumed within 3 hours because the caramelised surface will turn soft. Since Kürtös Kalács can't be stored overnight, that means it's always freshly made.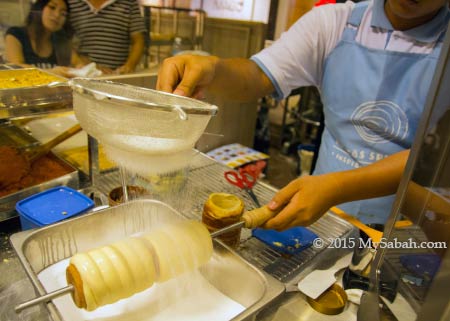 To make Chimney Cake, a special recipe dough is rolled by hand into an even strip and then wrapped like a ribbon around a wooden cooking roll. A topping of choice is then sprinkled on the steaming hot Kürtös Kalács. The dough is then caramelised and baked to perfection in a purpose built oven.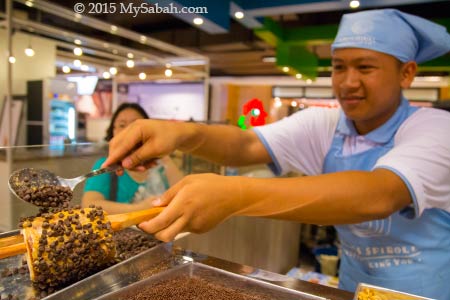 Pic: Oh yea, more chocolate chips please. It is quite enjoyable to see our order is individually hand-made, which takes only 3 to 5 minutes. FYI, Kürtös Spiroll serves No Pork.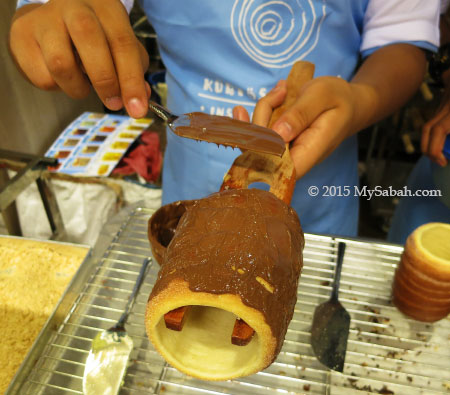 Now they are making my order, Nutella Walnut Chimney Cake., nom nom…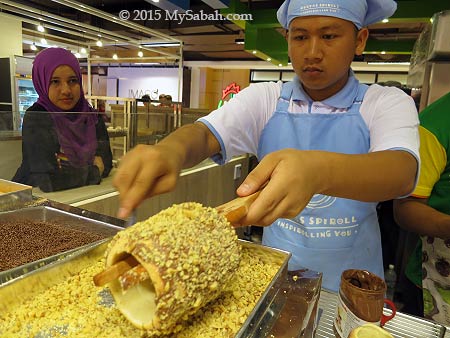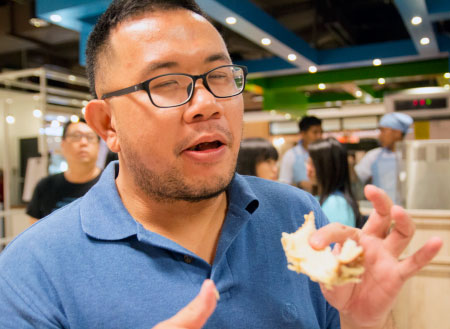 Adam looks high eating Kürtös Kalács. Did they put Marijuana in your pastry? Just joking bro. Frankly these cakes can be addictive.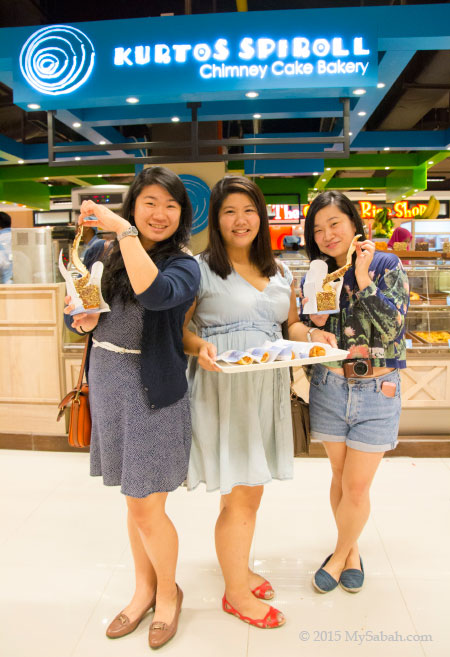 From Left: Chloe, Charlotte and Mei Tzeu. Which one you want? I mean the Kürtös Kalács LOL.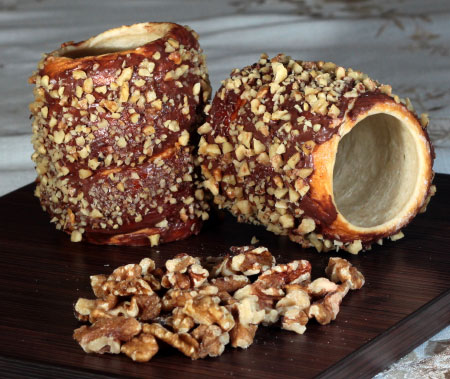 Pic: We all love Nutella Walnut flavour, which is the Best Selling one. If you are not sure which flavour to try, go for this one. This Kürtös Kalács topped with sweet chocolate cream sauce and walnut crumbs really "inspiroll" your taste buds.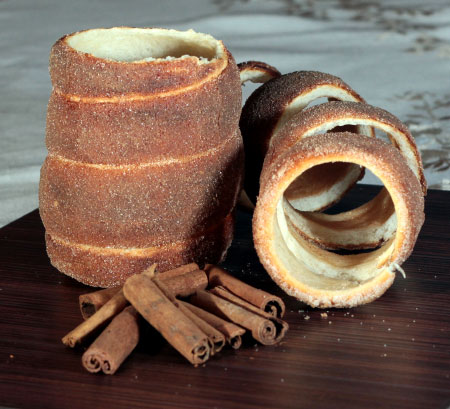 Pic: Another Best Selling Chimney Cake is Cinnamon Sugar flavour.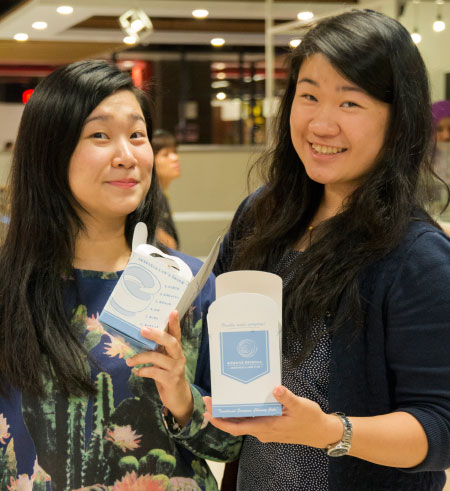 Pic: you can order Kürtös Kalács as takeaways and enjoy it with a cup of hot coffee at home.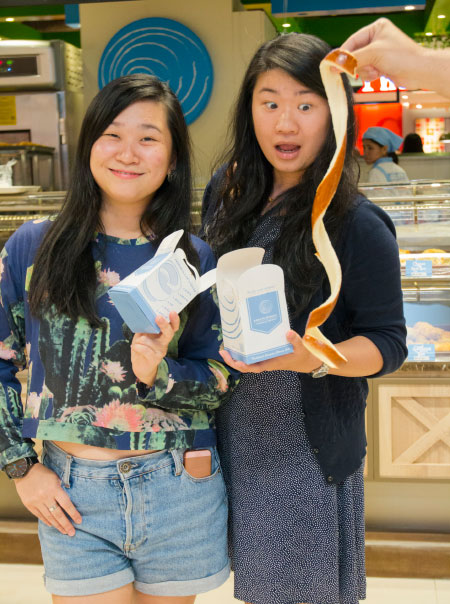 "Who moved my Kürtös Kalács?!"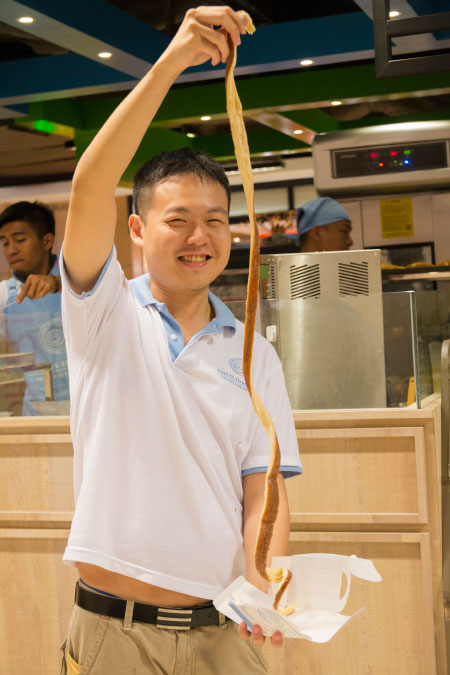 Ernie just wanted to show us the right way to eat Kurtos Kalacs. You start with a pinch to unravel the pastry, and break it into bite size. Note the peel is almost a metre long, it's like a "roti tarik" (pull bread). I ate one already half full.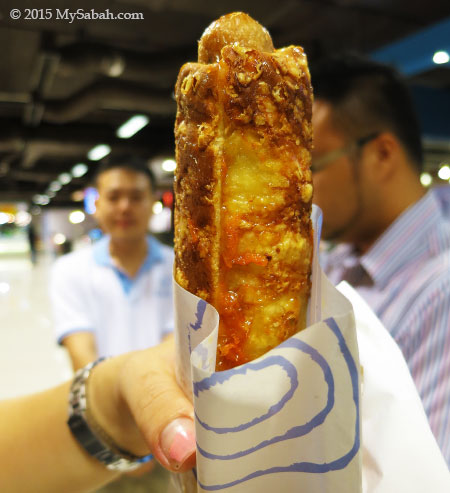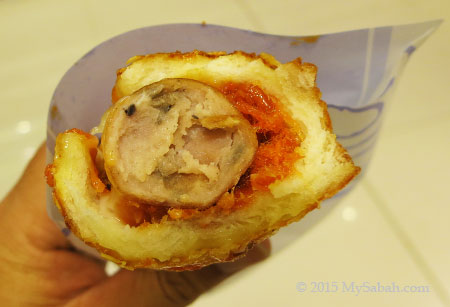 The Spiroll Dog of Kürtös Spiroll (with chicken sausage in it) is also highly recommended if you prefer something savoury. Guys will like its creamy and meaty taste.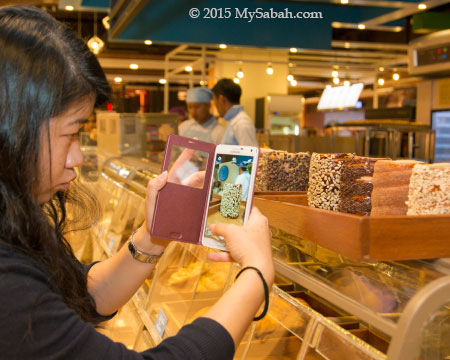 Pic: Taking photo so she can lick it as lunch next day.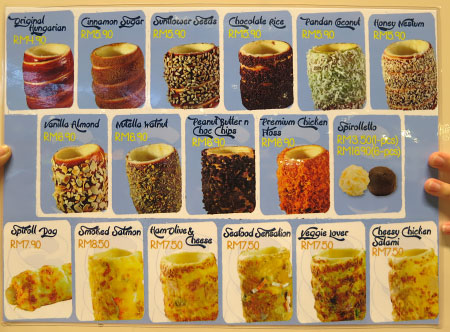 Pic: the menu of Kürtös Spiroll (can click to zoom in. Prices as of April 2015). Most sweet series (first two rows) are available. For savoury series, only Spiroll Dog is available now, the rest are coming soon.
For a taste of this traditional Hungarian-Romanian treat, you can visit Kürtös Spiroll at B-49 (B Floor), Imago Mall in KK Times Square Phase 2, Kota Kinabalu City. They open from 10am to 10pm daily. You may follow their Facebook for future promotion.
*Transylvania Region, Romania
Photos taken in Kota Kinabalu, Sabah, Malaysia
You might also like: