Category Archives:
Sabah
Some people prefer to camp in park equipped with Wifi, air-conditioning and cozy bed. To truly appreciate the nature, some campers want to get away from civilization totally and live among trees and wildlife, like Lupa Masa Jungle Camp. Lupa Masa means Forget Time in Malay language, you would lose sense of time there when you forget about your Facebook, your computer and your boss.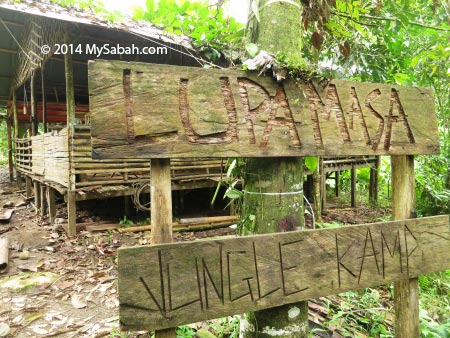 Lupa Masa is located between Borneo rainforest and lower montane forest at the foothill of Mt. Kinabalu, the UNESCO Natural Heritage Site of Sabah. To visit the camp, I met the camp manager, Michael from Scotland, at Poring Hot Springs. He marries a sumandak (girl) from Tamparuli and able to speak Malay fluently. He already blends into the community and now behaves more like a Sabahan wearing a "orang putih" skin (Caucasian). However, he hasn't fallen in love with Durian yet.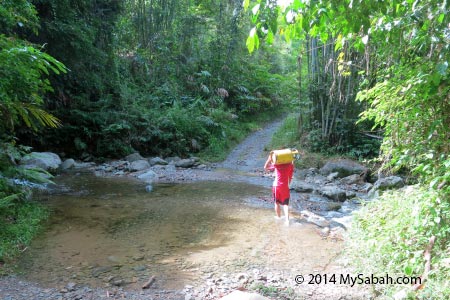 Pic: Michael crossing a stream with a gas tank
Michael got some groceries from Poring and led the way. We walked on a gravel road in village and plantation for about 10 minutes, then we entered a soil trail that took us deep into the forest. The forest is an aged regenerated secondary forest that gives us much needed shade in muggy day. The trail is mostly mildly inclined, with a short section of steep slope.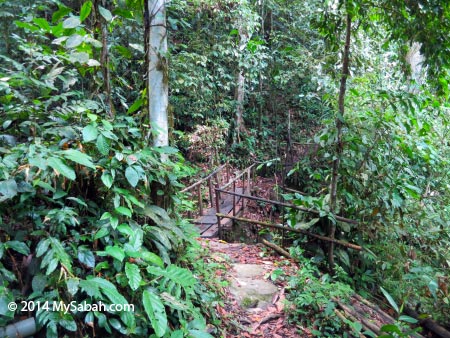 Pic: nature trail to Lupa Masa
The walk was supposed to take about 30 minutes. I was carrying two bags weighed over 15Kg and one of them broke, so it took me an hour to reach the camp. Since this camp is near the boundary of Kinabalu Park and situated between rainforest and cloud forest, you would see wildlife from both habitats. This attracts naturalists who are expert in snakes, mammals, birds, etc. to stay in Lupa Masa. A snake expert even found 12 snake species in a day. But please note that wildlife sighting is depend on luck.
Camping in Lupa Masa
My "room" is only a basic hut with raised floor and a canvas roof over my head. Albeit being pounded by heavy rain a few times during my stay, the roof didn't leak. It is near the edge of campsite and far away other shelters, so I feel so alone at night.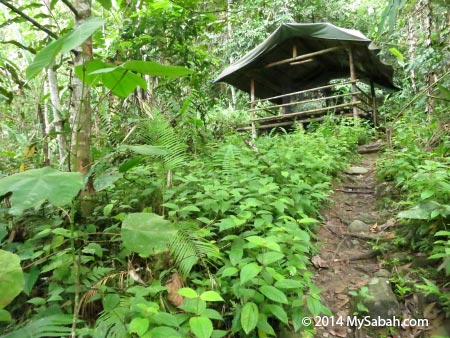 Pic: my private "chalet" surrounded by greenery
As there is no wall between me and the wood, I was fully exposed to the wildlife territory. In the morning, I was always waked up by a flock of noisy Buff-rumped Woodpeckers, and countless chirping birds came to check me out. Then cicada took the afternoon shift to continue the rainforest choir, at night it was the sound of frogs and crickets that sent me to dream land. I was like an outsider. Perhaps I should have tried to join their orchestra by making some rhythmic calls too.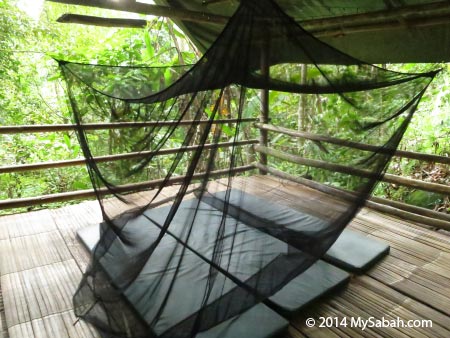 Pic: my bed on bamboo floor
My bed is a few camper beds enveloped in mosquito net. Mosquito is the most active during dusk and I would find 4 or 5 of them bumping the net from outside. In other time, there were very few mosquito in the campsite. The temperature here during daytime is about 25°C (77°F) but can drop to 15 (59°F) or below at night. The camp provides blanket or you can bring your own sleeping bag. There are a few wires for me to hang my cloth between the poles in the hut. My clothing never turned dry in cold and humid days though.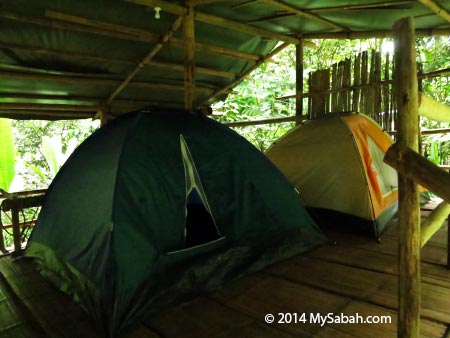 Pic: camping tent in longhouse
If you want more privacy, you can choose to stay in shelter that has camping tent. In Lupa Masa, there are 6 shelters that can host up to 25 campers. The accommodation costs about RM70-90 (≈US$22-28) per night. Food is included, mainly vegetarian meals because they don't have fridge to keep the meat. Some of the food that I had there were rice with curry vegetables, French toast, oat meal with fruits, fried rice, etc.
Night Walk
Night Walk is the highlight of Lupa Masa. You can see far more animals in the dark as most wildlife are nocturnal. You can choose easy walk that takes 2 to 3 hours, or long challenging trek that requires you to cross river and climb steep hill with more rewarding sighting. The guide fee is RM30 (≈US$9.40) per hour, RM75 (≈US$24) if 3 hours. You can share the cost with others if you go in group.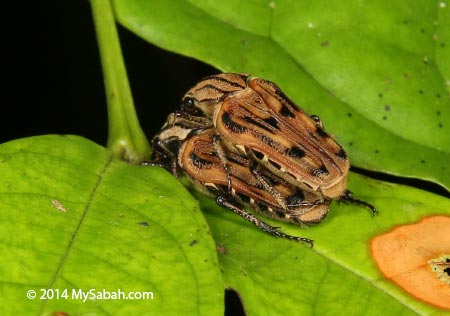 Michael seemed to be more excited than me in night walk. After dinner, we started our night safari on foot at 8pm. Spotting animals in the dark is no easy task because of their camouflage. You need a good torchlight and great eyesight. Anyway, you won't need both when Michael is around, as he is an excellent spotter. Even if he showed me the things he found, it still took me quite a while to see it. His secret is to look for light reflection in animal's eyes.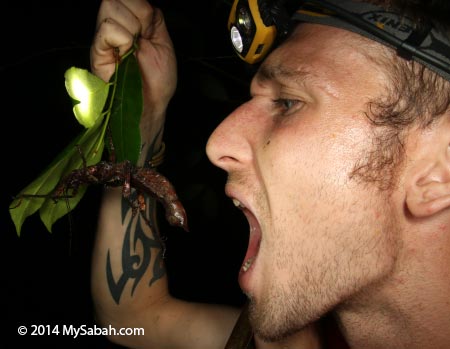 Pic: big juicy stick insect, endemic to Borneo
In case it rains, you better bring a raincoat. Leech is expected, so wear your anti-leech socks. I didn't get any leech bite though there were many leeches around. We shined our torchlight to every corners to find those critters hiding in burrows, tree holes, bark, river rocks, shrubs and fallen log.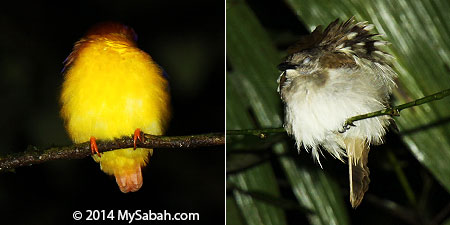 Pic: sleeping birds. Note the kingfisher has only 3 claws.
We saw a number of sleeping birds on the trees. It's interesting that they turn into "fur ball" while asleep.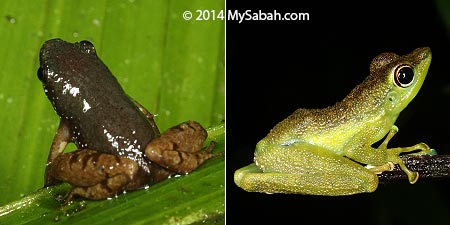 Frog are everywhere. I saw and heard many of them after rain, e.g. Lesser River Frog, Giant River Frog, Montane Litter Frog. Some leaped away before I got close enough to take a photo.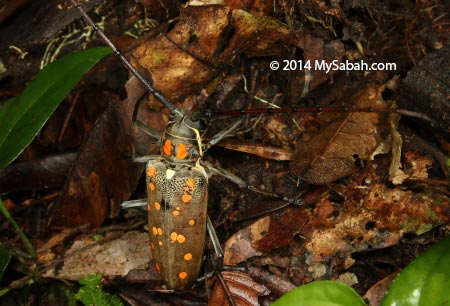 Pic: a big long-horned beetle
Other animals that we spotted included Small-toothed palm civet, long-legged millipede, Agamid lizards, white lantern bug, spider, scorpion, tree-hole crab, dead-leaf grasshopper, trilobite, geckos, katydid and a green pit viper.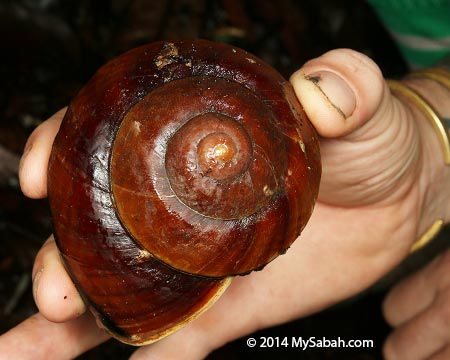 Pic: a giant forest snail
Suddenly Michael paused and smiled, "How much you would pay me for spotting a horned frog?"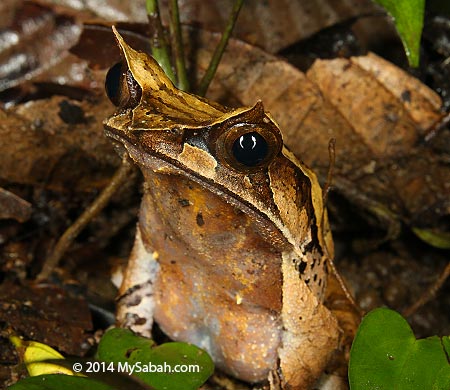 Oh yeah, we found a Bornean Horned Frog, no, two!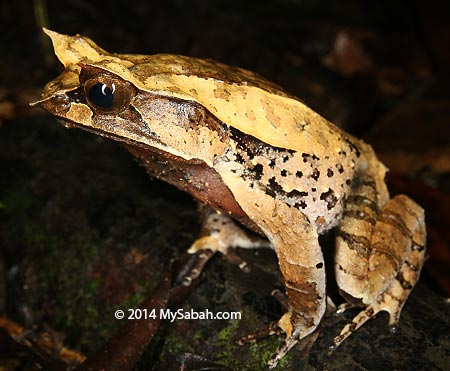 Bornean Horned Frog looks like a little devil. Actually it's a gentle frog. Its "horn" is an extension of its eyelid, to make its body shape looks like a leaf.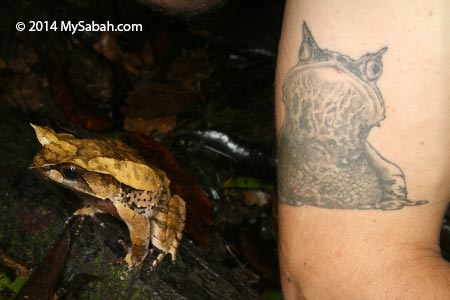 From his tattoo, obviously Michael is also a fan of horned frog lol.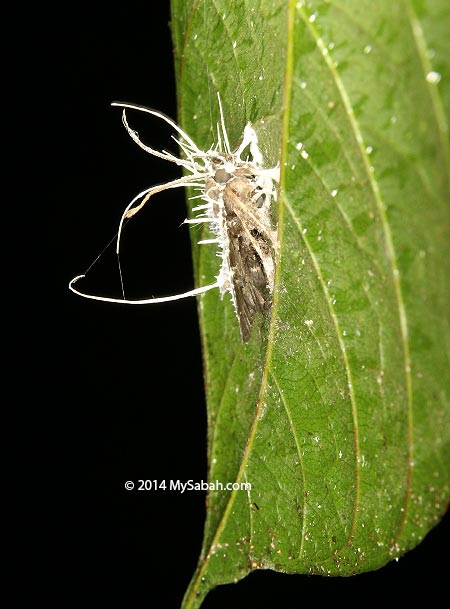 Pic: a moth which was infested by parasite fungus which turned it into a "zombie." This fungi can mind control its host to climb to the higher spot, to spread its spores.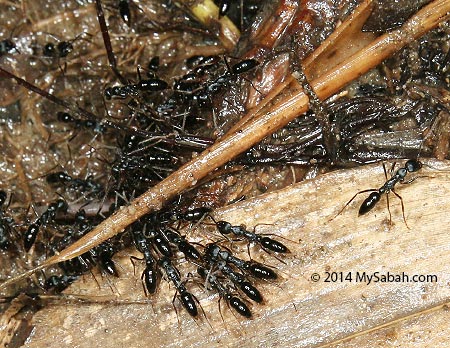 Pic: Beware of aggressive fire ants on forest floor. Their stings can penetrate sock and very painful hence the name.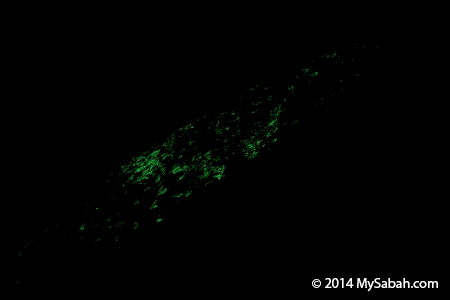 Pic: animation to show luminous fungus with the light on and off
Then Michael showed me something really special but we needed to turn off our torchlight. It's luminous fungus that glows like green neon light on a decaying log. The glow is quite bright in the dark. We saw a few glowing mushroom too.
Some "trophy species" of wildlife photographers such as Western Tarsier, Slow Loris, Bornean Leaf Nose (snake), Wallace's Flying Frog and Caecilian (a limbless amphibian) are known to be present at Lupa Masa, but you will need some luck to see them.
Day Walk
During daytime, you can take a stroll in the campsite or surrounding forest. Walk slowly and quietly in the morning, you would find Blue-banded Pitta, the jewel of Borneo rainforest, around the camp. This place is great for birding because flock after flock of sunbirds, flowerpeckers, bulbuls and other forest birds frequent this camp during dawn and dusk. I saw Orange-bellied flowerpecker, Crimson-breasted flowerpecker, Broadbill, Ashy Tailorbird and Kingfisher during my stay.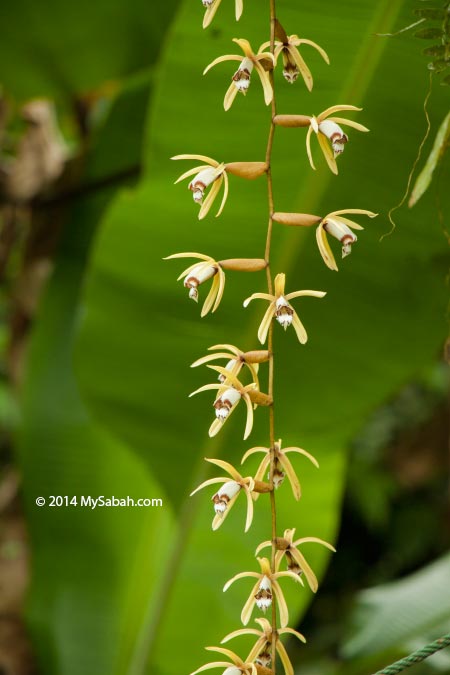 Lupa Masa campsite is a garden by itself, planted with vegetables, fruit trees and flowers. The blooming orchid here attracts butterflies such as Rajah Brooke butterfly, tree nymph and birdwing butterflies in different colors.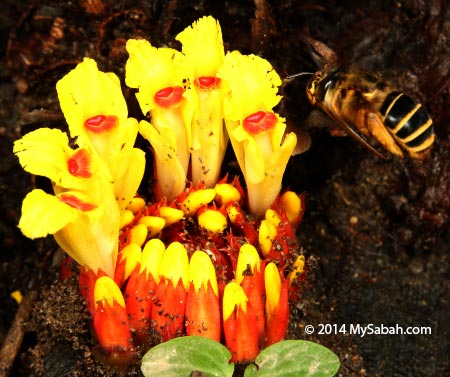 Pic: Ginger flower that looks like a birthday cake (Species: Etlingera fimbriobracteata),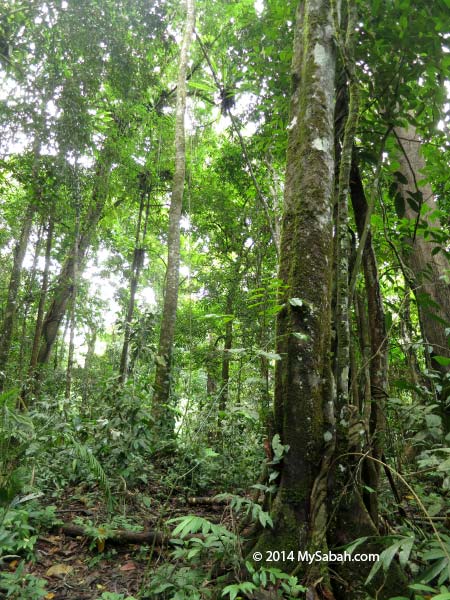 The boundary of Kinabalu Park, the most bio-diversified forest of Borneo, is just a few minutes walk away from the camp. The jungle is well lit by daylight, so you can enjoy the view of standing tall trees. The zappy Pygmy squirrel, the smallest squirrel in the world, is commonly seen busy moving up and down tree trunks. Look high above you would find bird's nest fern and wild orchid on the trees.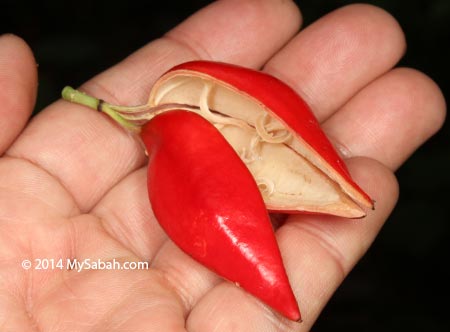 Pic: a fig fruit that looks like red chili
Lupa Masa is one of the few places where you can find three types of corpses flowers, namely Rafflesia, Rhizanthes and Titan Arum (Samurai Flower). Their flowers take many months to bloom, so you should be very happy if you see such rare sighting.
River & Waterfalls
During hot day, one of the favorite activities of their guests is to soak in the icy river or pond of Lupa Masa Waterfall nearby. You can enjoy the cleanest (and Chlorine-free) flowing water from Mt. Kinabalu.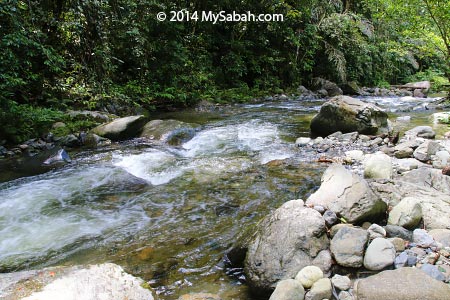 Pic: clean and unpolluted river from Kinabalu Park is only 10 Meters from the camp.
The water is shallow so it is safe for a swim, or you can just sit in the river for a free massage from river current (do bring beer with you).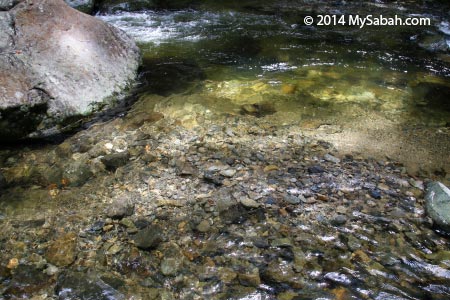 Pic: you can tell how clean is the water from the photo. It's so crystal clear that I can't see the water. Sometimes otters and kingfishers forage for fishes here too.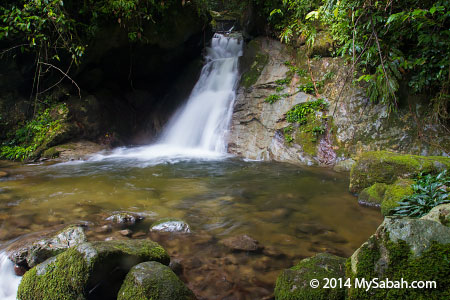 Pic: Lupa Masa Waterfall near the camp (7 minutes walk)
For those who are adventurous, they can hike one hour uphill to explore the "hidden" waterfall, which is five times bigger than Lupa Masa Waterfall.
Amenities
The camp was started by Tom in 2010, with the concept of providing authentic jungle experience, so the amenity is basic. The campsite has solar panel and power generator but electricity supply is not available most of the time, so you better bring a torchlight (with spare batteries). There is no outlet to charge your phone and battery. No Wifi in camp, but my phone can receive 2G connection, slow but able to use Whatsapp and SMS.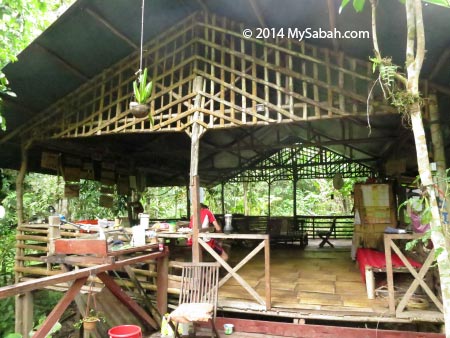 Pic: activity hall where guests can sit around and relax
You can sit at the deck facing the river and dense forest, looking at starry sky and firefly. Tom said, "I'm so glad that this forest wasn't turned into a paddy plantation." Looking at the beautiful trees and river, I can't agree more.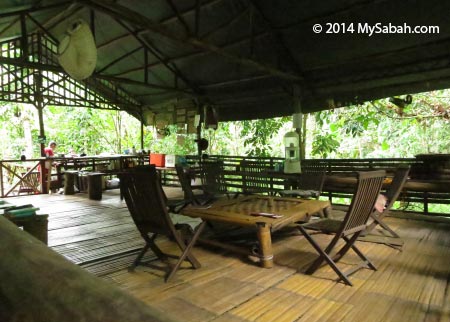 Pic: table where guests can have meal, chit chat and playing cards.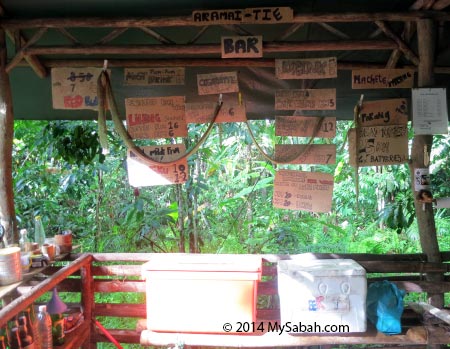 Pic: "mini-bar" for you to buy some soft drink, beer and wine. The hanging object is a shed snakeskin.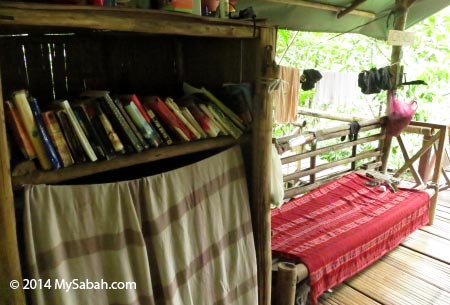 Pic: reading corner. Guide books on animals such as birds and snakes are available.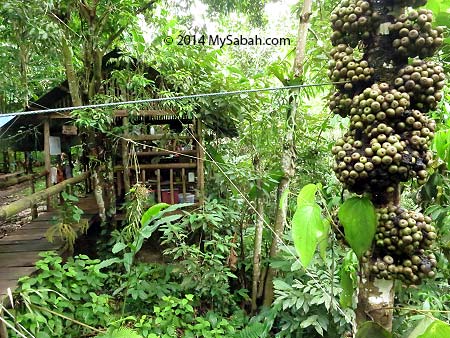 Pic: kitchen. The lucky guest would see Slow Loris around here at night. I saw an ant mimic spider the other day.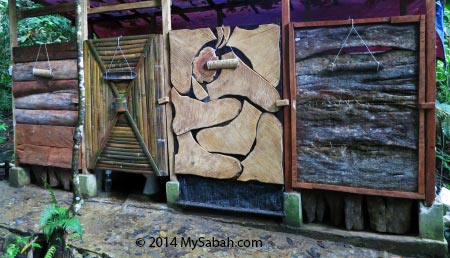 Pic: the toilet with creative door design.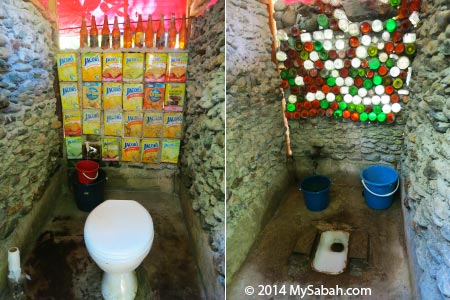 Pic: you can choose to sit or squat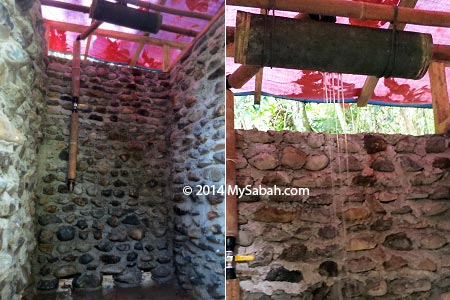 Pic: bathroom with bamboo shower head. The water is from the river, very cold and refreshing (I advise you to bath before the cold evening approaches).
Contact
To stay in Lupa Masa, you need to contact the camp to book a place prior to your visit.
Tel: +60 19-5813863 / 019-8020549
E-mail: LupaMasaBorneo@gmail.com
Facebook: Lupa.Masa
The camp also welcomes volunteers. You can get free stay and meal if you contribute some labor work. There is no fixed requirement but you need to have special skill such as cooking, carpenter and house-keeping. You may contact them for more details.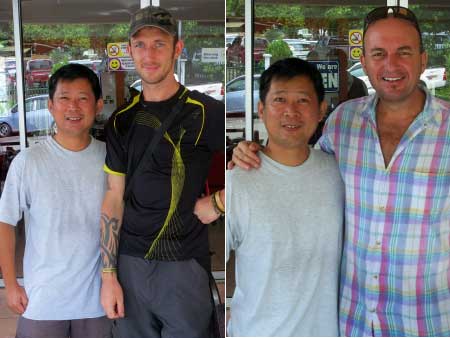 Pic: photos with Michael (left) and Tom (right). I look like a dwarf next to them lol. Thank you for your hospitality!
Tom has stayed in Borneo for 15 years. He is actively helping the local communities across Sabah and Sarawak to develop their local attractions. One of his latest project is Lupa Masa Longhouse in Kudat. You may visit the website of his company (Adventure Alternative) for more info.
Getting there
You can take a bus to Ranau town from Inanam Long Distance Bus Terminal (see Location Map) or Kota Kinabalu Merdeka Field (see Location Map). The fare costs about RM15 one way (≈US$4.65) and the bus reaches Ranau in 2 hours. In Ranau, get a cab or bus at taxi station (see Location Map) / bus terminal (see Location Map) to Poring Hot Springs (where the staff meets you), the fees are RM40 (≈US$12.50) and RM10 (≈US$3.10) one way respectively and the ride takes about 25 minutes. It takes 30 minutes to walk to the camp from Poring.
More Photos
You may check out my photo album to see more pictures of Lupa Masa: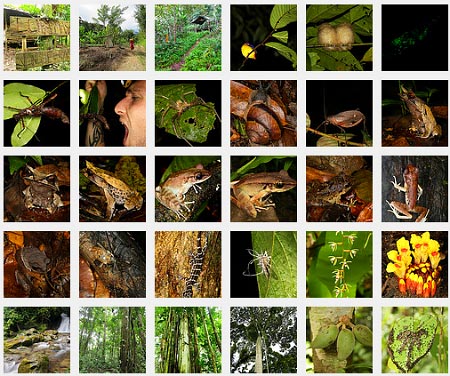 Photos taken in Poring, Sabah, Malaysia Borneo
You might also like:
Say to any European you are from Sabah, most of them would ask, "Huh? Where is Sabah?" But if you say "Borneo," many seem to know this island. Ironically, Sabahans know very little about their Borneo identity though Borneo is far more popular to foreigners, probably as a result of our school textbooks that mainly glorify the Malaya history of Peninsular Malaysia. Therefore, Sabah State Museum is the best place for locals and tourists to experience a fun history journey about Borneo.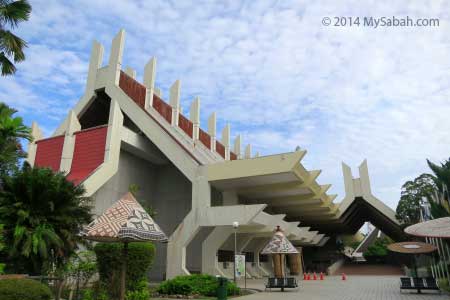 Pic: The design of Sabah Museum building is inspired by traditional Rungus Longhouse
Even though Sabah Museum isn't as big as those world-class museums, it has great quantity of historical artefacts, documentation and photographs to connect all the dots of our past. For sightseeing tourists, a short tour of 2 hours is enough, but for people who love the stories of Borneo, they would spend half a day. Even if you hate history class, you would discover that Sabah history is interesting.
"A generation which ignores history has no past — and no future." ― Robert A. Heinlein


The first thing that you meet inside museum is a huge whale skeleton of 18.6 Meters in length. It is the biggest whale skeleton exhibit in Malaysia, according to The Malaysia Book of Records.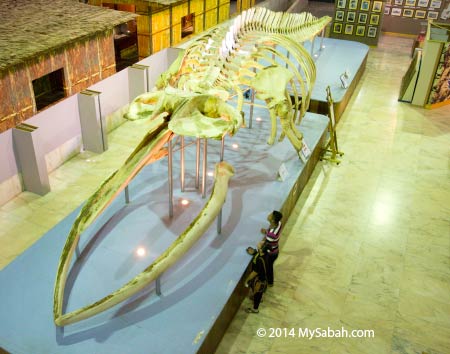 It's a Bryde's Whale stranded at the beach of Gaya Island on 17 Dec 2006. Everyone tried to rescue this whale but it died eventually.
There are a few galleries inside Sabah Museum. I briefly highlight their features below so you know what are so special about each of them. The information sign is written in both English and Malay languages.
Ceramic Gallery
This is my favorite gallery. Ceramic jar was a very important commodity for more than a thousand years in daily life of Sabahans, people used it for storage, wine-brewing, bride price, ritual and even burial! Borneo imported ceramics from China as early as Sung Dynasty period (960-1279 A.D.). "Made in China" would mean something cheap and low-quality today. But during that time, China ceramic jar was highly valued and owning one is a sign of wealth.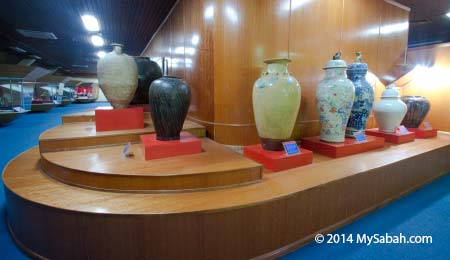 Pic: Tabu Dita, the colorful tall jars at the right in the photo above, is one of the finest jar in Borneo.
Many antique jars are passed down for many generations as heirloom. Sabah Museum has been acquiring them across Sabah and they have the best collection here.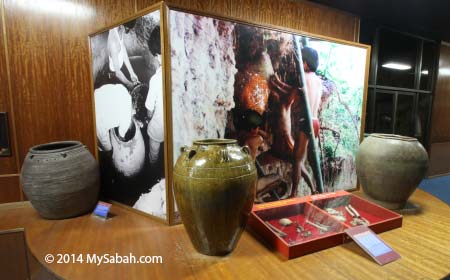 Pic: burial jars of Sabah. In the red boxes are human bones found in these old jars. Burial in jar is a very common practice among Kadazandusun and Murut people of Sabah in ancient time. After the corpse turned into bones, they would move the bones to a smaller jar and reuse the big jar.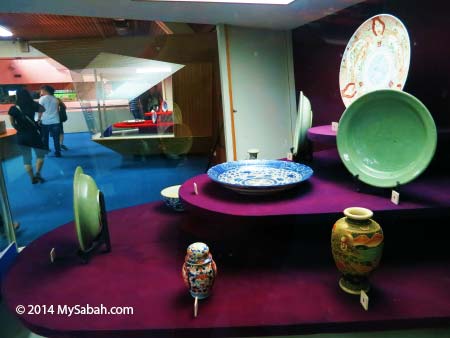 Pic: the Museum also displays many trade wares from China from the period of Yuan, Ming, Sung and Qing Dynasty, and also from other countries such as Thailand, Vietnam, Cambodia, Japan and Europe. Some of them are recovered from sunken shipwrecks.
Besides, there are items such as ceramic pillow, cosmetic boxes and spittoons, something that we don't use anymore nowadays.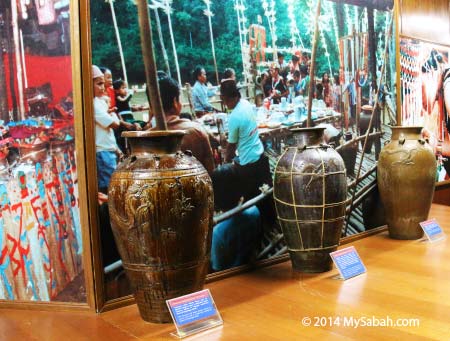 Pic: jars used as bride price by Murut in the past.
Headhunting Gallery
Hundreds years ago, the fearsome headhunters roamed the land of Borneo. Armed with sword and blowpipe, they hunted human heads as trophy. "Honey, I got a skull and now we can get married!" would be one of the things the warriors whispered to their girls. Coming back with heads was a symbol of bravery and a prerequisite for a wedding.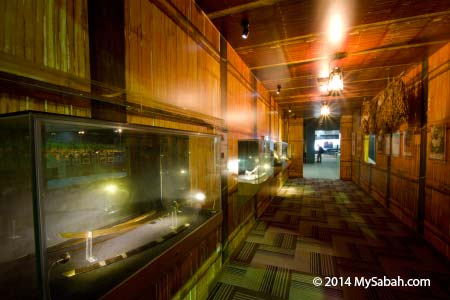 Today the headhunting tradition had long gone. Through the Headhunting Gallery of Sabah Museum, you will be brought back to their world to understand why and how they did it.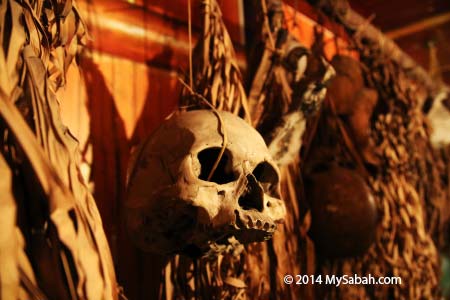 Under the roof, a collection of hundred-year-old (real) human skulls tied up together with silad leaves, as seen in the gallery, was a common view during the savage age, as the owners believed the skulls could bring them good fortune and protect their families.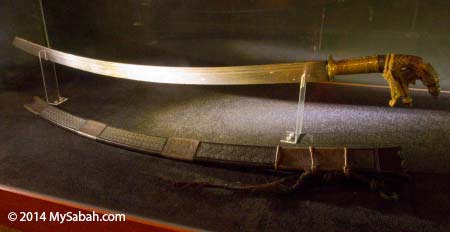 Pic: head-hunting sword attached with the hair of victim
In the gallery, you will see the swords and weapons used by Kadazandusun and Murut people to cut off people's head. There are some photographs of the headhunters and details on how they "processed" the heads.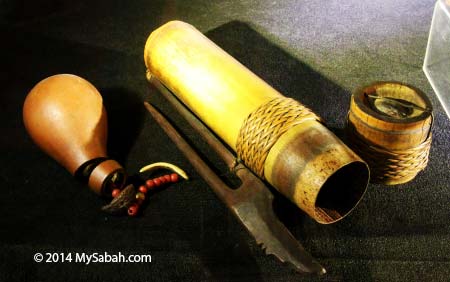 Pic: containers for darts and poison of blowpipe
Natural History Gallery
This gallery gives you an overview of ecology in Borneo. Visitors will see specimens of different flora and fauna from marine, rainforest, swamp and cave ecosystems. It's nice place for an educational tour for students.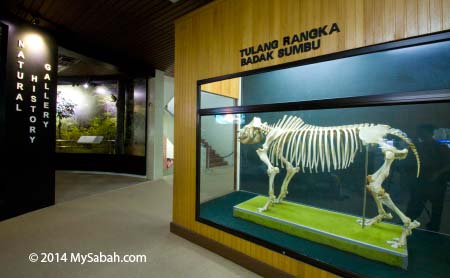 Pic: skeleton of a Sumantran Rhino at the entrance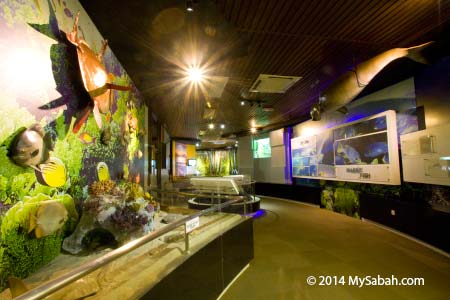 It's quite impressive that they have the specimens of the most elusive and secretive Borneo animals such as clouded leopard, pitta (bird) and mud lobster. I know you prefer to see the live ones, but these animals are extremely hard to find in the wild, so it's better than nothing.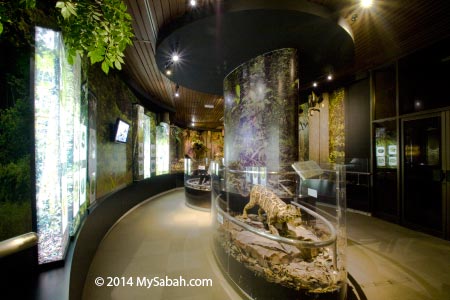 Natural History Gallery also has a section that introduces some local herbs that can cure snake bite, breast cancer, leukaemia, etc. No wonder scientists say Borneo rainforest is the largest drug store in nature.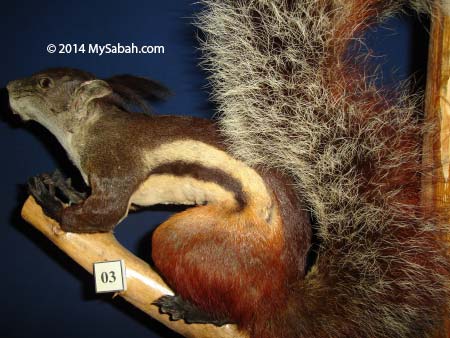 Pic: a specimen of Tufted Ground Squirrel, which is native to Borneo and also known as Vampire Squirrel. It's the record holder of world's fluffiest tail, a bizarre creature.
Ethnology Gallery
Sabah has 32 indigenous groups, with about 100 languages spoken, our culture is the most colorful and diversified in Malaysia, probably our state is under the influence of our neighbours from Philippines, Brunei and Indonesia. A good way to learn about a culture is to see what they wear, use and play.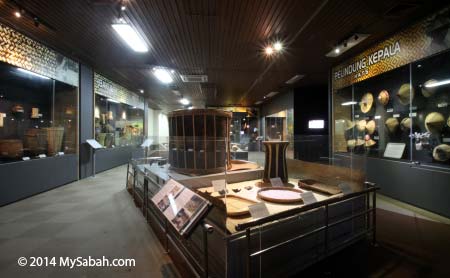 Various handicrafts, farming tools and musical instruments are exhibited in this gallery. You can even try their musical instruments in a sound-proof room.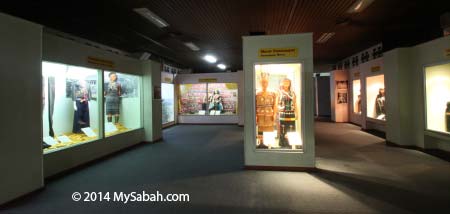 Pic: the cosmo section showing some unique costumes and accessories worn by different Sabah ethnic groups, which look very different from one another. Even for a simple item such as basket, they can have dozens of design.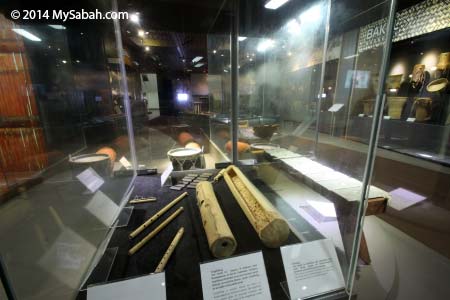 Pic: music instruments on display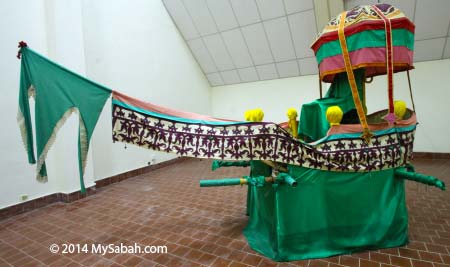 Pic: this is Unsunan. It looks like a boat but isn't for sailing. I'll let you guess what it does.
Ancient Culture Gallery
This gallery is quite exciting because you will see the best pieces of prehistoric artefacts from important archaeological sites of Sabah. The latest additions are stone tools from Mansuli Valley (at Lahad Datu), which dated back to 235,000 years ago and believed to be the earliest human civilisation in Borneo.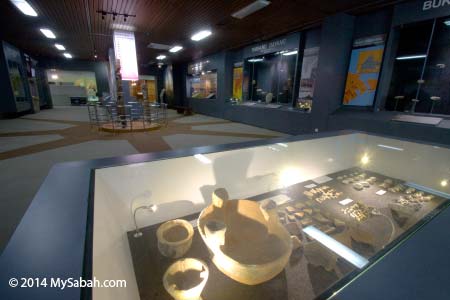 Browsing through hundreds of tools made of stones, clay, shells, bones and wood, which are nicely presented and organised, you will be amazed and want to learn more about the origin of Borneo people, because everything is so different from the Sabah we know today.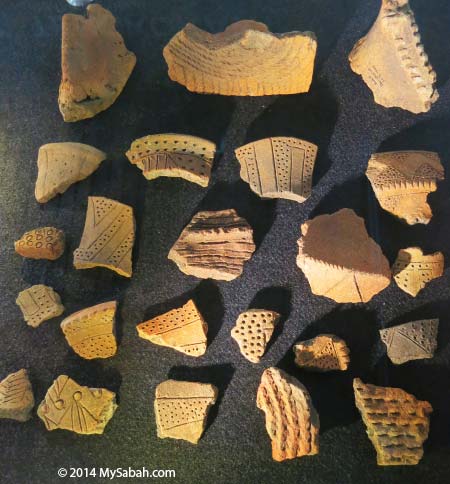 Pic: pottery sherds from Bukit Tengkorak (Skull Hill) in Semporna.
Our ancestors are not axe-wielding cavemen that don't know business. During Neolithic period, they established one of the largest pottery making sites (Bukit Tengkorak) in Southeast Asia and "international" trade routes reaching 3,500 KM away.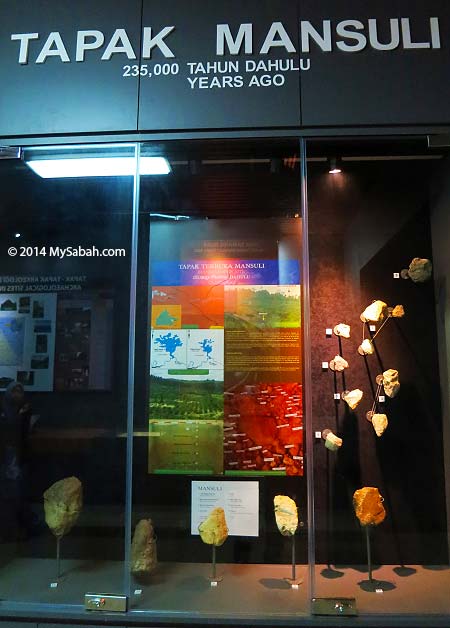 Pic: artifacts from Mansuli archaeological site, this new discovery will rewrite the chapter on Borneo prehistory, a must-see.
FYI, the famous Perak Man from Lenggong Valley, which is the oldest known location of human presence in Peninsular Malaysia, is ONLY 11,000 years old.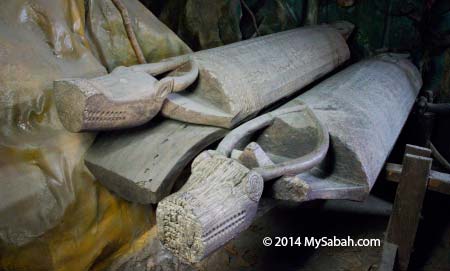 Pic: buffalo-head ironwood coffin of 900+ years old, nothing similar is found in other parts of Southeast Asia.
The gallery also has a chronological graph of ancient cultures and a location map of significant archaeological sites in Sabah.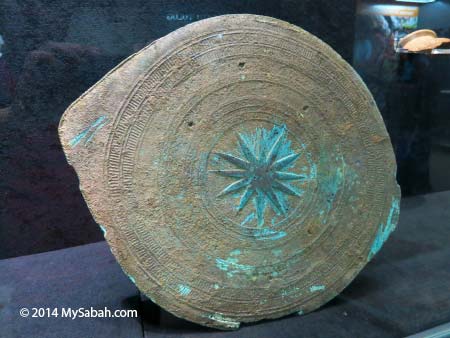 Pic: a 2,000-year-old Vietnamese drum from Bukit Timbang Dayang burial site of Banggi Island, an extraordinary piece from Bronze age.
Borneo has more links with other regions than West Malaysia in very old time. We would never know what we will uncover next in Borneo.
Sabah History Gallery
Malaysia is a country less than 60 years old, so Malaysia is absent in picture of Borneo history most of the time, our people had more connection with Sultan of Sulu (now Philippines) and Brunei, than other Sultan at another side of South China Sea. The Sabah History Gallery exhibits some major political and social events via info sign, antique and photographs, mostly from the time before Malaysia was formed (1963).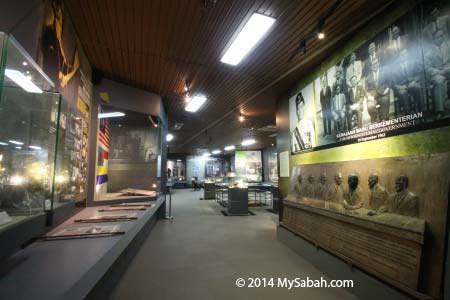 About 500 years of historical data is compressed into this gallery of 500 Sq. Meters, so you need only 15-minute to walk through Sabah history. The history of Borneo starts with ruling of Brunei and Sulu Sultanate, later Westerners came, then British took over Sabah and named it North Borneo. During British colonial era, there were some uprising of locals to against imperialism. In 1942, Japanese invaded Sabah during World War II, we were liberated in 1945 and form Malaysia with Malaya in 1963.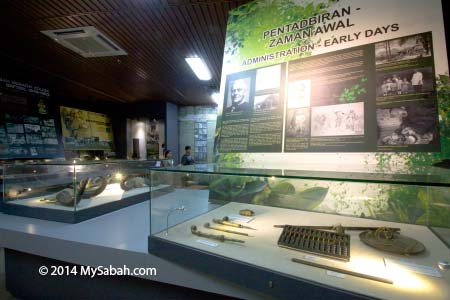 There are dark sides of Sabah history being told as well. Like in the age of piracy and slavery around 1870, no village was found for more than 60 miles along Kinabatangan River; the bloodshed during rebellions; the opium trade permitted by British government; the weapons used in wars, etc. Locals elders would dig deep in this gallery because they had lived through this hardship with their parents.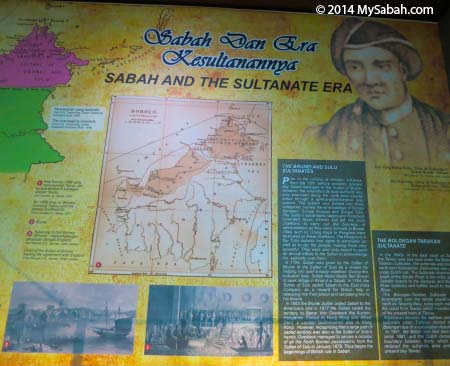 Pic: info about Sulu & Brunei Sultanate. The successors of Sulu Sultan wants Sabah back. Dream on!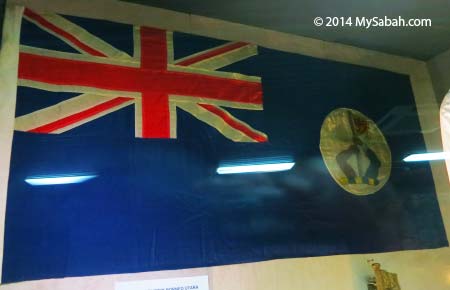 Pic: "National flag" of North Borneo
I thought I knew Sabah history, but still many surprises were awaiting me there. Did you know North Borneo (now Sabah) participated as a country in 1956 Olympics games in Melbourne, Australia? Also on display are treasures from the oldest Chinese shipwreck in Malaysia, from the Tip of Borneo during Sung Dynasty period (960-1127 A.D.).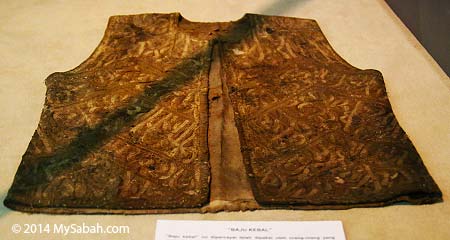 Pic: the "Invincible Vest" with sacred Al-Quran verses written on it, worn by followers of Mat Salleh to fight British forces between 1886 and 1900. Btw, they lost at the end.
Sabah Now and Then Exhibition (1963-2013)
If you are a foreigner who has no sentiment toward Sabah, it's unlikely that you would be interested in this gallery. It is a "reminiscent corner" for locals by showing of important or meaningful things in 50 years of Sabah being part of Malaysia (1963-2013).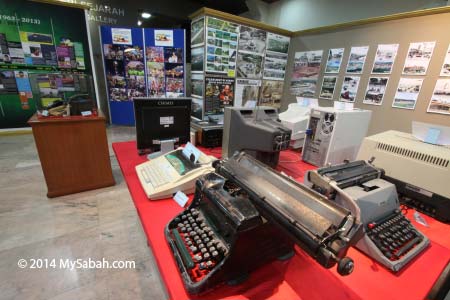 Pic: The items and photos may look somewhat familiar to older Sabahans.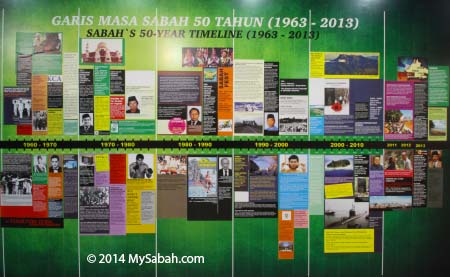 Pic: An informative and colorful timeline graph that documents the historical moment of Sabah history in chronological order. Some bring back happy memory while some are painful reminders.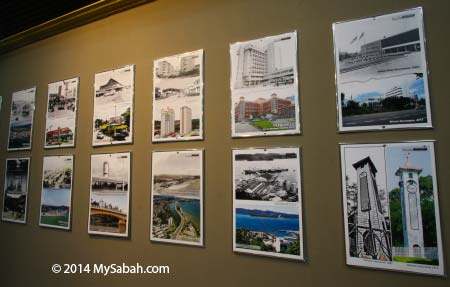 Pic: the New Vs Old photos of building and cities/towns in Sabah. Looking at the photos, youngsters would laugh, "Wow, we were so underdeveloped!" Old folks would sigh, "Hey, I used to work at this place."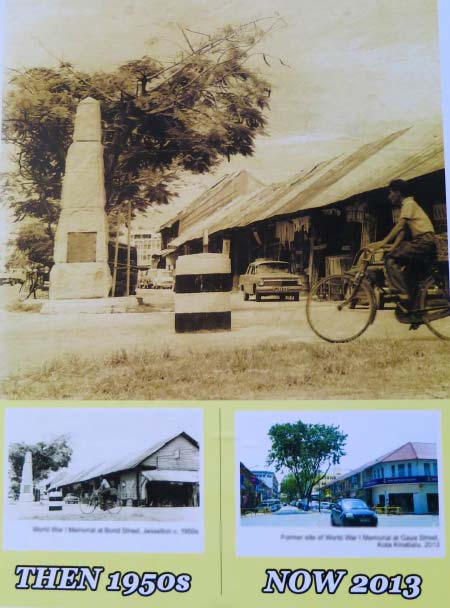 Pic: can you tell where is this place?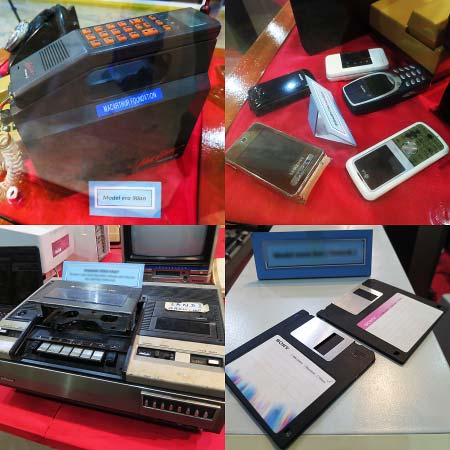 Pic: still remember these items? We used to love them so much and saw them every day. Technology changes so fast, so is human heart.
Others
There are just too many things to explore in Sabah Museum Complex. You may check out the following sites if you have ample time:
Sabah Islamic Civilisation Museum
Sabah Islamic Civilisation Museum is a small museum about 20 minutes walk away from Sabah Museum (see Location Map). If you have bought the ticket to visit Sabah Museum, you can enter it with the same ticket on the same day (needless to buy second ticket).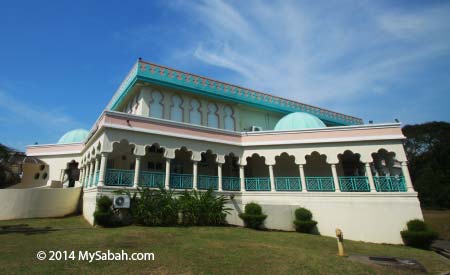 This museum exhibits some antiques and information related to Islam in Sabah, for example, Al-Quran, ceramics, costumes, mosques in Sabah, accessories, brasswares. The highlight is a very nice and extensive collection of fancy betel nut containers.
Heritage Village
It's located next to Sabah Museum and Ethno-botanical Garden, you may take a stroll among the traditional ethnic houses of Rungus, Murut, Bajau, Dusun, etc. You can walk into each house and take photographs. There is a pond and lush forest around the village, where you will find many native fruit, herb and ornamental plants. It's a beautiful place but please bring insect repellent just in case.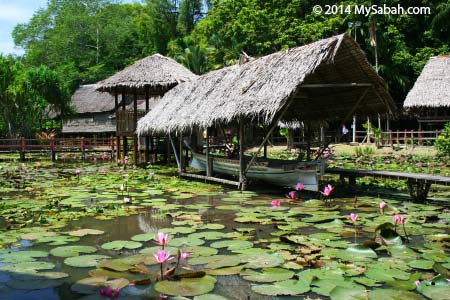 After the visit, there is a nice gift shop where you can buy some souvenirs, and a small cafe for some food and drink (limited choices).
Visitor Info
Sabah Museum is only 2 KM away from Kota Kinabalu City Centre and very accessible by taxi and bus (see Location Map).
Admission Fees
Visitor Type
Fee
Non-Malaysian
RM15.00 (≈US$4.75)
Malaysian
RM2.00 (≈US$0.65)
(Malaysian Only)
Student in Uniform, Disabled Guest, Senior Citizen, Taxi Driver
Free
Contact
Opening Hours: 9:00 am – 5:00 pm daily
Website: museum.sabah.gov.my
Email: Muzium.Sabah@sabah.gov.my
Tel: +60 (88)-253199
Address: Sabah Museum Complex, Jalan Muzium, 88300 Kota Kinabalu, Sabah, Malaysia
My Special Thanks to Puan Joanna Datuk Kitingan, Director Of Sabah Museum, for giving me the permit to photograph the galleries of Sabah Museum.
Photos taken in Kota Kinabalu, Sabah, Malaysia Borneo
You might also like: