Category Archives:
Sabah
Somehow people like to get scared in different way, such as watching horror movie and speeding. Now there is a new way of "enjoying" adrenaline rush caused by great height, fast velocity and strong G-force. The 235-Meter-long (771 feet) zipline (a.k.a. Flying Fox), between Sapi and Gaya Islands nearby Kota Kinabalu city, is now open for thrill seekers who want to fly across the sea at a speed of 55 KM/Hour (34 Mile/Hour).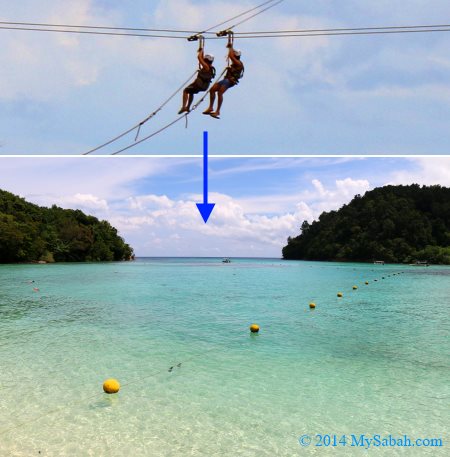 Pic: the zipline between Sapi (left) and Gaya Island (right)
Known as Coral Flyer, this world's longest island to island zipline is opened in early May and managed by Ropeskills. I was lucky to be one of the invited bloggers to try it out. Being the longest zipline has two advantages, guest can experience the zipline for longer time at faster speed.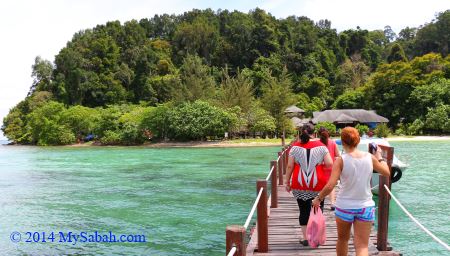 At first, we were transferred to Padang Point of Gaya Island, where the starting point of zipline located. They provide free transfer (from Sapi to Gaya Island) if you sign-up for ziplining. The ticket counter is at the reception desk (entrance) of Sapi Island.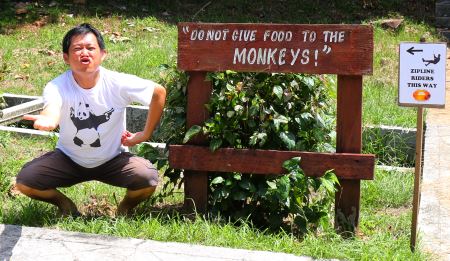 Pic: a signage in Padang Point, Gaya Island. Don't feed the monkey.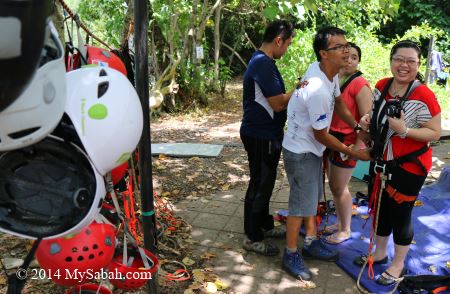 At the harness station, the staffs gave us briefing and helped to put on our helmet and harness. The maximum weight to zipline is 120 Kg (265 lbs), and the minimum is 40 Kg (88 lbs). There is no age limit. If the child is too small, the staff or parent can bring him/her on tandem rig for a ride.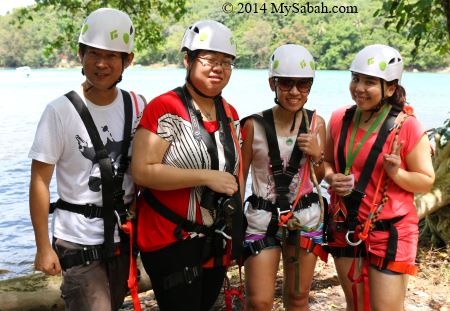 Pic (from left): me, Margaret, Mas and Sherrie. We are so excited.
You can wear anything in ziplining. For shoes, wearing sandal is better than slipper, because you need to trek uphill a bit, and sandal won't fall off during ziplining.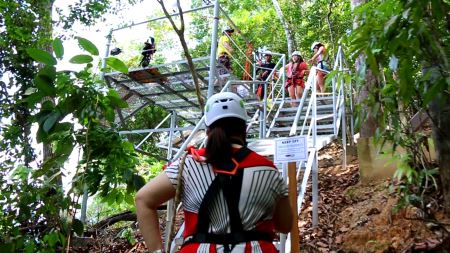 Then we trekked a few minutes to the platform on higher point for take-off. There were quite a lot of tourists wanted to try zipline. This activity is getting very popular.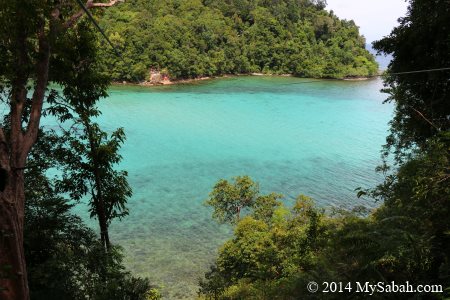 Pic: the beautiful view from the take-off point
Our hearts started to race when we realized that the zipline was not only long, but also high, it's 45 Meters (148 feet) above the ground. Then everyone became so courteous. "You go first", "No, you go first", "You first"… LOL To be honest, I was nervous.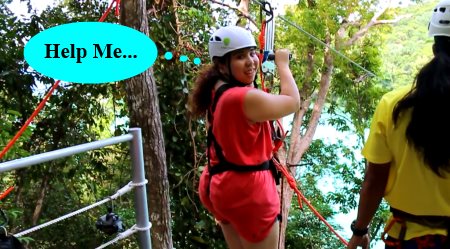 Pic: sorry Sherrie, it's too late to change your mind.
Margaret and Sherrie were the first group to take off. After the qualified staffs attached their harness and zipline trolley to zipline securely, they communicated with another side with walkie-talkie for clearance.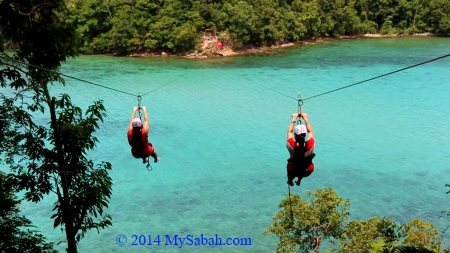 Then both of them were positioned at the take off point. Once everything is set, they will push you away without giving you much time to think, haha. I bet other end could hear them both screaming all the way. Coral Flyer adheres to the guidelines set down by the Association for Challenge Course Technology (ACCT). They take safety seriously so we are in good hands. Everything is also insured and licensed.

At last it was the turn of Mas and me. There are two ziplines side by side, so we can zipline together.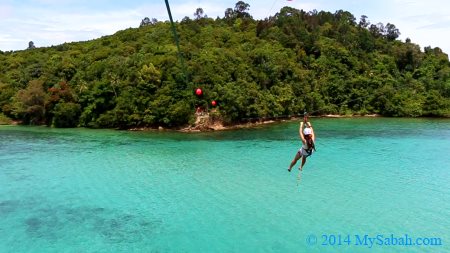 The moment my feet were off the ground, the feeling was like gliding and falling. The view of island and sea channel from above was beautiful. Then it got faster and faster, my heartbeat was also accelerating. Even though I knew I was safe, my body perceived that I was in danger and gave me an adrenaline rush. The ziplining lasted only 40 seconds, but I lost the sense of time and it felt like an incredibly long ride. By the time I stopped at the braking point, the strong G-force made me felt like being thrown out of a fast-moving car. It was indeed an intense fun experience.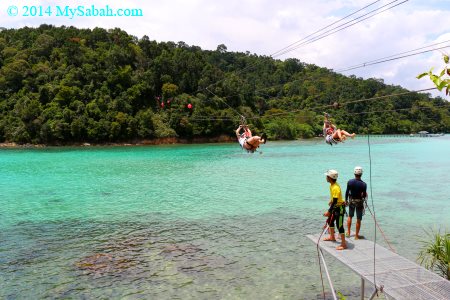 The zipline consists of two state-of-the-art ZipStop braking units imported from USA. They also have backup brake as a precaution, so there is no chance for any crash landing.
You can watch the video below I captured on zipline: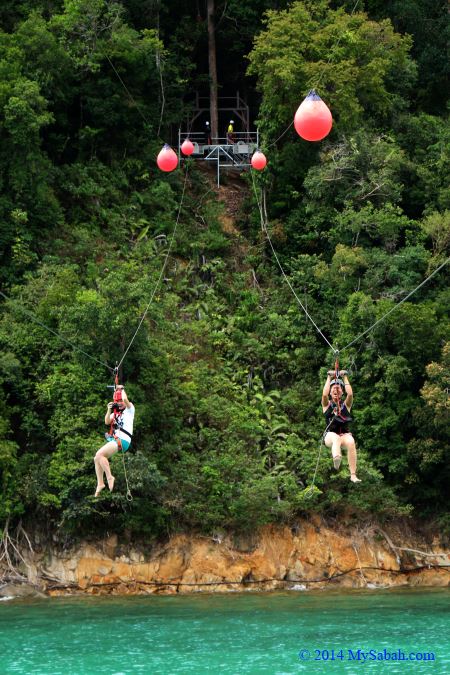 The structure of Coral Flyer is made of stainless steel high-strength cables that can hold 12 tons (26,000 lbs) of weight. The harness and attachment have a strength of 2.2 tons (4,850 lbs) at the weakest point, so it can even zipline a horse across the sea without problem. The construction and operation cost of Coral Flyer is about half a million!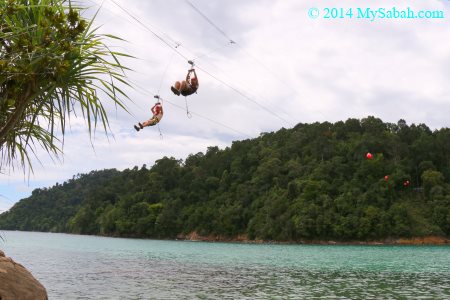 "Do one thing every day that scares you." ― Eleanor Roosevelt
More Fear = More Fun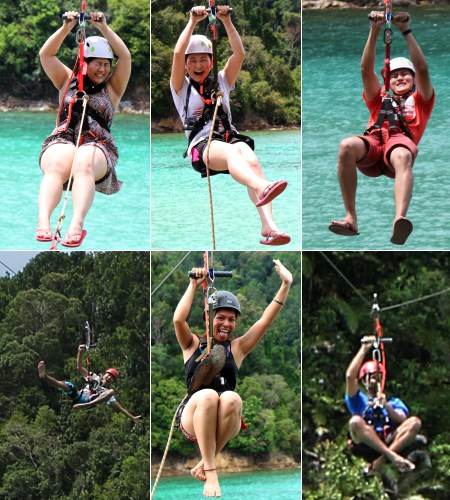 Pic: interesting poses and reaction on zipline. These bloggers really know how to act. From left to right, top to bottom: Charlotte, Mei Tzeu, Hayden, Derrick, Beverly and Faisal.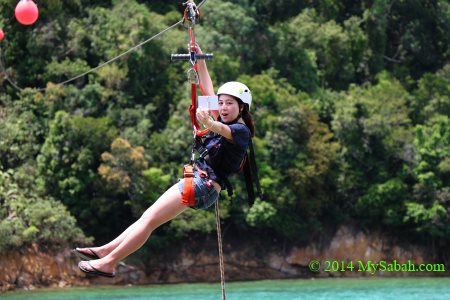 Pic: Selfie of the day by Calista
You can take picture and video on zipline (the safety of your camera is on your own risk). With only one hand holding the handle of trolley (another one holding camera), it is a bit hard to balance and your body would spin to side. Hold your camera to the side so it won't hit the cable while braking.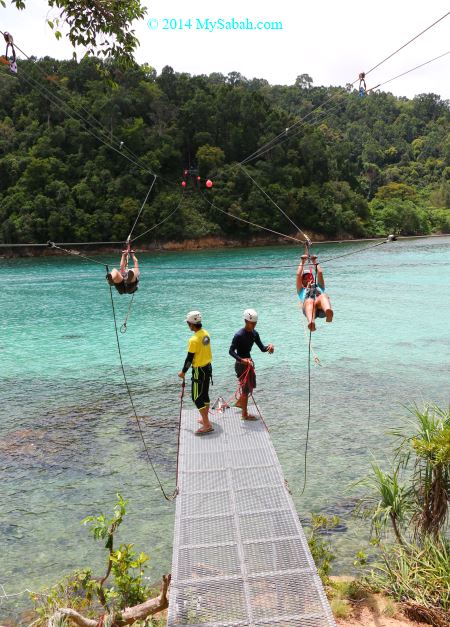 If you love hiking, you can do jungle trekking from Gaya Island Base Camp to Padang Point, then ziplining to Sapi Island. You also can buy the zipline ticket at Padang Point.
Below are some photos to prove that everyone were alive after the ziplining. No… I meant how happy they are.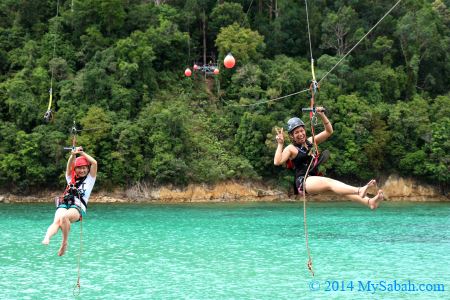 Pic: Chloe and Beverly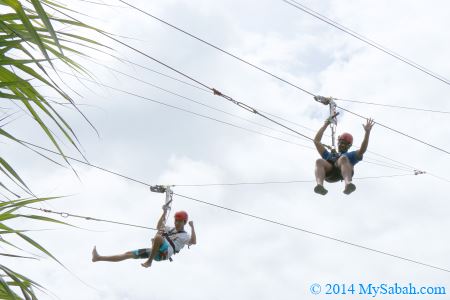 Pic: Derrick and Faisal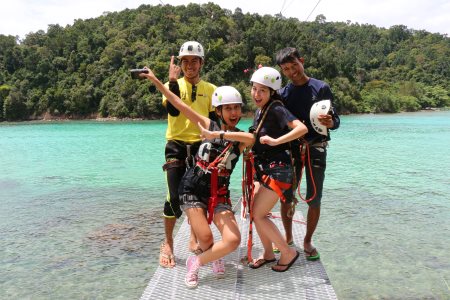 Pic: Ana and Calista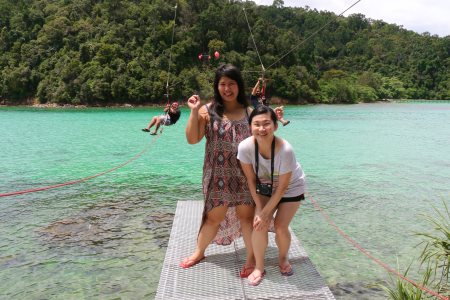 Pic: Calvan, Charlotte, Mei Tzeu and Tom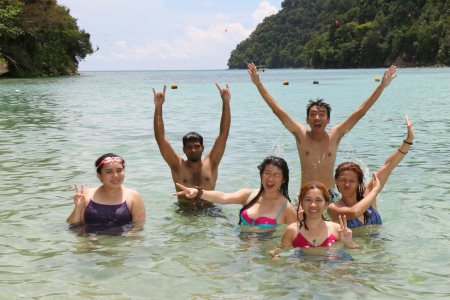 After landing on Sapi, you only need to walk a few minutes to the beach for more fun activity.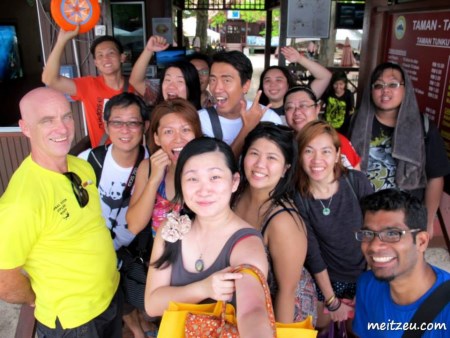 Pic (Photo by Mei Tzeu): a group photo with Simon from Ropeskills (at the left) and bloggers. Thank you Simon and Dinoza for inviting us and Beverly for organizing the trip. I'm also happy to make some new friends.
The ticket fee for ziplining is RM50 (≈USD16, not including island entrance fee and boat transfer from/to Kota Kinabalu). The zipline is open from 10am to 4pm daily. Walk-in visitor is welcome. You may visit the website or Facebook of Coral Flyer for more info and photos.
Please look at my photo album if you want to see more photos: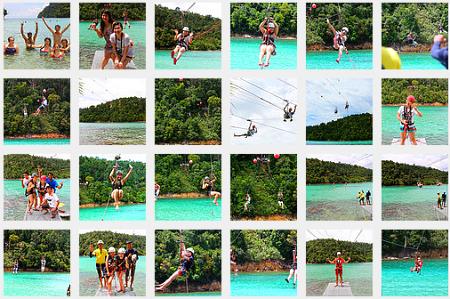 Photos taken in Kota Kinabalu, Sabah, Malaysia Borneo
You might also like:
Kudat district at the north of Sabah has some finest beaches of Borneo. For example, Tip of Borneo (a.k.a. Tanjung Simpang Mengayau) is a popular tourist destination due to its breathtaking beach and sea view. If you ask the locals in Kudat town, they would recommend Bak Bak Beach (Local Name: Pantai Bak Bak) too, which is the nearest beach to Kudat (11 KM away to the north).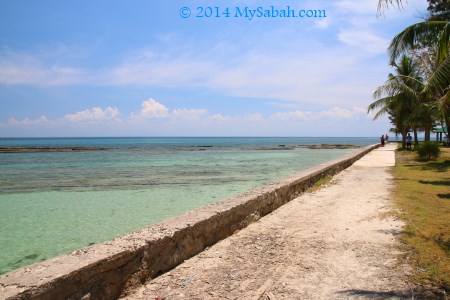 Pic: panoramic photo of Bak-Bak Beach
Out of curiosity, my family decided to check out Bak Bak Beach last week. You will pass by the junction to Bak Bak Beach (Note the signage reads "Jalan Bak-Bak" at your right, see the location map of the junction), when you are on the way to the Tip of Borneo. After 4 KM, you will see the beautiful Bak Bak Beach (See Location Map of Bak Bak Beach).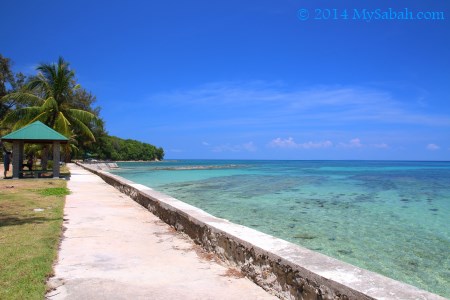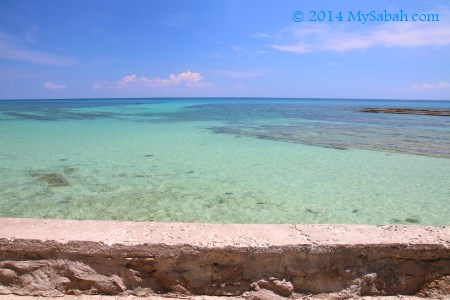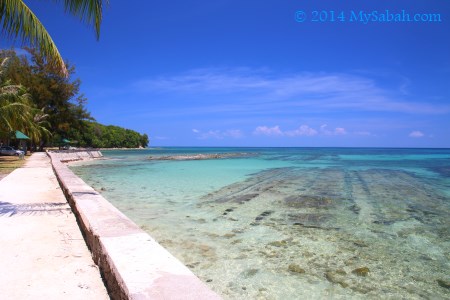 Local Chinese calls Bak Bak Beach "石码头海滩", which means Rock Jetty. It is a rocky beach, but I didn't see any jetty though. I read somewhere that mentions Bak Bak Beach was used to be a busy port in the past. We enjoyed the gentle sea breeze under the shades of swaying casuarina trees.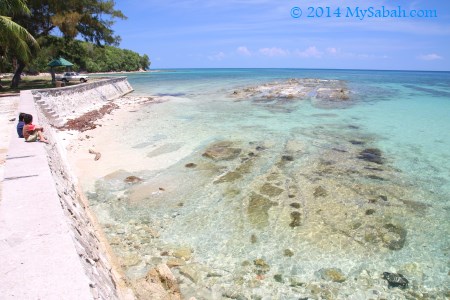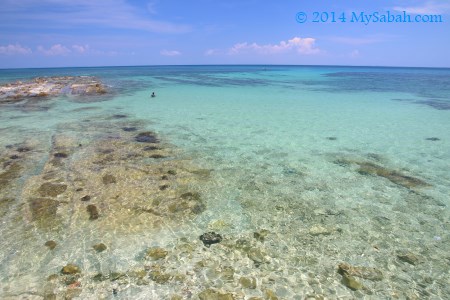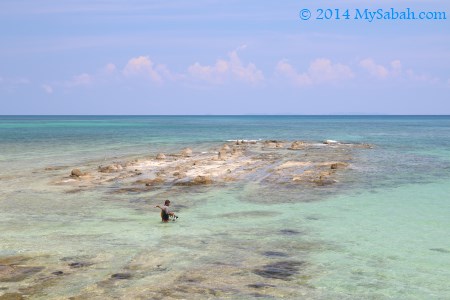 The sea water is crystal clear and shallow, and seem like you can walk all the way 100 Meters away from shore. During high tide, it is great for swimming. If you really want white sandy beach, you can continue to drive 4 KM along the road. When you come to a junction, turn to right and you will reach a deserted beach named Pasir Putih (means white sand) after 400 Meters. Pasir Putih is a more inviting spot for swimmers.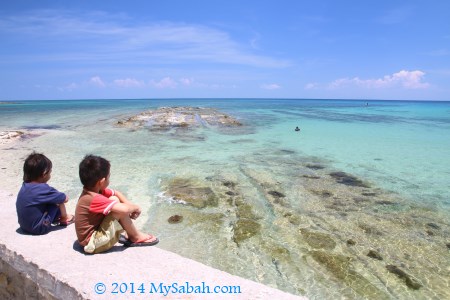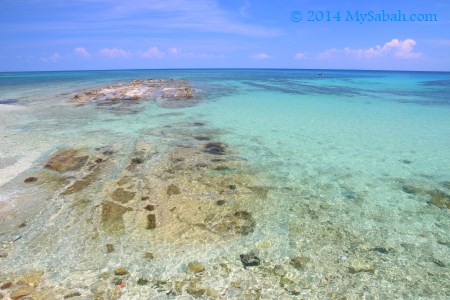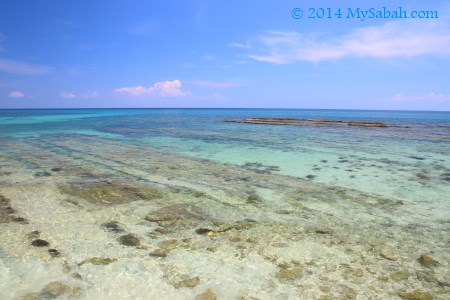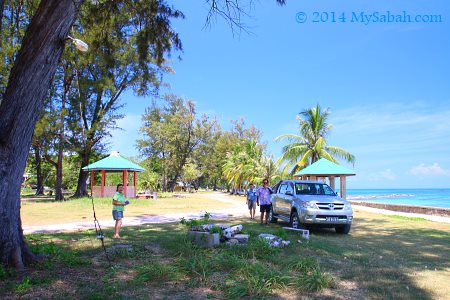 We visited the beach in Saturday noon and it was quiet, only one family hanging around with kids. We learn later that this place is only crowded with locals on Sunday. There are some hawker stalls selling delicious satay on Sunday too. I saw a toilet but it was locked, so I assume it is only open on Sunday. Well, for other days, it might be a good dating location for couple. Anyway, looking at the shelters, tables and barbecue areas, Bak Bak Beach is also a nice site for picnic.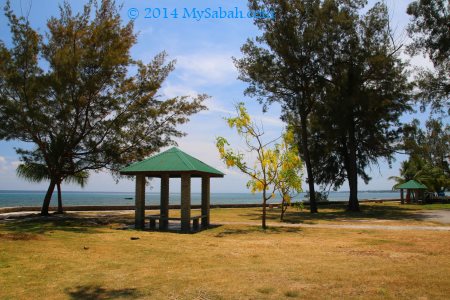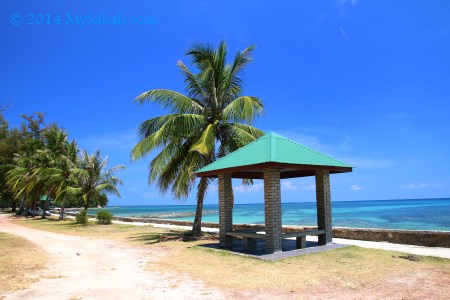 Have you been to Bak Bak Beach? Please tell me more about it in comment section below.
Photos taken in Kudat, Sabah, Malaysia Borneo
You might also like: