Category Archives:
Sabah
Due to increasing demand by tourists, now Kota Kinabalu city (KK) has regular shuttle sending passengers back and forth KKIA (Kota Kinabalu International Airport) every day. KKIA has two terminals, i.e. Terminal 1 (see location map) and Terminal 2 (a.k.a. AirAsia's Terminal, see location map), which are about 4 KM apart from each other. Airport Bus provides transport to/from both airports.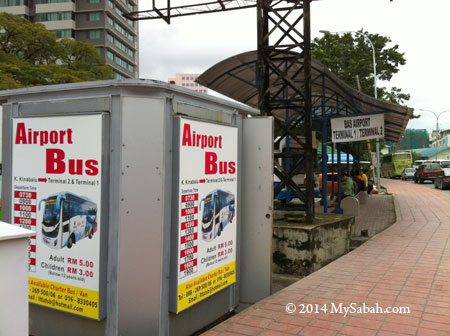 The ticket counter and station of Airport Bus is at Padang Merdeka (or Merdeka Field in English, see location map). Note the sign "Bas Airport" (means Airport Bus) at the bus stop.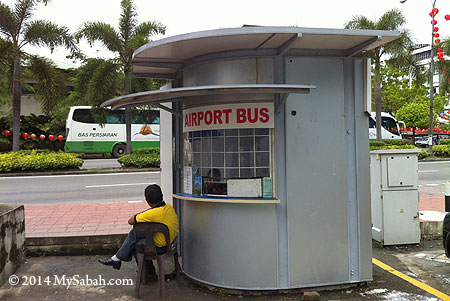 Pic: the booth of Airport Bus. The bus ticket costs RM5.00 (≈USD$1.50) for each Adult, RM3.00 (≈USD$0.90) for Child (below 12).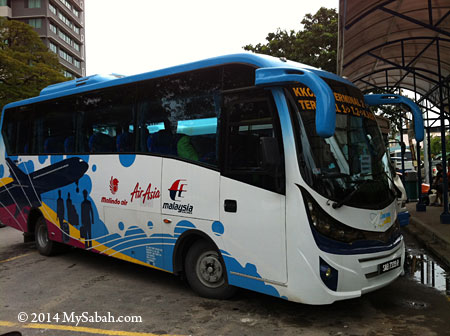 Pic: the 20-seater Airport Bus
If you have a lot of luggages, you can store them in the compartment at the bottom of the bus.
Departure Time
The shuttle service is available from 7:30am to 7:00pm daily. Below is the schedule of Airport Bus.
(Note: KK = Kota Kinabalu, T1 = KKIA Terminal 1, T2 = KKIA Terminal 2)
| | |
| --- | --- |
| KK → T2 & T1 | T2 → T1 |
| 07:30 | 08:00 |
| 09:00 | 09:30 |
| 10:00 | 10:30 |
| 11:00 | 11:30 |
| 12:00 | 12:30 |
| 13:00 | 13:30 |
| 14:00 | 14:30 |
| 15:00 | 15:30 |
| 16:00 | 16:30 |
| 17:00 | 17:30 |
| 18:00 | 18:30 |
| 19:00 | 19:30 |
| | |
| --- | --- |
| T1 → T2 → KK | T2 → KK |
| 8:00 | 8:30 |
| 8:45 | 9:20 |
| 10:00 | 10:20 |
| 10:50 | 11:20 |
| 12:00 | 12:20 |
| 13:00 | 13:20 |
| 14:00 | 14:20 |
| 15:00 | 15:20 |
| 16:00 | 16:20 |
| 17:00 | 17:20 |
| 18:00 | 18:20 |
| 19:00 | 19:20 |
It takes the bus about 25 to 40 minutes to reach the airport (depend on if it's rush hours) about 7 to 10 Kilometers away from KK city centre. If you are in a hurry to check-in at the airport, I would advise you to go with a taxi instead.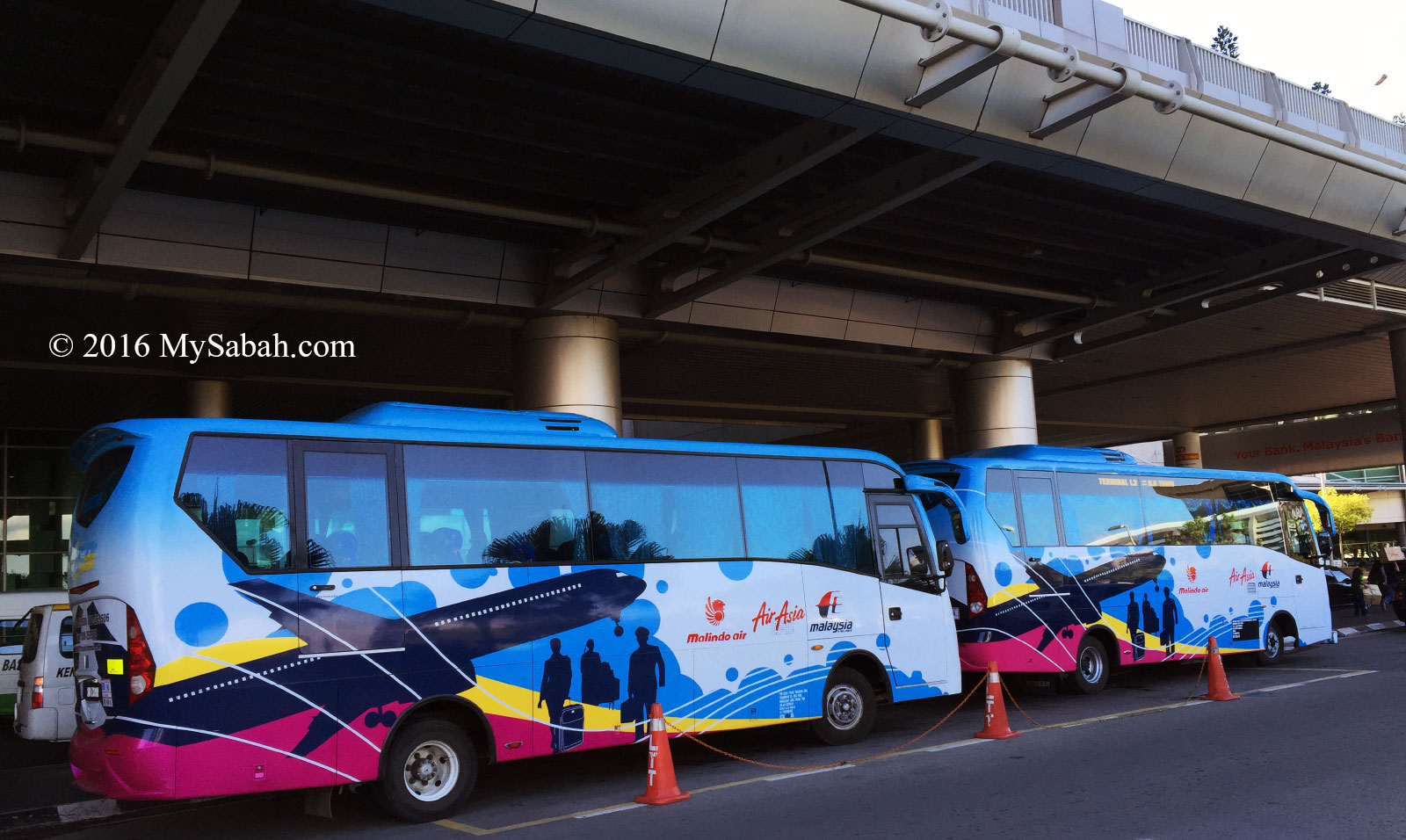 Pic: Airport Bus picks up tourists at airport
Route
Here is the route of Airport Bus:
KK City (Padang Merdeka) → KKIA Terminal 2 → KKIA Terminal 1 → KKIA Terminal 2 → KK City (Padang Merdeka)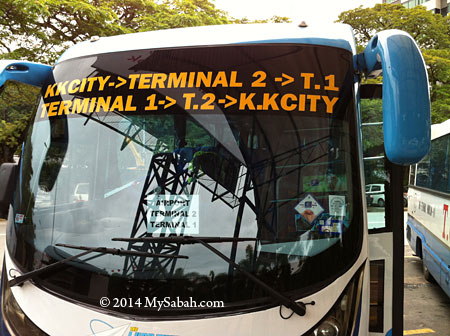 On its way to airport, the bus will pass by the bus stop behind Horizon Hotel (see location map) and Asia City Complex (see location map), so you can wait at these bus stops to get a ride to airport. The Airport Bus also picks up passengers at the airports.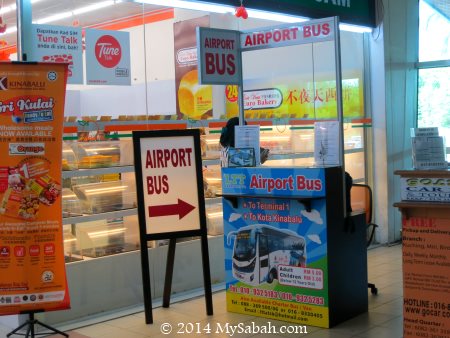 Pic: you can find the ticket booth of Airport Bus inside both terminals of KKIA.
On its way back to KK, the bus can drop passengers near Horizon Hotel, Deleeton Hotel and Hotel Dreamtel. It even can send you to Sutera Harbour, but you have to inform the bus driver in advance. For backpackers who stay in lodges in Gaya Street, the place is only a few minutes walk from Airport Bus station.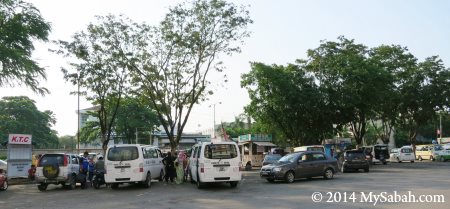 Pic: Padang Merdeka / Merdeka Field, where the Airport Bus stationed.
Padang Merdeka has bus service to the towns of Sabah interior, such as Kundasang (Kinabalu Park), Ranau, Keningau, Tuaran, Kota Belud, Kudat, Kota Marudu, Tenom and Tambunan. There is a lot of taxi / limo around that area too.
As far as I know, only bus to Keningau is big bus with air-conditioning and they have fixed departure schedule. For other destinations, there are usually mini buses and vans that may not have any air-conditioner and they only move when all seats are taken up (an hour of long wait is common). For more detail on Sabah bus, please read my other article Traveling in Sabah by Bus.
Contact of Airport Bus
Below is the contact of Airport Bus. You also can charter a bus or van with them.
Company: Luen Thung Tanjung Aru Transport Co. S/B
Tel: +60 88-269500 / +60 88-269506
Mobile: +60 16-8330405
Mobile (Terminal 1): +60 10-9325183
Mobile (Terminal 2): +60 10-9325283
E-mail: lttatsb@hotmail.com
Address (office): KM 7, Jalan Kepayan (next to JKR Training Center), 88100 Kota Kinabalu, Sabah, Malaysia.
Seem like the Airport Bus is a trial run. Hope the response is good so the shuttle will stay permanently.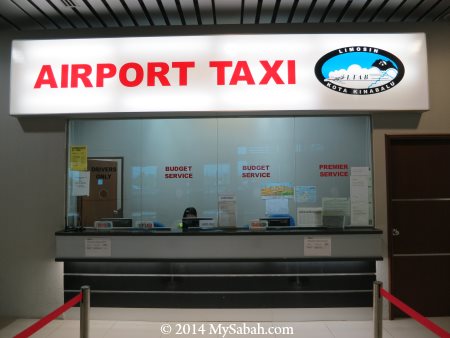 Pic: airport taxi counter in airport
Though the cost of bus service is a a fraction of taxi, bus doesn't take you to your home or hotel. Our airports have taxi service counter where you can get a taxi. Taxi is more expensive, but it's more feasible than taking bus when you have a few passengers to share the car (to split the cost).
Last Updated: 16 Feb 2014
Photos taken in Kota Kinabalu, Sabah, Malaysia Borneo
You might also like:
Confucius said, "by nature we desire food and sex." Therefore, people is passionate in looking for new food as well as sex partner. LOL, ok, probably this is not what he meant, but you would agree that Malaysians never stop exploring for tasty new food. That's why we ask, almost every day, "what to eat huh?" though there are dozens of restaurants around.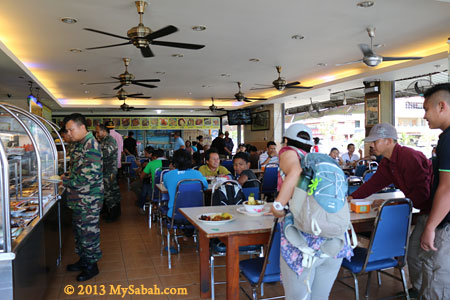 Pic: Rumpun Selera Restaurant
Besides delicious food, we are also keen to try interesting food, especially those with odd name. I bet the first time you ordered "Banana Boat" (ice-cream dessert) was because of its name. Same here when I heard the name Gear Box Soup, when I was having lunch in Rumpun Selera Restaurant in Lahad Datu last month.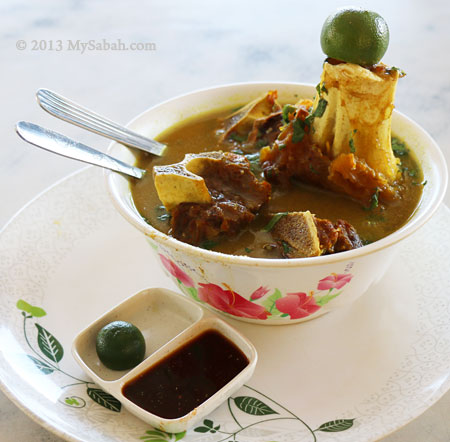 Pic: Gear Box Soup
Actually Gear Box Soup (Sup Gear Box in Malay language) are cattle bones boiled with onions and other spices in soup. Though Sup Tulang (Bone Soup) is common in Malay and Indian restaurants, Gear Box Soup is served in larger quantity and the soup nearly as creamy as stew. It costs RM10* (≈USD3) per bowl and only available in weekends (Saturday & Sunday).
*As of Dec 2013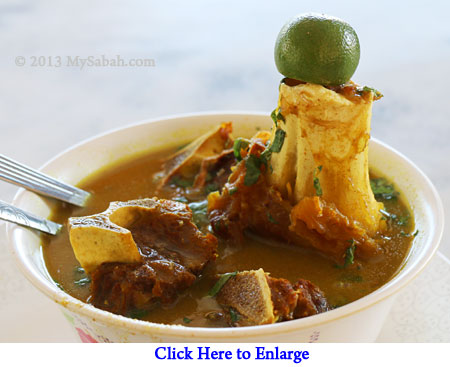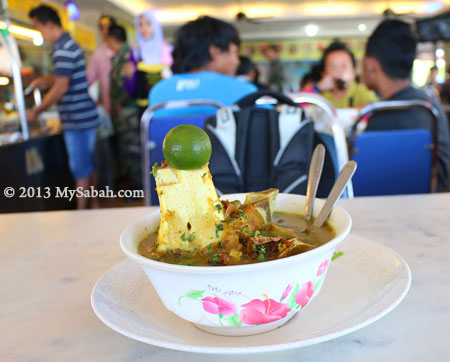 By looking at the photos above, you should know why it is called Gear Box Soup. They erect a big bone and top it with a calamansi fruit (can add its sour juice into soup like vinegar).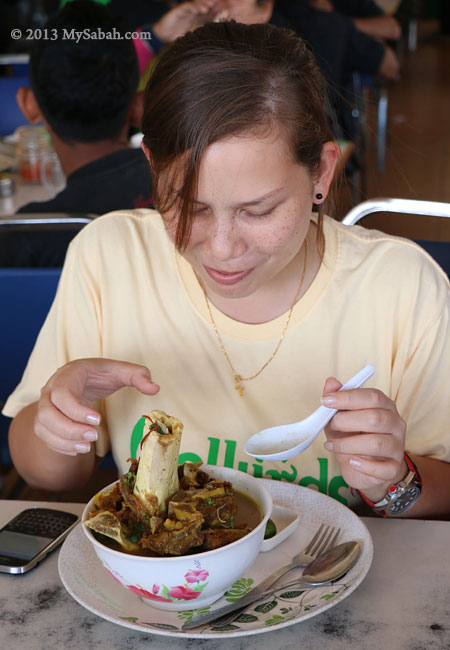 Pic: you can shift gears if you want to, lol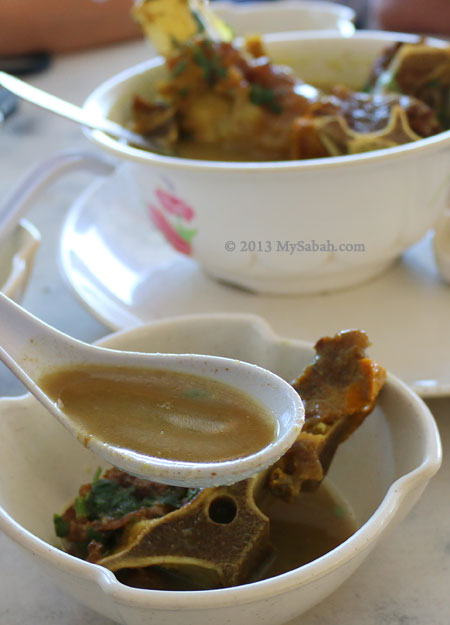 The beef soup is thicker than normal Sup Tulang. I think they don't add any MSG cubes so the price is doubled the normal price of Sup Tulang. Yes, the flavor is really rich. You can eat the meat and tendon attached on the bones, but they are a bit chewy.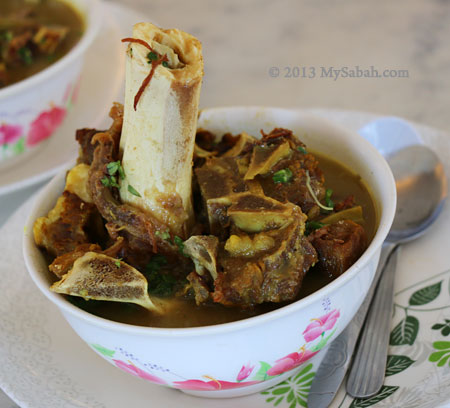 Besides the soup, another best part is to suck the juicy bone marrow out of the bones. I didn't do this because bone marrow is high in Cholesterol (why yummy food is always high in Cholesterol!!?).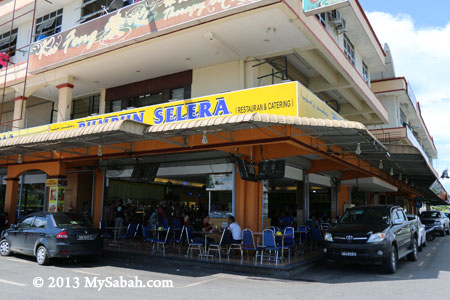 Pic: Rumpun Selera Restaurant of Lahad Datu
Below is the location and contact of the Rumpun Selera Restaurant. They open 24-hour every day. Btw, their food is halal (Muslim-friendly).
Address: Lot No.332, MDLD 7234, Sri Perdana, Phase 3, Jalan Silam, Lahad Datu, Sabah, Malaysia (see Location Map)
Mobile Phone: +60 111-9010040
E-mail: rumpunhikmah@yahoo.com.my
(Please keep in mind Gear Box Soup is only available during weekends)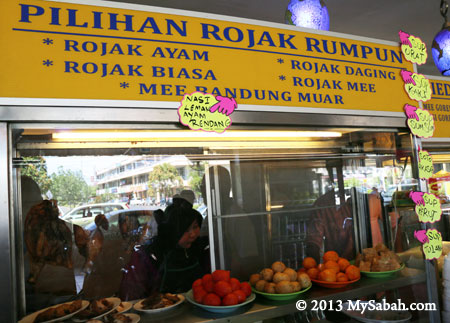 This restaurant is full of people during meal time but not all of them coming for Gear Box Soup. The restaurant serves great variety of nice food such as Rojak (Mixed fruit) and Soto (Soup Noodle).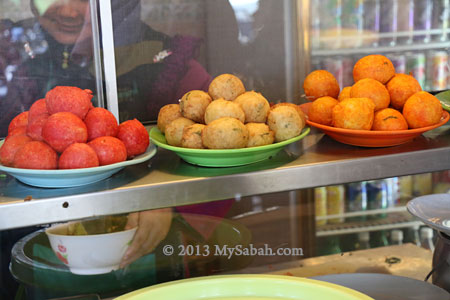 Pic: Chinese-style fritters in ball shape (for Rojak).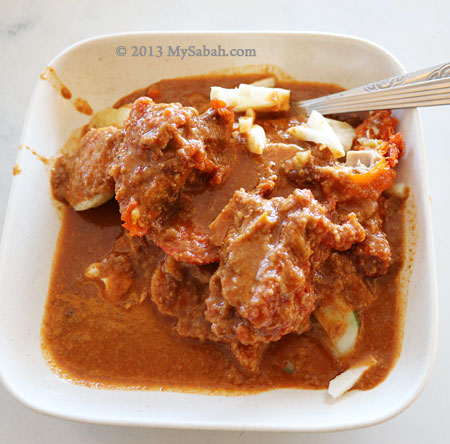 Rojak means "mixture". In Peninsular Malaysia, Rojak means different sliced fruits topped with sweet grounded peanut sauce. In Sabah, we also mix Rojak with Beef (Rojak Daging), Chicken (Rojak Ayam) and Noodle (Rojak Mee).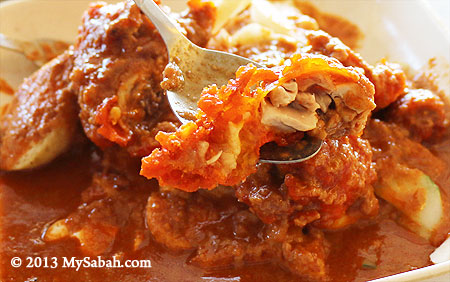 Pic: Rojak Ayam
This is my Rojak Ayam. Its photo may not look appetizing, but Rojak is one of the favorite food of Malaysians.
Now you know a new food to try out in Lahad Datu. Please share with me if you know any other interesting must-try food in Lahad Datu.
Photos taken in Lahad Datu, Sabah, Malaysia Borneo
You might also like: