Category Archives:
Sabah
Weekends are family days to most people of Kota Kinabalu (KK). For food and family lovers, it's the best to spend quality time with family with quality food, so local Chinese likes to enjoy Dim Sum breakfast on Sat & Sun. Below are a few well-known Dim Sum restaurants in KK. Besides serving classic dumplings such as Har Gao (shrimp dumpling) and Shao Mai (meat dumpling), these restaurants have their own variety of Dim Sum. Please note the prices listed here don't include tax.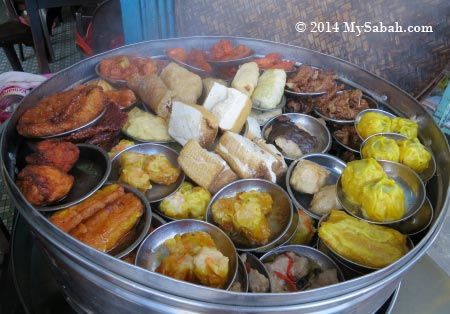 Pic: Dim Sum makes you wake up happy in the morning. Agree?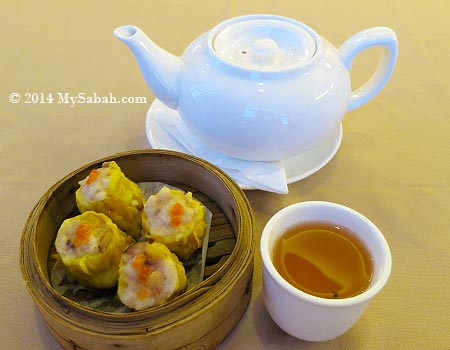 Pic: let's go Yam Cha
Same as Hongkies, Sabahans also have the the culture of "Yam Cha" (饮茶), basically means having of cup of tea / coffee and chit chat together in a Kopitiam (Coffee Shop) or restaurant. But if anyone says to you, "next time I'll call you to go Yam Cha!", it's as empty as saying "keep in touch" and you would never receive the call.
Hey, just be proactive and call them for Yam Cha in any Dim Sum restaurant. Probably another side is waiting for your call too.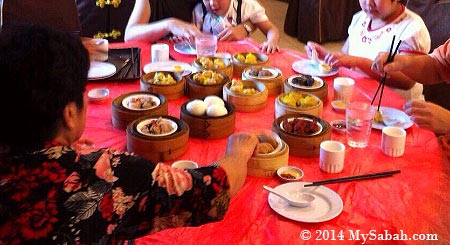 Pic: Yam Cha with family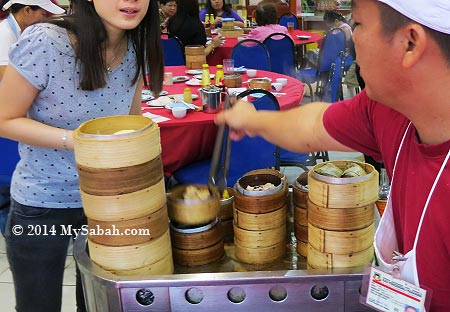 Pic: just take whatever looks good from the Dim Sum cart
Most Dim Sum is served in steamed basket. You can order deep fried items and pastries too. Normally 4 to 5 baskets already can make you really full. If you want stomach filler, you may order sticky chicken rice wrapped in lotus leaf (糯米雞), Bao (Chinese Bun), or fried noodle. Usually I have Dim Sum as brunch, to avoid the peak hours in the morning and to eat as much as I can.
1. Foo Phing Dim Sum (富平点心楼)
Hearing this name, most KK folks will node their heads because it is the most famous Dim Sum restaurant in city. The price of their Dim Sum ranges from RM3.50 (≈US$1.10) to RM5.80 (≈US$1.75) per basket, quite affordable (and taste very good). During weekends, you can expect a large crowd here in the morning, and you will have to wait for vacant seat for some time.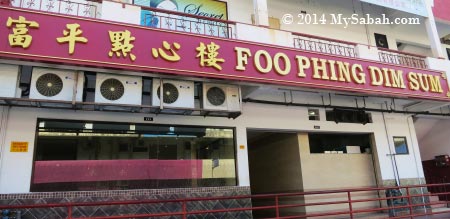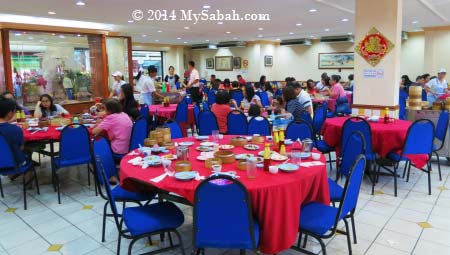 Pic: inside Foo Phing Dim Sum Restaurant (air-conditioned)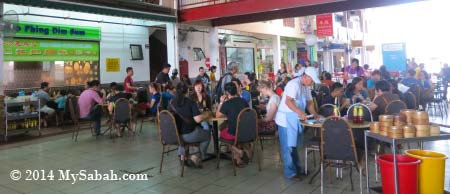 Pic: open air area of Foo Phing Dim Sum Restaurant (not air-conditioned)
They have 40 types of Dim Sum. I only list some here.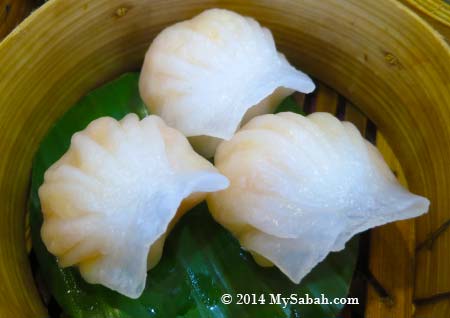 Pic: Har gow (shrimp dumplings, 虾饺 in Chinese)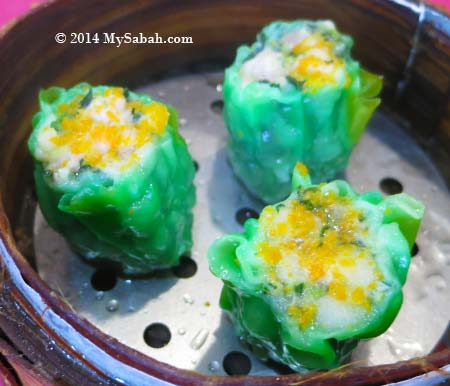 Pic: Shao Mai (meat dumpling, 烧卖 in Chinese)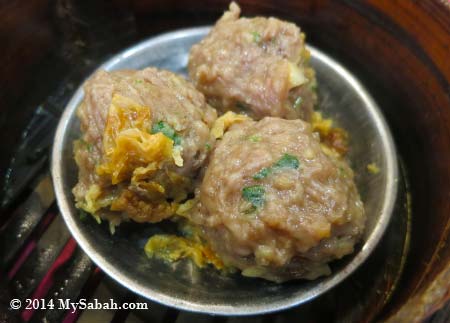 Pic: steamed beef meatball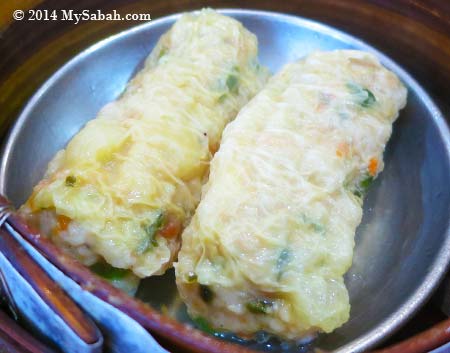 Pic: Spring rolls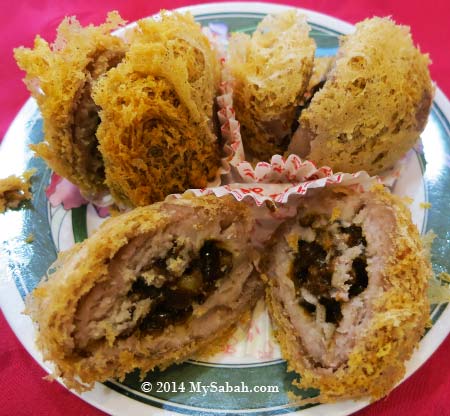 Pic: deep fried yam dumplings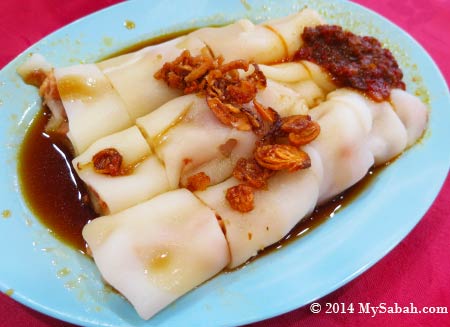 Pic: rice noodle rolls (腸粉 in Chinese)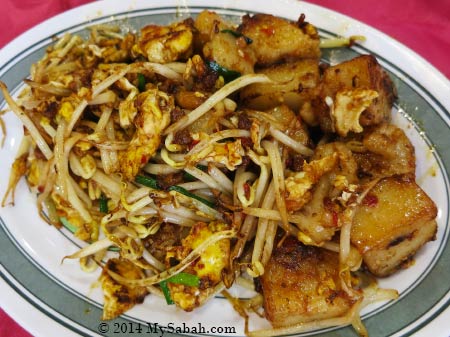 Pic: fried raddish cake with bean sprout (萝卜糕 in Chinese)
Opening Hours: 7am to 2pm daily (rest 1 day every 2 weeks)
Address (see Location Map): Block A, Lot 6 & 7, Ground Floor, Kolam Centre Phase II, Jalan Lintas, Luyang, 88300 Kota Kinabalu, Sabah, Malaysia
Phone: +60 88-259692
2. New WK Restaurant (新旺角酒楼)
New WK Restaurant or Wong Kwok is another decent air-conditioned Chinese restaurant that sells Dim Sum and they have two branches, one in Luyang and another one in Penampang. Both serves delicious Dim Sum so just pick the one nearest to your house. The price of their Dim Sum ranges from RM3.50 (≈US$1.10) to RM7 (≈US$2.10) per basket. The food is nice and the place is spacious, very suitable for family group.
Luyang Branch
Opening Hours: 7am-2pm & 6pm-10pm daily (include holiday)
Address (see Location Map): Lot 4, 5 & 6, Wisma HCS, Jalan Kolam, Luyang, Kota Kinabalu, Sabah, Malaysia
Phone: +60 88-217278, +60 16-7101728
E-mail: newwk.rest@gmail.com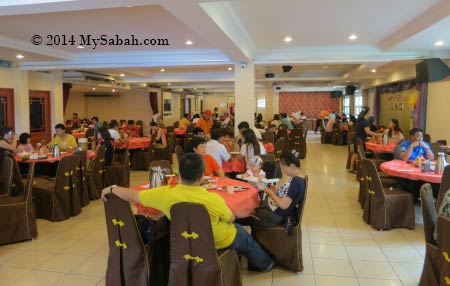 Pic: New WK Restaurant in Luyang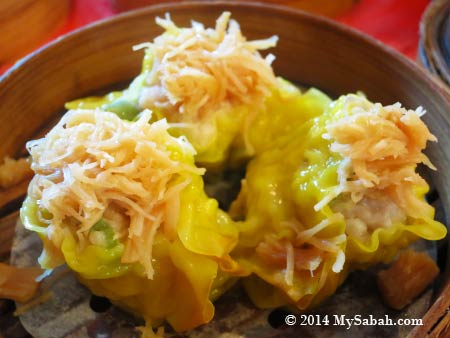 Pic: Shao Mai with scallops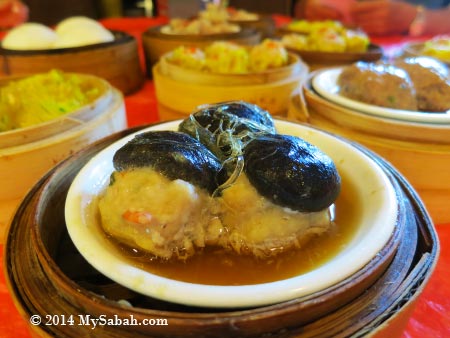 Pic: mushroom dumplings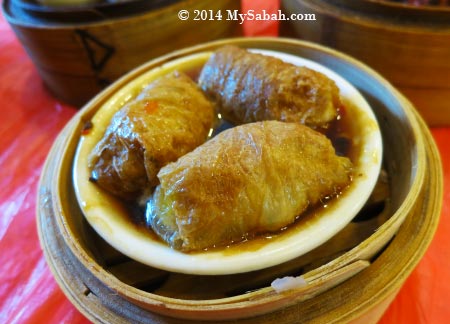 Pic: tofu skin dumplings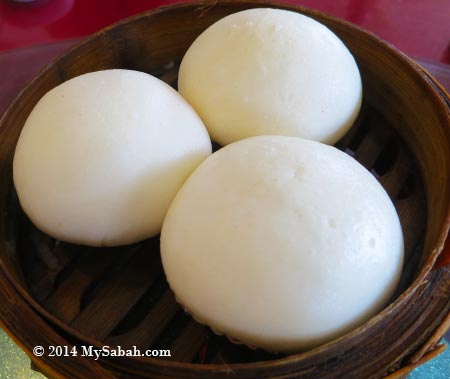 Pic: salted bun (流沙包)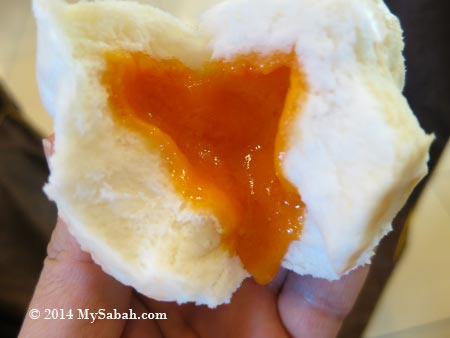 Pic: look at the yolk inside salted bun, it's kids' favorite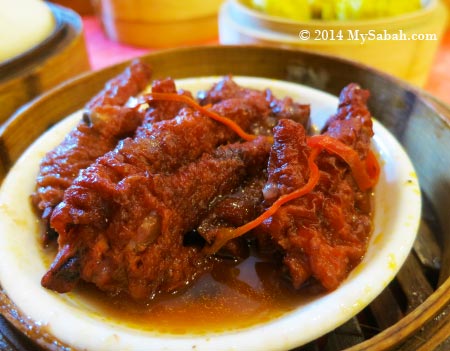 Pic: Phoenix claws, the glamorous name of chicken feet lol
Penampang Branch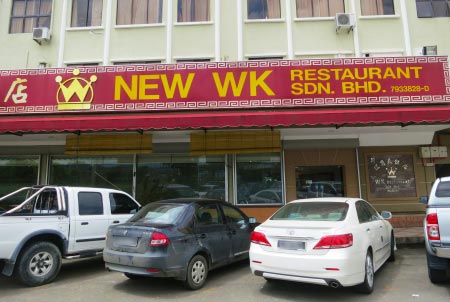 Pic: New WK Restaurant in Penampang
Opening Hours: 7.30am-2pm & 6pm-10pm
Address (see Location Map): Lot 21,22&23, WK Commercial Centre, Jalan Bundusan, Penampang, Kota Kinabalu, Sabah, Malaysia.
Phone: +60 88-719988, +60 16-8338718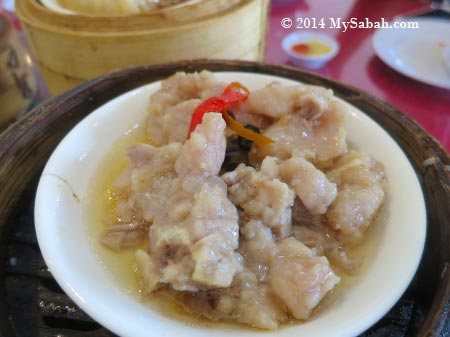 Pic: steamed pork ribs (排骨 in Chinese)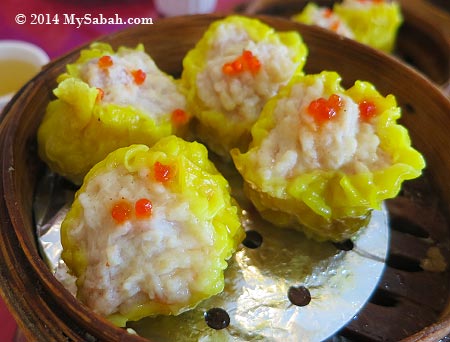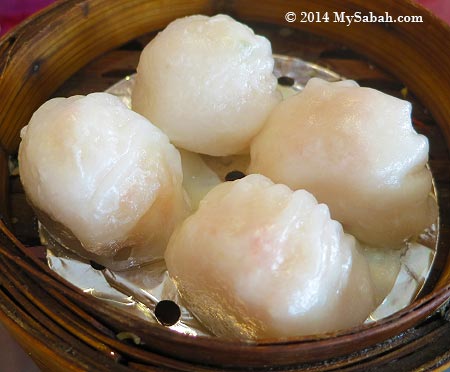 There are many more variety, but I can't post everything here. Btw, this restaurant is also a great place for family dinner.
3. Royal China Restaurant (大同皇朝)
Even though the Dim Sum there is quite expensive (price ranges from RM5.80 (≈US$1.75) to RM9.80 (≈US$3) per basket), I like this restaurant for a few reasons. The interior is beautiful and classy. I would invite my important clients to Yam Cha here, instead of standing in queue for a seat in other restaurants. The place is also big and quiet, which is great for a business meeting. They have ample parking too.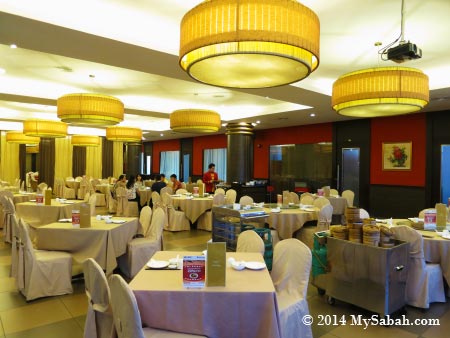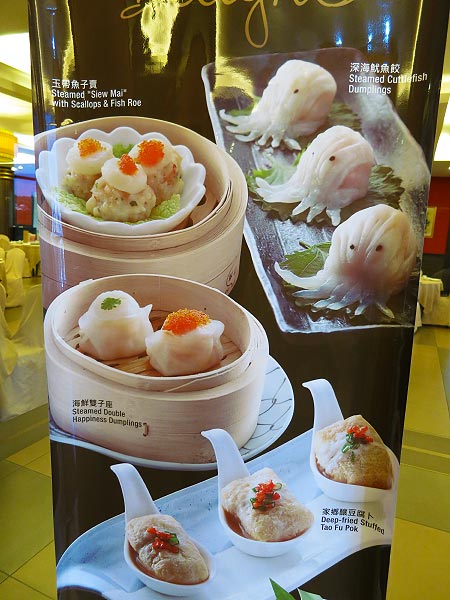 Pic: "creative" Dim Sum
Their Dim Sum is great in taste and presentation. Probably inspired by sushi art, the restaurant creates some unqiue Dim Sum with interesting mix of food materials and cool names. This is a pleasant surprise to customer who is used to traditional Dim Sum.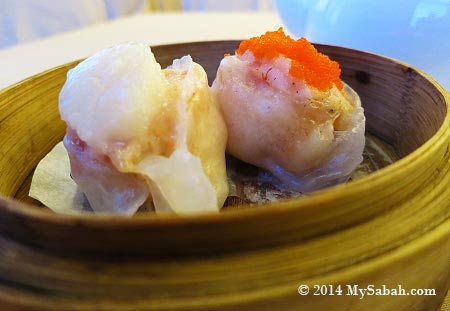 Pic: double happiness shrimp dumplings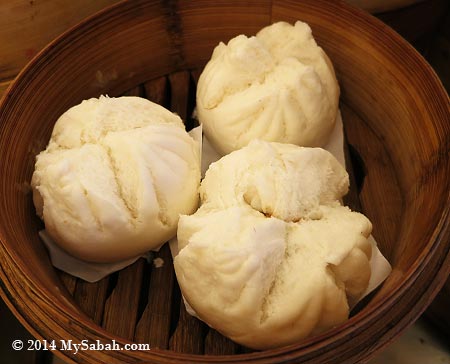 Pic: Char Siu Bao (Roasted pork bun)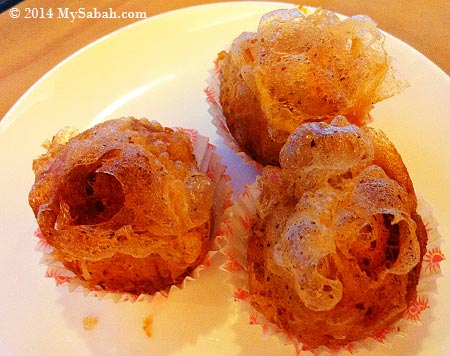 Opening Hours: (Mon – Sun) 9am-3pm & 6pm-10pm, (Weekends & Public Holidays) 8am-2:30pm & 6pm-10pm, (Note: Dim Sum ends at 2pm)
Address (see Location Map): D-Junction, 2nd Floor, Jalan Penampang, 88300 Kota Kinabalu, Sabah, Malaysia.
Phone: +60 88-703300
Website: www.taithong.com.my
Facebook: RoyalChinaKK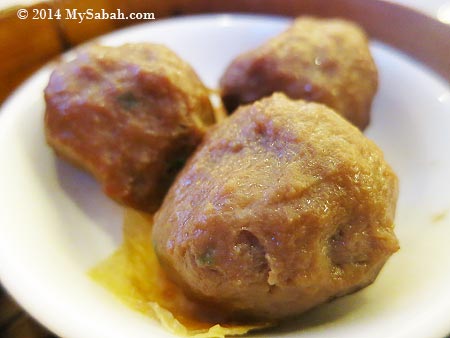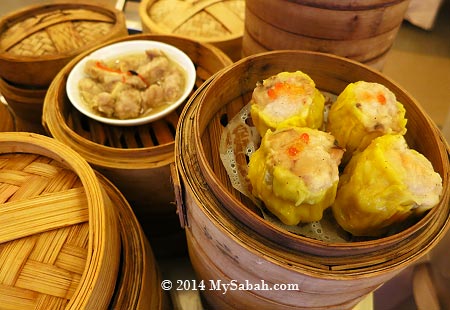 Halal Dim Sum
Most Dim Sum contains pork. For Muslims who are keen to try Dim Sum, there are a few places in KK. Next time you can invite your Muslim friends to Yam Cha.
1. Fook Yuen Bakery & Cafe (富源)
Fook Yuen is one of the favorite coffee shop of KK folks. Besides serving the signature Roti Kahwin, they also sell Dim Sum, fried vermicelli, fishballs and other local food at affordable price.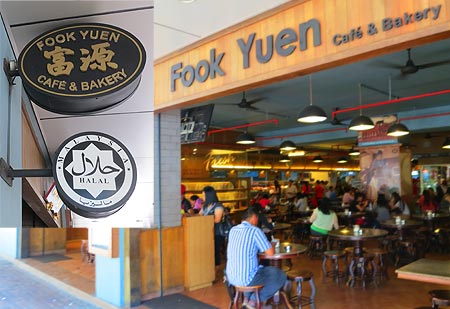 Opening Hours: 6.30am-1am daily
Address (see Location Map): Ground Floor, Wisma Millenium, Gaya Street, Kota Kinabalu, Sabah, 88100, Malaysia
E-mail: fookyuensabah@gmail.com
Phone: +60 88 902012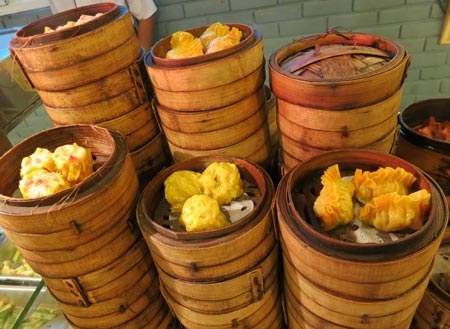 2. Shang Palace (香宫)
Shang Palace (香宫) of Shangri-La's Tanjung Aru Resort & Spa offers the Halal Dim Sum. I have tried their Dim Sum a few times and I'm really impressed because it tastes almost the same as real Chinese Dim Sum.
Opening Hours (for Dim Sum): 10am – 2.30pm (Sunday and Public Holidays)
Address (see Location Map): Shangri-La's Tanjung Aru Resort and Spa, No. 20 Jalan Aru, Kota Kinabalu, Sabah, 88100, Malaysia
Phone: +60 88-327888
Website: www.shangri-la.com
Facebook: ShangrilaTAH
Do you know other good restaurant for Dim Sum? Please share with me in comment section below.
Photos taken in Kota Kinabalu, Sabah, Malaysia Borneo
You might also like:
Kota Kinabalu City (KK) is the gateway to Sabah. Some of our islands are only 15 minutes away from KK by boat. In KK, there are three boat / ferry terminals that can take you to most Sabah islands at west coast. However, their services and charges are slightly different to one another. All of them opens from 8am to 5pm every day (boat service ends about 4:00pm).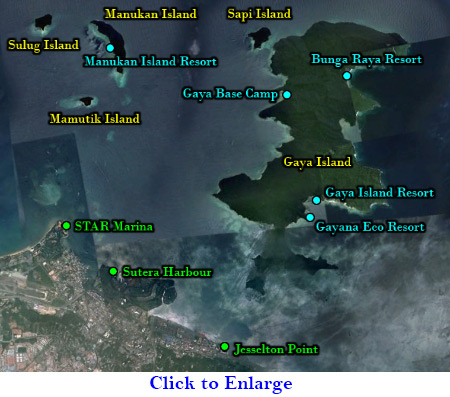 Pic: map of 3 boat terminals (green) and neighboring islands of KK
1. Jesselton Point Ferry Terminal
Jesselton Point is the most popular public ferry terminal at the edge of KK city centre, and it's packed with local and foreign tourists during weekends. If you stay in KK city centre, it is within walking distance.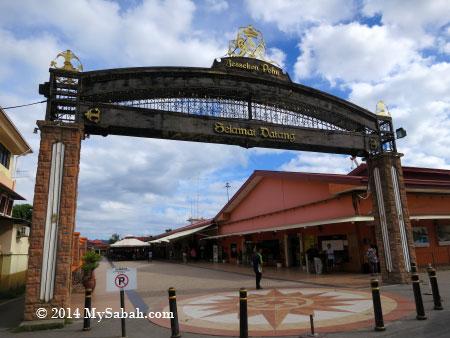 Pic: entrance of Jesselton Point Ferry Terminal. The building at the right is ticketing hall.
Their boat service can start as early as 7:30am in weekends, but the boat only moves after it's full with passengers (about 10 to 12 people). If you go in big group, you can negotiate for discount. Their fares are the cheapest so most people use their boat service to visit islands off KK.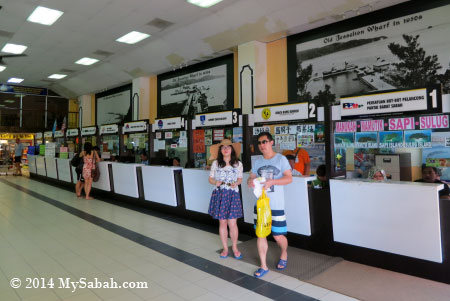 Pic: the ticket counters run by over 10 operators competing with one another. This is the place where you buy return boat fare.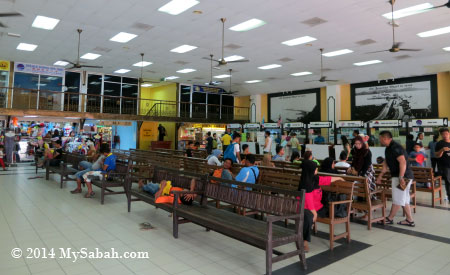 Pic: after you buy the ticket, you can sit in the hall (toilet is at the left corner). They will inform you once the boat is full and ready to depart. The waiting time is short if there are many tourists.
Destinations
Below are a list of islands you can go from Jesselton Point:
Tunku Abdul Rahman Marine Park
(Manukan Island, Mamutik Island, Sapi Island and Sulug Island)
Return Boat Fare (as of Nov 2014)
Sapi, Manukan, Mamutik: RM23 (≈US$7) per Adult, RM18 (≈US$5.40) per Child (below 11 years old)
Island Hopping
Two Islands: Adult RM33 (≈US$10), Child RM28 (≈US$8.40)
Three Islands: Adult RM43 (≈US$13), Child RM38 (≈US$11.40)
Four Islands: Adult RM53 (≈US$16), Child RM48 (≈US$14.35)
In addition, you need to pay Terminal Fee: RM7.20 (≈US$2.15) per Adult, RM3.60 (≈US$1.10) per Child
The fare doesn't include Conservation Fee imposed by Sabah Parks and to be paid on island (see fees below).

Malaysian: Adult: RM3, Child (below 18 years old): RM1
Foreigner: Adult: RM10 (≈US$3), Child: RM6 (≈US$1.80)

If you want to visit less popular islands such as Sulug and Gaya Base Camp and there are not enough people joining, they will ask you to pay extra or even charter a boat (over RM200)
You can tell them what time to pick you up for return. The last boat transfer is around 4pm.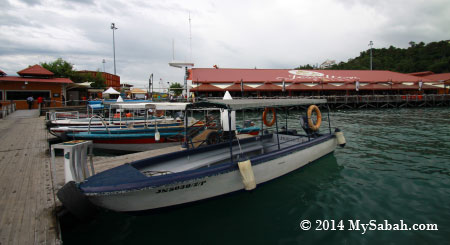 Pic: jetty of Jesselton Point
Though their fare is the cheapest, the boatmen ride the speedboat like cowboy, making the trip very bumpy. Anyway, it's only 15 minutes so most people can put up with this.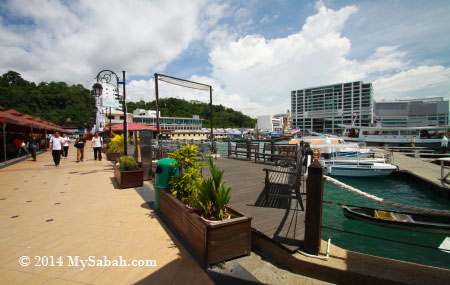 Gaya Island
To go to Gayana Eco Resort or Bunga Raya Resort, you can book the tour at the office of these resort operators in this terminal. However, these resorts are private zone, they only allow resort guests to enter, unless you purchase a tour such as lunch package from them.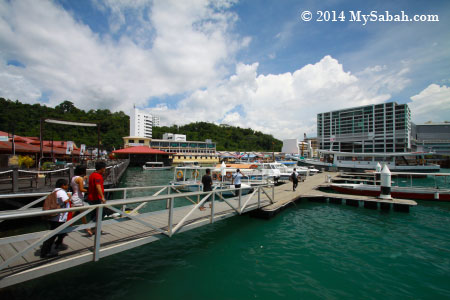 Labuan & Brunei
You can go to Labuan and Brunei from Jesselton Point. They have regular ferry service as the following:
KK → Labuan: departs at 8:00am & 1:30pm (take 3.5 hours)
KK → Brunei: depart at 8:00am (transit Labuan, take 6.5 hours)
You may visit their website for more info such as fare price.
Other Islands
You also can go to the following islands in west coast. Most operators will require you to book an island tour in advance, so they would or would not accept walk-in customers. Since these islands are far away, they usually use catamaran instead of speedboat.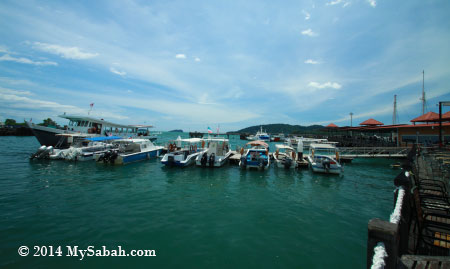 Pic: boats parked at Jesselton Point
Amenities
Jesselton Point is more like an activity centre for tourists and locals. Besides island transfer, there are many things you can get or do here. You can charter a boat to go fishing or even fish at their jetty (for a fee). For islanders, they can rent snorkeling set (fin, snorkel, mask) before they depart to islands. You can park your car in the parking lot next to the terminal (for RM1 per hour).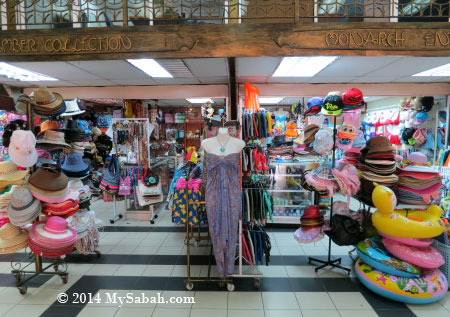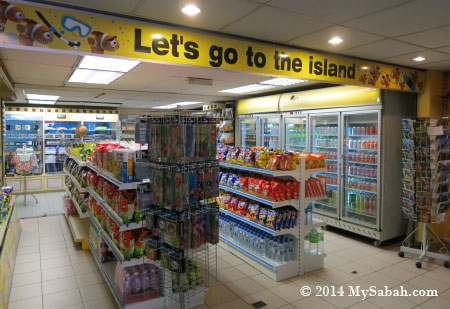 Pic: Jesselton Point has some shops where tourists can buy sunblock lotion, swimwear, sunglass, flip-flop, swimming float, soft drink, snacks, insect repellent, beach mat, souvenirs, etc.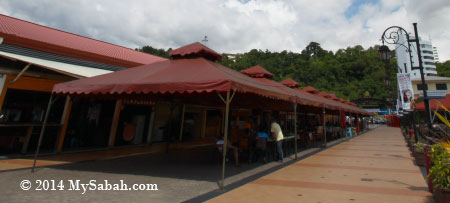 Pic: there are good variety of food and beverages in their hawker centre.
Contact
Below is the contact of the management of Jesselton Point:
Website: www.jesseltonpoint.com.my
Facebook: Jesselton-Point-Ferry-Terminal
E-mail: jesseltonpoint@bumiria.com.my
Phone: +60 88-240709
Address: Jalan Haji Saman, Kota Kinabalu
2. Sutera Harbour Marina Jetty
Sutera Harbour Marina Jetty is a harbour between Pacific Sutera Hotel and Magellan Sutera Resort. Going to islands is very convenient if you stay in one of these hotels (which is 3 KM away from KK City Centre). The services also open to public. Some locals also like the ample free parking space there.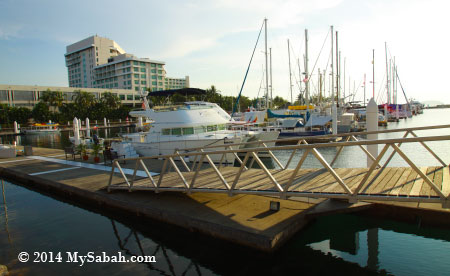 Pic: Sutera Harbour is a beautiful port parked with many private yacht port and sailboats. At the background is Pacific Sutera Hotel.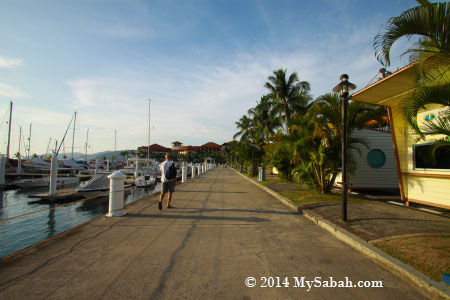 Pic: at the right are the kiosks of tour operators who offer boat transfer and island tour. The popular agents here are Sea Quest and Summer Cruise Holiday.
Destinations
Tunku Abdul Rahman Marine Park
(Manukan Island, Mamutik Island, Sapi Island)
Same as Jesselton Point, they also offer island transfer to Manukan, Sapi and Mamutik Island. The return fare costs RM50 (≈US$15) per adult and RM30 (≈US$9) per Child, which has included jetty fee. Conservation Fee (entry to island) is not included. Island hopping is available for an additional fee of RM10 (≈US$3) per island. The fare may be slightly higher than Jesselton Point, but I like them for a few reasons:
Their staff and boatman are more professional.
The boat departs on time at fixed schedule (no matter it's full or not).
Once on island, their staffs will look after your belonging on the beach.
The boat looks newer or well-maintained.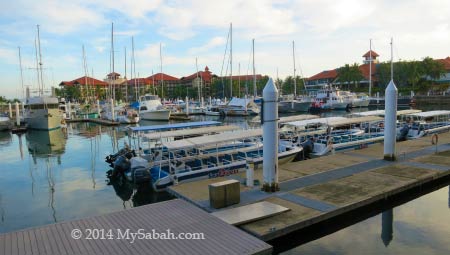 Other Islands
They also offer trip to the following islands (required booking of island tour in advance).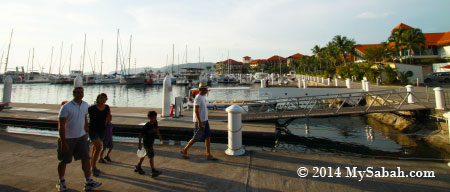 Amenities
Besides boat transfer and island tour, they have watersport centre that offers diving courses / services, parasailing, jetski, flyfish, banana boat ride, sea-walking, kayak, sunset cruise, fishing, etc. The harbor also has short and long term rental berthing services for boats.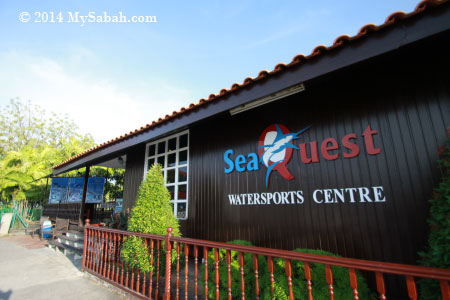 Contact
Website: www.suteraharbour.com
Facebook: suteraharbour
E-mail: marinaO@suteraharbour.com.my
Phone: +60 88-318888
Address: 1 Sutera Harbour Boulevard, Kota Kinabalu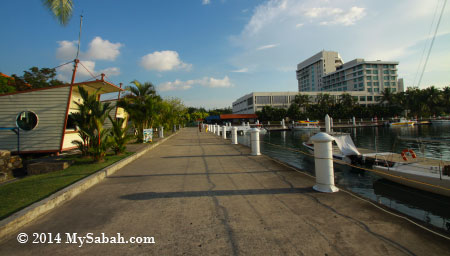 3. STAR Marina
STAR Marina is located behind Shangri-la Tanjung Aru Resort (STAR) and operated by Borneo Divers, about 7KM away from KK. They offer full-fledged professional services on all island tours and watersports, not just boat transfer.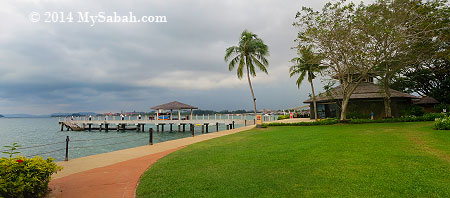 Pic: STAR Marina (right) and its jetty (left)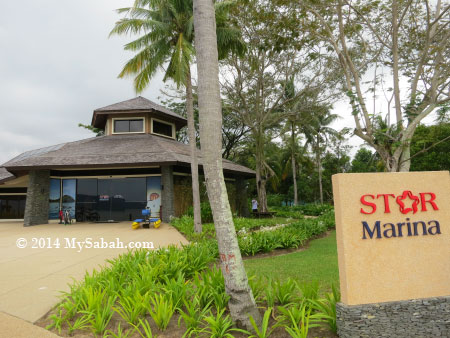 Destinations
Tunku Abdul Rahman Marine Park
(Manukan Island, Mamutik Island, Sapi Island, Gaya Island – Base Camp)
They have fixed schedule to these islands. The fee of return boat transfer is RM65 (≈US$19.50) for Adult and RM40 (≈US$12) for Child (12 & below), which includes 10% service tax. You can purchase optional items such as picnic box for RM50 (≈US$15) and snorkel gears. You may download the brochure of Island Transfer Services for details. They are willing to provide extra service such as sending you to the best spot for snorkeling.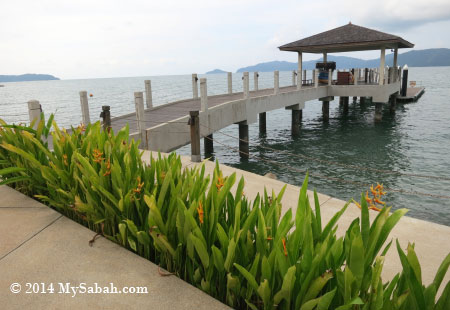 Pic: 60-Metre-long jetty designed by Design B.U.BE from Singapore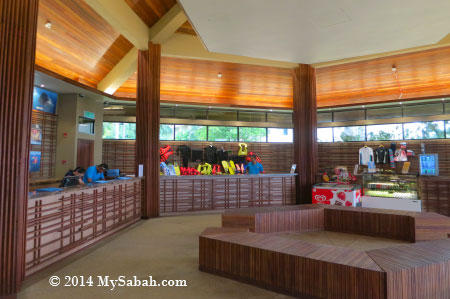 Pic: air-conditioned service centre of STAR Marina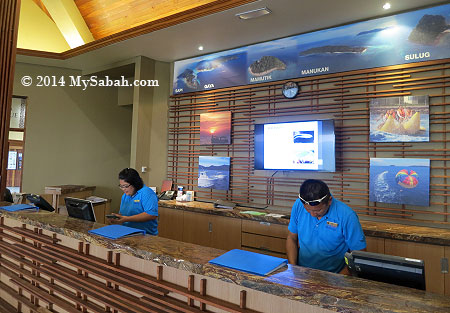 Pic: tour service counters of STAR Marina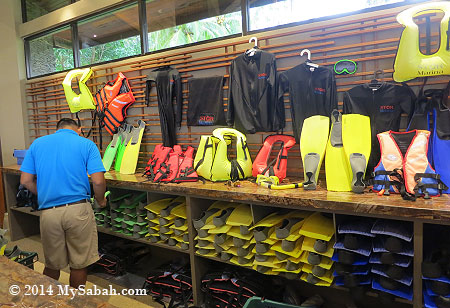 Pic: snorkeling set for rent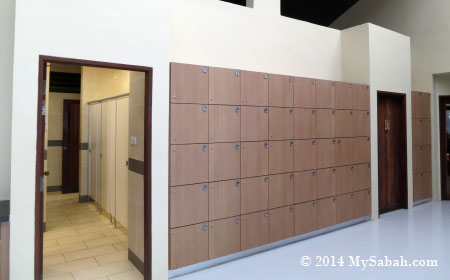 Pic: they also look after your belonging during the island trip, or you may keep some of your things in the locker in STAR Marina.
Amenities
You can find the most complete motorised and non-motorised watersport activities in STAR Marina. Just to list some, diving (and PADI certitication courses), coastal and deep-sea fishing at Mengalum Island and Pulau Tiga Island, windsurfing, jet-ski, waterski, wakeboard, ocean kayak, paddle board, banana boat, Hobie Cat (a small sailing catamaran).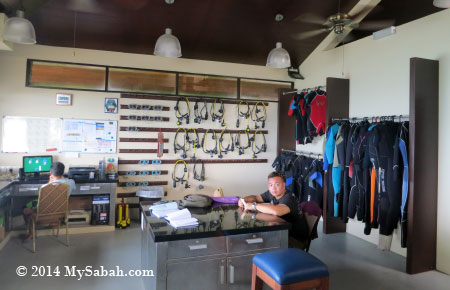 Pic: Dive centre of STAR Marina
To learn more detail about the activities, you may download the following brochures: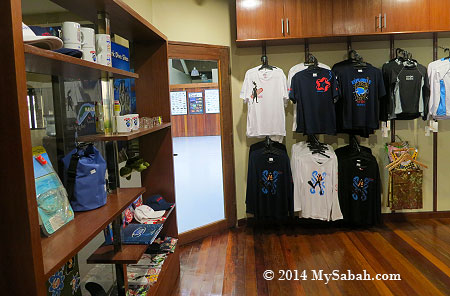 Pic: souvenir shop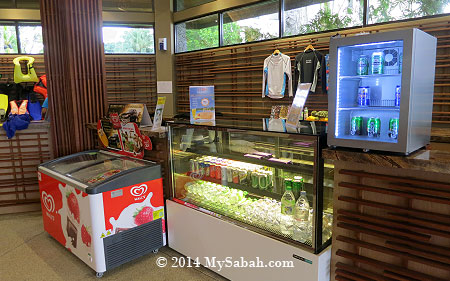 Pic: refreshment corner
Contact
Website: www.shangri-la.com
E-mail: marina.tah@shangri-la.com
Phone: +60 88-327888
Address: 20 Jalan Aru, Tanjung Aru, Kota Kinabalu
Illegal Operators
A word of cautious to those who want to get island transfer other than the three locations I mentioned above. There are some illegal and unlicensed boat operators around KK Central Market and Wisma Merdeka Shopping Mall lobbying ignorant tourists to employ their services. In one case, a group of tourists were robbed and left on an island. I would say they are lucky because it can be worse, e.g. kidnap, rape (though these haven't happened yet).
Photos taken in Kota Kinabalu, Sabah, Malaysia Borneo
You might also like: