Category Archives:
Sabah
Kudat district at the north of Sabah has some finest beaches of Borneo. For example, Tip of Borneo (a.k.a. Tanjung Simpang Mengayau) is a popular tourist destination due to its breathtaking beach and sea view. If you ask the locals in Kudat town, they would recommend Bak Bak Beach (Local Name: Pantai Bak Bak) too, which is the nearest beach to Kudat (11 KM away to the north).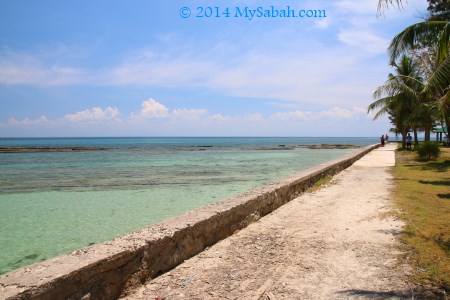 Pic: panoramic photo of Bak-Bak Beach
Out of curiosity, my family decided to check out Bak Bak Beach last week. You will pass by the junction to Bak Bak Beach (Note the signage reads "Jalan Bak-Bak" at your right, see the location map of the junction), when you are on the way to the Tip of Borneo. After 4 KM, you will see the beautiful Bak Bak Beach (See Location Map of Bak Bak Beach).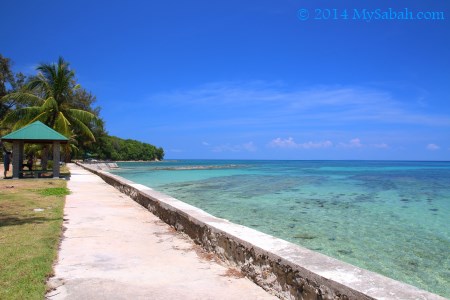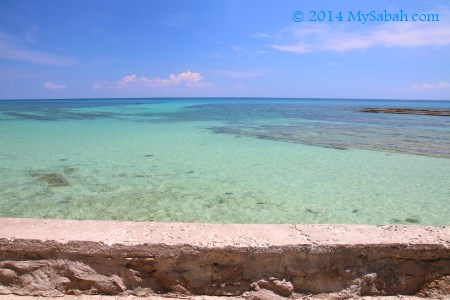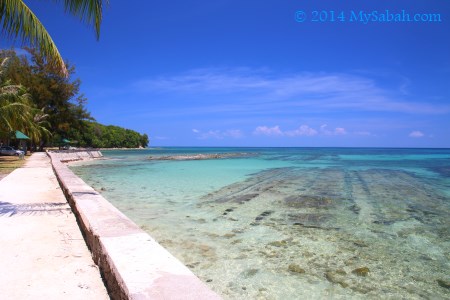 Local Chinese calls Bak Bak Beach "石码头海滩", which means Rock Jetty. It is a rocky beach, but I didn't see any jetty though. I read somewhere that mentions Bak Bak Beach was used to be a busy port in the past. We enjoyed the gentle sea breeze under the shades of swaying casuarina trees.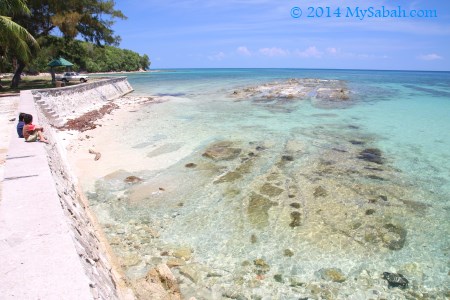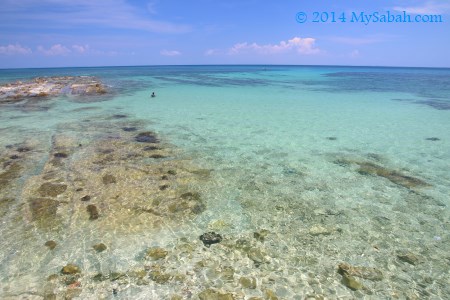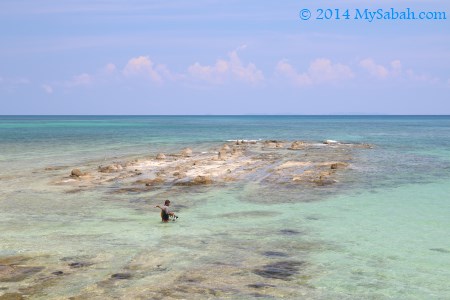 The sea water is crystal clear and shallow, and seem like you can walk all the way 100 Meters away from shore. During high tide, it is great for swimming. If you really want white sandy beach, you can continue to drive 4 KM along the road. When you come to a junction, turn to right and you will reach a deserted beach named Pasir Putih (means white sand) after 400 Meters. Pasir Putih is a more inviting spot for swimmers.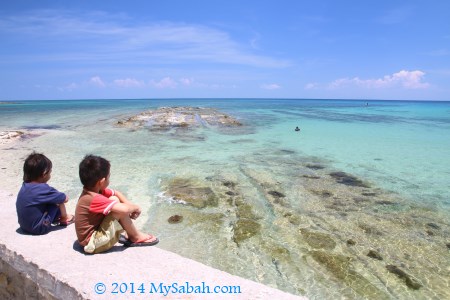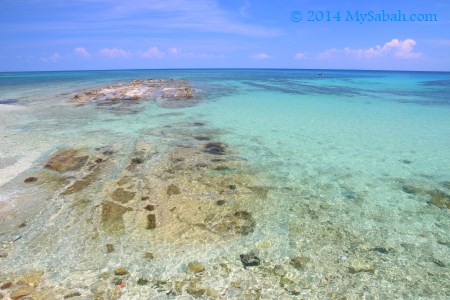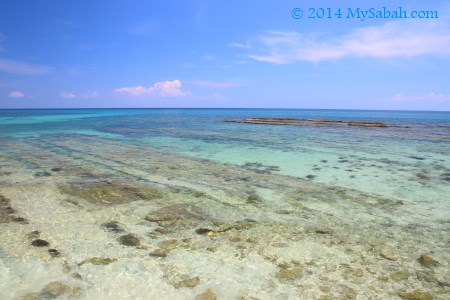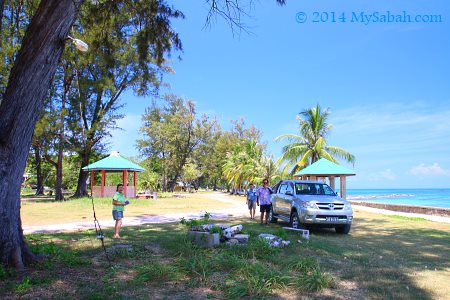 We visited the beach in Saturday noon and it was quiet, only one family hanging around with kids. We learn later that this place is only crowded with locals on Sunday. There are some hawker stalls selling delicious satay on Sunday too. I saw a toilet but it was locked, so I assume it is only open on Sunday. Well, for other days, it might be a good dating location for couple. Anyway, looking at the shelters, tables and barbecue areas, Bak Bak Beach is also a nice site for picnic.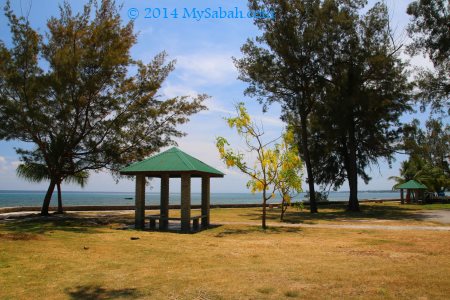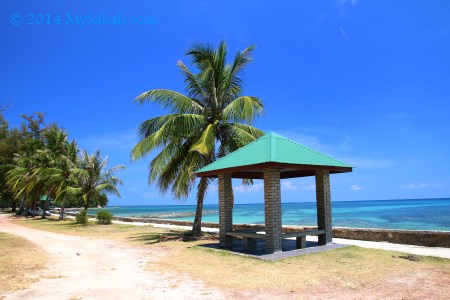 Have you been to Bak Bak Beach? Please tell me more about it in comment section below.
Photos taken in Kudat, Sabah, Malaysia Borneo
You might also like:
Due to increasing demand by tourists, now Kota Kinabalu city (KK) has regular shuttle sending passengers back and forth KKIA (Kota Kinabalu International Airport) every day. KKIA has two terminals, i.e. Terminal 1 (see location map) and Terminal 2 (a.k.a. AirAsia's Terminal, see location map), which are about 4 KM apart from each other. Airport Bus provides transport to/from both airports.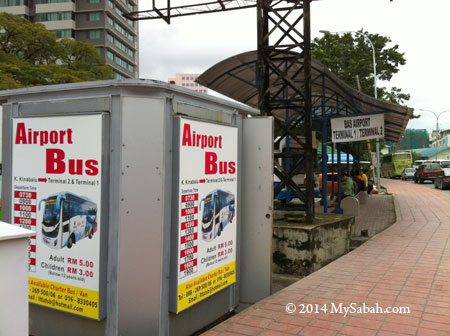 The ticket counter and station of Airport Bus is at Padang Merdeka (or Merdeka Field in English, see location map). Note the sign "Bas Airport" (means Airport Bus) at the bus stop.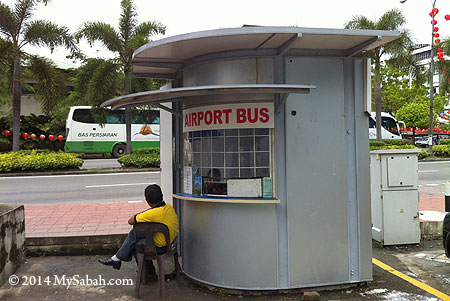 Pic: the booth of Airport Bus. The bus ticket costs RM5.00 (≈USD$1.50) for each Adult, RM3.00 (≈USD$0.90) for Child (below 12).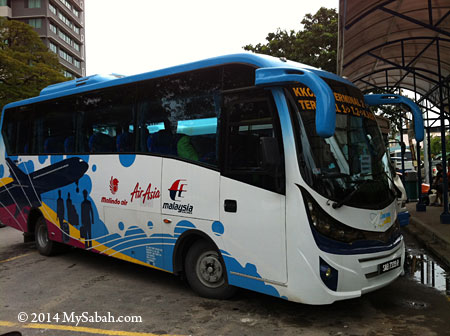 Pic: the 20-seater Airport Bus
If you have a lot of luggages, you can store them in the compartment at the bottom of the bus.
Departure Time
The shuttle service is available from 7:30am to 7:00pm daily. Below is the schedule of Airport Bus.
(Note: KK = Kota Kinabalu, T1 = KKIA Terminal 1, T2 = KKIA Terminal 2)
| | |
| --- | --- |
| KK → T2 & T1 | T2 → T1 |
| 07:30 | 08:00 |
| 09:00 | 09:30 |
| 10:00 | 10:30 |
| 11:00 | 11:30 |
| 12:00 | 12:30 |
| 13:00 | 13:30 |
| 14:00 | 14:30 |
| 15:00 | 15:30 |
| 16:00 | 16:30 |
| 17:00 | 17:30 |
| 18:00 | 18:30 |
| 19:00 | 19:30 |
| | |
| --- | --- |
| T1 → T2 → KK | T2 → KK |
| 8:00 | 8:30 |
| 8:45 | 9:20 |
| 10:00 | 10:20 |
| 10:50 | 11:20 |
| 12:00 | 12:20 |
| 13:00 | 13:20 |
| 14:00 | 14:20 |
| 15:00 | 15:20 |
| 16:00 | 16:20 |
| 17:00 | 17:20 |
| 18:00 | 18:20 |
| 19:00 | 19:20 |
It takes the bus about 25 to 40 minutes to reach the airport (depend on if it's rush hours) about 7 to 10 Kilometers away from KK city centre. If you are in a hurry to check-in at the airport, I would advise you to go with a taxi instead.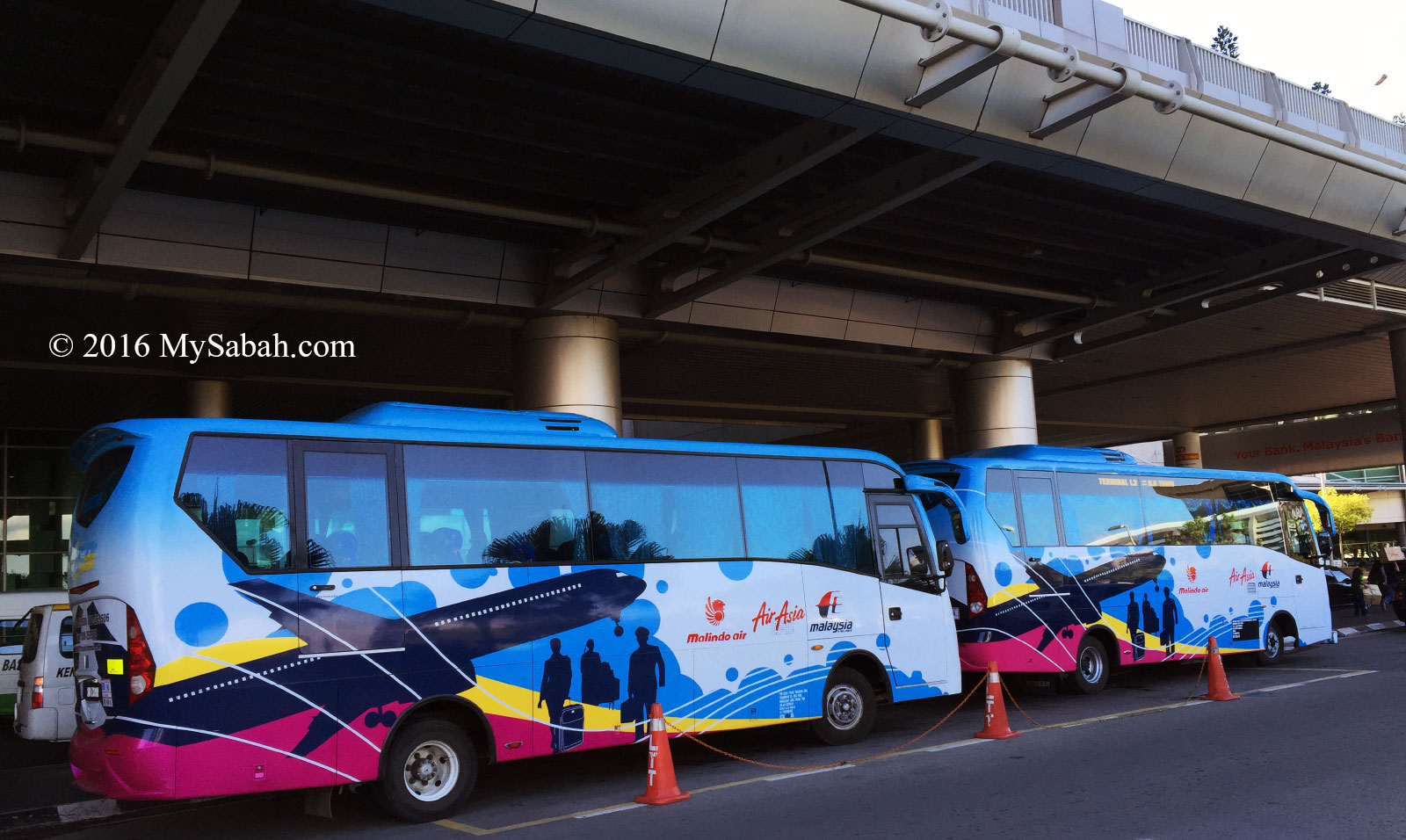 Pic: Airport Bus picks up tourists at airport
Route
Here is the route of Airport Bus:
KK City (Padang Merdeka) → KKIA Terminal 2 → KKIA Terminal 1 → KKIA Terminal 2 → KK City (Padang Merdeka)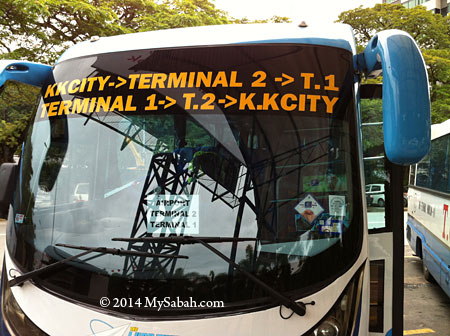 On its way to airport, the bus will pass by the bus stop behind Horizon Hotel (see location map) and Asia City Complex (see location map), so you can wait at these bus stops to get a ride to airport. The Airport Bus also picks up passengers at the airports.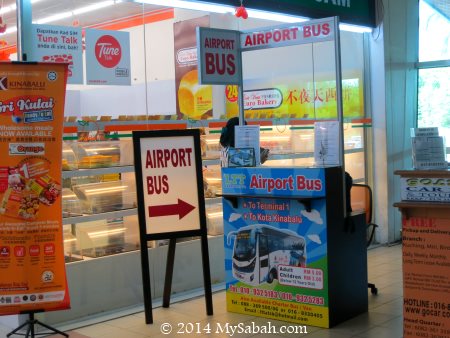 Pic: you can find the ticket booth of Airport Bus inside both terminals of KKIA.
On its way back to KK, the bus can drop passengers near Horizon Hotel, Deleeton Hotel and Hotel Dreamtel. It even can send you to Sutera Harbour, but you have to inform the bus driver in advance. For backpackers who stay in lodges in Gaya Street, the place is only a few minutes walk from Airport Bus station.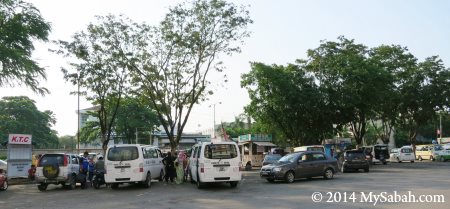 Pic: Padang Merdeka / Merdeka Field, where the Airport Bus stationed.
Padang Merdeka has bus service to the towns of Sabah interior, such as Kundasang (Kinabalu Park), Ranau, Keningau, Tuaran, Kota Belud, Kudat, Kota Marudu, Tenom and Tambunan. There is a lot of taxi / limo around that area too.
As far as I know, only bus to Keningau is big bus with air-conditioning and they have fixed departure schedule. For other destinations, there are usually mini buses and vans that may not have any air-conditioner and they only move when all seats are taken up (an hour of long wait is common). For more detail on Sabah bus, please read my other article Traveling in Sabah by Bus.
Contact of Airport Bus
Below is the contact of Airport Bus. You also can charter a bus or van with them.
Company: Luen Thung Tanjung Aru Transport Co. S/B
Tel: +60 88-269500 / +60 88-269506
Mobile: +60 16-8330405
Mobile (Terminal 1): +60 10-9325183
Mobile (Terminal 2): +60 10-9325283
E-mail: lttatsb@hotmail.com
Address (office): KM 7, Jalan Kepayan (next to JKR Training Center), 88100 Kota Kinabalu, Sabah, Malaysia.
Seem like the Airport Bus is a trial run. Hope the response is good so the shuttle will stay permanently.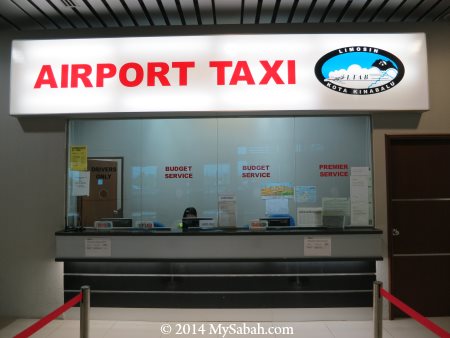 Pic: airport taxi counter in airport
Though the cost of bus service is a a fraction of taxi, bus doesn't take you to your home or hotel. Our airports have taxi service counter where you can get a taxi. Taxi is more expensive, but it's more feasible than taking bus when you have a few passengers to share the car (to split the cost).
Last Updated: 16 Feb 2014
Photos taken in Kota Kinabalu, Sabah, Malaysia Borneo
You might also like: