Category Archives:
Sabah
Say to any European you are from Sabah, most of them would ask, "Huh? Where is Sabah?" But if you say "Borneo," many seem to know this island. Ironically, Sabahans know very little about their Borneo identity though Borneo is far more popular to foreigners, probably as a result of our school textbooks that mainly glorify the Malaya history of Peninsular Malaysia. Therefore, Sabah State Museum is the best place for locals and tourists to experience a fun history journey about Borneo.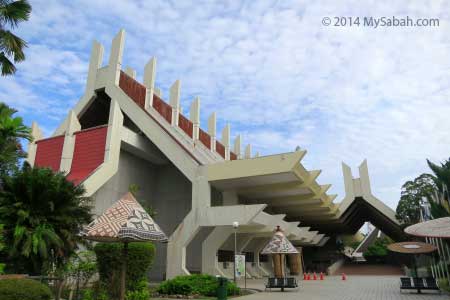 Pic: The design of Sabah Museum building is inspired by traditional Rungus Longhouse
Even though Sabah Museum isn't as big as those world-class museums, it has great quantity of historical artefacts, documentation and photographs to connect all the dots of our past. For sightseeing tourists, a short tour of 2 hours is enough, but for people who love the stories of Borneo, they would spend half a day. Even if you hate history class, you would discover that Sabah history is interesting.
"A generation which ignores history has no past — and no future." ― Robert A. Heinlein


The first thing that you meet inside museum is a huge whale skeleton of 18.6 Meters in length. It is the biggest whale skeleton exhibit in Malaysia, according to The Malaysia Book of Records.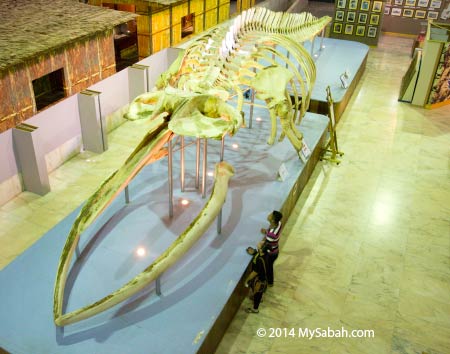 It's a Bryde's Whale stranded at the beach of Gaya Island on 17 Dec 2006. Everyone tried to rescue this whale but it died eventually.
There are a few galleries inside Sabah Museum. I briefly highlight their features below so you know what are so special about each of them. The information sign is written in both English and Malay languages.
Ceramic Gallery
This is my favorite gallery. Ceramic jar was a very important commodity for more than a thousand years in daily life of Sabahans, people used it for storage, wine-brewing, bride price, ritual and even burial! Borneo imported ceramics from China as early as Sung Dynasty period (960-1279 A.D.). "Made in China" would mean something cheap and low-quality today. But during that time, China ceramic jar was highly valued and owning one is a sign of wealth.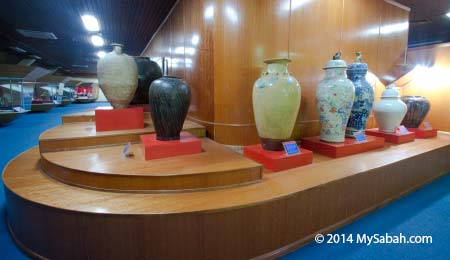 Pic: Tabu Dita, the colorful tall jars at the right in the photo above, is one of the finest jar in Borneo.
Many antique jars are passed down for many generations as heirloom. Sabah Museum has been acquiring them across Sabah and they have the best collection here.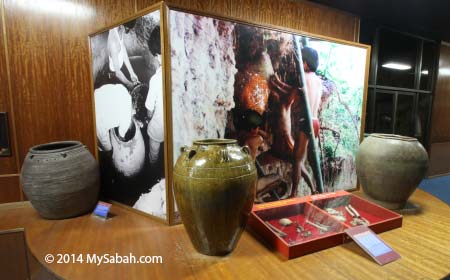 Pic: burial jars of Sabah. In the red boxes are human bones found in these old jars. Burial in jar is a very common practice among Kadazandusun and Murut people of Sabah in ancient time. After the corpse turned into bones, they would move the bones to a smaller jar and reuse the big jar.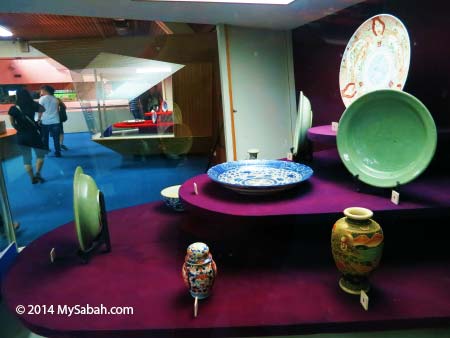 Pic: the Museum also displays many trade wares from China from the period of Yuan, Ming, Sung and Qing Dynasty, and also from other countries such as Thailand, Vietnam, Cambodia, Japan and Europe. Some of them are recovered from sunken shipwrecks.
Besides, there are items such as ceramic pillow, cosmetic boxes and spittoons, something that we don't use anymore nowadays.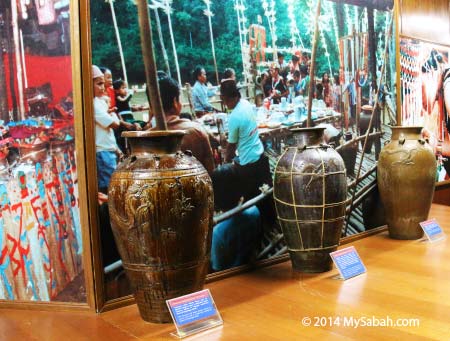 Pic: jars used as bride price by Murut in the past.
Headhunting Gallery
Hundreds years ago, the fearsome headhunters roamed the land of Borneo. Armed with sword and blowpipe, they hunted human heads as trophy. "Honey, I got a skull and now we can get married!" would be one of the things the warriors whispered to their girls. Coming back with heads was a symbol of bravery and a prerequisite for a wedding.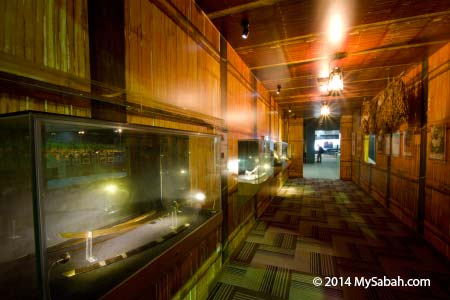 Today the headhunting tradition had long gone. Through the Headhunting Gallery of Sabah Museum, you will be brought back to their world to understand why and how they did it.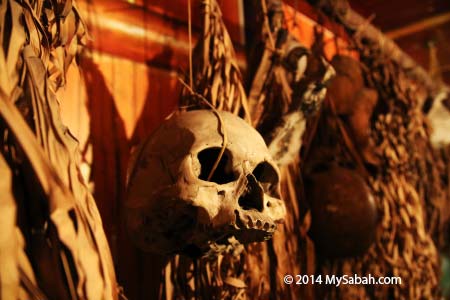 Under the roof, a collection of hundred-year-old (real) human skulls tied up together with silad leaves, as seen in the gallery, was a common view during the savage age, as the owners believed the skulls could bring them good fortune and protect their families.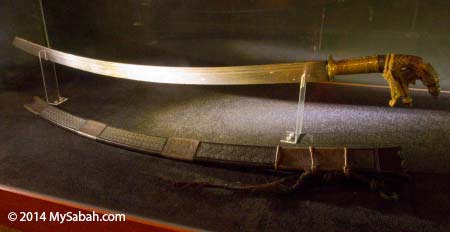 Pic: head-hunting sword attached with the hair of victim
In the gallery, you will see the swords and weapons used by Kadazandusun and Murut people to cut off people's head. There are some photographs of the headhunters and details on how they "processed" the heads.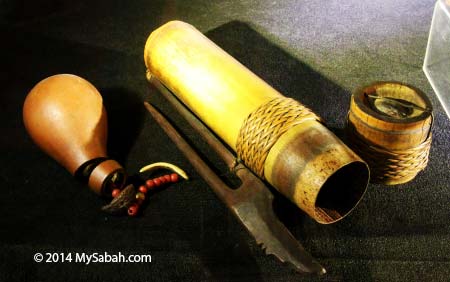 Pic: containers for darts and poison of blowpipe
Natural History Gallery
This gallery gives you an overview of ecology in Borneo. Visitors will see specimens of different flora and fauna from marine, rainforest, swamp and cave ecosystems. It's nice place for an educational tour for students.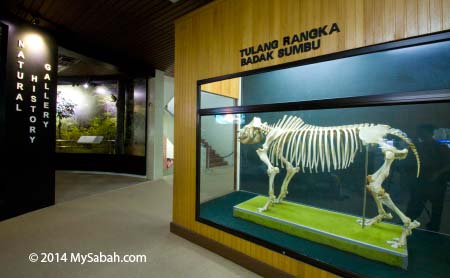 Pic: skeleton of a Sumantran Rhino at the entrance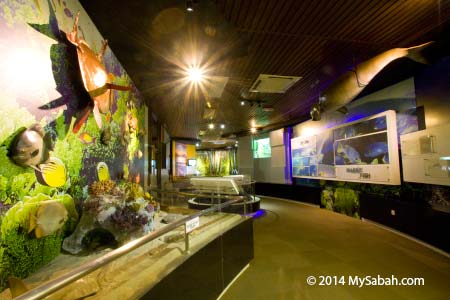 It's quite impressive that they have the specimens of the most elusive and secretive Borneo animals such as clouded leopard, pitta (bird) and mud lobster. I know you prefer to see the live ones, but these animals are extremely hard to find in the wild, so it's better than nothing.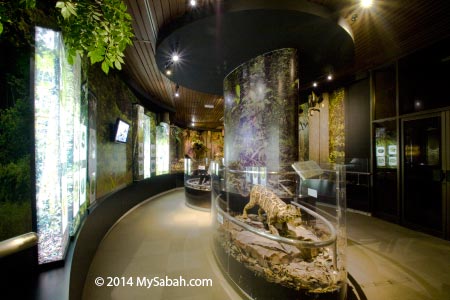 Natural History Gallery also has a section that introduces some local herbs that can cure snake bite, breast cancer, leukaemia, etc. No wonder scientists say Borneo rainforest is the largest drug store in nature.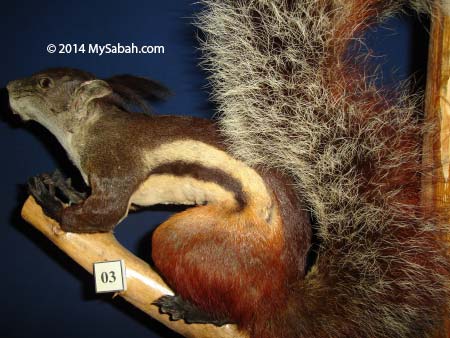 Pic: a specimen of Tufted Ground Squirrel, which is native to Borneo and also known as Vampire Squirrel. It's the record holder of world's fluffiest tail, a bizarre creature.
Ethnology Gallery
Sabah has 32 indigenous groups, with about 100 languages spoken, our culture is the most colorful and diversified in Malaysia, probably our state is under the influence of our neighbours from Philippines, Brunei and Indonesia. A good way to learn about a culture is to see what they wear, use and play.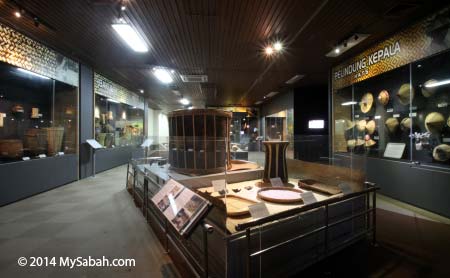 Various handicrafts, farming tools and musical instruments are exhibited in this gallery. You can even try their musical instruments in a sound-proof room.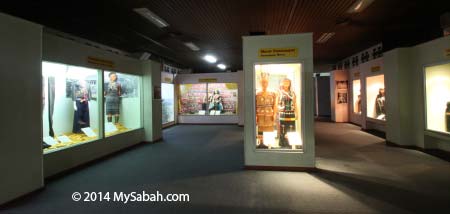 Pic: the cosmo section showing some unique costumes and accessories worn by different Sabah ethnic groups, which look very different from one another. Even for a simple item such as basket, they can have dozens of design.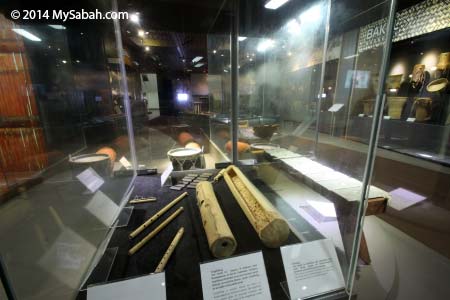 Pic: music instruments on display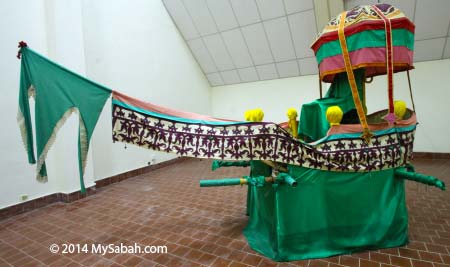 Pic: this is Unsunan. It looks like a boat but isn't for sailing. I'll let you guess what it does.
Ancient Culture Gallery
This gallery is quite exciting because you will see the best pieces of prehistoric artefacts from important archaeological sites of Sabah. The latest additions are stone tools from Mansuli Valley (at Lahad Datu), which dated back to 235,000 years ago and believed to be the earliest human civilisation in Borneo.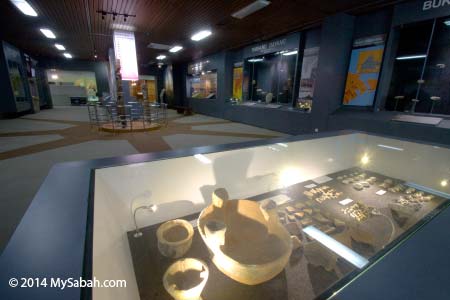 Browsing through hundreds of tools made of stones, clay, shells, bones and wood, which are nicely presented and organised, you will be amazed and want to learn more about the origin of Borneo people, because everything is so different from the Sabah we know today.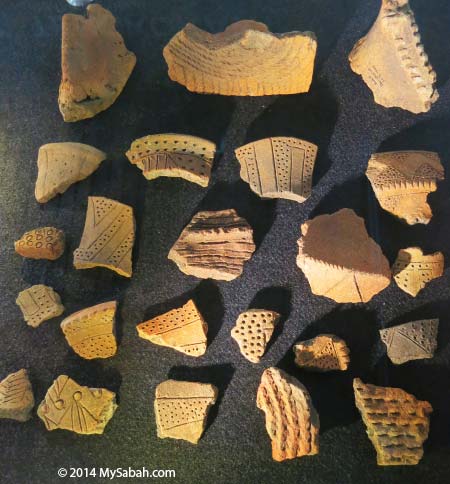 Pic: pottery sherds from Bukit Tengkorak (Skull Hill) in Semporna.
Our ancestors are not axe-wielding cavemen that don't know business. During Neolithic period, they established one of the largest pottery making sites (Bukit Tengkorak) in Southeast Asia and "international" trade routes reaching 3,500 KM away.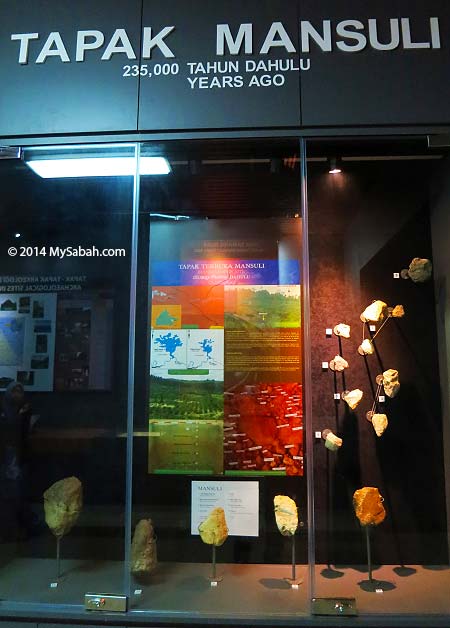 Pic: artifacts from Mansuli archaeological site, this new discovery will rewrite the chapter on Borneo prehistory, a must-see.
FYI, the famous Perak Man from Lenggong Valley, which is the oldest known location of human presence in Peninsular Malaysia, is ONLY 11,000 years old.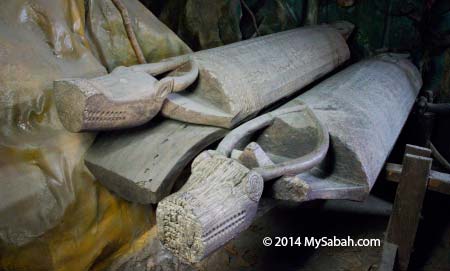 Pic: buffalo-head ironwood coffin of 900+ years old, nothing similar is found in other parts of Southeast Asia.
The gallery also has a chronological graph of ancient cultures and a location map of significant archaeological sites in Sabah.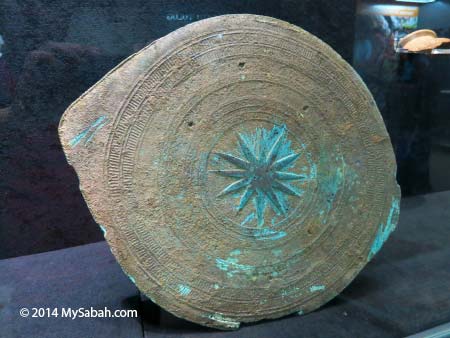 Pic: a 2,000-year-old Vietnamese drum from Bukit Timbang Dayang burial site of Banggi Island, an extraordinary piece from Bronze age.
Borneo has more links with other regions than West Malaysia in very old time. We would never know what we will uncover next in Borneo.
Sabah History Gallery
Malaysia is a country less than 60 years old, so Malaysia is absent in picture of Borneo history most of the time, our people had more connection with Sultan of Sulu (now Philippines) and Brunei, than other Sultan at another side of South China Sea. The Sabah History Gallery exhibits some major political and social events via info sign, antique and photographs, mostly from the time before Malaysia was formed (1963).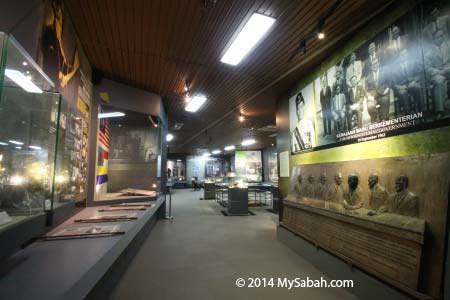 About 500 years of historical data is compressed into this gallery of 500 Sq. Meters, so you need only 15-minute to walk through Sabah history. The history of Borneo starts with ruling of Brunei and Sulu Sultanate, later Westerners came, then British took over Sabah and named it North Borneo. During British colonial era, there were some uprising of locals to against imperialism. In 1942, Japanese invaded Sabah during World War II, we were liberated in 1945 and form Malaysia with Malaya in 1963.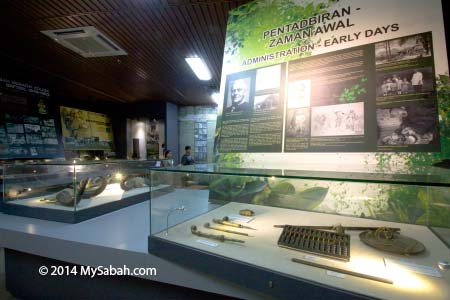 There are dark sides of Sabah history being told as well. Like in the age of piracy and slavery around 1870, no village was found for more than 60 miles along Kinabatangan River; the bloodshed during rebellions; the opium trade permitted by British government; the weapons used in wars, etc. Locals elders would dig deep in this gallery because they had lived through this hardship with their parents.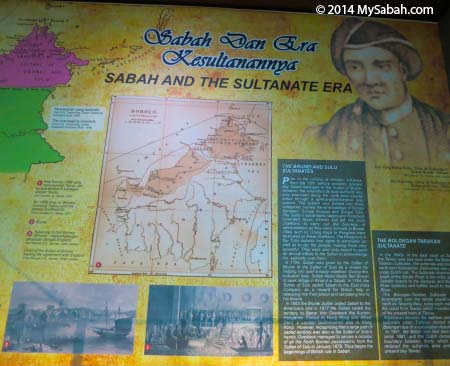 Pic: info about Sulu & Brunei Sultanate. The successors of Sulu Sultan wants Sabah back. Dream on!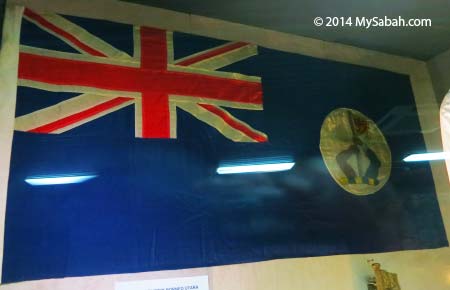 Pic: "National flag" of North Borneo
I thought I knew Sabah history, but still many surprises were awaiting me there. Did you know North Borneo (now Sabah) participated as a country in 1956 Olympics games in Melbourne, Australia? Also on display are treasures from the oldest Chinese shipwreck in Malaysia, from the Tip of Borneo during Sung Dynasty period (960-1127 A.D.).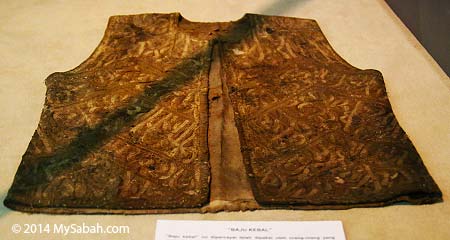 Pic: the "Invincible Vest" with sacred Al-Quran verses written on it, worn by followers of Mat Salleh to fight British forces between 1886 and 1900. Btw, they lost at the end.
Sabah Now and Then Exhibition (1963-2013)
If you are a foreigner who has no sentiment toward Sabah, it's unlikely that you would be interested in this gallery. It is a "reminiscent corner" for locals by showing of important or meaningful things in 50 years of Sabah being part of Malaysia (1963-2013).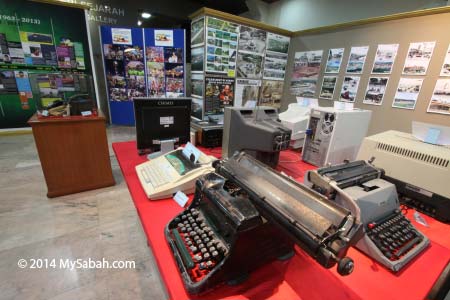 Pic: The items and photos may look somewhat familiar to older Sabahans.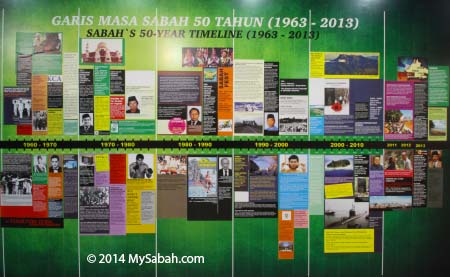 Pic: An informative and colorful timeline graph that documents the historical moment of Sabah history in chronological order. Some bring back happy memory while some are painful reminders.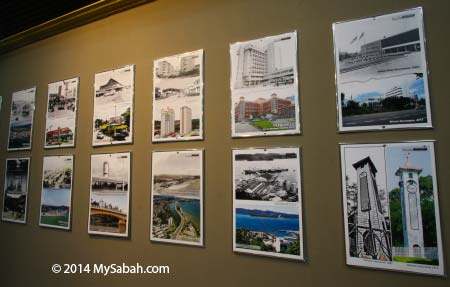 Pic: the New Vs Old photos of building and cities/towns in Sabah. Looking at the photos, youngsters would laugh, "Wow, we were so underdeveloped!" Old folks would sigh, "Hey, I used to work at this place."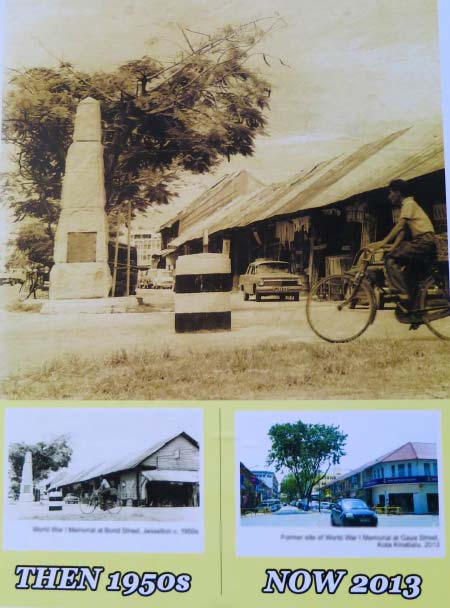 Pic: can you tell where is this place?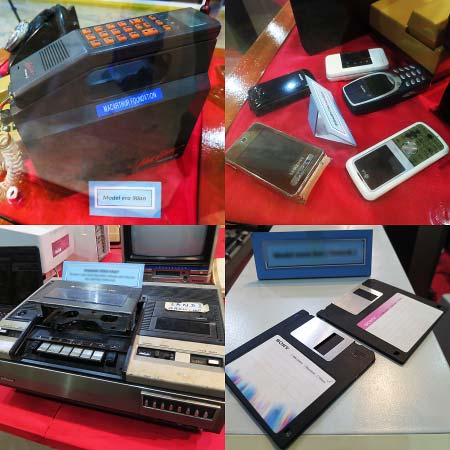 Pic: still remember these items? We used to love them so much and saw them every day. Technology changes so fast, so is human heart.
Others
There are just too many things to explore in Sabah Museum Complex. You may check out the following sites if you have ample time:
Sabah Islamic Civilisation Museum
Sabah Islamic Civilisation Museum is a small museum about 20 minutes walk away from Sabah Museum (see Location Map). If you have bought the ticket to visit Sabah Museum, you can enter it with the same ticket on the same day (needless to buy second ticket).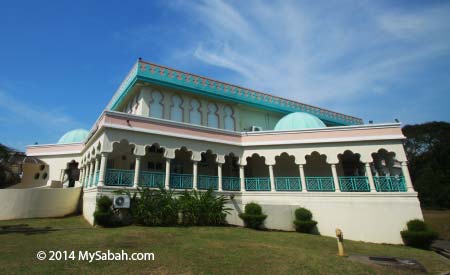 This museum exhibits some antiques and information related to Islam in Sabah, for example, Al-Quran, ceramics, costumes, mosques in Sabah, accessories, brasswares. The highlight is a very nice and extensive collection of fancy betel nut containers.
Heritage Village
It's located next to Sabah Museum and Ethno-botanical Garden, you may take a stroll among the traditional ethnic houses of Rungus, Murut, Bajau, Dusun, etc. You can walk into each house and take photographs. There is a pond and lush forest around the village, where you will find many native fruit, herb and ornamental plants. It's a beautiful place but please bring insect repellent just in case.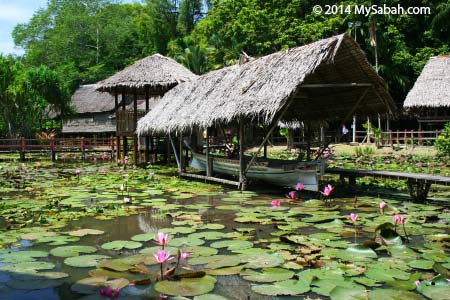 After the visit, there is a nice gift shop where you can buy some souvenirs, and a small cafe for some food and drink (limited choices).
Visitor Info
Sabah Museum is only 2 KM away from Kota Kinabalu City Centre and very accessible by taxi and bus (see Location Map).
Admission Fees
Visitor Type
Fee
Non-Malaysian
RM15.00 (≈US$4.75)
Malaysian
RM2.00 (≈US$0.65)
(Malaysian Only)
Student in Uniform, Disabled Guest, Senior Citizen, Taxi Driver
Free
Contact
Opening Hours: 9:00 am – 5:00 pm daily
Website: museum.sabah.gov.my
Email: Muzium.Sabah@sabah.gov.my
Tel: +60 (88)-253199
Address: Sabah Museum Complex, Jalan Muzium, 88300 Kota Kinabalu, Sabah, Malaysia
My Special Thanks to Puan Joanna Datuk Kitingan, Director Of Sabah Museum, for giving me the permit to photograph the galleries of Sabah Museum.
Photos taken in Kota Kinabalu, Sabah, Malaysia Borneo
You might also like:
The annual big party is around the corner, but it's not for human. The Hungry Ghost Festival of Chinese this year falls on 9 Aug (14 Jul of Chinese's Lunar Calendar), the time when the gate of hell opens and ghosts visit our world, and the festival lasts for a month. It's not a Halloween type of occasion. Chinese takes this event seriously and celebrations will be held to pay homage to the ghosts.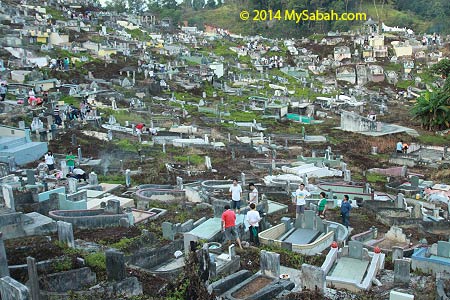 Confucius says, "respect ghosts and gods, but stay away from them", this reflects how Chinese deals with the spiritual world. Though Chinese are afraid of ghosts, they worships and appease them, hoping that they will leave human alone and even bring good luck.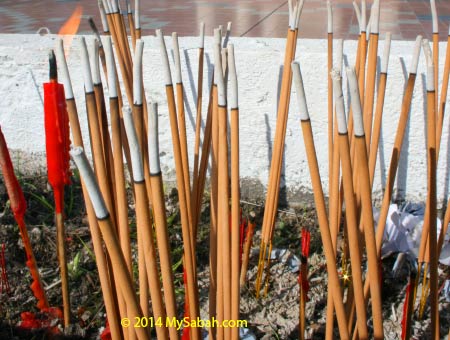 Do you believe that ghost exists? I have heard many say, "I will never believe there is ghost until I see one!" Many of them are devout followers of a religion, so I wonder if they actually see god so they become a believer. No offense.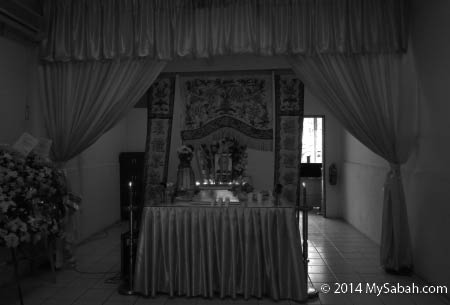 I think fear of death is the reason why many people want a religion, because every religion offers an answer after death, such as afterlife, heaven and immortality. And some wish ghost is real, which means they still can "live" on in another form after they die. What do you think?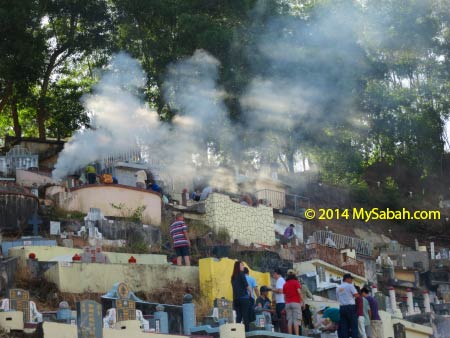 Personally, I haven't seen any ghost (and never want to), but seems like every offices that I work at are haunted. I'm used to work late and being the only one in the office at night. Sometimes I heard strange voice or noise clearly. Usually I just ignore them and try not to think too much. There was one night I heard someone walking behind my seat, I turned around a few times and saw nothing, but the footsteps getting closer each time. That was really eerie.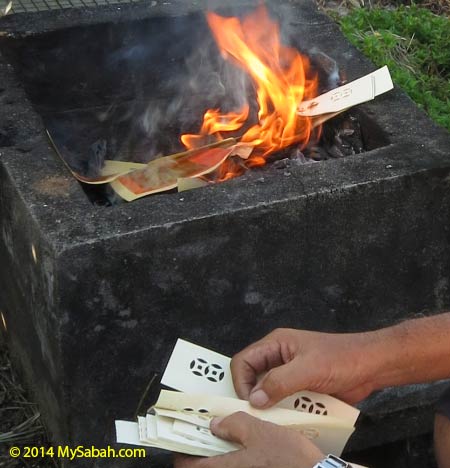 The Don't
During Ghost Month, many ghosts will be lingering around us. The following is an "advisory" for us not to do something inauspicious (Note: only work for those who believe).
Don't joke about ghost and don't mention them. If we have to, we refer them as "Good Brother."
Don't step on the offering (incense, candle, paper money, food, etc.) on the street and graves. However, PTIs (illegal immigrants) feast on these leftover food without problem. Probably they are ghost too, i.e. Phantom Voters.
Reduce night-time activity. I have a friend who has "3rd-eye" that can see Good Brothers. One night, she was walking back home during ghost festival, she saw the street near her house turned into a very busy Pasar Malam (Night Market). "That's weird. This place is not used to be a night market," she was wondering, then she saw those people have no feet…
Swimming is a big NO-No. Something in the water would drag you…
Our deceased family members would ride on insect such as moth and beetle to visit our house. Don't slap it with slippers because it might be our great grandmother. (hope they don't choose cicada as it'll be a bumpy ride…)
Don't play Ouija board to interact with "another side." It's very dangerous and you will risk yourselves being possessed.
Don't disguise as ghost to scare someone, because you will see (or make) the real one. It's not funny whatsoever.
If you see or hear anything unusual or unexplainable, just pretend you aren't aware of it.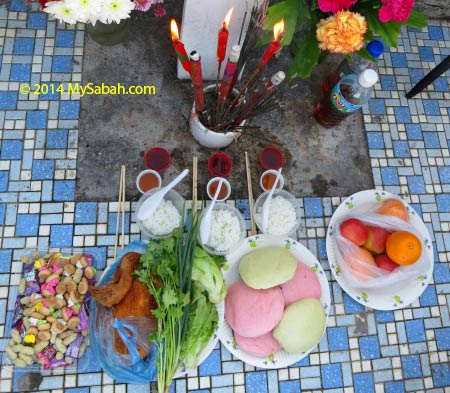 Shopping for the Dead
As there will be many hungry ghosts wandering, to show respect, some believers will burn paper money for them. Out of curiosity, I checked out a local shop that sells paper money and other "paper" stuffs. I was really impressed by the variety of the items. Chinese believes the dead is having the similar lifestyle in another world, at least its their hope…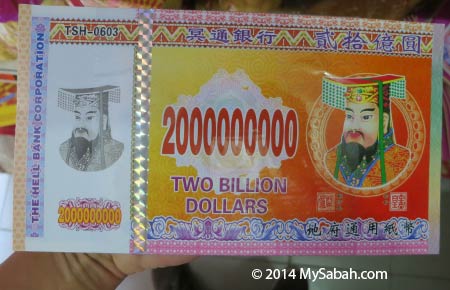 Pic: paper money, the most common offering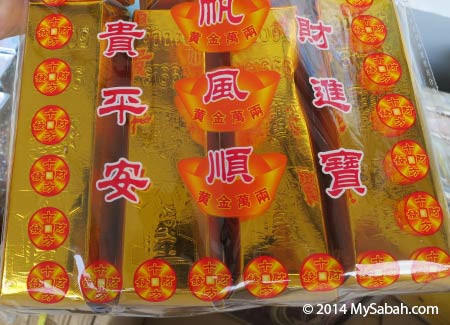 Pic: paper gold bars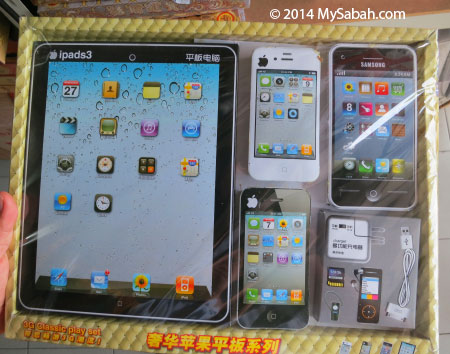 Pic: iPad? I'm glad that Steve Jobs still carries on with his product development in another world.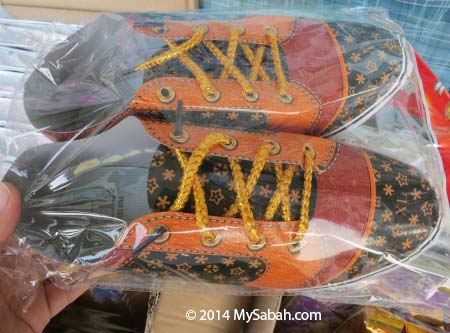 Pic: paper shoes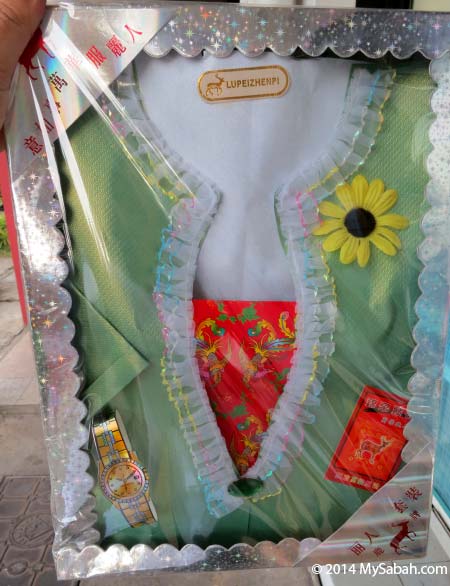 Pic: blouse for lady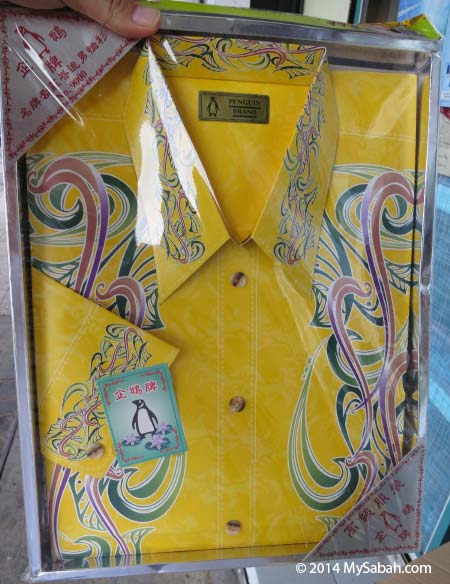 Pic: paper batik for Malaysians.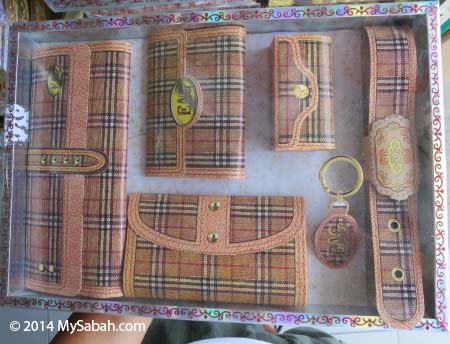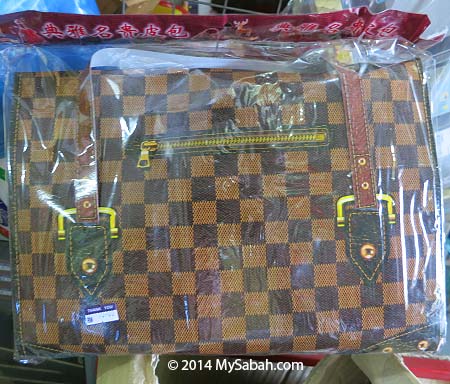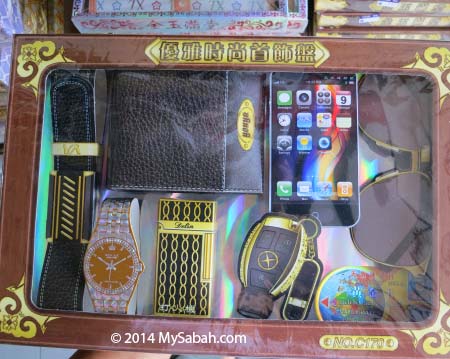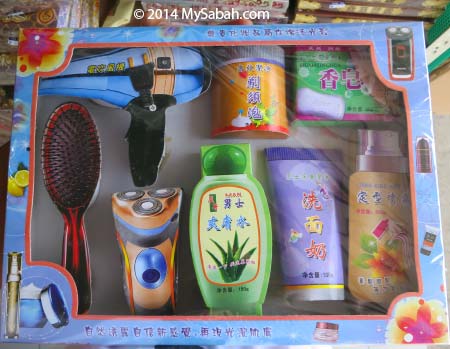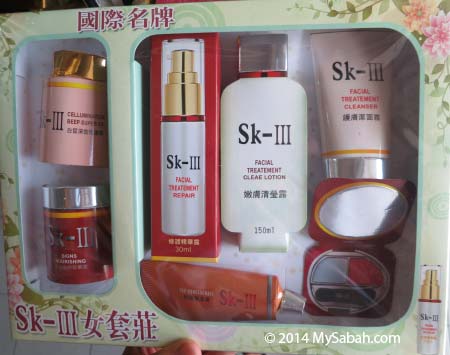 Pic: to make a female ghost pretty…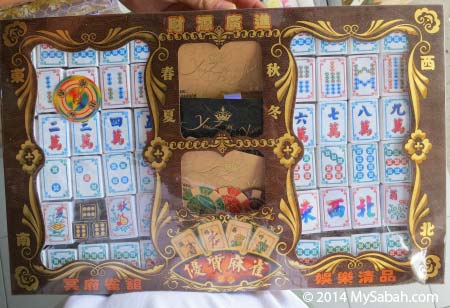 Pic: heaven doesn't ban gambling, alcohol and cigarette I think..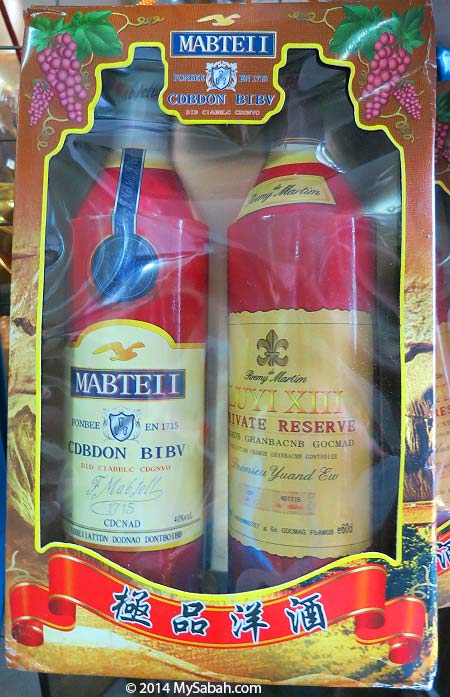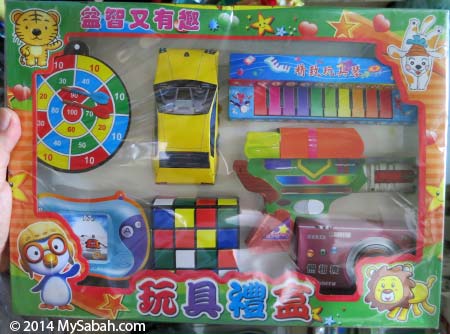 Pic: paper toy for children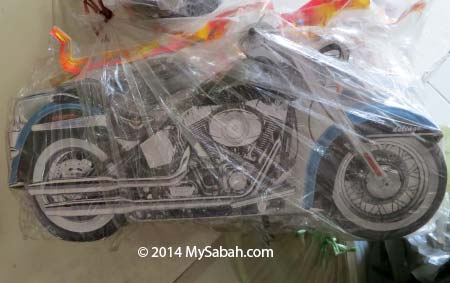 Pic: paper bike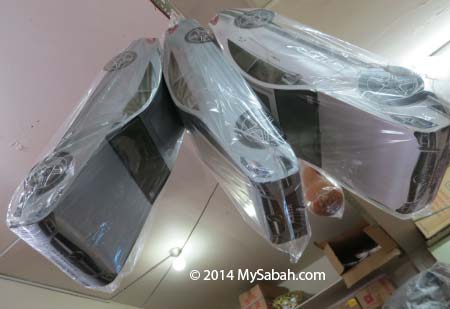 Pic: paper car. Note driver included.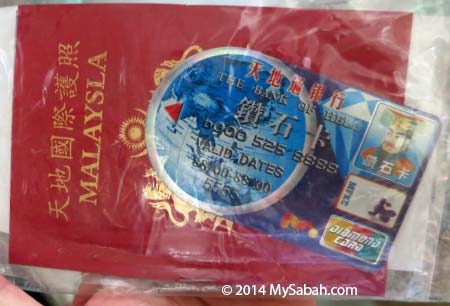 Pic: passport and credit card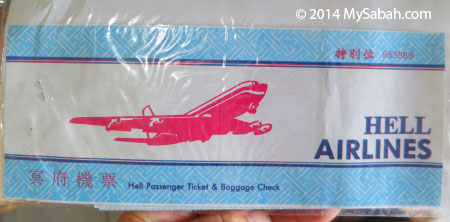 Pic: this reminds me of the recent tragedy. Let's pray for them. RIP…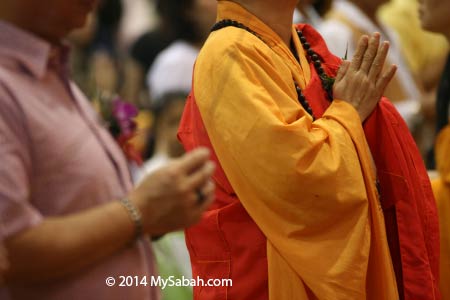 Does everything end when we die? Imagine a baby is about to born, he cries and thinks he will leave the world (womb) and that's the end of it. Then he meets a new world outside the body of his mother. Is death the same thing? I mean a process that transform us into another life form and live in another new world? I don't know.
Photos taken in Kota Kinabalu, Sabah, Malaysia Borneo
You might also like: