Bersih 3.0 Rally in Sabah

To protest the corrupted election system and Barisan Nasional government, I joined the Bersih 3.0 rally in Kota Kinabalu city (KK) today (28 Apr 2012). At first I was hesitant to participate b'coz I worried about the possible violent repression from the authority. After second thought, I decided to go regardless of the consequence, as I love my country and I want a change.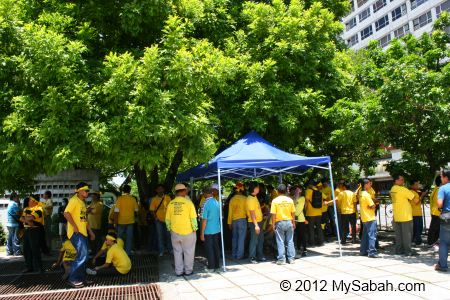 "Bersih" means Clean in Malay and Bersih 3.0 is Coalition for Clean and Fair Elections. In brief, our rally is to demand for changes to our "dirty" and unfair election system. Bersih 3.0 rally is scheduled to launch simultaneously across Malaysia today. Our group was instructed to gather nearby Center Point Sabah between 10am and 12pm. When I was on the way to the city, I heard helicopter flied over my head, obviously the authority was targeting at us. My heart skipped a beat. I hide my yellow Bersih 3.0 T-shirt in my bag as I was told that there were some police road-blocks to stop protesters from entering the city.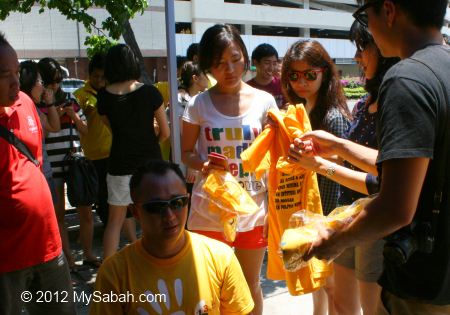 When I reached the gathering point around 11am, there were only about 50 people. There is a small booth to sell T-shirt and badges for the rally. The atmosphere was quite relaxing and participants were chatting with one another.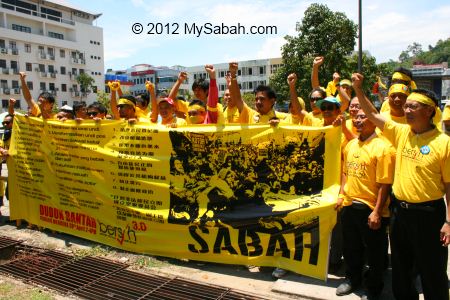 The mainstream Malaysian media, which are controlled by the ruling government, have been describing us as hooligan and spoilers. However, after I talked to a few of them, it's not hard to find out they are just ordinary people like you and me. We have only one thing in common – we are the victims of corrupted Barisan Nasional government.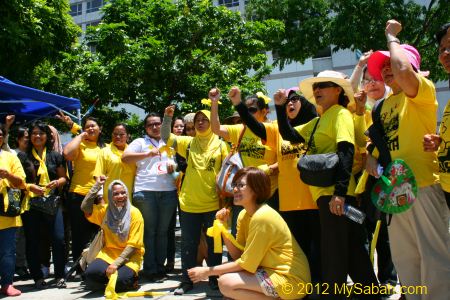 There are a lot of women joining too. In fact, the rally group consists of citizens from different races, religions, towns and age groups. I even met participants from Pitas, Kota Belud, Sandakan, etc. Not far away from us is a small group of police having breakfast at a restaurant. When I pass by their table, one of them winked at me. Haha, you see, no tension at all, unlike Kuala Lumpur, where protesters experience tear gas and water cannon.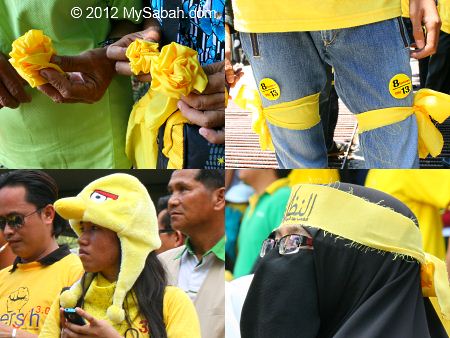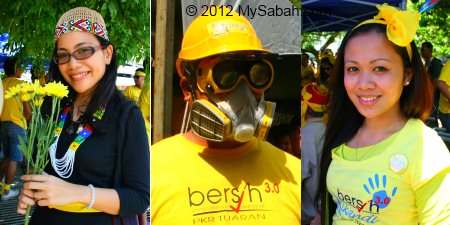 What to say… the rally looks like a "theme party". As yellow is our official color, besides wearing yellow T-shirt, someone creative had other ways to showcase yellow. Even Angry Bird is used LOL.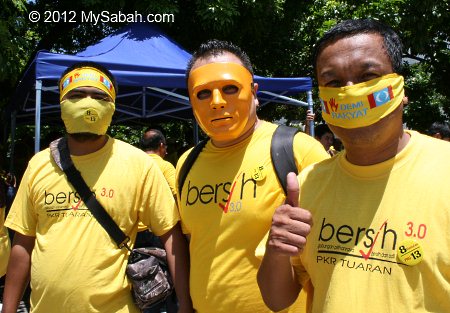 Hey, cool mask man!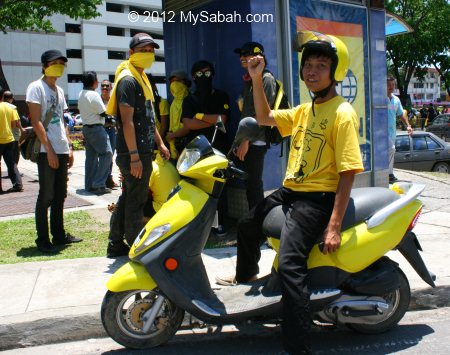 Even a yellow motorbike became a highlight. Some participants worried that police would arrest them so they didn't wear anything yellow. The yellow Bersih 3.0 T-shirt was sold out anyway. The turn-up rate this time is quite high, we have about 500 people, a huge difference to 30 people in Bersih 2.0 held at Tanjung Aru few months back.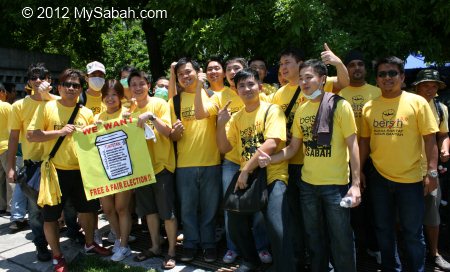 I'm so glad to see many young people taking part. iPhone and iPad are not the only things they care.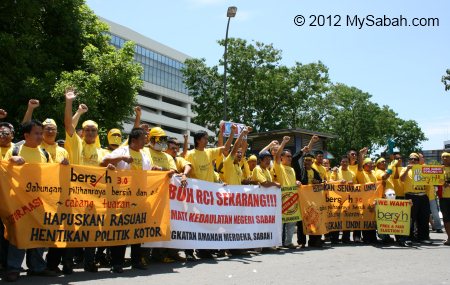 More and more people joining the rally and we had a group of hundreds. Our spirit was getting high and everyone was ready to demonstrate.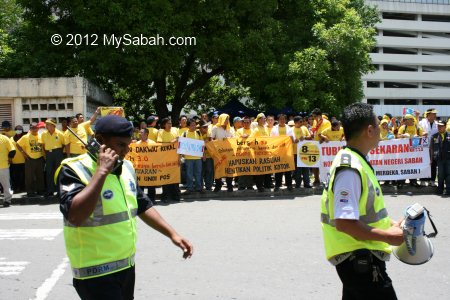 Police came to regulate the flow of traffic. They seem worrying more about the traffic jam than the rally. We were also very cooperative and didn't give them any headache.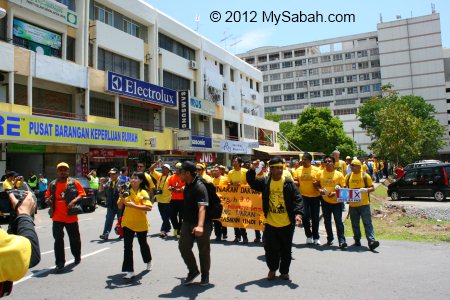 Finally, the rally group moved at 1pm. Below is the route of the rally.

View My Sabah Map in a larger map
We started from the parking area next to Chinese Chambers of Commerce building, then pass by Kampung Air shoplot, Chong Thien Vun Park, High Court building, KK City Hall, and stopped at Padang Merdeka (Merdeka Field).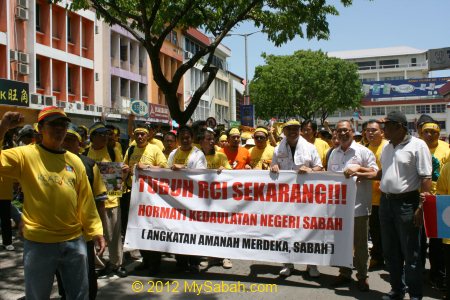 We marched and shout out our slogan "Bersih" (Clean) along the way. We stopped occasionally to re-group the people. Some motorists horned us and gave a thumb-up. Nobody in town is frightened by our peaceful rally. Instead, they are amused and very supportive. Some tourists even smiled and took our photos. There were some spectators decided to join us so our group grew bigger.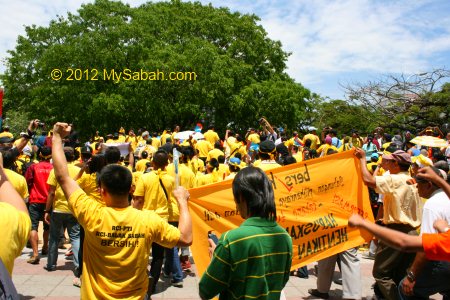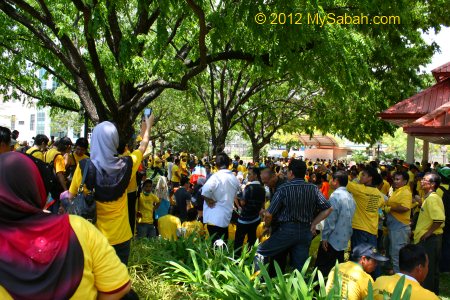 We entered the City Park for a short break and briefing.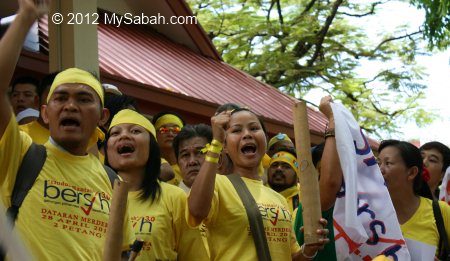 Why we are so angry? You might ask. Below are the main reasons in brief:
1) The ruling Barisan Nasional government is using many dirty tactics to win the election in unfair manner. Just to name a few, phantom voters (can you believe we have voters over 150 years old?) and questionable use of postal votes.
2) Also, they are giving citizenship and voting right to foreigners who favor them. They have "imported" million of foreign voters to Sabah and this significantly changes our demographic structure (now every 1 in 4 Sabah people is foreigner). Now they are using this formula in other Malaysian states.
That's why we want a CLEAN and FAIR election.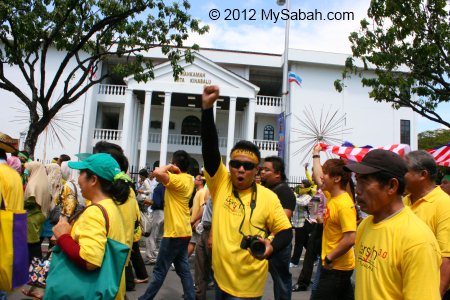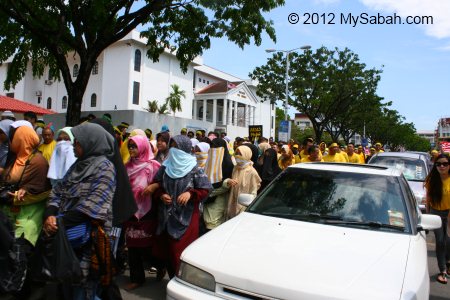 After the break, we continued our rally and head to Merdeka Field. We passed by High Court building…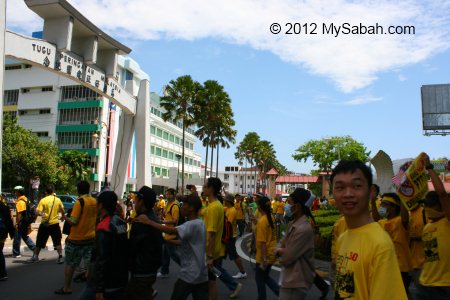 Then KK City Hall and Gaya Street..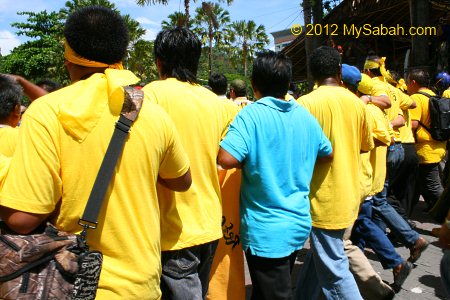 Walking hand in hand..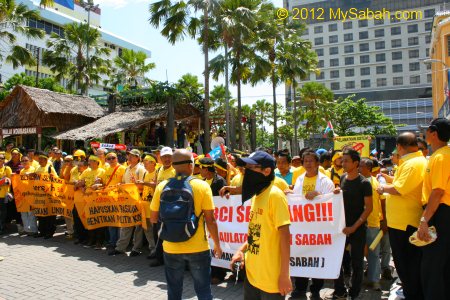 Re-grouping in Gaya Street and head to Padang Merdeka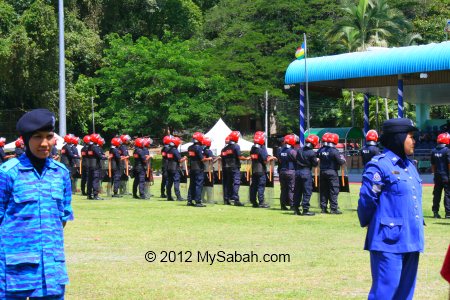 See what was waiting for us at Merdeka Field? Don't worry, it's only a drill by Civil Riots Action Unit (PORU). "Coincidentally", KK City Hall (DBKK) was having their "Safe City Programme" at the same place. There were so many armed enforcement units that they can dismiss our rally in minutes.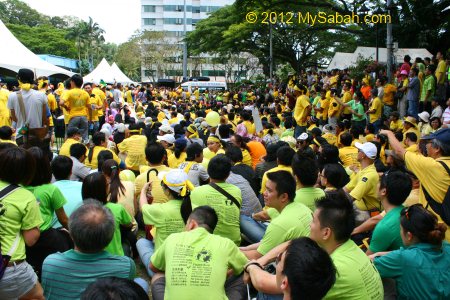 The Anti-Lynas Green group was also with us but in far smaller group.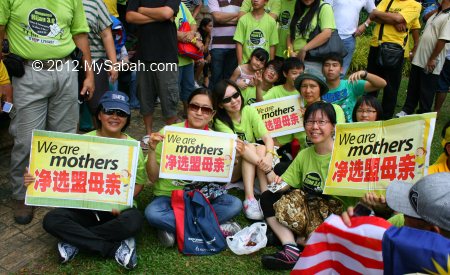 Luckily the police didn't stop us to enter the field. This was a "Sit-in Protest" so we sat on the grass. The music of DBKK there was so loud that we couldn't hear what our organizers said. Since the field was in use, we only occupied 1/3 of the field. We concentrated on shaded area to avoid the scorching sunlight.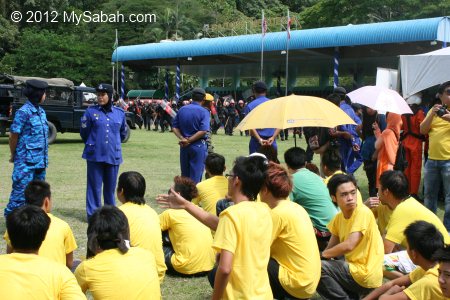 The police drill is quite a psychological warning to us. Note the police in red hat. We call them "red head army" and they are really aggressive in repression. We loved them in the old day when they swept the illegal immigrants out of Sabah. Sadly, now the corrupted government has turned them into the enemy of citizens.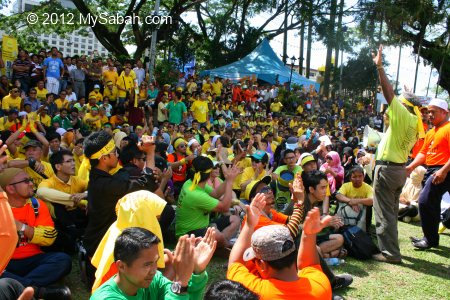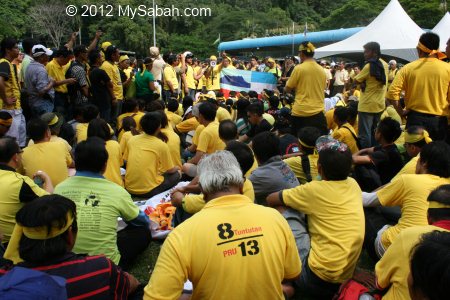 However, that didn't put us off. We just sat there listening to the speech and shouted our slogan.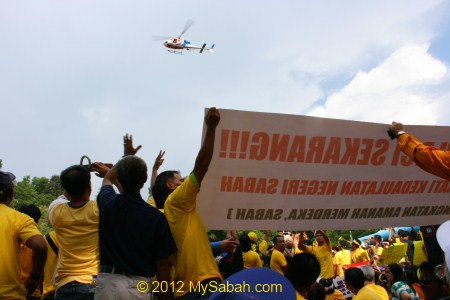 There was a helicopter hovered around us a few times. I'm not sure if they are police or media.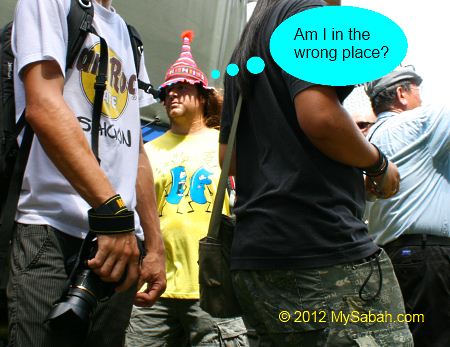 A confused tourist in Padang Merdeka..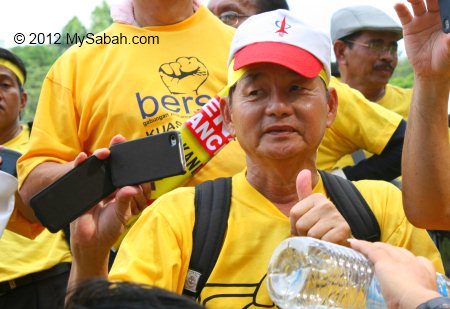 Jimmy Wong, a politician from opposition party, gave a thumb-up. Obviously he is very happy.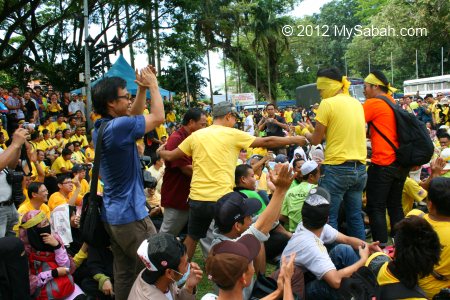 Everyone has a chance to speak if they want to. Merdeka Field (Padang Merdeka) is a meaningful and historical venue to Sabahans, b'coz that's where Sabah declared independence.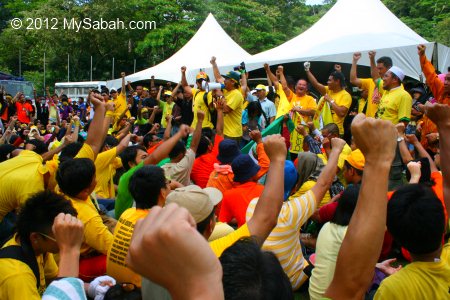 Finally, the crowd dispersed at 4pm as planned. Nobody is arrested. I would say it's a very successful rally.
What We Want for a Clean & Fair Election
"Sanitize" the electoral roll
Reform postal ballot
Use indelible ink to mark voters
Free & fair access to media
Minimum 21 days for campaign
Strengthen public institutions
Stop the corruption
Stop the dirty politics
Set up a Royal Commission of Inquiry (RCI) on illegal immigrants issue
Below is the 3-min video of Bersih 3.0 rally in Sabah:

Click Here for bigger video
Photos taken in Kota Kinabalu, Sabah, Malaysia Borneo