Monthly Archives:
July 2009
Chinese loves bird nest. Actually the nest is made of saliva from swiftlets. I have plenty of saliva in thick and thin forms for sale, if you are fond of eating saliva. Chinese says the bird nest contains minerals, rare protein and nutrients that keep you young and make your skin shines. There are two kinds of bird nests, i.e., (1) black bird nest, which contains 30% to 70% of feather, and (2) white bird nest, which has less feather and more expensive.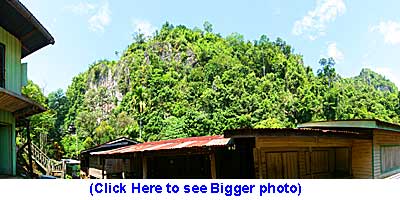 Madai Cave (Gua Madai), which is known as "Swiftlet Mountain" by locals, is one of the important producers of high-quality black bird nest in Sabah. You can see the limestone outcrop, where Madai Cave located, next to the road of Kunak, a small town between Tawau and Lahad Datu. It is the second biggest cave in Sabah.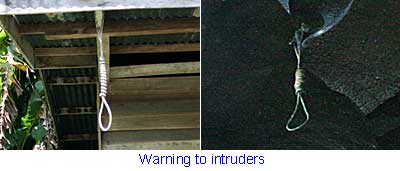 Click Here to see more photos of Madai Cave >>
Idahan people are the traditional owner of Madai Cave. For profit sharing, the cave is divided logically into different sections, which have different owner and can be passed on to their next generation. To visit the cave, you need to get a visitor pass at the security gate before you enter the village in the foothill. A guide will accompany you for a guided tour inside the cave, which is only a 10-minute away from the village.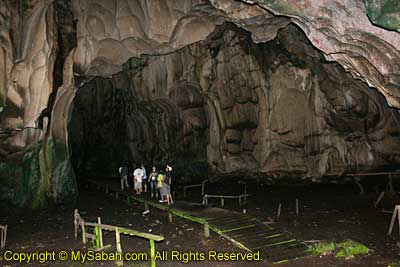 Click Here to see more photos of Madai Cave >>
Don't worry if you see the hangman noose on the way. This is the sign to warn those bad people who want to steal their property. If you read the news, you would know that there were many armed foreigners tried to rob their bird nest. Tourists are very welcome here. Bird nest can fetch hundreds of dollars per Kg, so each swiftlet is a goose that lays gold egg (bird nest). The interesting thing about the baby swiftlet is – it always position its butt outside the nest to poo (then the nest can remain clean), so… visitors should not talk when they look to top, unless you want something drop into your mouth.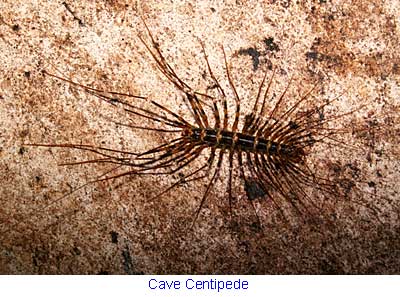 Click Here to see more photos of Madai Cave >>
Though the cave is huge, the air in the cave is warm and humid, and full with amonia smell coming from the bats and birds guano that accummulated over hundreds of years. You could walk on the boardwalk so you don't need to step on soft and soggy guano of 1 foot deep. It is total darkness deeper inside. Point your torchlight to the darkest spot and you will find many cave centipedes on the wall. As they dislike light, they will escape from your light. This dark-side dweller looks very nasty, like the creature in horror movie, luckily this long-leg species is not venomous. But just watch out where you lean in the dark ok.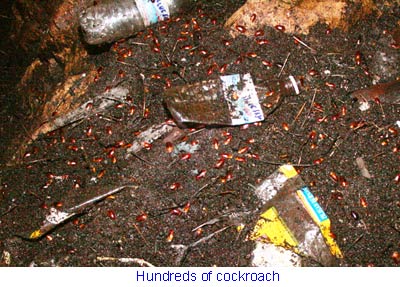 Click Here to see more photos of Madai Cave >>
Girls who are very afraid of cockroach could find their nightmare here, coz there are probably millions of them living in this cave. It is not too bad if you follow the boardwalk and you can't really see them in the dark. But when I moved off-trail to take photos, WOW, there are hundreds of them in every square Meter (note the number of red dots in the photo above). They can hide themselves quickly into guano. These cockroaches eat the guano and corposes of dead birds, and become an essential part of the cave ecology.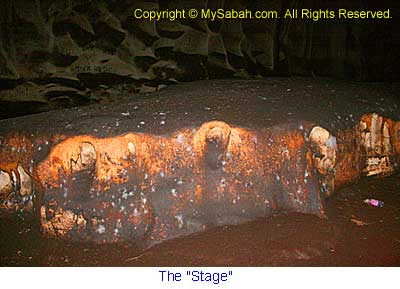 Click Here to see more photos of Madai Cave >>
Besides the cave, I was also shown the "Stage," a flat rock surface that temporarily placed the dead before they are transferred to other cave in the old day. The artefacts (e.g. coffin) of their ancestors were moved to the museum. The cave is very noisy with chirping of hundreds of swiftlets, which have the ability to use voice to "see" and navigate in the dark. The edible bird nest swiftlets use the same echo-location mechanism like bats, the only difference the pitch is in lower frequency and audible. The Idahan people setup a few security huts inside and outside a few cave opening, to prevent some outsiders come in to steal the precious bird nest.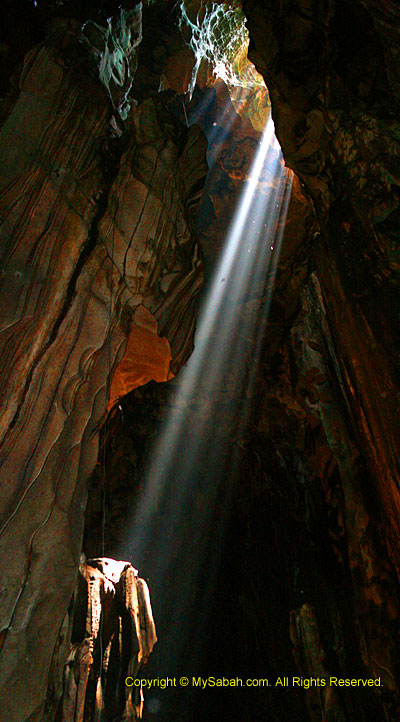 Click Here to see more photos of Madai Cave >>
Knowing that I was photographing, the guides were trying to show me where were the good spots. But the cave is so dark that my camera couldn't focus on anything, until they helped to light up the area with their torchlight (Thank you!). During non-harvest season, the locals also earn some side-income from tourists (need to arrange in advance). They were very keen to show me around. Since I only dropped by shortly this time, I will come back again.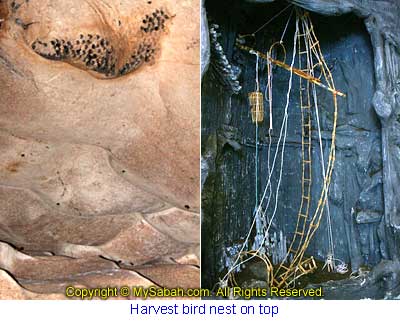 Click Here to see more photos of Madai Cave >>
April, August and December are the harvesting months, you could see them harvest the bird nest, the bird nest is harvested on a sustainable manner, that means the broods have a chance to grow up and fly away before their nests are taken. The photo on left above is the photo of bird nests, the right is the traditional harvesting tool. The swiftlets are not stupid. They always build their nests on highest spot, safe from predators.

To harvest the nest, the workers need to climb up the ladders, which are made of rotan (rattan wood), with a basket to store the nest. It is a very dangerous job and carpet of guano can't save a person falling from hundred-feet high. They also need to detach the nest carefully and don't break it, as a flawless whole nest can get the best price in market.
Photos taken in Kunak, Sabah, Malaysia Borneo
You might also like:
My mouth was watering when I wrote this. BBQ Fish ("Ikan Bakar" in Malay language, means BBQ Fish), in Sim-Sim Pasar (market), only a few KM away from Sandakan town, is probably one of the "must-try" food for people who come to Sandakan, and everyone who had tried it always give a thumb-up and come back again. It is a sin if I don't share this with you.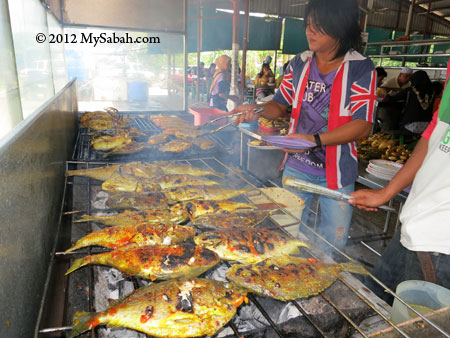 Pic: BBQ fresh seafood. They use charcoal so the grilled fishes have appetizing aroma.
The location map of Sim-Sim market:

View My Sabah Map in a larger map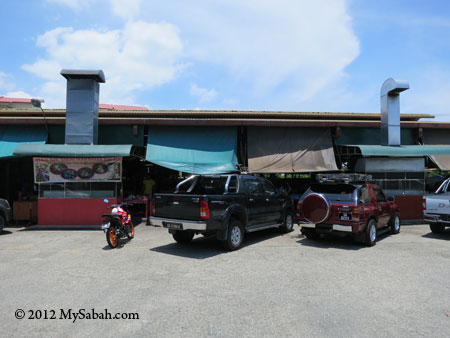 Pic: Sim-Sim Pasar (Market)
Sim-Sim Market is open from 8am to 10pm daily.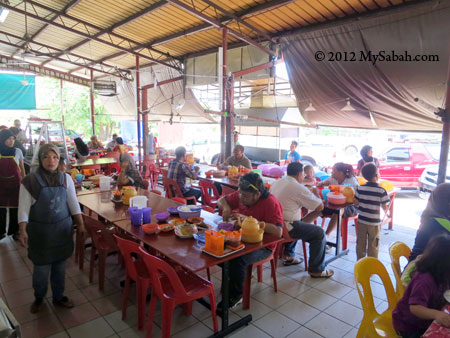 Pic: dining area inside the market
Even in afternoon and at night, Sim-Sim Pasar is still a busy place coz of its famous tasty BBQ fish. There are a few stalls selling this food and many local people queue up and pick the fish they want. You just choose your fish and they will BBQ it over the charcoal for you on the spot. Depends on your liking, you may have something such as whole fish, fish tail, fish head and even BBQ shrimps.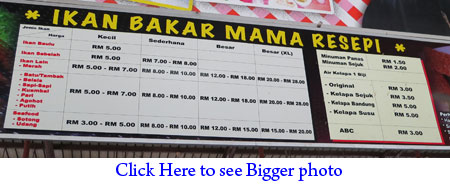 Pic: food menu with price list. (USD1 = RM3 in Malaysian currency)
Translation: RM (currency Ringgit Malaysia), Kecil (Small), Sederhana (Medium), Besar (Big), XL (Extra Large), Ikan (Fish), Kelapa (Coconut)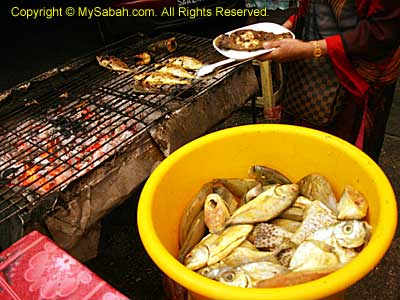 Note the BBQ fishes served with red sauce below, a recipe in Indonesia Bugis style.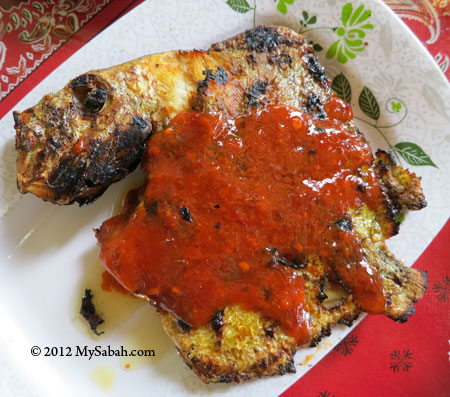 Pic: BBQ Sapi-Sapi fish, RM8 each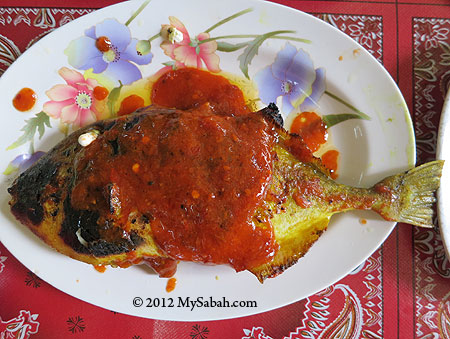 Pic: BBQ Trigger fish, RM10 each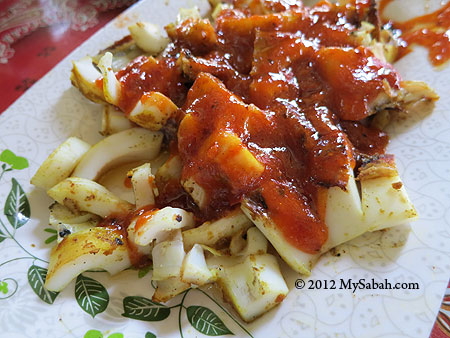 Pic: BBQ squid for RM10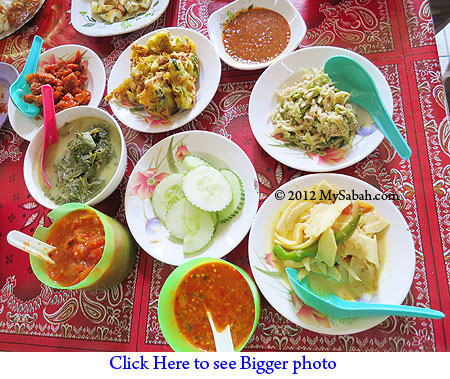 Depending on the size of the fish you order, the price ranges from RM5 – RM28 (USD1.70 – USD9.30). The great thing is – white rice and vegetables are included. No cut-throat 3-digit price there, unlike other seafood restaurants that show you the eye-popping bill after a happy meal.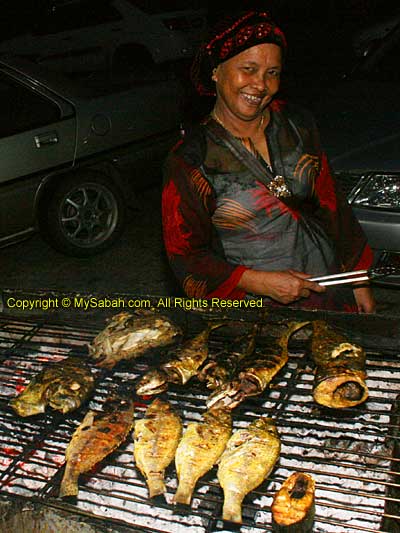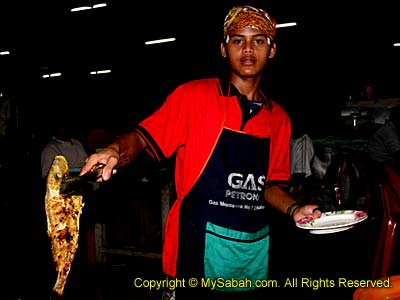 Sabah is famous for its seafood and the secrets of nice seafood is fresh, fresh, and fresh! They use bigger fishes and apply special sauce on the them during the BBQ. It looks yellow and I don't know what it is, may be some spices that makes the fishes so tasty, in addition to the BBQ aroma.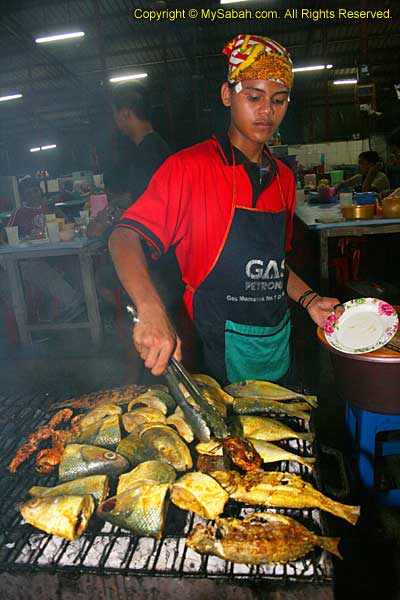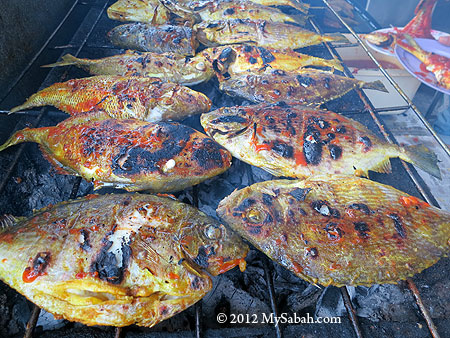 Spoon and fork are not given unless you ask. Try eating it with your bare hands is a more enjoyable experience. Rice is provided. For tourists who are not used to eating rice, you need to be careful with the fish bones. Just don't chew rice and fish in your mouth at the same time.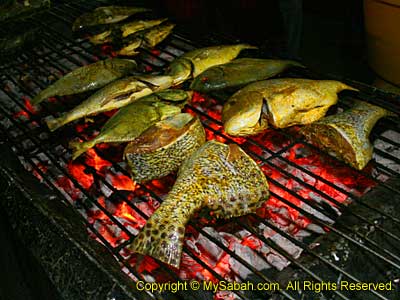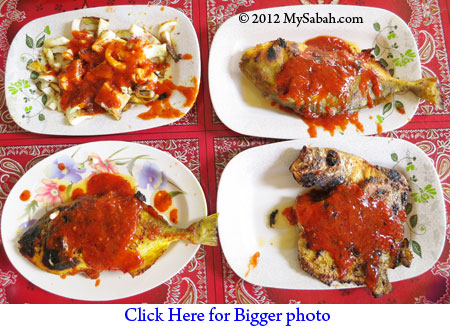 After the BBQ, the fish skin is harden a bit and hold the "juice" in the meat, so it doesn't taste dry. I love spicy stuffs, so I always dip the meat in "sambal belacan", a very hot shrimp paste. This further wet my appepite that I can eat 2 more plates of rice. Life is so beautiful with mouthful of fresh seafood.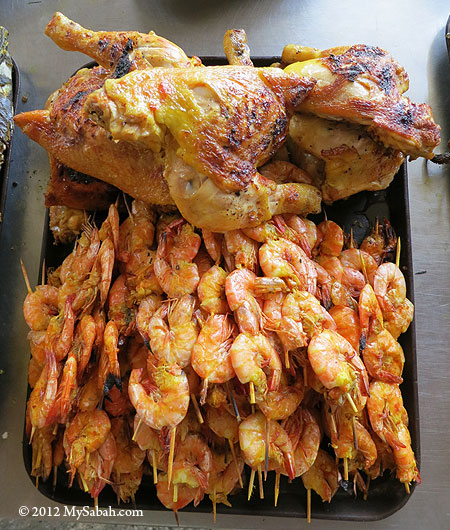 Pic: BBQ chicken and shrimps are also available.
You are dripping now, aren't you?
Photos taken in Sandakan, Sabah, Malaysia Borneo
You might also like: